This post may contain affiliate links. By clicking and making a purchase through the links, I earn a small commission at no extra cost to you. This and display ads allows me to keep the site up to date and give back. Thanks for reading!
I never thought I would get a tattoo. Despite fitting many personality traits of someone that might have one, I just never felt I had anything meaningful enough to mark on my body permanently.
Which leads to the question – HOW did I end up getting a Sak Yant tattoo in Chiang Mai?
Sak Yant tattoo meaning
A sak yant tattoo, also known as a bamboo tattoo or traditional Thai tattoo, are sacred blessings native to several countries in Southeast Asia, including Thailand.
Sak Yant means to tattoo a yantra, which is a Sanskrit word that means "magical design." The tattoos are said to have enchantments and magical powers.
They offer benefits such as power, protection, and good fortune in life to the bearer.
Warriors in Thailand were given sak yants tattoos for centuries to offer protection and strength in war, and those protective powers are still believed today as they were back then.
Each sak yant tattoo is personalized to your life challenges, which is what drew me to get one.
Sak Yant tattoo designs
Sak yants are made up of magical geometrical, animal, and death designs.
There are thousands of designs associated with various types of protection. They come in many different images, shapes, and sizes but have similar looks.
Depending on where you get your sak yant tattoo will determine what design options you have.
If you go to a temple and get one by donation, it is most likely that the Thai monk or Ajarn (a tattoo master) won't speak English, and you won't have any control over the design you get (or where you get it).
If you go with a reputable company, you will be able to discuss what you want from the tattoo with your Ajarn, and you may show him designs you like. However, while you might like a particular design, it may not have any relevance to your life.
The last option is that the Ajarn will suggest a tattoo design based on what you tell them about yourself. This is the most traditional experience and how I got mine.
My sak yant tattoo experience in Chiang Mai
I got my sak yant through the ink experience by Where Sidewalks End (WSE).
WSE are a responsible tour company run by my friend Ian, who I met at a travel blogging conference a few weeks prior in Phuket.
WSE connects travelers with meaningful, authentic experiences across the world. After learning about the ink experiences in Thailand, I was immediately pulled to it.
Chiang Mai was my next digital nomad destination, so I thought it would be the perfect way to start my time here. It finally felt like I was in the right place to get a tattoo.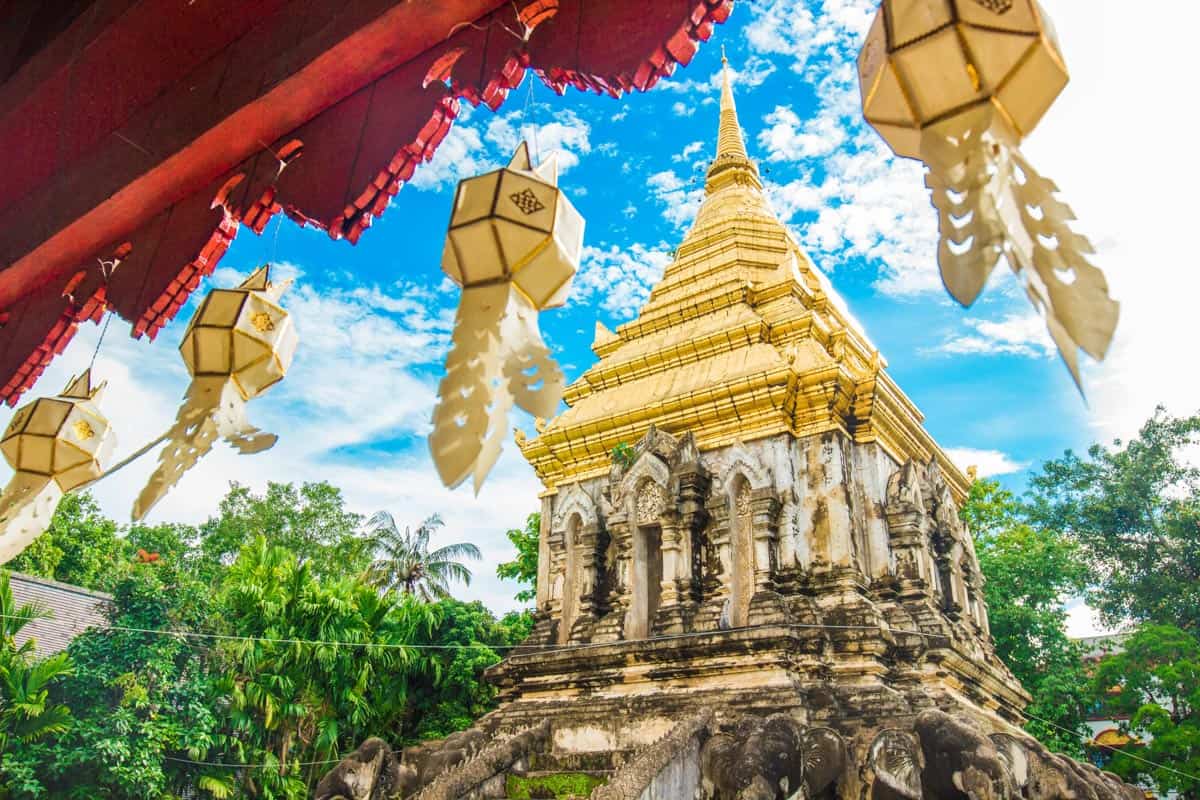 The day started when our local guide, Noi, picked us up at the hotel. As we drove out of the city, my nerves started to set in about what I was about to do.
However, Noi put those concerns to rest as he explained in detail what would happen and the fascinating history of these sacred sak yant tattoos.
We arrived at the Samnak (a tattoo parlor) after half an hour, just before Ajarn Rung arrived. The outside of the building was decorated with colorful Buddhist statues and ornaments.
Before entering the tattoo studio, Noi taught me how to give my blessings to Buddha. I closed my eyes, meditated, and placed some incense into an urn.
Afterward, we followed Ajarn Rung inside.
Ajarn Rung is a practicing Buddhist monk who comes from a long family of sak yant masters.
He was a nomadic monk for years, traveling around many countries in search of sak yant masters to teach him, and he has been tattooing for over 20 years. He had a warm presence and immediately made me feel that I was in good hands.
Inside, his studio was decorated like a temple. The walls were full of gold images of Buddha, spiritual ornaments, statues, wall hangings, and other decorations placed around the room. Somehow, it all worked together.
We sat down, and Noi asked us to write what we were struggling with and what we wanted from the tattoo (our passions, goals, fears, challenges), along with our birthdates.
Noi then passed the paper to Ajarn Rung while we had some time to look at the many sak yant designs, like Gao Yord.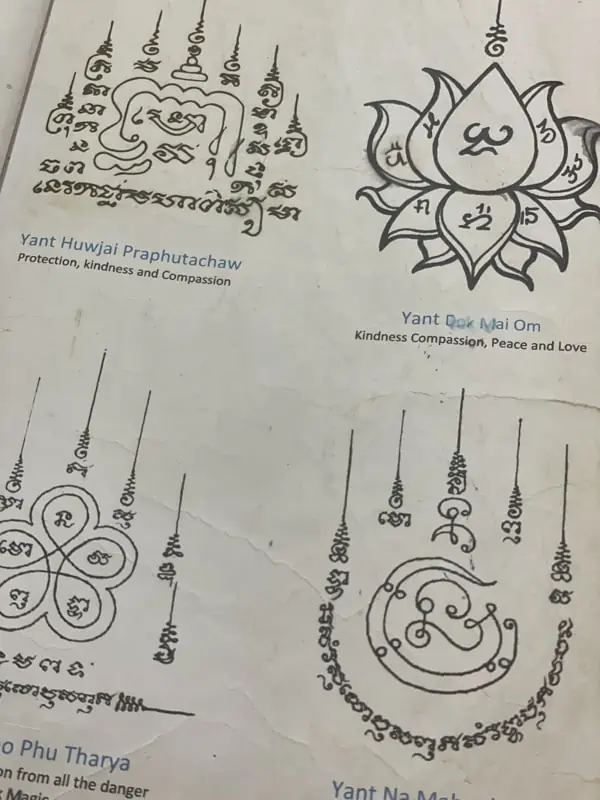 After a few minutes, Ajarn Rung gave us a consultation translated through our guide.
I got shivers down my spine as I listened to what Noi told me. He made a few comments about my personality and life that were incredibly personal and relevant – I couldn't believe how well he knew me.
He showed me the design of my sak yant, and had I not liked it; I could have asked for something else. However, after Ajarn Rung's accurate readings, I felt 100% confident that his design would offer the protection I was seeking.
Ajarn Rung then began preparing the Khem Sak (metal rod) and ink. Although the tattoos used to be done with a bamboo needle, today, they are given with long metal rods.
I let my friend go first as I tried to mentally prepare. The process is much faster than a regular tattoo, and his only took about ten minutes.
Now, it was my turn.
As I got a very small sak yant, the actual tattooing process took less than two minutes.
I don't have a pain reference for regular tattoos to compare it with, but it was a lot more manageable than I expected.
That said, I don't think I would have been able to endure much more than 15 minutes of tattooing. But thankfully, most designs take less than that. A few deep breaths got me through it.
When it was over, I walked over to the mirror and smiled with glee. It was a perfect design.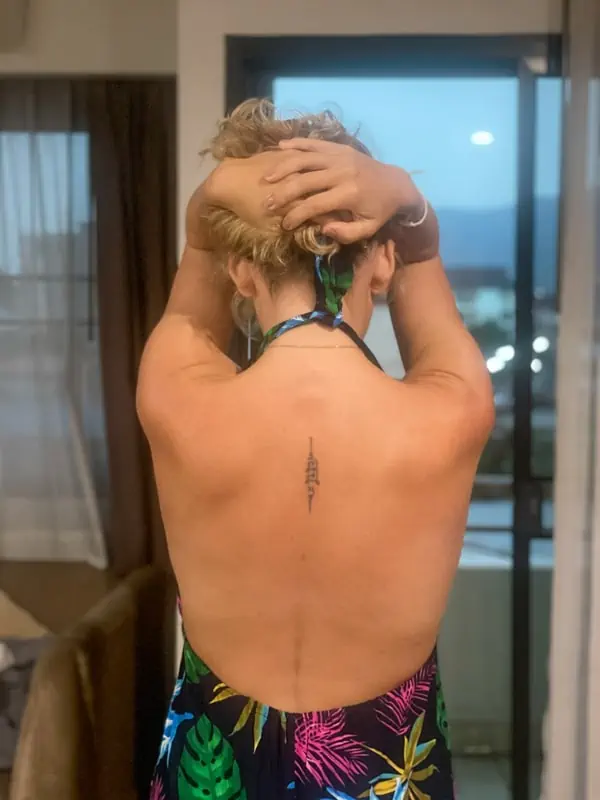 After the tattoo, we made an offering to Ajarn Rung, followed by a magical blessing ceremony where he gave us a small amulet and bracelet to keep. Amulets, like sak yants, have magical properties that aid the wearer.
If you aren't ready to get a tattoo, you can get a nat blessing with an Ajarn in Chiang Mai, which is a beautiful spiritual experience.
We said our goodbyes and headed back to the city with Noi. Along the way, he took us to a local market to shop for a necklace to put our amulets in, explaining their importance in Buddhism.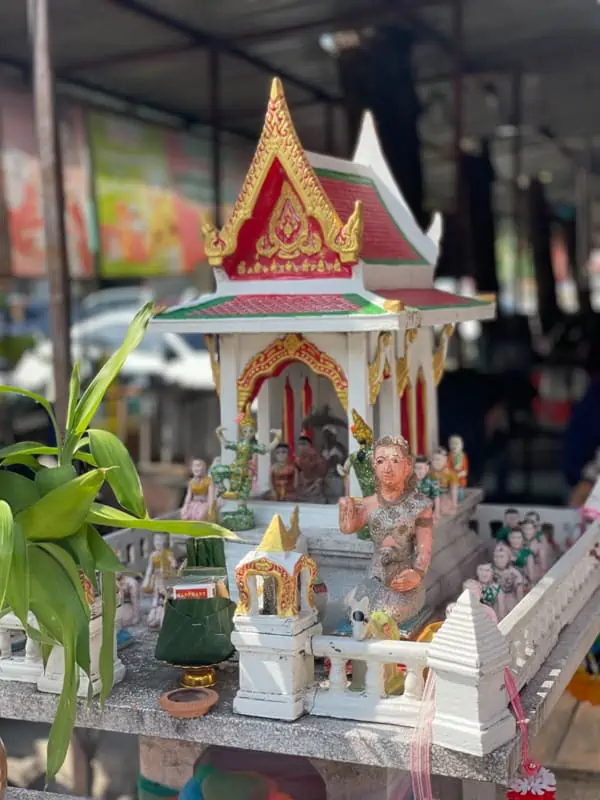 We finished the morning with a vegetarian meal by the market and headed back beaming with smiles and a new tattoo.
The whole experience took about four hours from pickup to dropoff and is a memory I'll always cherish. It's one of the best things I've done here.
Why choose WSE for your sak yant Chiang Mai experience
While you can get a traditional sak yant tattoo in Thailand on your own, I highly recommend organizing it through Where Sidewalks End for a few reasons.
They work with the best sak yant masters around the world.
Remember, this is something permanent going on your body – would you let anyone tattoo you?
By booking with WSE, you can rest assured that you're getting a tattoo from someone highly experienced who honors all the traditions and practices.
Ajarn Rung is considered to be one of the best in Chiang Mai, evident by the number of people that were waiting to get work done at his studio.
Additionally, WSE works with Ajarns who prioritize cleanliness.
A concern for many people getting a sak yant is the risk of infection. While you can get a tattoo in some temples for a lower cost, it may be at the sacrifice of hygiene. Levels of hygiene vary between studios and Ajarns, and some use the same needle over and over.
However, Ajarn Rung uses a new sterilized needle for every sak yant, so you don't need to worry about this.
You have more control
If you get a sak yant on your own, it's unlikely that the Ajarn will speak English. And since you probably don't speak Thai, this means you aren't going to be able to communicate what you want from the yant.
In this case, it's likely that the Ajarn will give a yant that holds a general protection spell rather than something more personalized.
Having a local guide bridges that gap by having the consultation translated.
The guides are very knowledgeable in their history and meaning and will ensure that you get a relevant sak yant to your life.
It also means you have some control over the size and design.
In my case, I didn't want to have a large tattoo, and could communicate that to Ajarn Rung through Noi. I was also able to communicate where I wanted the tattoo on me.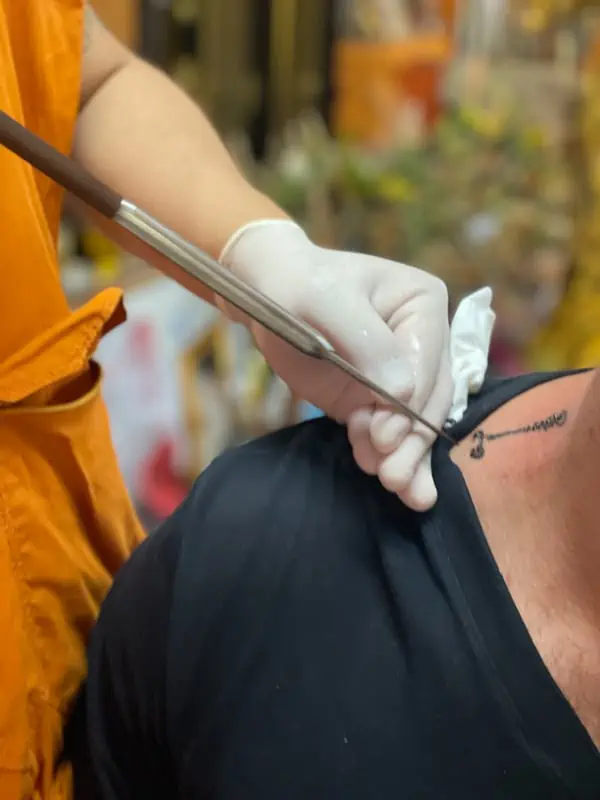 You can get a tattoo as a woman
Some Ajarns will not tattoo women due to personal preferences, but WSE works with Ajarns that believe a sak yant should be accessible to anybody, regardless of gender.
While Ajarns can't physically touch women, they can still give sak yant tattoos by placing some cloth between their hand and a woman's bare skin.
Part of your money goes back to local projects
For every trip booked with WSE, 2% of the total sales prices goes to an environmental or community-based project in Thailand.
I always try to find responsible tour operators who give back to the communities they operate in, and WSE is a perfect example.
Last but not least, when you book with WSE, it's a private experience organized in advance, which means you won't have a long wait at the studio.
Where can you get a sak yant tattoo in Thailand?
While I think Chiang Mai is the best place to get this magical tattoo, there are other places in Thailand you can get a sak yant if the north isn't on your Thailand itinerary.
If you want a sak yant tattoo in Bangkok, you can book an ink experience with Ajarn Too, who is a skilled Ajarn involved in sak yants since 2011.
In Ayutthaya, you can book an ink experience with Ajarn Wao, a master of sak yant since 2007.
Tips for getting a sak yant
Think about your life challenges, your values, and what you want the sak yant to provide to you. Your sak yant design will be based on this, so the deeper you dive, the better.
Avoid being hungover or tired – it's a spiritual experience, and you want to be as present as possible with a clear head.
Wear appropriate temple attire – bottoms that fall below the knees and a shirt with sleeves. You'll have to remove your footwear before entering the samnak, so be sure to clean your feet.
For more information about preparing for your sak yant, check this FAQ page.
—
Getting a sak yant near Chiang Mai was a beautiful spiritual experience, and I'm so grateful that I got one as my first tattoo. .
It was a wonderful introduction to Thai culture and living in northern Thailand, and a memory I'll cherish for a long time.