This post may contain affiliate links. By clicking and making a purchase through the links, I earn a small commission at no extra cost to you. See my disclaimer for more information. This and display ads allow me to keep the site up to date and give back.
As far as bucket-list dive destinations go, Egypt frequently tops the list. Diving in Egypt was one of the main reasons I wanted to come here, and it lived up to all my expectations.
After going on over a dozen dives across the country, I've rounded up the best dive sites and snorkeling in Egypt and places to stay to help you plan a fantastic vacation in Egypt! Here's a sneak preview in a reel I made.
Where to go Diving and Snorkeling in Egypt
Diving in Dahab
Dahab, a small town on the Sinai peninsula, is not only one of Egypt's top dive destinations but one of my favorite places I've lived as a digital nomad. It's right on the ocean, with quick access to go diving in the Red Sea.
Freedivers and divers come from all over the world to train and experience some of the world's top dive sites here. Since the town is pretty much centered around diving, it has a wonderful vibe.
Everyone you meet in Dahab is extremely friendly, down-to-earth, and cares about protecting the ocean.
The hub of Dahab is one main road lined with seaside restaurants on one side and dive/snorkel shops on the other.
You don't travel far to go diving here – you'll see divers walking with their scuba gear from the shop right to the water!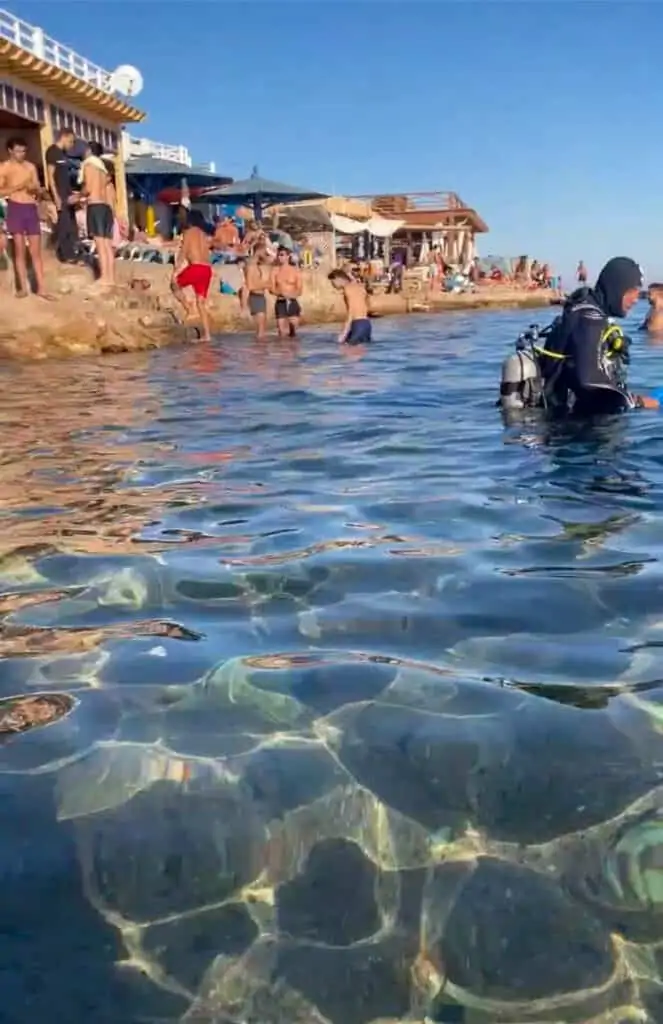 Dahab is also a great place to get your PADI certification if you are new to diving. Although, my top recommendation will always be Utila Honduras, where I learned to dive.
Dahab Dive Sites
There are dozens of dive sites around Dahab, but the most famous is the blue hole.
Blue Hole Dahab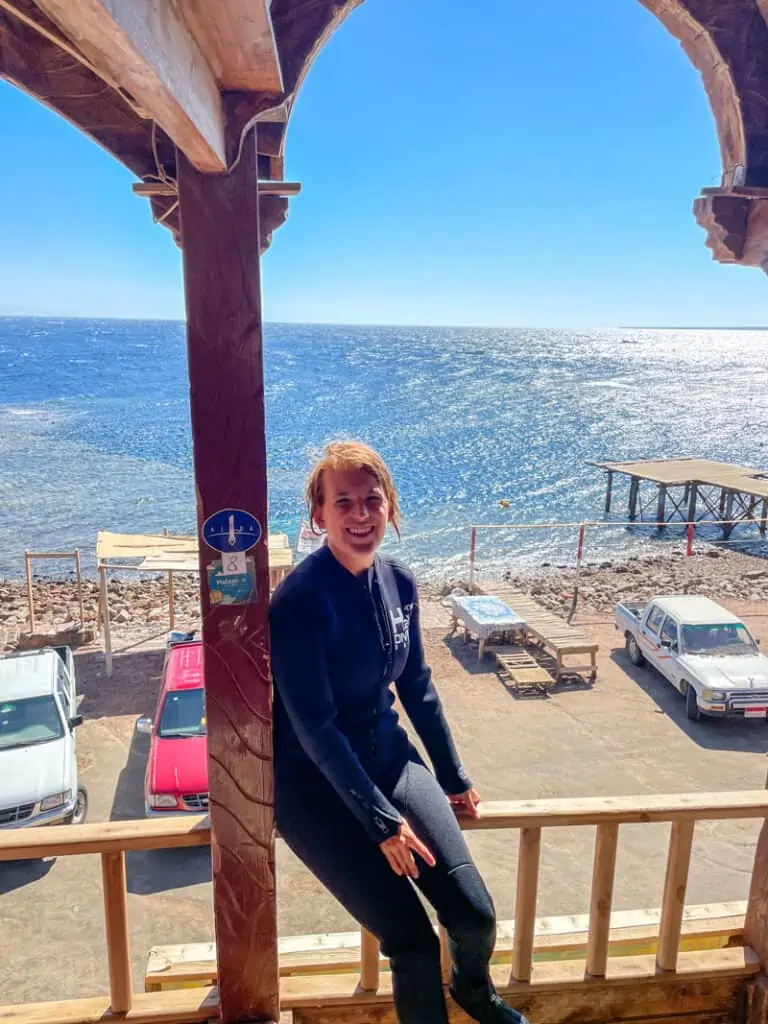 The blue hole in Dahab is a large 70m wide hole within the coral reef that goes down to 80m, with a 30m long arch going to the open sea on the bottom.
Deep divers who are technically trained come to dive under the Blue Hole arch, which has earned it the title of being the most dangerous dive site in the world due to the number of deaths that occur each year. The blue hole in Belize also made that list!
However, you can still go diving in the Blue Hole safely by joining a guided dive that takes you around the width of the blue hole without going too deep, which is what I did.
I actually didn't find the dive all that interesting, other than looking down at the depth of the hole. It's also cool to look at the hole from the outside to see its size from the road.
The prettiest part is at the top, where the corals/marine life is. You can go snorkeling in the blue hole in this section.
If you aren't a diver, click here to join a snorkeling tour to the blue hole.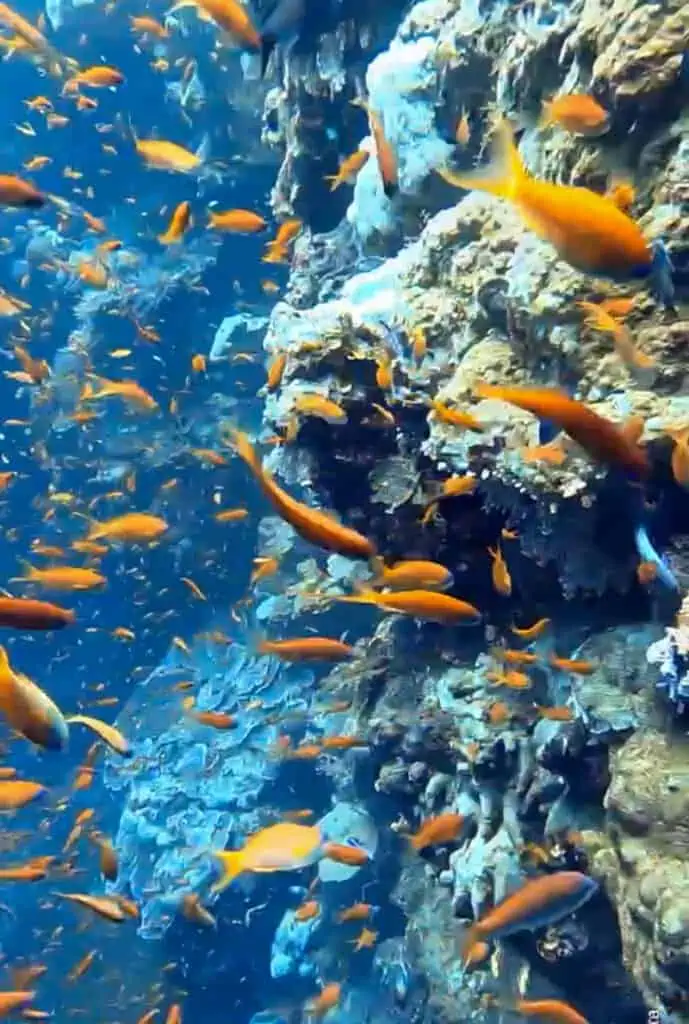 Canyon Dahab
Situated south of Blue Hole, the Canyon in Dahab was formed by seismic activity that caused a massive rift in the reef table used as the dive entry point.
It's stunning to descend through the tight canyon walls to about 30m depth. When we got out of the canyon, an adorable octopus was waiting to greet us!
From there, you'll continue the drift drive right towards the Blue Hole via a beautiful coral garden wall, passing by thousands of colorful fish.
The Blue Hole and Canyon are usually done as a two-dive package on the same day as they are right next to each other, about twenty minutes away from the town of Dahab.
Lighthouse Dahab
Another popular dive site in Dahab is Lighthouse, a shore dive right off the main road and easily accessible from the dive centers in town.
It's perfect for all levels, with lively coral reefs where you can see various marine life, including lionfish, unicornfish, crocodile fish, octopus, and nudibranchs. It's also a popular spot for night dives.
Where to stay in Dahab: Unlike Sharm El-Sheikh, you won't find many big resorts in Dahab, which is part of the appeal. Instead, you'll find locally owned hotels and guesthouses. I recommend staying near the main strip to be within walking distance of the dive centers.
I loved Sukoon guesthouse. It's beautifully furnished, includes breakfast, and is right off the main road making it a convenient base for diving.
Who to dive with in Dahab: There's no shortage of dive shops in Dahab, but I loved H20 divers due to their professional guides and commitment to sustainable tourism and eco-friendly diving practices.
Getting to Dahab: The closest airport to Dahab is in Sharm El-Sheikh, and then it's an hour's drive from there. You can book a private transfer here.
You can also get busses to Dahab from Cairo and Alexandria with GoBus or WeBus during the day or overnight.
I took the bus from Dahab to Cairo during the day. Although it was scheduled to take 8 hours, it took us about 12. The border check leaving the Sinai peninsula can be very lengthy.
Sharm El Sheikh Diving
Sharm El-Sheikh is a popular resort town on Egypt's Red Sea.
It's a great access point to some of the best dive sites in Egypt, but I didn't want to stay here because it's mainly resorts and families, whereas Dahab has more of a digital nomad scene and a better vibe (at least for me). And since Dahab is only an hour away, you can still easily do the dives in Sharm as day trips.
The SS Thistlegorm Wreck
Named by Padi as the best wreck dive in the world, the Thistlegorm shipwreck should absolutely be on your Egypt diving bucket list if you love wrecks. It was a British transport ship sunk in 1941 by a German air attack, remaining today as a window into history.
The shipwreck is massive at 420-feet long and 128 meters high. It's so large that we did two dives – one around the exterior and one inside.
It's got multiple levels to explore, which is so cool to dive through – check it out in this video!
Inside, you can see cargos of trucks, artillery rifles, motorcycles, jeeps, motorcycles, tanks, and even a locomotive! It's easily the coolest shipwreck dive I've ever done.
The wreck is located about 3 hours from Sharm El-Sheikh. It is a long day trip from Dahab, waking up at 4 am. But the trip includes all meals onboard (breakfast and lunch) and a third dive on the way back in Ros Mohammed National Park, which breaks up the way back (see more on that below).
Ras Mohammed National Park
Egypt is famous for its stunning colorful reefs in the red sea, and Ras Mohammed National Park offers some of the best-preserved coral reefs in the world.
The coral reefs emerged in the coastline over 70,000 years ago with a vertical overhang of at least 100m deep, so diving through them is an absolute dream.
This dive was the most impressive I did in the Red Sea in terms of coral reefs. It was full of huge schools of tropical fish, and if you're lucky, you may see some grey and blacktip reef sharks pass by.
Who to dive with in Sharm: I dived with a center from Dahab, but here's a list of 5-star PADI Dive Shops in Sharm El-Sheikh and a PADI open water diving course.
Getting to Sharm is easy because there's an international airport with direct flights from Europe. I flew from Milan, Italy, for 20 euros! If you're coming from Dahab, it's about an hour's drive.
Where to stay: There's no shortage of high-end resorts and hotels in Sharm.
Hurghada Diving
I didn't go diving in Hurghada, to be completely honest with you. I had already been diving a lot in Dahab and was on my way to Marsa Alam and was told the diving wasn't as good here, so I didn't bother. But if Hurghada is your only chance to dive in Egypt, I would go because it's still the Red Sea!
We did go snorkeling here, which was a lovely reef full of colorful fish and blue-spotted stingrays.
Popular dive sites in Hurghada include Marsa Abu Galawa (Carless Reef) and Fanadir (El Fanadeer), one of Hurghada's largest reefs.
Who to dive with: Choose one of the 5-star Padi dive centers from this list.
Getting to Hurghada: Hurghada has an international airport that's the second busiest airport in Egypt after Cairo, with flights mainly from Europe.
It's also connected to other cities in Egypt via bus. I took a bus from Luxor, which took about 6 hours, and then a private transfer to Marsa Alam because there were no public buses available that day.
Where to stay: Hurghada is another place with many high-end resorts and hotels. I got a great deal at Royal Star Beach Resort, a lovely 4-star resort that included meals, drinks, beach access, a pool, and a cute kitty.
Marsa Alam Diving
Of all the dive destinations I visited in Egypt, Marsa Alam was my favorite hands down, because of all the marine animals. If you want to see wildlife while diving in Egypt, go diving in Marsa Alam. I ended up extending my stay here because I was impressed with the diving!
Here are the best dive sites in Marsa Alam: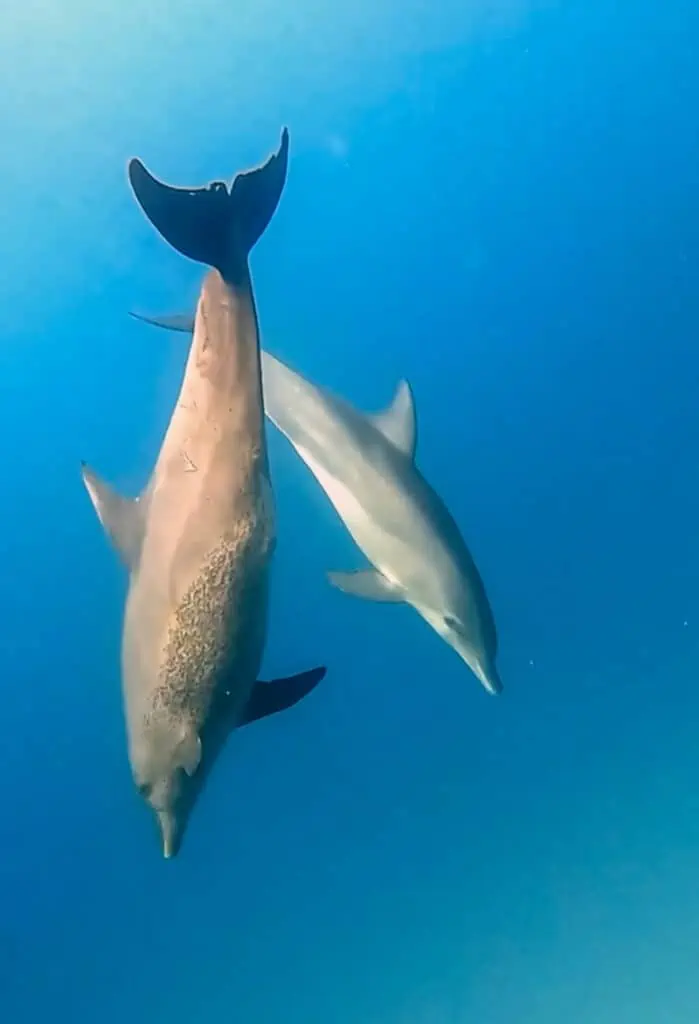 Dolphin House Marsa Alam
Dolphin House is a famous dive site in Egypt home to a large family of approximately 60 spinner dolphins, which you can snorkel and swim with. However, their "house" is protected by a line, so you can only jump in to swim with them if they are outside of it.
The reef around the area also offers excellent dives with swim-throughs, pinnacles, and gorgeous coral formations.
Abu Dabbab Dive Site
One of the most incredible dive experiences I had in Egypt was snorkeling with a dugong, which was lucky because they are now pretty rare. Although there used to be many dugongs in the waters around Marsa Alam, they now believe there is just one or two.
They hadn't seen him in months, but luck was on my side the day we went out, and we got to snorkel alongside him, which is one of my favorite wildlife experiences to date. Sea turtles are also regularly seen around this site.
Elphistone Reef
This dive site is popular for shark-seeking divers, as oceanic whitetip and hammerhead sharks can regularly be seen.
The sharks are most numerous from October to December, and unfortunately, I didn't see them while diving there in March, although I did see blacktip reef shark at other sites.
However, the dive site is still impressive with its deep caves and coral plateaus. It is a challenging dive with strong and ever-changing currents.
Getting to Marsa Alam: Marsa Alam is in the south of Egypt. It's relatively easy to get to because it has an international airport with flights to Europe and twice-weekly domestic flights to Cairo with EgyptAir.
Go bus also services Marsa Alam with daily busses to Cairo. I came from Hurghada on a private transfer because I couldn't find a public bus for the day I needed.
Where to stay and dive with in Marsa Alam: I can't say enough good things about Marsa Shagra Village. It's located about half an hour from the town of Marsa Alam but offers a fantastic dive and relaxation experience.
You can choose from various accommodation options here, including glamping tents on the beach or traditional mud huts with private bathrooms.
It's all-inclusive, so you pay a price per day that includes your accommodation and all meals. It's buffet style, and the food is delicious!
It's also all-inclusive diving for 30 USD per day for unlimited diving at the house reef dives, which is spectacular. We saw bottlenose dolphins, sea turtles, blue-spotted stingrays, and tons of fish on my first house reef dive.
Rental gear is rented separately (you can bring your own), and then any dive excursions away from the resort are extra – the price depends on how far away the sites are.
The reef dive sites are excellent but you don't have a guide that goes with you, so you need to be a comfortable diver and find a buddy to go with you (there is a signup board).
Marsa Shagra Village also offers daily morning and afternoon yoga classes and is the perfect base to hang out and relax with many hammocks and interesting people to talk to. They also offer PADI training.
Liveaboards in Egypt
Another great way to experience diving in Egypt is to join a liveaboard to take you to more remote dive sites. Search here to find the best liveaboard deals in Egypt.
Best Time to Dive in Egypt
You can dive in Egypt any time of year, but the water temperatures vary significantly between the seasons.
During the summer months, from June to August, the water can reach 30°C but falls to 22°C in February, so you'll need a thicker wet suit during winter (5 to 7mm thick). That said, I went diving in Dahab n February and was never uncomfortable.
Also, hotter water temperatures in the summer mean a higher air temperature. It's not uncommon for temperatures to reach the late 30s, possibly even early forties during mid-day, which can be pretty unpleasant.
Another thing to remember is that whale shark season occurs from the end of May until the end of July, mainly in the northern Red Sea, but sightings are pretty rare.
The warm summer months tend to be the best time for manta rays and turtles due to the plankton blooms and for spotting hammerhead sharks.
—
If you're a diver or want to get certified, don't miss your opportunity to do it in Egypt! This amazing country offers some of the best diving in the world that you don't want to miss out on.