This post may contain affiliate links. By clicking and making a purchase through the links, I earn a small commission at no extra cost to you. See my disclaimer for more information. This and display ads allow me to keep the site up to date and give back.
Looking for cheap places to live in Mexico on the beach? Let me help you!
I've been living in Mexico for the last three years as a digital nomad. Not only is life much cheaper than in Canada, but my lifestyle is a thousand times better.
Mexico is quickly becoming one of the most desirable destinations for remote workers, much in part to the number of cheap beach towns in Mexico.
There's no better way to live that laptop lifestyle than with a view of the ocean surrounded by swaying palm trees in a warm, tropical climate.
If you're earning money from your home country while working remotely in Mexico, you can live a great lifestyle with lower costs substantially lower than most major cities in Canada and the United States. All while enjoying the rich Mexican culture and cuisine!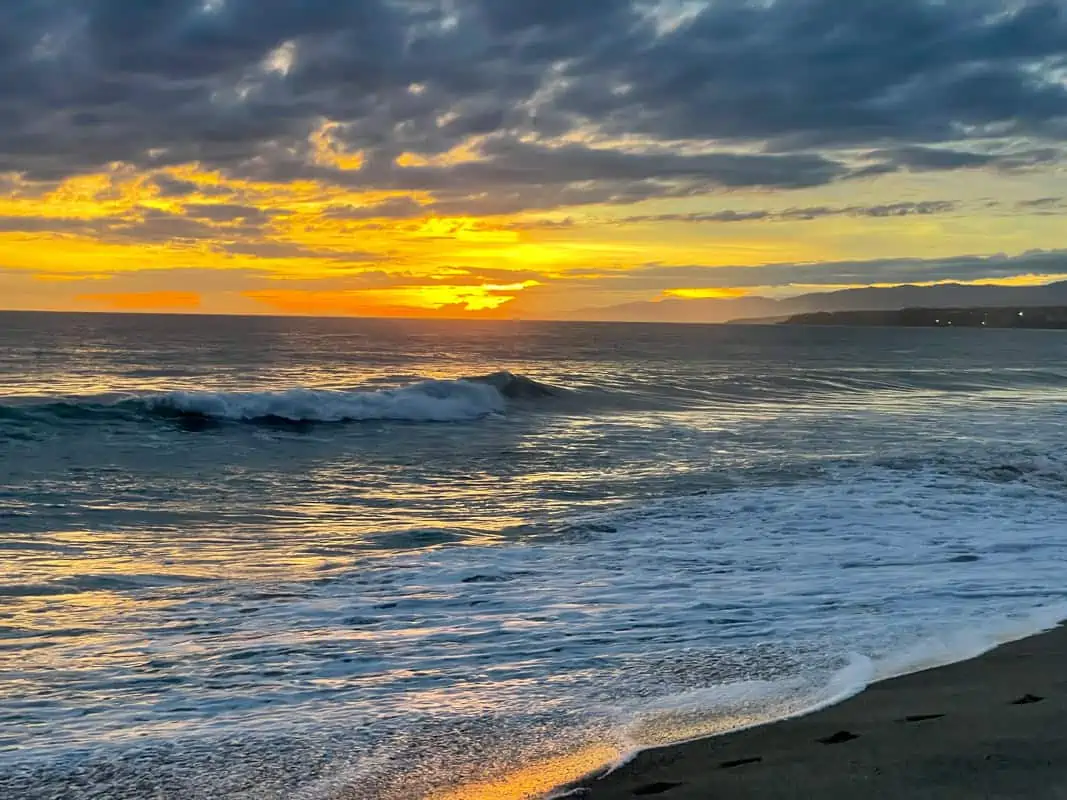 Cheap Mexican beach towns on the Pacific Coast
We'll start this series off with the cheapest beach towns to live in Mexico to live on the Pacific Coast.
This side of Mexico is popular for surfers, as the Pacific Ocean offers some of the best surf conditions in the country.
Another benefit of living on Mexico's Pacific Coast is the incredible sunsets.
There's no better way to end the day than watching the sun dip below the ocean horizon – all of which can be experienced from these beautiful beach towns.
To start, we'll look at some of the cheapest places to live in Mexico on the beach in the state of Jalisco.
1. Puerto Vallarta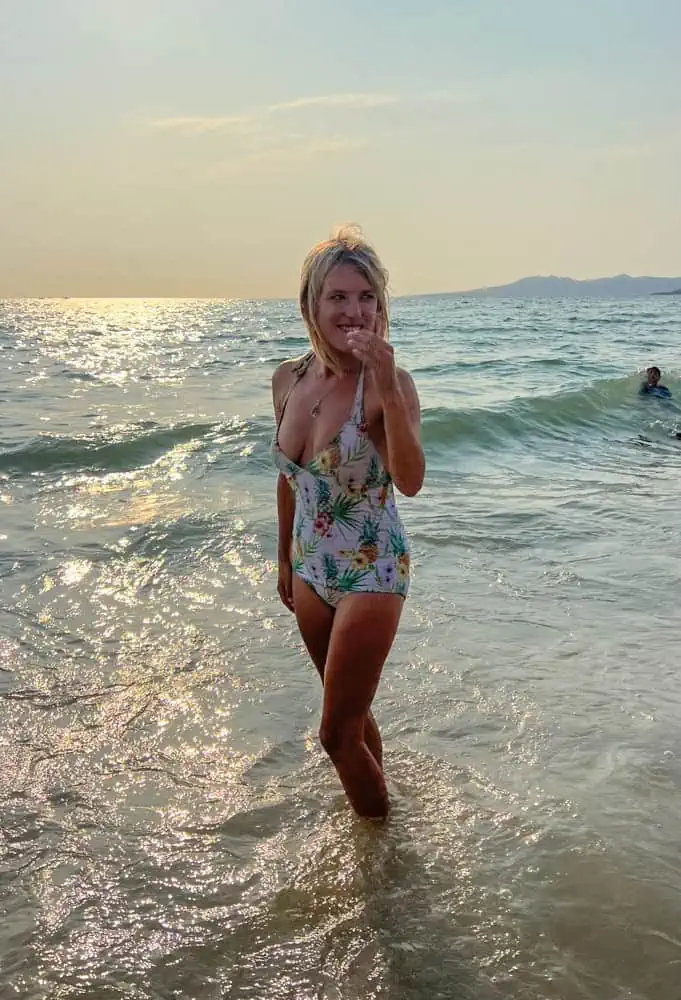 Puerto Vallarta is where I've decided to make my base after five years of full-time travel – something about it keeps pulling me back. I'll be the first to admit it's not the cheapest beach town in Mexico to live in, but it is my favorite.
When it comes to the cost of living in Puerto Vallarta, it's still much lower than what I would be paying in Canada.
The first year I lived there in 2021, I paid 280 USD/month, sharing a 3-bedroom apartment with two other digital nomads.
The apartment was a bit outdated, but we had a lovely outdoor pool, a cleaner that came twice weekly, and it was a five-minute walk from the beach.
Prices have increased considerably since 2021 (where haven't they), but I still found a beautiful 2-bedroom apartment with an ocean view in downtown Puerto Vallarta for 900 USD.
There are many reasons to love living in Puerto Vallarta.
It's got one of the best expat communities in Mexico and a growing digital nomad scene with regular meetups, making it easy to make friends. I adore the community in PV!
But my favorite part about Puerto Vallarta is that it's a city surrounded by nature, with the Sierra Madre mountains and the stunning Bay of Banderas Bay.
There are many opportunities for outdoor adventure and ecotourism activities, making it one of the best cities to live in Mexico if you want easy access to nature while still having the amenities of a big city.
It just has a magical atmosphere that almost everyone describes after moving there. To top it all off, Puerto Vallarta is one of Mexico's safest places to live!
2. Sayulita & San Pancho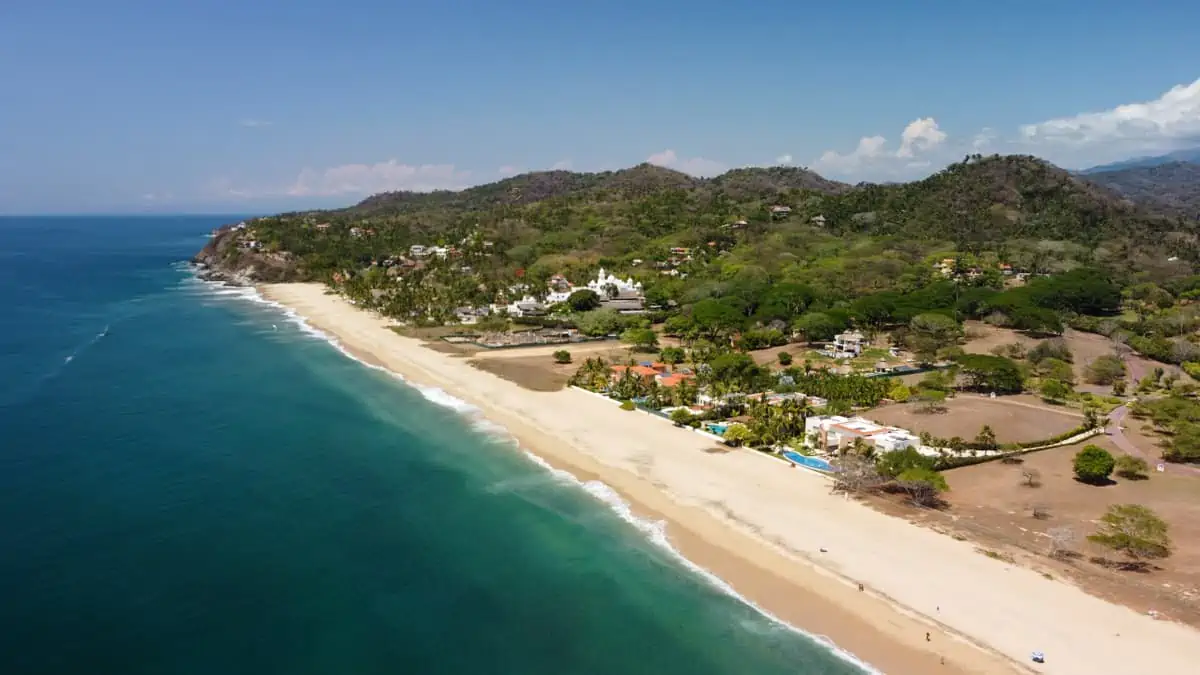 While Puerto Vallarta has plenty to offer, one thing that it's missing is direct access to surf.
There are two affordable beach towns in Mexico about an hour away in the state of Nayarit that are pretty popular with digital nomads in Mexico for this reason – Sayulita and San Pancho.
Sayulita has blown up in recent years, so it can be challenging to find affordable accommodation there these days. San Pancho, however, is still somewhat of a hidden gem (although that may not last long).
Like Puerto Vallarta, the costs of groceries are very reasonable in these towns (especially if you shop at the local markets). Since they are both small, you can easily get around with minimal transportation costs.
Nomadlist ranks Sayulita at a cost of 2700 USD/month, but in San Pancho, you'll find cheaper accommodations, a slower-paced way of life, and more of an authentic Mexican vibe. It's one of the cheapest surf towns in Mexico!
3. Mazatlán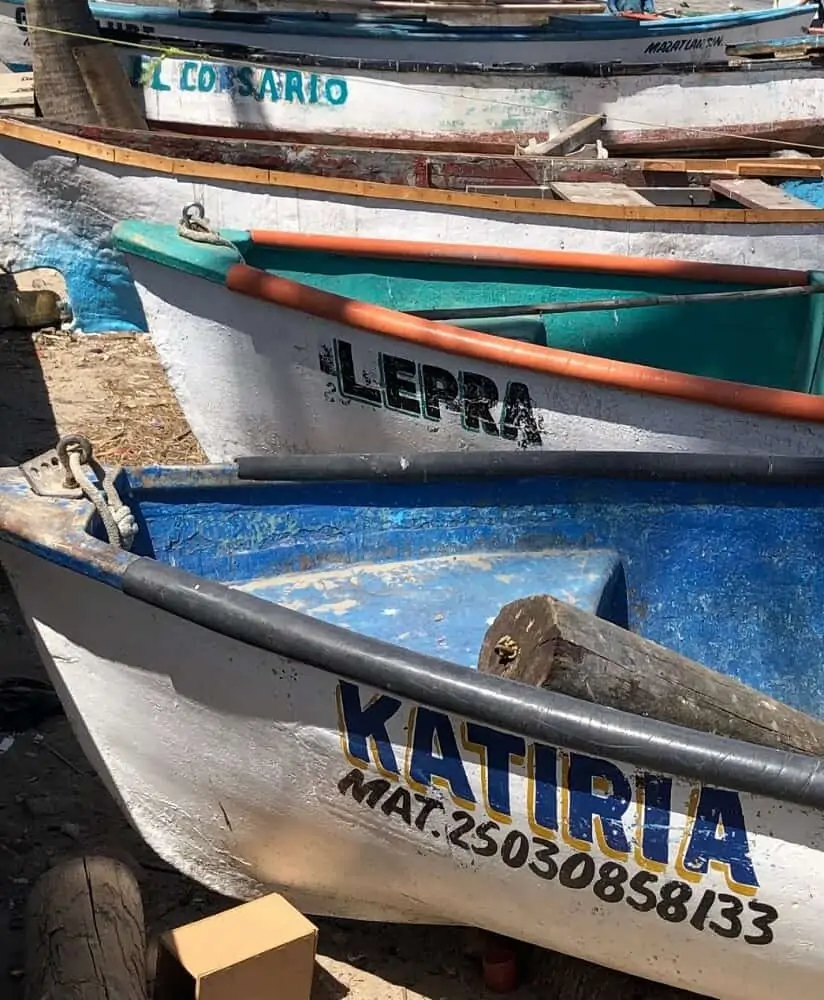 By Lisa of Waves and Cobblestones
Mazatlán is one of Mexico's best and most affordable beach cities, boasting 20 miles of gorgeous beaches along Mexico's Pacific coast.
Mazatlán has a huge expat community due to its climate, location, affordability, and amenities (such as an international airport and affordable health care).
Prices will vary based on the types of accommodation, but in general, a couple could live well on $2000 a month (USD) in Mazatlán.
Mazatlán is not just another pretty face – there are many great things to do in Mazatlán! And since fishing is one of its primary industries, you'll enjoy the freshest and most delicious seafood here at incredibly low prices.
The Malecón is Mazatlán's oceanfront boardwalk, spanning thirteen miles along the coast. Strolling, jogging, or cycling along the Malecón are great ways to get some fresh air and exercise while enjoying stellar views.
Many of Mazatlán's popular attractions are located in the Centro Histórico.
Visit the stunning Catedral Basílica de la Inmaculada Concepción, chill out in Plazuela Machado, or shop at the bustling Mercado Pino Suarez. This is also where you'll find Teatro Ángela Peralta, a beautiful performing arts space.
Mazatlán's lively cultural and arts scene is another reason why it is such an attractive place to live. Mazatlán hosts an annual eight-week cultural festival and goes all out for Carnaval — it's actually the third largest Carnaval celebration in the world. You won't want to miss it!
4. Loreto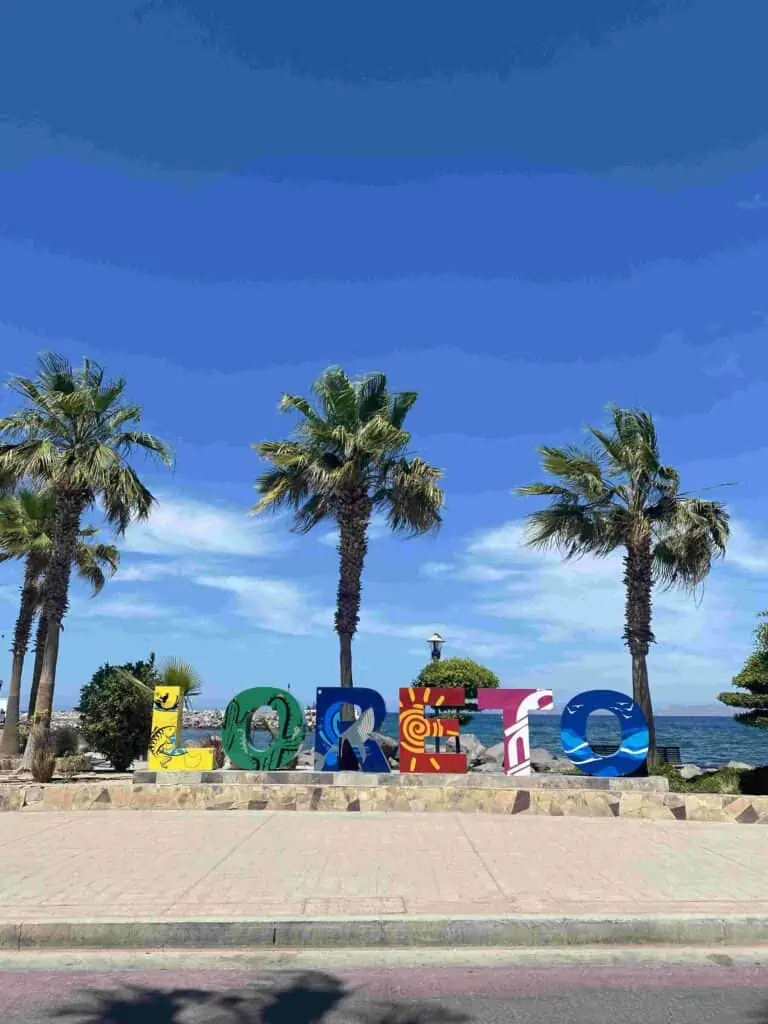 By Daria of Explore Baja California
Located well off the beaten path, Loreto is one of the best places to visit on the Baja California peninsula.
Loreto is over 5 hours away from the popular Cabo San Lucas, the most popular destination in Baja California, and home to the largest airport in the region.
While many travelers know about Cabo, not many have heard about Loreto, but the town is quickly gaining popularity.
While Loreto might not be on your radar yet, there are many reasons to make it your home base.
Loreto offers a relatively low cost of living, a quiet pace of life, and plenty of outdoor opportunities. Most activities in Loreto involve spending time outdoors, whether it's hiking, diving, or biking.
Real estate property prices in Loreto are not as high as in Cabo San Lucas or Todos Santos, making it a good investment opportunity.
One of the main features of the area is Loreto Bay National Park. Established in 1966, It protects 790 square miles of the Sea of Cortez and the Islands of Loreto. The area is home to a lot of wildlife, and you can spend a few days touring these islands.
The national park includes five islands: Danzante, Carmen, Coronado, Montserrat, and Santa Catalina.
Loreto also has plenty of culture. The first capital of California's, it boasts a historic mission that has been converted into a museum. Step inside to learn about the region's history to get a better context of how Loreto has developed over the years.
—
Continuing south from here, we'll look at the cheapest beach towns to live in Oaxaca, Mexico, a state famous for its rich culture and fantastic cuisine.
5. Puerto Escondido
By Ashlea of She Roams About
If you're fortunate enough to be free to work remotely or no longer need to work, then Puerto Escondido is one of the cheapest and most beautiful places to live on the beach in Mexico.
Located on the stunning Oaxaca Coast, this out-of-the-way beach town is often referred to as 'Tulum 20 years ago'. Its status as a developing town keeps prices low, and there's never been a better time to live here.
Puerto Escondido is currently in the development sweet spot for expats and digital nomads as it offers air conditioning, strong WiFi, and other comforts of home while still finding the peace and charm that comes with a lesser-known destination.
The average cost of living in Puerto Escondido is around $13,000MXN/$650USD/$890CAD for one person per month, including rent, utilities, food, and transport.
While you may want to pay a little extra to live more comfortably, this is still one of the least expensive places to live on the beach in Mexico.
Not only is Puerto Escondido affordable, but it's downright gorgeous and offers plenty to keep you busy. With a plethora of beaches to choose from, you can surf with the pros or just take a dip to cool off.
In addition to yoga classes, kayaking, stand-up paddleboarding, and other relaxing activities, you can explore nearby hot springs, a bioluminescent lagoon, and neighboring pueblos magicos.
There is also a fantastic, varied bar and restaurant scene with food you have to taste to believe. There's never a dull moment in Puerto Escondido.
6. Huatulco
By Julien of Oaxaca Travel Tips
Along the coast of Oaxaca are several laidback beach towns, each with various coves of beautiful beaches.
Huatulco, Oaxaca, is known for its nine bays encompassing an awe-inspiring 36 beaches over over 20 miles of coastline. The western edge of town is surrounded by a national park where you can still find secluded stretches of beach.
Actually, many of the best beaches in Oaxaca can be found in Huatulco. And that's a good start when looking for cheap places to live in Mexico on the beach.
While La Crucecita, Huatulco was developed as a tourist destination, it remains a small coastal town with a local Mexican vibe. It's not only the cheapest place to live in Mexico on the beach but ranks as one of the safest cities.
You'll find one of the most affordable places to live in Mexico in the town of La Crucecita. Expect to pay $500-750 US for a 2-bedroom apartment in the center. And slightly more for a smaller space near the ocean.
Depending on your lifestyle, the cost of living in Huatulco, Oaxaca, should average $1500-2000 US per month.
Between the mountains and the ocean, you'll find plenty of things to do in Huatulco. Snorkeling, beach days, and winter whale watching top the list.
But the activities are not limited to the ocean. The rugged Sierra Sur mountains that quickly descend towards the coast of Oaxaca are home to coffee farms and stunning waterfalls, most notably Las Cascadas Magicas de Copalitilla.
The diversity, affordability, and beauty of Huatulco make it one of the best cheap places to live in Mexico on the beach.
7. Mazunte
By Sean of LivingOutLau
Mazunte is a small village on Mexico's Pacific coast known for its amazing beaches and sea turtle conservation program.
The village is located in the state of Oaxaca, about a six-hour drive from the city of Oaxaca and three hours away from San Jose del Pacifico.
During the high season, Mazunte can get quite busy, but for most of the year, it is affordable and peaceful, perfect for relaxing and soaking up some sun.
The main attraction in Mazunte is undoubtedly its beaches. The area has several beautiful beaches, and many are just within a short walk from the main road.
The most popular one in Mazunte has to be Mazunte Beach. It's a nice sandy beach with clear waters and stunning views of the Punta Cometa in the distance.
For those looking for a more lively atmosphere, they could head to the popular backpacking city of Puerto Escondido. This is where you will find energetic crowds and many bars and restaurants.
And if you want to be free, head to Zipolite, a small town known for its nudist beach. It is the village adjacent to Mazunte, and people are not shy there!
Besides the relaxing and peaceful atmosphere, Mazunte is one of the best places to live in Mexico on a budget. Because it is not as touristy as some of the other beach towns in Mexico, the prices are still relatively low. You could get by for as low s 30 dollars a day!
Cheap places to live in Mexico on the Caribbean
There is no doubt that Quintana Roo is one of the most popular states to live in Mexico.
Famed for its archeological sites, cenotes, and diving opportunities in the warm, Caribbean waters on the Riviera Maya – this region of Mexico has exploded in popularity in recent years.
Here are some of the best options for cheap beach towns in Quintana Roo.
8. Tulum
By Shelley of Tulum Travel Secrets
Tulum is one of the most popular beach towns in Mexico. It is located in the Yucatan Peninsula, about two hours south of Cancun and one hour south of Playa del Carmen.
All three beach towns sit on the Caribbean Sea, known for bright blue waters, white-sand beaches, and palm trees.
In fact, one of the best things to do in the area is swimming and snorkeling, and there's no shortage of amazing snorkeling in Tulum, Mexico.
While it's not always known as a budget-friendly destination for visitors, Tulum is much less expensive when you actually live there.
For modest accommodations in a one-bedroom in Tulum Town (Downtown), you'll likely spend about $1000 USD monthly for your apartment and bills. Of course, the nicer the place and closer to the beach, the more you'll pay.
However, for those who love Tulum's beachy and boho vibes, that's money well spent. If you love beaches, warm weather, yoga, and nightlife, Tulum might be the best place to live in Mexico by the beach for you.
There are several Tulum beaches to enjoy, as well as cenotes (natural jungle pools) and plenty of nearby ancient Mayan ruins. If you have a car or don't mind taking buses, don't miss the great day trips within 1-2 hours of Tulum, like Valladolid, Izamal's "The Yellow City," and Bacalar Lagoon.
9. Playa del Carmen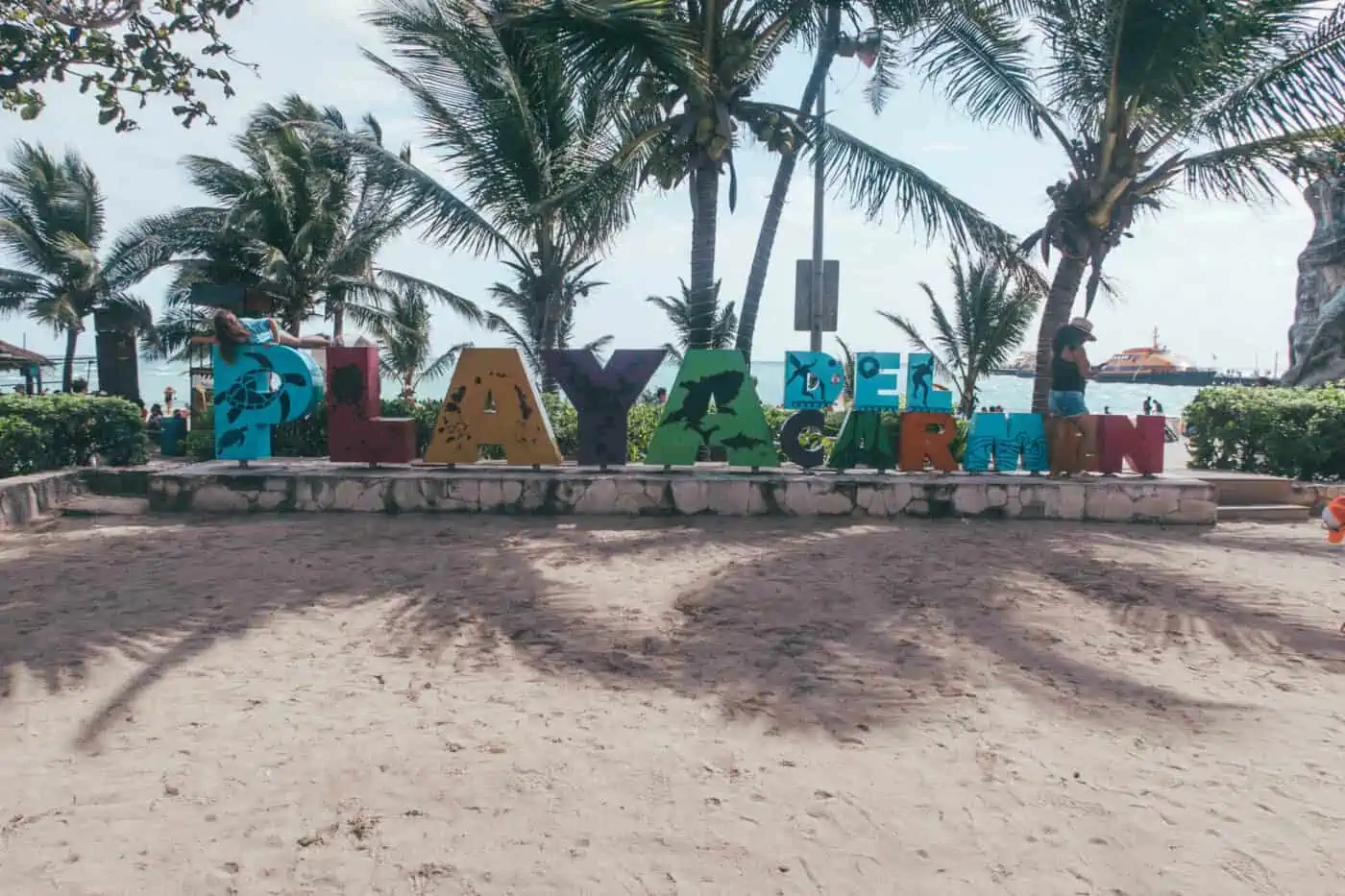 By Bradley of Dream Big Travel Far
Located in Mexico's Quintana Roo state, Playa del Carmen is renowned for its stunning beaches, coral reefs, exciting parties, and water-based activities.
Although a resort city, there are many boutique hotels that can offer comfortable accommodations for a fraction of the price.
Playa del Carmen is not only an underrated and cheap place to live in Mexico, but it's also a romantic destination perfect for couples. You can relax at one of the beach clubs, explore nearby cenotes, or even do a day trip to Tulum.
With so many beaches to choose from, you could easily spend days and up to weeks here! Parque Los Fundadores is perhaps the most famous one.
It's a public beachside park close to the city airport and ferry port, so it's easy to hop on a ferry and visit the surrounding islands. Plus, this spot is also home to a 52.5-feet Portal Maya Statue, one of the most impressive structures in the city.
Don't miss the opportunity to visit CoCo Bongo, a great nightclub that made an appearance in the 1994 film The Mask.
Getting a full-body massage by the beach is also a favorite activity for many, which typically costs around $25 per person.
In terms of living costs, expect to spend roughly $54 per day as a tourist, which includes meals and local transportation.
Of course, this can be even lower if you plan to stay in Playa Del Carmen longer. No wonder it's one of the top places to live in Mexico!
10. Bacalar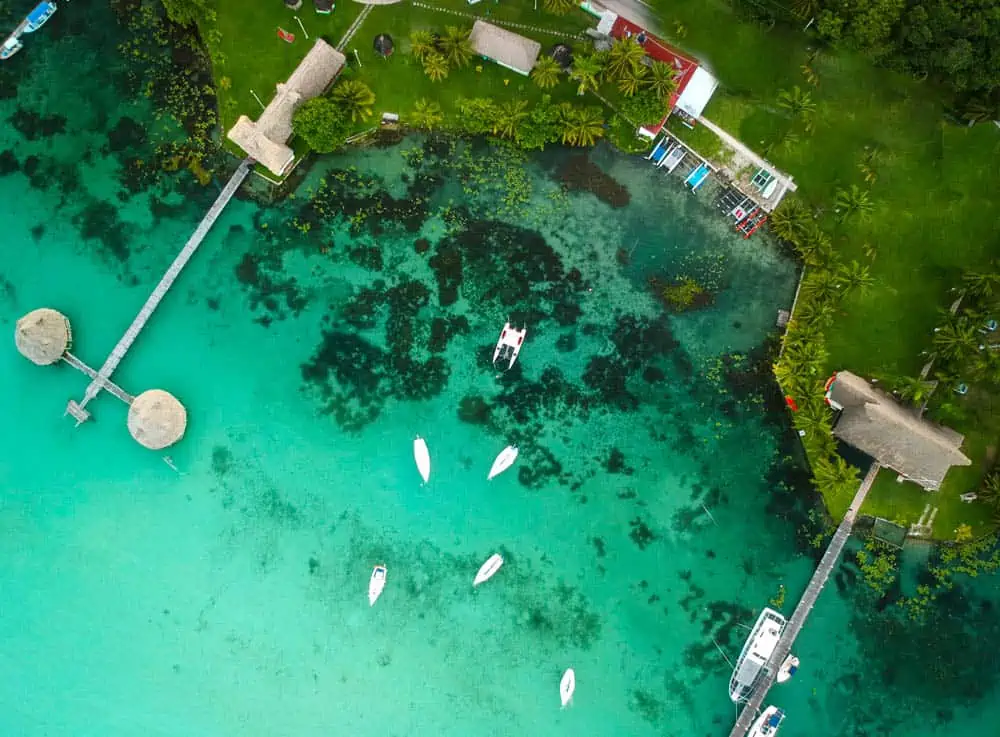 By Jessica of Uprooted Traveler
Bacalar may not be directly on the ocean, but it provides one of the most stunning bodies of water in all of Mexico, the Bacalar Lagoon or, as it's affectionately referred to, the Lagoon of Seven Colors.
The lagoon is famous for its stunningly clear turquoise water, which gets its incredible blue color from the white sand lining its floor.
Found in the south of the Yucatán Peninsula, just half an hour from the Belize border, Bacalar has a laidback and small-town vibe.
Despite its proximity to glitzy resort Mexican cities like Tulum and Playa del Carmen, Bacalar is still fairly affordable.
For example, you can score a two-bedroom apartment for about $450 a month and spend about $350 monthly on groceries and less than $100 on utilities.
All in all, to live a very comfortable lifestyle in Bacalar, you could spend as little as $18,000 per year!
There are plenty of things to do in Bacalar, most of which revolve around playing in or getting out on the water.
For example, many of the beaches along the Bacalar Lagoon are found on private property, but there are several beach clubs, like Balneario Cocolitas, where you can pay a nominal fee to get access to the lagoon and its sandy shore.
For an unmissable experience, head to Los Rapidos, a small resort located south of Bacalar along a narrow section of the lagoon.
The current here acts as a lazy river, carrying your kayak or just your body along as you gently float along and take in the stunning landscape surrounding you.
11. Holbox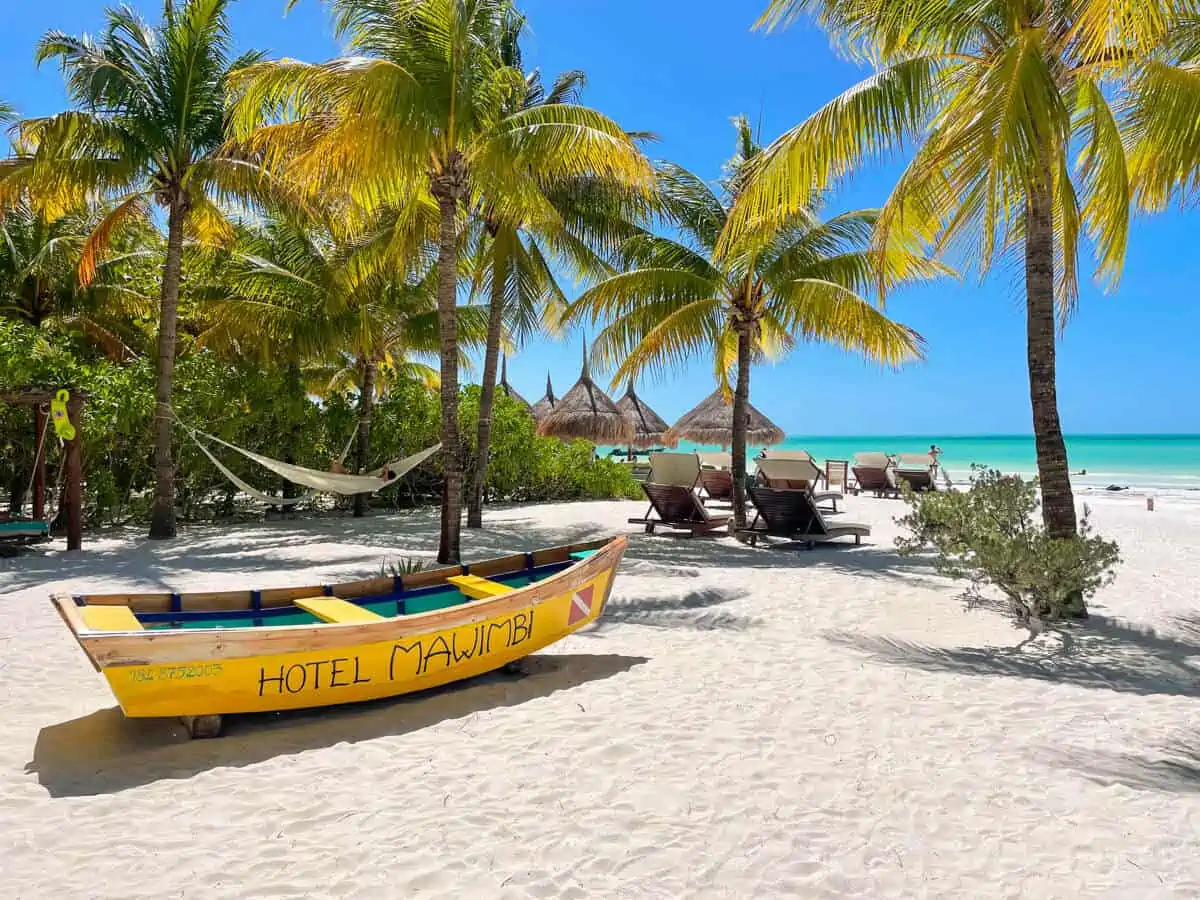 By Allison of Viva La Travelista
Located on the northeastern tip of the Yucatan Peninsula, Holbox Island is a small fishing village that has become increasingly popular with tourists in recent years.
At only 1 mile wide and 26 miles long, this laid-back tropical island is home to widespread white sand beaches, shallow turquoise waters, and abundant wildlife.
Despite its growing popularity, Holbox remains an affordable place to live, with a lower cost of living than many other beach destinations in Mexico. Depending on your lifestyle, you can live comfortably in Holbox for as little as $1,500 USD per month.
When it comes to apartment rentals, you can pay more for a rental close to the beach or live more cheaply in the town center. Plus, there are no cars on the island – only golf carts and bicycles – so you'll save money on transportation costs.
If you're looking for things to do, there's no shortage of options. You can explore the island's many beaches, swim with whale sharks (in season), and even see the bioluminescence that lights up the waters around Holbox at night.
Plus, living in Holbox means you can take advantage of the many beautiful Holbox hotels and rent beach beds to relax at their beautiful beachfront lounge areas.
There are also plenty of casual restaurants and bars to enjoy, as well as a lively nightlife scene.
Overall, Holbox is an affordable, laid-back beach destination that is perfect for those looking for a remote place to relax and enjoy the natural beauty of Mexico.
12. Isla Mujeres
By Imee of Journey To Mexico
Although it is only about eight miles from Cancun, the island of Isla Mujeres feels very different from the mainland.
It's no longer a secret but rather an established place where digital nomads and even retirees may base themselves. This is Caribbean luxury without breaking the bank.
Here, one can get by on as little as $1,700 (house rent, food, utilities) per month, while a couple needs $2,000 per month to get by comfortably; with $2,500 per month, one can live an extra comfortable life.
White sand beaches, blue oceans, and some of the friendliest people in all of Mexico's Caribbean region are what make this area famous.
Plus, the uniqueness of the Isla Mujeres community comes from the many different types of people who live there, including fishermen, artists, musicians, divers, chefs, and expats.
The island has a laid-back atmosphere yet is well-known for its excellent conditions for swimming, snorkeling, and scuba diving. It has some of the top snorkeling sites in Mexico!
Although most visitors stop by Isla Mujeres on their way to or from Cancun, the island has enough attractions to warrant a visit and is one of the most affordable beach towns in Mexico to retire.
13. Cancun
By Paulina of UK Every Day
Living in Cancun can be either extremely expensive or really cheap. If you look out for accommodation outside the Hotel Zone, which offers some of the most luxurious stays in the Yucatan Peninsula, you will be surprised that Cancun can also be very affordable.
With some research, you can find private rooms to rent for less than 200 USD. Moreover, the well-developed transport system makes getting around the city cheap and easy.
Instead of spending 30 USD for taxis, you can catch Collective in almost every corner of Cancun and pay just 1-2 USD for your trip.
Outside the city center, there are also plenty of local shops with ridiculously low prices, which make the living cost much lower than you would expect. Eating out, buying clothes, and other daily products can be as low as 200 USD.
While saving on accommodation, you can spoil yourself with once-in-a-lifetime travel experiences. Swim with whale sharks just off the Yucatan's Peninsula coast and unwind on the nearest island – Isla Mujeres. It's also one of the best party cities in Mexico!
Also, make sure to visit Isla Contoy to see starfishes and relax on a hammock in Isla Holbox. When you are back in Cancun, stroll around the city and admire beautiful street art.
Cancun is well connected to the world through by the Cancun international airport, as well as many other places in Mexico. A day trip to Tulum, Playa del Carmen, Cozumel, or Valladolid are only a few ideas for spending your free time.
However, before moving to Cancun, make sure to learn a bit of Spanish because you will need it when living outside the Zona Hotelera.
Cheap beach towns on the Gulf of Mexico
Last but not least, we'll look at two cheap places to live in Mexico on the beach in the states of Yucatan and Campeche.
14. Progreso
By Shelley of Travel To Merida
Puerto Progreso is a popular cruise port town on the Gulf of Mexico. It is one of the best Yucatan beaches in Mexico and the largest city on the Costa Esmeralda, or Emerald Coast.
Mexico's Yucatan beaches are known for the emerald-colored water, where the nickname comes from. You'll also enjoy calm, warm waters year-round and warm to hot temperatures in this quintessential Mexico beach town.
Progreso is also known as one of the windiest cities in Mexico, so it's popular with kite surfers, kite-boarders, and windsurfers. Don't worry, though; it's usually only windy enough for this on one end of the beach.
The cost of living in Progreso is relatively low unless you want to rent a large beach house. These are very luxurious but also quite pricey.
For a modest apartment in downtown Progreso, which is within walking distance of the beach, you'll likely spend only about $800 USD for rent and bills.
Progreso is the closest beach to the popular city of Merida, known as one of the safest cities in Mexico. Merida is a colorful colonial city, and many locals from here visit Progreso on weekends. The drive from Merida to Progreso takes about 45 minutes.
If you want to be near a big city but also live on the beach where you can enjoy nature, peace, and quiet, Progreso is it. Merida is the 13th largest city in Mexico, with an international airport and excellent hospitals, and Progreso is close enough to enjoy all those amenities.
15. Campeche
By Daria of The Discovery Nut
The Yucatan Península is one of the most popular destinations in Mexico, with major cities like Cancun, Merida, and Tulum attracting millions of tourists.
While the region has been on the tourist radar for years, it still has hidden gems. One of them is Campeche (or San Francisco De Campeche), the capital of the Campeche State along the Gulf of Mexico.
Campeche is a UNESCO World Heritage Site, with pastel colonial architecture and cobble-stoned streets.
Campeche is surrounded by walls built to protect it from pirate attacks that were common in the 17th and 18th centuries.
Originally a Mayan village named Kan Pech, Campeche was colonized in 1540 by the Spanish conquistadors and became a major trading port. The commercial activity in the region quickly gained the attention of the pirates who repeatedly attacked the city in the 1600s and 1700s.
Spend some time wandering around the city before grabbing lunch on Calle 59. Head to Playa Bonita, just outside Campeche, where you can swim in the Gulf of Mexico.
Despite everything that Campeche has to offer, it's still relatively undiscovered. It has a low cost of living and a quieter atmosphere than popular destinations in the Rivera Maya, making it a great option for lovely places to live in Mexico.
Make Campeche your home before everyone else does!
Insurance for digital nomads in Mexico
If you're considering moving to Mexico – don't forget travel insurance!
Yes, medical costs are cheaper than in the U.S., but they can still add up (especially if you need to be moved elsewhere for medical care). The best way to protect yourself against unforeseen costs is travel medical insurance.
I use and love SafetyWing, which is insurance made for digital nomads. It's just 42 USD/month and works on a subscription service – so you can easily stop and start it for the time you're living in Mexico! You can read my full SafetyWing review (and experience claiming with them) here.

FAQ: Cheap places to live in Mexico on the beach
Where is the cheapest place to live in Mexico on the beach?
Some of the cheapest beach towns in Mexico to live in include San Pancho, Puerto Escondido, Mazunte, and Progreso.
Where is the cheapest and safest place to live in Mexico?
Mérida, Yucatán, is often regarded as one of the safest cities in Mexico and offers a low cost of living.
Where is the best place to live in Mexico by the ocean?
Playa del Carmen, Puerto Vallarta, and Sayulita are highly recommended for their stunning beaches, vibrant expat community, and nightlife.
Can I live on $500 a month in Mexico?
While living on $500 a month in some parts of Mexico is possible, it might require a modest lifestyle and careful budgeting. You can reduce your accommodation costs by volunteering or housesitting.
Are there safe places to live in Mexico?
Is Mexico cheap to live in?
Generally, yes. Mexico has a lower cost of living compared to many other Western countries, allowing expats to enjoy a comfortable lifestyle on a modest budget. However, many places in the world are cheaper.
Where do most Americans live in Mexico?
Many Americans live in popular expat destinations such as Puerto Vallarta, San Miguel de Allende, and Tulum, known for their expat communities.
Can you retire cheaply in Mexico?
Yes, Mexico offers affordable living options, making it a popular choice for retirement due to its lower cost of living compared to other countries.
Can I live in Mexico and get paid in dollars?
Yes, it is possible to live in Mexico and receive income in U.S. dollars. Many expatriates and remote workers living in Mexico receive payments in dollars, whether through online work, remote job arrangements, or retirement benefits.
How much money do you need to live comfortably in Mexico?
The amount of money needed to live comfortably in Mexico can vary depending on factors such as your location, lifestyle choices, and personal preferences. However, as a general guideline, a monthly budget of around $1,500 to $2,500 can provide a comfortable lifestyle for many places in Mexico.
Final thoughts: Cheapest beach towns in Mexico
Mexico offers a variety of affordable and beautiful beachfront locations to live in, making it a great option for digital nomads and expats seeking a budget-friendly beach lifestyle.
Whether it's the vibrant streets of Puerto Vallarta, the tranquil shores of Progreso, or the surf in Oaxaca, Mexico has a beach town for everyone. I hope this post could give you some idea on where to live in Mexico by the beach.
Moving to Puerto Vallarta was one of the best decisions I ever made – there's a reason I decided to make it my permanent base!
Jumping into the digital nomad lifestyle? Check out these posts for more inspiration on where to work remotely and live by the beach.