This post may contain affiliate links. By clicking and making a purchase through the links, I earn a small commission at no extra cost to you. See my disclaimer for more information. This and display ads allow me to keep the site up to date and give back.
Wondering what to see on a 10 days in Bali itinerary? After living in this tropical paradise, I've curated the perfect Bali itinerary packed full of adventure, culture, and nightlife.
From the lush greenery of Ubud to the stunning beaches of Jimbaran Bay, this 10 day trip to Bali will take you on a journey through the heart and soul of the island.
From experiencing the beauty of sunrise at Mt. Batur to exploring the vibrant cultural heritage at Besakih, Tirta Gangga, Lempuyang, and Amed, you'll be able to witness the true essence of Bali.
Get lost in the stunning scenery at Tegalalang and the surrounding areas of Ubud, Visit the Nusa Islands and explore the vibrant underwater world of Nusa Penida. End your journey with a visit to the iconic Uluwatu temple and finish on a relaxing note at Jimbaran Bay.
Get ready to experience the best the island has to offer on this 10 days in Bali itinerary.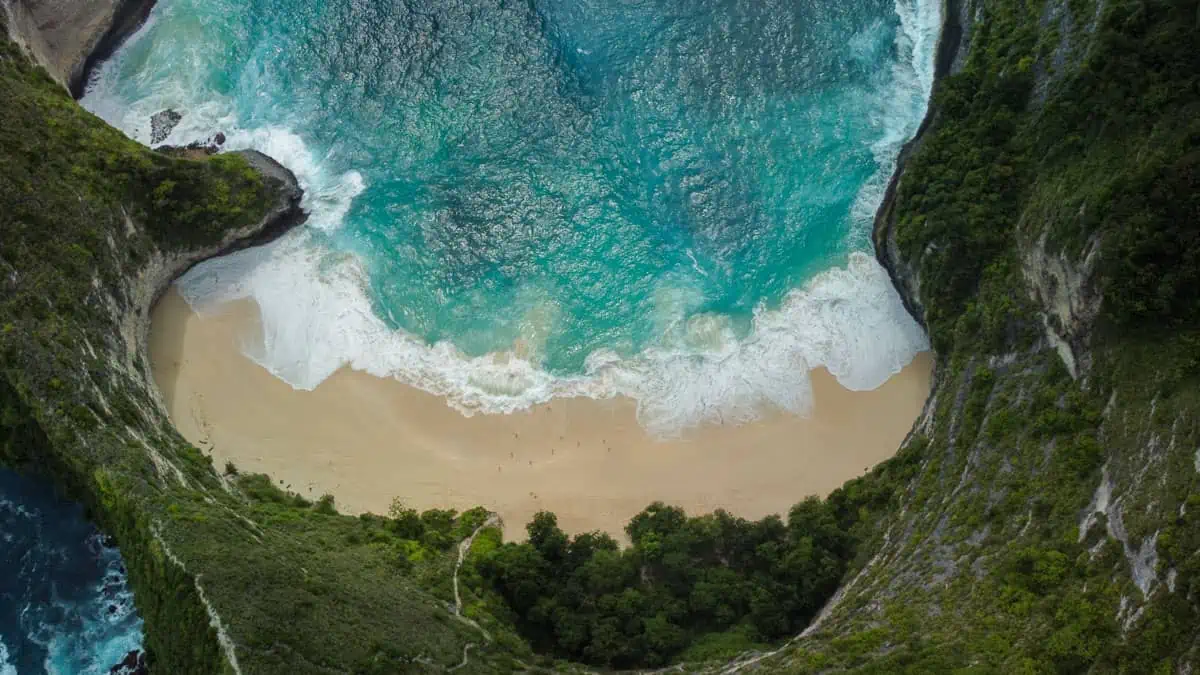 Arriving in Bali
Upon landing at Ngurah Rai International Airport in Bali, you have a few choices for transportation to your hotel.
If you want to save some money, you can take a taxi which are readily available at the airport. They are usually metered, but it is a good idea to clarify the fare before you get in to avoid any misunderstandings.
However, if you would like a more hassle-free arrival experience, you can opt for a private transfer. This way a driver will be waiting for you as soon as you step out of the airport terminal and you don't have to worry about haggling with taxi drivers after a long flight1
Getting around Bali
For your 10-day itinerary in Bali, transportation is a crucial aspect of your trip. Renting a car is a great option if you prefer a more leisurely pace and aren't confident riding a scooter.
The car rental prices can vary, but you can expect to pay around 200,000 IDR ($14) to 500,000 IDR ($35) per day for a basic car, with an additional fee for insurance.
To find the best option, search on Discover Cars. They do a search of all the major car rental agencies in Bali, so you can compare prices and get the best deal.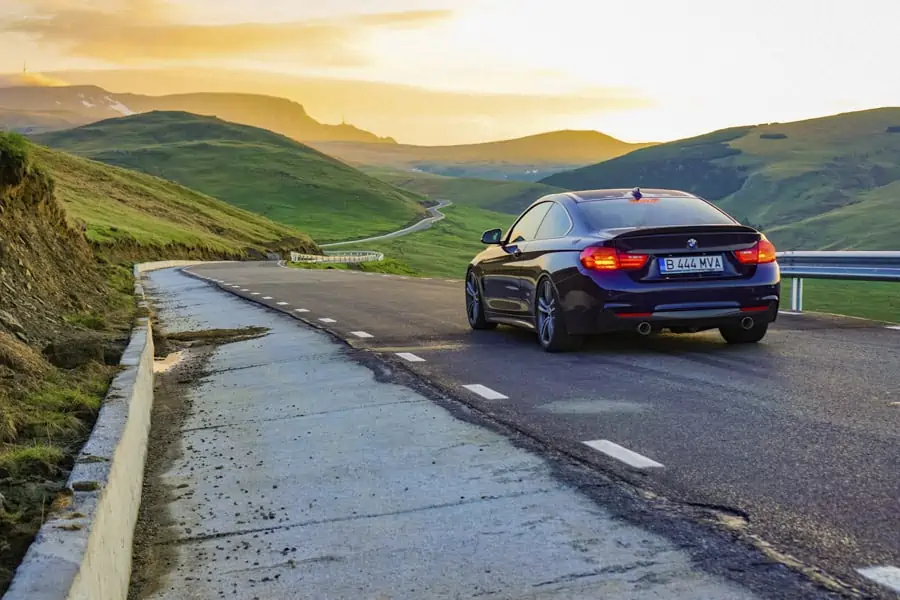 BEST CAR RENTAL COMPANY IN BALI
To find the best deals on car rentals in Bali, I recommend using Discover Cars. They search international and local Indonesian companies so you can get the best price.
On the other hand, renting a scooter is a more budget-friendly option, costing around 50,000 IDR ($3.50) to 150,000 IDR ($10) per day.
Scooters are a popular mode of transportation in Bali and one of the best ways to explore the island. Just be sure to wear a helmet, drive cautiously, and familiarize yourself with the local traffic laws.
It's also worth noting that a valid international driving license or an Indonesian one is required to rent a car or scooter in Bali.
10 Days in Bali Itinerary
Day 1: Immerse in the Heart of Bali – Ubud
On the first day of your Bali adventure, you will arrive in Ubud, the heart and soul of Bali's rich cultural heritage.
This small town is nestled amidst lush rice paddies and is surrounded by lush tropical forests and breathtaking natural beauty. It is known for its peaceful and relaxed atmosphere, making it the perfect place to start your trip and get acclimatized to the local culture and way of life.
There are several popular activities to enjoy in Ubud, including visiting the Ubud Monkey Forest, which is home to a large colony of long-tailed macaques.
Here, you can observe these fascinating primates up close while walking through a beautiful jungle setting. You can see these monkeys all over Bali, but the park is still worth visiting.
One of the most popular things to do in Bali is to go swinging over the rice terraces, which do charge you for. But the photos turn out pretty awesome, and the swing is a lot of fun!
Another must-visit attraction in Ubud is the Ubud Market, where you can browse through a wide selection of locally made crafts and souvenirs. The market is a great place to experience the local culture and buy unique souvenirs.
If you're interested in learning about the history and culture of Ubud, a visit to the Ubud Palace is a must. This traditional Balinese palace is a beautiful example of local architecture and is home to the royal family.
If you're just visiting Ubud for the day, the easiest thing to do is book one of these full-day Ubud tours, which will take you to all the main attractions. Although it's well worth staying overnight at one of these beautiful resorts in Ubud.
RECOMMENDED UBUD HOTEL
Kappa Senses Ubud is a luxury hotel in the rice fields of Ubud. This 5-star resort is the perfect place to relax in paradise.
Day 2: Discover the Beauty of Mount Batur on a Sunrise Trekking Adventure
Get ready for a breathtaking adventure on Day 2 of your Bali itinerary visiting the iconic Mount Batur, one of the most stunning volcanoes in Bali. This was one of the first things I did while living in Bali, and even after a month of adventure through Indonesia, it remains one of my favorites.
Standing tall at 5,633 ft above sea level, the summit of Mount Batur provides a perfect vantage point to witness the sunrise and take in the panoramic views of the crater lake and the surrounding landscape.
For a unique and immersive experience in Bali, check out this Mount Batur sunrise trek. You cannot hike Mount Batur without a guide, and going with a highly-rated tour will give you the best experience.
From Ubud, your journey starts early at 3:40 AM with a transfer from your hotel to the starting point. After a short briefing and gear check, you'll embark on a 1.5-2 hour trek to the summit, covering a distance of approximately 11 km.
This trek takes you through the unique volcanic landscape filled with native flora and fauna, offering you a chance to experience the peaceful atmosphere of the Batur region.
As you hike under the starry sky, you'll witness the sunrise and be rewarded with stunning views of the sun rising over the sea of clouds.
Once you reach the summit, you'll be served a hot beverage and a sandwich and egg to refuel your energy. Then, you'll have the opportunity to explore the crater lake and summit ridge, including recent lava flows and younger craters. It's so cool to see the stream coming out of the ridges!
On the way back, be sure to keep an eye out for the tall grass with purple bloom and watch out for the mischievous Balinese long-tailed macaques that may cross your path.
Afterward, stop in the nearby hot springs for a dip to soothe your muscles.
HOTEL RECOMMENDATION
You could stay at the same accommodation as the previous day. Otherwise, Pertiwi Bisma 1 is a great location and is also very close (a 5-minute stroll) to Monkey Forest.
Day 3: Explore the Rich Culture and Beauty of Besakih, Tirta Gangga, Lempuyang, and Amed
On day three of your trip, you will have the opportunity to explore the eastern part of Bali, visiting some of the most picturesque and historic sites on the island.
The day will start by visiting Besakih, the largest and holiest temple in Bali, which is also known as the "Mother Temple" of Bali. This complex of temples is perched on the slopes of Mount Agung and is dedicated to the Hindu god, Shiva.
Next, you will visit Tirta Gangga, a stunning water temple located in the east of Bali. This temple is famous for its beautiful pools, fountains, and gardens, as well as its intricate carvings and sculptures. Visitors to Tirta Gangga can take a dip in the sacred pools and soak up the peaceful atmosphere of this tranquil spot.
Next, you will stop at Lempuyang Temple, one of Bali's most iconic and revered temples. This temple is known for its beautiful views of Mount Agung, and visitors can climb the steep steps to reach the main gate and take in the breathtaking panoramic views.
I recommended this Besakih Temple & Lempuyang Temple Gates of Heaven Tour, which will cover it all in one day.
Finally, you will head to Amed, a charming fishing village located on the east coast of Bali. Amed is a peaceful and serene location, perfect for those who want to escape the crowds and enjoy some peace and quiet.
Here, you can stroll along the black sand beaches, go snorkeling and diving, or simply relax and enjoy the local food.
RECOMMENDED HOTEL
Kubu Indah Dive & Spa Resort is the perfect place to stay if you want to try diving in the beautiful waters of Indonesia. They offer gorgeous villas and bungalows in a serene jungle setting.
Day 4: Slide Down Waterfalls in North Bali
On the fourth day, you'll visit north Bali, which is one of the most underrated parts of the country.
My favorite part of north Bali is Lemukih Waterslide, located in the village of Lemukih. This natural waterslide is made of smooth rocks and is much fun to go sliding down!
It's such a fun way to cool off and enjoy the surrounding jungle scenery. We spent a couple of hours sliding down the rocks and swimming in the natural pools which was one of my favorite days in Bali.
Pro tip: go as a group down the slides for higher speeds!
There's a restaurant there you can enjoy after sliding down the waterfall.
Afterward, depart from the Lemukih Waterslide and head to Banyumala Waterfalls, located about 30 minutes away by car. Banyumala Waterfalls is a stunning double waterfall set in the midst of the lush green forest. It's a short hike down to the main viewpoint, which is stunning.
It's important to keep in mind that the drive to North Bali can take several hours each way, depending on traffic and road conditions. Plan accordingly and consider hiring a driver or joining a tour to make the most of your time. Additionally, be sure to bring appropriate footwear and swimwear for the water activities.
Recommended Hotel
North Bali doesn't have nearly as many accommodation options as the south. I recommend staying overnight in Monduk to avoid a long day of travel, which is a small town. Atres Sari Resort is a great option, with a beautiful pool overlooking the mountains.

Day 5: Admire the Majestic Pura Ulun Danu Bratan and Bedugul Waterfalls
On day five of your Bali adventure, you'll visit two of the island's most stunning natural wonders – the Pura Ulun Danu Bratan temple and the Bedugul waterfalls.
In the Bedugul area, you'll immerse yourself in a completely different culture, surrounded by peace and pure nature.
Before reaching the temple, take a detour to admire the Nungnung waterfalls, though they might not be the most stunning you'll see on this day. For truly breathtaking falls, check out the Sekumpul, Gitgit, and especially the Banyumala Twin waterfalls.
Discover the three main lakes in the region (Tamblingan, Buyan, and Bratan), starting with Buyan. Here, you can visit the enchanting Hidden Hills Wanagiri, straight out of a fairy tale. If you're traveling during the monsoon season, be sure to visit Tamblingan and its temple, which can only be reached by boat when the lake's water level rises.
Finally, end your day at the Pura Ulun Danu Bratan temple, located on Lake Bratan. This temple is a true gem in the Bedugul area. On the way, you may also come across the Handara Gate, a beautiful entrance to a golf course that has become a popular tourist spot.
The easiest way to visit these attractions is on this tour, which visits Banyumala Waterfall, Bedugul and Lake Beratan.


Day 6: Enjoy the Best of Bali's Beaches, Temples, and Nightlife
Day 6 is a day of exploration and adventure on the west coast of Bali. You'll start your day by visiting Jatiluwih Rice Terrace, a breathtaking landmark known for its scenic beauty and traditional rice farming methods.
Here, you can take in the sweeping views of the lush, terraced landscape and learn about the local farming practices that have been passed down for generations.
Next, it's time to unwind at Pasut Beach, where you can soak up the sun, swim in the crystal-clear water, or participate in various beach activities. Whether you prefer lounging on the sand or exploring the shoreline, this idyllic spot is the perfect place to relax and recharge.
In the afternoon, visit the famous Tanah Lot Temple on this guided tour, one of Bali's most iconic landmarks. This beautiful temple is situated on a massive rock formation in the middle of the ocean and is a must-see for any traveler to Bali.
Take in the stunning views of the temple against the backdrop of the ocean and snap some unforgettable photos.
After a day of exploring, end your day in the heart of Seminyak, one of Bali's trendiest and most vibrant areas. Here, you can indulge in some shopping, try delicious local cuisine, or experience the nightlife scene. If you need to catch up on e-mails, Seminyak is also home to some of Bali's best coworking spaces.
Almost every night of the week one of the clubs has a special offer on for discounter food and drinks – highly recommend ladies night at ShiShi Bali!
Recommended accommodation: A beachfront property facing the Indian Ocean, The Legian Seminyak offers luxurious accommodations set in landscaped tropical gardens along Seminyak Beach with a three-tiered outdoor pool. Now that's a place to relax!

Day 7: Uncover the Secrets of Nusa Lembongan and Nusa Ceningan
On day seven, embark on a thrilling journey to the Nusa Islands, a group of three beautiful islands located just off the southeast coast of Bali. Your first destination will be the idyllic island of Nusa Lembongan, renowned for its gorgeous beaches and world-class surf spots.
Nusa Lembongan is a paradise for surfers, offering waves suitable for all levels. Whether you're a seasoned surfer or a beginner, you'll have the chance to catch some of the best waves in the area. If surfing isn't your thing, no worries, the beaches here are breathtaking.
With crystal-clear waters and pristine white sand, they're the perfect place to soak up the sun, relax, and soak in the stunning scenery.
Next, head to Nusa Ceningan, a small island known for its stunning natural beauty and peaceful atmosphere. Explore the lush green landscapes, serene beaches, and tranquil lagoons that make this island a special gem.
Take a relaxing walk along the island's quiet streets, or hike to the top of the cliffs for breathtaking views of the surroundings. Whether you're seeking adventure or relaxation, Nusa Ceningan has something for everyone.
Take a guided snorkeling tour to explore the vibrant coral reefs and spot colorful marine life, or visit the iconic Yellow Bridge, which connects Nusa Lembongan and Nusa Ceningan.
For a unique experience, visit the Mangrove Forest and book a guided mangrove canoe tour to learn about the important role these ecosystems play in supporting the local environment and wildlife.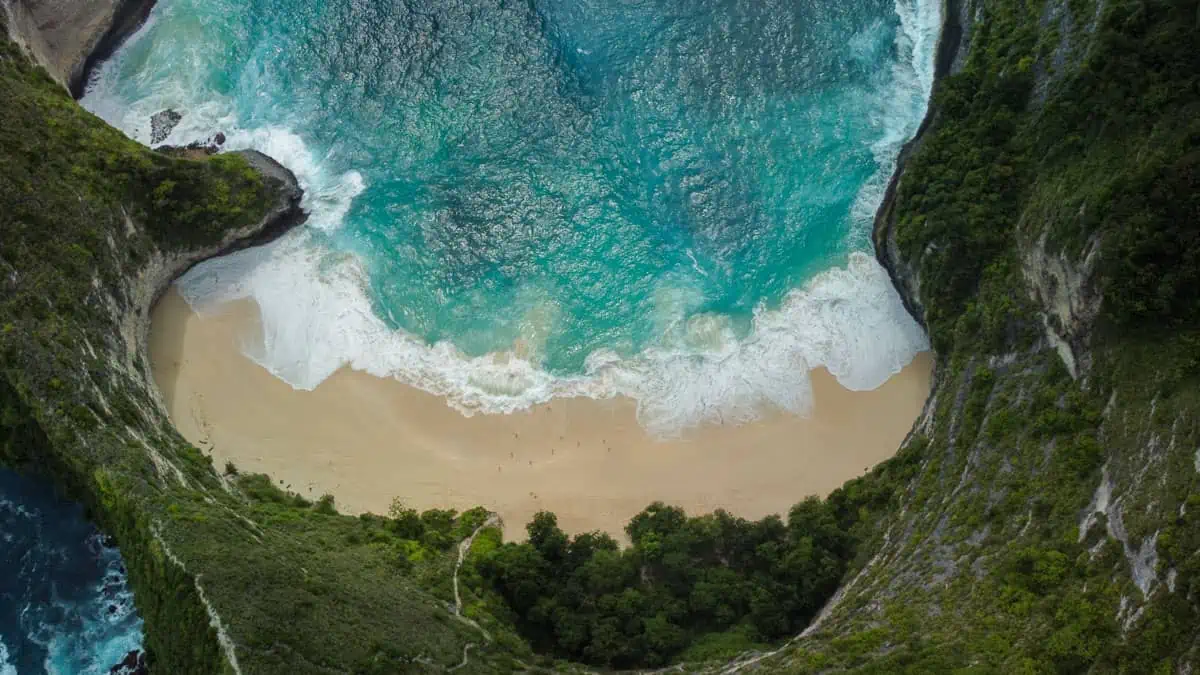 Recommended Hotel
The Tamarind Resort is a 5-star resort with luxurious amenities nestled in the natural landscapes of the island.
Day 8: Discover the Stunning Beauty of Nusa Penida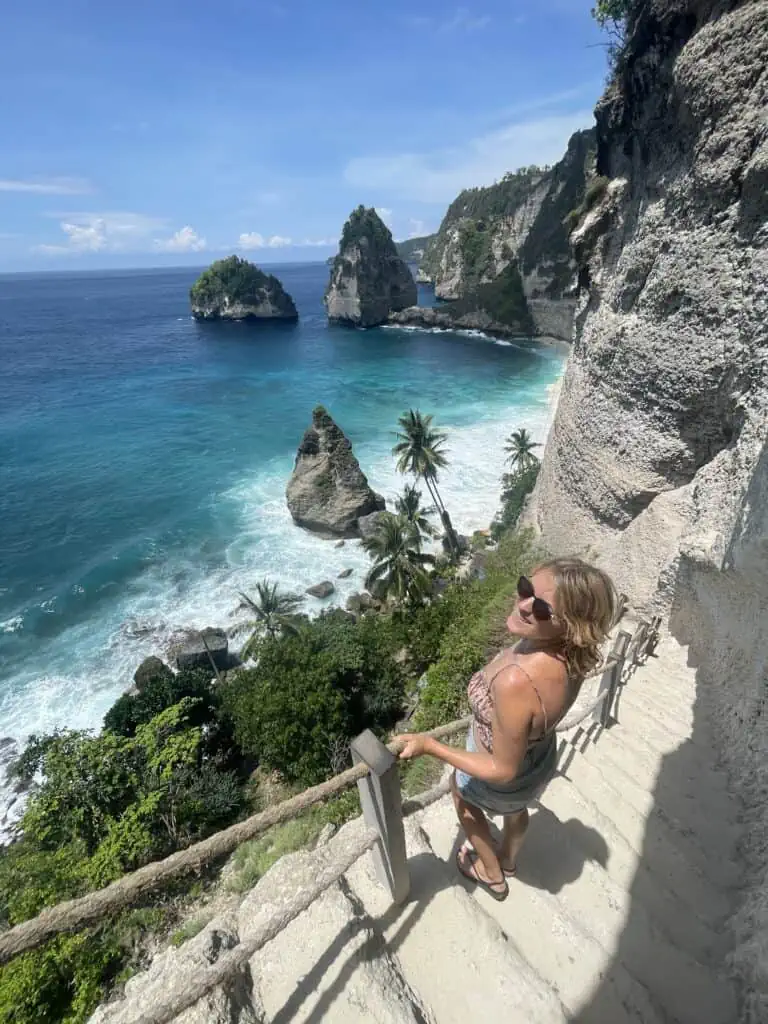 Get ready for an unforgettable day on Nusa Penida, the largest and most breathtaking of the Nusa Islands. This island is a true gem, with its rugged landscapes, hidden beaches, and crystal-clear waters. It's become one of Bali's most popular day trips for a reason!
One of the highlights of Nusa Penida is the stunning Kelingking Beach. With its turquoise waters, white sand, and towering cliffs, it's a must-visit destination. Take a guided tour to this hidden paradise and relax on the beach or go for a swim.
For adventure-seekers, the Broken Beach and Angel's Billabong are two natural wonders that are not to be missed. On the way, you'll pass by the iconic Broken Beach, with its natural arch and vibrant blue waters. And don't forget to visit Angel's Billabong, a natural infinity pool with crystal-clear waters.
Although Nusa Penisa is a small island, it does take time to get between beaches due to the winding roads. I recommend hiring a private driver for the day so you can make the most of your time!
For a more relaxed experience, visit the charming village of Toyapakeh. This small fishing village is known for its traditional way of life, and is a great place to explore local culture and try fresh seafood.
Nusa Penida is also a popular destination for snorkelling and diving, as it's one of the best places in Indonesia to see manta rays, as well as colorful coral reefs and diverse marine life.
I went diving with the mantas here and was glad that I had my advanced certification and some experience as the currents really push you around! But, the mantas are incredible to see up close. If you aren't certified to dive, there are plenty of manta snorkeling tours.
RECOMMENDED HOTEL
Staying overnight in Nusa Penida will allow you to see the most popular sights without the crowds as most people take day trips from Bali. For an unforgettable stay, check out MAUA Nusa Penida. The reviews say it all!

Day 9: Marvel at the Cliff-side Temple of Uluwatu
Day nine of your Bali adventure brings you to the southwestern tip of the island, where the iconic Uluwatu Temple awaits. Perched atop a cliff overlooking the ocean, this temple offers stunning views of the surrounding landscape and is a must-visit for any traveller to Bali.
But the beauty of Uluwatu extends beyond the temple itself. This area, located on the Bukit Badung peninsula, is home to incredible cliffs that provide breathtaking views of the Indian Ocean and offer space for hidden coves, like the beautiful beaches of Green Bowl and Melasti.
If you're looking for a unique experience, be sure to visit the abandoned Boeing 737-200 PK RII plane within the peninsula. It's become the newest Instagram hot spot in Bali1
And for those interested in the cultural side of Bali, the Garuda Wisnu Kencana park is a must-see. This park is dedicated to the Hindu god Vishnu and features towering statues that reach up to 120 meters in height.
No visit to Uluwatu would be complete without stopping by the Uluwatu Temple for a traditional Kecak Fire and Trance dance performance, held nightly. This is truly a once-in-a-lifetime experience and a must-do for anyone visiting the area.
If you're a fan of beach clubs, do not miss the chance to go to Savaya Beach Club.
This iconic beach club is not only one of Bali's best but all of Southeast Asia's – it features multiple infinity pools perched along the cliff, the world's top DJ's, and incredible cocktails and food. Trust me, you don't want to miss out on this place.
RECOMMENDED HOTEL
Bali is all about living that Villa life and Uluwatu is the perfect place to try it. Villa Papaya & Zen is the perfect place to unwind by the pool after exploring Uluwatu.
Day 10: End Your Trip on a High Note at Jimbaran Bay
Finish off your 10 days in Bali itinerary in Jimbaran Bay, a stunning stretch of coastline that is famous for its breathtaking beaches and mouth-watering seafood.
Start your day by soaking up the sun on the soft, golden sands of the beach, letting the warm Indonesian sun and gentle sea breeze soothe away any remaining stress.
If you're feeling more active, take a dip in the crystal clear waters of the bay and enjoy the refreshing sea.
As the day draws to a close, head to one of the many local restaurants that line the beach. Here, you can sample some of the freshest and tastiest seafood that Bali has to offer, with an array of options to suit all tastes and budgets.
Whether you prefer grilled fish, succulent prawns, or a delicious seafood platter, you're sure to find something to suit your palate. As you dine, watch the sun slowly set over the bay, casting a warm glow over the water and providing the perfect backdrop for a romantic evening.
This is the perfect way to say farewell to this beautiful island. Relax, recharge, and savor the memories of your incredible trip to Bali.
For your last night, treat yourself to a luxurious night at the Villas at Ayana Resort!
Discover more of the best things to do on your 10 days in Bali itinerary
I use and love SafetyWing global health coverage to protect myself everywhere I go!
FAQ: Planning a 10 Days Bali Itinerary
When is the best time to visit Bali?
Bali has a tropical climate with two distinct seasons: the dry season (April to September) and the wet season (October to March). The dry season is the most popular time to go, but it's also when you can expect larger crowds and higher prices.
If you don't mind occasional rain and want fewer crowds, then the rainy season can be a good time to visit Bali. During this time, the island is lush and green, and the rain is usually in short bursts rather than constant downpours. I visited Bali in October and still had a great time.
How much do you need for 10 days in Bali?
The amount of money you'll need for a 10-day trip to Bali depends on your travel style, accommodation choices, and activities you plan to do. Bali can be a budget-friendly destination or a luxurious one, depending on your preferences. A budget traveler could expect to spend around $500-$800 for 10 days in Bali, while a mid-range traveler might spend around $1,500-$2,500. For luxury travelers, the cost could range from $3,000-$10,000 or more.
How many days are sufficient for Bali?
Bali is a diverse destination with plenty of attractions, so it's possible to spend anywhere from a few days to a few weeks exploring the island. If you're short on time and just want to see the highlights, then a minimum of 4-5 days is recommended. However, if you have more time and want to explore the island at a more leisurely pace, then 7-10 days or more would be ideal. This 10 days in Bali itinerary will give you more time to explore the island's hidden gems, relax on the beaches, and immerse yourself in the local culture.