This post may contain affiliate links. By clicking and making a purchase through the links, I earn a small commission at no extra cost to you. This and display ads allows me to keep the site up to date and give back. Thanks for reading!
Having visited almost 70 countries, most of them by myself, I consider myself a pretty confident solo traveler. But admittedly, I was nervous about solo female travel in Egypt.
As I prepared for my trip, most people responded to me with shock that I would even consider going to Egypt as a woman alone. Boarding the plane, I was full of feelings of both excitement and fear.
However, my safety concerns were quickly put to rest once I arrived in the country and discovered how kind the people are.
That said, there are places better suited for solo travel than others, as I discovered after six weeks of traveling alone in Egypt. I'll be sharing those with you in this comprehensive guide to solo travel in Egypt, plus tips for staying safe.
And to ensure it's not a one-off experience, I've asked some fellow solo female travelers to share their travel experiences in Egypt – and it seems they loved it too!
Is it safe to travel to Egypt alone?
After six weeks of traveling around the country by myself, I can confidently say that YES, the short answer is Egypt is safe for solo travel (at least at the time of writing).
Is it the safest place in the world? Of course not (but hey, you can even have your stuff stolen in the safest country in the world). Egypt is FAR safer than the media makes it out to be. And it's one of the safer places you can visit alone in the middle east.
Yes, you will likely be hassled at the markets in larger cities as you do in many other countries, but there are also plenty of places to visit in Egypt where that doesn't happen.
I found Egypt one of the most welcoming countries I've ever visited, especially in the smaller towns like Dahab and Siwa.
I didn't have any major negative experiences during my time in Egypt, nor did the other solo women travelers I asked to share their experiences.
That said, would I recommend it as your first time solo experience? Probably not. I was glad I had some solo travel experience before coming to Egypt, as it gave me more confidence.
Tours for solo travelers in Egypt
If you're nervous about traveling to Egypt alone, there are many great options for Egypt tours – and there is no shame in that!
If I'm nervous about a country, sometimes I'll start with a group tour and go from there, as you often end up meeting fellow travelers to continue the journey with.
I did a mix of solo travel and tours on my trip to Egypt, mainly with this local company Egylust. They helped me organize a trip to Siwa and the White Desert, and both trips were highlights of my time in Egypt. They are small group tour operators with fantastic guides.
Egylust can organize any tour for you in Egypt; just fill out this form with where you want to go. If you mention my name as a brand ambassador, they will give you a discount.
There are also many day tours you can take, which is a great way to meet other travelers and avoid any hassling.
Best places for solo female travel in Egypt
The best places for solo female tourists in Egypt are the smaller towns around the Red Sea and deserts. The cities can be quite overwhelming as a solo traveler, so I spent most of my time away from them.
If you're a diver, Egypt is a great place for solo travel as it's home to some of the most amazing dive sites in the world, and the activity is conducive to meeting others.
Egypt's dive sites take you through the most colorful coral reefs in the world, and further down the south; you can see incredible wildlife like dolphins, dugongs, and sharks.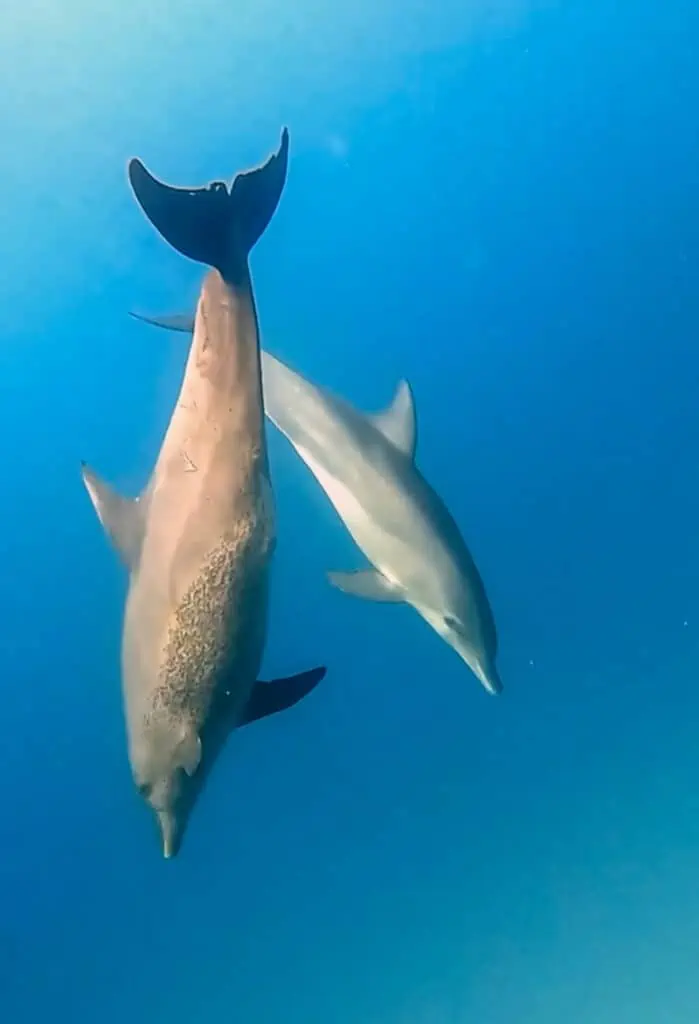 Solo diving in Egypt
Dahab
Dahab is where I started my first day in Egypt and one of the best places for solo travelers, especially if you're a diver. Once just a dusty road, this town has grown into a wonderful community of international divers and locals and is one of the cheapest places for digital nomads.
Just walking down the main road, you're bound to meet people. The vibe is so friendly, and everyone bikes to get around. If you're having trouble meeting people, joining a dive course or excursion is a great way to meet others, as there's nothing like sharing a bucket list experience to bond you.
Dahab is home to some of Egypt's most famous dive sites, such as the blue hole. It's also a popular place to learn to go freediving. If diving's not your thing, there are also endless opportunities for outdoor adventure, including kitesurfing, rock climbing, and hiking in the nearby mountains.
Don't miss the hike up Mount Sinai at sunrise, where they say Moses received the ten commandments.
Suggested hotel: Sukoon guesthouse is a great spot to meet like-minded travelers in a beautiful setting. It's just a couple minutes' walk to the main road in Dahab, where there are restaurants and shops, and the owner is lovely.
Marsa Alam
Marsa Alam is hands down not only the best place for diving in Egypt for large animals but also for solo ladies to visit. I felt incredibly safe here and met wonderful people at my dive resort – Marsa Shagra Village. I ended up extending my stay in Marsa Alam because it was so wonderful!
During the dives, I saw dolphins, a dugong, sea turtles, eagle rays, and more! Plus, the setting of being able to camp right on the beach is perfection. Check it out in this video!
Sharm El Sheikh
Sharm El Sheikh is an hour from Dahab, where the international airport is. I didn't stay here, but it's another popular destination for solo travelers with many safe resorts to choose from.
I did diving in Ros Mohamed Marine Park as a day trip from Dahab, which was incredible. The boat left from Sharm, so it's a good day trip if you're staying there – you can also go snorkeling there!
Arabela from The Spicy Travel Girl traveled there along with some other destinations and Egypt and said this:
I solo traveled in Egypt in February 2021 and my experience was fun, smooth, and safe. I started out by joining group excursions to various destinations out of Sharm El Sheikh, including popular Red Sea diving spots, the biblical site of Mount Sinai, and the breathtaking pyramids and egyptian museums of Cairo, which are an essential part of the itinerary of every solo female traveler in Egypt.

I also spent time roaming across markets by myself and held many long conversations over countless cups of tea with the vendors. While their initial approaches may have been motivated by sales pitches, many vendors ended up giving me gifts at the end of our conversation.

The highlight of my two-week solo trip to Egypt however was when the owner of a local tour company invited me to his hometown Alexandria, where I got to live with his family for a couple of days, explore this ancient metropolis, sample various Egyptian delicacies, and even pick up some Arabic.
Hurgada
I only spent two days in Hurgada and didn't get the chance to go diving, so I've asked Giorgy of G-Extreme Travel to share what her personal experience was like diving in Hurgada as a solo female traveler.
What to do before the Covid situation started to get out of control? Of course, let's go solo traveling to Egypt.

Although the COVID situation was giving all general panic, once I landed in Hurgada, I felt in another world. It was indeed so peaceful and full of kind people ready to help you.

Indeed, they helped me go through the visa process and even call me the taxi driver who was supposed to pick me up but apparently forgot about me. None of them tried to screw me over.

Once at the hotel, I left my stuff in the room and right away checked the hotel's diving center. I actually came here to immerse myself underwater and explore the beauty of marine life. If I have to be honest, I also wanted to literally escape the panic that was creating around me.

What would happen to a solo woman diving alone with a man instructor? Absolutely nothing, it all went well. I started the advanced diving course but I couldn't finish it. Not that something happened to me, not even the fish wanted to eat me. But I was almost about to be stuck in Hurgada for longer than I could imagine. In fact, three days after my arrival I had to return home.

Although it was a short experience, I really loved Hurgada, especially for the lovely people around and the beautiful marine life it has to offer. I would for sure come back to this little piece of paradise! Maybe thinking wisely before another pandemic is on its way.
Best deserts for solo female travelers
Visiting the deserts has to be on your Egypt itinerary. They are home to some of Egypt's most spectacular natural landscapes, and I felt very safe on all my desert tours.
Siwa
When it comes to safe places to visit in Egypt, Siwa is what comes to my mind first. It's not the easiest place to visit, but it's so worth the journey. Not only is Siwa safe, but it's home to some of the most unique natural wonders of Egypt.
The main highlights of Siwa are visiting the salt flats and going on a jeep safari through the sand dunes. Since it's a long way to get there (8 hours from Cairo), I recommend spending at least three days.
The locals are incredibly kind here, and there is zero hassling in shops which is pretty rare for Egypt. They are very fair with prices here! You could buy salt lamps for just 2 USD – I was so sad I didn't have the space to bring them back with me.
Suggested hotel: I stayed at Mountain Camp Ali Khaled,, a fantastic place to meet other travelers. They have fires at night and an incredible natural hot tub you can soak in.
I organized my trip through Egylust. To book a tour with them, fill out this form. If you mention my name as a brand ambassador, they will give you a discount!
White Desert
The White Desert is one of the most unique places I have ever been to. It's about a four-hour drive from Cairo, and I'm not sure how you would do it without going on a tour. I booked mine through Egylust, which included transport from Cairo.
I met the driver in Cairo and we headed out with three other solo female travellers towards the desert for an overnight camping experience. It's such an incredible trip, as you spend the night camping under the stars surrounded by these remarkable rock formations. And they will take you on a jeep to see some other-worldly landscapes around the desert.
After the sunset, the Bedouins prepared us an incredible meal over the campfire. It was my second last night in Egypt and one of the most memorable. The white desert is a magical place.
To book a tour of the white desert with Egylust, fill out this form . If you mention my name as a brand ambassador, they will give you a discount!
Cities in Egypt for solo travelers
I can't tell you how many people I've met who only go to Cairo and Luxor and say they didn't like Egypt. I don't blame them; I wouldn't like Egypt much if they had been my only experiences.
Those two cities are places I felt most unsafe as a solo female traveler in Egypt. But at the same time, they are the base for exploring iconic landmarks such as the great pyramids of Giza and kings' tombs – so they aren't to be missed.
Cairo and Giza
I was in Cairo several times throughout my trip to Egypt as it serves as a central transport hub. Unfortunately, I spent much of that time in traffic and often felt that people were trying to scam me. That said, I did enjoy going to restaurants by the river Nile, visiting the museums, and hanging out with some local friends I knew from Instagram.
And, of course, there are the pyramids!
The pyramids are in Giza, but it's only a 40-minute drive from Cairo, so many people visit on a day trip. I went twice, once on a tour and another with a local friend.
I don't recommend going to the pyramids alone, not because it's dangerous, just because you'll be relentlessly hassled. If you pay a tour guide to take you around, no one will bother you. Plus they can tell you historical information!
If you want to stay in Giza overnight, check out this Instagram-worthy apartment with a hot tub that overlooks the pyramids.
Luxor
Luxor was my least favorite place regarding safety in Egypt, mainly because of the local markets. It was the place I felt the most harassed by locals trying to sell me things. That said, it's also home to some of the best historic sites like Karnak temple and the Valley of the Tombs, so you'll want to spend some time there. Two days is enough.
Do the hot air balloon ride over the valley, it's breathtaking. I got mine for 40 USD, which is one of the best value hot air balloon experiences in the world.
Aswan
Aswan was among my favorite cities in Egypt for solo travelers. Being so close to Sudan, you can see the influence. Aswan had some of the most hospitable locals I met in Egypt, and I felt safe walking through the markets.
I even got invited to a graduation party there, one of the most random but memorable things that happened to me in Egypt! You can see the story in the video below.
Aswan is the gateway to Abu Simbel, which is the most impressive temple I saw in Egypt. It's still a few hour's drive to Abu Simbel, so you'll have to wake up early to get there, but it's worth it. Afterward, take a felucca around the river in Awan. It's a beautiful way to spend an afternoon.
Taking a solo Nile river cruise
I didn't have the chance to take a Nile cruise while in Egypt, but it's one of the most iconic things to do. Below, Joanna from The World in My Pocket shares her experience about what that was like.
I didn't know if I wanted to book a cruise on my own, on my trip to Egypt. I researched quite a lot before deciding to go ahead and book a cruise on the Nile on my own.
After finishing my trip to Egypt, I can say that it was a great decision to go on the cruise. As a solo female traveling in Egypt, I never felt unsafe. I started the cruise in Aswan, where I arrived a few days before to explore the city and Abu Simbel.
On the day of the cruise, I was picked up by the guide, and the driver at 8 am. We drove outside of Aswan, where we picked up another traveler, and found out that this was our group: only two solo travelers.
At the beginning, I felt that the guide was quite unfriendly, but as soon as we got to know each other, things changed by the end of the day. I had a great time on the cruise, and our three person group bonded so well that we are still in touch on Instagram.
I would highly advise you to book a cruise with all the tickets included – otherwise, you will have to pay quite a bit t of pocket. As a foreigner, the tickets to monuments are much more expensive than what the locals are paying.
The only place we had to pay extra was Tutankhamun's tomb in the Valley of the Kings. There are also additional excursions that you can book through your guide, but I've done them beforehand, on my own, in Aswan.
I liked that on the last day of the cruise, we were still allowed to spend the day on the ship even if we had to check out in the morning. Our train didn't leave Luxor until 8 PM, which was an excellent plus.
The food on the ship was plentiful and varied. For every meal, there was a chef cooking food to order: in the morning, eggs, while the afternoon and evening two different courses. We had an Egyptian food night, as well as entertainment each evening.
Taking public transportation in Egypt alone
You may be wondering if it's safe to take public transportation in Egypt alone, and in my experience – yes, it is! I took public buses all over the country, including a long day bus from Dahab to Cairo, a bus from Hurgada to Marsa Alarm, and two-night busses from Alexandria to Siwa and Siwa back to Cairo.
In all these experiences, I never had any issues – just some long police checkpoints, which brings me to my next point.
Police checkpoints in Egypt
One thing that surprised me when arriving in Egypt was the number of police security checks, especially in the Sinai region.
Since Egypt is under military rule, there's a lot of police enforcement. It was frightening to see men with guns at first, but over time, I just got used to it. The last thing they want is something negative to happen to a tourist, as Egypt is still building up tourism since the terrorist attacks.
I only passed through checkpoints while on buses or tours, but I did meet some other travelers who said they rented a car and had no issues going through them on their own.
Tips for traveling alone in Egypt
Use Uber in Egyptian cities. It's very cheap (I was once in an Uber in Cairo for two hours, and it was $12) It's the safest way to get around – especially at night. By using Uber, there is a record of who picked you up and where you went, and you don't have to haggle with taxi drivers. Avoid going anywhere during rush hour; the traffic is horrible.
Listen to your gut! This is the number one tip I give any solo female traveler. If you don't feel comfortable, there's probably a reason for it. Avoid any conversation that's making you feel uncomfortable, even at the risk of being impolite.
Some Egyptian men will ask you where your husband is, so wearing a wedding ring and or inventing a husband/children is a good idea to avoid unwanted attention. My fake husband is AMAZING.
People are very friendly and will invite you to join them for meals or to be shown around, but only go if you feel 100% safe. Most people in the country are well-intentioned, so don't miss the opportunity to have a cultural immersion experience while using your common sense.
Hire a guide if you're visiting popular tourist sites like the pyramids; it will help you avoid getting hassled. There are tour agencies in all the cities, or you can book online.
Get a sim card on arrival at the airport. Data is very affordable in Egypt, and this means you'll be able to call emergency numbers. Plus, having data is convenient for getting around using Google maps and looking up information as needed.
As with anywhere, be careful walking alone at night and use common sense to avoid putting yourself in any dangerous situation. If something feels too good to be true, it probably is.
Wear modest clothing while away from the resort areas to avoid unwanted attention. There's no strict dress code, but it's a Muslim country, so most people dress conservatively. Clothes in Egypt are cheap to buy, and they are fabulous! At some religious sites, you may need to wear a hijab.
Keep an open mind before you come – most stereotypes you've heard aren't true.
Register yourself with the U.S. state department before coming to let them know your travel plans.
Not particular about solo travel in Egypt, but avoid coming in the summer months as it's just too hot, and you won't be able to visit half of these attractions. The best time to visit Egypt is in the shoulder spring season from March to May. I was there from February to March, and it was lovely.
Have local currency on you – many places only take cash. The currency is the Egyptian pound (EGP)
Arabela from The Spicy Travel Girl shares some more tips below:
Dress modestly – coming from Pakistan; I used to wear long clothes and a hijab most of the time. While a headscarf is not necessary, I strongly advise women to wear long, loose clothes in Egypt, even in summer.
Stay in a Red Sea inclusive resort – Red Sea resorts like Sharm El Sheikh are generally safer and more relaxed than the major cities and an ideal starting point for a solo trip to Egypt.
Join group excursions from your hotel – they are an easy, safe, and cost-effective way to get to all places of interest.
Stay with locals – the best way to immerse yourself in Egyptian culture. However, do use caution and only accept invitations from families with women.
Still not convinced? Check out this video about I'm in about solo female travel in Egypt.
—
Don't skip Egypt because of being alone. It pushed me out of my comfort zone but ended up becoming one of my favorite solo travel experiences to date.
Rich history, delicious food, fascinating culture, historical sites, natural landscapes, and amazing people – Egypt offers so many unforgettable experiences and is sure to make the top of your list quickly.