This post may contain affiliate links. By clicking and making a purchase through the links, I earn a small commission at no extra cost to you. See my disclaimer for more information. This and display ads allow me to keep the site up to date and give back.
Before going to Africa, I had traveled solo to over 50 countries and felt fairly confident in my ability to get around. But admittedly, this was new territory for me. I had a lot of nerves about solo travel in Africa, but shortly after arriving, those were put to rest.
If you're planning to travel Africa solo, this guide will help you prepare with safety tips and destination recommendations.
Best Destinations For Solo Travel in Africa
Africa is home to 54 countries, and while many are stable and safe, some remain unpredictable. Here are six destinations safe for solo female travel in Africa.
Lake Malawi
Malawi was the first country I ever visited in Africa. I went there to join a two-week conservation project monitoring elephants with Biosphere Expeditions.
Not only was volunteering with wildlife an incredible experience, but it was a great way to introduce myself to this region of the world since I had the support of the team there on arrival.
If you're nervous about traveling in Africa solo, joining a volunteer project is a great way to get started.
After the project ended, I started my solo travels in Lake Malawi, Africa's third-largest lake. The lake is an incredible place to relax and makes a great destination for first-time solo travelers in Africa.
Malawi is nicknamed the "warm heart of Africa" due to the friendly nature of the people there, and you'll understand why once you start talking to some locals.
Everyone there was so kind, and I felt very safe. Malawi is consistently ranked among the safest countries in Africa year after year.
Apart from the welcoming nature of the locals, Lake Malwai offers beautiful landscapes to enjoy with vivid colors everywhere you look.
Lake Malawi is a great place for watersports, including kayaking, snorkeling, and diving. It's home to more species of freshwater fish than any other lake in the world and the only lake I've ever been diving in, which was such a unique experience.
I stayed in Mayokoa Village Beach Lodge; a beautiful guest house set on the water. The beachy, laid-back vibe attracts many cool people and solo backpackers, so it's easy to find people to hang out with here.
South Luangwa National Park, Zambia
Everyone dreams of going on a safari when they think of Africa, and it's a common misperception that you need thousands of dollars to do so.
If you're looking for an affordable place to go on safari that's friendly to solo travelers, head to South Luangwa National Park in Zambia.
At Marula lodge, I got 3N/2 day package for 210 USD (2019 price), which included a shared dormitory room, all meals, and two game drives a day. Since they offer dormitories at a lower price point, this lodge is ideal for solo travelers in Africa.
The best part about going on safari at South Luangwa is that they are one of the few places in Africa to offer safaris at night – and happen to be one of the best parks to spot leopards!
You depart the lodge before dusk, stay in the park for sunset (which is insanely beautiful to watch), and then drive around to look for nocturnal animals.
We were lucky enough to see several active leopards at night, which is one of my most memorable wildlife experiences.
Like Malawai, the people of Zambia are incredibly kind and welcoming. I traveled by shared taxi from Malawi to Zambia to save money and met an incredibly friendly local at the border who came with me the entire way to ensure I got to my lodge safely (even though it was past his home).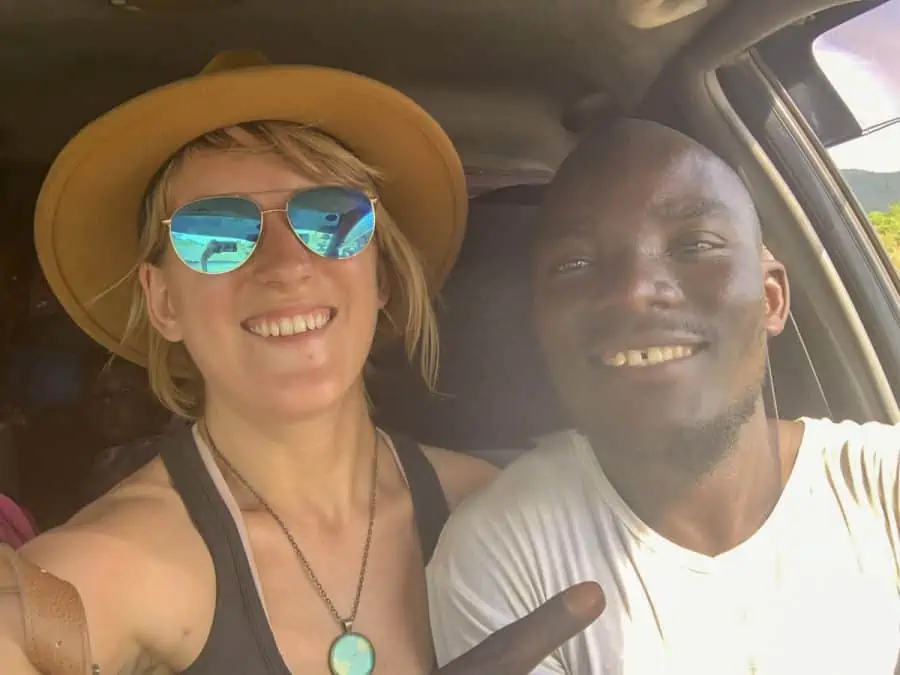 Victoria Falls, Zambia/Zimbabwe
After leaving South Luangwa, I traveled by bus to Victoria Falls, another great destination in Zambia for solo travelers.
As one of the world's top natural attractions, the area is well developed for tourism with many hotels, businesses, and activities.
The falls are on the border of Zambia and Zimbabwe, so you can visit from either country. I stuck to the Zambia side to avoid more visa fees and had a fantastic week full of adventures.
Victoria Falls is set up well for solo travelers, with several hostels. I stayed in and recommend Jollyboys Backpackers. It has a friendly vibe, cheap drinks, a pool, and shared/private rooms in cute huts. I met many travelers here!
There are so many fun things to do in Victoria Falls that you won't get bored here, even as a solo traveler!
The falls are an excellent base for adventure. The most popular time to visit is from February to May, when the water flow is strongest.
I visited during the dry season in late October. Although it was sweltering, the benefit is that you can do some activities not accessible during the wet season.
For example, you can swim on top of the falls at the devil's pool or go white-water rafting down the Zambezi river. It's consistently ranked one of the world's top rafting destinations and is an exhilarating experience!
Other activities you can do there are taking a helicopter ride over the falls, visiting Victoria Falls National Park, river cruises, bungee jumping, zip-lining, abseiling, and looking for wildlife at Mosi-oa-Tunya national park. It's one of the few places in Africa you can go on a walking safari with white rhinos!
Dahab, Egypt
I recently visited Egypt as a solo female traveler (February-March 2022), and many people told me that it would be challenging. I had my nerves about going, but again they were quickly put to rest.
There are many places to visit in Egypt, and as far as solo female travel goes, I would recommend sticking to the smaller towns. One of my favorites is Dahab.
Dahab is a small town on the Sinai peninsula famous for its incredible diving on the Red Sea. But even if you're not a diver, Dahab is worth visiting.
You can go hiking in the Sinai mountains (Egypt's highest peak), rock climbing, windsurfing, snorkeling, or simply relax by the sea.
The vibe here is just amazing. Within a few days, you'll quickly get to know people in town. Everyone is very laid-back, friendly, and just there to enjoy life.
The main street is lined with cafes and restaurants facing the sea, where you can get a delicious meal for a few dollars and then have access to the sea to go swimming.
I think it makes an excellent base for digital nomads and is among the cheapest place I've lived in the last year.
Siwa, Egypt
Siwa is another great place for solo female travelers in Egypt. Of all the places I visited, this is where I felt the safest.
The locals are incredibly kind here, and there is zero hassling in shops which is pretty rare for Egypt. They are extremely fair with prices here!
It's also one of the most unique places to visit in Egypt as it's a desert oasis almost at the border with Libya.
They offer jeep safari tours to explore the sand dunes, which is so much fun and a great way to meet other travelers. After dune bashing, my group watched a memorable sunset over the desert with great chats.
Another must-do in Egypt is swimming in the salt lakes! The color of the water is this beautiful turquoise blue, and you'll get to experience the unique sensation of floating due to the salt concentration.
I stayed at Mountain Camp Ali Khaled, a great choice for solo travelers. I made many friends here, and they have a fabulous natural heated pool in the camp, perfect for chilling out at night after a day of adventure.
Masai Mara, Kenya
I haven't visited Kenya yet but wanted to include it as it consistently makes the list of top places for solo female travelers in Kenya. Most solo travelers head to Masai Mara, one of the best places to go on safari in Africa.
With over 300,000 visitors a year at Masai Mara, you're bound to meet other people on your trip and have plenty of camps to choose from where you can connect with other travelers.
Masai Mara also offers the unique experience of riding a hot air balloon over the plains during the great migration, which is an experience high on my bucket list.
Plus, the Kenyan visa application for Canadians is electronic, making it easy to get before your trip.
Safety Tips For Solo Female Travelers In Africa
Although many places in Africa are perfectly safe to visit, you should still take some safety precautions.
Don't walk alone at night. Always take a taxi and let someone know where you are going, even if it's a short distance. Use licensed taxis recommended by your accommodation. In many cities in Africa, Uber is available.
When traveling between destinations, book your travel during the day. The roads are poorly lit, and car hijackings have happened in some places in South Africa.
That said, I took a few overnight buses in Egypt which I felt safe on, but Egypt has a significant military presence with many checkpoints along the way. Generally speaking, try to travel during the day or do your research before taking an overnight bus to ensure it's safe.
If you're enjoying the nightlife, drink responsibly and don't leave your drink unattended. Try to find friends to go out with, or you may get some unwanted attention.
Respect the local culture and dress appropriately. In many countries, especially in Northern Africa, you'll want to cover your shoulders, cleavage, and legs. Avoid wearing expensive jewelry or anything flashy. Dress like the locals do!
When you go out, only take a small amount of cash. Keep the rest somewhere safe in your bag/locked away so that if someone demands it, you can easily hand it over.
When visiting national parks, listen to your guides and keep a safe distance from wild animals.
Get travel insurance. Anything can happen, and you want to be covered when it goes. I use and love SafetyWing, subscription-based insurance for digital nomads. If you're on a shorter trip, World Nomads is an excellent choice.
How to Make Friends as a Solo Traveler in Africa
Stay in hostels and campsites
Stay in hostels or overland campsites to meet other travelers. Some are listed on HostelWorld and Booking.com, although not all, as was the case with my lodge in Lake Malawi. Be sure to ask other travelers for recommendations while traveling around Africa.
When you get to the hostel, head to the common area/bar and start chatting to whoever is around. Before you know it, you'll have more than one new friend.
Volunteer
Volunteering is very popular in Africa, and this is a great way to meet other people. I started my first trip to Africa on a volunteer project which helped ease me into traveling around the continent. Plus, it's a great way to give back to the places you visit.
That said, there are a lot of volunteer projects in Africa that aren't actually helping the communities.
When choosing a project, look for something that empowers the local community rather than keeping them dependent on foreign aid, and do your research before committing to a project. Ask previous volunteers if they felt they made a genuine impact.
Join a group tour
If you are not sure whether you are ready to explore Africa independently, why not join a group tour?
There are many benefits to small group travel, like having a carefully curated itinerary, friends to travel with, and someone to help manage the logistics of traveling in Africa, which can be complicated. That way, you can just relax and enjoy the incredible experiences that Africa offers.
I recently joined a small group tour in Jordan with Traverse Journeys which was an incredible experience. Although I am used to traveling independently, it made me rethink group tours!
Even if you don't want to commit to a more extended group tour, joining a day tour can be a great way to meet other travelers.
Utilize Facebook groups
Facebook groups are a great way to connect with other travelers in Africa and get information about the places you want to visit. Here are a few groups that may be useful for traveling solo in Africa.
Solo female traveler's network (find friends to travel with)
—
Would I recommend Africa for your first solo trip? Probably not. I'm glad that I had some solo travel experience under my belt before going here.
But overall, I found it much easier than expected. My fear is always quickly replaced with the warm welcomes and connections that I make.
It's actually one of the friendliest places I've traveled through, thanks to the kind locals and interesting travelers you're bound to meet there. There's a sense of camaraderie among Africa travelers, which is not something you always see.
Travelers in Africa also tend to be older, which is great for me as a now 30-something traveler. Africa offers life-changing experiences, and when shared with travelers you meet there, you're bound to make friends for life.
Have you traveled solo in Africa before? Let me know your favorite destination in the comments below!