This post may contain affiliate links. By clicking and making a purchase through the links, I earn a small commission at no extra cost to you. This and display ads allows me to keep the site up to date and give back. Thanks for reading!
Vacations are one of the best ways to ditch the monotony of our daily routines, but sipping mojitos on a beach will only entertain someone for so long. The truth is, even vacations can get boring after a while. These days, people are looking for more meaningful ways to spend their holidays that make their flights count. One worthy way to spend your next vacation is to volunteer on a wildlife conservation project abroad.
Volunteering on your vacation, or "voluntourism", is becoming an increasingly popular thing to do. People are choosing to spend their vacations in a meaningful way so that they can give something back. On the flip side, volunteering on your vacation can also benefit you. I recently spent some time volunteering on a conservation project in Malawi with Biosphere Expeditions. Since then, I've realized many of the benefits you can get from volunteering on a wildlife conservation project.
If you're looking for a new way to spend your holiday or want to work with animals, keep reading. This post will show you why you should consider joining a wildlife conservation volunteering project. It also goes over some tips for choosing the right project/organization, as there are quite a few you will want to avoid.
Benefits of volunteering on a wildlife conservation project
1. You get to travel to exotic and remote locations
Wildlife conservation projects are often based in remote locations that you wouldn't otherwise get to see. On my conservation project in Malawi with Biosphere Expeditions, I was based on a research camp in Vwaza Marsh Game Reserve. This area isn't popular with tourists, we only saw a handful our entire time there. But that made the experience even more special.
Every day we could see wildlife from base camp, and often elephants would roam right by our tents. This was a truly amazing experience that I wouldn't have gotten on the normal tourist trail. Some of Biosphere Expeditions' projects are in even more remote locations, such as protecting snow leopards in the Tien Shan mountains of Kyrgyzstan.
Volunteering with wildlife also allows you to connect with nature in a deeper way than a regular vacation would. On a normal trip, you may move quickly from one place to the next. And while this can be fun, it leaves you with little understanding of where you are. Getting to spend time living at the reserve allowed me to connect with nature and people in a way that I hadn't before.
2. Escape tourist crowds and meet locals
Volunteering abroad allows you to meet local people and avoid the typical tourist crowds. By staying a while and working with local people you will be making a genuine difference in their countries. And this gives you the chance to immerse yourself in the lives of the community and the places you're visiting.
On the conservation project with Biosphere Expeditions, I got to work with six scientists who were all based in Malawi, as well as local staff. This allowed me to gain a better understanding of the local culture and learn about the specific conservation problems that Malawi faces.
During the project, we also had the chance to visit a local village near the research camp. The community welcomed us into their homes and showed us around, followed by an afternoon of dancing. This was such a unique and wonderful experience that I'm sure I wouldn't have been able to have had I been there on my own.
3. Make a difference to the lives of animals
We're living in a time when our planet is in crisis. Species are continuing to be placed on the extinct or endangered list, and if we don't act now, many more will be added. There's no way around it, animals need our help in their survival on this planet. Volunteering on a wildlife conservation project is an excellent way to make a difference to the lives of animals.
The goal of the conservation project in Malawi was to assess the nature and patterns of biodiversity in Vwaza Marsh Game Reserve. These results will inform biodiversity monitoring and management, which in turn will help protect this part of Africa for future generations.
Biosphere Expeditions have made big achievements when it comes to wildlife and habitat conservation, such as the creation of protected areas on four continents.
4. Get up close and personal with animals (in an ethical way)
One of my biggest drives for traveling is to see the incredible wildlife we have on this planet. But unfortunately, there are many unethical animal tourism operators. Some are outright harming wildlife for the sake of making a profit. From riding overworked elephants to posing with sedated tigers, there are many bad practices out there that you want to avoid.
Volunteering on an ethical conservation project is an excellent way to see wildlife up close in a responsible way. On the conservation project in Malawi, we could see wildlife at almost any hour from base camp. Often, elephants would come and roam right through our camp. Getting to see these majestic animals every day was an incredible experience that I won't forget.
5. Meet like-minded people from around the world
Volunteering abroad is a great way to make new friends, especially if you are traveling solo. The wonderful thing about joining a conservation project is that you are guaranteed to meet people who are as passionate as you are about working with animals.
Working closely with a group of people on such a unique experience can help foster lasting and meaningful friendships. You will get to learn about different cultures from all over the world, and travel home having made some amazing new friends.
My team on the conservation project in Malawi was comprised of ten participants, an expedition leader, and six scientists. Together we were eight different nationalities! We all got along well and I hope that I will see them again in the future.
6. Challenge yourself and develop your skills
Volunteering on a wildlife conservation project enables you to know about your skills, make the best use of them, and stretch yourself to learn new ones. A volunteer trip isn't just an outward journey, but an inward journey as well.
While volunteering on the project in Malawi with Biosphere Expeditions, I got to learn many new skills through the training provided. These included knowledge about wildlife conservation, animal appearance and behavior, scientific methods, field safety, and using equipment such as GPS and rangefinders. By the end of the project, I felt that I had developed some new helpful skills for the outdoors.
While it wasn't always easy working in the field in hot weather and over long hours, at the end of the day I was able to sleep happy knowing I challenged myself and contributed to something worthwhile.
7. Gain experience working with animals
While volunteering on a wildlife conservation project, you will gain first-hand experience working with animals. If you are considering conservation work as a career, volunteering gives a chance to see what it is like before committing to a school program or job. Plus, having volunteer experience is an excellent addition to your CV.
To learn more about what it's like to be a conservation scientist, check out this interview my friend Brianne (whom I met on the project) did with one of the conservation scientists on our expedition team.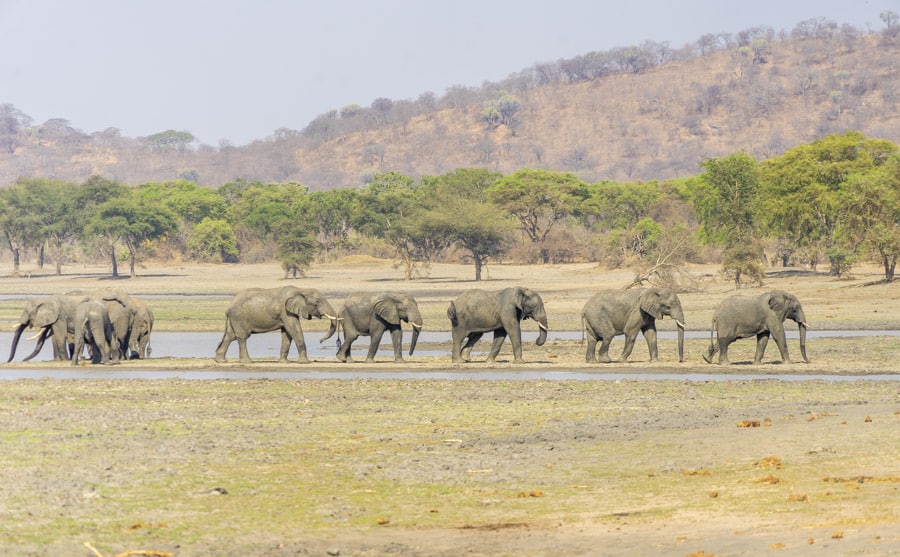 Now that I've hopefully convinced you to volunteer on a wildlife conservation project, it's time to choose the right one!
How to choose a wildlife conservation volunteering project
There are many wildlife conservation volunteer programs out there. Unfortunately, the market is also full of profit-driven, unethical operators, which do little for wildlife conservation and may actually be causing harm.
These days anyone can make a website, add some nice photographs, and promise something that simply isn't true. Some of these organizations also have high fees attached to them, which often don't actually go towards wildlife conservation or the local communities. If you are going to spend money and time volunteering, you want to make sure that your participation and dollars are going to make a difference.
With this in mind, you are going to want to do some research when choosing a conservation project to volunteer on. Biosphere Expeditions has a helpful list of Top Ten Tips on how to avoid volunteer charlatans and choose a good wildlife volunteer project.
Here are some of the questions I ask myself when researching wildlife volunteer opportunities:
What is the reputation of the organization? Don't just look at what it says on their website, but search around to see if you can find any press or reviews in other blogs. You can also check to see if the organization has won any awards or accolades for their work, and what other organizations they are associated with.
Who is the project conducted by? The work should be led by scientific and/or conservation experts, and group leaders should be well qualified and briefed on risks and safety issues.
Where does the money go? Volunteer projects often have high fees associated with them and while this may be merited, you want to know where the money is going. Good organizations will always publish clear info that shows how your money is spent.
How do they handle wildlife? If the project involves captive animals, make sure it is clear on the purpose of the captivity and the need for handling animals. You want to stay clear of organizations that encourage handling of captive wildlife animals for anything other than essential care or research conservation work, and they should always follow strict animal welfare guidelines.
What type of support will you receive? Ensure the organization is clear about what will be happening day-to-day (accommodation, food, and other logistics), as well as what pre/post-trip support is included. If you are traveling solo in Africa for the first time, you may want to have someone meet you when you first arrive in the country.
Does the project support the local community? Good organizations will be properly embedded with local efforts and communities. Check to see how the local community benefits and if they have the given consent for the work to be carried out there.
Final Thoughts
Volunteering on a wildlife conservation project is a wonderful way to give back to animals, meet like-minded people, and explore a country in a way that your average vacation just can't provide. I loved my experience volunteering on a wildlife conservation project in Malawi with Biosphere Expeditions, and want to incorporate more of these projects into my future travel plans.
Have you volunteered on a wildlife conservation project before? Let me know in the comments below!
If you enjoyed this post – share it on Pinterest!