This post may contain affiliate links. By clicking and making a purchase through the links, I earn a small commission at no extra cost to you. See my disclaimer for more information. This and display ads allow me to keep the site up to date and give back.
Guatemala is an incredible country when it comes to outdoor experiences. Whether you want to go on an epic multi-day hike or relax in a natural hot spring, Guatemala has it.
There are so many amazing things to do in Guatemala, so to inspire your trip I've rounded up the top nine places in Guatemala that you don't want to miss!
1. Camp next to an active volcano
There are over 37 volcanoes in Guatemala, some of which are still active. Fuego, Pacaya, and Santiaguito are all active volcanoes that can be enjoyed through various tours in Guatemala.
One of the best volcano tours you can do in Guatemala is to hike up Volcan Acatenango and watch it's twin volcano, Fuego, erupt in front of your eyes. Camping next to an active volcano is definitely the most epic place I've ever spent a night.
This two-day tour leaves from Antigua, where you will drive partway up the volcano, and then begin the trek up. I'm not going to lie, this hike isn't easy. It's a volcano, so it's just steep, crumbling rock the majority of the way. It took us about four hours to get to base camp where we spent the night camping. From the base camp, you get a clear view of Fuego, which frequently erupted throughout the night.
The sunset over Fuego from Acatenango volcano base camp was one of the most amazing I've ever seen. As the light began to disappear, you could begin to see the red lava spewing out of the volcano.
We spent the night by the campfire roasting marshmallows, passing around a bottle of rum, and sharing stories while admiring the millions of stars above us and erupting Fuego next door.
Early the next morning, at 4 am, the guide will wake you up for the remaining hike up to the summit of Acatenango. This part of the hike was even more challenging than the day before, but I pushed through and was rewarded with an incredible sunrise over Fuego. Watching the colors of the lava against the changing sun is breathtaking. If you do any tour in Guatemala, pick this one. Read my guide before you go so you know how to prepare!
Book an overnight hike to Acatenango Volcano here.
Where to stay in Antigua: Tropicana Hostel is a great, social hostel that organizes daily tours to hike Acatenango Volcano.
Find more accommodation in Antigua here.
2. Roast Marshmallows on a Volcano
If you aren't up for the 2-day Acatenango hike, Pacaya Volcano is a great alternative. Pacaya is only about an hour's drive from Antigua or Guatemala city, and Payaca Volcano tours can be arranged from either city to take you there.
The last big eruption for Pacaya was in 2015, which left streaks of hot lava cascading through the cracks of the volcano. Today, most of that lava has dried into black slippery rock. However, there is still heat coming from the rocks which you can use to roast marshmallows on the volcano!
There is also a "Lava Store" located at the end of the hike, where you can purchase unique jewelry and crafts made from the molten lava rocks. If you don't feel like hiking up, it's also possible to rent a horse to take you up.
3.
Admire Antiguas Charming Streets
It's hard to walk down the streets of Antigua and not fall in love. With the volcanoes in the backdrop of the city's arches, this place is a photographer's dream.
I could spend hours walking these streets, admiring the colorful, colonial architecture and people watching in the cities many plazas. Antigua also has a strong coffee culture, with many cafes where you can try some of Guatemala's wonderful coffee. Antigua is the perfect base to go and explore the surrounding volcanoes from.
4. Explore the ancient ruins of Tikal
Tikal is an ancient Mayan citadel in the rainforests of northern Guatemala. Mayan ruins can be found throughout Central America, but the ruins at Tikal are some of the most impressive you will find. This kingdom dominated the Mesoamerican region from 200bc to 900ad and is considered to be one of the most powerful Mayan empires in history. Tikal is Guatemala's most famous cultural and natural preserve. In 1979, UNESCO declared it a World Heritage site.
There are different tours that will take you to Tikal, but the best ones to do is either at sunrise or sunset. This way you will beat the scorching mid-day heat, which is brutal. More importantly, it gives you get the opportunity to watch a magnificent sunrise or sunset from atop one of the ruins.
I did the sunrise tour from Flores which meant leaving at 3:30 am, but it was so worth it. After a short hike through a forest, you climb one of the ruins to watch the sunrise. It was incredible to hear the sounds of all the creatures in the jungle waking up. After the sunrise, our guide took us through a tour of the area. It's best to go with a guide or at least bring a guidebook with you, so you can understand the history as you walk through Tikal.
Where to stay: Los Amigos is the place to be if you want a social hostel that can organize fantastic tours to Tikal. There is an on-site bar, pool table, and restaurant. They even sound-proof the bar so you can still catch some sleep before an early sunrise tour.
Find more accommodation in Flores here.
5. Soak in the Hot Springs of Fuentes Georgina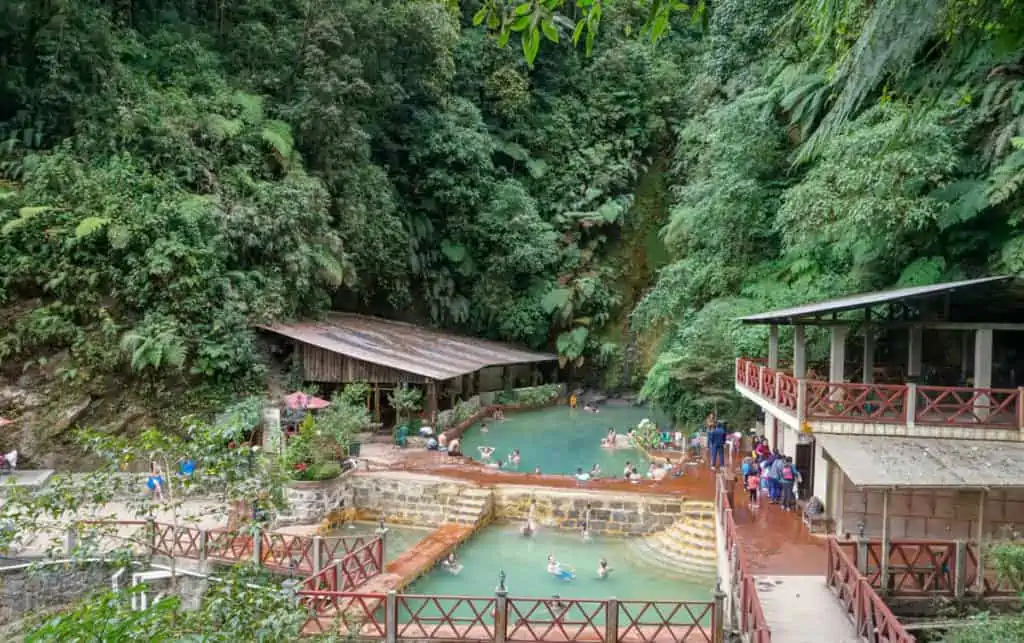 Hot springs, anyone? Yes please, these natural hot springs are the perfect way to relax after conquering an epic hike in Guatemala. Las Fuentes Georginas Hot Springs are near the town of Quetzaltenango. The hot springs are heated by the thermal water that comes from nearby Zunil volcano.
The hot springs have been turned into a pool, but it still felt natural. The pools are naturally fed by sulfur springs, and there is stunning scenery all around them to enjoy as you relax in the heat. There is also a small hike you can do by the hot springs if you aren't hiked out by volcanoes!
[irp posts="401″ name="How to visit these amazing natural hot springs in Guatemala"]
Find accomodation in Quetzaltenango here.
6. Stay in an Eco lodge on the Rio Dulce
Rio Dulce is often overlooked by travelers making their way through Guatemala, but I think this is a mistake. The Rio Dulce area is gorgeous. In the surrounding area, you can take a boat through canyons, explore hot spring waterfalls, and sleep in the same forests as howler monkeys.
What makes a trip to Rio Dulce even more special is to stay at one of the wonderful eco-lodges which are right on the river. You will have to take a short boat ride from the town of Rio Dulce to get to your accommodation, but it's absolutely worth it!
Where to stay: Dreamcatchers Eco Lodge is set right on the river in the midst of a howler monkey preserve. The owner and staff are so kind and will make you feel welcome and relaxed there right away.
Find more accomodation in Rio Dulce here.
7. Kayak in a volcanic crater
How many times can you say you've kayaked in a Volcanic crater? This is one of the best things to do in Lake Atitlan. Kayaks can be rented from tour agencies in San Pedro. The standard prize is Q15 per kayak per hour. From the water, you get amazing views of Volcano San Pedro and Indian Nose.
What's neat about Kayaking in Lake Atitlan (aside from the fact you're in a volcanic crater) is passing through half-flooded forests and homes. The water levels of the lake have been continuously rising and falling for years, so some homes have been washed away. While kayaking, you will pass through half-submerged forests. It's a little spooky, but a unique experience! It's better to go kayaking early in the morning as the water can get choppy in the afternoon.
Read more: The best things to do in Lake Atitlan, Guatemala
Where to stay in Lake Atitlan: Mikaso Hotel is located right on the lake and has a beautiful rooftop terrace you can sunbathe on while soaking up the gorgeous views.
Find more accomodation in San Pedro here.
8. Swim in a natural infinity pool
Semuc Champey is by no means an easy place to get too, but there's a reason thousands of people visit this jungle oasis each year. These natural infinity pools are an absolute dream to swim in. To get to Semuc Champey, you will need to head to the town of Lanquin. Tours run from there, or you can DIY.
I did the all-day adventure tour from Zephyr Lodge which was super fun. You start the tour caving by candlelight, hike to an epic view of the pools from above (pictured above), and cool off afterward swimming in the pools. The natural area surrounding the turquoise pools is magical.
Read more: How to visit Semuc Champey, Guatemala
Where to stay: Zephyr Lodge has gained a reputation among the backpacker trail in Guatemala. I loved this place. It's a gorgeous lodge set high in the mountains with an infinity pool overlooking the river below. You need to book directly with the hostel to stay there.
Find more accomodations in Lanquin here.
9. Go tubing through the Jungle
If you're going to head all the way to Lanquin to visit Semuc Champey then you might as well make the most of it and go tubing through the river. The scenery is beautiful along the way. You float down the river passing through the jungle full of wild birds.
The tubing lasts for about three hours and the water is relatively calm. There are a few areas where the rapids pick up, but most of the time you will be able to relax with a beer in hand and enjoy the beautiful scenery. The guides even bring coolers of beer down the river so you can refill along the way. Tubing in Lanquin is a great way to spend a day after exploring Semuc Champey!
Don't forget travel insurance!
I can't stress enough the importance of having personal travel insurance, especially if you plan to engage in adventure activities. The likelihood of something going wrong is small, but do you want to be stuck with that medical bill in a foreign country? Put your mind at ease and get travel insurance before your trip.
I recommend World Nomads. I've used them for years and have had great experiences. They are affordable and cover a wide range of adventure activities including paragliding. They even reimbursed me in full for my GoPro 6 which was stolen in Guatemala. Get a quote below now!
—
Guatemala is such an amazing place to visit if you love outdoor adventure. There are so many fun things to do there, I would go back in a heartbeat!
Like it? Pin it for later!