This post may contain affiliate links. By clicking and making a purchase through the links, I earn a small commission at no extra cost to you. This and display ads allows me to keep the site up to date and give back. Thanks for reading!
Looking for the best places in Mexico for digital nomads? You've come to the right place because I've been living in Mexico as a digital nomad on and off for the last three years.
Picture-perfect beach towns, bustling cities, and charming mountain escapes – there are so many amazing places to live in Mexico.
To make your decision a little easier, this post narrows it down to the best cities in Mexico for digital nomads, as well as smaller beach towns for those looking for something more laid-back.
Best Cities In Mexico For Digital Nomads
1. Puerto Vallarta
Once just a small beach town, Puerto Vallarta has grown into a mid-size city attracting digital nomads who want to be close to nature while still having the amenities that a city provides.
I fell in love with Puerto Vallarta while living there in the winter of 2021 and now return yearly. As one of the most-visited beach towns in the country, it's easily one of the best places in Mexico for digital nomads.
What makes Puerto Vallarta so special is its prime location on the Bay of Banderas with the Sierra Madre Mountains in the backdrop. It's a paradise for outdoor adventure.
You can go hiking along the coast, spot whales from the shore, or swim in pristine waterfalls just a few km from downtown.
Cost of living
While not as cheap as some places in Mexico, the cost of living is relatively low, especially compared with major cities in North America. According to Numbeo, it's approximately 44% cheaper than San Antonio and 45% cheaper than living in Calgary.
I wrote a comprehensive guide about the cost of living in Puerto Vallarta that goes into detail about how much my monthly expenses are.
I moved there initially because my friend found such a great deal on an apartment. I paid $280 for a room in a 3-bedroom apartment, which included a pool and twice-weekly cleaning!
You definitely won't need a car while living there. Puerto Vallarta is a highly walkable city with many of the best neighborhoods in close proximity.
Most nomads live in Zona Romantica, El Centro, 5 di Diciembre, or Versalles. The city has a beautiful boardwalk that takes you along the coastline downtown for over one km.
If you don't feel like walking, the city is well connected with busses that only cost 50 cents, and Ubers are just a few dollars across town.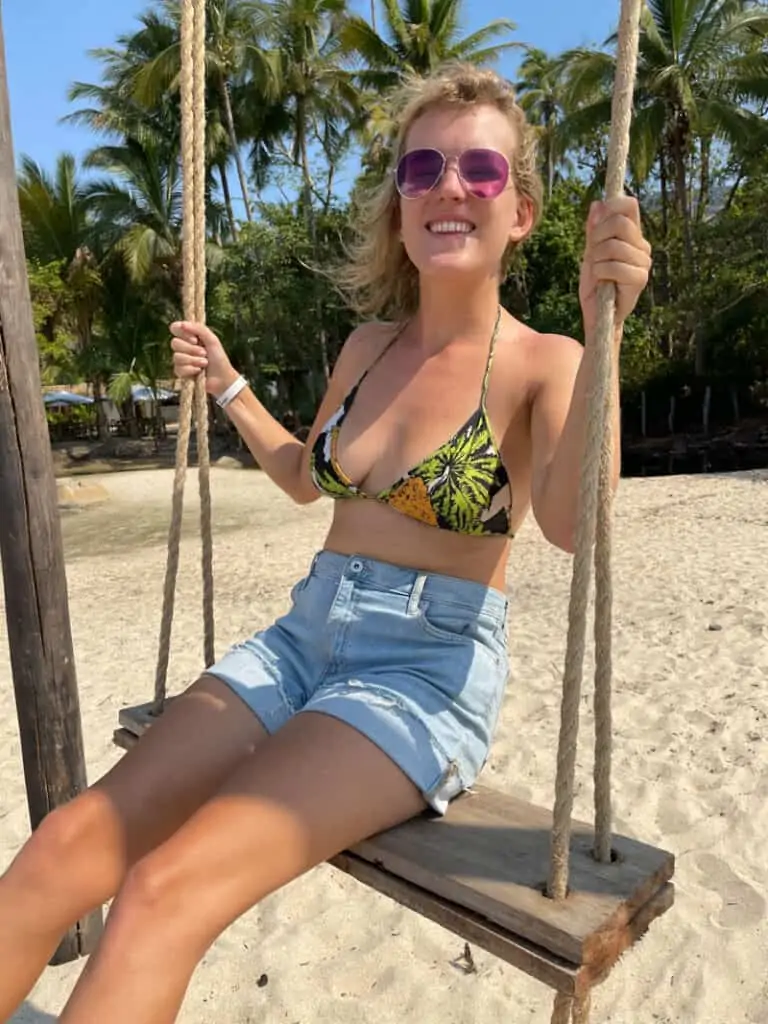 Meeting and Working with Others in Puerto Vallarta
You'll quickly fall in love with how easy it is to work in Puerto Vallarta as a digital nomad.
The city has several coworking spaces and cafes to choose from, as well as regular digital nomad meetups that you can find out about through Facebook and WhatsApp groups.
My favorite coworking space and cafes to work from are Vallarta Cowork and Miscelanea.
This is the Best Facebook group for nomads, with regularly hosted meetups.
Safety in Puerto Vallarta
Safety is always a concern for those moving to Mexico, but honestly, it's never been a problem for me while living in Puerto Vallarta.
This guide about Puerto Vallarta safety has more information on how I felt living there as a solo female traveler and tips for staying safe.
2. Mexico City
As the largest city in North America, Mexico City is an exciting place to live and work – but it's not for those who don't like a bit of chaos! It's a global city filled with some of the best restaurants in the world.
If you're looking to live in a central location in Latin America where you'll meet people from all over the world, you'll want to move to this incredible capital city, also known as "CDMX."
There are endless things to keep you entertained in Mexico City, but it's also a hub for day trips to some of Mexico's top attractions.
Take a hot air ride balloon over the ancient Teotihuacan pyramids, relax in the Instagram-worthy Grutas Tolantongo hot springs, or visit the charming city of Puebla.
Cost of Living
Mexico City is about 42% cheaper than San Antonio and 45% cheaper than Calgary, but still by no means the cheapest place to live in Mexico. For a nice one-bedroom in a good part of town, you'll pay about USD 1,000.
Food can be affordable if you shop in grocery stores and eat at the local taco stands (which you absolutely should, they are delicious).
However, it can also add up quickly if you're fine dining at Michelin Star Restaurants. Life is all about balance, right?
It's a big city, so getting between one point to another can be time-consuming, but even an hour+ uber is still not going to cost you much. There is also a subway system and buses. Most nomads congregate in the Condesa and Roma Norte neighborhoods, which are very walkable.
Meeting and Working with Others in Mexico City
Mexico City is a sprawling international city with neighborhoods filled with digital nomad amenities. Your challenge won't be finding a place to work.
You can work at places like Público Muzquiz 15, Homework, and Impact Hub.
There are so many wonderful cafes to work from, especially in the Roma Norte and Condesa area, which are popular with nomads. These areas also have great parks, cafes, and nightlife.
And with the largest U.S. population outside of the U.S. (nearly a million!), you won't be as homesick as you would in other cities abroad.
This Facebook group is great for connecting with nomads, with regularly hosted meetups.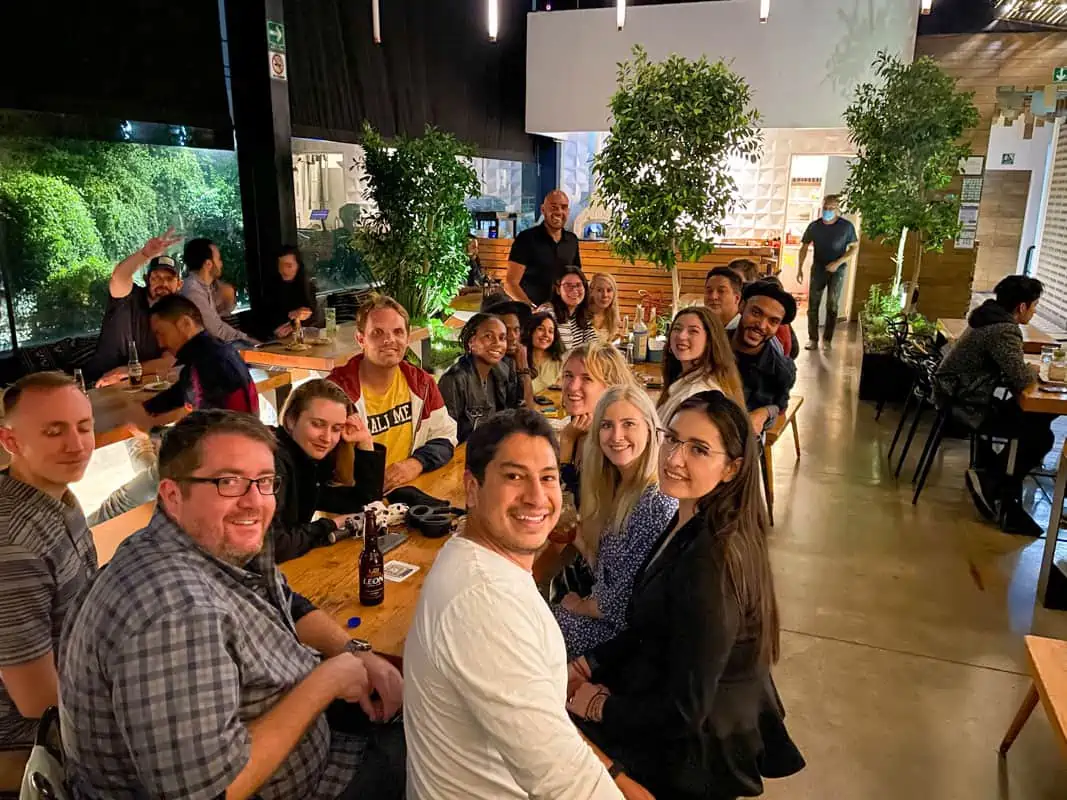 Safety in Mexico City
Like most large world cities, Mexico City is considered unsafe to walk alone at night. But again, if you're staying in the upper-class neighbourhoods of Condesa or Roma, this isn't an issue. If going further, get an Uber.
3. Mérida
If you're looking for a peaceful, affordable, and safe city on the Caribbean coast, look no further than the capital of Yucatán state. It's one of the most beautiful cities in Mexico!
This peaceful city is a perfect option for those seeking out culture, with many historic monuments and colonial buildings. But for those seeking out the nightlife, it may not be the best spot, as Merida tends to attract an older crowd.
It's also an excellent base for day trips to some of the Yucatan's top attractions, including several cenotes and the Chichen Itza pyramids – one of the seven wonders of the world.
Cost of Living in Mérida
Mérida is the cheapest city in Mexico for digital nomads listed, with the most affordable rent and coworking spaces. In addition, it is approximately 50% cheaper than San Antonio or Calgary.
For example, a restaurant meal may only cost US$6 in Mérida, and you'd pay about US$270 to rent a one-bedroom apartment in central Mérida, half the price of a similar apartment in Puerto Vallarta and over 70% cheaper than renting in downtown San Antonio or Calgary.
And with almost-perfect WalkScores, Mérida is a "walker's paradise," saving you money on a car.
Meeting and Working with Others in Mérida
While Mérida has fewer foreigners than Puerto Vallarta or Mexico City, thousands of paisanos live in this relaxed Yucatán capital.
There are multiple affordable coworking spaces like Clustar, which offers free coffee, childcare, and a swimming pool. Conexion 60 is another great option.
This Mérida, Mexico Expat Community Facebook group is great for connecting with other nomads and expats.
Safety in Mérida
If you're looking for a crime-free city, you will want to live in Mérida, one of the safest cities in Mexico.
The U.S. government encourages only the "normal precautions" for the entire state of Yucatán and Mérida, where there is a U.S. consulate. As if that doesn't convince you, nearly 80% of Numbeo.com reviewers report feeling safe walking alone at night in Mérida.
4. Guadalajara
If you're looking for a big city that's more affordable than Mexico City, Guadalajara may be for you. This buzzing capital city of Jalisco offers a range of museums, historic sites, and incredible nightlife. I've spent many weekends here from Puerto Vallarta, and it never disappoints.
It's Mexico's second-largest city and a major financial and cultural hub. It's not the prettiest city in Mexico, but the nightlife is epic, and there are many great day trips around, like Tequila, where you can see how this famous drink is made from Agave fields.
Cost of living in Guadalajara
Guadalajara is one of the more affordable cities in Mexico to live in, listed at an average of 1200 USD/month on Nomadlist. I've only spent weekends here, but we've found amazing Airbnbs for great prices every time.
I've noticed the prices in general are lower for food and accommodations than most other places I've visited in Mexico, and it definitely has a more local vibe.
Working and meeting others
You won't have problems with WiFi here or finding places to work – the city is full of coworks and cafes. Try Metta Coworking or Selina, which is always a great place to stay if you're new to the city.
The digital nomad scene isn't as large as Mexico City, but it's growing. Connect with others through the Guadalajara digital nomad Facebook group.
Safety in Guadalajara
Unfortunately, safety can be an issue in Guadalajara, and I wouldn't recommend walking around here alone at night (but again, that's common in many cities). All that said, I've come here many weekends with no issues.
5. San Miguel De Allende Digital Nomad
San Miguel De Allende is a smaller city full of Mexican Charm, with just under 200,000 inhabitants. It's a popular place for American expats, but has also been making its mark on the Mexico digital nomad scene.
It's by far one of the cutest cities that I've visited in Mexico. The 24-block UNESCO Heritage Site town center is full of colorful streets, beautiful art murals, and a church that will make you feel although you've stepped right into a fairytale.
Cost of living
San Miguel De Allende is another affordable option for digital nomads in Mexico, listed as just over 1500 USD/month on Nomadlist and 47% cheaper than Toronto, according to Numbeo. You'll pay 600-1200 USD for a one-bedroom accommodation depending on the amenities.
Working and meeting others
It's not the best place for coworking spaces since it's up and coming as a nomad destination, so you'll want to make sure your apartment has solid internet. Smartspace Hub and San Marcos Coworking are two options. There are also many coffee shops to work from with fantastic coffee – I like Rustica.
San Miguel De Allende has primarily been attracting American expats over the last few years, so it's mainly an older crowd here. I spent a few days here and felt it was not a place I could live for a long time because it's so small. That said, if you're looking for a quiet place where you can get some work done for a month- it may be the spot!
To connect with others, check out the San Miguel Newcomers Facebook group.
Safety in San Miguel De Allende
San Miguel has low crime rates and is considered a relatively safe city in Mexico. We walked around the city center at night and never felt in danger.
6. Oaxaca City
If you're looking for a rich cultural experience while living in Mexico, head to Oaxaca city. One of Mexico's many UNESCO World Heritage Sites, Oaxaca city is a gorgeous city full of traditional festivals, street food, modern restaurants, cafes, and beautiful nature.
It's one of the world's top foodie destinations, so your taste buds will be satisfied living here with some of Mexico's best and most diverse food. And as the area produces coffee beans, you can find many cafes offering delicious, fresh local coffee while you get some work done.
It's a moderate-sized city, so it's a good option if you're looking for something smaller than Mexico City or Guadalajara but bigger than the beach cities. It's also got a milder climate as the altitude is just over 1500 meters (5,000 feet), so it's a good option for those seeking something cooler.
Cost of living
It's one of the cheaper places to live in Mexico – you can find an apartment for about $650-800USD per month, although prices are climbing as more foreigners discover its charm.
According to Nomadlist, the average monthly living cost is just over 1200 USD/month.
Working and Meeting others
With some of Mexico's best coffee, you'll have no problem finding cafes to work from – try Pan:Am or Cafebre. For coworking, check out Convivio Coworking and Centrico Cowork.
To connect with others, look in the Oaxaca Expats Facebook group.
Best Beach Towns in Mexico for Digital Nomads
If you're coming to Mexico for the surf or sand and don't want to deal with the city, these beach towns are the best places for digital nomads in Mexico.
7. Sayulita
Sayulita is a beach town on the Pacific coast, about an hour away from Puerto Vallarta. It's become popular with digital nomads in Mexico for its surf and party vibes but is notorious for its poor WiFi, so it may not be the best place if you need a reliable high-speed connection.
I love living in Puerto Vallarta and being able to go to Sayulita on the weekends, but for me, it was too small to live there. That said, I know many digital nomads in Mexico who love living in Sayulita.
Cost of living
Due to the small size and high demand, prices in Sayulita have skyrocketed in the last few years as more digital nomads flock to this city. It's listed as over 2200 USD/month on Nomadlist, which is almost double other cities in Mexico.
Working and meeting others
While it may be expensive, living in Sayulita has its perks – especially if you are into surfing. It's got a vibrant nomad community, making it super easy to meet other people. The Sayulita expats and newcomers Facebook group and Digital Nomads Sayulita/San Pancho are a good place to start.
Sayulita has boho surfer vibes, and many coffee shops and co-working spaces have opened up as more nomads flock to this small town. The WiFi is a problem here, but Sayulita CoWork and Selina are good bets for decent speeds. If you're renting an Airbnb and plan to work from there, be sure to get them to send you a screenshot of the speed.
8. Puerto Escondido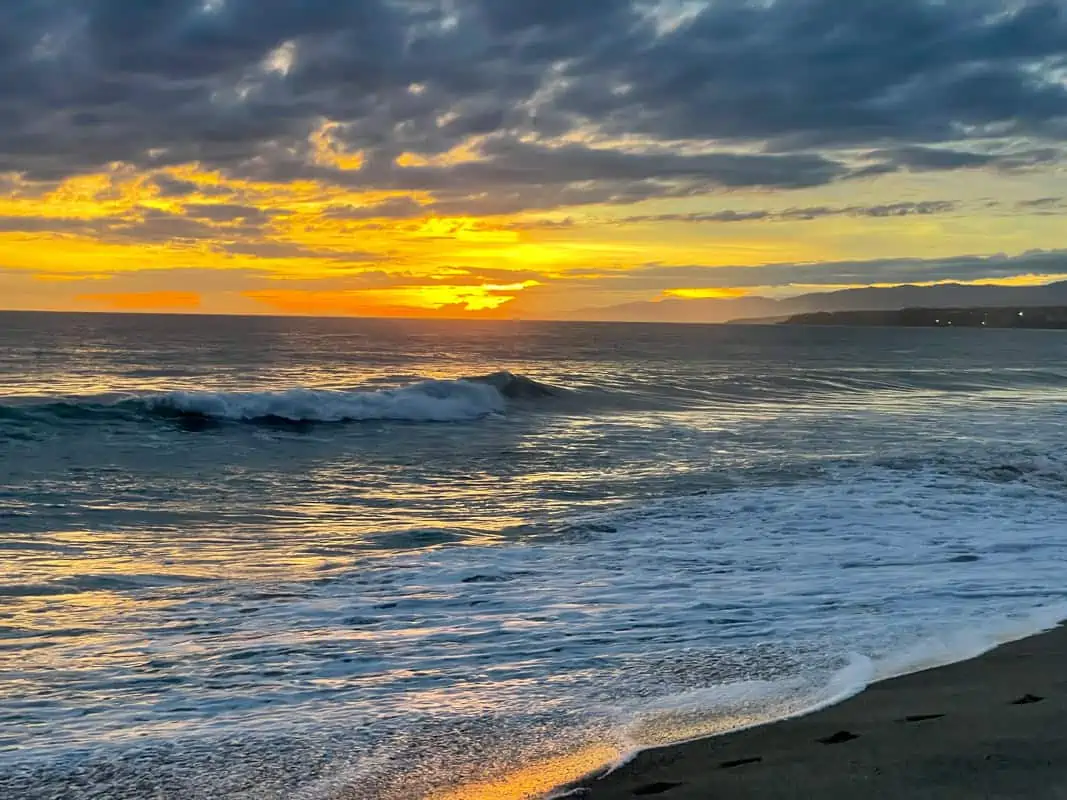 Another dream destination for nomads who love to surf is Puerto Escondido, a small town on Mexico's Pacific Coast in the state of Oaxaca.
For beginner surfers, head to Playa Carrizalillo, which has gorgeous turquoise water and easy-to-ride waves.
Surf and parties tend to go together in Mexico, and Puerto Escondido is no exception. The Zicatela neighborhood comes alive with parties at many bars on the weekends.
It's also an excellent place for those looking to relax, with a vibrant wellness scene and many yoga classes. It's a great place to connect with nature, as you can take part in a baby sea turtle release or go dolphin watching – we actually saw orcas there! Not to mention the incredible sunsets.
It's a little more challenging to get to as there isn't an international airport, so you'll have to connect in Mexico City. Many also take the bus from Oaxaca City, about 4 hours away.
Cost of living
There are beautiful places to stay in Puerto Escondido.
Unfortunately, accommodation isn't the cheapest, probably due to its limited size and high demand. Expect to pay around 1000 USD/month for a place – we paid half that just for a week in an Airbnb!
That said, food is relatively affordable here, and if your main priority is surfing and you have a board – the waves are always free to use. Many people get by here on a tight budget living a minimalist lifestyle.
Working and meeting others
The town isn't overly built up, but it's got some restaurants, supermarkets, and shops. If you're looking for a place to cowork or stay, head to the Selina, where you're bound to connect with other nomads. Casa Losodel is another coworking option where you can stay.
If you're getting your own apartment, make sure to get them to send you a screenshot of the WiFi speeds, as it can be notoriously poor. Get a Telcel SIM and hotspot yourself if it goes down – this is the downside of living here.
Join Expats in Puerto Escondido for more info about moving here.
9. Tulum
While it's not my favorite, there's no denying that Tulum is a top choice for digital nomads in Mexico.
This once-sleepy beach town on the Yucatan Peninsula has blown up in popularity over the last few years for tourists and nomads alike. It was even nicknamed the "Manhattan of Mexico" due to its insane growth.
It's a popular place for those seeking out a spiritual experience as well as those looking to party. It does tend to attract a younger crowd, which is something to consider if you're not so into that scene anymore.
There's no surf on the Caribbean side of Mexico, but there are plenty other fun things to do in Tulum. You'll be close to some of Mexico's best cenotes, which are natural sinkholes you can swim in.
It's near some of Mexico's top diving destinations and Akumal beach, where you can swim with sea turtles. Of you can explore the ancient Mayan ruins in town.
Cost of living
You're never far from beauty in Tulum, but it comes with a price, as costs have increased significantly over the last few years. Still, Momadlist lists the average cost at just over 23000 USD which is well below prices in North America.
Working and meeting others
Tulum is a great place to be if you want to meet people from all over the world with its nonstop parties and events.
For coworking, head to coworking Tulum and get a membership, which will give you access to multiple locations. There are also plenty of cafes to choose from.
Start with the Tulum Digital Nomad Facebook page to find events. You'll meet people, quickly be added to a WhatsApp group, and your phone will be blowing up with things to do in no time.
Safety
Although many live in Tulum and say it's safe, I've heard enough first-hand encounters of corrupt police incidents that have turned me away from it – not to mention the shootings in the news. I have a lot of friends who live here and love it, but to me, it seems like there are way safer places to be in Mexico.
Why live in Mexico?
First off, you may be wondering why you would want to move to Mexico? Truthfully, I never had any interest in it until the opportunity came up to live with a close friend in a cheap apartment in Puerto Vallarta.
On my second day there, I bought a niche website about Puerto Vallarta because I knew it was a place I wanted to keep coming back. Mexico is magical – I don't know why it took me so long to realize that.
People always talk about how cheap Mexico is, which is true, but there's so much more to the country than that. The food, culture, landscapes, people… it's truly digital nomad heaven.
There's a place for every type of digital nomad in Mexico. Whether you're looking for a small beach town where you can surf every day, a large city buzzing with life, or a mix of both – Mexico has it.
Digital Nomad Visa Mexico
The Mexico entry requirements for Canadians are ideal for digital nomads looking for a hassle-free place to visit, as you can get a 180-day tourist visa on arrival.
However, in the last year, the Mexican government has cracked down on this. While tourists are technically entitled to 180 days, it's no longer a guarantee, and it is up to the border officer how many days you will be given.
In my experience as a digital nomad in Mexico, this is most problematic coming into the Mexico City airport. For example, I was given a 90-day visa in the spring of 2022, but when I arrived directly in Puerto Vallarta, I was given 180 days.
So if you're planning to stay a while in Mexico, you should consider a temporary resident visa, which grants temporary residence for a period greater than 180 days and less than four years. It's not an official digital nomad visa, but almost all my nomad friends who call Mexico home use it as it's relatively easy to get.
After four years, you can apply for permanent residence. No matter what path you choose, visit a local Mexican consulate or embassy for more information.
Health Insurance in Mexico
Even with low medical costs in Mexico, you'll still want to be prepared for events like extended hospital stays.
I recommend SafetyWing, insurance built for digital nomads using a subscription-based service.
For $42/month, you can have peace of mind knowing you're covered should anything happen. You can read my full review of SafetyWing here.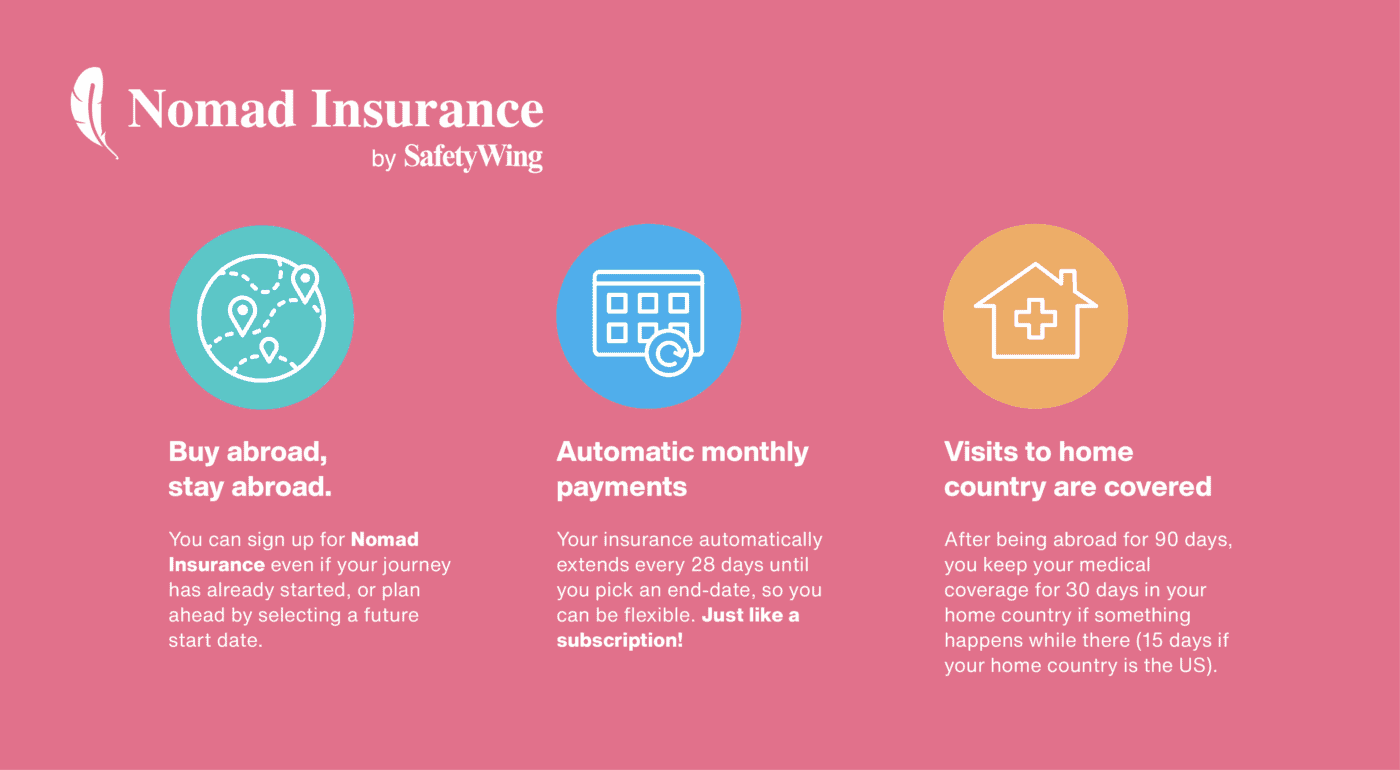 Final thoughts: places for digital nomads in Mexico
I've visited all of these places and love them for different reasons, but it's Puerto Vallarta that stole my heart.
What's your favorite digital nomad destination in Mexico?