This post may contain affiliate links. By clicking and making a purchase through the links, I earn a small commission at no extra cost to you. This and display ads allows me to keep the site up to date and give back. Thanks for reading!
Growing up in the province next door, I've been to Halifax many times before but haven't spent a lot of time there as an adult. So when I traveled to Nova Scotia to drive the Cabot Trail in Cape Breton this summer, I decided to add on Halifax to my itinerary. It was a great decision – there are so many fun things to do in Halifax.
Whether you're enjoying the vibrant neighborhoods, stuffing your face with lobster at amazing restaurants, or on a day trip to nearby islands and charming small towns, there are so many awesome places to visit in Halifax. If you're planning a trip, this post will help you map out a perfect Halifax itinerary!
Part of my time in Halifax was in partnership with Nova Scotia Tourism. I am so thankful to them for supporting local creators during this time!
Day 1 Halifax Itinerary: Explore Downtown Halifax
Walk the Harbourfront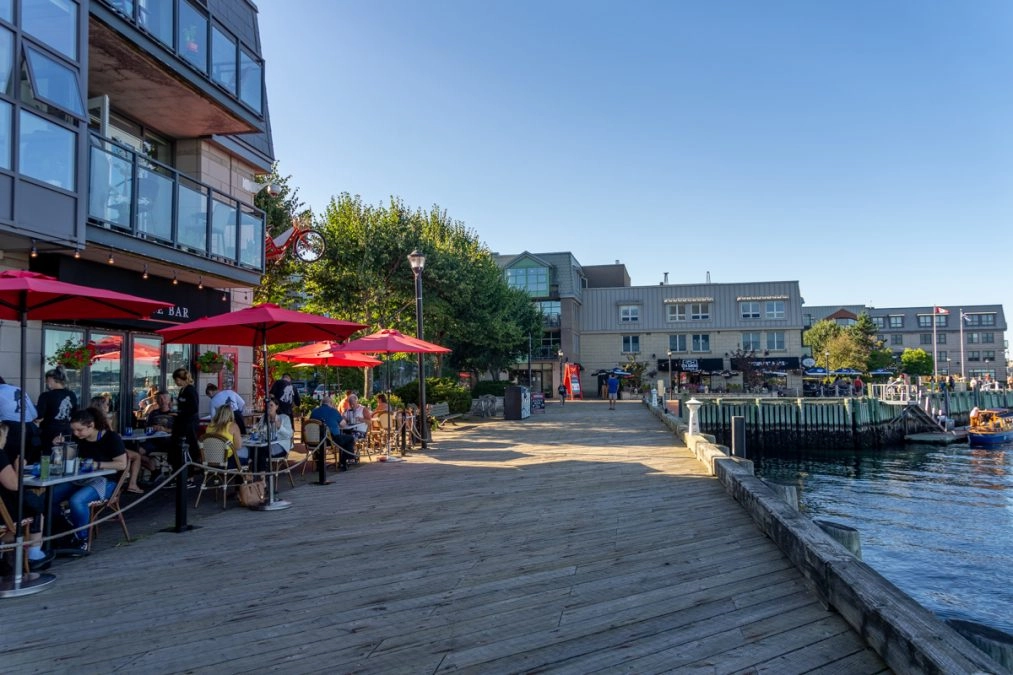 Halifax has changed a lot since the last time I was there. The city has done a great job developing the waterfront and downtown core, which has an amazing atmosphere. Atlantic Canada isn't known for having big cities, and Halifax is the largest that you'll find. It may not be the metropolis of Toronto or Montreal, but Halifax has its own unique maritime charm that will make you quickly fall in love.
Start your day by walking along the harbourfront. There's a lot going on and it's a great place to kick-off your Halifax itinerary. I have to say, I was a bit jealous coming from St. John's Newfoundland. I wish our harbourfront was as pedestrian-friendly!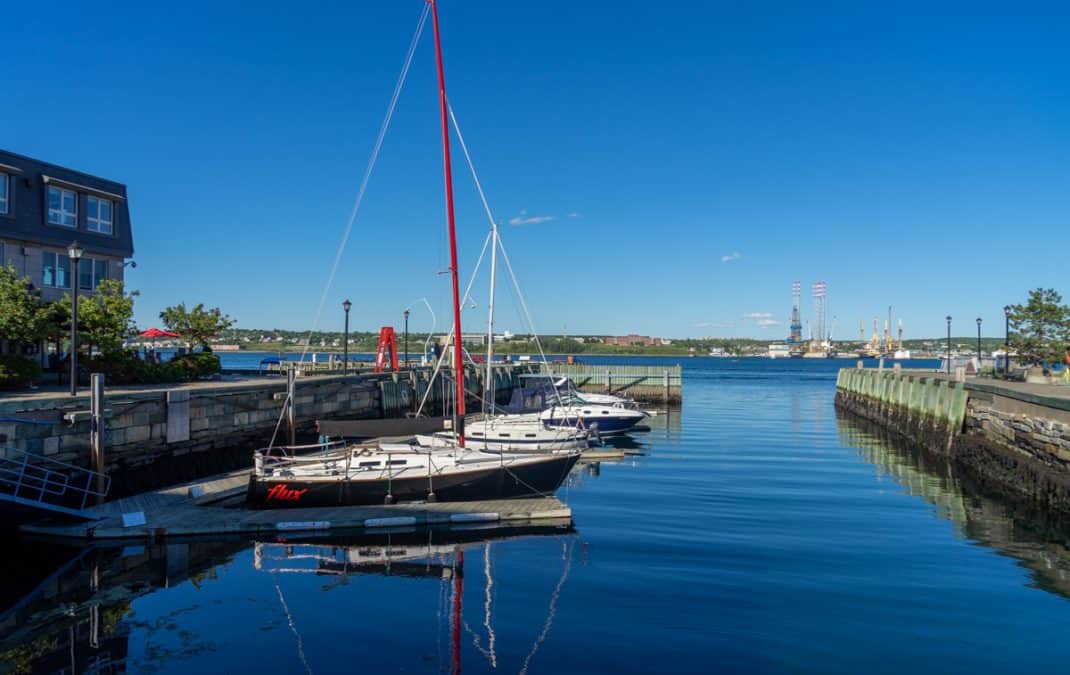 Stop by the Halifax Seaport Farmers Market on the South end of the Harbourfront where you can grab a local coffee and stock up on fresh produce if you're renting an Airbnb and want to cook for yourself.
Right next door to the farmers market is the Canadian Museum of Immigration at Pier 21. This is a great place to visit if you're interested in history. Many years ago, Halifax was a major port of call for European travelers and anyone who was immigrating to Canada would have to pass through Pier 21. At the museum, you can learn about the experiences of immigrants as they arrived in Canada.
You can also visit the The Maritime Museum of the Atlantic on the waterfront, to learn more about Nova Scotia's rich maritime heritage.
The Halifax waterfront doesn't take long to walk from end to end, but there is a lot going on down there. There are many restaurants if you want to grab a bite – Bicycle Thief is a popular choice. If you want something quick, there are several food shacks. I highly recommend COWS ice cream – this is what my childhood dreams were made of! There's also a couple of beer gardens, which is a great way to spend a sunny afternoon with friends.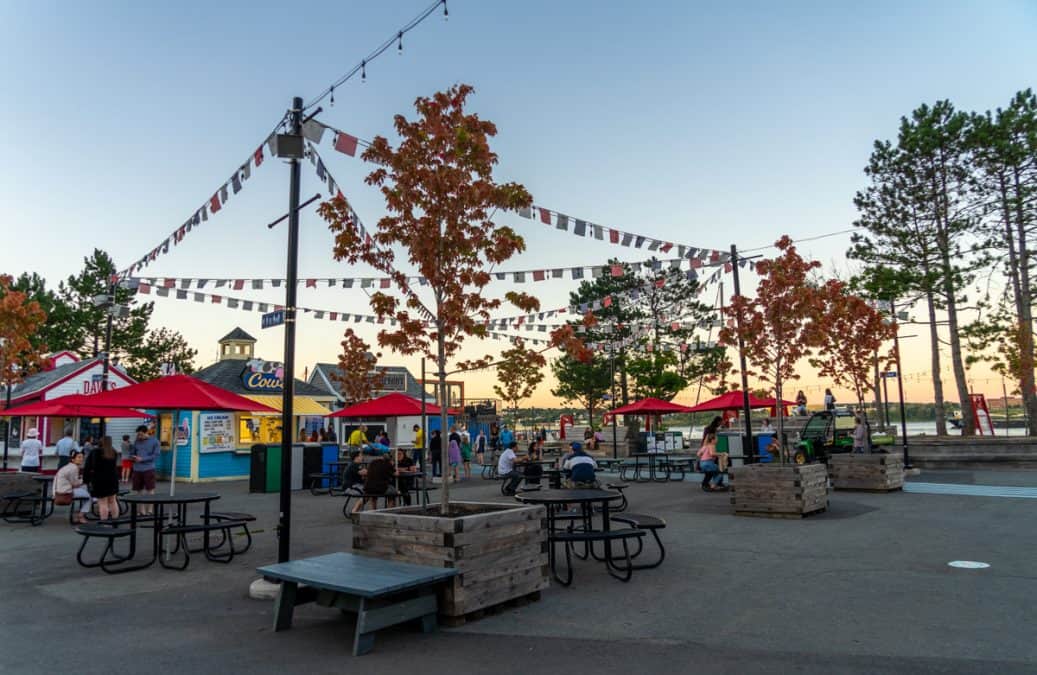 On the other end of the harbourfront, there are these amazing hammocks you can hang out on and enjoy the views of Georges Island. I love how chill Halifax is!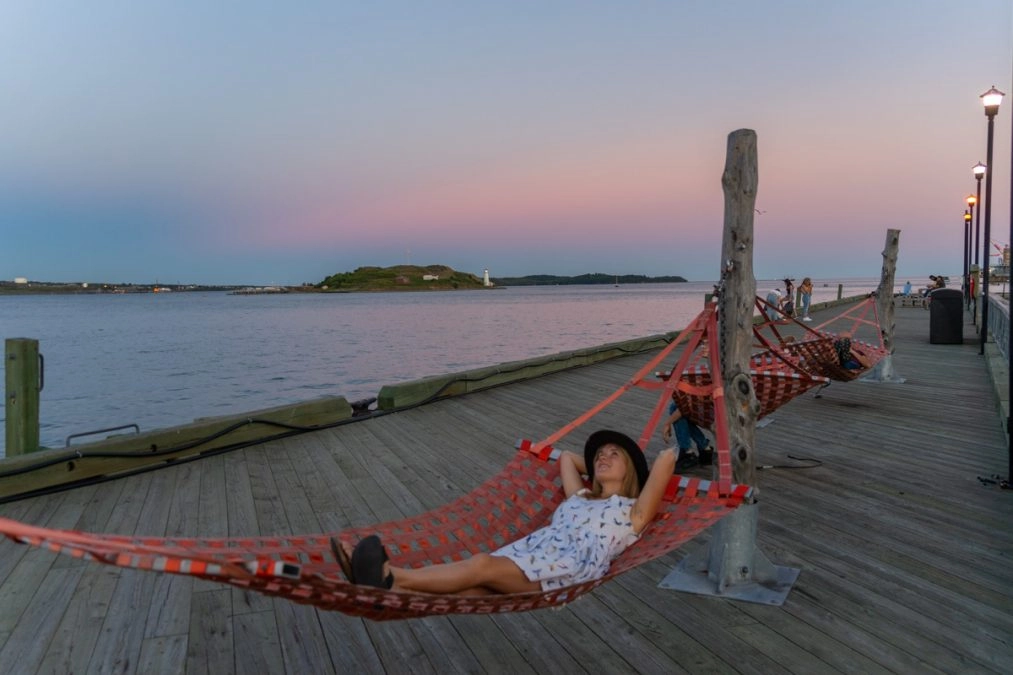 Halifax itinerary ideas: Enjoy it on the water
For a different view of the harbourfront, rent jet skis or join a kayaking tour with Harbour Watercraft. We took a kayaking tour on a sunny Sunday morning and it was such a lovely experience. Being out in the water is so nice on a hot summer day. You get great views of the city and can paddle out to George's Island to check out the lighthouse there. I also saw cute seals in the water!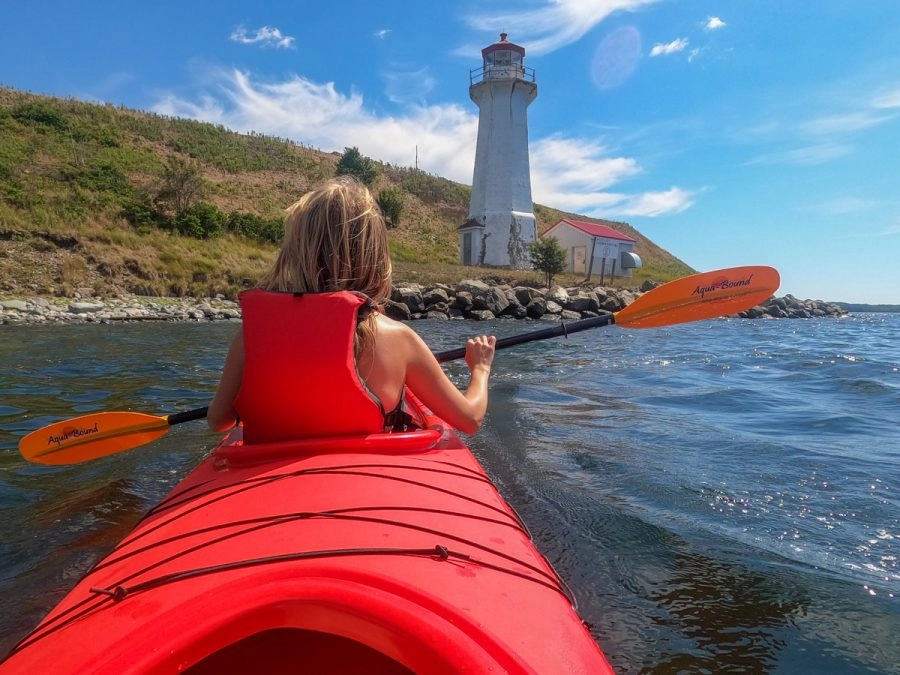 If that's not your thing, you can also join a tall ship sailing tour to explore the harbourfront. During a sailing tour, you'll get a guided tour of the harbor with notable sights such as the Harbour Bridge, Fort George, McNab's Island, Point Pleasant Park, and the Historic Properties.
Spring Garden Road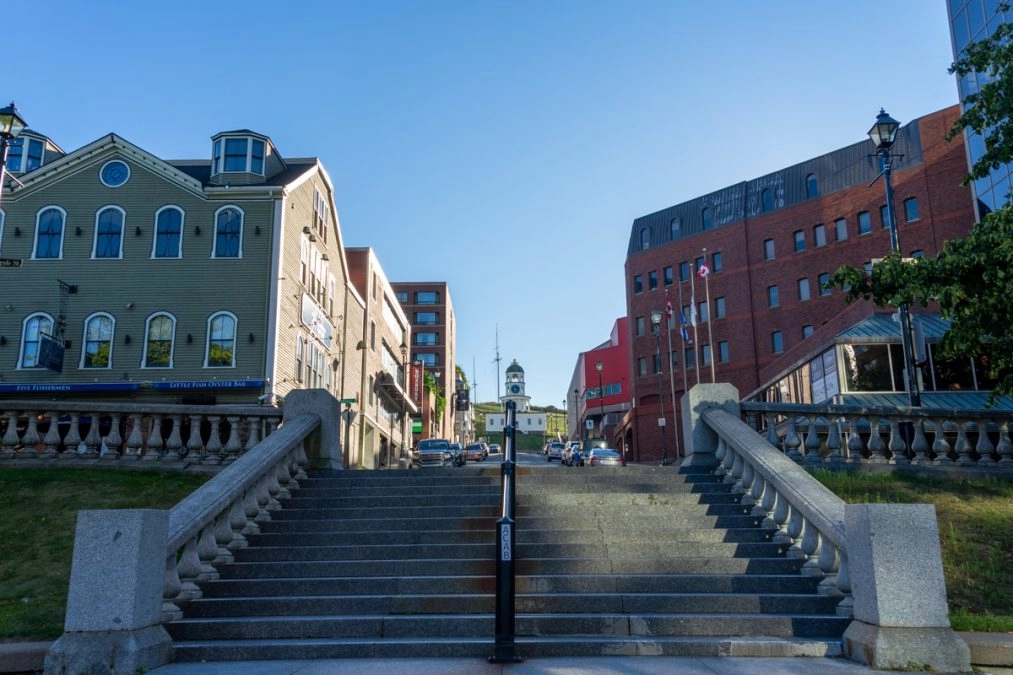 After strolling the harbourfront, walk 15-minutes North to Spring Garden road. This is a major commercial and cultural district in Halifax where you'll find great shopping and dining options. Check out the Garden Bar Lounge and Cafe. The interior is beautiful and they've even got hammocks in their outdoor seating. Nothing goes better with brunch then a hammock!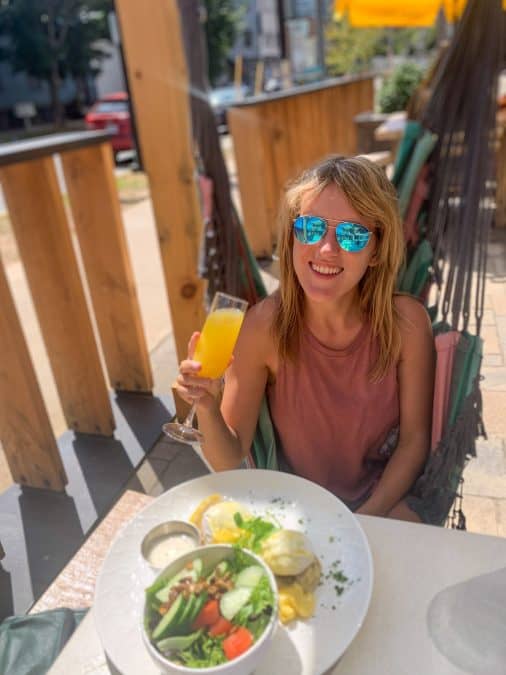 Walking along Spring Garden Road, you'll undoubtedly notice the gorgeous Halifax Central library. It's a beautiful piece of architecture inside and out. It's refreshing to see a city investing in its library!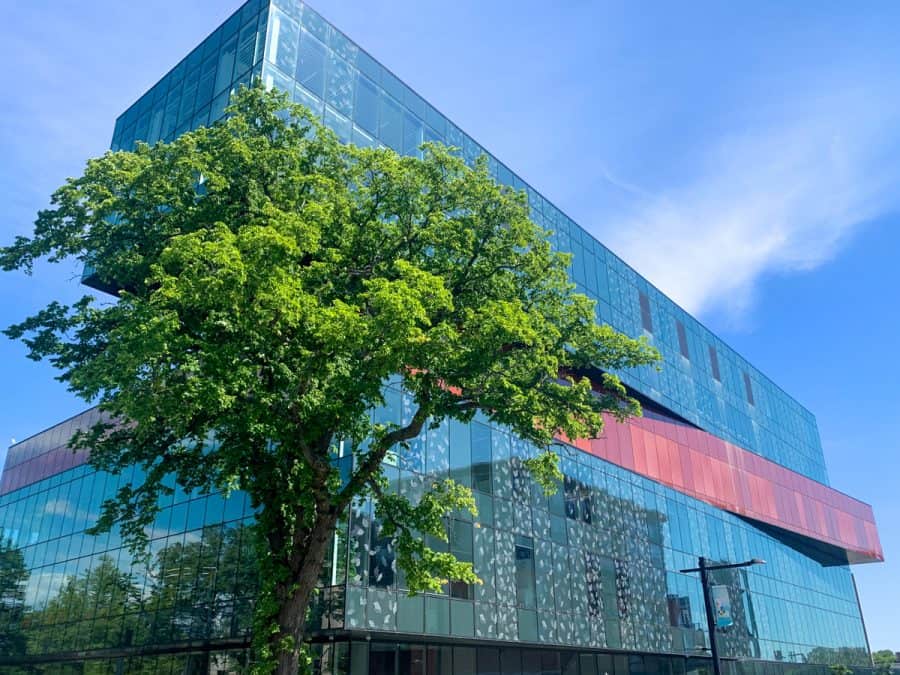 Visit the Halifax Public Gardens
Keep walking along Spring Garden road and you'll come across the Halifax public gardens. This is such a lovely green space right in the city center. It is one of the finest surviving examples of a Victorian garden in North America. The public gardens are a perfect place to go and take cute photos!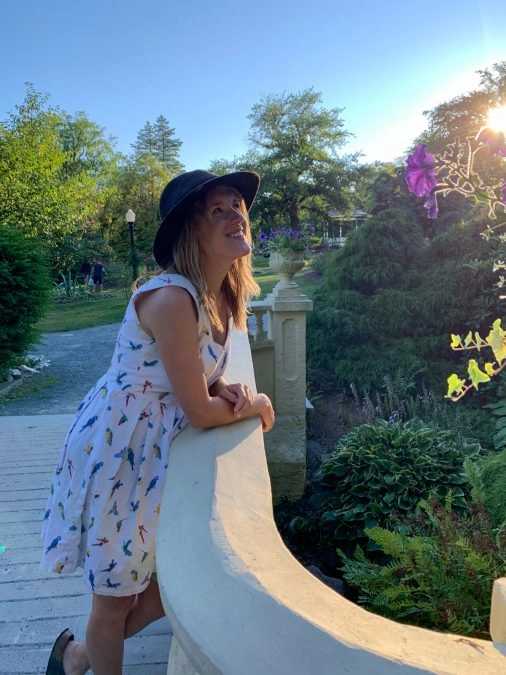 Visit Citadel Hill National Historic Site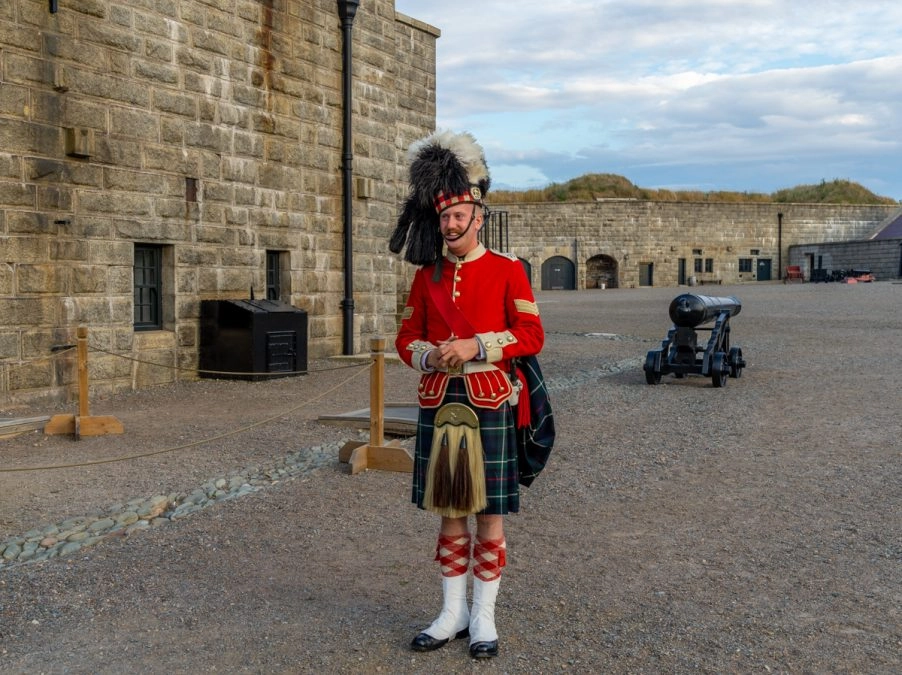 Right next to the public gardens is the Citadel Hill National Historic Site, which is one of the most popular places to visit in Halifax. Strategically located on a hill looking over the city, the Halifax Citadel was part of the incredibly impressive Halifax defense complex used during the world wars. While visiting Citadel National Historic Site, you can step back and time and learn what roles the fort and its inhabitants played. The views of Halifax from Citadel Hill are also wonderful.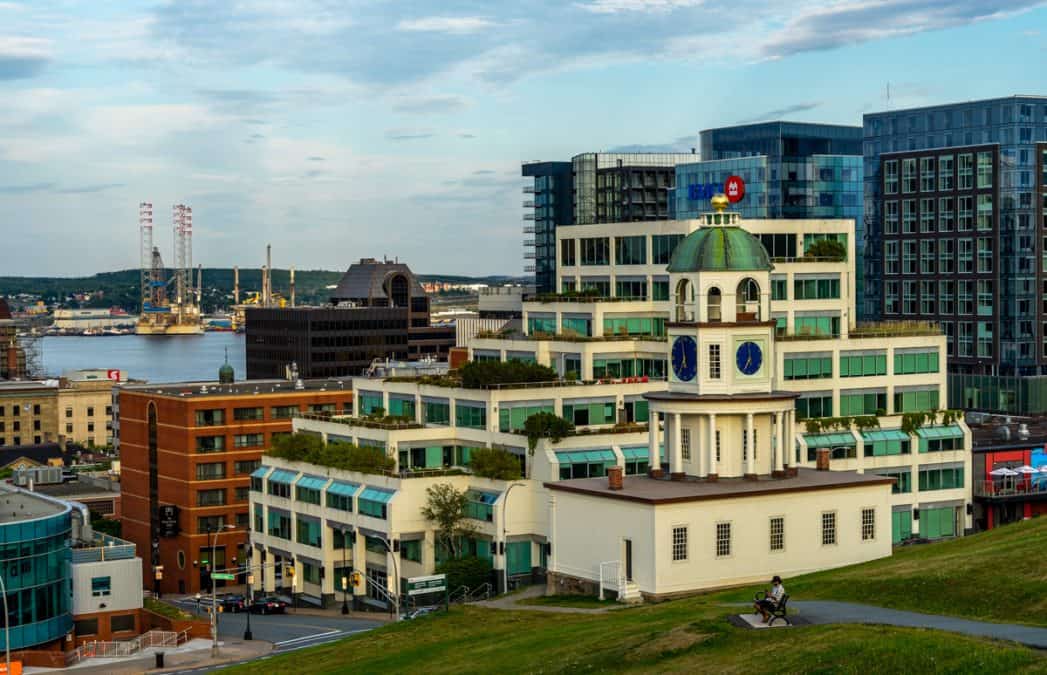 Join a spirit tasting at Citadel Hill
Another fun thing to do at Citadel Hill is join a spirit tasting.A local distillery is making spirits at Citadel Hill, and Nova Scotia Tourism arranged a tour for us to taste some of them.
After a guided tour of Citadel Hill where we learned about the history of alcohol in the British military and how it was used to rally the troops, we headed into the barrel room to pick a spirit to try.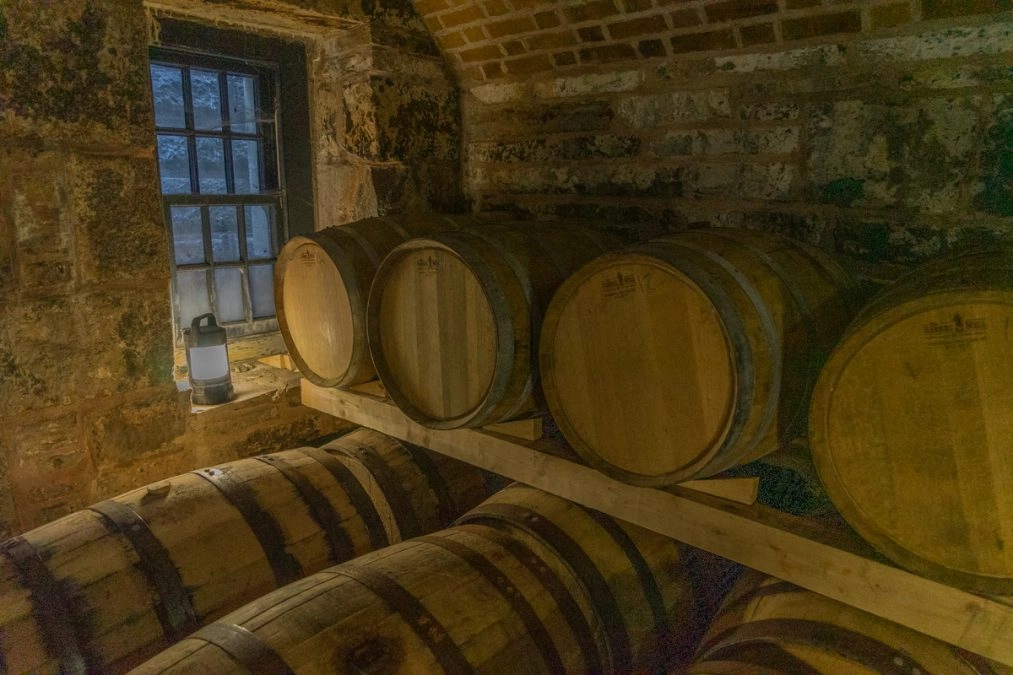 After opening the barrel, we headed inside to sample it alongside three other spirits and a delicious charcuterie board. Honestly, I'm not a big spirit drinker (I'm a beer gal), but I have to say these were very good. This is a really fun way to spend an evening in Halifax!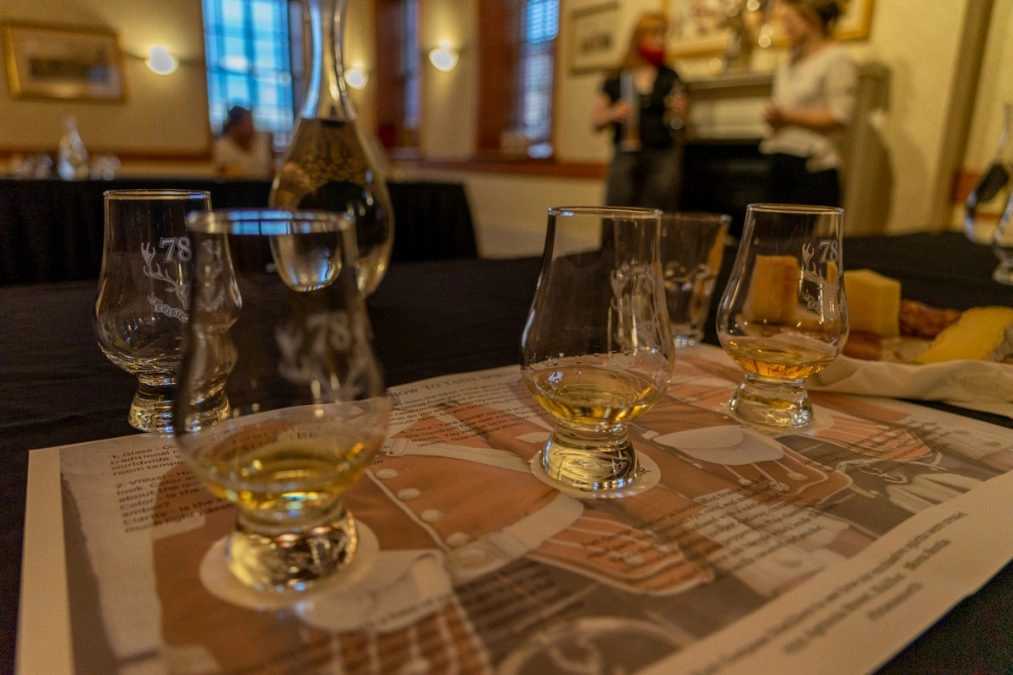 Ghost Tour
After the spirit tasting, we went on a ghost tour around Citadel Hill. Only guided by candlelight, we explored the chambers and alleyways while the guide told us ghost stories that people have reported over the years. I'm actually pretty terrified of ghosts, so I'm grateful I had some whiskey courage! If you're into ghost stories, this is a great thing to do in Halifax.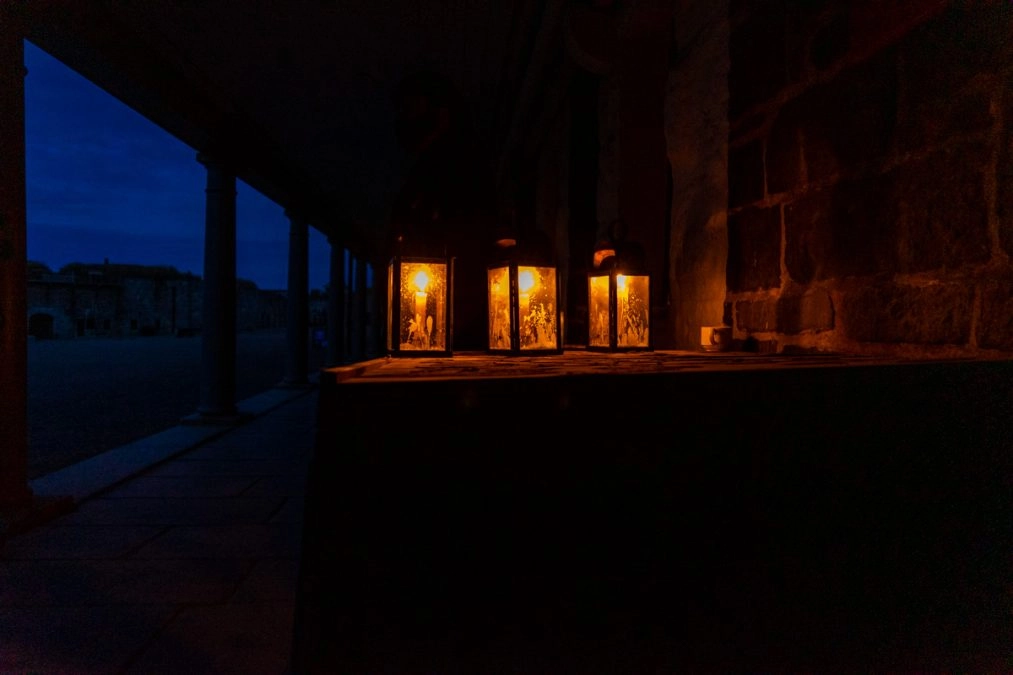 Join a segway tour
If you're short on time and want to see a lot of Halifax, a great thing to do is join a guided segway tour. I used to think these were lame, but I tried it while in Italy earlier this year and it's actually so much fun. I saw so people on segways while I was visiting Halifax!
Day 2: Neighbourhoods and Islands
Now that you've explored downtown Halifax by foot, it's time to venture out to nearby islands and neighborhoods.
Visit George's island
One of the newest things to do in Halifax is to visit George's Island national Historic Site. You can see this island from the harbourfront, but it only opened up to the public at the beginning of August. George's Island is another part of the Halifax Defense Complex.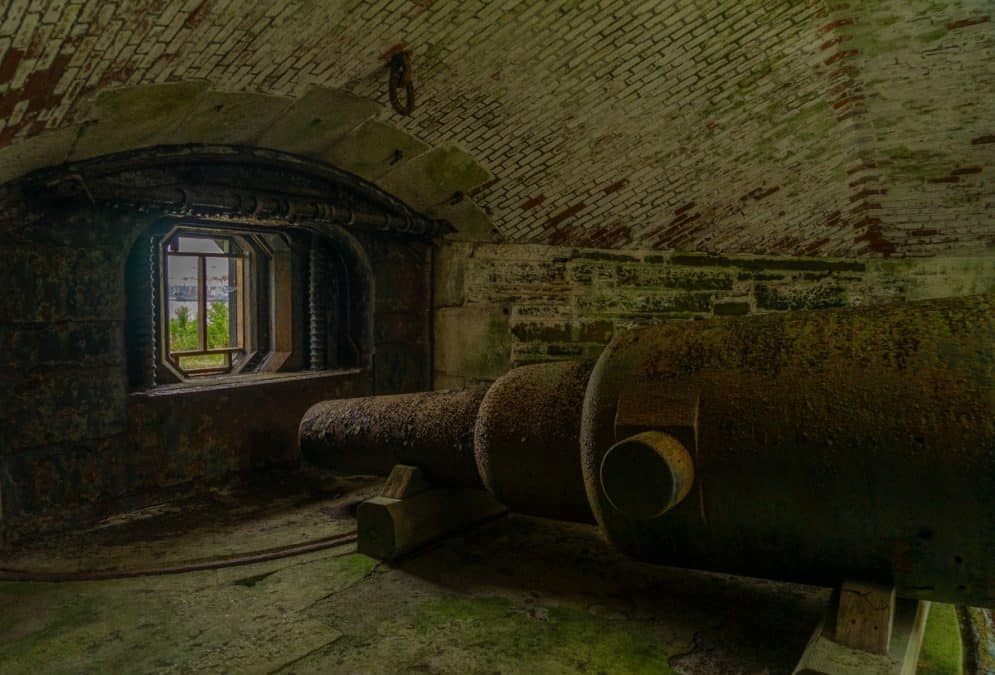 It's just a quick 5-minute boat ride from the harbourfront to the island, where you can do a self-guided tour of the fort or join a guided tour of the tunnels.
We did the guided tunnel tour which was so neat to walk through. Georges Island also has a beautiful view of the skyline of Halifax. You can even see wildlife there. Okay, I'm talking about snakes. You have been warned!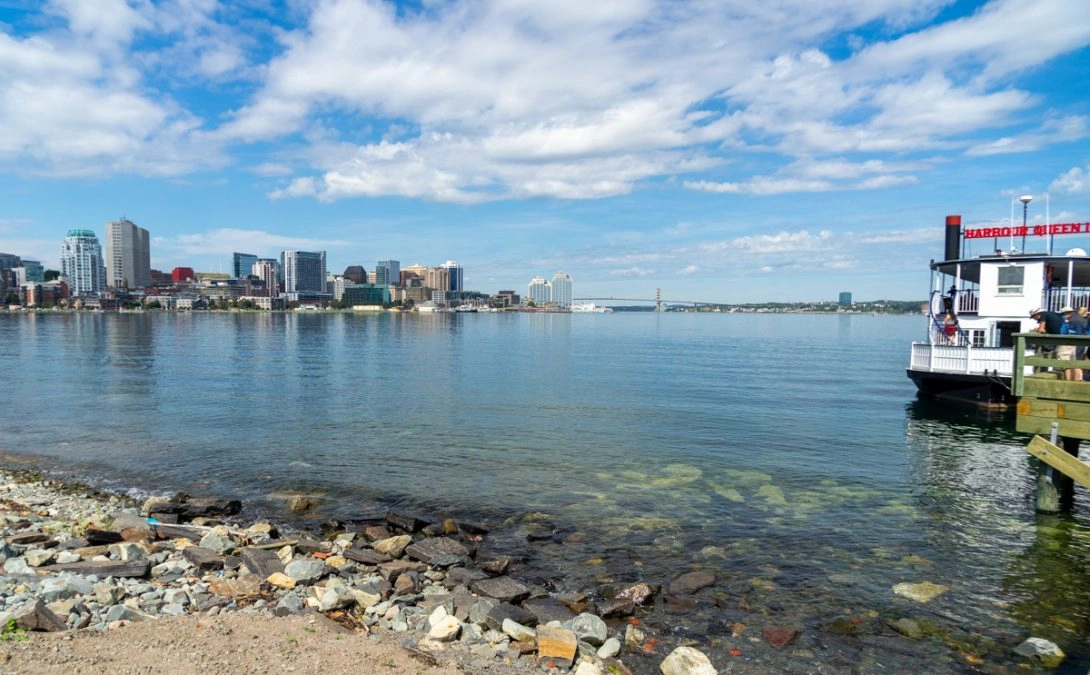 George's Island is only opened on Saturdays and Sundays to the public. The tours have been extended until October 11th so get there soon if you want to visit this year!
Fisherman's Cove Heritage Center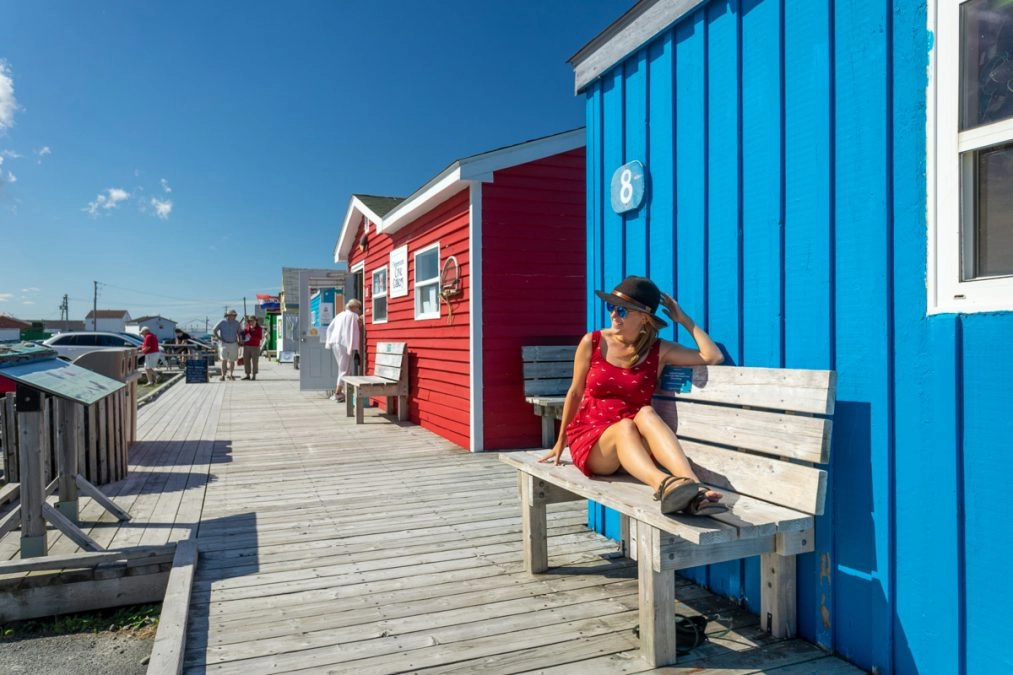 Fisherman's Cove Heritage Center is a really cute place to visit near Halifax, it's just a 20-minute drive. This small fishing village is made up of colorful cabins with a boardwalk, where you can find local gift shops and dining options. You can also join kayaking tours from Fisherman's wharf with Kattuk Expeditions.
Right next door to Fisherman's Cove is McCormacks Beach Provincial Park, which is a great place to soak in nature and watch the sunset.
McNabs islands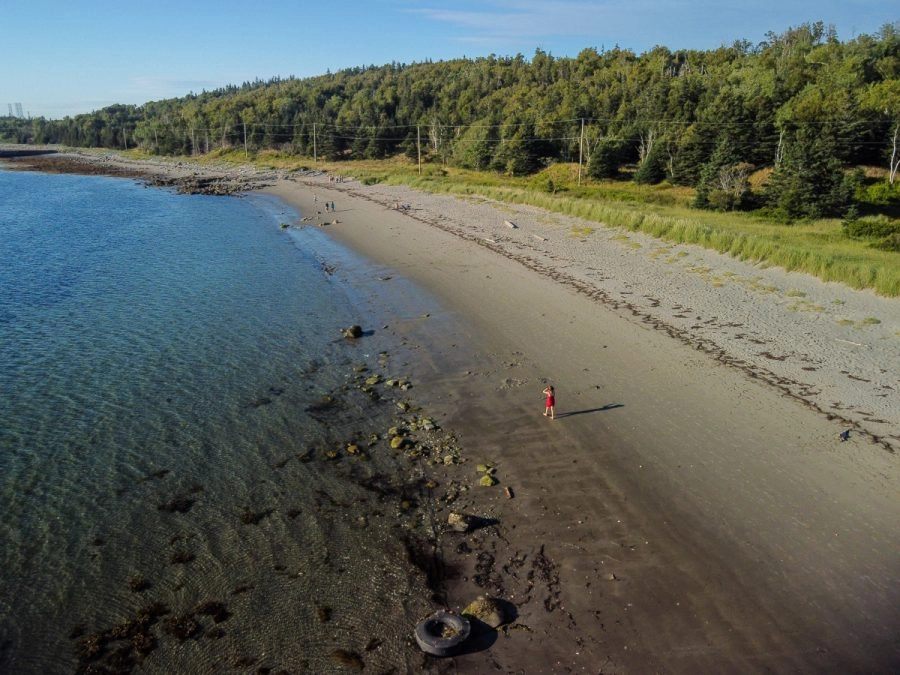 I just love how there are so many islands to visit near Halifax! McNabs is one of the larger ones in the harbor, which you've probably already guessed – was part of the Halifax Complex Defence. It's a lot bigger than George's island, you could spend the entire day walking around McNabs.
If you don't know someone with a boat to get to McNabs, you can hire a boat to take you from Halifax or Fisherman's Cove. We got a boat from Fisherman's Cove which took about 20-minutes and cost $15 each.
On McNabs island there are gorgeous hiking trails, forts to explore, and stunning beaches. It's a lovely place to go swimming. If you're craving nature while visiting Halifax, McNabs Island is the perfect place to go.
North End / Hydrostone Market
One of the best parts of visiting Halifax is that there are a number of different cute neighborhoods to explore. One that I really enjoyed was Hydrostone market in the North End. It's just a small street but it's lined with cute restaurants and boutique shops that will make you feel like you've been transported to Europe.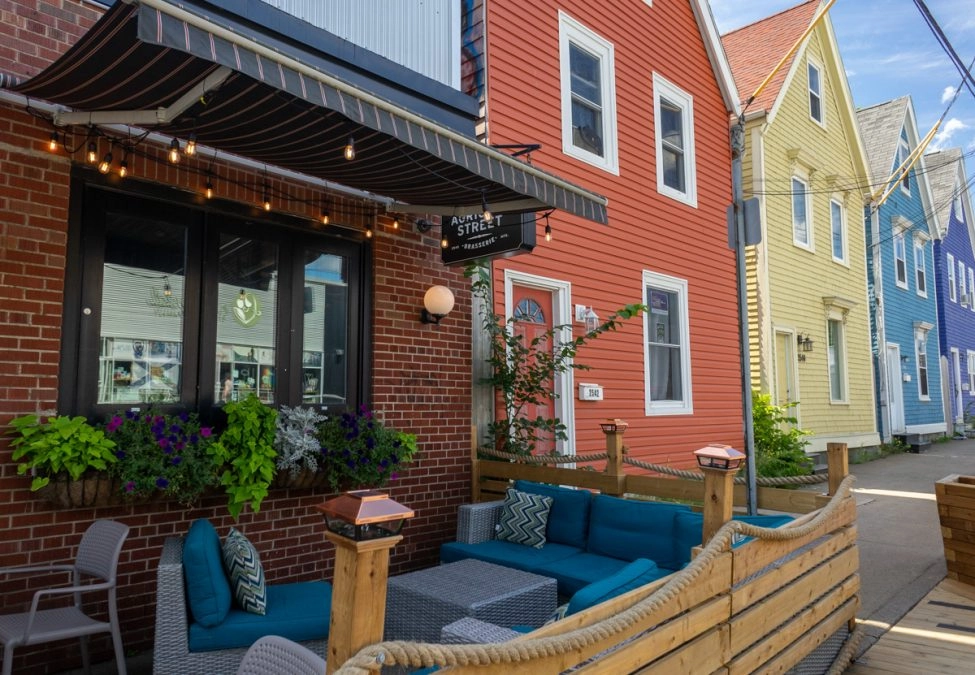 The north end of Halifax used to be considered a no-go zone for Tourists but in recent years it has gentrified and now has some of the best restaurants and breweries in the city. I recommend Agricola Street Brasserie, a French-style restaurant where I had a delicious lobster and avocado focaccia for brunch. Halifax does brunch really well!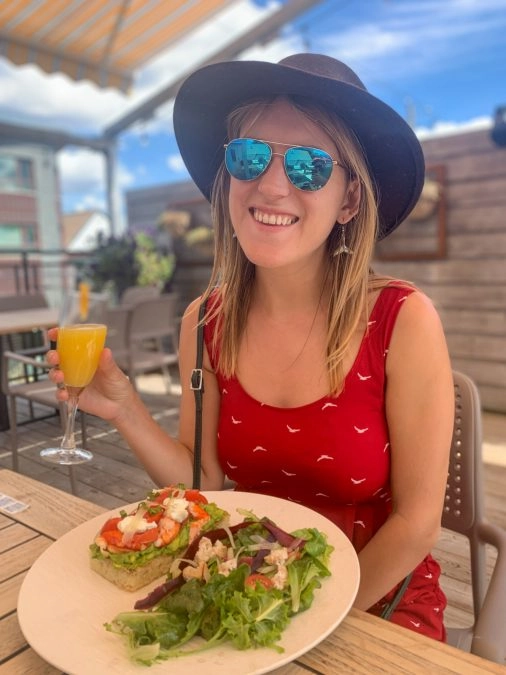 Dartmouth
Another neighborhood that's turned itself around in the last few years is Dartmouth. It's across the harbor from Halifax, so you can get there by driving over the bridge or taking a short ferry ($3.50). What's cool about taking the ferry is that it gives you a chance to get photos of the Halifax Skyline from the water. Dartmouth has many awesome restaurants and breweries where you can try some of the awesome craft beer Halifax has. The Canteen is a great choice!
Day 3: Take a Day Trip
Another great thing about Halifax is that there are so many day trip options less then hours drive from the city. If you've got an extra day on your Halifax itinerary, rent a car and visit one of these stunning places.
Halifax Itinerary Ideas: Peggy's Cove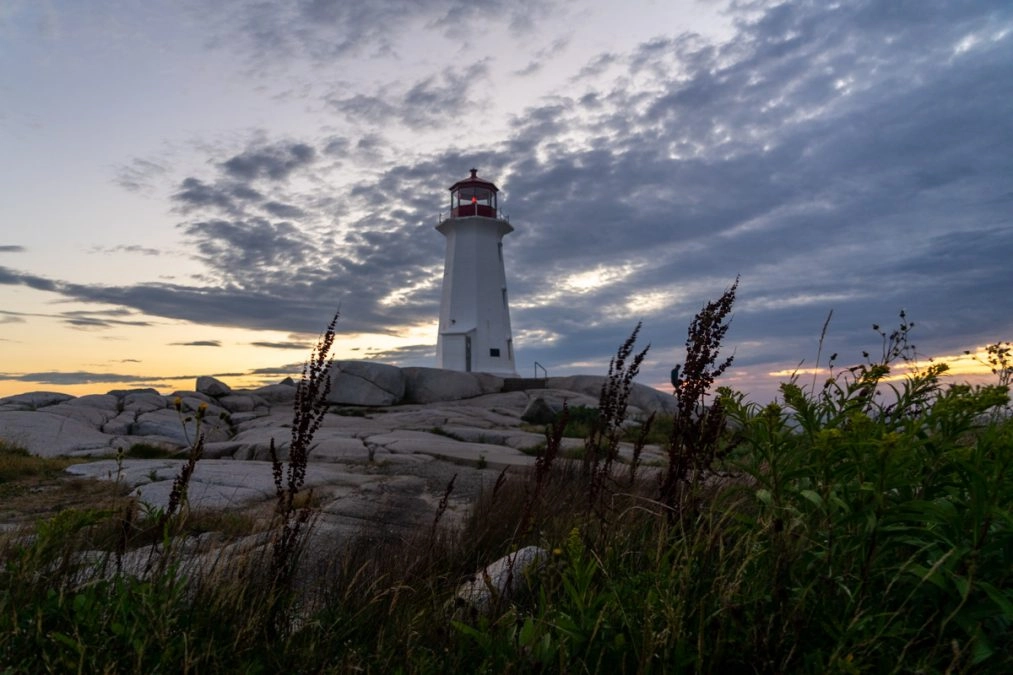 Less then an hour's drive away from Halifax is one of the most iconic lighthouses in North America – Peggy's Cove Lighthouse. Built in 1915, this stunning lighthouse stands on a gorgeous rocky landscape facing the Atlantic ocean. It's an amazing place to take photographs, especially at sunrise or sunset. Peggy's Cove itself is also quite picturesque and still an active fishing community today.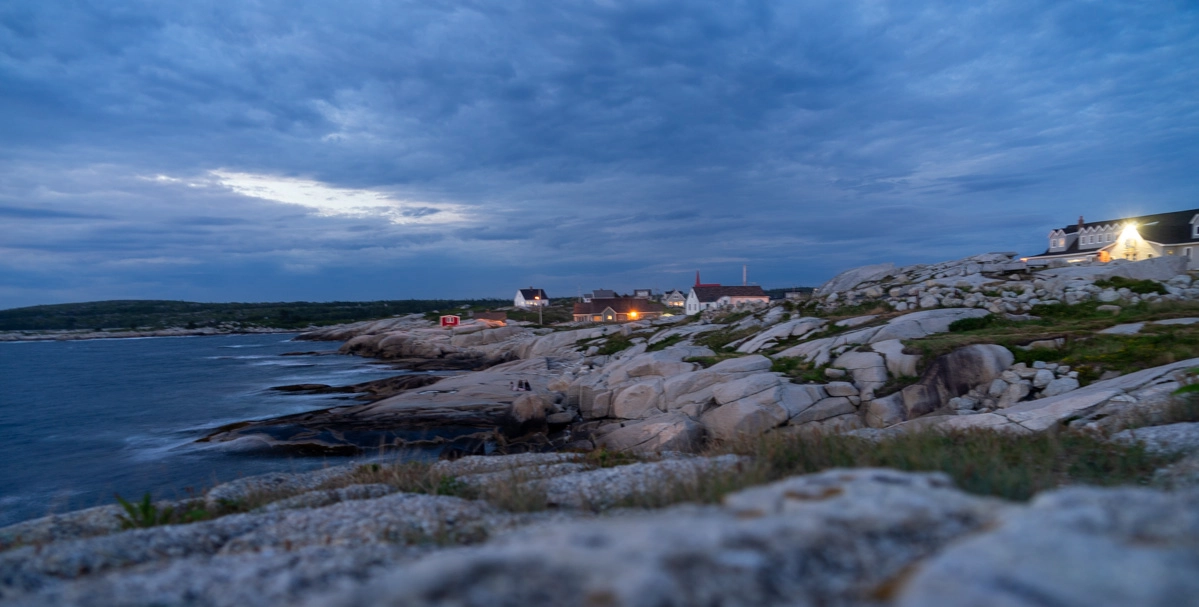 If you don't have your own car, there are also many guided tours to Peggy's Cove you can join.
Mahone Bay & Lunenberg
If you want to see more charming towns in Nova Scotia, continue driving along the South shore. Known as the lighthouse route, this part of Nova Scotia is lined with gorgeous small towns. One you don't want to miss is Mahone Bay, an area popular for sailing.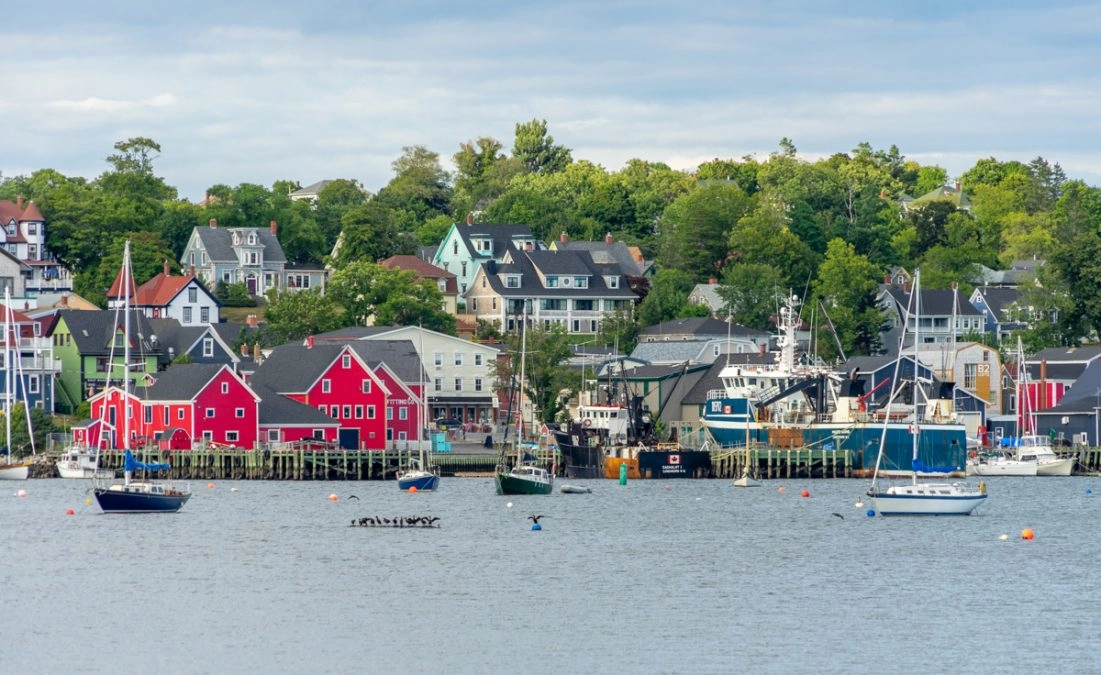 Just a 15-minute drive from Mahone Bay is Lunenberg, a UNESCO world heritage site that has become one of the most photographed towns in Nova Scotia. There are so many colorful houses here, it's hard not to fall in love! If you want a view of Lunenberg like above, head to the golf course across the water.
Just a 10-minute drive away from Lunenberg is Blue Rocks, a very small and quiet picturesque fishing village.
Hit the Beach
If you're craving beach time, there are plenty to choose from less then an hours drive from Halifax. Lawrencetown Beach is a popular choice – you can actually go surfing there!
Shubenacadie Tidal Bore Rafting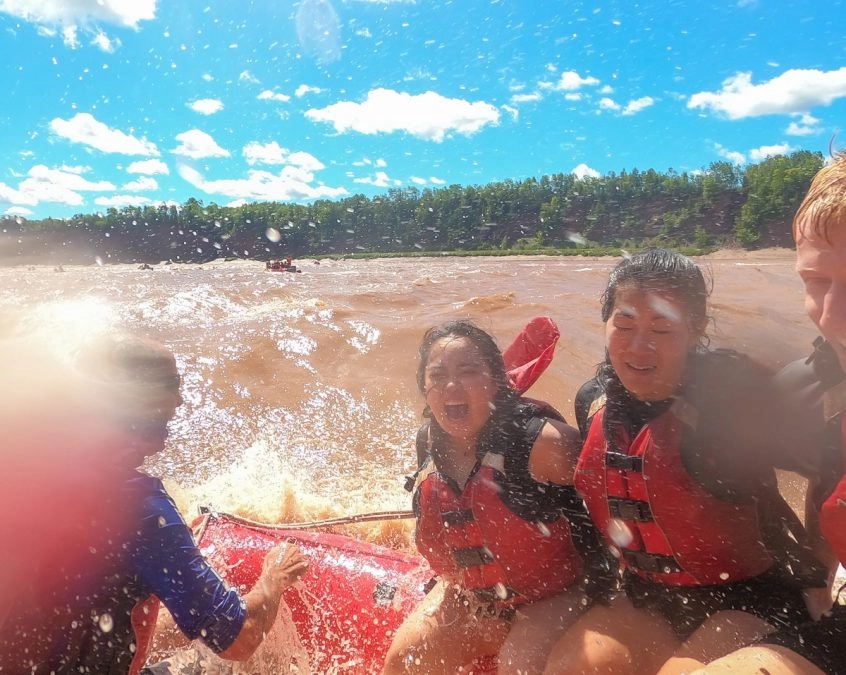 If you want an adrenaline-filled day, head out to the Shubenacadie River and join a guided tidal bore rafting adventure. This is a pretty unique experience, and unlike any other rafting tour I've experienced. What's unique about this rafting is that the rapids are caused by the tides changing directions in the bay of Fundy.
On the tour, we headed out on zodiac boats and first got the chance to go mud sliding. Don't worry, the river is great at cleaning you off! From there, we waited for the tides to come in, and then the guide took us through the rapids. We got absolutely soaked – it's a blast!
Where to stay in Halifax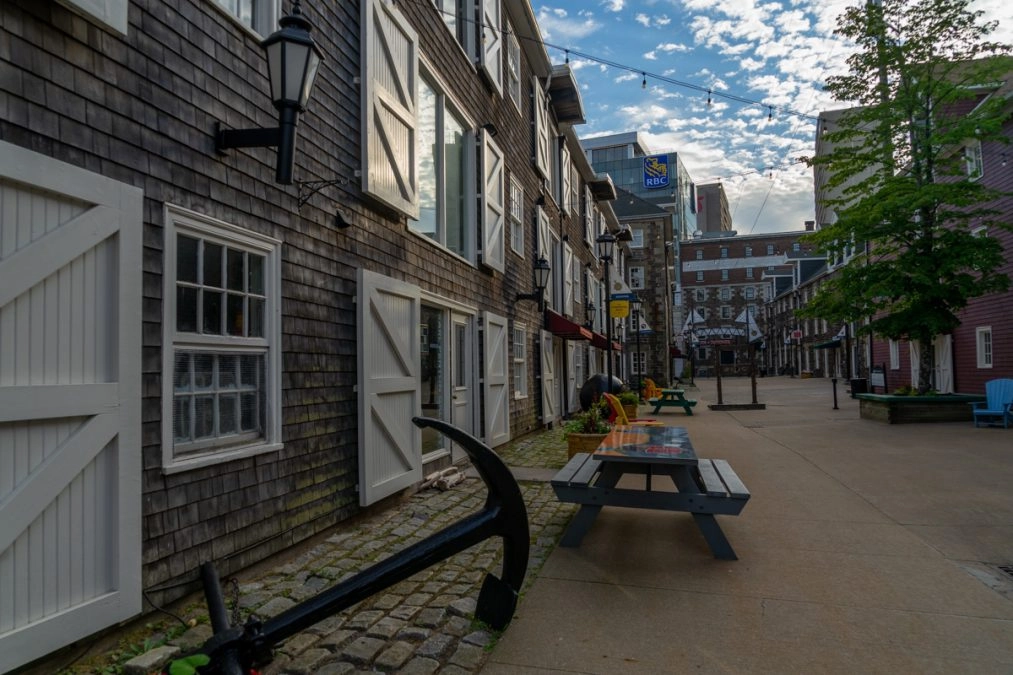 I was hosted at the Halifax Marriott Harbourfront Hotel which is a great option if you're looking to stay downtown.
I highly recommend basing yourself on or near the harbourfront in Halifax, that way you have so many amenities right outside your door.
Steps outside the Marriott, there were restaurants, beer gardens, and even a COWS ice cream. So convenient! The rooms also have ocean views which are so nice to wake up too.
Halifax has a wide variety of apartments, B&B's, and budget hotels to choose from which I've covered more in-depth in my where to stay in Halifax guide.
There are also a few hostels to choose from in Halifax which is a great option if you're on a limited budget or traveling solo and want to make friends. HI-Halifax is centrally located downtown and has great reviews!
—
I hope this post could give you some inspiration for planning your Halifax itinerary! It's a wonderful city well worth spending a couple of days in. Have you been before? Let me know what your favorite thing to do in Halifax is!
Pssst – Halifax is a great addition to an East Coast Canada road trip. If you're planning a trip through Prince Edward Island, New Brunswick, or Newfoundland combined with Nova Scotia – this guide has all the info you need.
Enjoyed this post? Pin it for later!