This post may contain affiliate links. By clicking and making a purchase through the links, I earn a small commission at no extra cost to you. See my disclaimer for more information. This and display ads allow me to keep the site up to date and give back.
Montreal, Quebec is one of my favorite North American cities. With European-style architecture, delicious dining options, and a nice balance between city buzz and natural beauty, Montreal ticks all the boxes for many travelers. If you have one day to spend in Montreal, make sure to check out these highlights.
This post was written by Nicola Rae of See Nic Wander
When To Visit Montreal
Montreal is an amazing city in all seasons, but it has a reputation for being a summer city. On my first trip to Montreal in February, I can't tell you how many people told me, "You have to come back in summer" then looked off into the distance, daydreaming about the long lineup of outdoor events Montreal hosts during warmer months.
In the summer, music festivals, rooftop patios, and water-front parks are alive with activity. Nice weather combined with an impressive roster of summer activities attracts visitors from all over the world.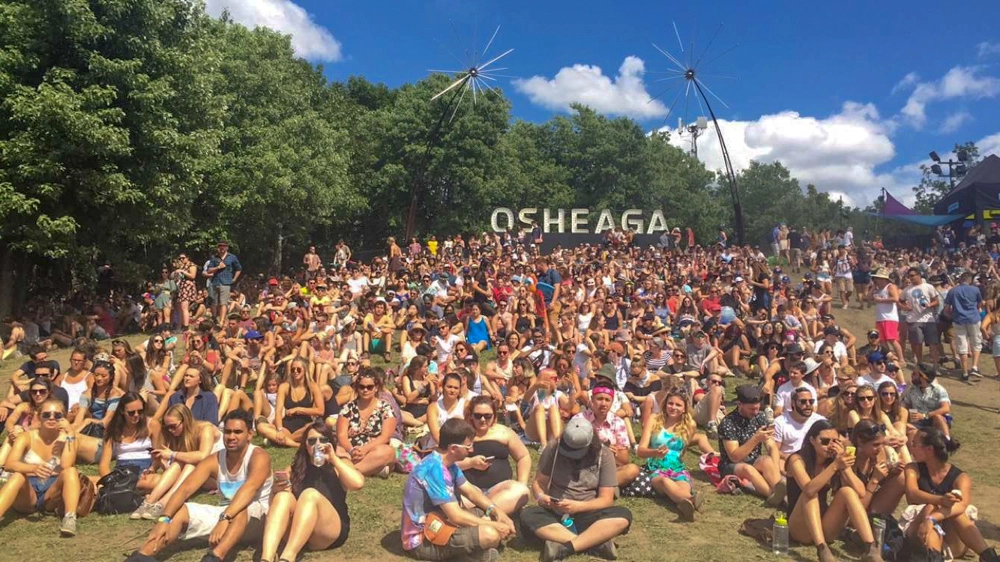 Winter in Montreal also has a special charm to it. Even though you'll experience plenty of snow and bone-chilling temperatures, the winter in Montreal isn't dreary and gray like it is in some places. Even in the middle of winter, the days are usually bright and sunny.
It also helps that Montreal was built to accommodate extreme cold and weather. Under the city, you'll find a vast network of climate-controlled pedestrian tunnels that take you to the metro stations, shopping malls, and other popular attractions.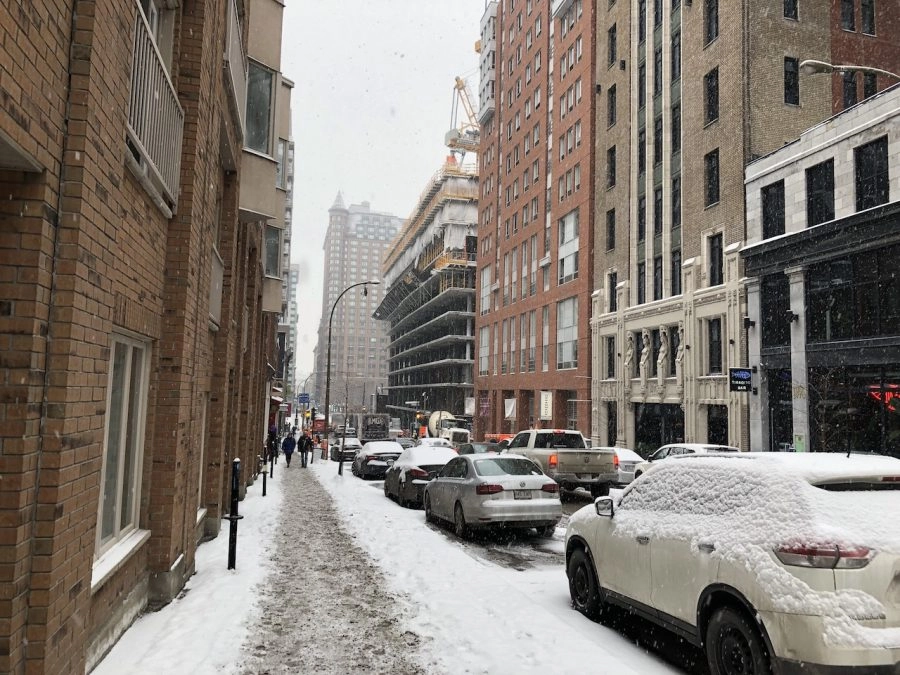 Where To Stay In Montreal
If you only have 24 hours in Montreal, you want to make sure you're staying near the action! To ensure you're close to attractions, consider choosing a place to stay in Montreal that's close to Old Port or Downtown.
Old Port is the oldest part of the city and it's packed with history. Cozy pubs, historical churches, and narrow streets give the Old Port neighborhood a European vibe, but you're still just a short subway ride or stroll from downtown.
Downtown is more lively and you'll be close to shopping, restaurants, events, and parties. You'll also be located directly over the labyrinth of underground tunnels that connect Montreal: A real lifesaver during chilly winter months.
Best Montreal Hotel: The Courtyard Marriott Downtown Montreal is a great option if you want to be centrally located in Downtown. It's just a few steps from an entrance to the underground tunnel system and two metro stations. Expect a great location and comfortable amenities.
Best Montreal Hostel: M Montreal has fabulous reviews from all kinds of travelers. This hostel is conveniently located near Old Port and features an epic rooftop patio, daily events, and welcoming vibes. There is a reason this hostel has almost a perfect rating on HostelWorld!
Getting Around Montreal
To help you make the most of your one day in Montreal, I've only recommended activities that are centrally located to downtown and accessible by public transportation.
Montreal is heavily serviced by rideshare apps like Uber and Lyft. This is a good option if you want to go somewhere outside of the main downtown and old city areas.
If you wish to save a bit of money and take public transit, there is a convenient subway and bus system that can likely get you where you want to go. Montreal has one of the best subway systems in Canada. On the Montreal public transit website, they have handy route maps and timetables.
You can also use the free CityMapper App in Montreal. With CityMapper, you'll type in where you want to go and it calculates the cost and time it would take to get there by several different means of transportation.
Finally, if you choose to stick around the downtown and Old Port neighborhoods, you can get around the city easily on foot. There are sidewalks along most major roads and the streets are well lit, even at night. I enjoyed walking around Montreal and could get most places I wanted to go in 30 minutes on foot.
Top Things To Do If You Have One Day In Montreal
If you only have a day in Montreal, you'll want to make sure you see the highlights. While you could easily spend several days in Montreal without running out of things to do, these sights were my all-time favorites.
What you choose to do will vary by season and personal interest, but rest assured Montreal won't disappoint.
Hike Mount Royal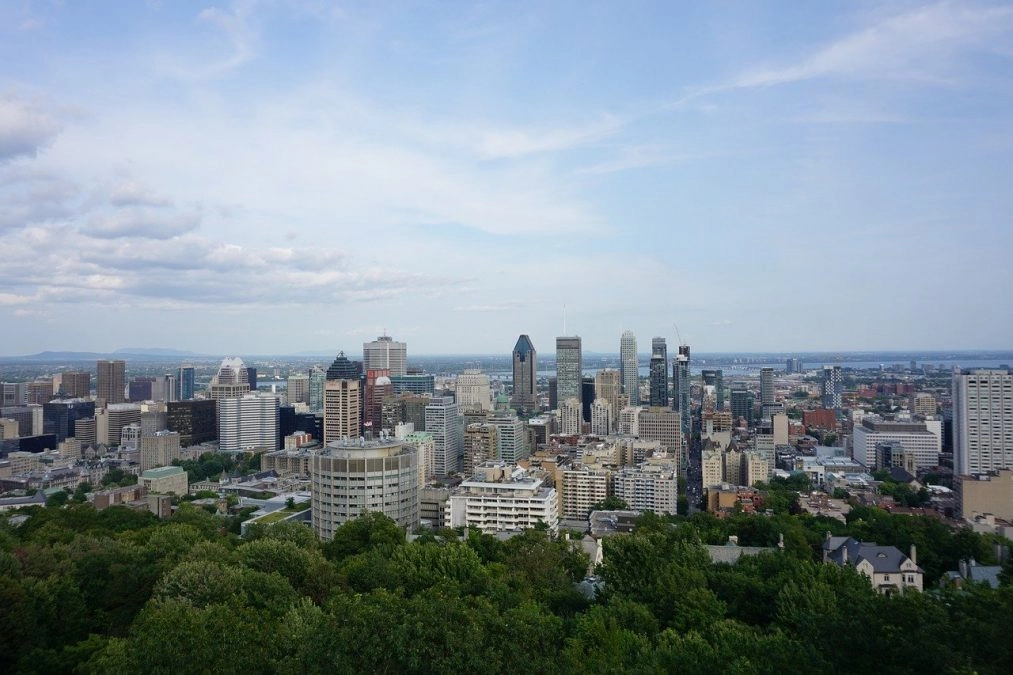 Kick off your day in Montreal with some fresh air and views of the city. Head toward the famous Mount Royal, the large wooded "mountain" right in the middle of the city. Year-round, you can hike, walk, or snowshoe the well-maintained trails to the observation area and other outdoor attractions.
If you prefer not to hike, you can also access the observation area and Mt. Royal Chalet by road. Either way, this is one of the best ways to see the city from above and get blissfully lost in nature.
You can get to Mount Royal Park a few different ways:
Walking: There are many places to access the Mount Royal Park trails, but if you need a starting point head to the intersection of Pine Avenue West and Peel Street. Here you'll be able to take a winding path called Le Serpentine to the main path called Olmsted Trail. The Olmsted Trail runs all around the park including up to the observation deck, called the Mt Royal Chalet. It takes about 30-40 minutes to get to the Chalet from Pine Avenue and Peel Street.
Driving: You won't be able to drive all the way to the Mt. Royal Chalet but the Smith House Parking Lot will get you within a 5-minute walk. You can also park at Beaver Lake or Camillien-Houde Belvedere parking lot.
Take a City Tour
In a city as vibrant as Montreal, you can be sure that there are plenty of organized tours and activities to suit all interests. When I'm short on time in a new place, I love doing a tour with someone who knows the area well so I can see as much as possible.
Tour guides are also notoriously excellent at referring you to fun, off-the-beaten-path restaurants, bars, and attractions. Here are just a few of the guided tours you can take in downtown Montreal
Explore Old Port
Old Port is the historic neighborhood of Montreal. In this European inspired area, the streets are narrower and often cobbled. Old Port is right on the water, so if you're visiting during warmer seasons this is a great place to soak up some sun.
Old Port Montreal Attractions
Plage de l'Horloge: Take a stroll along the sea at this sandy beach facing the St. Lawrence River.
Bonsecours Basin: If you're visiting in winter, this is the best spot in the city for ice skating
Urban Zipline: If you're looking for a splash of adrenalin, how about taking this zip line through the Old Port Skyline?
Attend the Aura Light Show At The Notre Dame Basilica of Montreal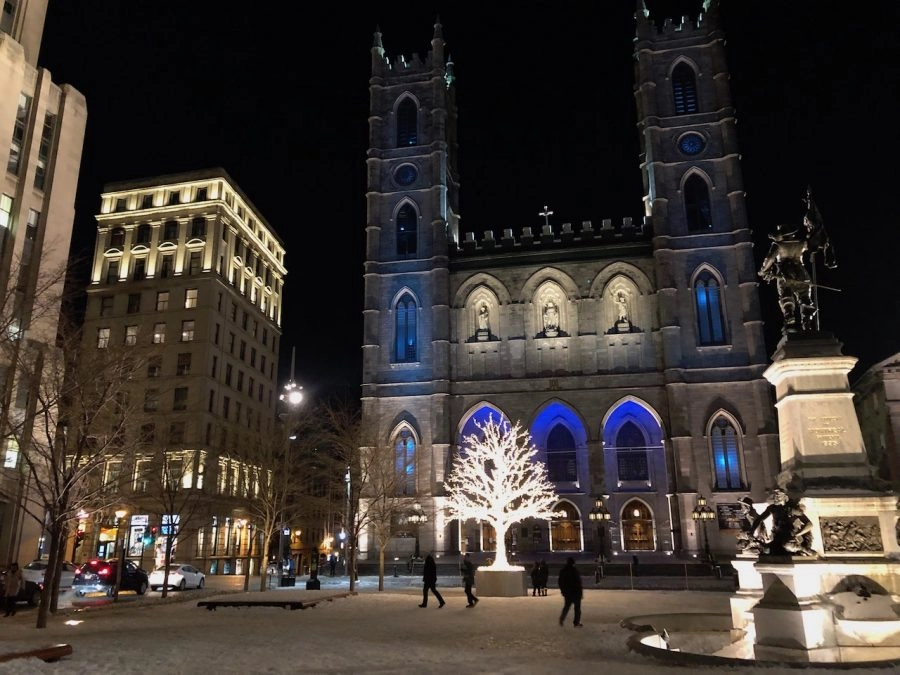 If you're a gothic architecture fan, you don't want to miss this colorful, dramatic church. In the evenings several nights a week, the Basilica hosts the Aura Experience: a music, light, and art show that brings the cathedral to life in a totally unexpected way. This experience was highly recommended to me by multiple people and it didn't disappoint.
The Notre Dame Basilica is in Old Port. The Aura Light Show runs most evenings at 6:00 pm and 8:00 pm and it sells out often, so make sure to book your tickets in advance. The show is 40 minutes long and adult tickets cost $29.50.
Go To A Canadiens Game
If you're visiting Montreal between October and April, you might get lucky enough to experience a classic Montreal tradition: A Canadiens Hockey Game! As you can probably imagine, Hockey is huge in Montreal and Canadiens games are an exciting spectacle, even if you don't know much about the sport.
Prices will vary depending on who the opponent is but you can usually find upper level seats for affordable prices if you're traveling on a budget.
Best Places To Eat In Montreal
Montreal is a foodie's dream city! From high-end dining to cozy local cafes and dives, there is so much excellent food to try. Here are a few of the most memorable food experiences you can have in Montreal.
Time Out Food Hall: Most Variety
The Time Out Food Hall is centrally located on Rue St. Catherine and a great place to hop in for a quick bite. At the Time Out Market, you can order food from dozens of award-winning food stalls. You'll pick up your foot at the takeaway window and eat at one of the massive communal tables. Who knows, you might meet some new friends too.
Pub St. Pierre: Best Pub Food
Ahhhh Pub St. Pierre, how I miss this spot! This cozy local pub is located in the heart of Old Port on one of the oldest streets in the city. They have different themes each night of the week, including Tuesday Trivia and Wine Down Wednesday, and no matter which day you visit the food is divine. Make sure to try an order of their Yukon Gold hand-cut fries.
BreWskey Taproom: Best Poutine In Old Port
I wouldn't send you out into Montreal for a day without giving you a Poutine recommendation! Poutine is a classic Quebec dish and honestly something everyone needs to try at least once in their lifetime. The traditional version is made by topping French fries with cheese curds and gravy, but you can find creative variations of it around the city. BreWskey Taproom in Old Port gets rave reviews for its poutine and brewery selections.
Brasserie 701: Best Upscale Option
If you're looking for a memorable upscale dining option in the Old Town, Brasserie 701 will blow you away. The Brasserie 701 menu was inspired by classic French favorites and the restaurant itself makes you feel like you're walking onto a movie set.
Rockaberry Pies: Best Dessert
Have a sweet tooth? Then you can't miss Rockaberry Pies. Rockaberry has several locations around Montreal that serve decadent, over the top, and downright mouthwatering dessert creations. With a cabinet full of cakes, pies, and even some sugary treats I've never even seen before, you'll definitely want to come hungry.
Montreal à Table: Montreal Restaurant Week
If you're visiting Montreal in the winter, check to see if your dates correspond with Montreal à Table: or Montreal's famous restaurant week. Last year, it fell during the first two weeks of November.
I'm so thankful I was in Montreal during restaurant week because I had the chance to try so many top-of-the-line restaurants that normally would have been out of my budget. During Montreal à Table, restaurants all around the city offer pre-set tasting menus for $29, $39, or $49 per person. It's a great way to discover new restaurants at a fraction of their usual prices.
Where To Go Out In Montreal
You've only got one night in Montreal, so better make it count! These pubs, bars, and nightlife spots are the perfect way to end your exciting day in Montreal.
Mad Hatter: This quirky underground pub is right off the main shopping area on St. Catherine Street. If you're looking for a laidback place to have a pint, play pub games, and relax with friends, this is the dive bar for you.
Rosewood: Rosewood was a regular stop for me in Old Port. Order the Smokey Old Fashioned and prepare to be amazed as you watch one of their talented bartenders whip up your drink with actual fire!
Bar Darling: Bar Darling is a bit far from Downtown and Old Port in the Le Plateau Mont-Royal neighborhood. You'll need to take a taxi or public transportation to get here, but it's worth the trip! Charming cafe by day and lively pub by night, this steam-punk inspired space is always buzzing with happy people. In a word, Darling is fun! Try the Irish coffee and prepare to be amazed.
Why Should You Spend One Day In Montreal
You know how some cities just have good energy? Montreal is one of those cities for me. No matter the season of your trip or your reason for visiting, Montreal has something for everyone.
Have you been to Montreal? What was your favorite thing to do?
Author Bio: Nicola Rae is a travel blogger, house sitter, and online English teacher. When she's not writing about financially sustainable travel, you can find her wandering around a new city (probably lost but happily eating a pastry), befriending all the reptiles in her local park, or whipping up a batch of her famous guacamole. Follow along on See Nic Wander or on Instagram and Facebook.
Enjoyed this post? Pin it for later!