This post may contain affiliate links. By clicking and making a purchase through the links, I earn a small commission at no extra cost to you. See my disclaimer for more information. This and display ads allow me to keep the site up to date and give back.
Jasper National Park is one of my favorite places on earth. It was the first place I ever saw the Canadian Rockies, which is something I'll never forget. Majestic mountains, northern lights, amazing hiking trails, and endless opportunities to see wildlife are just some of the reasons to fall in love with Jasper. This post lists the best hikes in Jasper National Park, as well as ideas for other outdoor adventures you'll want to add to your Jasper itinerary.
This national park has so many breathtaking landscapes and there are amazing things to do in Jasper from day to night all year-round. It's also less crowded than nearby Banff National Park, which is another reason why I love it.
Best Hikes in Jasper National Park
Jasper is a paradise for hikers. I didn't have time there to do all the hiking trails that I wanted too, so I've asked some fellow travel bloggers to share what their favorite hikes in Jasper National Park are.
Valley of the Five Lakes
Easy | 4.5 KM loop | 1-2 hours
Recommended by Bailey of Destinationless Travel
The Valley of the Five Lakes is a gorgeous hiking trail in Jasper that is so easy that practically anybody can do it! This 4.5-kilometer long loop hike takes you past not one, but five different turquoise lakes. The lakes are surrounded by trees and mountains creating beautiful views everywhere you look. And since the trail is well maintained and pretty much flat, it's a quick day hike that most people can easily complete – even families with children.
The Valley of the Five Lakes hike starts just on the outskirts of Jasper on the Icefields Parkway. From town, it is about a 10-minute drive to the trailhead parking lot. The parking lot is large but do be warned, it can get completely full in the summer specifically on weekends and hot days. To avoid not finding a parking spot, be sure to leave early.
After only walking for a few minutes you'll reach the first lake on your right. Here, you'll find a small dock where you can relax or even jump in if you can brave the cold water. When I visited, it was such a warm day I wished I had worn my swimsuit as I would've loved to jump in for a cool off.
After the first lake, you'll follow the trail around to the other four lakes. You'll even come across a couple of popular red chairs that make for the perfect photo opportunity.
Whistlers Summit Trail with Jasper Tramway
Moderate | 3.7 km in-and-out |1-2 hours
Recommended by Hannah of That Adventurer
The Whistlers Summit hike in Jasper National Park is one of the best hikes in Jasper. You can choose whether to hike all the way up to the summit from the foot of the mountain or, the most popular way, take the Jasper tramway the majority of the way up. Taking the Jasper gondola means you cut out most of the elevation and have more time to enjoy the panoramic mountain views, spot wildlife like elk, and save your energy for tackling Whistlers summit!
To get to the trailhead, take the Icefields Parkway south from Jasper village for about 2km, turning right onto Whistlers Road. Follow this road until you reach the parking lot for the Jasper tramway. Make sure to book in advance to avoid disappointment, especially during the summer months when the park is busiest!
Once you've reached the top of the gondola, follow the signs to Whistlers summit. It's less than 2km to the summit but it does get steep and rocky in places, so make sure you've worn strong and sturdy hiking shoes.
Once at the top, enjoy the views of the 6 surrounding mountain ranges and see if you can spot Mt Robson; the highest peak in the Canadian Rockies. Take the time to sit, listen and look for the hoary | 7.8marmots as they peek out of their homes in the rocks. The sound they make is what gave the mountain its name!
Sulphur Skyline Trail
Difficult | 7.7 KM in-and-out | 4-6 hours
Recommended by Michelle of The Wandering Queen
One of the best hiking trails in Jasper National Park is Sulphur Skyline. This hike is an outstanding hike with 360 views of the Canadian Rockies. The trail is labeled as hard and is around 4.8 miles long, with an elevation gain of 2,129 ft elevation gain. On average it takes around 4-6 hours to complete this hike. The trail is located in the Miette Hot Springs Area and can be accessed by car. This trail is typically one of the first snow-free moderate hikes in Jasper.
The Sulphur Skyline trail is steep the whole way to the top with not many views. But if you can get to the top, the mountains are spectacular. You will have magnificent views of Utopia Mountain, The Fiddle Valley, and Ashlar Ridge. The mountains seem to go on forever! If you are lucky, you might also spot some goats on the trail. This is a very popular spot where they love to hang out at.
If you felt the burn during this hike, check out the famous Miette Hot Springs. The hot springs are located at the trailhead, and many people love to soak in here after this challenging trail as it helps to recuperate.
Backpacking Tonquin Valley
Recommended by Thea of Zen Travellers
Jasper National Park is a destination in its own right but a backpacking trip through the Tonquin Valley is one of the crowning jewels of an experience a person can have in such a stunning park. Tonquin Valley climbs through mountain passes to meander through high alpine meadows with views of the majestic Ramparts range and beautiful glacier-fed lakes. If you're lucky, you may even catch a glimpse of the rare endangered caribou that call the area home.
Hiking in Tonquin Valley is accessible to people of many skill levels from beginner backpacker to seasoned mountaineers. The trail is also serviced by two backcountry lodges who offer horseback riding for a more luxury experience that's easier on the knees. In addition, the Wates-Gibson Alpine Club of Canada hut can be booked if you don't want to carry a tent. For those who don't mind carrying their gear, there are many beautiful campgrounds along the way so you can make the trip as short or as long as you would like.
The absolute highlight of this gorgeous area is Amethyst Lakes that can be reached via a 23km hike through Maccarib Pass that can be spread over two days or done in one long day. There are plenty of day hikes to do in the area so I recommend staying a couple of nights at Amethyst Lakes if you can. At night, you may even hear glaciers calving and crashing to the lake and if the sky is clear, a blanket of stars awaits. A trip to the Tonquin Valley in Jasper National Park will not disappoint!
Path of the Glacier Trail
Easy | 1.6km out and back | 1 hour
Recommended by Dhara from It's Not About the Miles
One of the best things to do in Jasper National Park is to drive up to the top of Mount Edith Cavell and do one of the hikes at the top. The Path of the Glacier Trail offers beautiful views of Angel Glacier with not too long of a walk.
Even before you get to the trailhead, the drive itself is super scenic, as it switchbacks up the mountain. The road is very narrow though, so while you can gape at the vistas, there isn't room to stop to take photos.
The hike itself is about 1.6km out and back, and is classed as a relatively easy, family friendly trail. The trailhead is by the parking area at the top: once you get out of your car, you will see a sign for the Path of the Angel Glacier trail.
From the trailhead, a well-maintained path winds its way gradually up the hill. The views of the surrounding mountains with snow-capped peaks are stunning every step of the way. Along the route, stop to admire the vegetation and the lichen on the rocks.
Part way along the trail, the Edith Cavell Meadows trail branches off. Continue on the trail and you come to the payoff: a fabulous close-up view of Angel Glacier, with Cavell Pond below. There may be icebergs floating in the ice-blue pond. The glacier itself looks remarkably like an angel with wings spread out in either direction.
After you enjoy the view and take photos, retrace your steps to your car.
Other Outdoor Things to do in Jasper National Park
It's not just hiking trails, Jasper is a paradise for all kinds of outdoor activities. Here are some other amazing things to do in Jasper National Park.
Kayaking on Maligne Lake
Recommended by Taylor of Travel Outlandish
Maligne Lake is one of the most popular locations in Jasper National Park, but scattered along its shores are three uncrowded backcountry campsites. Accessible only by canoe or kayak, these campsites offer a different perspective on the well-loved Maligne Lake and offer a whole new kind of backcountry travel for even experienced backpackers.
The classic kayaking trip on Maligne Lake is a 3-day trip that covers 44km. Since the lake is long and skinny, it's not a technical trip, but it might feel long if you're not used to long paddles. Another hot tip for new paddlers: BRING WATERPROOF GLOVES!
On day one, you'll typically paddle past Hidden Cove – the family site just 4km from the dock – and continue out to Fisherman's Bay – a stunning site right around the 13km marker. If you've got extra energy, you might paddle onto Spirit Island for sunset. Day two is the most beautiful day since you're paddling through the Valley of the Gods with the Queen Elizabeth Ranges to your left and the massive Mt. Brazeau ahead. It's about 8km from Fisherman's Bay to Coronot Creek where you'll camp for the night. Day three is a long and steady return to the boat dock.
You'll need to book your sites well in advance on the Parks Canada's Reservation Site. There's a spot on Maligne Lake that rents canoes and kayaks (from $165CAD per day), we opted to rent from Pure Outdoors because of better rental rates (from $80CAD per day). It's a whole new kind of backcountry travel, but one worth the sore shoulders.
Maligne Canyon Icewalk
If you're visiting Jasper during the winter a really fun tour to join is the Maligne Canyon Icewalk. I did this on my first trip to Jasper and it's one of my favorite memories here! Maligne Canyon is the deepest accessible canyon in the park, and on the tour, you can see frozen waterfalls, ice caves, and incredible ice formations. It's such a winter wonderland! As part of the tour, they will provide you with ice cleats so you can walk on the ice.
Watch the Northern Lights
Jasper is one of the best places in the world to see the aurora borealis. It's one of the world's largest dark sky preserves, which means there's no artificial light around to obscure the view.
The best chance at seeing the northern lights is from September through mid-May. During October, Jasper National Park even hosts a dark sky festival where visitors can come to view the incredible sky and participate in hands-on science and astronomy events.
Glacier Skywalk
One of the most unique activities to do in Jasper National Park is to take a walk on the Colombia Icefield Skywalk. It's a glass cliff-edge walkway that looks over the Sunwapta Valley, where you can see the Athabasca glacier and stunning rocky mountains. The walkway is 918 feet above the valley floor, so it's one of the best views you'll get in Jasper National Park! This is one activity that you'll definitely want to add to your Canada bucket list.
Take the SkyTram
If you want epic views in Jasper National Park without having to hike, then take the Jasper SkyTram. It's the longest and highest guided aerial tramway in Canada, and the views at the top are incredible. You can see the incredible landscape of the Canadian Rockies. It's also the trailhead to the peak of Whistlers Mountain, where you can get a panoramic view of six mountain ranges.
Relax in Hot Springs
After all that hiking there is nothing better than relaxing in hot springs! Take a visit to the Miette Hot Springs, which are the hottest hot springs in the Canadian Rockies. It is a pool, but the water is fed from a natural hot spring. There are also gorgeous views of the mountains surrounding the springs! The springs are operated by Parks Canada and are unfortunately closed for the 2020 season but will hopefully be open again next year!
Chase Waterfalls
Another great thing about Jasper National Park? There are so many waterfalls nearby! Two that you don't want to miss are Athabasca falls and Sunwapta Falls, both easily accessible off the icefields parkway.
Spot Wildlife
I have never seen so much wildlife before in Canada as I did while visiting Jasper National Park. I've even seen grizzly bears here! Along with black bears, moose, elk, deer, and bighorn sheep. It's not uncommon to be road blocked in Jasper from wildlife.
While you will likely see wildlife on your own just being in Jasper, if you want to increase your chances you can also join a guided wildlife search. I love doing these because the guides are so knowledgeable and can tell you a lot about the wildlife!
Whitewater Rafting
For an adrenaline-pumping experience, you can go whitewater rafting in Jasper National Park. There are easy runs on the Athabasca river where you can just sit back and enjoy the stunning scenery as well as more challenging rapids on the Sunwapta River which is rated a grade 3. I haven't been rafting in Jasper yet but it's one of my favorite activities to do while I am traveling. However, I don't think anything will ever beat rafting on the Zambezi River in Victoria falls!
Getting to Jasper
Most people take their own or rent a car to reach Jasper National Park which is the easiest way, but if you don't have a car there are other options.
One amazing way to get to Jasper is via the train across Canada. One of the stops on the train is in Jasper, centrally located downtown. The train ride from Vancouver to Jasper is incredible, it passes through so many mountain ranges and there is an all-glass panoramic viewing cart which makes the experience even more surreal.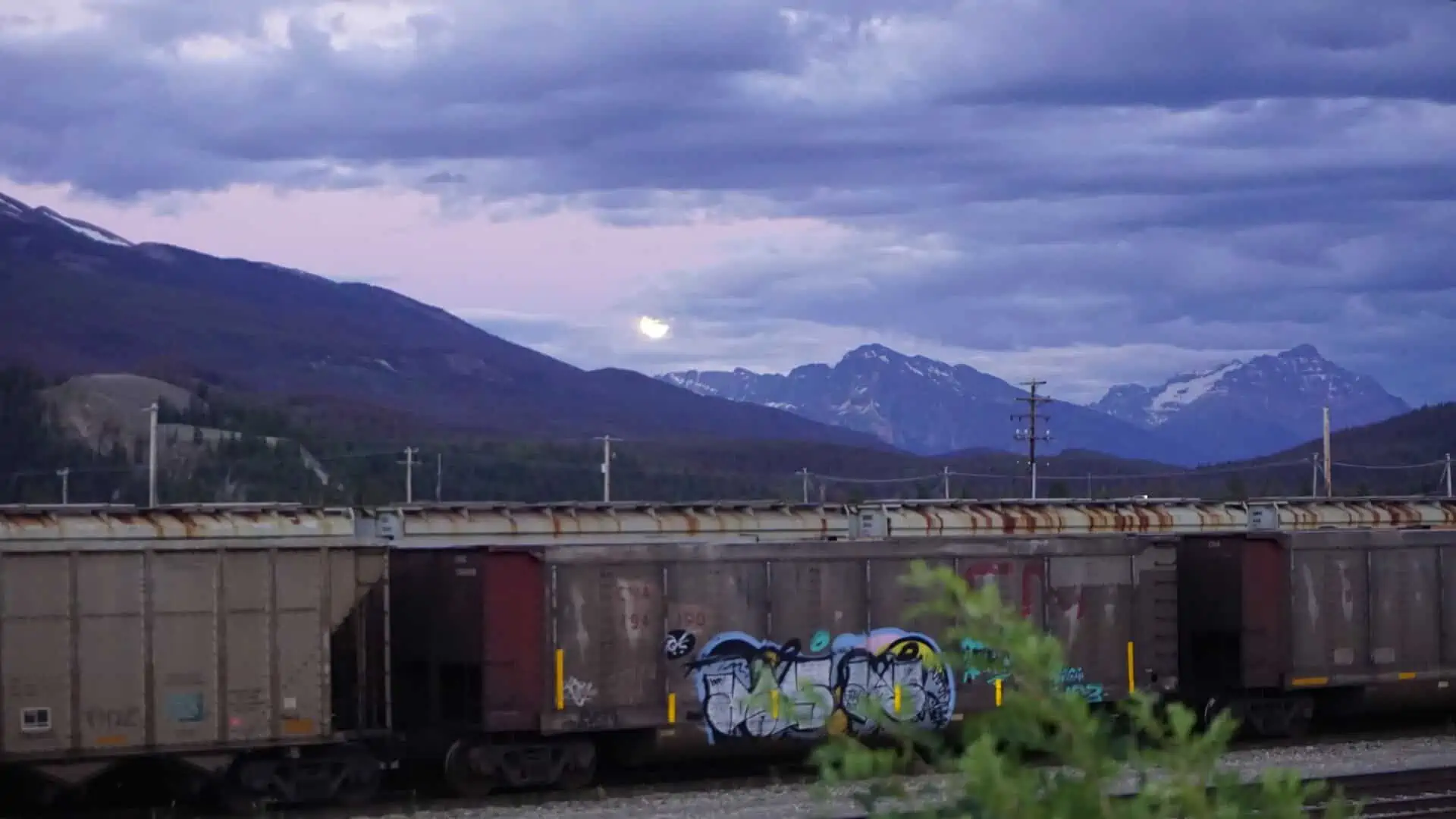 There is also a shuttle that goes from Edmonton to Jasper which takes about five hours. If you're traveling between Banff and Jasper, there is a bus between the two.
You could also try hitchhiking. I hitchhiked from Jasper to Banff which was so much fun. After getting dropped off by the train we wanted to go to Banff but missed the bus, so we just stuck out our thumbs and ended up getting there thanks to three amazing groups of people. The coolest part was that two of the rides were in converted vans!
Where to Stay in Jasper National Park
One of the best places to stay in Jasper National Park is in the wilderness on one of the Parks Canada campgrounds! There are a few campgrounds to choose from which you can reserve online here. If you're visiting during the summer, reserve in advance as they can fill up quickly.
Budget: There are a few hostels to choose from in Jasper if you're on a budget or traveling solo and want to connect with other backpackers. I've stayed at the Jasper Downtown Hostel which is a great choice. It's centrally located, very clean, and has a great atmosphere.
Mid-range: Mount Robson Inn is where I stayed my first time in Jasper National Park. It's a nice place situated in the heart of the park. My favorite feature is the outdoor hot tubs!
Luxury: If you're looking for a little luxury while staying in Jasper, check out the Fairmont Jasper Park Lodge. It's located on the shores of Beauvert Lake away from the town of Jasper, but the resort is so lovely you won't want to leave.
While many people flock to Banff National Park, Jasper is actually my favorite of the two. It's a dream for wildlife, and those looking to escape into nature on the hiking trails in Jasper.
Enjoyed this post? Pin it for later!