This post may contain affiliate links. By clicking and making a purchase through the links, I earn a small commission at no extra cost to you. See my disclaimer for more information. This and display ads allow me to keep the site up to date and give back.
Tenerife is blessed with an abundant and varied natural scene that attracts outdoor lovers from across the globe.
The popular Canary island boasts the highest peak in Spain, Mount Teide, volcanic moon-like landscapes, lush forests with a jungle feel, deep canyons, and dazzling views of the Atlantic ocean.
With such breathtaking natural scenery, it is no surprise that hiking in Tenerife is so popular.
From south to north, there is a wealth of trails for all levels crisscrossing the different mountains, microclimates, forests, and ravines. It can be hard to decide where to start and which trails to choose. Especially if you are only in Tenerife for a few days!
That is why we have rounded up the best hikes in Tenerife in this post so that you can start planning your adventure
Pack your hiking boots and get ready for the best adventure you will have in Tenerife with these incredible hikes!
BEST HIKING APP
If you're going hiking in Tenerife without a guide, be sure to download the trail map on AllTrails before heading out!
There isn't service on most hiking trails in Tenerife, but you can download the maps beforehand on AllTrails, which will work regardless of service. It's saved me more than once!
This post was written by Jovita, a writer and photographer who fell in love with the Canary Islands after spending a year in Tenerife with her family a few years ago. Fast forward to today, she has visited all eight islands and is sharing her experience at Enjoy Canary Islands.
Her mission is to help others plan their trips to the islands by providing detailed and well-researched information on her website.
Best hikes Teide National Park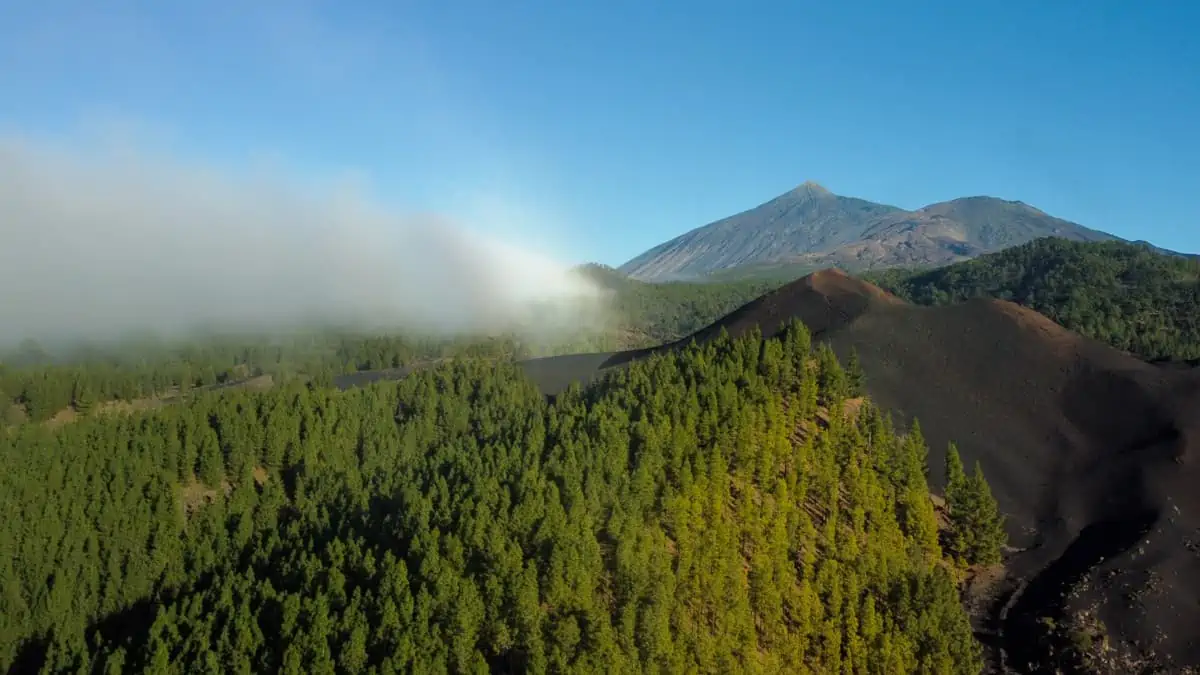 Let's start this post off with the best hikes in Teide National Park. This UNESCO world heritage site is one of the most popular things to do in Tenerife and is widely considered one of the best places to go hiking.
What's neat about hiking in Teide is that due to the elevation change, you can experience barren volcanic landscapes change into lush green forests all in the same hike.
1. Chinyero Volcano Loop
Distance: 7.2 km loop, 2 hours | Difficulty: Easy
Among Tenerife's best walks is the Chinyero Volcano loop trail taking you around the 1560 meters high volcano across the moon-like landscape. The hike goes through pine forests and lava fields, making it an incredibly picturesque route.
It is one of the top easy walks in Tenerife that .children can easily do The hike is around 6 kilometers long and takes approximately 2 hours and 15 minutes to complete. However, the landscape is rocky, so make sure you wear good footwear.
In the shade of the highest volcano on the island, Mount Teide, Chinyero Volcano was actually the last one to erupt on the island more than 100 years ago.
Now, the volcano and surrounding area belong to Chinyero Special Natural Reserve, which is a strict nature reserve, so make sure you leave no trace.
To reach the trailhead, take the TF-38 road. There is a car park for it inside the curve, but no visible signs for the hike. Nonetheless, this is one of the most popular hikes in Tenerife, so you can expect many cars there.
3. Roques de García
Distance: 3.5 km loop, 1 hour 15 minutes | Difficulty: Moderate
Another one of the short and easy Tenerife walking trails is the 4-kilometer long loop trail, Roques de García. On top of that, this is one of the most extraordinary hikes you can do through the red hostile landscape dotted with imposing lava pinnacles at the foot of Teide Volcano.
In fact, this is the best hike around Mount Teide, where you will see all the unique volcano landscape without climbing the steep hills of the actual volcano.
Different rock formations worth looking out for are the "Finger of God", also known as "Stone Tree" which was depicted on the 1000 peseta notes (currency before the Euros,) "The Waterfall" lava tongue, and "The Cathedral".
Even though it is a short walk, usually it takes around one and a half hours, you must be prepared for cold and windy weather since the path is at over 2000 meters of altitude.
3. Mount Teide Summit
The most iconic hike in Tenerife is climbing to the top of Mount Teide, which is the highest point in Spain. I made the mistake of leaving this until my last week living in Tenerife to do, and unfortunately, due to bad weather conditions, it didn't happen.
You need a permit to hike the top of the volcano, and due to the difficulty of the hike, it is highly recommended to go with a guide.
The best time to do this hike is overnight, so you can enjoy the spectacular sunrise from the top of the highest point in Spain. Just make sure to bring layers with you, as there is often snow at the top of mount Teide – especially if you're visiting during winter.
While challenging, hiking to the summit of Mount Teide is undoubtedly one of the most epic things to do in Tenerife and is enough reason for me to go back and complete it!
Anaga Tenerife Hiking
This next section will cover the best hikes in Anaga rural park, which covers the northern part of Tenerife.
4. Benijo – El Draguillo
Distance: 5.1 km loop, 2 hours 30 minutes | Difficulty: Moderate
This 5.5-kilometer loop trail in the Anaga mountains is one of the most beautiful hikes that you can do in Tenerife.
The trail takes you from the charming village of Benijo along a scenic coastal road to El Draguillo, a tiny hamlet overlooking the deep blue water. There is also a short strenuous hike to a viewpoint that is absolutely worth it.
From there, you will loop into the inland on the way back. The hike boasts constant views, and you can see Roque Benijo, Roque La Rapadura, and Roques de Anaga, which are impressive rock formations in the water.
The Benijo to El Draguillo is one of the Tenerife hiking trails that attracts a lot of hikers each day, so you must arrive early to find a parking spot. The hike is rated easy and not very long, so you can also take children used to hiking.
5. Punta del Hidalgo – Chinamada
Distance: 9 km out & back, 3 hours 45 minutes | Difficulty: Moderate
This is a beautiful and interesting hike in Anaga Rural Park with terraced fields and cave dwellings. It starts in the village of Punta del Hidalgo, passes fields and farmland, and climbs up the valley until it reaches the ridge and opens up to sweeping coastal views.
The views follow you to the picturesque Chinamada village. While there are impeccable views wherever you look, it is worth taking a detour to the Mirador de Aguaide viewpoint.
This is surely one of the most picturesque Tenerife walking trails, with remarkable coastal, mountain, and forest views along the hike.
While parts of the hike can be strenuous, the 10-kilometer round trip is of moderate difficulty, and with a basic fitness level, you will be fine to do the hike. Most people take 3-4 hours to complete the entire walk.
6. Las Carboneras – Chinamada – Mirador de Aguaide
Distance: 7.6 km loop, 2 hours 30 minutes | Difficulty: Moderate
This is a 7-and-a-half-kilometer-long trail in the breathtaking Anaga Rural Park. It starts in the tiny settlement of Las Carboneras in the hills near the cave dwellings in Chinamada.
This is possibly one of the most picturesque hikes in Tenerife, with sweeping views across the stupifying mountains, the deep blue sea, green hillsides dotted with small villages, and the dramatic coastline.
Also, this walk takes you to the Mirador de Aguaide viewpoint, which offers some of the most impressive views in the stunning northern area of Anaga.
This is also considered a moderate hike and normally takes around two and a half hours to complete the entire round trip.
7. Las Vueltas de Taganana
Distance: 8 km loop, 4 hours | Difficulty: Moderate
Also situated in Anaga Rural Park, this is one of the best hikes in Tenerife. The 12-kilometer circular trail begins in the picturesque village of Taganana, where you can enjoy sweeping sea views before you enter the lush Anaga laurel forest.
The trail takes you up and down steep hills, past caves, natural springs, terraced fields, and stone walls. One of the best things about this hike is the variety of landscapes, from the wild nature to the abandoned fields and productive farmland.
You can expect to walk on different terrain, from roads to forest trails. You will return to Taganana in the Barrio de Portugal neighborhood, which boasts interesting traditional architecture. It is believed that the first settlements after the conquest of Tenerife settled there.
The different microclimates of Tenerife make this such a beautiful trail, but it is fairly challenging due to the steep ups and downs. Therefore, it is recommended for seasoned hikers and persons that are physically prepared.
Usually, the hike takes about 4-5 hours to complete. Yet it is recommendable to start early in case something should happen on the way that delays you. You want to make sure you return before it gets dark.
Other best hikes in Tenerife
While Anaga and Teide are undoubtedly the most popular places to go hiking in Tenerife, there are still other places on the island to go hiking – and yes, that includes the south!
8. Callejón de Teno and Baracán Summit
Distance: 10 km loop, 3 hours 45 minutes | Difficulty: Moderate
Another of the best Tenerife hikes is Callejón de Teno. Situated in the Teno Rural Park, this is a 20-kilometer-long walk from El Palmar to the Teno Alto.
The first part taking you to the hamlet, is strenuous through a forested area. You can also see Mount Teide before reaching Teno Alto.
If you have not brought enough food and snacks, you can recharge in the tiny village of Teno Alto and alternatively stop for lunch there.
The rest of the hike is stunning up the hills to the ridge before looping down in Las Portelas.
You find the trailhead near El Palmar Visitor Center, and the path is well-marked. Note that it often gets foggy when you get close to the ridge, so wear bright-colored clothes and turn around if you get insecure about the path forward.
9. Masca Gorge Trail
Distance: 8.5 km out & back, 4 hours 30 minutes | Difficulty: Hard
One of the best hikes in Tenerife is the Masca Gorge Trail taking you 5 kilometers from Masca village through the gorge to an impressive, secluded beach at the bottom. Make sure you bring swimwear and a towel so you can go for a dip before heading back up again.
It is a beautiful hike, but it is quite challenging hiking back up again, and you should not take on this hike unless you are physically prepared. Make sure you bring enough water, food, and snack so that you endure the entire day on the trails.
Masca Gorge Trail access is regulated to protect the unique natural area. Thus, it is only open for hikers on weekends and public holidays, and only 25-30 people are allowed to depart every 30 minutes.
Note that you must leave the beach latest at 14:00 to get back in time. Thus, if it is swimming weather, make sure you plan an early departure so that it gives you time for a dip.
Most hikers use 7 hours on the entire hike, 3 hours down (thus the last departure at 11:00) and 4 hours back up. Note that if you stop at several places along the way to take photos and food breaks, you might take longer.
For this reason, you must book a ticket in advance to secure a spot. Entry to the hike is free. You can book your hike in advance here.
Don't be alarm though if you can't get a permit for this hike because there are tails just as beautiful.
We did the which is one of my more memorable hikes in Tenerife. The trail follows along the mountain ridge up to the point where you cget gorgeous ocean views. Cacti.
10. Barranco del Infierno Gorge Walk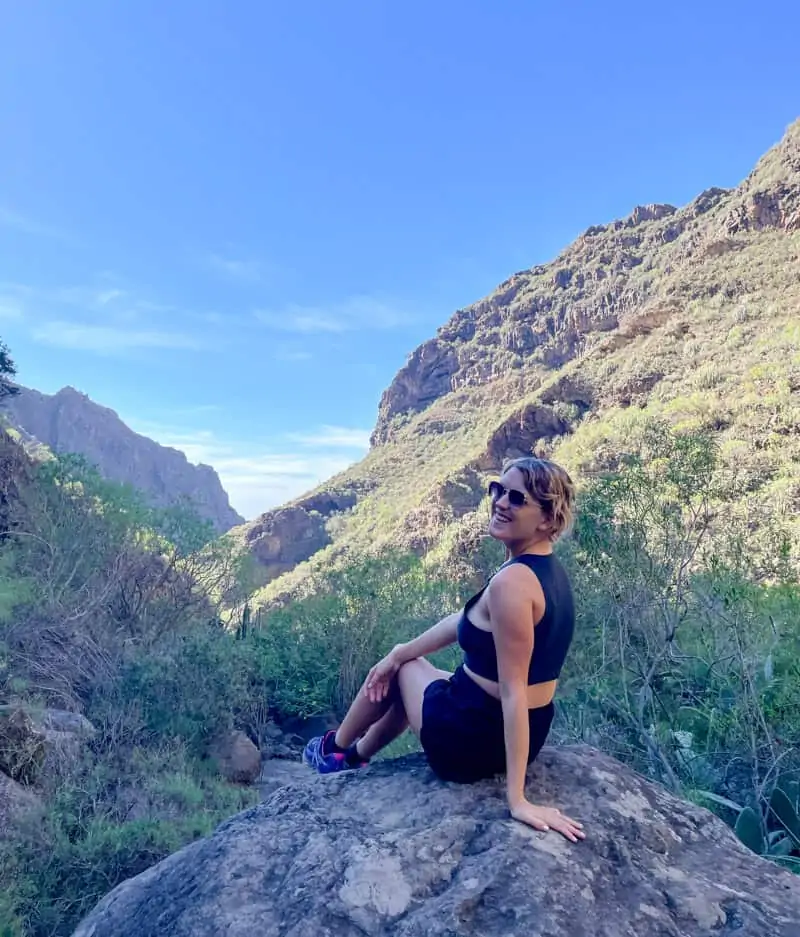 Distance: 6.5 km out & back, 3 hours | Difficulty: Moderate
Most people will tell you there isn't any hiking in south Tenerife, but this isn't true. Just ten minutes away from Playa Las Americas is one of the most beautiful places to hike in Tenerife!
The Barranco del Infierno Gorge Walk is a beautiful hiking trail 350m above sea level near Costa Adeje in a nature reserve. It's the best place to go hiking in the south of Tenerife, with breathtaking views along the way.
As the trail goes into a canyon with some small waterfalls, you will be required to wear a helmet which is provided there with your booking. It's also advised to bring sturdy hiking shoes as the trail is uneven.
As the nature reserve limits access to 20 people every half an hour to preserve the local flora and fauna, you must make a reservation online in advance.
Can you hike in Tenerife without a car?
Honestly, if you're going to be doing a lot of hiking in Tenerife, having a car will make your life so much more enjoyable. There are buses that go between the south and north, but it takes over two hours, and they don't come that often. It can also be really challenging trying to coordinate bus times with hikes!
Driving between the south and north of the island takes about an hour which can be pretty exhausting after an all-day hike. However, if you only plan to do one or two hikes in Anaga, you may want to consider the south, as you'll have more options for accommodations here. Plus, the beach!
Since Tenerife is an island, I highly recommend booking your car rental in advance, as there are limited cars available, and last-minute rentals can be pricey.
I use and love Discover Cars to search for car rentals, which is an aggregate platform that searches all international and local car rental companies in Tenerife so you can easily compare prices and get the best deal.
Tenerife hiking tours
There are also many tour operators offering guided hikes, which can be a great way to explore the island without having to worry about transportation. Check out the Tenerife hiking tours below!
Where to stay in Tenerife for hiking
Wondering where to stay in Tenerife for hiking? This guide on where to stay in Tenerife goes into detail about the pros and cons of each area, but if you're planning to have a hiking-heavy trip, you'll be better off staying in the North of Tenerife near Anaga rural park.
The best places to stay are either Santa Cruz (the capital) or La Laguna, a charming colorful town just outside of Anaga rural park.
Iberostar Heritage Grand Mencey is a great option. It features charming, traditional Spanish courtyard with colonial architecture and an elegant outdoor pool with sun lounges for relaxing on after your hike!
What to wear hiking in Tenerife
Wondering what to wear hiking in Tenerife? Tenerife is a warm, tropical climate with a humid climate, so for many hikes, you will be comfortable in shorts and a tank top, especially in the southern part of the island. For more information, check out this guide on what to wear hiking in hot weather.
The northern part of Tenerife can be much cooler (especially in the winter), and you will need warmer layers for longer hikes at elevation. Especially if you plan to hike to the summit of Mount Teide – it could be snowing at the top! So if you're planning to do a lot of hiking trails in Tenerife, you'll need to pack layers.
Don't forget to pack these hiking essentials to stay safe, and download any hikes you plan to do on AllTrails before heading out
FAQ: Hiking in Tenerife
Is it safe to hike in Tenerife?
Yes, it is generally safe to hike in Tenerife. There are a few safety tips to keep in mind, such as avoiding steep, rocky terrain and sticking to the marked trails. Be sure to bring plenty of water, snacks, sunscreen, and a hat for protection against the sun. Stay on the marked trails and be aware of your surroundings.
Is Tenerife good for walking?
Yes, Tenerife is a great destination for walking. There are a variety of trails for all levels of fitness and experience. Whether it's a leisurely stroll along the coast or a challenging hike up one of the many volcanoes, there is something for everyone.
How many hiking trails are in Tenerife?
There are over 700 hiking trails in Tenerife, ranging from easy to difficult. Some of the more popular trails are in Teide National Park, Masca, and the Anaga Mountains.
Discover more things to do in Tenerife
Planning a trip to Tenerife? Check out these posts!
There you have it, the best hikes in Tenerife! We hope this post could inspire you to get outside and explore some of Tenerife's stunning landscapes – it truly is the best way to experience this unique island!