This post may contain affiliate links. By clicking and making a purchase through the links, I earn a small commission at no extra cost to you. See my disclaimer for more information. This and display ads allow me to keep the site up to date and give back.
Ireland is the perfect destination for digital nomads who like to get away from it all and escape into a cozy spot in the woods, or for those who like to socialize in a warm pub late into the night.
There are many pros and cons to living in Ireland as a digital nomad, which you'll learn about in this guide.
Irish locals are generally warm and friendly, and the country is English-speaking, which makes it easier to meet people and form friendships.
The natural landscape is effortlessly and sometimes quietly beautiful, with rolling hills that are a vibrant green and occasionally stubbled with bright yellow flowers when the gorse bushes bloom twice per year.
Ireland is full of beaches, harbors, and seaside cliffs in every direction, begging to be explored on foot.
Ireland is located just a stone's throw from the rest of Europe. Part of the island, Northern Ireland, is part the UK and easily accessible by car or bus.
The rest of the UK and mainland Europe are just a quick flight away from the international airports of Dublin, Cork, and Shannon (close to Galway).
Ireland is not a part of the Schengen Area, so digital nomads from many countries can receive a separate visa to stay in Ireland for 90 days, even after their Schengen visa expires.
Read on for more information about living in Ireland as a digital nomad.
This post was written by Amber Haggerty from Amber Everywhere, a site dedicated to encouraging others to travel.
The mission of Amber Everywhere is to help people feel the sort of belonging, purpose, empathy, and expansiveness that travel can offer, especially if approached with the right mindset.
Amber is originally from Colorado, but now she now lives in Europe and writes about her experiences traveling and living abroad.
You can follow her on Instagram, Pinterest, Twitter, or Facebook.
My experience living in Ireland as a digital nomad
I visited Ireland on my first trip to Europe in 2015 as part of a multi-country trip. Immediately, I loved the hike around Glendalough in Wicklow.
A little later on the trip, I met a man named Peter, who had long loved American cowboy movies and was elated that I was from Colorado.
He spent three or four hours with us, showing my partner and me all around his little slice of the Irish coastline.
My favorite moment was when he stood on a large barrier wall and gestured to every house in the valley. He smirked and declared, "Everyone you see is my cousin!"
My digital nomad experience came a few years later when I moved to Ireland in August of 2020 with my partner, an Irish citizen.
Truthfully, the move was almost accidental; we originally came for a few months but stayed because we loved living in Europe and exploring Ireland. We've now been living and working remotely in Ireland for more than two years!
Why live in Ireland?
Ireland is a beautiful country that sits at the gateway to the rest of Europe.
Digital nomads will enjoy cozy pubs where they can sip a pint and connect with locals and other expats.
People in Ireland, in general, are friendly and like to know their neighbors, so it will be easier to meet people here than it might be in other countries. Don't be surprised if people introduce themselves after they've seen you around a couple of times!
Compared to the US, Ireland feels very safe – so much so that it's a common point of discussion amongst expats.
Ireland has crime, like most anywhere in the world, but people here enjoy a much higher level of safety and security than in nearly any part of the United States.
As with most of Europe, work-life balance is decent for locals in Ireland, so people have plenty of time to socialize.
On the weekends, you'll see people of all ages out in the pubs and enjoying live music and friendly conversations.
Finally, Ireland draws people from around the world. So, as a digital nomad, you'll have the opportunity to meet – and potentially collaborate with – people from many different backgrounds.
To meet them, try going to an event or asking around to the locals you meet. There are coworking spaces throughout the country, even in some rural villages, and many of them have open events.
Things to do in Ireland
Ireland has plenty of wonderful things to do, including exploring its natural beauty and culture of warmth and hospitality.
On the weekends, you'll often find locals hiking in the hillsides or going for a swim in the ocean, even though the water is usually quite cold, followed by a trip to a pub.
Pubs are the centers of social life in Ireland, so it probably won't be long before you've chosen your favorite local haunts.
Hiking
There are hikes and nature walks throughout Ireland because most of the country is very rural – if you aren't near a national park, you can always ask locals about great local walks in the area.
My favorite hike in Ireland is the Spinc trail around Glendalough, a glacial lake set in the Wicklow Mountains. The loop trail is about 6 miles and climbs up to a ridge before winding down, past a set of ruins to a forested section alongside the lake.
Aside from Glendalough, there are lots of things to do in Wicklow, from swimming in the Irish Sea to traveling along the cliff walk from Bray to Greystones.
Wicklow, the county just south of the capital, is the perfect place for a nature retreat after spending some time living in Dublin.
Visit a pub
Pubs, also called public houses, are part of the social backbone of Irish society. It's very normal for people to spend their nights out going from pub to pub (in towns with multiple pubs, of course), spending time with friends.
You can get a trademark pint of beer or a Jamison Irish whiskey at most any pub in Ireland, and while you're there, strike up a few conversations with locals.
My favorite pubs are the historical ones located throughout Ireland. These include pubs that were gathering places for planning rebellions and uprisings, and other pubs are just very, very old. The King's Head in Galway, for instance, is a pub set in a 13th-century building.
Swim in the sea
Locals in Ireland absolutely love swimming in the ocean, and you'll see swimmers during even the coldest months. There are groups that go for "sea dips" throughout the year; you can find them on Meetup or through the Salty Sea Sisters' local chapters.
Many people say that the cold salt water helps to clear their heads or calm their anxieties. As a bonus, sometimes people will set up mobile saunas near the beach so that you can enjoy a warm steam after swimming in the ocean.
If you decide to try a sea swim, watch for riptides and closely monitor local conditions. Or, even better, join a group and swim with (new) friends.
See some Irish landmarks
Whether you're visiting Ireland for a short while as a digital nomad or planning to make a permanent move, you'll want to take a few weekends to see some of the famous Irish landmarks.
Here is a non-exhaustive list of places to visit in Ireland while living here:
The Cliffs of Moher
Dublin City Center
Blarney Castle
The Wicklow Mountains
Dingle Peninsula
Galway City
Cork City
Tramore
Killarney National Park
Pros and cons of living in Ireland
Like any place, there are great and less great things about living in Ireland.
Having spent more than two years in the country as a digital nomad, here are some of the pros and cons you should consider before moving here.
Pro: The people are warm and sociable
In Ireland, the culture is very social, and many people will try to get to know you if they notice you've recently moved.
In addition to the Irish locals, you'll find people from all around the world living in Ireland, many of whom are friendly and interested in making new connections. This makes it easy to meet people, even as a solo traveler in Ireland.
For the best chance at connecting with locals when you arrive, try to be warm and friendly with everyone you meet, and, most likely, it will be reciprocated.
Pro: English-speaking
Ireland is an English-speaking country and, following Brexit, one of the only places in Europe with a population of native English speakers.
This is an advantage for digital nomads looking for freelance clients since many parts of Europe will look to Ireland when hiring English speakers.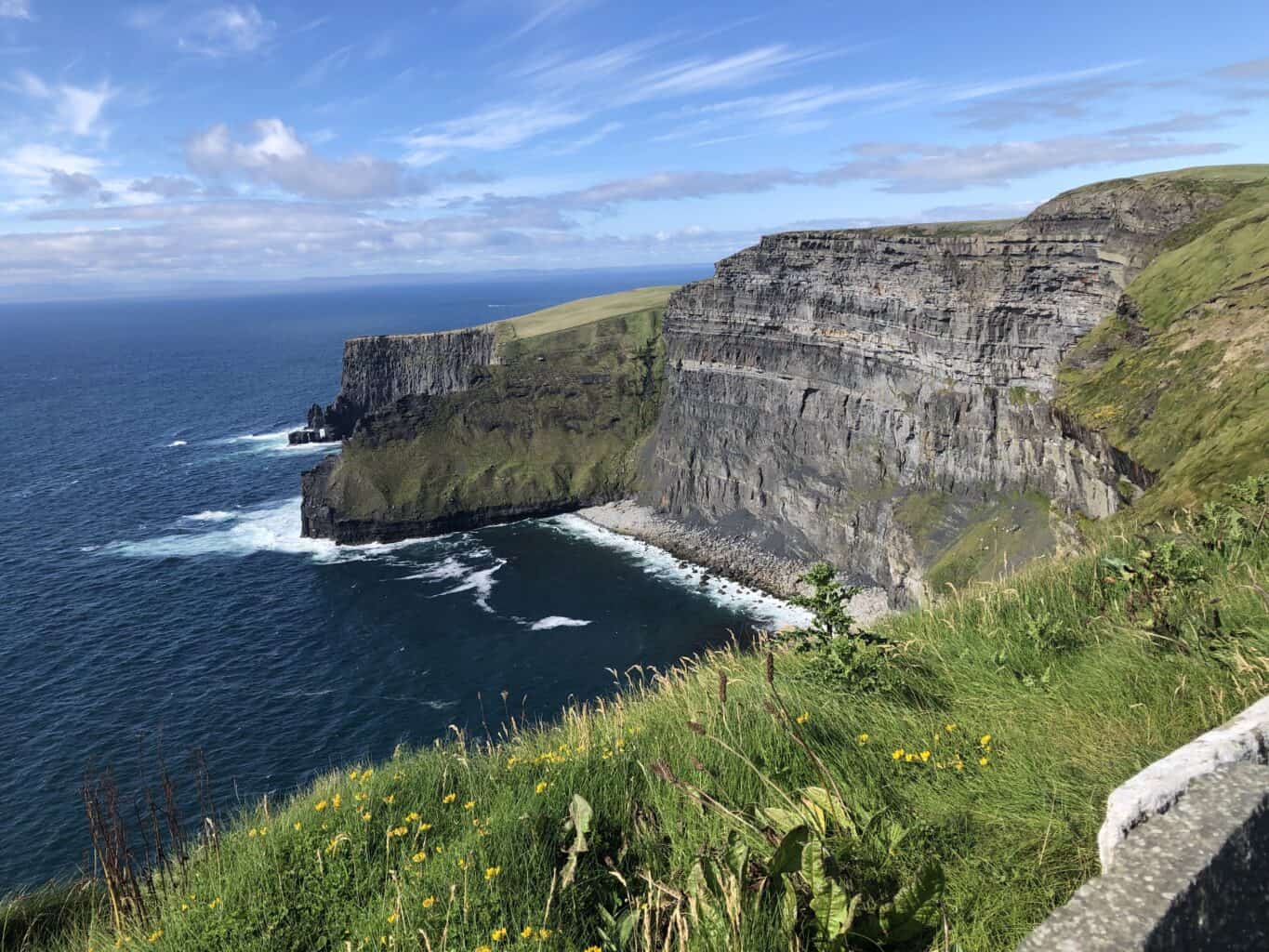 Pro: Beautiful natural landscape
The natural landscape in Ireland is very beautiful, with rugged coastlines, swimmable beaches, and mountain ranges with plenty of hiking trails. If you're someone who wants to escape into nature, Ireland will have lots of places for you to get away from it all.
Pro: The rest of Europe is at your doorstep
Living in Ireland also means that Europe is at your doorstep, so you can easily spend a weekend in Paris, explore other parts of Ireland on a short road trip, or fly to Italy for a warm holiday.
Many people in Ireland love to vacation in Spain, and there are usually easy flights to Malaga, Barcelona, Madrid, and Seville.
If you think you'll want to travel elsewhere in Europe with any frequency, it'll be much easier if you choose to live near one of Ireland's airports.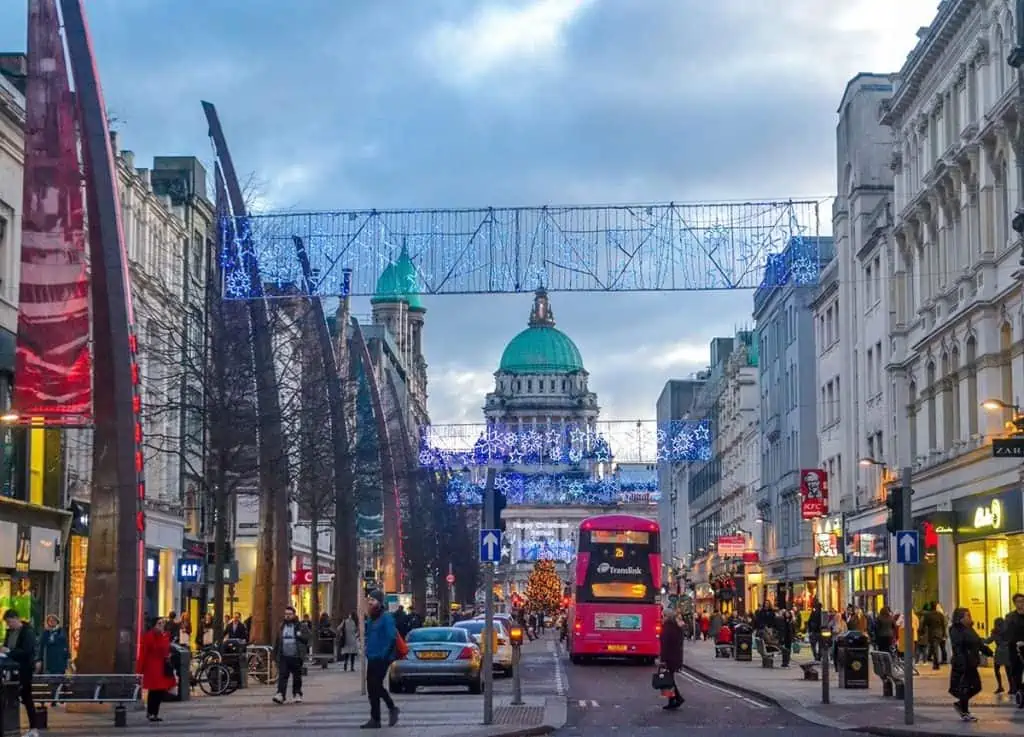 Con: High cost of living
The cost of living in Ireland is, admittedly, rather high – especially when compared to other cheap digital nomad destinations.
Ireland is located on an island, so most goods have to be brought over on ferries and then distributed, which raises costs when compared to some parts of mainland Europe.
Con: Hard to find housing
For several years now, Ireland has been going through a housing crisis, so it could be challenging to find housing when you arrive.
When I first moved to Ireland, I lived with my partner's family for about a year before finding a rental in Cork. The best time to find rentals is during the summer or early autumn in Europe when there are more listings on the market.
Con: Lack of natural sunlight during winter months
Ireland is very far north, which means that there are glorious, long days to be enjoyed during the summer. During the winter, however, the days become very short.
For instance, in December, the sun rises around 8:40 am and sets around 4 pm, making for short days with diminished natural light.
If you decide to live in Ireland, you'll want to invest in a SAD lamp, which can help alleviate some of the symptoms of seasonal affective disorder and help you to regulate your sleep.
Cost of living in Ireland
The high cost of living in Ireland is an ongoing concern for locals, and it's worthwhile for digital nomads to crunch the numbers to make sure that it's feasible for you to live here.
Housing
Accommodations in Ireland can be pricey, with the average 2 bedroom house renting for €946 per month.
It's worth noting, however, that this average is weighted down significantly by policies that effectively enact rent control nationwide.
As a digital nomad, you'll probably have a hard time finding a 2-bedroom house or apartment for less than €1000 unless you take over someone's lease; €1500-2000 is more realistic for a new tenant.
If you're looking in Dublin, the prices will be higher, likely closer to €2000-3000 for a 2-bedroom house or apartment near the city center.
As with most cities, if you're willing to live a short drive from the center, you'll find much lower prices and sometimes higher-quality housing.
Transportation
Within its biggest cities, public transit is sufficient for people who live near the center. If you're outside of the city center or in a rural area, you'll need a car to get around.
You can rent a car easily from most major cities, and often they'll rent them for up to 21 days at a time.
Be aware that many foreign drivers who wish to drive in Ireland will need to get an Irish driver's license. This requires passing a theory (written) test, taking driving lessons, and passing a driver's test – regardless of how long you've driven in other countries.
Food
The food available in Irish grocery stores is comparable to other places in western Europe, but you'll find that the prices are a little higher because almost everything needs to be ferried in.
Although the price of groceries varies widely based on food choices and preferences, a couple can expect to spend €50-100 per week on groceries.
You can save money by shopping at Aldi and Lidl, where there are great deals to be found on almost every type of food item. There are also a number of higher-end grocery stores, like Tesco and Holland & Barrett, where the prices will be slightly higher.
Throughout Ireland, you'll find weekly farmer's markets. These markets are a great way to buy local produce, as the grocery chains tend to carry mostly imported fruits and vegetables.
Top destinations to live in Ireland as a digital nomad
The best places to live in Ireland as a digital nomad are its two largest cities: Dublin and Cork.
Dublin is the country's major metropolitan center, with cafes, art museums, events, and public spaces.
If you have the luxury of time, visit both Cork and Dublin before choosing one – you may well find that you're much more drawn to one than the other.
On the other hand, if you're the type of digital nomad who chose Ireland to get away from it all, a rural spot in the countryside could be the perfect fit.
Dublin as a digital nomad
As the largest city in Ireland and arguably the country's only metropolitan area, Dublin is a natural choice for digital nomads.
Not only is it a great place to live, but there are many day trips you can take from Dublin to explore other parts of the country.
There are cafes throughout the city where you can squeeze in a few hours of work, like Cafe Crema, where you can also get a full Irish breakfast.
You'll find plenty of coworking spaces in Dublin, but Dogpatch Labs is one of the most well-known.
Dogpatch Labs is known for being the most entrepreneurial of the coworking spaces, with amazing offerings like a broadcasting studio and an urban garden.
Cork as a digital nomad
Often called the Rebel City, Cork has a wonderful, forever-punching-up attitude. Cork is also the southernmost city in Ireland, and it has noticeably warmer weather than Dublin or other areas further north.
Similar to Dublin, Cork has many exciting things to do and coworking spaces available at a variety of price points.
One of the most popular is Republic of Work, located in the city center. Republic of Work has all of the standard amenities you'd expect of a coworking space, plus a professional podcast studio.
The Irish countryside as a digital nomad
Some people move to Ireland to retreat into the countryside in a charming cabin surrounded by woodlands.
If that's what you're looking for, Wicklow would be a great choice because it offers all of the benefits of seclusion from society, but you're also less than a two-hour drive from a major international airport.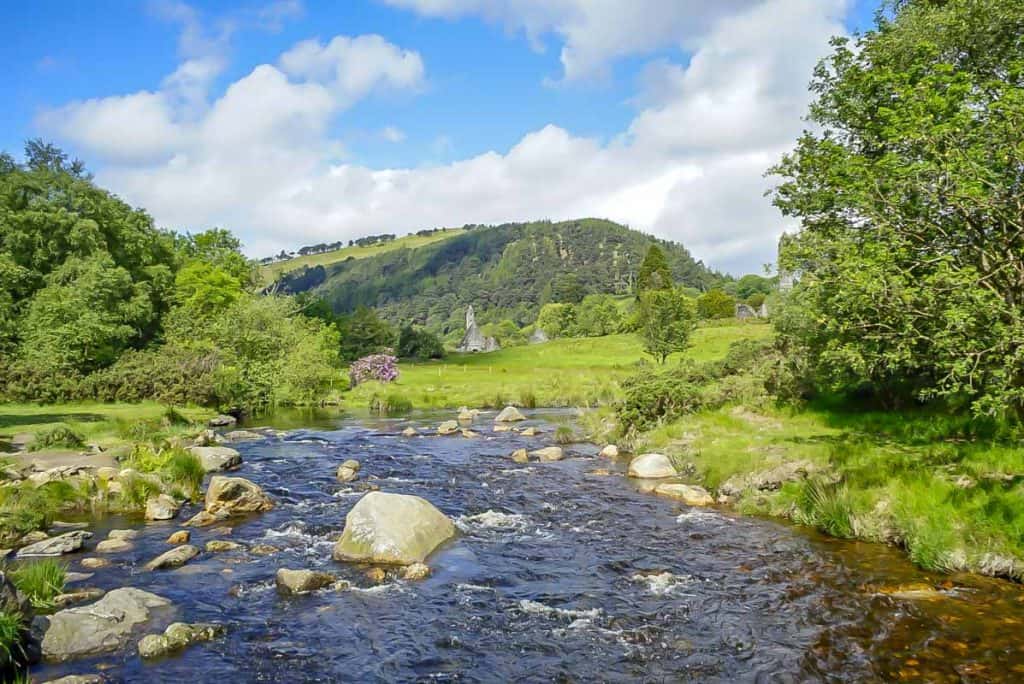 You'll find coworking spaces throughout rural Ireland, like the WicklowHUB in Newtownmountkennedy.
Many of these coworking spaces were opened under the National Hub Network initiative, intended to maximize the economic benefits of remote work.
Most of these coworking spaces are small and offer simple amenities, but they should do the trick if you're in need of a desk for the day.
Tips on finding long-term accommodation
Ireland can be a challenging place to find long-term accommodations, both because the country is relatively small and because of an enduring national housing crisis.
Here are my top tips for finding long-term accommodation in Ireland.
Start your search early
Start your search for long-term accommodations as early as possible. The competition for housing in Ireland can be steep, especially in desirable areas and cities.
When you see an apartment or house that appeals to you, apply for it as soon as you can to have the best chance of being offered a viewing.
If you're offered a viewing, and you're interested in renting the property, kindly make sure that the agent knows you're excited to rent the space and treat the interaction like an interview.
The agents typically have several renters to choose from, so you'll want to put your best foot forward.
Consider a short term let while you search
Even if you're the best potential tenant in the world, you may still struggle to quickly find long-term accommodations.
In the meantime, you may want to consider a short-term rental from a site like Booking.com or Airbnb.
Communicate quickly and efficiently
Because there are so many people vying for the same small pool of rental properties, you'll want to be sure to reach out to the lister as soon as possible to try to schedule a viewing.
It's common for people to reach out to dozens of listings before having a chance to view a property, so this is a time to be tenacious.
If you do receive a viewing, do your best to show up on time and respond to any follow-up communication as quickly as possible.
Internet in Ireland
The internet in Ireland is usually stable and reliable, especially in the city centers. The major internet providers are Three and Vodafone, both of which offer comparable services, as well as bundles that include a mobile plan if you need one.
You'll find plenty of budget options, as well, but I would recommend that you ask a local or read some reviews before choosing one of those services because they can be spotty.
If you'll be in rural Ireland, ask the locals which service they prefer before choosing a provider.
Vodafone and Three have different coverage areas, so it's possible one will be stronger than the other in the area where you live.
Visa requirements
Most visitors from Canada and the US will receive an automatic 90-day visa, allowing you to engage in tourist activities for a short period.
If you wanted to come to Ireland for a few months, this would be the easiest and most common option.
Obtaining permanent residency in Ireland
If you'd like to relocate permanently to Ireland, there are a few common routes that people tend to take.
Ancestry
Some people qualify for Irish citizenship based on their ancestry. If you have a parent or grandparent who was born in Ireland, you might qualify for citizenship.
Many people have successfully claimed citizenship through this path, but be aware that the paperwork can sometimes be extensive, and the process can take many months to years.
Marriage or de facto spouse
If you are married to an Irish national or if you have a "de facto" relationship with an Irish national, you may qualify for Stamp 4 residency.
This is essentially a permit to live and work in Ireland, and you're eligible to apply for Irish citizenship after 3-5 years.
Working in a critical skills occupation
Finally, another popular option is to apply for a critical skills visa, as determined by the Critical Skills Occupations List.
For this option, you'll need to find a role that is deemed eligible for the Critical Skills visa, get hired, and then work with your employer to obtain sponsorship.
Ireland digital nomad visas
Ireland does not currently have any sort of separate visa for digital nomads, unlike many other countries in Europe which are now offering them.
How to meet locals
The easiest way to meet both locals and expats is on BumbleBFF and Meetup, both of which are widely used throughout Ireland, but especially in the urban areas. BumbleBFF is a setting within Bumble's dating app, and it allows you to look for friends by distance and age.
If you enjoy swimming in the ocean and women-only meetups, check out the Salty Sea Sisters, a collection of local chapters where participants swim in the ocean, roller skate, or otherwise get together on a regular basis.
There are regional chapters that cover most of Ireland, and some areas have several chapters.
Volunteering is also a great way to meet locals, and Ireland has a very coordinated organization called Volunteer.ie that regularly posts volunteer opportunities.
When I was living in Wicklow, I volunteered for a few months with an organization that offered therapeutic equestrian classes for children with a variety of developmental delays and other challenges. I had a great experience and enjoyed being able to give back to my new community.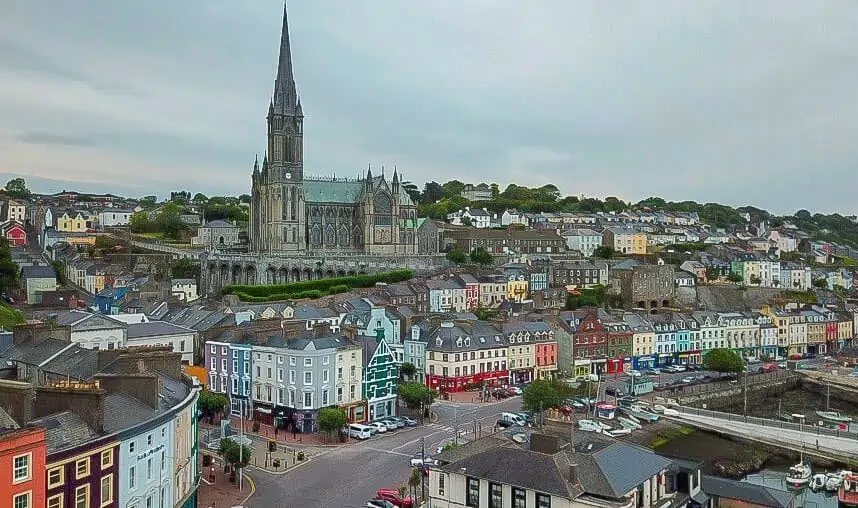 Best time to live in Ireland
The best time to live in Ireland is during the summer when the days are long, and the weather is pleasant without being too hot.
You'll find that locals have a low tolerance for warm weather, so you'll start to hear murmurings of "sweltering heat" once the temperatures start to approach 80F. The hottest weeks of the year are usually in late July and early August.
The spring and early autumn are also beautiful times to live in Ireland, as the seasons change slowly, but they can be chillier.
If you're coming from North America, Irish weather will probably feel quite cold to you until you have a chance to acclimatize. Bring warm clothing, including scarves, jackets, and hats to stay warm in the damp, windy climate.
–
We hope this post could help you see the pros and cons of living in Ireland, and if it's the right digital nomad destination for you!
Jumping into the digital nomad lifestyle? Check out these posts!