This post may contain affiliate links. By clicking and making a purchase through the links, I earn a small commission at no extra cost to you. See my disclaimer for more information. This and display ads allow me to keep the site up to date and give back.
Wondering what to wear hiking in hot weather? As an avid hiker who spends most of my time living in tropical climates, I've learned a thing or two about the best hiking clothes for hot weather.
While you may dread the idea of going out for a hike in warm temperatures, hiking in hot weather often provides the best experience. The sun is out, and the trails are clear of snow or any other form of precipitation.
You can explore hiking trails that are better when it is hot, like waterfall hikes and river hikes that are perfect for a dip afterward to cool off.
But let's be honest – no one likes to be sweaty and overheated with sticky clothes when hiking, which is why you need the right clothing for hiking in hot weather.
Best clothing for hiking in hot weather
One major factor that could determine the success of your hike is what you choose to wear, and this is where many beginner hikers get it wrong. This guide will provide you with the best hiking tips on the best clothing for hiking in hot weather.
When choosing what to wear hiking in hot weather, there are a couple of essential pieces that you must get to keep cool.
Wearing light colors, fast-drying breathable material, and loose-fitting clothing is on top of the list, but to avoid a heat stroke on a hot day, you must also bring plenty of water and protect your head with a hat or a baseball cap. At the end of this guide, I've provided a few more precautions you can take.
Best hiking shirts for hot weather
The shirt you wear on your hike is extremely important as it determines the temperature and comfort of your upper body. No one likes to be dripping in sweat!
There are two main types of hiking shirts that you can choose from:
🎽 Tanktops and short-sleeved shirts: If you want to feel the breeze against your arms, you can get t-shirts with moisture-wicking capabilities. Although these will help keep you cool, they offer little to no protection from the sun, so you will also need to apply sunscreen.
Long-sleeved shirts: It may seem like a weird choice to put on a long-sleeved top in the hot weather, but the right one will keep you dry and also protect your upper body and arms from sunburn.
If you are getting a long-sleeved shirt, ensure that it is specifically designed for warm weather so you stay cool throughout your hike.
Below are some shirts I recommend for hiking in warm weather.
Tank tops are perfect to wear on a summer hike (though remember sunscreen!), and you want to ensure it is made of lightweight and breathable material, so it does not stick to your skin. Nothing is worst than that!
Wearing a t-shirt can get uncomfortable if you sweat under your arms as your body temperature rises and will stay moist under the backpack straps, which is why many hikers prefer tank tops instead.
This tank top from Patagonia is Fair Trade certified and super comfortable. It also dries quickly, so if you swim in a water hole along your hike, you can easily dry it in the sun.
It also has odor control, which means that it will not smell like old sweat when you return from your hike, which is a big relief. Finally, a tank top is a great base layer if you should need to put on more clothes early in the day or late in the day.
If you prefer a t-shirt over a tank top, this one has the exact same material as the above-mentioned tank tops. The material dries fast, is moisture-wicking, and is highly breathable, so it is among the most comfortable t-shirts for hiking in hot temperatures.
The pros of wearing a t-shirt are that the shoulder straps do not dig into your skin, which can be an issue on longer hikes when you carry extra weight in your backpack as you need to bring more stuff. You can also cover up your shoulders which are more prone to sunburn while hiking.
Another thing that makes this one of the best shirts for hiking (and the tank top mentioned above) is that the material does not slide up under your hip belt when you move. If you have been hiking before, you know how annoying that is, so this is a big plus!
It is also made of recycled material and is Fair Trade certified.
If you have very sensitive skin, it is a good idea to wear a long-sleeved shirt for extra sun protection.
The REI Co-op Sahara Shade Hoodie for women is great for that. It even has UPF 50+ protection, so you will not get sunburned through the fabric.
For men, a great option is to wear a t-shirt with UPF 50 sun protection, especially if you expect to go hiking on sunny days on trails without shade.
The truth is that the sun's rays penetrate through the fabric of your clothes, so it can harm your skin even if you wear clothes. That is why sun protection is so important to keep in mind when venturing off on longer hikes under the scorching sun. On top of sunscreen, it does provide additional protection.
Besides looking good, this t-shirt from Marmot ticks all the boxes. It is lightweight, moisture-wicking, and breathable.
It also dries quickly, which is good news once you get sweaty.
Shorts and pants for hiking in warm weather
Shorts and pants each have specific benefits.
🩳 Shorts tend to be very cool and comfortable, even though they don't offer as much protection from the sun as hiking pants.
But just like short-sleeved shirts, if you would like some breeze while hiking, then you should pick up a pair of hiking shorts.
👖 Hot-weather hiking pants help to protect your legs from the sun, and new clothing technology means pants can keep you almost as cool as hiking shorts.
Pants are also great if you will be walking through grass and terrains where you might encounter insects or long grass and plants that can scratch your legs.
There are many great options for shorts and pants for hiking to choose from.
For comfortable, lightweight, and moisture-wicking shorts that are highly breathable, I love these cute ones from REI.
They have UPF 50 sun protection, which is important when hiking on trails that do not offer natural shade.
Another thing I love about these shorts is that they have a small pocket with space for keys, a card, and some coins. This is perfect for short walks when you do not carry a backpack and make them versatile so you can use them for everyday use as well as hiking.
On top of that, it is a bluesign® approved sustainable shorts with recycled materials.
These hiking shorts for men are perfect for hot weather hiking as they are lightweight, moisture-wicking, and dry quickly. In addition, the material is super comfortable even when hiking on demanding sections and scrambling, which is important in a pair of hiking shorts.
You do not have to worry about a sunburn due to the UPF 50 fabric these are made of, which makes them perfect to wear hiking on sunny days with their additional protection.
If you prefer to wear long pants over shorts for reasons like terrain with spiky bushes and plants, these hiking pants are extremely comfortable.
They are also moisture-wicking with lightweight fabric and dry fast. The stretch material makes them easy to move in, and also on sections of scrambling. For this same occasion, you will be pleased to know that the knees are double-padded for extra support.
On top of that, the pockets have small inner pockets with zippers to stash keys, etc. With this, you can avoid worrying about your car keys falling out of your pocket 4 hours into your hike without noticing.
The pants have UPF 50 sun protection which is excellent if you find yourself hiking on long sections without shade.
Best hat for hiking in hot weather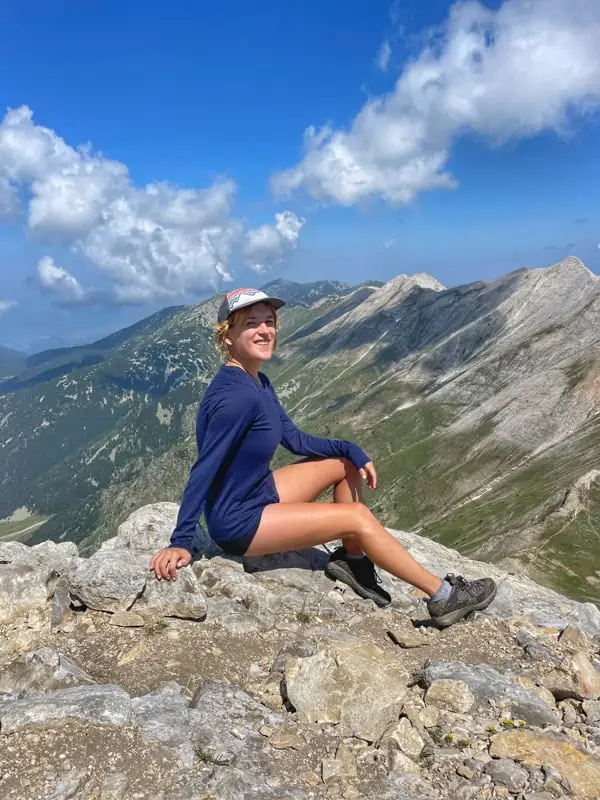 A good sunhat will provide much-needed protection for your face, neck, and ears.
Getting a wide-brimmed hat would be the best choice, although you could also get a baseball cap along with a bandana to ensure that you have enough coverage for your head, ears, and neck.
A baseball cap will often do on a hot weather hike, but if you are constantly exposed to the sun, you want something that protects the back of your neck from direct sunlight. A wide-brimmed hat will do exactly that.
This is a great sun hat for hiking as it has UPF 50 sun protection and is designed to keep your head cool with a moisture-wicking inner headband and mesh material that lets air flow in.
Hiking shoes
Your experience hiking can be greatly affected by what kind of shoes you wear. Wearing the right hiking boots or sandals in hot weather can provide you with a very enjoyable experience, while choosing otherwise could lead to an unpleasant hike.
Ensure that your hiking shoes have good grip, great ventilation and are also well fitted on your feet to stay comfortable throughout the hike. Wearing the wrong shoes could leave you with a lot of foot pain as well as sweaty and, ultimately, smelly feet.
Soloman hiking boots are made from cutting-edge materials and design concepts. These boots emphasize functionality with material to keep you comfortable while hiking in warm weather.
Hiking socks
Wearing a good quality pair of hiking socks will ensure that your feet stay cool throughout your hike.
The best material to get is merino wool as it ensures that all the sweat is wicked away and your feet stay aired out. If you will be hiking on a hot day, ensure you do not wear cotton socks. Other affordable options include synthetic fiber and wool socks.
These merino wool socks by Darn Tought are comfortable and lightweight. Since they are made of merino wool, they are moisture-wicking and dry quickly.
You might also be familiar with how merino wool does not make clothes smell like sweat. This is such a plus when hiking in the summer months, as you definitely do not want your socks to smell when taking your hiking boots off in public!
Accessories for warm weather hiking
Female hikers will know exactly how important it is to wear comfortable, moisture-wicking sports bras. And especially in hot weather, because, let's be honest, sweat tends to cluster up right under our breasts, and that can be pretty uncomfortable.
This Smartwool seamless racerback sports bra is a great option. It doesn't have any seams that dig into your skin when you are in constant movement. This also goes for the straps, which make it comfortable to wear under the hiking backpack.
The sports bra is made of merino wool, so it dries quickly in the summer heat and does not smell bad after use which especially comes in handy when going on multi-day treks in the heat.
When preparing for hiking in hot weather, it can be pretty easy to forget the effect of the sun on your eyesight. Taking care of your eyes is extremely important, especially because of the intensity of UV rays that you would be experiencing at higher altitudes.
Besides wearing a hat, you should protect your eyes from the sun with a good pair of polarized sunglasses. Especially if you walk in bright places like the desert, your eyes will be in pain trying to see with the bright reflections around you.
These are cute, versatile sunglasses that you can wear hiking as well as to the beach with UV400 protection.
Staying hydrated is one of the most important things to consider when hiking in hot weather. Whether you are going on a day hike or a multi-day trek, a hydration reservoir is a god-sent gift.
You must often drink in high temperatures to stay hydrated. I mean, you actually need to drink so much water that you do not want to stop for every zip you take. It is exhausting to stop and take out your water bottle all the time, and you want to save your energy for walking!
That is why a hydration bladder is a must whenever you are venturing out for hot weather hiking adventures so that you get easy access to water constantly. It is also easy to spray a little water on your neck to cool down if it gets too hot.
This water bladder from Osprey is a great choice as it is high quality and easy to fill up anywhere.
In addition to this, I would also recommend bringing an extra water bottle that keeps water cold.
This HydroFlask does the job. You can cool down at any time if you feel heat exhaustion, take a zip or pour a few drops on your head and neck to get your energy back. In case you do not use it during the hike, it is always amazing to drink cold water once you finish your hike.
Katadyn Steripen Ultra UV Water Purifier
On long hikes in summer, a 3-liter hydration bladder might not provide enough water for your entire hike as you will drink a lot of water.
Before you go, you should take note of any natural water source you might walk past on the way and ensure that you refill water where you can.
That is where a water filter comes in handy. When you find natural water sources in nature, it is hard to tell how polluted it is, and you are better off filtering the water than getting sick later.
Steripen is a great choice to bring on hot hikes as it is small to carry and does not add much weight to your backpack.
It is important, however, that you use it in a wide-mouthed water bottle to stir it properly. Otherwise, the UV light will not reach all the water, and you might not have fully purified water.
Even if you cover up for the sun, you should not go summer hiking without sweatproof sunscreen. There are plenty of good choices on the market, but I particularly look for one that does not contain harmful chemicals, and that is reef safe.
Because you will most likely use this sunscreen when you hit the beach just as much as when you go hiking, so you do not want to compromise the marine life while going snorkeling or diving.
Thinksport makes sunscreen, especially with active people in mind, which is why this is a good alternative. It is reef-safe, water resistant for up to one and a half hours, and is not greasy – which is a dealbreaker for many as it is so uncomfortable to hike with greasy hands from applying sunscreen.
Cooling towels are amazing to have in the hot weather as they ensure that you stay cool and dry.
All you need to do is dip your towel into some cool water and hang it on your neck. It can easily be packed up, and it comes in some great colors and different sizes, so you have many options to choose from.
What to look out for when choosing what to wear hiking in hot weather
When choosing what to wear hiking in hot weather, it is important that you look out for a specific type of clothing that will ensure you stay comfortable and cool throughout your hike.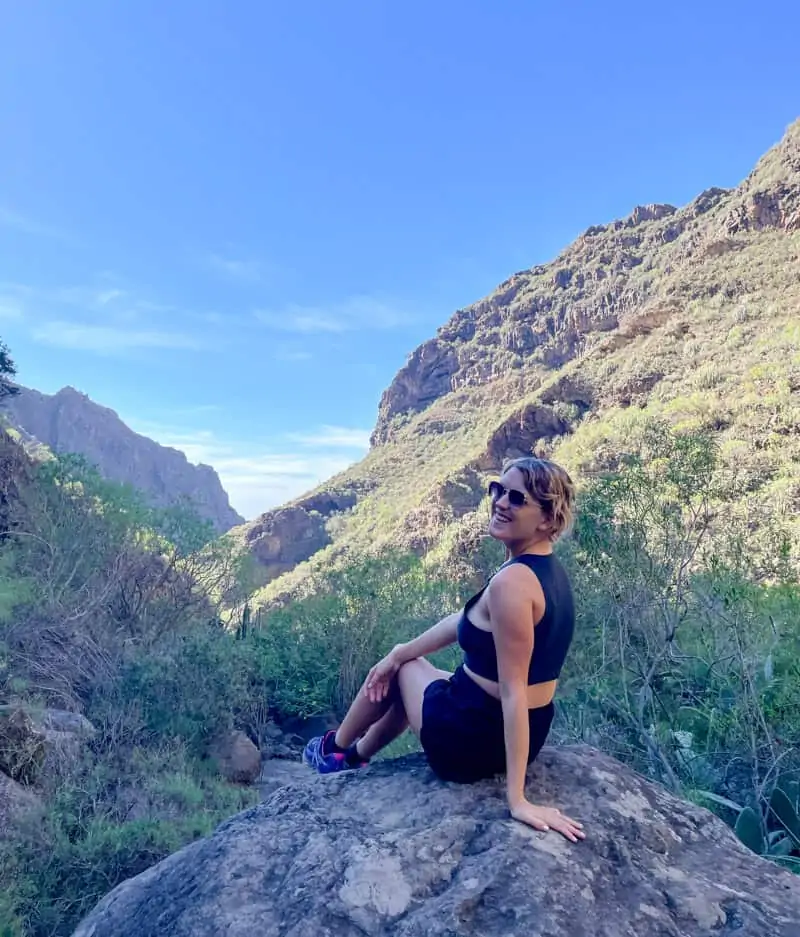 1. Choose the right fabric
Light, quick-drying, and breathable fabrics make the best hot-weather hiking clothes. Fabrics like merino wool, polyester, and nylon are all great choices when looking for the best hiking clothes to wear in hot weather.
Although cotton is known for being a breathable fabric, it is widely regarded as a poor choice for outdoor activities because it does not wick moisture as effectively as the other fabrics listed above. This means that instead of it causing the sweat to evaporate, it instead sucks up sweat.
It is also important that you consider the density of the fabric to ensure that ambient air can easily pass through the weave of the clothes and allow sweat and heat to pass out from your body.
Another essential factor is the color of your clothing. When hiking in hot weather, it is best that you go for light-colored clothes instead of dark ones as the light colors will reflect the sun's rays while darker-colored clothes will absorb the rays and heat.
Colors like white, tan, beige, olive green, and khaki are ideal options.
2. Cover up
You may think that getting short-sleeved shirts and shorts is the best option for hiking in hot weather, but pants and long sleeve shirts offer much-needed coverage to protect your body from the UV rays. Always make sure to protect your head with a quality hat!
3. Choose clothes with good ventilation
Clothes with features like ventilation zippers in the armpits, thighs, or anywhere else are great as they help to ensure that air is continuously circulating your body.
Also, it is important that you get footwear that maximizes ventilation, with low-cut shoes often being better in this respect than boots. However, the terrain that you would be hiking through could affect your decision.
4. Wear UPF-rated clothing
The UPF rating system indicates the amount of ultraviolet radiation that can pass through a specific fabric. A UPF rating of 30 and above would block approximately 96% of ultraviolet radiation, while a rating of 50 and above blocks about 99%.
Synthetic fabrics like polyester and nylon provide more protection from the sun than natural fibers.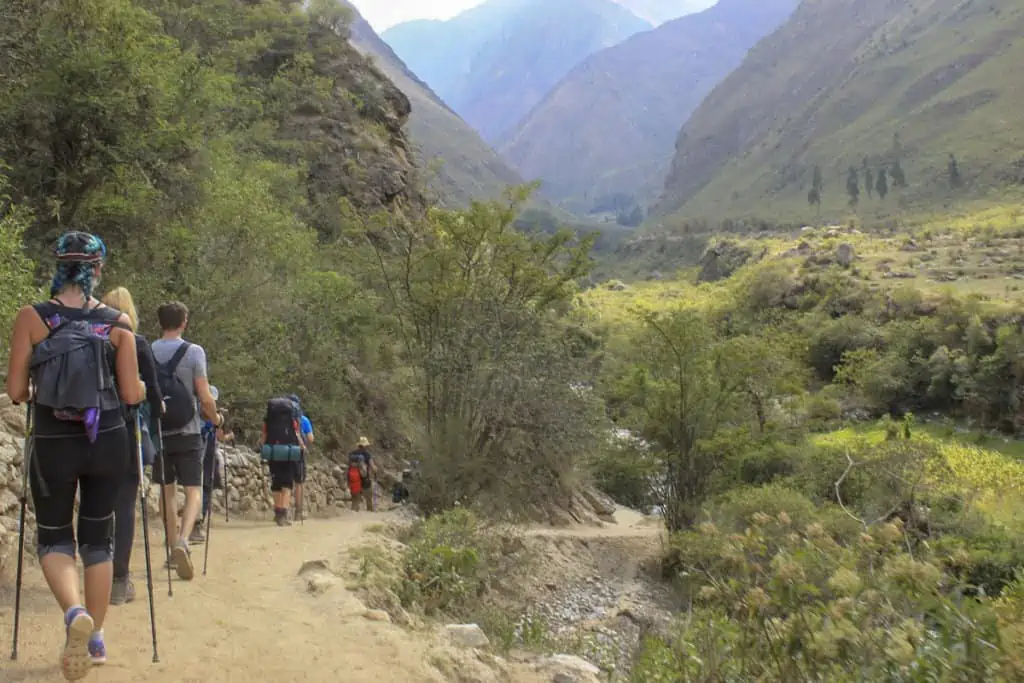 Tips for hiking in hot weather
Aside from choosing the right clothes for hiking in hot weather, there are some other tips to keep in mind.
1. Hydrate as much as possible: Staying hydrated is so important while hiking in high temperatures. One of the most common problems people run into is dehydration. This is why you want to start hydrating the day before your hike, so your body is already in a hydrated state.
Drinking a lot of water can prevent the effects of dehydration, which include dizziness, headaches, and nausea.
Ensure that you pack a lot of water for your trip, as well as other hydration tablets that are packed with electrolytes.
If you will be out for a long time, then you should also carry along some water treatment options like purification tablets or a Streripen. These could be very helpful, especially if you run out of water.
2. Wear sunscreen: Get a high-SPF sunscreen for your legs, arms, neck, and any other exposed part of your skin. Reapply every few hours through the hike, especially if you're sweating.
3. Start hiking early: Starting your hike early will mean that you have more time to hike in cooler temperatures. The hottest time to hike during the day is usually around 3:00 PM, and if you start your hike early, you could be back home resting by this time. Plus, the light is so beautiful early in the morning!
4. Know the signs of a heat stroke: Exerting yourself physically in the summer heat can be quite dangerous. Heat strokes can be very hazardous, and it is important that you know the signs of one so you can potentially save your life or that of somebody else.
First, you should know that heat strokes are preceded by heat exhaustion. Symptoms of heat exhaustion include shallow breathing, dizziness, headaches, muscle cramps, clammy skin, and profuse sweating.
If you begin to experience one or more of these symptoms, you should rest under a shade or in a cool place immediately. It is important that you bring your body temperature down at this point.
If you do not treat it immediately, then you may experience a heat stroke. Some of the symptoms of a heat stroke include high body temperature, confusion, vomiting, pulsing headaches, nausea, the absence of sweating, dry or hot skin, and loss of consciousness.
If you or anyone around you begins to experience these symptoms, then they should be rushed to the hospital as quickly as possible.
5. Plan effectively for water and shade: This is why it is extremely important that you research the trail you want to hike. You should know spots along the way, including where you could get water or a shade that you could rest under.
6. Be well prepared: It is important to be fully prepared for any hike, especially while hiking in hot weather.
Ensure that you have all the hot weather gear that you need, including sun protection, water, electrolytes, a map, and a well-detailed plan. Make sure that all you need for your hike is in place so the hot weather does not prevent you from having an amazing experience.
7. Check the weather forecast: See if some days are cooler than others before planning your hike. This way, you might avoid hiking on a day with extreme heat.
—
Hiking in hot weather can be a great experience with clear skies and long hours of daylight. Other times, especially when traveling, hiking in hot weather can be the only choice you have to uncover the destination's hiking trails.
However, it could also be a pretty brutal one too, so it is important that you take the necessary precautions mentioned above.
Use this guide to choose what to wear hiking in hot weather and ensure that you stay safe while enjoying the trails.
Love to hike? Check out these posts!