This post may contain affiliate links. By clicking and making a purchase through the links, I earn a small commission at no extra cost to you. This and display ads allows me to keep the site up to date and give back. Thanks for reading!
Tenerife is an island in the Canary Island archipelago off the coast of Spain. It is known for its warm weather, sandy beaches, and unique landscapes. It's easy to see why tourists worldwide are attracted to this idyllic holiday destination. This guide will help you figure out where to stay in Tenerife to complement your time here!
Best area to stay in Tenerife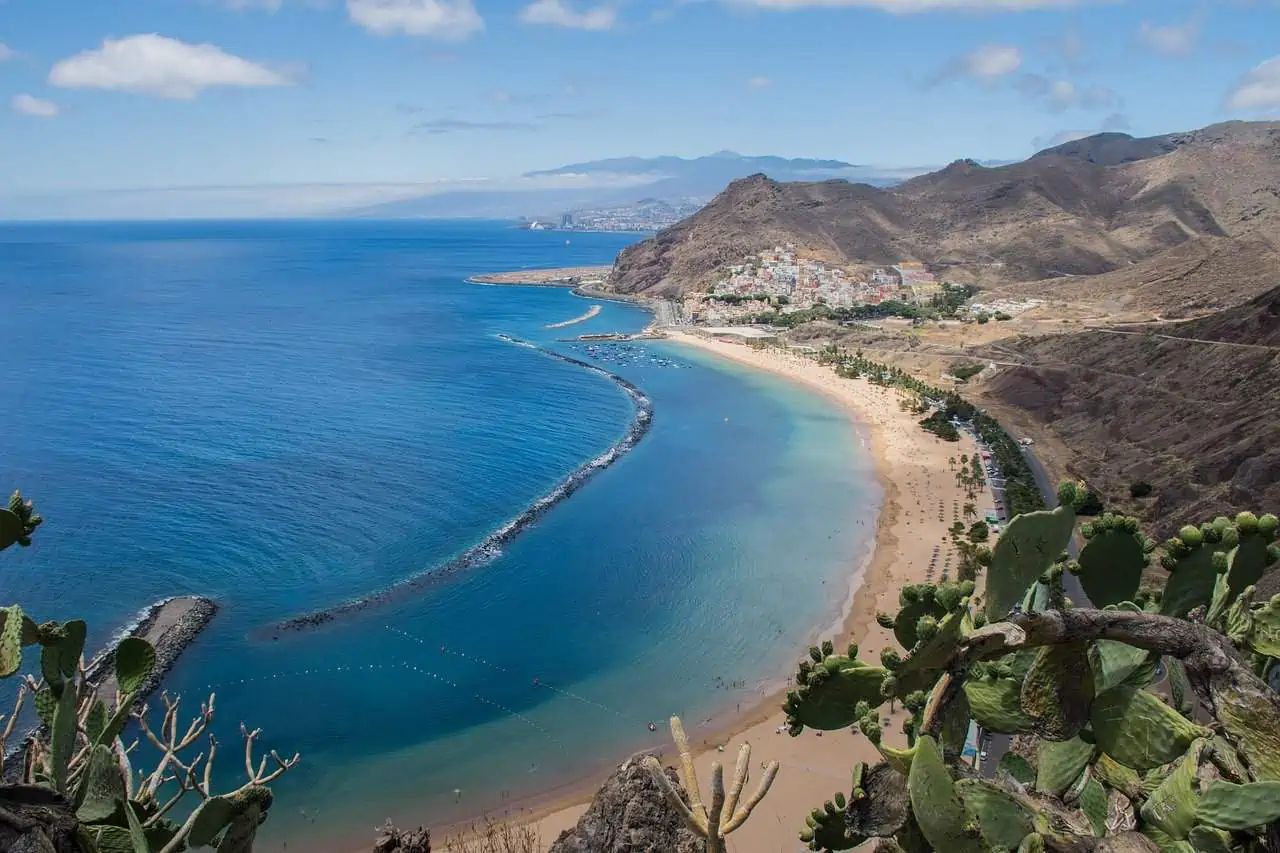 There are a few differences between the island's southern and northern areas, and which one you choose to visit will depend on the things you want to do here.
Tenerife's northern cities have a rich culture and history, and the area is well known for the abundant hiking opportunities and unique black-sand beaches it offers in Anaga Rural Park.
On the other hand, the southern regions of the island offer vibrant nightlife, sandy white beaches, and slightly warmer and sunnier weather.
It's hard to say which is the best area to stay in Tenerife; it just depends on what you're looking for.
Where to stay in Tenerife South
Los Cristianos
Los Cristianos is lively, touristic, and known for its beaches. You can't go wrong with a holiday here, especially if you get your accommodation right.
An excellent option for your stay in Los Cristianos is Paradise Park Fun Lifestyle Hotel.
This hotel is great for families, couples, and friends alike. There are many outdoor spaces, including five outdoor pools (most of which are adult only). Make sure you make it to one of the four hot tubs too!
There's a range of room options, from doubles to suites, and all of them come with a terrace or balcony. The decor is a bit lacking, but the hotel has excellent facilities like a gym, restaurant, sauna, and kids' play area to make up for it. Plus, it's a 15-minute walk away from the beach.
Top things to do in Los Cristianos:
Playa Las Americas
If you're hoping to stay somewhere with lively nightlife, surfing, and a short walking distance to the beach – come to Playa Las Americas! This is where I was living in Tenerife as a digital nomad, and there's always a lot going on here.
That said, let's look at some of the best places to stay in Las Americas:
The apartments at El Dorado are simple and budget-friendly. They have well-equipped kitchens, and some boast a cute and charming balcony with sea views. The perfect place for a long or short-term stay in Las Americas. 
You'll be just a short walk away from the beach and right by plenty of shops and restaurants. Another perk is that all the apartments have access to the outdoor pool in the complex, so you can go for a dip anytime you want.
Green Garden Eco Resort and Villas
If you're looking to stay somewhere a little different in Las Americas and don't mind paying a little extra for the added comfort, check out the Green Garden Eco Resort. 
The rustic decor and elegant wooden furniture go beautifully with the resort's lush outdoor spaces. You won't struggle to find a quiet spot by the pool either; there are three to choose from.
While the resort is highly rated as a romantic escape for couples, it's very family-friendly. They have a play area for the kids and have gone the extra mile designing cute bedrooms for children. 
Welcoming and luxurious, the resort is just 15 minutes walk away from the nearest beach and has its own restaurant on-site.
Top things to do in Las Americas:
Experience the nightlife of Tenerife
Go surfing at Playa Las Americas
Costa Adeje
Another popular destination in Tenerife is Costa Adeje. It's known to be quieter than Las Americas and is a popular destination for families looking for a beach holiday. It's one of the best places to go whale watching in Tenerife, which is available year-round.
Apartament Sara at Torviscas Bajo
If you're traveling as a family, then you might want to consider renting an apartment at Torviscas Bajo. The privacy and handy extras, like a kitchen, make apartments more convenient than hotel rooms for families. 
The apartments at Torviscas Bajo are cozy, well-priced, and have a charming balcony area with an outdoor table. You'll have plenty of space, as there is a double room, a twin room with two single beds, and an extra sofa bed.
The best part is that you'll be just five minutes away from Playa de Torviscas, and you can use the outdoor pool! Costa de Adeje Beach is nearby too.
Yes, Costa Adeje is great for families, but there are plenty of options for couples too. This adults-only hotel is a prime example. The hotel is fancy and elegantly decorated; it oozes glamor. 
Guests consistently rate the delicious breakfast and the fun (and free!) poolside activities offered by the hotel, like yoga and pilates.
The hotel is a few minutes' walk away from Playa de Torviscas and just a little further from Costa de Adeje Beach. Mind you, once you see the hotel's grand pool, you might decide to skip the beach anyway. 
Top things to do in Costa Adeje:
Los Gigantes
Next let's go to Los Gigantes, known for its spectacular coastal cliffs. It's smaller and less crowded than other parts of Tenerife. 
This large hotel has breathtaking views of La Gomera Island and Los Gigantes Cliffs. From your bedroom window or lush balcony, you'll see the sea and cliffs all at once. 
The property is modern with simplistic decor, giving it an elegant and chic feel. It looks to be made for a group of professional friends, although it's exceptionally rated for family stays.
There's a spa, three outdoor pools, a games room, and a restaurant in the hotel, and the beach is a three-minute walk away – you'll never want to leave. 
Top things to do in Los Gigantes:
Hike along the Los Gigantes cliffs
Go swimming in the natural pools
Best places to stay in Tenerife North
Puerto de la Cruz
Puerto de la Cruz is a lesser-known area of Tenerife, but it has a lot to offer, and it's worth considering as a holiday destination. Though there are fewer beach vibes than in other parts of Tenerife, it is known for its cultural festivals.
This hotel has spacious rooms with options for large families and couples alike. There are two outdoor pools dotted around the hotel, one of which has spectacular sea and landscape views that you can enjoy as you cool off.
You can eat at the hotel's restaurant and if you fancy splashing out on your room, get one with a balcony and sea views!
The hotel is a short drive from El Bollullo Beach, known for its black sand. It is a bit of a trek to get to, but it's worth it! During your stay, you'll be near-ish to Playa Martianez too, one of the few city beaches in Puerto de la Cruz. 
Top things to do in Puerto De La Cruz:
Stroll around town and admire the street art
Visit the botanical gardens
Santa Cruz
One place you cannot miss in Tenerife is Santa Cruz, the capital city. This charming port city has well-preserved architecture and numerous plazas where you can sit and silently sip a coffee. Here are some of the best accommodation options in Santa Cruz.
Iberostar Heritage Grand Mencey
As hinted in the hotel's name, the Iberostar Heritage is rather grand. Some unique features of this hotel are its charming, traditional Spanish courtyard and colonial architecture. The hotel also has a spa!
There is an elegant outdoor pool decorated with palm trees and surrounded by a wooden deck with sun lounges where you can spend lazy afternoons in the sun. If you get hungry, there is a restaurant with indoor and outdoor seating areas that serves local dishes.
Every room has beautiful hardwood floors and a fun minibar. You could splash out on a room with a balcony!
During your stay you'll be right by the Garcia Sanabria Park and a short drive away from the ferry port, so you can easily go island hopping! 
Come and stay at this modern apartment in a swanky apartment complex. It is quite small, but it's cozy and has simplistic decor. You'll be blown away by the apartment's spectacular sea views and fantastic price.
Another perk is that you'll have your own kitchen and dining room to relax in. There's one bedroom and an extra sofa bed, so you could fit a small family in the apartment, though it's better designed for couples.
The apartment is well-reviewed and ideally located. What's not to love?
Top things to do in Santa Cruz:
Experience Carnival during February
Check out the museums and art galleries
La Laguna
If you haven't been convinced by the areas we've looked at, check out La Laguna, a charming city in northern Tenerife. You could pass the days here just strolling through the colorful streets and marveling at the colonial architecture.
This house in La Laguna is totally different to anything else mentioned in this guide. You'll feel like you've stepped into Tenerife's past during your stay at this home decorated with period furniture.
The rooftop terrace has impressive views of the Catedral San Cristobal de La Laguna, just 100 yards away from the house! The location is unbeatable, right in the heart of La Laguna.
There are three bathrooms in the property and enough beds in the three bedrooms to comfortably sleep eight. Perfect for a big family or a group of friends.
Top things to do in La Laguna:
Go hiking in Anaga Rural Park
Stroll along the colorful streets
—
With so much to see and do, I'm sure your time in Tenerife will be great. And with the right home away from home to come back to after a day of exploring – it's sure to be unforgettable.
If you're a digital nomad coming to Tenerife, check out these posts: