This post may contain affiliate links. By clicking and making a purchase through the links, I earn a small commission at no extra cost to you. See my disclaimer for more information. This and display ads allow me to keep the site up to date and give back.
If you're wondering what the perfect Jordan itinerary is, look no further!
In this post, I'm going to share the best places to visit in Jordan in just one week, plus optional add-ons if you have more time to spend.
Jordan is one of my favorite countries I've visited to date. It's not only one of the most hospitable places on earth but has a perfect balance of city life, outdoor activities, amazing cuisine, and rich culture to experience.
Plus, since it's a relatively small country, you can easily see the highlights with just one week in Jordan.
Jordan Itinerary 7 Days
I visited Jordan with Traverse Journeys which this 7 day Jordan itinerary is based on. It was carefully curated by Ashley, the founder of Traverse Journeys, and I don't think I could have made a better one myself!
If you want to take the guesswork out of planning your trip, visit Jordan with Traverse Journeys in September 2022, and you'll experience this same itinerary without any hassle. Use code EXPLOREWITHLORA for $100 off!
Day 1: Arrival in Amman
If you're flying into Jordan, you'll likely be landing at Amman International Airport in Amman, the capital city of Jordan.
As such, starting or ending your trip here makes sense if you're flying out afterward.
There is also the option to get to Jordan from Egypt/Israel via passenger ferry, in which case your starting point will be Aqaba, a small town on the Red Sea.
After spending my last few days in Egypt in Cairo, I wasn't looking forward to being in another big city in the Middle East based on the assumption it was going to be chaotic, dirty, and my time would be spent waiting in traffic.
However, upon driving from the airport to my hotel, it became apparent that Amman was not the city I expected it to be.
Traffic was minimal, the roads were clean, and it had an overall vibe that immediately resonated with me.
Amman is a city I could see myself living in as a digital nomad. It's an excellent central point for starting your trip, as it's centrally located just a few hours from the main attractions.
Where to stay in Amman
I stayed at Lo Locanda Boutique Hotel and the House Boutique Hotel, which I would both highly recommend.
Both hotels are in cute neighborhoods where you can easily walk to cafes, shops, and restaurants.
I prefer the House Boutique because their rooms are so beautiful and all come with a kitchen.
They were kind enough to upgrade us to the penthouse, which is one of the nicest hotel rooms I've ever stayed in. Check out this view from the rooftop!
I've got all the information you need to know planning your Amman itinerary in this travel guide, but here's an overview:
Where to eat and drink in Amman
Beit Sitti is the place to go if you want to immediately feel at home. This locally owned farm-to-table restaurant serves delicious family-style meals in an intimate setting.
Dali Space is a fantastic restaurant with local beers, delicious food, and hookah.
Shams El Balad Is Amman's first farm-to-table, vegetarian-friendly restaurant.
Jordan River (JR) Wine Experience is good for a fancy night out, where you can enjoy locally-made wines alongside a delicious meal.
Rumi Cafe is an excellent spot for coffee and a quick bite.
Top things to do in Amman
Walk through the markets in downtown Amman, tasting your way through the various food stalls.
Visit the Amman Citadel, an ancient historical site with Roman ruins in the city's center.
Shop for souvenirs at Wild Jordan
Visit King Abdullah I Mosque
Take a day trip to Jerash, one of the most well-preserved Roman cities that you'll see in Jordan.
Chill with a drink on one of the city's many terraces.
Walk Around Jabal Amman and take photos on Rainbow Street
With just one day in Amman, I'd recommend staying at one of the above accommodations recommendations, as this will make walking to shops and restaurants easy. You'll probably be tired after arriving!
On our trip, we only spent one night in Amman before exploring the rest of Jordan and then another two at the end. I ended up extending my time in Amman another three night, which gave me a better appreciation of the city.
Day 2: Dead Sea to Little Petra
Spend the morning visiting the Citadel and markets of Amman before heading out to the Dead Sea, which is just an hour's drive away.
Swimming in The Dead Sea is one of those bucket list experiences you must do while visiting Jordan.
It's not only the lowest point on earth but has the highest salt concentration of any body of water in the world, meaning you'll float on the water without effort.
It's one of the craziest sensations I've ever experienced; you really can't push any part of your body down. It makes swimming almost impossible, so lie back and relax.
The Dead Sea is also known to have therapeutic properties. The best way to experience it is by first getting in the water, coming out and taking a detoxifying mudbath, waiting for it to dry (about 15 minutes), and then going back into the water to rinse it off.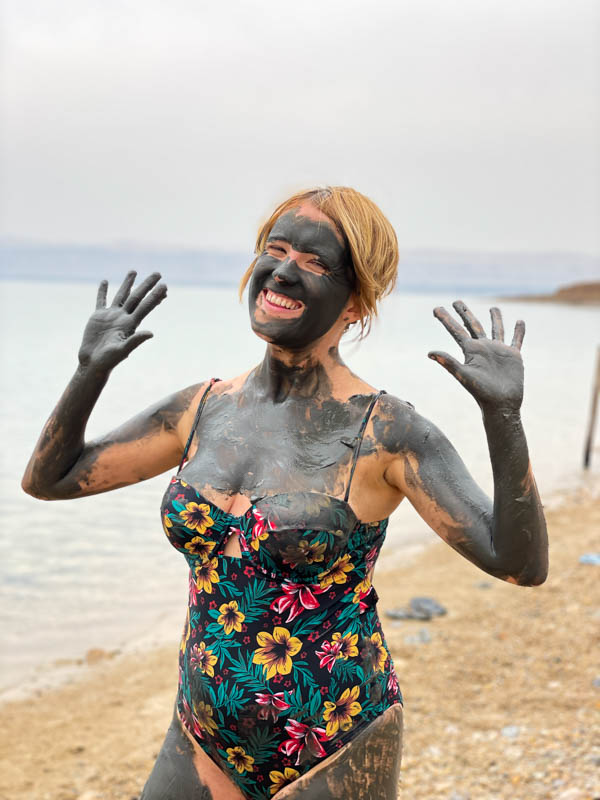 Make sure not to get ANY salt water in your eye, and immediately rinse it out with fresh water if you do.
Another thing to know about the Dead Sea is that it's not that easy to access without going through one of the hotel/resort properties, which offer day passes. We went via the Holiday Inn Resort, which was an excellent experience.
They provide you with towels, mud, and outdoor/indoor showering stations, which you will want after swimming in the Dead Sea. They also have outdoor heated swimming pools and hot tubs for relaxing in afterwards.
From what I understand, it's not particularly easy to find spots to swim in the Dead Sea that private hotels don't own. I would just pay for a day pass, as not being able to shower in fresh water after sounds awful.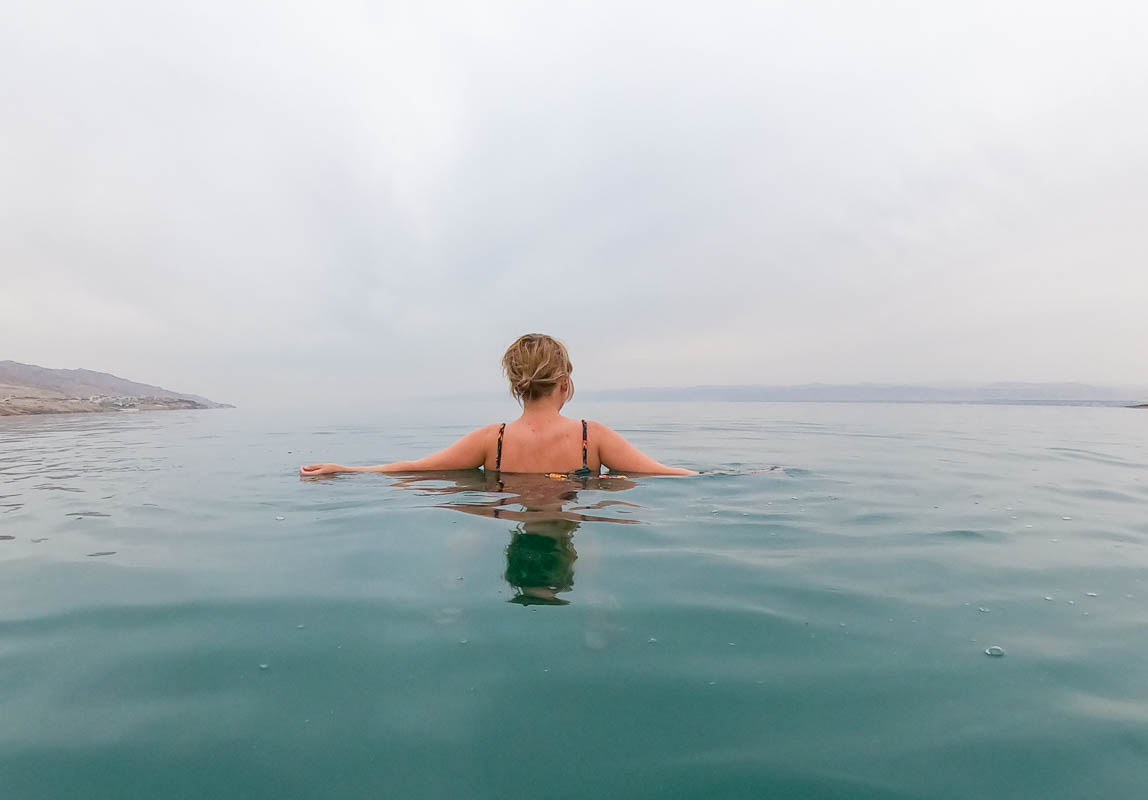 I don't think it's necessary to spend a night by the Dead Sea if you have limited time in Jordan as you only need a few hours there.
But if you have extra time in your itinerary for Jordan and want to relax for a night, this would be a good place to do it. There are also some hiking trails along the coast you can explore.
If you're only visiting the Dead Sea for the afternoon, continue south from there on a drive up the mountains towards Little Petra through the Jordan Valley Highway.
This drive is breathtaking through the mountain landscapes, and we even saw some camels along the way! You'll get spectacular light over the mountains if you time it around sunset.
We spent the night at Little Petra Bedouin Camp, which looked like something straight out of a fairytale upon arriving.
This Bedouin-run camp offer full-structured tents which are basic but come with comfortable beds and shared bathrooms, and the rest of the facilities at the camp are excellent. They greeted us with a warm cup of tea as per usual Jordan hospitality.
A restaurant is on-site with an excellent buffet dinner/breakfast, and they have a common room with live music, hookah, and comfortable hangouts. It's a great place to chill out at the end of the night and meet other travelers.
The main reason to stay in Little Petra Bedouin Camp is that it provides the perfect base to start the Little Petra to Petra trek, one of the best hikes in Jordan.
Day 3: Little Petra to Petra
Most people come into Petra through the main gate that goes to the Treasury, but there's actually a back entry trail to the Monastery from Little Petra. It's part of the Jordan Trail that goes across the entire country.
The wadi Muthlim Trail is a 12-mile hike that takes you through the sandstone mountains of Wadi Ghurab. It was one of my favorite experiences in Jordan.
Before starting the hike, it's worth taking the time to walk through Little Petra. Aso known as Beidha, this UNESCO world heritage site is where the ancient Nabataeans carved the sandstone canyon walls.
It was where the caravans used to unload goods and has some impressive structures left to see. Although not as impressive as Petra, you'll find far fewer tourists, and it gives you a good impression of how large and complex this civilization was.
From Little Petra, the hike takes you through valleys where you can see the remains of some of the earliest human settlements.
It follows a Nabataean route out of the valley around a mountain, where you can see gorgeous views of the Wadi Siyyaqh chasm (where the Israel-Jordan peace treaty was signed).
You'll want to bring a lot of water on this hike as it can be pretty hot hiking through the desert, especially during the summer. That said, there are Bedouin"Starbucks" you can visit to relax with a cup of tea and a friendly smile.
After hiking along the mountain, you'll reach the Monastery, which is the first large site in Petra that you see.
Approaching the Monastery gave me the same feeling I had when I saw Machu Picchu after hiking the Inca Trail, which is the best in the world.
Spend some time relaxing by the Monastery as there is a cafe where you can get a fresh lemonade, tea, or a bite to eat.
Unfortunately, the crowds start to pick up as many people hike here from the main entrance.
One of the benefits of hiking the Wadi Muthlim trail is that there are few people on it, making it a peaceful place to soak in Jordan's stunning natural landscapes
.
From the Monastery, you'll hike into the central area of Petra, where there are many restaurants and shops.
This is a good place to grab lunch, and most offer buffets. It's nothing to run home about but satisfying after a long hike.
Another great thing to do in Petra is getting one of the Bedouins to put eyeliner on you, which is one of their traditions. It makes your eyes pop and does help with the glare of the sun.
They won't charge you anything for it, but if you feel inclined, you can buy a souvenir from the shop. They typically sell eyeliner, incense, jewelry, and other nice souvenirs. I loved the guy from the store we stopped in!
This hike makes for a long day, so spend the night in Wadi Musa, next to Petra's main entrance. You'll have to climb out of Petra via a staircase over the mountain, so the last part of the hike can be quite challenging after a full day of hiking.
Where to stay in Petra
Wasi Musa is the main town where people base themselves while visiting Petra. It has many hotels to stay in, along with restaurants and shops.
We stayed at Petra Palace Hotel, which I recommend. The rooms are standard, but what makes this hotel great is the in-house Hamman. Having a Turkish bath and hot tub was the perfect way to unwind after a day of hiking.
It's also a convenient location on the main road next to restaurants. If you have the energy, stop for food and a pint at the Cave Bar, which claims to be the oldest in the world.
Alternative Itinerary: If you don't want to do this hike, head straight to Petra after the dead sea and skip this day on your itinerary.
Day 4: Petra's Main Trail + Wadi Rum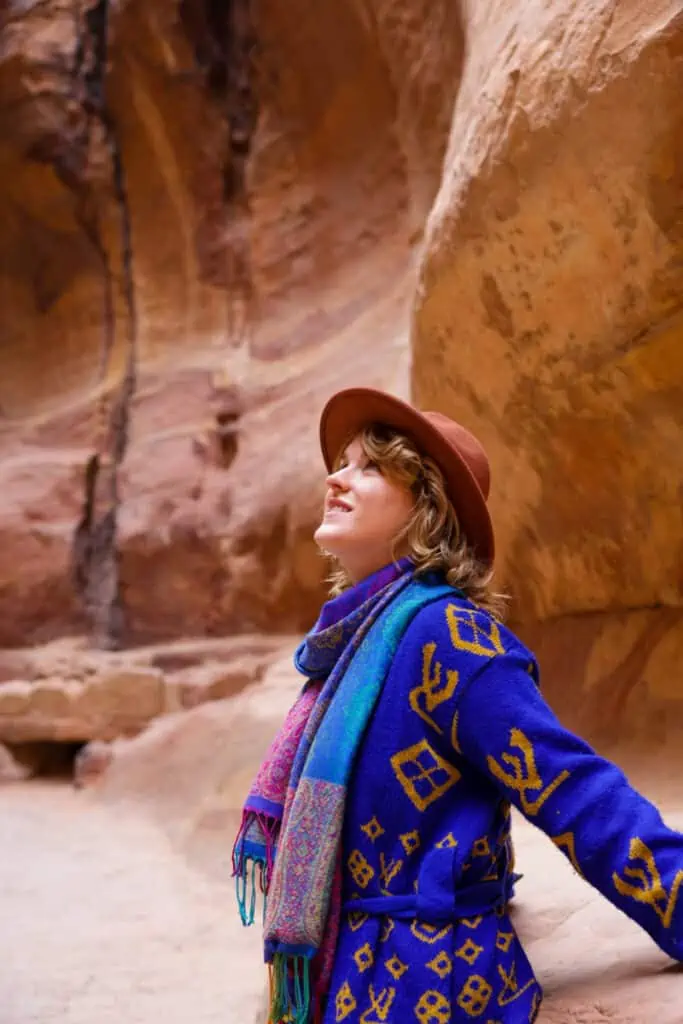 From Wadi Musa, you can quickly re-enter Petra via the main gate. After entering, you'll walk through a long, narrow canyon that leads you to the Treasury, the most famous site in Petra.
The best place to get photos of the Treasury isn't actually in front of it. It's either via a short hike above it or on the ledge by the side.
Either way, you'll have to pay a few dollars to the locals to use the photo spots, but I think it's worth it as these come out are much better than the ones standing in front.
If you walk to the right of the Treasury facing it, you'll see a photo op set up with carpet and locals taking photos of tourists. They know the best angle to take pictures, so just trust them.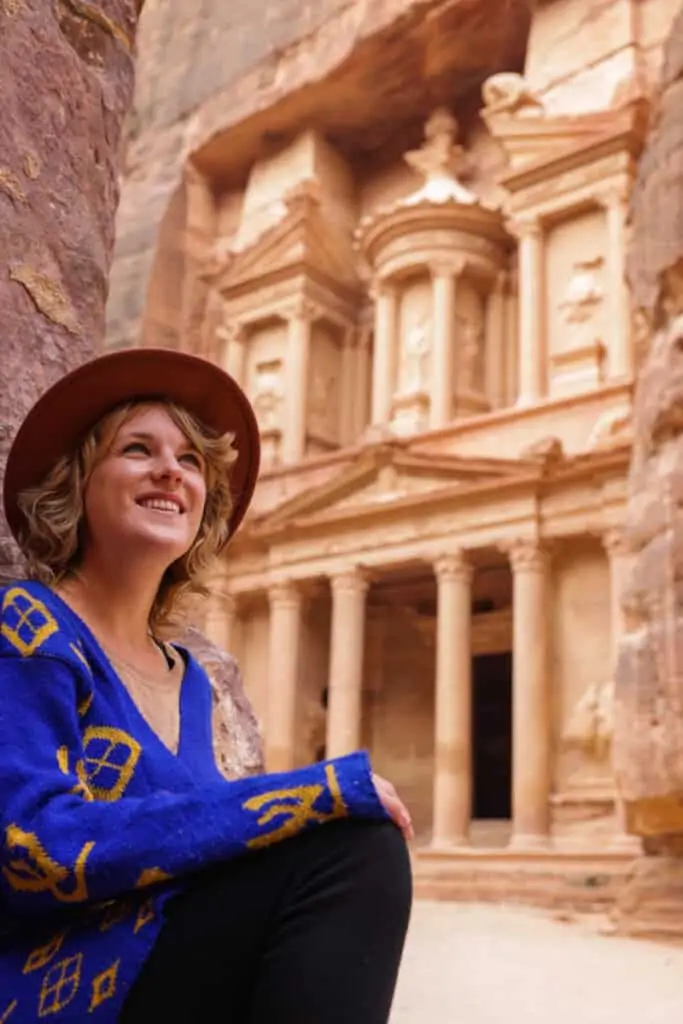 For even better photos, ask a local to take you up to another photo spot about a 15-minute hike up (they will likely ask you). Agree on a price beforehand, so there are no surprises. I paid about 5 USD – and the guy was incredibly kind and even gave me a bracelet afterward.
This photo spot has influencer in the wild vibes and is a bit annoying as you'll have to wait as many girls in flowy dresses strike their poses, but again, the photos come out awesome.
If you don't care about photos, ignore everything I just said and continue hiking through the complex.
It's massive, so you'll need a few hours to explore the elaborate rock-cut tombs, Roman-style theaters and temples, sacrificial altars, and colonnaded streets.
Tip: Go to Petra as early as you can to avoid the crowds; it get packed with tourists past 10 am, making it challenging to take photos. The main gate opens at 6 am.
You can buy 1, 2, or 3-day passes for Petra and will save money by doing so, so plan your itinerary ahead.
The complex is massive; I recommend at least two days for your Petra itinerary if you have the time.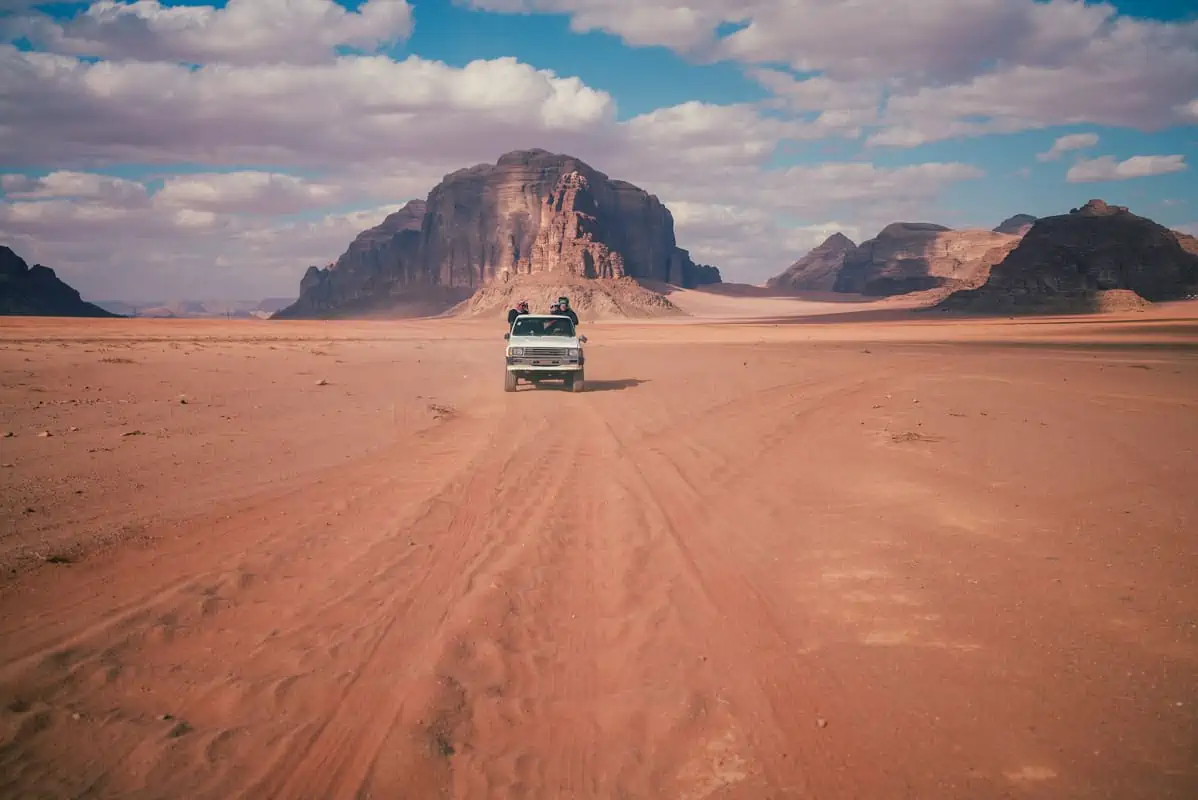 In the afternoon, make your way from Petra to Wadi Rum through the Ochre Desert.
You can only take a van so far, and then you'll have to hop into a 4×4 to get to one of the Bedouin Camps inside Wadi Rum.
You'll understand why this desert is so famous as you drive further into Wadi Rum.
The towering rock formations coming out of the flat sandscapes make you feel like you've entered another planet – it's one of the most unique deserts I've ever been in!
Of all the experiences in Jordan, spending an evening in a Bedouin Camp in Wadi Rum is an absolute must.
We stayed at Rainbow Camp, which was an incredible experience.
The tents are basic, with a bed, warm blankets, and electricity, but the owners and setting make this place special.
The camp is just below a rock plateau, which you can climb up for an unforgettable sunset.
Afterward, we returned to find the Bedouins preparing dinner in the traditional style of cooking, where the food is cooked underground.
Then, everyone gathered in the common area for the homemade feast, sharing stories and smiles.
After dinner, they will light a campfire where you can share hookah and chat with fellow travelers.
While this is lovely, I recommend taking your blanket away from the camp/light for a few minutes and lying down under the stars.
The night sky here is one of the most beautiful I've ever seen, up there with the Atacama desert in Chile.
Day 5: Explore Wadi Rum + Aljoun Forest Reserve
The camp will prepare you a nourishing breakfast, and from there, head out on the trucks to explore Wadi Rum.
We got to go jumping down dunes, walk through a canyon with petroglyphs dating back more than 4,000 years plus inscriptions more than 400 years old, and see incredible desert rock formations. We also saw wild camels!
There are so many 4×4 Wadi Rum Jeep tours to choose from, but if you haven't arranged anything the guys at the camp can help you.
We only spent one night in Wadi Rum, but I would have been happy to spend two. There are also many hiking trails around here, so if you have some extra time in your Jordan one week itinerary, this is a great place to spend it.
If you're done with the desert, it's time to drive north to the Ajloun Forest Reserve for a completely different experience!
Ajloun Forest Reserve
The Ajloun Forest Reserve was established by Jordan's Royal Society for the Conservation of Nature. It may make up a small part of the country (less than 1%), but it is vitally important.
It's one of the greenest parts of the country, serving as a captive breeding ground for the extinct Roe Deer and protected habitat for many bird species.
The best way to experience the Aljoun Forest Reserve is by staying at the eco-lodge on-premise, where you can learn about the incredible projects the organization has in place to support the local environment and community through sustainable tourism development initiatives.
The accommodations at the eco-lodge reminded me of being in Canada. They are cabins with large decks overlooking the forest reserve, and they also provide a filling buffet dinner onsite.
Alternative route: As an alternative to the Aljoun Forest Reserve, you could also easily visit Aqaba after Wadi Rum as the two are near each other.
Day 6: Aljoun Forest Reserve + back to Amman
One of the best things to do in the Aljoun Forest Reserve is to go hiking through the forest to see the flora and fauna, and hopefully some wildlife!
In the forest, you can see Jordan's national flower, the Black Iris, as well as evergreen oak, carob, and wild pistachio.
Unfortunately the morning we were there it was pouring rain, so the hike got canceled. Instead, we got to spend some time visiting the social enterprise projects in the area.
We took part in a baking class at the Biscuit House, where local women produce all-natural cookies and healthy snacks. It was a great experience to learn how Jordan's delicious baked goods are made, with many samples included.
In the same building, there's also The Soap House, which is a local women's manufacturing initiative making specialty soaps by hand from olive oil and flower essences.
There, you can view the soap-making process and chat with the women. If you're looking for gifts, this is a great place to pick them up.
From Ajloun, make your way back to Amman. If you have time, stop at Umm Qais, which is another of the ten ancient cities. It's got impressive views overlooking the Jordan Valley and Sea of Galilee, where you can see as far as Israel and Syria.
On the way back, we stopped at another community project at Bait al Baraka for a hyper-local meal based on sustainable agriculture and foraging. It was in a local's home, like a homestay lunch.
Day 7: Explore Amman or Take A Day Trip
Back in Amman, you can head out and explore more parts of the city, or take a day trip to Jerash.
Jerash is by far the best example of a Roman provincial city in the Middle East.
It's a massive complex to walk through, with a spectacular Forum, Roman colonnaded street, the Nymphaeum, and the Artemis Temple.
If you're interested in learning about this part of Jordan's history, Jerash is a must-do. Dedicate at least a full morning to walking around the complex, and it's quite large.
The views from here are gorgeous, and local farmers are allowed to bring their sheep and goats to graze among the grass inside the ruins.
When we visited in March, the spring flowers were in full bloom, which made the site all the more beautiful.
Near Jerash is a small town called Souf, which is an excellent place to stop for lunch as its home to Khayraf Beit Souf which is a women's cooperative.
There, you can take part in a cooking class to learn how to make local Jordanian dishes using local ingredients like eggplant, tomato, sumac, pomegranate molasses, za'tar and tahini.
The lunch was an absolute feast, and the tastiest of all I had in Jordan (which is saying something, because the food here is incredible).
For the last evening of your Jordan 1 week itinerary, enjoy one of Amman's many rooftop bars.
Other Jordan Itineraries
Jordan 10 day itinerary
For a 10 day Jordan itinerary, I would recommend spending some extra time in Amman or adding on a visit to Aqaba.
I am slightly regretful that I didn't get to see Aqaba, but after spending so many weeks diving in Dahab and being told the diving isn't as good, it didn't seem worth it.
Still, it's a town on the Red Sea that offers a new experience and side of Jordan from the rest of this itinerary. Otherwise, there is plenty to do to keep you busy in Amman for another couple of days if you have 10 days in Jordan.
5 day Jordan itinerary
With 5 days in Jordan, you could do the first four days of this itinerary and then return to Amman on day 5 without visiting the Ajloun forest reserve.
3 day Jordan itinerary
With just 3 days in Jordan, I would base yourself in Amman and take day trips from there to visit the Dead Sea, Wadi Rum, and Petra.
Getting Around Jordan
In Amman, it's easy to get around via Ubers which are affordable (a few dollars for a 15-minute ride) and many neighborhoods like Jabal Amman are nice to walk around.
From Amman, you can take many day trips, like the Dead Sea, Wadi Rum, and Petra. However, I recommend traveling around the country rather than taking day trips.
On my tour with Traverse Journeys, we had a private bus that took us between all the locations mentioned in this post which was very convenient. If you wanted to do the same itinerary without a tour, your best bet would be to rent a car.
Renting a car gives you the ultimate freedom and flexibility while traveling in Jordan. Road trips are one of my favorite ways to see a country!
I didn't use the bus in Jordan, but there is a public bus system. That said, you will be at the mercy of the bus timetables which I hear are not the most reliable. Rough guides has more info about this.
Tips for visiting Jordan
The Jordan Pass – If you are planning to visit Petra and attractions in Jordan, this is a great way to save money as it covers multiple attractions for a lower price. It also waives your tourist visa fee (40 JOD) if you purchase the pass before arriving in Jordan and stay for at least 3 days in the country.
Buy a prepaid SIM card so you have data on your trip, making getting around and finding information much easier. The main carrier here is Zain, which has a booth at the airport.
While this is the most convenient place to get a SIM card, they only offer one tourist package of data which is more expensive than what you'll pay if you go into a local Zain in Amman (I made this mistake).
Dress appropriately – Although Jordan is not an overly conservative country, you'll still want to dress appropriately to avoid unwanted attention from men (especially as a solo female traveler). Don't worry about covering up head to toe, but I recommend loose-fitting clothes that covers your knees and shoulders.
Is Jordan Safe? Yes, I felt extremely safe while traveling in Jordan. The locals here are some of the kindest people I have ever met! You will be constantly welcomed, and if you ever need help, you won't need to look far.
Like any country, you'll want to keep an eye on your belongings and avoid walking alone at night. But compared to many other countries in the Middle East, Jordan is an exceptionally safe country to visit.
How long to spend in Jordan?
I spent ten days in Jordan and felt it was a perfect amount of time to see the country's highlights while having some time to relax in Amman afterward.
That said, there are many places in Jordan I still want to visit, and I easily could have spent another week or two in the country. But if you're limited on time, Jordan is a country where you can see a lot in a short time frame due to its small size.
When is the best time to visit Jordan?
The best time to visit Jordan is in spring, from March to May, when the temperatures are moderate and the days start getting longer.
I visited Jordan during the last week of March, and unfortunately they had a cold snap that week, which made it very chilly while sleeping in the Bedouin tents (some nights, it was 0°C). I would have preferred it to be slightly warmer, but for hiking, it was perfect.
The summer season gets sweltering, and during the winter, it will be pretty cold in the deserts, making the shoulder seasons the best time to visit.
—
I hope this post could help you plan your itinerary for Jordan! For more inspiration, check out these posts: