This post may contain affiliate links. By clicking and making a purchase through the links, I earn a small commission at no extra cost to you. This allows me to keep the site up to date and expand on resources. Thanks for reading!

In early November I made a last-minute decision to move to the small Caribbean island paradise known as Barbados. Although I knew virtually nothing about Barbados before coming here, it was hands down the best decision I made in 2020. Living in Barbados has been nothing short of a dream!
A lot of you have been asking about my life here, so here's the full scoop on why I moved here and what it's like living in Barbados right now.
Why did I move to Barbados?
As we all know 2020 was an absolute mess for travel. After getting locked down in Italy, I returned back to my hometown (St. John's Newfoundland) for the first time in 8 years and lived there for almost 7 months which is insane.
My mental health was deteriorating being there, and I knew I needed to get abroad again. Europe opened back up to Canadians in the summer so I made the decision to move to Portugal. However, I wanted more than the 90 days tourists get so I applied for a one-year working visa. It took a couple of months to process, and unfortunately right after I got my passport back things started to spiral in Europe again.
After a lack of socialization this year, I wasn't feeling good about moving to a place where I could potentially be locked down again and find it difficult to meet others. On top of that, the airline called me en route to Toronto from St. John's and told me I couldn't board my flight unless I was a Portuguese resident.
I took it as a sign from the universe and canceled my flight for credit. At this point, I was already in Toronto Pearson airport with my bags packed ready to go – just no destination.
Amidst all of this, I had been chatting with my friend Nicola from See Nic Wander who had been living in Barbados for the last few months. She told me about what life was like there, sent me some photos, and before I knew it I was on my way.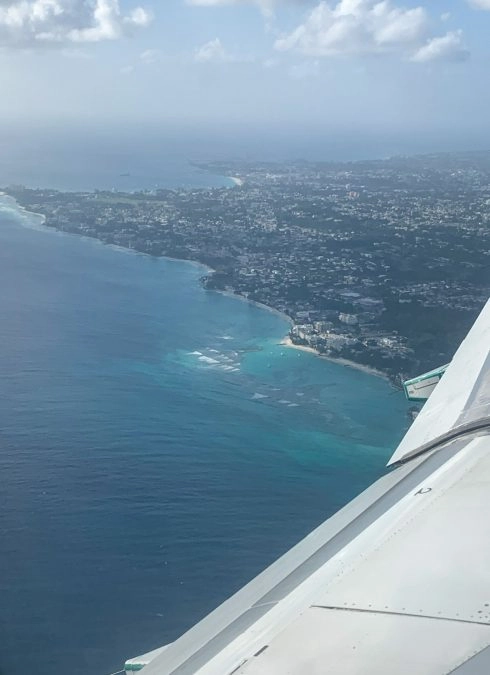 I knew very little about Barbados before moving here, but it's one of the best decisions I've ever made.
The process of traveling to Barbados right now
Barbados opened it's doors to international tourists in July, but there are protocols in place to make sure COVID numbers stay low. The tourism department has done a great job of explaining this on their website. I've also made a TikTok video about it!
The exact steps you need to take depend on where you're coming from. Essentially, every country is assigned a risk level (very low risk to high risk), which determines what you will need to do before and after getting here in terms of PCR tests and quarantines.
Here is what happened to me coming from Canada, which is considered a high-risk country. I had to get a negative PCR test 72 hours before coming and fill out a form online 24 hours before my flight.
Once I arrived at the airport I showed my negative test results, then went to an approved quarantine hotel via an approved taxi (they arrange the taxi for you).
The next step is to do a second PCR test in Barbados 4-5 days after the results of your first one, which you can do for free at a government facility, or pay for private testing that come to your hotel. I did my second test the morning after I arrived at the government facility which took about an hour.
While waiting to take my test and get the results, I had to be in quarantine. Quarantine is really not bad here, as they have a long list of approved quarantine hotels and villas – some of which are quite nice and even have pools!
I stayed at Plum Tree Club in Rockley Golf Course which was good because I had my own apartment with a kitchen, but there are definitely nicer places to stay like the Crane Resort where you get access to a pool. You can even do your second test on-site here! I also may be bitter at Plum Tree Club because I'm pretty sure it's where I got dengue fever.
I decided to go the free testing route, but looking back I wish I had just paid for private testing because I waited so long for my results. I got tested the morning after I arrived (Thursday) and was told I would receive my results within 24 hours but I didn't get them until Sunday afternoon – and I was constantly calling to ask them about the status. From what I understand, those who pay for private testing route get the results faster.
You also must report your temperature twice a day to a health officer for your first 7 days in Barbados. I did this over WhatsApp.
Once you had your second negative test you are free to enjoy the island! If you are coming from a very low-risk, low-risk or medium-risk country you will have a different and easier process then what I described – visit the website for the most up to date info.
Check the latest Barbados travel protocols here.
What it is like living in Barbados during the pandemic
IMPORTANT: The thoughts below are a reflection of my time living in Barbados from November to December 2020. Due to rising COVID numbers, effective Jan 2nd-14th the government has issued a new directive that limits social gatherings and sets a 9 pm curfew.
I wrote this before the new directive came into place but am still going to share it as so far the situation is under control and I hope to return to the amazing Barbados lifestyle I have experienced the last few months again soon. Please follow the Barbados government website for the most up to date information and stay safe!
Living in Barbados the past few months has been an absolute dream. My only regret is not getting here sooner!
While there are still precautions in place such as temperature checks, contact tracing, hand sanitizer, and face masks in indoor spaces – life feels very normal here.
Amazing social atmosphere
Having a social life again has been so good for my soul. I go out almost every night of the week here for drinks or dinner with friends. There are quite a few restaurants and bars spread throughout the island and it's not hard to find one that's lively.
One thing I really love about Barbados is that there's live music happening all the time! Mojos has a great reggae band every Wednesday and Surfers Bay does a jam session every Sunday, but you can find music all over the island.
Barbados has a pretty good nightlife overall. I've spent many a night here out until 4 am. You won't find fancy night clubs here, most places have large outdoor spaces with the bar inside. That said, but I've had some great nights out dancing here!
Not to mention all the beach clubs and catamaran parties, which are some of my favorite memories here.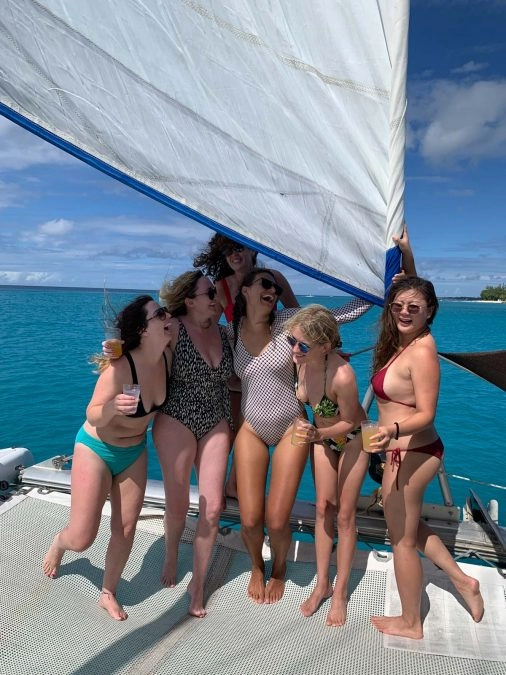 It's been very easy to meet people in Barbados. While the nomad population is small, it's growing quickly and very active. There are Facebook, Slack, and Whatsapp groups you can join to connect with others and find out what events are going on. There are also monthly nomad meetups.
The locals here are also extremely friendly and will always say hello to you when you're passing by! Overall, I have found the atmosphere here very warm and inviting.
And don't worry, drinking isn't the only thing to do here. There's a lot of other ways to meet others, which brings me to my next point.
Active lifestyle
It's very easy to stay active in Barbados. There are so many amazing outdoor things to do here whether that's surfing, swimming, snorkeling, hiking, diving, mountain biking, or windsurfing – just to name a few!
Joining one of these activities is a great way to meet other people in Barbados. I had no idea before coming, but Barbados is a world-class surfing destination. Most of the groups of friends I've made here got started through surfing!
If you're new to surf, you can join group lessons (I highly recommend Bodie's school of surf) or just rent a board and hit the waves on your own. Everyone who surfs is super friendly and there's lots of time to chat while you're waiting for a wave. The southcoast is best for beginners while the east coast has way bigger waves.
If surfing is not your thing, there are a ton of other activities where you can meet people. I joined a dive club, and go on regular hikes with a hiking group. There are also Whatsapp group for all these activities!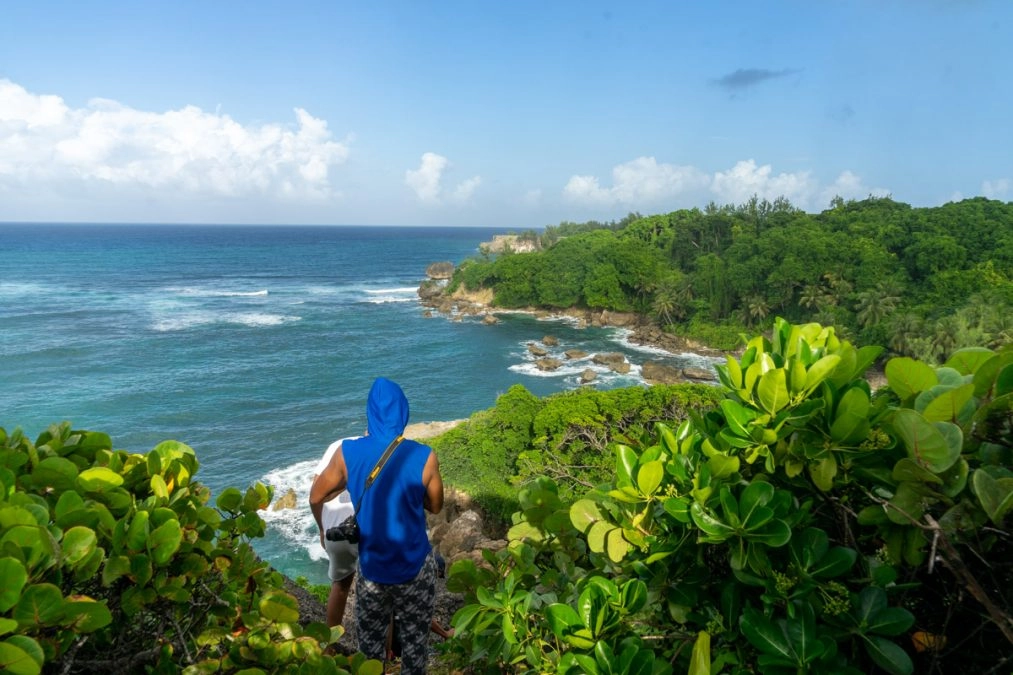 Of course, you can always just hit one of the beautiful beaches in Barbados and swim with the friendly sea turtle residents. There are so many of them here, which is one of my favorite parts about living on the island.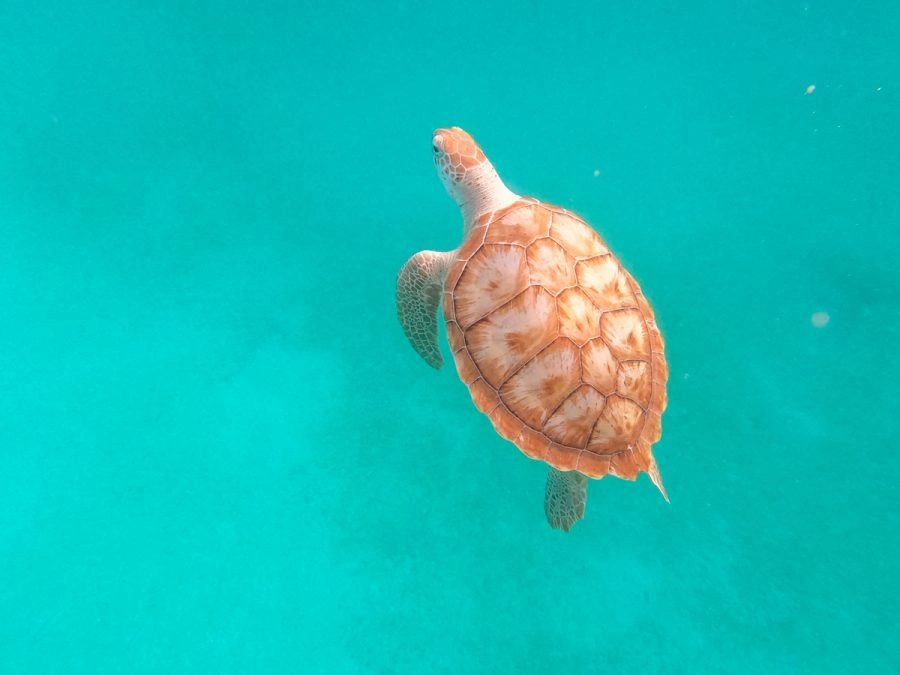 Great for digital nomads
Barbados is the perfect destination for digital nomads. Most of the friends I've made here are working online and staying for at least a few months, if not longer. The country recently launched a 'welcome stamp' allowing remote workers to live on the island for 12 months! You can apply online here.
The wi-fi in Barbados is excellent, and there are a lot of beautiful cafes to work from. Ditch the four falls and come work by the beach! Check out some of the cafes I regularly work from.
Lots of natural beauty
Barbados is a small but stunning island. You can definitely expect picture-perfect Caribbean beaches, but there are also gorgeous jungle areas and caves to explore! One of my favorite things to do is just drive around Barbados and explore the different landscapes of the island. Each coast is so different!
Most businesses seem to be running in Barbados. I haven't had any problem booking tours in the last few months, the only thing that's been closed that I wanted to visit was Harrisons Cave. The best part is there are way fewer tourists here than usual, so you have more of Barbados to yourself.
I've fallen head over heels for Barbados the last couple months and can't recommend it as a destination enough!
Is Barbados an expensive destination?
I'm not gonna pretend Barbados is a budget destination, but it's not as expensive as one would think. Yes, there are crazy expensive beachfront villas you can rent, but there is also a lot of affordable accommodation. You can save SIGNIFICANTLY on accommodation by renting longer-term (even a month can make a huge difference). If you buy groceries and cook at home that helps a lot too!
There are organized tours that can add up, but beaches are free to visit and swim in, and SUP rentals and surfboards aren't too expensive to rent. There are plenty of amazing things to do in Barbados for free or at a low-cost.
Renting a car will add to your expenses, but there are public busses you can take which are pretty easy to use and only cost $1.75.
I'm spending about as much as I was living in Toronto (less than $2500 USD/month) and I have my own apartment, eat and drink out regularly, do daily activities, and use public transport. I'm going to be writing a post about budgeting in Barbados soon, so stay tuned for that!
—
Overall, living in Barbados has been nothing short of a dream and I'm so grateful for my decision to move here.