This post may contain affiliate links. By clicking and making a purchase through the links, I earn a small commission at no extra cost to you. This allows me to keep the site up to date and expand on resources. Thanks for reading!
The most common question I get asked after telling people I just traveled the world for a year is "what was your favorite place?" Honestly, I can't pick one. I've loved pretty much everywhere I've visited in its own way, but there are some places that stand out in my mind.
Here are my top 10 destinations of 2018, that all great places to travel in 2019. These places don't have that much in common, other then they all stole a piece of my heart (listed in order of my trip).
Top 10 Destinations of 2018
Utila, Honduras
Utila is a tiny island in Honduras where I spent a week learning to dive. Getting my PADI diving certification was hands down the best decision I made this year. It's been an incredible experience to discover an entirely new part of the planet, but none of it would have been possible had I not gone to Utila.
I spent a week in Utila learning to dive at Underwater Vision. I cannot stress how much I recommend this place for anyone interested in learning to dive. I had so much fear and anxiety about diving and the amazing instructors at Underwater Vision were able to get my past all of this. Now I feel completely calm when I go diving.
On top of that, Underwater Vision and Utila have the most amazing atmosphere. I've dived in many places around the world since then and nothing compares to the vibe of Utila. If you want to learn to dive this year, Utila is the perfect place to travel in 2019!
Puerto Viejo, Costa Rica
Puerto Viejo is a small town in the southeast of Costa Rica with its own unique vibe that makes it stand out from the rest of the country. I love Puerto Viejo because it combines the laid back Pura Vida lifestyle of Costa Rica with the Caribbean, which makes for a super chill yet always fun atmosphere.
At times walking around it felt reminiscent of Jamaica. You can surf, bike, or kayak your way through this gorgeous small town during the day, and party all night on the beach. Puerto Viejo is also home to the Jaguar Rescue Center, a not for profit organization doing great work to protect Costa Rica's wildlife.
San Blas Islands, Panama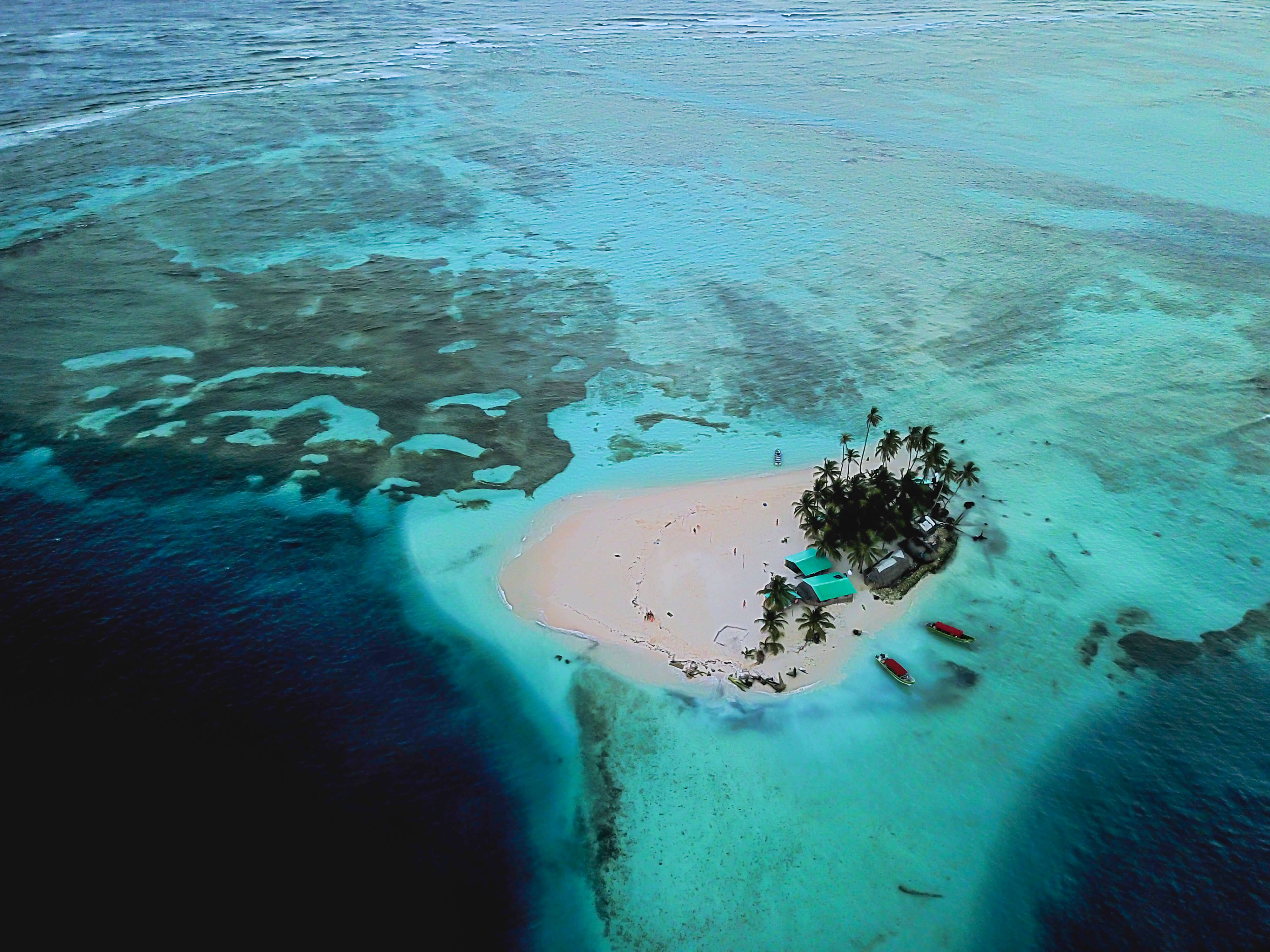 The San Blas islands are an archipelago between Panama and Colombia. Visiting the San Blas Islands is not only a great way to travel between the two countries but an epic adventure through some of the most remote and beautiful islands on the planet.
The area has approximately 365 islands and cays, of which only 49 are inhabited by the indigenous Kuna people. There are a few tour operators that visit the islands including San Blas Adventures which works in partnership with the locals and is an excellent example of responsible tourism.
When you arrive on the islands it will only be your crew from the ship and the supplies brought. With no cell phone reception or wifi, spend your days relaxing on the beautiful beaches, drinking fresh coconuts, or snorkeling in the nearby water where you can find colorful coral reefs, tropical fish and manta rays. If you need a break from the world and an escape into paradise the San Blas islands are a great place to travel in 2019.
Ushuaia, Argentina
Ushuaia is where I fulfilled my childhood dream of walking among hundreds of penguins. so it will always have a special place in my heart. Aside from the Penguins, this city has many great features about it. Ushuaia is the most southerly city in the world, so It's fun to be there and know you've made it to the end of the world.
Ushuaia is also the gateway to Antartica, and if you're lucky you may find a last-minute discounted cruise deal there. Ushuaia is part of Patagonia and the landscapes here do not disappoint. The area is full of a number of great hikes to do like Laguna Esmeralda pictured below.
If you are looking for a remote place to visit to get back in touch with nature, Ushuaia is a great place to travel in 2019.
San Pedro de Atacama, Chile
San Pedro de Acatama is a small town in the middle of the Atacama Desert. The landscape surrounding San Pedro de Atacama is so unique from anywhere else in the world. It has a number of impressive salt flats, and high lagoons, which you can swim/float in due to the high concentration of salt in the water.  All the salt flats make for some amazing reflection photo ops.
What stole my heart in San Pedro was the night sky. The desert is among the top stargazing spots in the world, every night you can see billions of stars around you. One of my favorite tours I did this year was in San Pedro.
We visited an astronomers house where he gave us a crash course in astronomy, and then let us view the night sky through giant telescopes. We saw Neptune, Jupiter, and twin stars! I'm still geeking out about how cool this tour was. If you love astronomy, San Pedro de Atacama is the best place to travel for stargazing in 2019.
Galápagos Islands, Ecuador
The Galápagos Islands are a volcanic archipelago in the Pacific Ocean, about 600 miles off the coast of mainland Ecuador. The Galapagos Islands are among the most interesting places I've ever visited because of the unique natural landscape and wildlife. Due to the lack of human presence on the islands until recent years the wildlife does not have any fear, so you can get up close and personal with the local residents.
Galapagos is also home to some of the best dive sites on the planet. Diving Gordon Reefs off the coast of Santa Cruz was my top dive this year, we swam with dozens of Hammerhead sharks and sea turtles bigger then you could ever imagine. The Galapagos offers so many incredible tours offering visitors a chance to see the unique wildlife. If you are a wildlife lover, Galapagos is the best place to travel in 2019 for up-close wildlife encounters.
Kuala Lumpur, Malaysia
I generally prefer smaller towns over cities when I'm traveling but there's something about Kuala Lumpur that stole my heart. Even though I didn't intend to visit Malaysia on this trip, I flew to Kuala Lumpur because it was the cheapest entry point into Asia, and ended up spending a few days there before going to Sri Lanka.
I'm so happy that I did, because I fell completely in love with Kuala Lumpur. It's a vibrant, multicultural city with beautiful sights and incredibly tasty (and cheap) food. The city feels luxurious but there are many affordable activities to do, places to eat, and places to stay. I rented this Air BNB (Regalia Residences) for $40/night which included a beautiful one bedroom apartment and THIS amazing rooftop pool with the best view of the KL skyline.
If you are planning to travel to Asia in 2019, Kuala Lumpur is a great entry or exit point. Plus, if it's your first time using AirBNB you can get $45 credit by clicking this link, which means one night free accommodation with this skyline, yay!
Unawatuna, Sri Lanka
Sri Lanka is in my top countries that I visited this year, and Unawatuna was my favorite beach town there. Just two hours south of the capital, Unawatuna is a small, but lively beach town where you can swim, surf, relax, or party.
A big part of the reason I loved Unawatuna so much is because of Kush hostel. This eco-friendly hostel is located in the middle of the jungle, yet still minutes away from town. They offer unique accommodation options, private or dorm rooms, in Tipi houses. The hostel has a super welcoming atmosphere about it, you will feel right at home as soon as you walk in. If you are planning to travel to Sri Lanka in 2019 and want to make quick friends, Unawatuna and Kush hostel is a great place to start your trip.
Rishikesh, India
Rishikesh is the perfect hippy yogi paradise.
Located in the Himalayan foothills beside the Ganges River, Rishikesh is my favorite city that I visited in India. The city is known as one of the best places in the world to study yoga and meditation, which is apparent as you walk through the town, full of yoga schools, healthy cafes, and ashrams.
I stayed at Moustache Hostel, which has beautiful views of Rishikesh from the rooftop and offers daily yoga classes. Plus, they have the cutest dog. I don't know if it's my inner yogi but I felt a deep connection to this place. Rishikesh is the perfect place to travel in 2019 if you want to chill out and get in touch with your inner self.
Pokhara, Nepal
If you are an adventure seeker Pokhara is the perfect town to visit. It's the base for treks to the gorgeous Annapurna mountain region. Don't even worry about planning, in the town of Pokhara you can book treks last-minute ranging from just a couple of days to month-long treks. The town of Pokhara also sells everything you need to go trekking at affordable prices.
Pokhara is also one of the top destinations in the world to go paragliding. I never thought I would have the courage to jump off a cliff but after a year of traveling around the world I found some, and I LOVED my experience. We floated in the air with eagles soaring next to us and the Himalayas as the backdrop. It was magical.
If you need more adventure after trekking in Nepal, nearby to Pokhara is the Trishuli River where you can do some epic world-class river rafting through. If you are looking for some adventure in the new year, Pokhara is the perfect place to travel in 2019.
View this post on Instagram
I still can't pick just ONE place that was my favorite this year, but these ten definitely rank high in my heart. If you're looking for a unique place to travel in 2019, consider one of these amazing destinations for your next trip!