This post may contain affiliate links. By clicking and making a purchase through the links, I earn a small commission at no extra cost to you. See my disclaimer for more information. This and display ads allow me to keep the site up to date and give back.
Argentina is one of my favorite countries – it has everything you could ever want to see. There's so much to add to your Argentina itinerary, from the glaciers of Patagonia to the waterfalls of Iguazu to the vibrant city of Buenos Aires and world-class wineries in Mendoza.
If you are thinking about a trip to Argentina, just go. You won't regret it.
In this Argentina travel guide, I'll walk you through the best places to visit in Argentina, itinerary suggestions, and tips for making the most of your time.
How many days do you need in Argentina?
I spent six weeks backpacking through Argentina and still didn't get to see everything I wanted too!
Argentina is a massive country – you could spend months traveling through the country.
That said, any time spent in Argentina is time well spent. How many days you need in Argentina depends on what types of activities you want to do.
If you're planning to spend time hiking in Patagonia, you'll need at least a week as the distances are so large between towns.
But if you're just looking for a city break, you could visit Buenos Aires in a weekend. But fair warning – you may never want to leave!
To see a few different areas in Argentina, I recommend spending at least 10 days. At the end of this post, I have suggested various itineraries for exploring Argentina.
Getting around Argentina
I mainly used the bus to get around Argentina, which meant I spent a lot of time on buses because of the long distances. The good news is that buses in Argentina are comfy, and some even come with meals!
To look for buses in Argentina, search on Busbud.
Argentina is also a fabulous road trip destination so if you're comfortable driving, you could rent a car.
If you're short on time, there are also many regional direct flights that go around Argentina. If you are short on time and want to see a lot of the country, you will have to fly as the distances are vast.
I flew from Buenos Aires to Iguazu to save time and then flew from there to Salta.
Best places to visit in Argentina
Buenos Aires
As one of the main international transit hubs and capital city, Buenos Aires is where many people start their trip in Argentina.
It's well worth spending some here, as Buenos Aires is one of the best cities in South America. There's so much to see and do here!
Here are my top recommendations for things to do while visiting Buenos Aires to add to your Buenos Aires Itinerary.
Things to do in Buenos Aires
Go to a live show
Buenos Aires has such a great nightlife and entertainment scene. They have everything from electronic clubs, live jazz, full orchestras, and of course – tango shows!
There are dance clubs all over the city, and you can even find locals performing tango in public places for tips.
While visiting Buenos Aires, I attended La Bomba De Tiempo, a 17-piece drum ensemble performance that happens every week.
The energy coming from the performers and audience is so much fun to take part in. What better way to start off the week than dancing?!
Eat all the Asado
Meat is basically a religion in Argentina. Asado, which is is similar to what we know as 'BBQ' in North America, is one of the best things to do here. Argentinians know how to cook meat!
If you're lucky enough to meet some friendly locals, you may be invited to an Asado gathering by them, but if not, many hostels in the city will also host Asado nights. Just don't expect to eat until 11 pm or later; this is the standard here.
And drink all the wine
What would Asado be without a glass of red wine to go with it? Argentina is home to some of the best wines in the world and they are relatively inexpensive, so indulge!
Party until dawn
When you eat supper at 11 pm going out at 2 am begin to seem normal. The bars stay open here very late. Like past the break of dawn.
I highly recommend having a nap in the early evening to prepare your body for an all-night adventure! There are plenty of craft breweries to explore in the early evening as well, but the nightlife really picks up past 2 am.
Watch a football game
If there's one thing Argentines love as much as the meat, it's probably football. Buenos Aires has several football stadiums where you can see a live game.
Outside of the stadiums, you will also find locals playing football in any green space available. If you see a group playing, just ask to join in and they will be happy for you to join!
Explore the beautiful neighborhoods on a free walking tour
Buenos Aires has a vast amount of gorgeous neighborhoods to explore, and luckily there are tons of free walking tours to do to learn all about them!
Check out Buenos Aires Free Walks, which offers free tours of the City Center and Recoleta (where you can see Recoleta Cemetery), as well as paid tours of Palermo and La Boca.
Explore the local markets
It seems that the markets in Buenos Aires are as countless as the neighborhoods. There are so many different markets to explore!
My two favorites were the Palermo SoHo market on the weekends for its hipster clothes and the famous Sunday San Telmo market for its eclectic collection of crafts and antiques.
Chill in the park
Buenos Aires may be a busy city, but they also have a lot of parks that you can relax in.
A great escape from the hustle and bustle is the Ecological Reserve located on the east side of the Puerto Madero neighborhood.
If you really need a break from the city take a day trip to nearby Tigre, a popular weekend destination for locals where you can relax on the delta and enjoy the latte-colored rivers.
Learn Spanish
While knowing Spanish isn't essential to visit Argentina, it will make your trip more enjoyable as not everyone can speak English, and the locals will appreciate your effort.
If you want to take Spanish classes while in Buenos Aires, I recommend Academia Buenos Aires. I spent a week taking classes here.
The school is located right in the city center, they have great instructors, and free activities are included with your course fee.
Okay, after you've eaten your weight and partied all night in Buenos Aires, it's time to visit one of the most magnificent wonders of the world.
Iguazu Falls
Iguazu falls is one of the natural wonders of the world and a must on your visit to Argentina.
How to get to Iguazu Falls from Buenos Aires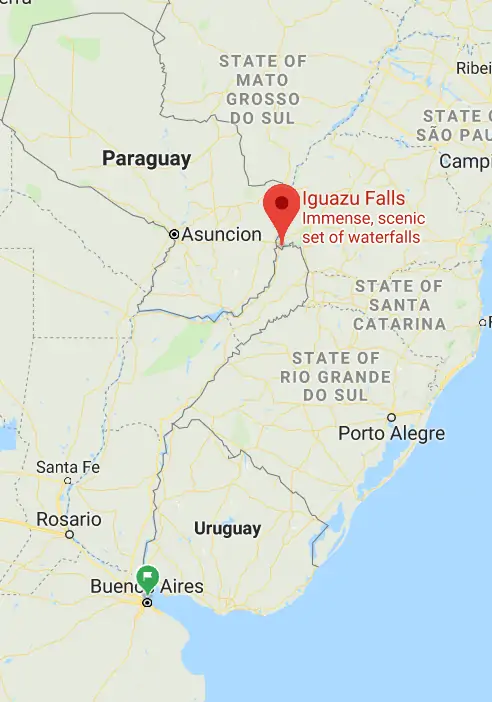 The falls aren't exactly the easiest place to reach, as they are way up on the top of the country, shared with Brazil and Paraguay.
They can be accessed from either of those countries, and many travelers go on to Brazil from the Argentinian side.
if you're coming from Buenos Aires, it's at least a 17-hour bus ride to get there. I had just done two 24-hour bus rides from Patagonia in the span of 5 days, so I decided to fly.
There are domestic flights that go from Buenos Aires to Iguazu falls with Aerolinas Argentina and JetSmart.
Where to stay in Iguazu Falls
Puerto Iguazu is the main town around Iguazu Falls.
It felt very different than the rest of Argentina, with a tropical climate and Brazilian influence next door, but I really enjoyed my time here.
There's not that much to do other than go see the falls but the climate is warm and tropical, so it's a nice place to chill out and enjoy the sunshine- especially if you get accommodation with a pool!
I stayed in Butterfly Hostel, which had a nice communal atmosphere and an outdoor pool to relax in.
If you're looking for something more private, Jacy Hotel has great reviews. It offers large rooms, a restaurant on-site, and an outdoor pool.
Visiting Iguazu Falls
The public transportation system works well here, you can easily get from the Puerto Iguazu bus terminal to the falls.
You can visit the Argentinian or Brazilian side of the falls, and both offer a different perspective.
From the Brazilian side, you get a full panoramic view of the falls. From the Argentinian side, you get closer and many different viewpoints. Iguazu is made up of 275 waterfalls, so there's a lot to see!
I didn't have a choice since, at the time, Canadians required a visa for Brazil, and I couldn't justify the cost/hassle for a day. So I spent my time there exploring from the Argentina side, which was magical!
You'll want at least a full day to explore the park – there are six different trail circuits you can do! Some people even come back for a second day.
We managed to do three trails in one of exploring the park, which allowed for many different viewpoints of the falls.
The lower trail allows you to get very close (and wet!) to the base of the falls.
I have visited many incredible waterfalls in my life, like Niagara Falls but Iguazu was something special. I can't even imagine what it was like to discover these in the middle of the jungle!
Another awesome thing about visiting Iguazu national park is the wildlife in the park, including an incredible amount of unique butterflies. I have never seen so many at once in my life!
It was magical walking through the jungle with thousands of butterflies around you. Iguazu is home to the '88 butterfly', named for the 88 markings they have on their wings.
Coatis are also rampant in the park, especially near the food areas. Most people find them annoying, but I think they are cute!
Just watch out if you're having lunch cause they will try and steal your food.
Places to visit in Patagonia
Patagonia has some of the most striking landscapes on earth.
With majestic mountains, snow-capped peaks, and picturesque lakes at every turn, it's a paradise for nature lovers and adventure seekers.
If you're into the outdoors, Patagonia needs to be on your Argentina itinerary.
Patagonia is made up of both Argentina and Chile, so if you're traveling around the region, it's likely you'll be hopping between the two countries.
There are many options for getting there and around.
I actually started my trip in Argentina by flying into Ushuaia and then making my way up north via bus through Torres Del Paine National Park, El Calafate, El Chalten, San Carlos de Bariloche, and from there, onto Buenos Aires.
Taking busses through Patagonia is not for the faint of heart. Many are more than 24 hours, as the distances are so long!
If you're short on time, many people also fly from Buenos Aires.
Ushuaia
Ushuaia is the southernmost city in the world and one of the most special places in my heart. It's so fun to say you've made it to the end of the world!
It's among the best places in the world to see penguins in the wild, and where I fulfilled my childhood dream of walking among hundreds of penguins.
Aside from penguins, Ushuaia is a great place to go hiking and experience the stunning landscapes of Patagonia. One of the best places to go hiking in Ushuaia is Tierra Del Fuego National Park.
You can also do boat tours along the Beagle Channel, where you can see elephant seals, penguins, and other wildlife! I did one as a combo with my penguin walking tour, and it made for a fantastic day.
Ushuaia is also the gateway to Antartica, and if you're lucky, you may find a last-minute discounted cruise deal there.
Torres del Paine National Park
Ok, so Torres del Paine National Park is actually in Chile, but it's an easy add-on to your itinerary as the park borders the two countries.
I got a bus from Ushuaia to Puerto Natales, which is the town closest to the park.
Trekkers come from all over the world to complete the famous W or O loop in Torres Del Paine.
While I would have loved to do this, due to poor planning and time constraints, I could only do day hikes. But the day hikes in Torres Del Paine are no disappointment!
Puerto Natales
Puerto Natales is the closest city to the park, although it's still two hours away via bus.
The city is small, but I enjoyed my time there. There are nice walks you can take along the coastline where you can see the mountains across the water.
Trekking in Torres Del Paine National Park
Most people who come to Torres del Paine National Park do the famous W hike, which takes 4-5 days. Because this park/trek is so popular, you have to book camping reservations or book a tour in advance.
I wasn't so organized, so I ended up just doing day hikes in the park from Puerto Natales. You can get a bus to the park from the main depot, just make sure to get the earliest bus and time your hike to get the last one back.
You can hike two of the main trails that are part of the "W" trek as day hikes, including the famous Base Torres Viewpoint trek.
Trekking Base Torres Viewpoint Trek
Base Torres Viewpoint Trek is the section of the W trail that people either end or begin with. It leads you to the three Torres (towers), which are one of the most striking landmarks in the park.
Distance: 18km
Duration: 8 hours
Total Altitude Change: 120 – 870 MSNM
To get to the trailhead for Base Torres Viewpoint Trek, you have to catch a minibus from the park entrance. You could walk from the entrance, but it's 7km of unexciting road, so I wouldn't recommend spending your energy on that before the trek.
The first three hours of the hike are relatively moderate, taking you through beautiful views of the snow-capped mountains and gorgeous forests.
I was surprised at the difficulty in the last section/hour of the trek.
It had only started snowing in the park a couple of days before (the start of winter), but the section was already covered in snow/ice. This section is quite narrow as you have to climb up rocks, and they are very slippery.
The summit of the trek is stunning as you approach the turquoise water set against the towering mountains. While I was there, the Torres were partly covered by the clouds, but often they can not be visible at all.
I waited around with some others hoping the clouds would dissipate until a park ranger told us it was time to go back. They actually close off the entry to the top part of the trail around 3:30 pm.
If you have an extra day or two on your itinerary, it's worth adding on a visit to Torres Del Paine national park to see the Torres!
El Calafate
El Calafate is the gateway town to Perito Moreno glacier. This stunning 250 km2 glacier is impressive, to say the least.
What makes Perito Moreno even more special is that you can actually go trekking on the glacier! This unique tour was one of the best activities I did while traveling through Argentina.
How to Visit Perito Moreno Glacier
Perito Moreno Glacier is located just outside of El Calafate, inside Los Glaciares National Park. The park was declared a UNESCO world heritage site in 1981.
The park is about a 40-minute drive from El Calafate.
Patagonia is a great place to rent a car, but if you can't, there are also busses that provide round-trip transport from El Calafate to the park. Alternatively, you could book a taxi there and ask them to wait for you while you explore the park.
Split with a few people, it's more or less the same price as a bus but much more convenient as you aren't stuck to one schedule. Hitchhiking to the national park is also an option and relatively common here.
The glacier is huge, and there are quite a few viewing platforms, so you'll want to give yourself at least a few hours here to properly explore the park.
Perito Moreno glacier is a popular spot, so I recommend getting here early in the morning to avoid the crowds or sticking around late in the afternoon. During the middle of the day, the viewing platforms will be packed!
There are also boat cruises you can take in the park, which will bring you closer to the glacier. You can either book this at the park entrance or arrange it beforehand.
Perito Moreno Mini-Trekking
One of the best ways to explore Perito Moreno Glacier is to do a trekking tour. There are two options available: the mini-trekking, and the Big Ice Trek.
I opted to do the mini-trekking tour, which was an incredible experience!
The tour started with pick up at your accommodation in El Calafate for a 40-minute drive to Los Glaciers National Park.
Once at the park, you continue a stunning 20-minute drive through gorgeous scenery to the boat dock. From the pier, it's a 20-minute boat ride toward El Calafate glacier.
There you meet your guides for the trek, put on the crampons, and head on to the glacier. You trek in total for about 1 1/2 hours through the glacier.
On the trek, the guides will stop for photo ops and to introduce you to the fascinating landscape of the glaciers: streams, small lagoons, gullies, crevasses, and plenty of ice formations of varying shades of blue.
The car/boat ride to the glacier is with a large group but before the hike, they divide everyone into smaller groups of no more than 15.
Somehow I ended up in a group of very excited Uruguayan men, which was a hilarious experience. I've never seen so many grown men taking selfies of themselves!
At the end of the tour, they give you a glass of scotch on the glacier to enjoy on the glacier.
We also got to go inside an ice cave that was carved by a river that flowed through the glacier. It was so magical inside, with blue natural fluorescent light and ice formations that looked like pieces of art.
The ice caves are not always there, and the guides can only bring you inside when it's safe, so this is not a guaranteed part of the tour.
The entire Perito Moreno mini trekking tour takes about 8 hours. It's a wonderful way to spend a day in El Calafate!
Where to stay in El Calafate
Budget: I stayed at America Del Sur Hostel, which is one of the best hostels I stayed in all of Patagonia. The staff are great, and they have a tour booking center at the hostel.
America Del Sur hostel has a social vibe, beautiful views of the lake, and a delicious onsite restaurant and bar. The steak and wine dinner is amazing!
Mid-range: Hotel Kosten Aike is set in a beautiful alpine-style building with a spa and fitness center. It offers affordable, clean, and spacious rooms with an impressive 9.0 rating and over 500 reviews.
Luxury: EOLO Patagonia Spirit is a stunning, high-end hotel in El Calafate. With huge glass windows, each room promises impressive views of the scenery. Plus, they have an in-house spa and swimming pool!
What Else to Do in El Calafate
The main attraction in El Calafate is Perito Moreno glacier, but there are a few other things to do here. There are actually two other glaciers here, Upsala and Spegazzini.
Laguna Nimez is the lake in El Calafate, which is just a short 15-minute hike away from the center of town. It's an ecological reserve so you can see many birds there, including the Chilean pink flamingos.
El Chalten
El Chaltén is a small, beautiful town surrounded by mountains. What's so great about it is that all the treks in El Chaltén are accessible by walking from the main town, so you don't have to pay for any busses to get to the trailheads.
On top of that, there's no entry fee to get into any of the hikes. It's all one big park, and they don't even charge you when you arrive. Plus there are a ton of different trekking opportunities in El Chaltén.
Laguna Torre (10.8 KM)
Laguna Torre is a gorgeous, relatively easy three-hour hike (10.8km) to a glacier lake. There are several well-marked trails that leave from El Chalten.
The first part of the trek (2.5km) is a very steep hill, but the rest of the way is mostly flat. It's all gorgeous, especially as you start to see Fitz Roy in the background.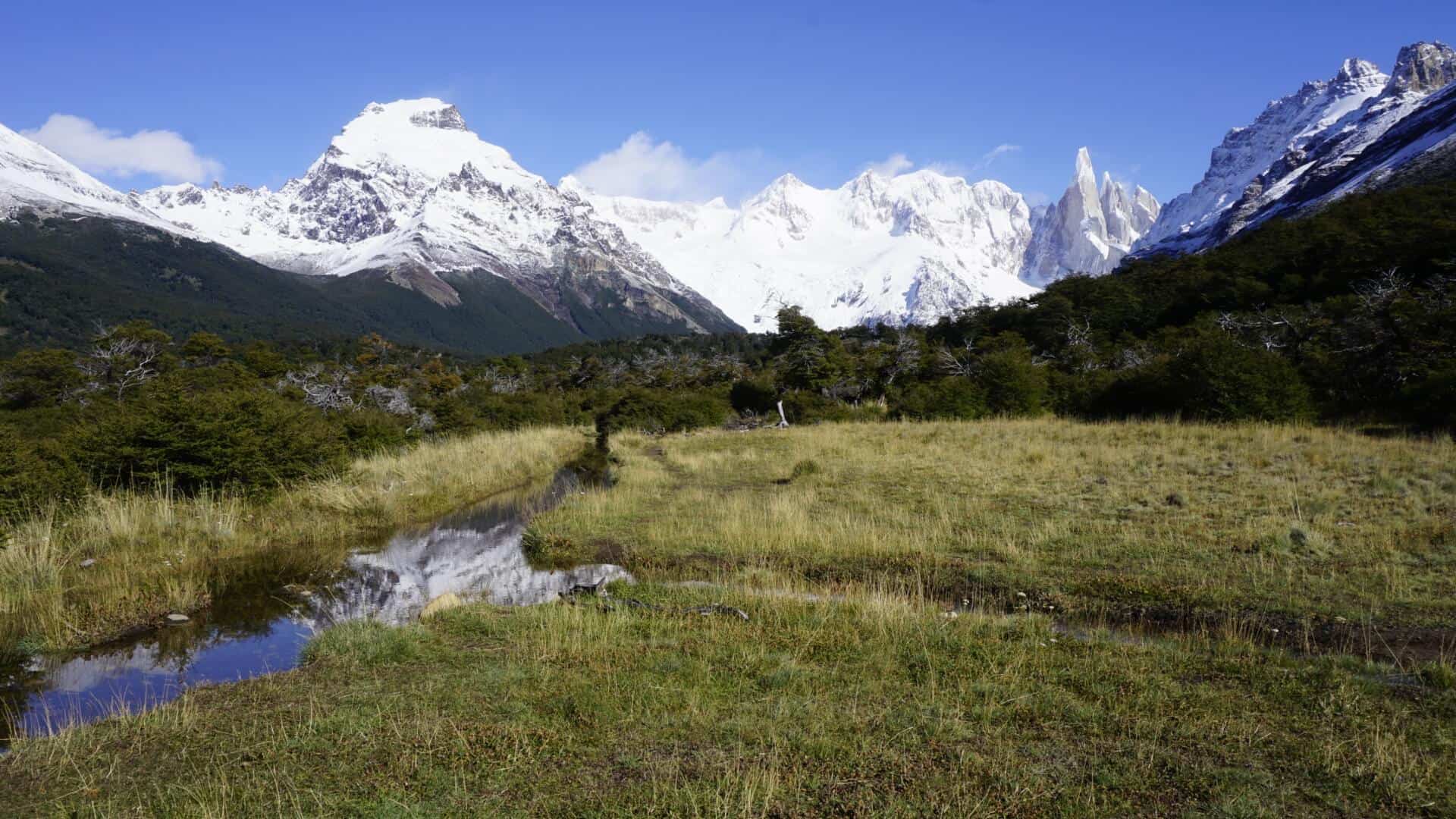 It takes about three hours to get to the lake. From there, it is possible to go down to the Torre lagoon or to continue along the same ridge for another 2 km to the Maestri viewpoint to get even closer to the glacier.
This section is more challenging as it's extremely windy on the trail, but it is worth it to get closer to the glacier. I also liked this section because there was hardly anyone else there.
Laguna de Los Tres / Fitz Roy (26 km)
This hike is 10km, but I found it much more difficult than the Laguna Torre (mainly the last km).
There are two options for this hike: you can either hike up and down from town the same entrance point, or you can get a bus in the morning that will bring you to a different trailhead, and then take the other way back into town after the hike.
We opted to do this because you get different views (more of the glacier), and it's also slightly less steep going up.
The trail will eventually meet up with the other one at the 8 km mark. Once you get to the 9km mark, there is a rest stop and a giant sign indicating that the next km is very difficult (400m accent), and you should be in good shape to do it.
I would have to agree with the sign, I found it pretty challenging, especially after a sore ankle from hiking the day before. However, the views at the top are 100% worth it.
At the to, all you see is mountains surrounding you. Fitz Roy at its closest, and the gorgeous turquoise lake below.
Where to stay in El Chalten
Since the town is basically built for backpackers/hikers, there are quite a few bars, restaurants, and hostels to stay here.
We stayed at Aylen Aiken, which is a hostel owned by a hilarious man named Sebastian, who always has a rock concert DVD playing in the background.
Check here to find the best deals on accommodations in El Chalten.
San Carlos De Bariloche
San Carlos de Bariloche was the last stop on my Patagonia tour as I came up from Ushuaia, but it's actually considered the gateway to northern Patagonia.
If you're short on time, a few days in Bariloche is a great way to get a taste of the mountains.
It's a beautiful region, and a great way to see the landscape is by hiking some of the Circuito Chico.
Or, if you're like me and just spent weeks hiking in Patagonia, reward yourself with a trip to the Patagonia brewery. They have a fabulous view!
Argentina Wine Regions
Argentina is famous for its wine, so add one of these wine regions to your itinerary to complete your trip.
Salta
Salta is the largest city in the North of Argentina. With the nickname Salta la Linda (Salta the beautiful) and a reputation for a growing wine scene in Cafayate, I decided to make it my last stop before leaving Argentina.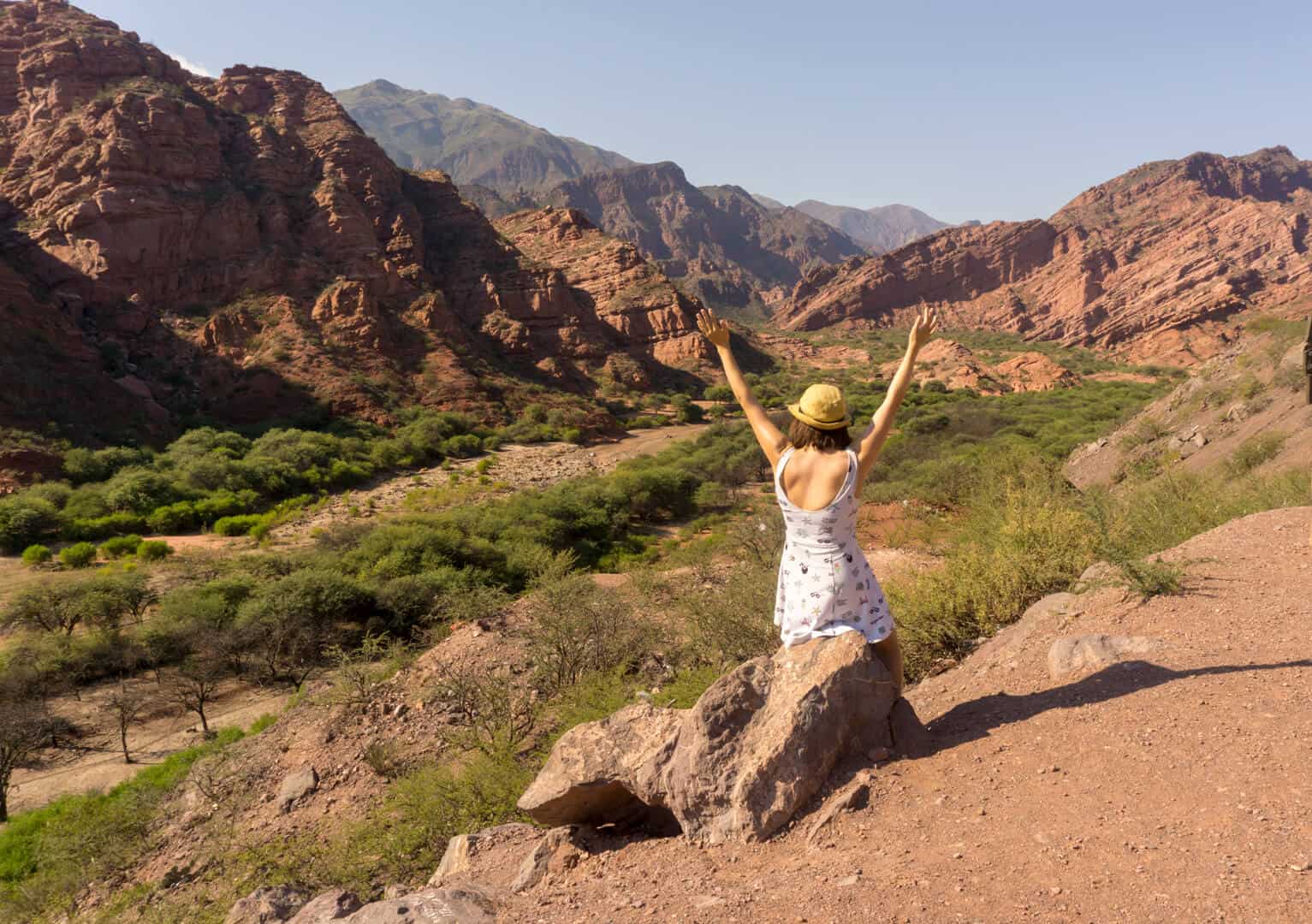 If you're in Salta, you should check out Cafayate, the wine region of Salta. The best way to get there is by car, as the roads are a dream to drive through.
You can also visit Cafayate by bus or book a day tour.
I did a day tour which was an incredible journey as we drove through the changing landscapes from city to desert. We took several stops along the way to take in the gorgeous scenery from various viewpoints.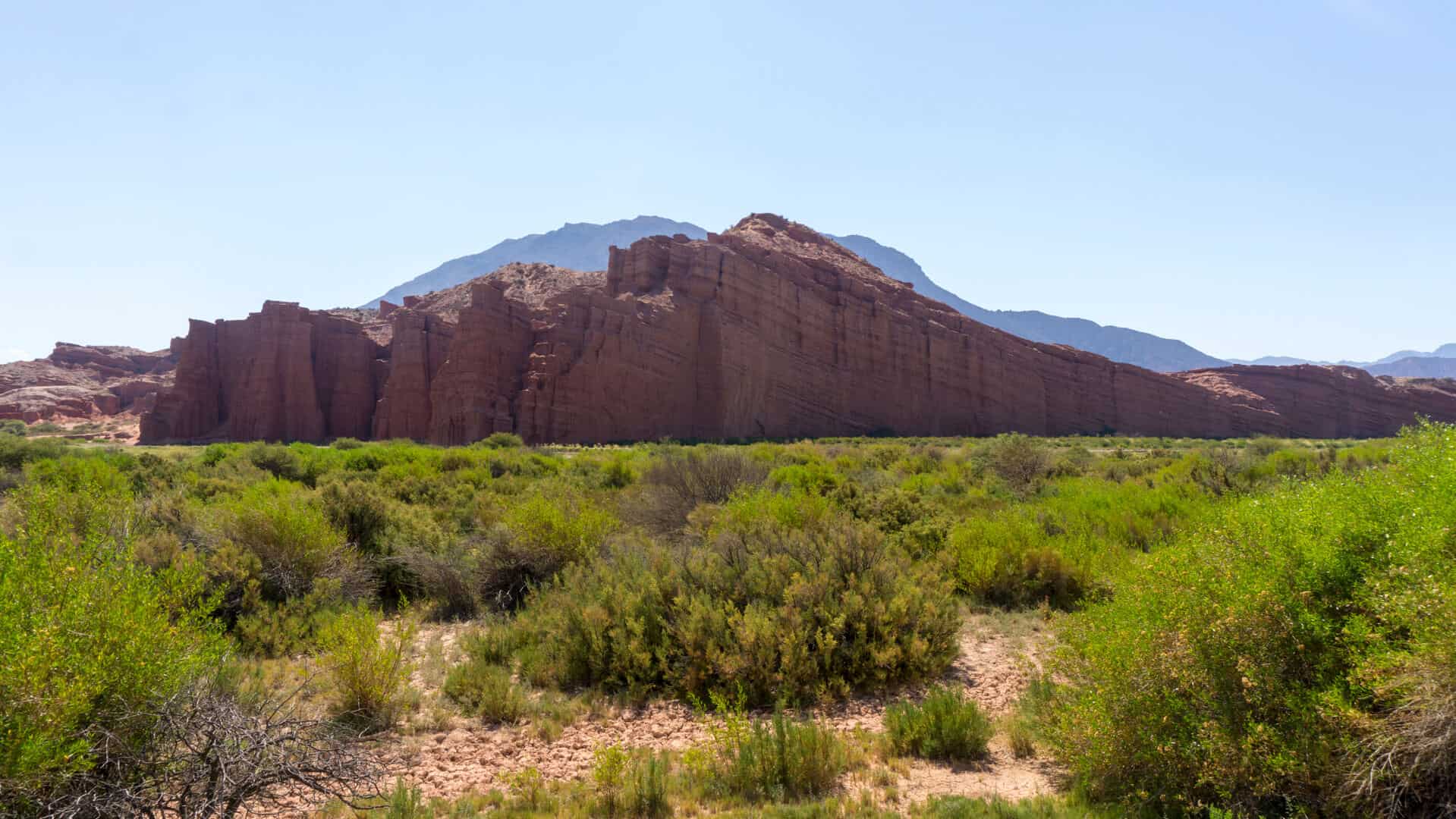 El Anfiteatro / Natural Amphitheatre
A worthwhile stop on a Salta road trip is this incredible natural amphitheater. Formed millions of years ago, this canyon creates amazing, natural acoustics.
What makes it even better is that talented musicians hang out here and play music for tourists to enjoy. Tip them if you enjoy the performance! Apparently, twice a month, they organize concerts in the canyon. That would be so cool to see live!
The Wineries of Cafayate
After a few hours, you will arrive at the stunning wineries of Cafayate. This area is the heart of the second-largest wine-producing region in the country and is Argentina's premier white wine-growing region.
Take a tour of one of the local wineries, where you can see the process of how the wine is made from fruit to bottle. And of course, taste the wine.
This area is famous for Torrontes, a dry but fruity white wine unique to Argentina. I can confirm that it's delicious.
Cafayate is a small but charming town. There is a lovely main square, a small market where you can buy local Andean-influenced crafts, and some excellent restaurants and ice cream shops to enjoy there. Try the wine ice cream!
If you are in Salta, you must try the empanadas there. The region produces a special kind of empanada unique to others you'll find in Argentina.
They are baked in a wood-fired oven and are much smaller than other empanadas, which makes it perfectly fine to eat as many as you want.
Aside from the canyons and vineyards, Salta has a number of other interesting sights to see, including salt pools and rainbow-colored mountains, so it's worth spending a few days here.
Mendoza
Mendoza is another fabuous wine region south of Salta.
It's the perfect place to wrap up your trip to Argentina with wine and delicious food in the surroundings of gorgeous vineyards and mountain peaks.
I was a bit disappointed I didn't have time to visit Mendoza on my trip to Argentina, but everyone I met who went raved about it!
If you visit Mendoza, spend a day exploring wineries and another in the mountains.
Argentina Itineraries
I spent six weeks in Argentina and was able to see most of the places mentioned in this article, but it was non-stop travel!
Argentina itinerary 7 days
If it's your first time in Argentina and you only have a week, stick to one of two of the most popular spots to make the most of your time. There's no point spending your entire trip traveling around the country if you can't enjoy the places you visit.
With just one week in Argentina, spend a few days in Buenos Aires and then either in the wine regions or Iguazu Falls.
Argentina itinerary 10 days
With 10 days in Argentina, your itinerary could look like this:
3 nights in Buenos Aires
2 nights in El Calafate
2 nights in El Chalten
3 nights in Mendoza
Or if you prefer to stick to the wine regions, you could do:
3 nights in Buenos Aires
3 nights in Mendoza
3 nights in Salta
Return to Buenos Aires
Patagonia itinerary 10 days
If you prefer to stick to just the Patagonia region, here's what a trip could look like:
3 nights in Ushuaia
2 nights in Puerto Natales (Torres Del Paine National Park)
3 nights in El Calafate
2 nights in El Chalten
You could also spend a week of that alone in Torres Del Paine National Park – it really depends on whether you want to do a big hike or not.
Argentina itinerary 14 days
With 2 weeks in Argentina, this gives you enough time to see a few different regions if you take regional flights.
2 nights in Buenos Aires
3 nights in El Calafate
2 nights in El Chalten
3 nights in Bariloche
2 nights in Iguazu
2 nights in Buenos Aires
—
I hope this guide could give you some inspiration to plan your itinerary in Argentina! There's so much to see in the country, I can't wait to get back and explore more.