This post may contain affiliate links. By clicking and making a purchase through the links, I earn a small commission at no extra cost to you. This allows me to keep the site up to date and expand on resources. Thanks for reading!
El Chaltén is a small, beautiful town surrounded by mountains. What's so great about it is that all the treks in El Chaltén are accessible by walking from the main town, so you don't have to pay for any busses to get to the trailheads. This has been one of my biggest expenses traveling through Patagonia, so I was very relieved!
On top of that, there's no entry fee to get into any of the hikes. It's all one big park and they don't even charge you when you arrive. Plus there are a ton of different trekking opportunities in El Chaltén. If you are traveling through Patagonia, don't miss el Chalten!
Treks in El Chaltén
Weather is a constant gamble in Patagonia, so I was delighted to wake to blue skies on my first morning in El Chalten. However we heard from the ranger that the next day was supposed to be the best day of the week, so we decided to leave the Laguna de Los Tres hike for then and tackle Laguna Torre first.
Laguna Torre (10.8 KM)
Laguna Torre is a gorgeous, relatively easy three-hour hike (10.8km) to a glacier lake. There are several well-marked trails that leave from El Chalten. The first part of the trek (2.5km) is a very steep hill, but the rest of the way is mostly flat. It's all gorgeous, especially as you start to see Fitz Roy in the background.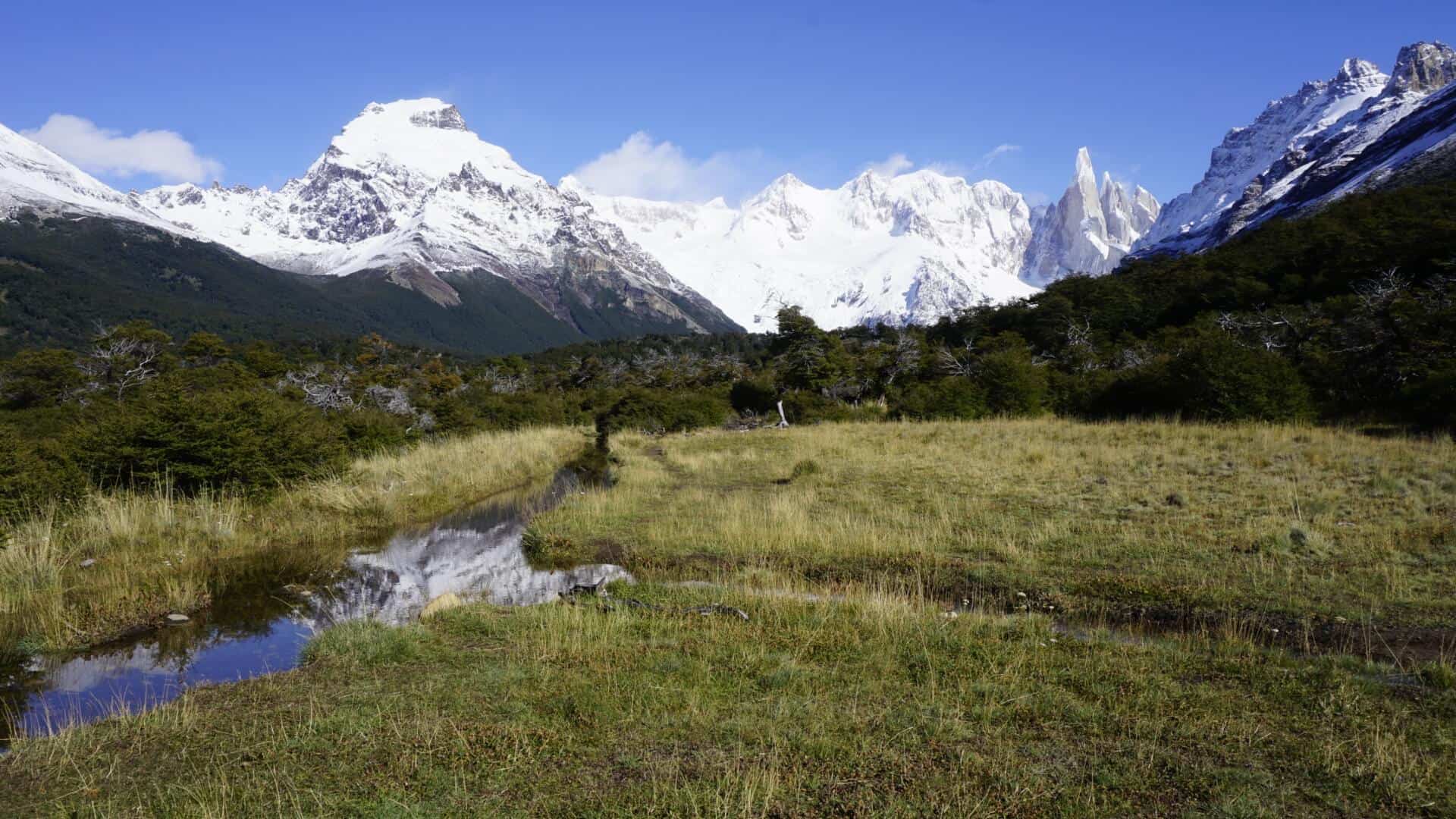 It takes about three hours to get to the lake. From there, it is possible to go down to the Torre lagoon or to continue along the same ridge for another 2 km to the Maestri viewpoint to get even closer to the glacier.
This section is more challenging as it's extremely windy on the trail but it is worth it to get closer to the glacier. I also liked this section because there was hardly anyone else there.
Laguna de Los Tres / Fitz Roy (26 km)
Our gamble paid off and the next morning we woke up to an even better day for the Laguna de Los Tres hike. Thank you Patagonia gods! I couldn't believe it, two perfectly clear days in a row is a miracle.
This hike is 10km but I found it much more difficult than the Laguna Torre (mainly the last km). You have two options for this hike: you can either hike up and down from town the same entrance point, or you can get a bus in the morning (8 or 9:30 am) for 200 pesos that will bring you to a different trailhead and then take the other way back into town after the hike. We opted to do this because you get different views (more of the glacier) and it's also slightly less steep going up.
The trail will eventually meet up with the other one at the 8 km mark. Once you get to the 9km mark there is a rest stop and a giant sign indicating that the next km is very difficult (400m accent) and you should be in good shape to do it. I would have to agree with the sign, I found it pretty challenging especially after a sore ankle from hiking the day before. However, the views at the top are 100% worth it.
Going up you can see the gorgeous fall colors starting to appear and once you reach the top all you see is mountains surrounding you. Fitz Roy at its closest, and the gorgeous turquoise lake below. It's just incredible.
Having gotten two completely clear sky beautiful days I was feeling pretty happy with my time in El Chaltén. With rain in the forecast for the rest of the week, I decided to combine my rest and travel day and hop on a bus to Bariloche which will be my last stop in Patagonia! Bittersweet, but I think my feet will be happy.
Where to stay in El Chalten
Since the town is basically built for backpackers/hikers there are quite a few bars, restaurants, and hostels to stay here. We stayed at Aylen Aiken which is a hostel owned by a very funny man named Sebastian who always has a rock concert DVD playing in the background.
Check here to find the best deals on accommodations in El Chalten.
Traveling through Argentina? Don't miss these posts!