This post may contain affiliate links. By clicking and making a purchase through the links, I earn a small commission at no extra cost to you. See my disclaimer for more information. This and display ads allow me to keep the site up to date and give back.
Living in Istanbul as a digital nomad has been an incredibly enriching experience. This vibrant city is full of rich culture and history, and there are endless opportunities to explore and learn.
The people are incredibly friendly and hospitable, and there's always something new to discover.
Istanbul is also an incredibly convenient place to live as a digital nomad. The city has excellent infrastructure and is well connected, making it easy to get around and work online.
In this guide, I'll share everything you need to consider before moving to Istanbul as a digital nomad.
This post was written by Nina Clapperton, the Founder of Nina Out and About.
After moving to Italy alone at 16, Nina has made it her mission to be a citizen of the world. She empowers young women to move abroad as she moves to new countries every year, working remotely along the way.
My experience living in Istanbul as a digital nomad
After a year of being a digital nomad across Europe and into Morocco, I made my way to Turkey.
There was no real reason for my attraction to Turkey, but once I arrived, I didn't want to leave.
Living in Istanbul, and exploring Turkey, was an easy and exciting decision that meant a new way of life, incredible food, and views of amazing ancient relics or gorgeous seas everywhere I went.
The Istanbul Vibe
Istanbul is Turkey's largest city, and it's full of constant motion. At any given moment, there are people walking in the streets, cars honking, and music playing.
The energy is palpable, and it's easy to get caught up in the excitement.
Istanbul is also a city of contrasts.
On the one hand, you have the ancient history and architecture that reminds you of the city's past. On the other, you have a modern metropolis with all the conveniences and amenities you could ask for.
This dichotomy is one of the things that makes Istanbul so fascinating and unique.
As a digital nomad living in Istanbul, I've found that there are endless opportunities to explore and learn.
People really don't live to work. They work to live – and they live it up!
Friendly People and Delicious Food
Istanbul is full of friendly people and delicious traditional foods.
The hospitality here is incredible, and you'll often find yourself being invited to join in on the fun, whether it's for a cup of tea or a meal.
If you love to eat, then Istanbul is the place for you. There are so many types of cuisines to try, and you'll never get bored.
The traditional cuisine and street food are incredible and one of the most affordable ways to eat.
Istanbul is also a great place to meet other digital nomads.
There are several coworking spaces in Istanbul, and there's always someone around who's looking to explore or grab a bite to eat.
Is Istanbul a good place for digital nomads?
There are many pros to living abroad in Istanbul.
The city has excellent infrastructure and is well connected, making it easy to get around.
In addition, living costs in Istanbul are relatively low, especially when compared to other major cities in Europe. If you get paid in a foreign currency, your money will go far in Istanbul.
I was making about $2,000 USD a month when I lived in Istanbul, and I still had plenty of money left over for Turkish baths and trips to go hot air ballooning in Cappadocia.
As the largest city in Turkey, and the only city in the world on two continents, there's always something new to explore in Istanbul.
If you're looking for an exciting and affordable place to live as a digital nomad, Istanbul is the perfect place for you.
Cost of living in Istanbul
Istanbul is one of the most expensive places to live in Turkey. But don't let that scare you! It's still far cheaper than most other places I've lived as a digital nomad.
For ease of reference, I'll talk about the prices in USD since the Turkish Lira (TRY) isn't a common form of currency worldwide.
At the time of writing, 1 USD is equal to 18.50 TRY. The USD has more than doubled against the value of the Lira in the last year, making Istanbul even more affordable to live in if you are earning in USD.
I lived in a rental apartment in Istanbul that was about $600/month. It had one bedroom, a kitchen, but no views of anything exciting.
Utilities were incredibly inexpensive. Since I didn't have a car, my monthly utility bills with my SIM card fell around $78/month. I could have gotten a better phone plan or a TV plan, but I didn't bother since I had good WIFI.
To get around, I mostly walked since I skimped on the cost of a gym. But when I needed to, I'd take the subway or busses for about $.50 per trip.
Taxis are more expensive – especially if you're an obvious tourist like me who doesn't look Turkish. Taxi drivers often try to scam people into paying a much higher rate, so agree on the price before you get in the car.
Groceries were incredibly cheap. Other than alcohol, which costs about the same as in the US, I could get groceries for a week for under $100 – and that was with packing the cart full of fun snacks and tons of local produce and meat. Eating out was also super cheap, with most meals under $10 per person.
I loved going to cafes and participating in the Turkish tea culture – it's actually more popular than coffee in Turkey. So I'd get a cup of mint tea and sip it with a yummy treat as I worked.
Nomadlist lists Istanbul as an affordable destination, with an average living cost of just over $2000/month.
Where to live in Istanbul
Istanbul is MASSIVE, so there are plenty of places to live throughout the different neighborhoods.
The European side of Istanbul is more touristy and much more expensive to live in. However, this is the part where you'll find many of the historical sites like Topkapi Palace, the Hagia Sofia, and the Blue Mosque.
Most people, like me, choose to live on the Asian side of Istanbul, where you can find lovely apartments.
The popular places to live in Istanbul are:
–Beyoglu: this is the central part of Istanbul and is full of nightlife, some of the best restaurants, and cafes.
–Kadiköy: This is a more residential area with many young families. It's close to the water and has excellent public transportation. This is where I stayed!
–Etiler: Located north of the city on the European side, this district has epic views of the Bosphorus and is one of the only places where houses are more common than apartments.
–Taksim: This is another central area of Istanbul known for its nightlife. Living here is more expensive, but you'll be close to all the action like Taksim square and other historical places.
–Karakoy: Located just below Taksim on the water next to the Galata Bridge, this area is a central location with some historical places like Galata Tower.
No matter where you choose to live in Istanbul, you'll be able to find a perfect place with affordable prices that suits your needs.
An excellent place to look for a place before coming is VRBO, where you can find fully furnished studio apartments or private rooms to rent short or long-term. If you're on a tight budget, many hostels in Istanbul also offer affordable dorm rooms.
Getting around Istanbul
Do not drive in Istanbul – or really in Turkey!
I've lived in Italy – and I thought they were insane drivers. But they have nothing on the Turks who whip past corners and through red lights, but honk at you as though you were at fault for crossing on a green light.
Luckily, Turkey has an excellent transportation system, so you can get around easily via buses and trains. You can even take a subway under the Bosphorus Sea to get to the southern part of Istanbul, or take a ferry over the water.
Internet in Istanbul
Getting WIFI in your apartment in Istanbul can be a nightmare if you aren't a resident. Many providers offer slow WIFI or won't sell their modems to someone who isn't a citizen.
There are a few workarounds, though:
1) Rent an apartment from a local.
This is the route I took. I rented a fully furnished apartment from a local who had already set up WIFI with Turkcell.
2) Get 4G pocket WIFI.
This can be expensive in the long run, but AllDayWIFI is a great solution to have a portable hotspot in Turkey.
I got one for my time traveling the country and found it very reliable – although after a week, I could tell it would get expensive to rely on it full-time.
3) Get data on your SIM.
I got a temporary SIM card from TurkCell with about 20GB of data. This, tied with going to cafes, could easily be enough for a digital nomad there for a month who doesn't need to make video calls.
Best cafes & coworking spaces in Istanbul
I went to several different cafes to work during my time in Istanbul.
Living in Turkey meant I needed to get out of my house to work, or I'd feel too much like I was on vacation mode and veg on the couch.
Some of the great places I found include:
Drip Coffee Istanbul: This is one of the best coffee shops with excellent WIFI and a cozy atmosphere.
Tiyop in Galata: An epic co-working cafe, but you'll need to arrive early to beat the crowd.
Cafe Elif: A central cafe near the historical center of Turkey. It's right beside the Grand Bazaar and gave me a welcome excuse to rest my feet after shopping for spices.
Cuma: A European cafe with excellent breakfasts and lunches. The apple crumble kept me going through my third blog post of the day!
Journey: A cafe with long tables for group work and digital nomad work. It's a very quiet and chill place to get work done.
JUSTwork: A cute coworking office, but the desks were a bit close for my liking. I loved that they had nap rooms, though!
CoBAC WorkSpace: A quiet place that even had phone rooms for calls. The free coffee was excellent, and it felt super spacious for work.
Visa requirements for Istanbul
Does Turkey have a digital nomad visa?
No, unfortunately, Turkey doesn't have a digital nomad visa yet.
How to stay in Turkey as a digital nomad
I used the most common method of entering Turkey: the 90 tourist visa for Canadians and Americans. It's an e-Visa that you can purchase ahead of time or at the airport (if the machines are working).
Europeans don't need this visa, but digital nomads from the United States and Canada must register for it. It's basically a pay-and-you-get-it style visa.
This visa allows you to remain in the country for 90 days. However, you cannot work for a local company or study on this visa.
Long-term visas for Turkey
If you plan to stay in Istanbul as a digital nomad for a long time beyond the 90-day tourist visa, you will need to look into getting a Turkish residence permit.
They have a short-term permit that lasts for two years and a long-term permit that can help you get citizenship. After eight years, you'll be eligible for citizenship. Here's more info about the application process.
Getting residency in Turkey
A quicker great way to fast-track your Turkish residency is to invest in $250,000 worth of property in Turkey and live on it for at least three years. At the end of this time, you will have permanent residency in Turkey.
How to meet locals in Istanbul
Istanbul is a large city with a rich history and local culture. As a digital nomad living there, it's easy to get caught up in the "expat bubble" and only hang out with other foreigners.
I loved the foreign friends I met, but many left Istanbul quickly.
One of the best ways to meet foreigners is by joining Couchsurfing to use their meetup groups or by finding local Meetups.
This is what I did to join a local hiking group and a local theatre group where we'd watch different shows each month.
Make an effort to meet Turkish people by:
Going to Turkish language classes to make the language barrier easier
Eating at local restaurants
Volunteering with local organizations
Taking part in local festivals and events
Using dating apps like Tinder or Bumble (set your location to Istanbul!) And use Bumble BFF to find some people just looking for friends.
By making an effort to connect with locals, you'll get a much richer experience of living in Istanbul. You may even make some lifelong friends!
Travel insurance for Istanbul
While living in Istanbul (or anywhere), it's a good idea to have travel and medical insurance that will cover your bills should anything happen.
SafetyWing is insurance designed for digital nomads with a low monthly cost. It works on a subscription basis, so you can start and stop it easily online for the duration of your time abroad.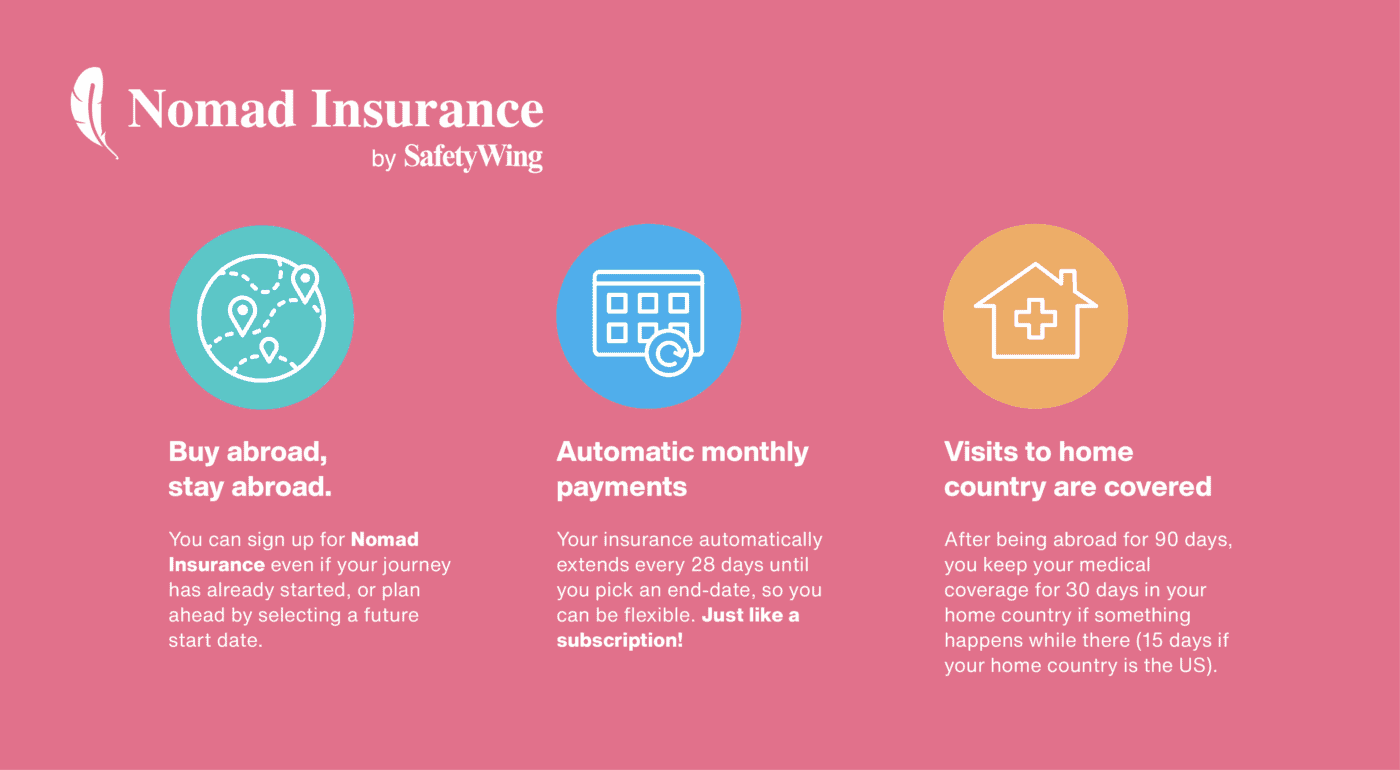 Wrap up: Why Istanbul is great for digital nomads
Istanbul is an epic city for digital nomads. It's got everything you could want: excellent coffee, fast internet, a vibrant nightlife, and friendly locals.
Overall, Istanbul has a low cost of living, especially if you find a place to live outside of the city center. Not only is it one of the best large cities in Europe, but it's also one of the cheaper places for digital nomads to live on the continent.
If you're looking for an exciting place to live and work as a digital nomad, Istanbul should definitely be at the top of your list!
Other places to be a digital nomad in Turkey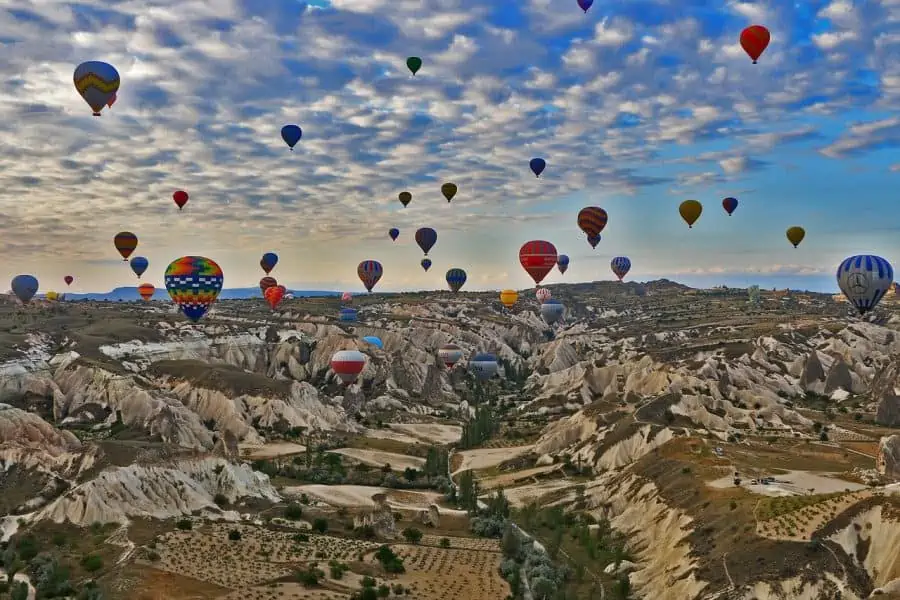 As a digital nomad in Turkey, you may be looking to explore or even live in other parts of the country. Outside of Istanbul, there are plenty of options, and the country's well-connected transportation network makes it easy to get around.
Cappadocia is one of the most popular destinations in Turkey, famous for its hot air balloon rides, cave hotels, and unique landscapes.
There's also the stunning Aegean coast, a great option during the summer months to enjoy gorgeous coastal towns by the Mediterranean sea.
Looking for more digital nomad destinations? Check out these guides!