This post may contain affiliate links. By clicking and making a purchase through the links, I earn a small commission at no extra cost to you. This and display ads allows me to keep the site up to date and give back. Thanks for reading!
If you've only got a few days in Iceland, a tour along the Snaefellsnes Peninsula is one of the best ways to spend them. I've driven the entire ring road around Iceland, and the Snaefellsnes Peninsula is just as scenic as the rest of the country – if not more. It's been nicknamed "mini Iceland" because it has all of the main attractions you can find throughout the country, including waterfalls, hot springs, black sand beaches, and more!
This post will go over all the stops you can make along a self-guided tour of the Snaefellsnes Peninsula, plus tips on getting around, where to stay, and how much time to spend.
How to get around Iceland's Snaefellsnes Peninsula
To get around the Snaefellsnes Peninsula you will either need a car to drive it yourself, or join a guided tour. There are a number of Snaefellsnes Peninsula tours from Reykjavik including full-day tours and multi-day tours ranging from two days to five days.
If your with friends or don't mind driving alone, renting a car and taking a self drive along the Snaefellsnes Peninsula is a great option as it gives you the freedom and flexibility to stop at many sights and stay as long as you want. Check here for the best prices on car rentals in Iceland. I recommend using Enterprise as they were so fantastic to deal with aftersomeone burgled our airbnb in Iceland and stole our rental car. Lifelong customer after that!
Tip: if you are going to be driving the Snaefellsnes Peninsula in Iceland, I recommend NOT speeding. I was caught speeding on a speed cam and got a lovely $850 dollar ticket – no joke! The speed limit is 90 and there are cameras, so watch out.
An alternative option would be to hitchhike, but this might be challenging if you want to make multiple stops on the Snaefellsnes Peninsula. If you are only trying to get to one location (i.e. the national park), it could work. Iceland is one of the safest countries in the world for hitchhiking. It's fairly common to see – I picked up two hitchhikers on my way to the Snaefellsnes Peninsula!
How long to spend on the Snaefellsnes Peninsula
It is possible to drive the Snaefellsnes Peninsula in one day, but it would be a very busy and long one. Two days is ideal, but if you want to spend more time exploring each area, then 3 or more is better. It's such a beautiful spot with a lot to see.
Getting from Reykjavik to the Snaefellsnes Peninsula
Getting to the Snaefellsnes Peninsula From Reykjavik is easy. You just need to get out of Reykjavik onto Highway 1, also known as the Ring Road (the main road around the country). Soon after you get out of the city, you will be blown away by the natural beauty of Iceland. I couldn't stop pulling over to take photos!
After about an hour of driving, and a super cool 6km underwater tunnel, you will come to the town of Borgarnes. This is a great place to stop for a gas/coffee break and get groceries. The gas station has a beautiful view, and next to it is a Bonus grocery store.
Pro tip: Bonus is the cheapest place to get groceries in Iceland. Buying your own food and not eating out at restaurants is one of the best ways to save money while traveling in Iceland. It's pretty much essential if you're road tripping Iceland on a budget.
From Bogarnes you will turn left onto route 54 and start your journey on the Snaefellsnes Peninsula.
Things to do along the Snaefellsnes Peninsula
Landbrotalaug Hot Pot Springs
The first point of interest on the Snaefellsnes Peninsula, aside from the beautiful scenery along the road, is the Landbrotalaug Hot Pot springs. You drive along highway 54 for about half an hour and then turn to the left of the road onto a dirt road. After a few minutes, you will reach a parking lot where there are some toilets you can change in. They were kind of gross, so I just changed in the car!
I found it a little confusing finding the hot pools. I walked over to the water and dipped my hand in, only to find freezing water. I was thinking to myself, where on earth are the hot springs? Eventually, I realized it was just a couple of the pools that are hot. They are the ones under the white tap in the photo below.
It was freezing that day and I debated if I even had the courage to take off my clothes, but I'm SO happy that I went in. Being in the hot springs surrounded by Iceland's wild beauty was one of my favorite moments of the trip. I soaked in the pools for a long time because it was so cozy and warm, and I had them all to myself!
Gerðuberg Cliffs
The next point of interest is the Gerðuberg Cliffs, which are just 10 minutes away from the hot springs. You continue down highway 54 and then turn right down a dirt road. The Gerduberg cliffs are one of the most impressive basalt column sites in Iceland.  You can hike up and along the cliffs but the day that I went was quite windy, so I just made a quick photo stop.
Ytri Tunga Seal Beach
Continue the drive for another half an hour to Ytri Tunga Seal Beach. This beach is right off the highway to the left of the road, and there is a large parking lot. At the site, there is a lovely beach you can walk along and search for seals.
I saw the seals to the right of the beach, on some big black rocks along the shore. These fun little guys were soaking in the water and putting on quite a show for us. It was the only place I saw seals in Iceland, so definitely stop here if you love wildlife!
Bjarnarfoss Waterfall
After the seal show, continue the drive 15 minutes to Bjarnarfoss waterfall. Along the way, there is a food truck to the right you can stop at for burgers and fries. It costs about 15 USD but the food was tasty, and they had veggie burgers! There is also a washroom you can use next to the burger stand.
Bjanarfoss waterfall is right off the main highway and you can see it from the road, but there is a parking lot to pull into if you want a closer view. You can get out and admire the waterfall from below or opt to hike up for a closer view.
The Black Church of Budir
Across the road from the waterfall is Budir black church, also known as little black church. When I visited there were two people taking wedding photos in front of it – so cute! The church is really picturesque and worth a quick stop. The scenery around the church is lovely too. You can see the ocean as well as the glacier in the background.
Rauðfeldsgjá Gorge
Less than a 15-minute drive is the Rauðfeldsgjá Gorge, another interesting geological formation. The hike to Rauðfeldsgjá Gorge takes about half an hour from the road, so make sure you have ample time.
The gorge is located on the Eastern side of the mountain known as Botnsfjall and is accessible to climb into during the summer, although you'll want waterproof shoes. The gorge doesn't seem immediately accessible, but as you get closer to the base you can see to climb in. Within the split, the walls are covered with vibrant green moss.
Towns of Arnastapi & Hellnar
Just 5 minutes away from the Rauðfeldsgjá Gorge is Arnastapi, a quaint small seaside down. This is a good place to spend the night, as you will likely be tired from all the day's activities, and it is almost halfway through the peninsula. Within Arnarstapi, there are a few cute hotels and guesthouses. This Seaside Glass House looks amazing, as do these adorable cottages next to a mountain.
Another place you could spend the night is the town is Hellnar, about 15-minute drive away from Arnastapi. If you have some extra time and feeling up for more adventure, there is a great hike from the town of Arnastapi to Hellnar. This takes about  1.5 hours with nice views of both towns and the surrounding ocean.
Hellnar is also home to the Londrangar Basalt cliffs. These are interesting because the basalt columns are sticking out of the ocean, and it almost looks like a castle reaching out to the sea. There is a parking lot near the cliffs and lots of walking trails around. Puffins and Fulmars also nest in this area, so keep your eye out!
From wherever you spend the night, continue the drive towards Snaefellsjokull National park. Along the way you will see Snaefellsjokull glacier in the distance which becomes even more magnificent as you get closer.
Snæfellsjökull Glacier
While in Snaefellsjokull National Park, you will have epic views of the Snaefellsjokull Glacier. This sub-glacial Volcano is at the tip of the peninsula and is so large that it can be seen from Reykjavik on clear days. But you can also opt to get closer by driving in towards it or even go on a hike through the glacier. The hike will take about 5-6 hours with an average ascend time of 3-5 hours. The total elevation gain is 760m, and the total hiking distance is 7-8 km.
Djúpalónssandur Black Sand Beach
Snaefellsjokull National park is also home to two magnificent beaches, which are about 25 minutes away from each other on opposite ends of the park. The first beach, Djúpalónssandur, faces south to the ocean – buffering each pebble on the beach perfectly smooth. Walking along the beach, you will also find interesting lava rock formations.
Skarðsvík Beach
Skarðsvík Beach is a golden sand beach, which is rare to see in Iceland. Apparently, on sunny days you can see people sunbathing, swimming in the sea., and jumping off the cliffs. I find this hard to imagine, as it was quite chilly when I was there! Either way, the beach is lovely and well worth a stop while in the park.
Saxhóll crater
In-between the two beaches is Saxhóll Crater. This attraction is a quick stop off the road and great for those who don't want to hike too long. The crater is approximately 100 m high, with a useful walking path and steps. From the top of the crater, you will be rewarded with incredible views over the Atlantic Ocean and the dried lava fields of the Snæfellsnes Peninsula.
Town of Ólafsvík
After leaving the park, continue the drive along the North Side of the Snæfellsnes Peninsula, which somehow becomes even more beautiful. About 20 minutes of driving and you will come across the cute town of Ólafsvík. This is a great rest stop for gas and food or a place to spend the night. I stayed at Vid Havid guesthouse. This place is super cozy and right next to a beach that had an incredible midnight sunset.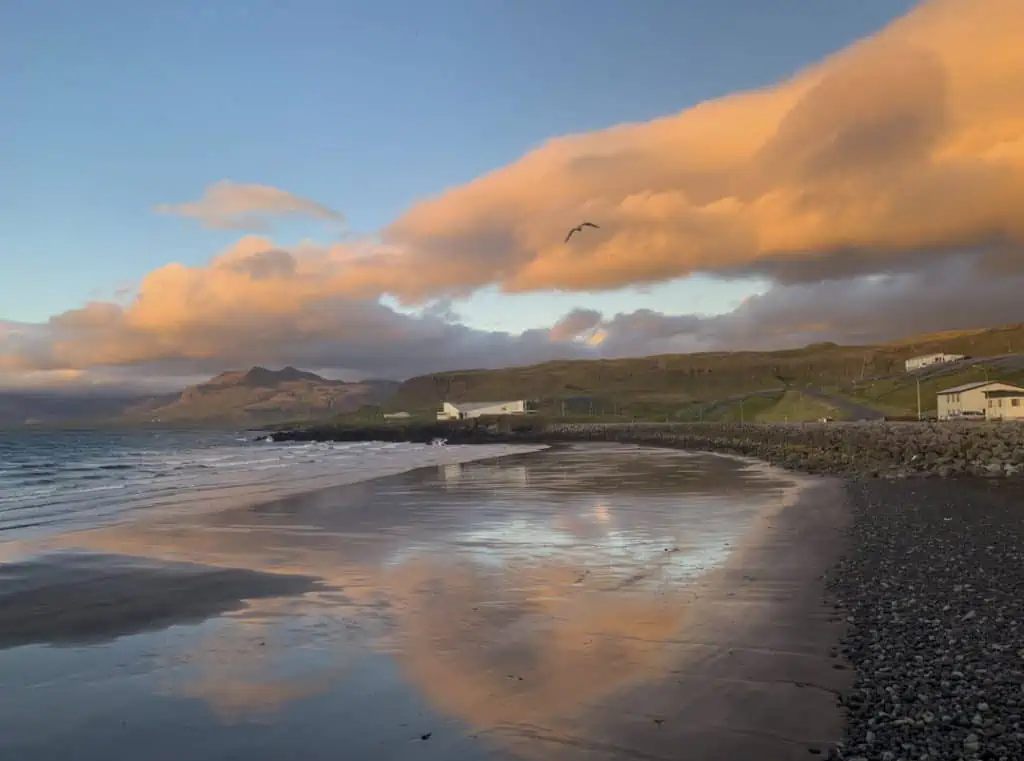 Kirkjufell Mountain
Another 20-minute drive from Ólafsvík and you will be at one of the main attractions on the Snæfellsnes peninsula – Kirkjufell Mountain and Waterfalls. It's one of the top waterfalls in Iceland so it's best to go there early in the morning or late at night to avoid the crowds. I went at about 10 pm (yay midnight sun!) and there were still a few people there.
The waterfall is right off the highway and easy to access. While I didn't find it as impressive as some of the others in Iceland, what makes this stop special is the unique mountain formation behind it.
Bjarnarhofn Shark Museum
If you are interested in trying fermented shark while in Iceland, the Bjarnarhofn Shark Museum is an excellent addition to your Snaefellsnes Peninsula Itinerary. This operation has been the livelihood of the family for generations, and they are still the region's leading producer.
During a visit, guests have the option to taste the shark meat, along with a shot of the famous Icelandic schnapps Brennivin and dried fish 'jerky'. There is also a folksy museum inside where you can learn about the history, along with the family's fishing boats and processing tools.
Berserkjahraun Lava Fields
15-minutes down the road is the ancient Berserkjahraun lava fields. The lava field was created after four scoria craters erupted in short intervals around 4000 years ago. The two largest craters are Rauðkúla and Grákúla, 379 and 211 meters wide respectively.
From there, you can cut across the peninsula on highway 56 to get to Reykjavik, or continue along highway 54.
Stykkishólmur
A last optional stop on the Snaefellsnes Peninsula is the picturesque fishing town of Stykkishólmur. This is a great place to stop for food and fuel, with several quaint gift shops, exhibitions, and charming buildings around the town. There is also a volcanic museum there where you can gain a greater understanding of Iceland's wild natural environment.
If you have extra time, you could spend a day or two here as there are lots of adventure activities like sea kayaking, mountain hiking, and exploring waterfalls. Stykkishólmur is also a great place to chase the Northern lights in Iceland if you are visiting during winter.
Depending on where you are going next in Iceland, you can either continue on Highway 54 and head up North, or turn back South towards Reykjavik, which is about a two-hour drive from Stykkishólmur.
—
I hope this post gave you some inspiration on what to see while driving through Iceland's stunning Snaefellsnes Peninsula. Have you been there before? Do you know of any stops I didn't mention? Let me know in the comments below – I'd love to hear!
Spending more time in Iceland? Check out these posts!
Love it? Pin it for later!