This post may contain affiliate links. By clicking and making a purchase through the links, I earn a small commission at no extra cost to you. See my disclaimer for more information. This and display ads allow me to keep the site up to date and give back.
If you're looking for the cheapest places to live in Portugal, there are plenty of wonderful cities and towns to choose from.
While Lisbon may not be as cheap as it once was, Portugal is still generally an affordable place to live that offers an excellent quality of life.
There are so many fabulous things to do, windswept beaches, great surf, lovely coffee shops, and beautiful hiking routes.
Plus, Portugal makes it easy to travel to your home country to visit family and friends with good infrastructure and multiple international airports, which might be important for you when you live abroad or travel long term.
The truth is, you do not have to go far from the big cities like Lisbon and Porto to find affordable living.
In this post, I will show you 11 beautiful and cheap places to live in Portugal on a budget so that you can start planning your adventure.
Cheap places to live in Portugal
#1. Faro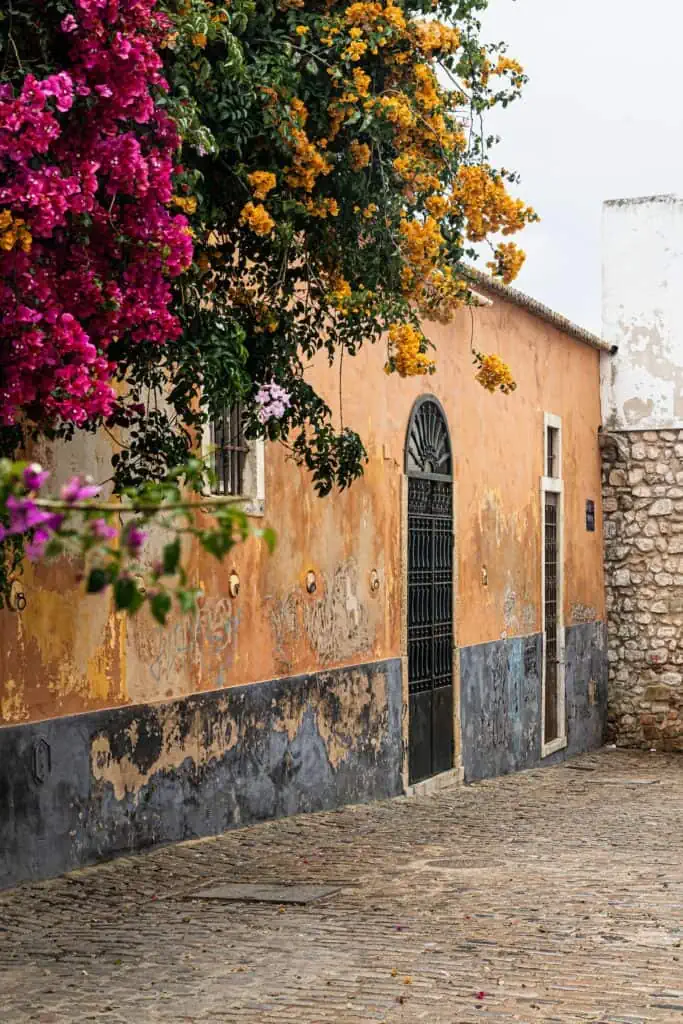 Faro, the capital of the Algarve region, is a great place to live on a budget in Portugal as one of the cheapest cities in the country. You can easily rent a room in a shared house for around 300 Euros a month.
Being a small city surrounded by nature, and beautiful beaches, Faro offers a high quality of life. It is the gateway to Ria Formosa Natural Park, where you can enjoy leisurely hiking routes or go bird-watching. The natural park is an important resting place for migratory birds, but you can also see larger vading birds like flamingos.
While there are a lot of historical monuments to discover in Faro, it is also a phenomenal base for exploring the rest of the Algarve. It is close to the Spanish border, so you can explore cheap places in Spain like Seville. On top of that, with an international airport, you have easy access to explore the rest of Europe.
The average temperature in the Algarve is in the mid-20s (celsius) in the summer months, and in the winter, it usually is around 15 degrees Celsius, with lows reaching 7-10 degrees celsius in the coldest months (usually at night.)
#2. Évora
Évora, the capital of the Alentejo region, is another excellent city with a low cost of living. The city center is a UNESCO World Heritage Site and one of central Portugal's most interesting places.
The city is most known for the Bone Chapel, but there are many other things to do there that will keep any history buff busy for a long time. Roman ruins, incredible churches, megalithic monuments, and neolithic sites are all within reach. There isn't for no reason that Évora is known as the Museum City.
You can find a one-bedroom apartment for less than 400 Euros a month, making it the perfect place to live for anyone on a tight budget. Évora is also a walkable city, so there is no need to take public transport or own a car.
Évora is a 1.5-hour drive from Lisbon, so you can easily take a weekend trip to discover the capital city.
#3. Braga
Braga is a beautiful city in the northern region of Portugal, and for being one of the larger cities in the country, it offers a good quality of life. Furthermore, being among the top cheap cities to live in Portugal, you can rent a one-bedroom apartment for 350 Euros a month, and property prices are low.
This is a great option for digital nomads that are just starting out or generally are on a budget. On top of that, Braga is less than 40 minutes away from Porto and its international airport, serving flights from places like the United States, the United Kingdom, and the European Union.
You will find some of the most important and oldest religious buildings and pilgrimage sites in Braga. In fact, it is one of the oldest cities in Portugal.
Especially impressive are Bom Jesus do Monte and the Sanctuary of Our Lady of Sameiro, both situated outside the city with breathtaking views. But also the city center is jam-packed with incredible historical buildings, museums, churches, and gardens.
Outdoor enthusiasts will also enjoy the outskirts of Braga, which offers a vast network of paths and recreation areas to enjoy.
#4. Viseu
In the center of Portugal, you can find some of the lowest costs of living in Portugal. Viseu is an excellent example of that. There is no problem finding one-room rentals for under 300 Euros a month, making it perfect for anyone on a small budget. Public health care is also good in Viseu.
It is a clean city that does not see many tourists, so it is a great place to connect with the Portuguese people, learn the language, and uncover all the incredible historical sites the city holds.
Viseu is situated in the heart of the Dao wine region and is also known as The Garden City. Together with Braga, it is one of the oldest cities in the country, and right in the historic center, you find a mishmash of cultural remains from the Iron Age, Suebi, Romans, Visigoths, and Moors.
#5. Lagos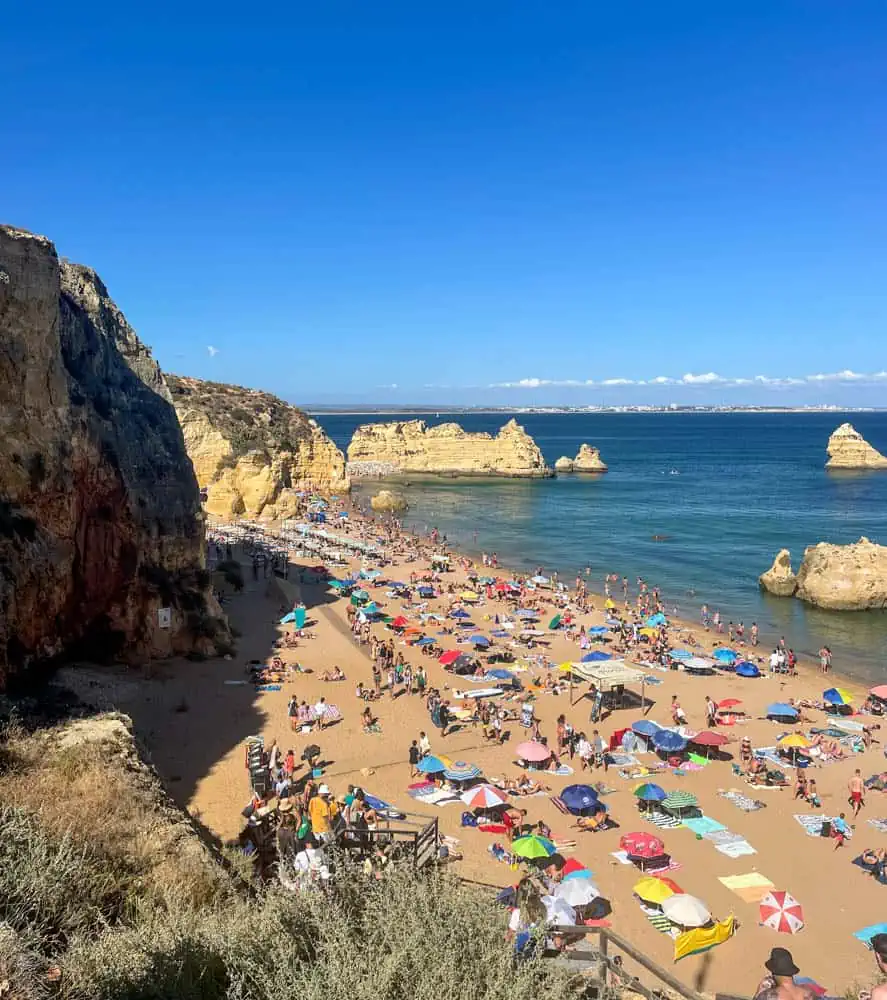 Lagos in southern Portugal is a great place to live for anyone looking for a good time surfing, hiking, and exploring the beautiful beaches and coves hidden between the rugged cliffs that make up the coastline.
The mild climate in winter makes it a super place to surf all year round and go on boat trips, though the Atlantic Ocean might be too cold for swimming.
Living in Lagos, you will have easy access to the rest of the western Algarve, and it is a popular place among remote workers to escape the cold and take advantage of budget-friendly activities.
Jaw-dropping places like Ponta da Piedade, Sagres, and Benagil Cave are all easily accessible from Lagos and there are plenty of hostels offering budget tours and activities that you can join.
Lagos is also a great place to learn how to scuba dive. The underwater world is incredible, with all the underwater caves and tunnels to discover.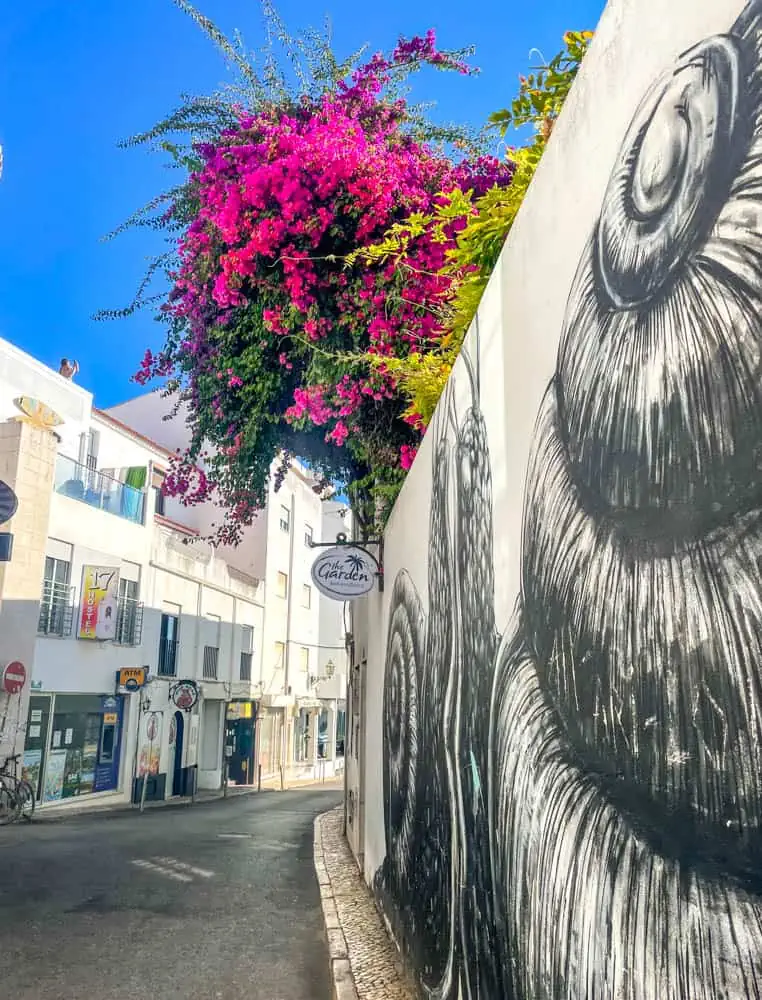 #6. Castelo Branco
Castelo Branco is another cheap place to live in Portugal. Situated near the Spanish border in central Portugal, it is a traditional and cultural place with a relaxed atmosphere where you get a good shot at integrating into the local culture.
It is a perfectly walkable city, or if you prefer getting a bike, that is another budget-friendly way to get around. Castelo Branco is known for its opulent palace and spectacular gardens but also has a charming old town with various museums.
To cool down in the scorching hot summer months, you do not have to worry about it being an inland city, there is a water park with glittering pools and green space to relax. Besides, there are also lovely swimming spots in the river where you can spend hot days.
#7. Aveiro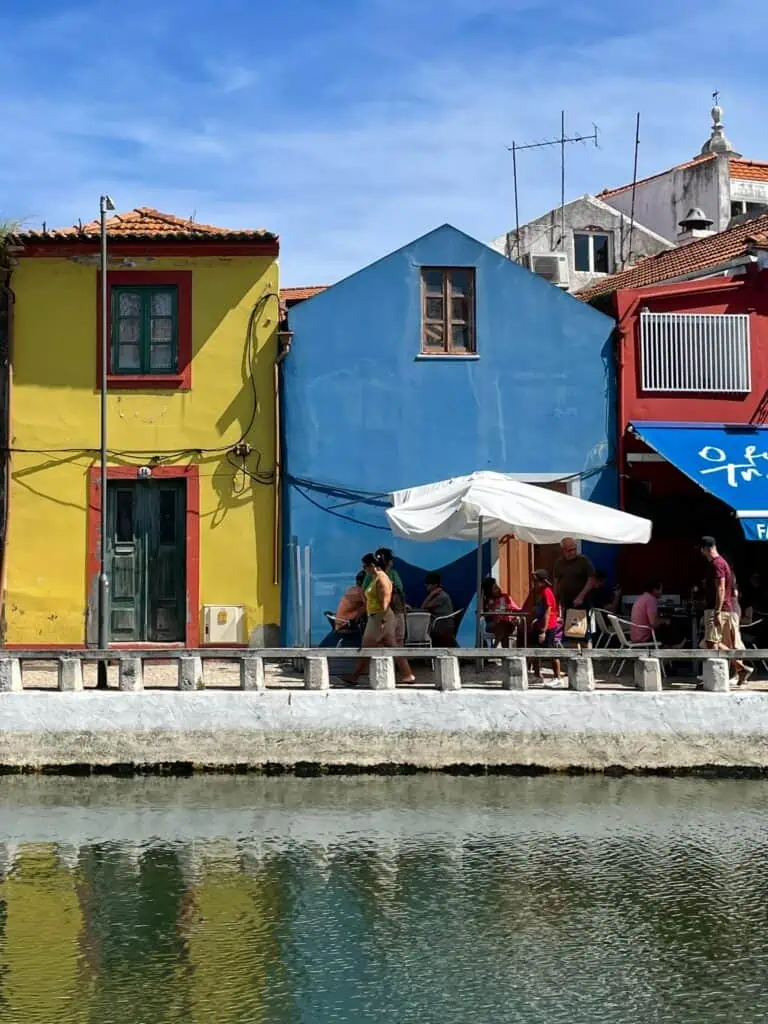 The enchanting town of Aveiro, also referred to as Portugal's Venice is fortunately also one of the cheapest places in Portugal offering a great quality of life.
Aveiro is crisscrossed with canals where you can ride colorful Moliceiros to learn more about the town's rich history. It is also situated close to the Instagrammable Costa Nova cottages, which makes a great day trip to the beach.
There are also wonderful nature walks near Aveiro, like the Passadiços de Aveiro where you can enjoy a relaxing vibe, spot a multitude of birds, and take in perfect sunsets.
Situated between Porto and Lisbon on the west coast, Aveiro offers a lower cost of living where you can eat out with good consciousness as you get great value for money. It is also easy to reach Porto by train in under an hour, and Lisbon is a couple of hours away.
At the same time, the international community in Aveiro is great and the locals are very welcoming to new faces.
#8. Santarém
Flanked by Serras de Aire e Candeeiros Natural Park, Santarém is one of the best cities in Portugal to live on a budget.
Santarém is known as the City of Gothic, so you can only imagine the incredible architectural beauty you will encounter by living there. The city was also home to the Portuguese kings throughout the middle ages.
There is a lot to do in the city, and besides taking in the architectural scene, you can explore museums, churches, and beautiful parks.
Nature lovers will love the natural park, where a network of hiking trails makes it a hiker's paradise. There is also a wealth of caves to discover, like Mira de Aire Cave and Grutas de San António, which have taken form over millions of years.
Besides being close to nature, it is only one hour to drive to Lisbon, which makes it a great weekend trip to explore the largest city in Portugal where you can take in Fado, mesmerizing views, and ride the rustic, yellow trams around the city.
#9. Ericeira
Ericeira is a lovely surfing town just outside Lisbon and also one of the cheapest places to live in Portugal. Whether you are a seasoned surfer or you want to learn, this is a great place to base yourself as a digital nomad or remote worker.
Ericeira boasts some of the most beautiful beaches in central Portugal, and even if you do not want to surf, you can relax on the beach and go paddle boarding.
There is a lovely international community there, and you can easily travel to other places on the coast. You can get the best of both worlds by living on the beach and partying in the capital city; only a short train ride away.
You can find budget one-bedroom apartments for 400 Euros in Ericeira, and the cost of living is low. With many outdoor activities, you do not need a big monthly budget to enjoy your free time in this town.
#10. Tavira
Tavira is one of the most affordable places to live on Portugal's Algarve coast. Situated in the east Algarve, it has a different vibe than Lagos. There are fewer tourists there, yet enough foreigners to create a sense of community.
Only 25 minutes from the Spanish border, Tavira is a great base for those who want to explore the lesser famous part of Spain, where sand dunes and natural parks meet white-sanded beaches.
In Tavira, you are right by Ria Formosa Natural Park, and you have easy access to the barrier islands, including the beautiful beaches of Tavira Island, which are just a short ferry ride from the town center.
This is the perfect place to live for anyone loving smaller towns with relaxing nature walks combined with beaches, bird watching, and generally a slower pace of life.
The cost of living in Tavira is around 1000 Euros a month, with low prices compared to the major cities.
#11. Vila Real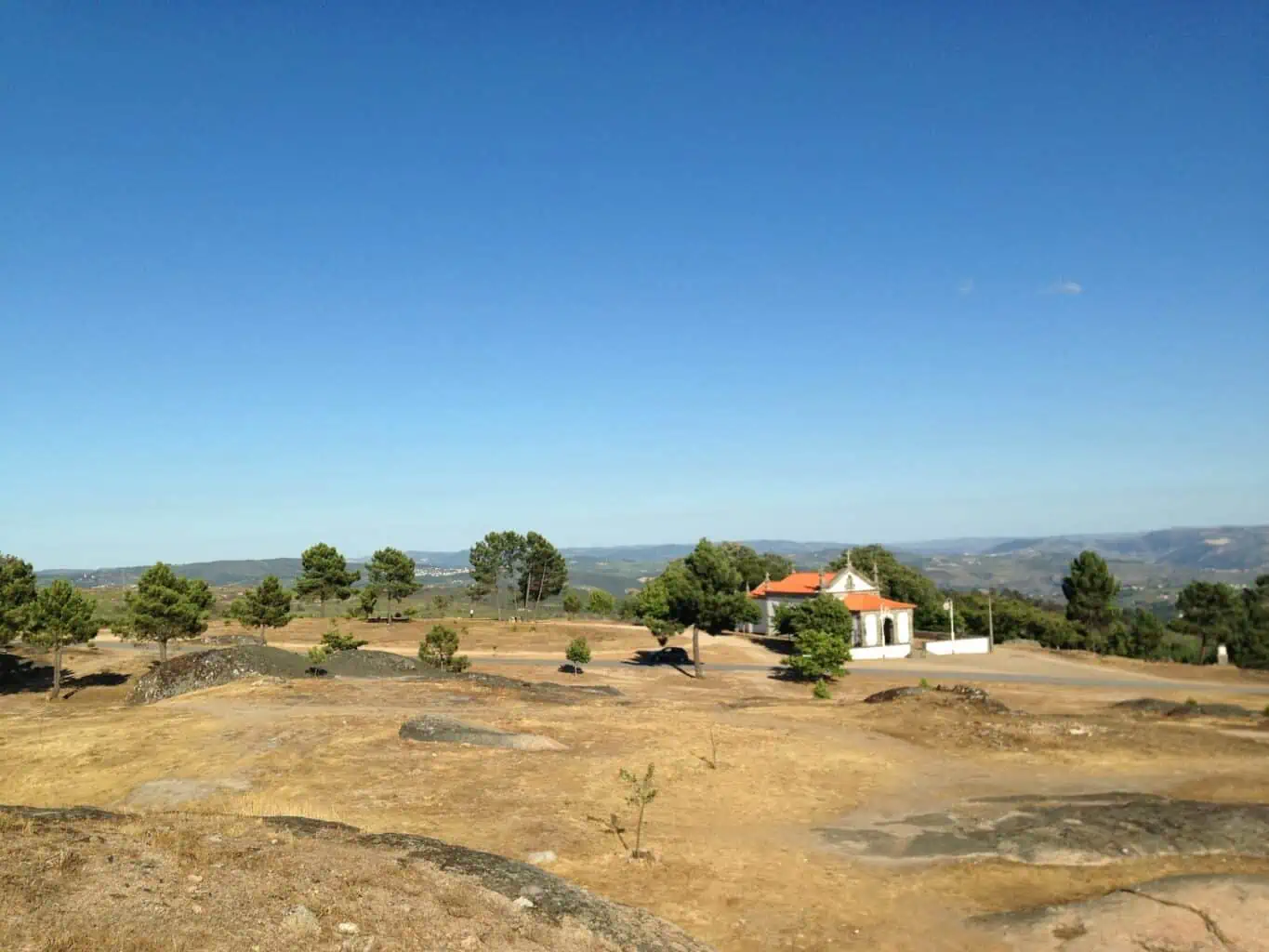 Vila Real is another one of the cheapest places to live in Portugal. It is a fantastic city for wine and nature lovers, situated past the Douro from Porto, where the Corgo River flows. Surrounded by picturesque vineyards and abundant, green forest trails, taking you to lush waterfalls and mountain peaks with epic views.
In the city, you can explore one of the finest Baroque civil buildings, the opulent Mateus Palace, and multiple churches and botanical gardens.
You can find one-bedroom apartments in the city center for 300 Euros and eat out at budget restaurants for just a few Euros. This is the perfect place to dive into Portuguese culture, and there are even a few traditional festivals in the summer that are fun to join.
Porto is under one and a half hours away by car or bus, so you can easily spend a weekend getaway in the city if you crave live music and nightlife or want to explore something different.
—
As you can see, there are many wonderful cheap places to live in Portugal, whether you want to live among historic buildings or by the beach.
Being one of the cheapest countries in western Europe, finding the right place to live on a budget in Portugal is more than possible! I hope this list can inspire your next destination.
Not sold on Portugal? Check out these guides!