This post may contain affiliate links. By clicking and making a purchase through the links, I earn a small commission at no extra cost to you. See my disclaimer for more information. This and display ads allow me to keep the site up to date and give back.
Wondering about digital nomad accommodations? Let me help! I've been living as a digital nomad for the last five years and have stayed in every type of accommodation possible.
Accommodation for digital nomads is an industry rapidly changing with the rise of remote workers. From coliving spaces to apartment rentals designed with nomads in mind, there are more digital nomad housing options than ever!
In this digital nomad guide to accommodations, I'll walk you through the best options – whether you want to find a shared community space or your own place with great internet to work from. I've also included some options for free accommodation if you're traveling on a budget.
Coliving spaces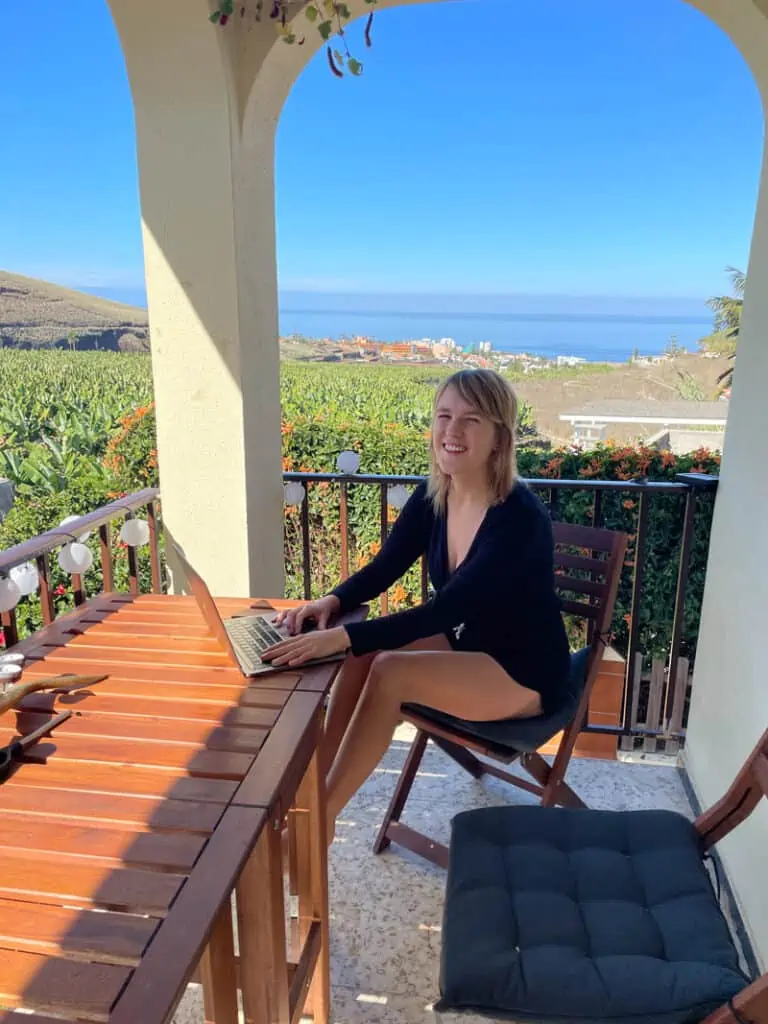 Co-living spaces have gained immense popularity among digital nomads. These communal setups offer private rooms or shared apartments with common areas for socializing and networking.
They often provide amenities like high-speed internet, coworking spaces, and organized events, fostering a vibrant community of like-minded individuals.
Coliving spaces are a great option if you're looking to find a digital nomad community quickly.
However, they typically come with a higher price than you would pay for an apartment because of the benefits.
Also, it's important to note that not all coliving spaces are created equal. Many people brand what is really just a shared house as a coliving, so be sure to read reviews before bookings.
Here are some ways to find digital nomad coliving spaces.
An online platform where you can search for coliving spaces worldwide. With their extensive network of curated properties, Coliving.com makes it easy for digital nomads to find the perfect accommodation tailored to their needs.
Outsite is another popular accommodation option that caters specifically to digital nomads. With various locations across the globe, Outsite offers a range of beautifully designed spaces that combine accommodation with coworking facilities.
Their mission is to "create a world where everyone can design and live their best lives, with the freedom to live and work anywhere."
What sets Outsite apart is its focus on fostering a strong sense of community. They organize community events, networking opportunities, and workshops, creating an environment where digital nomads can connect, collaborate, and learn from each other.
I also love that they promote slow travel and incorporate sustainable design into their buildings.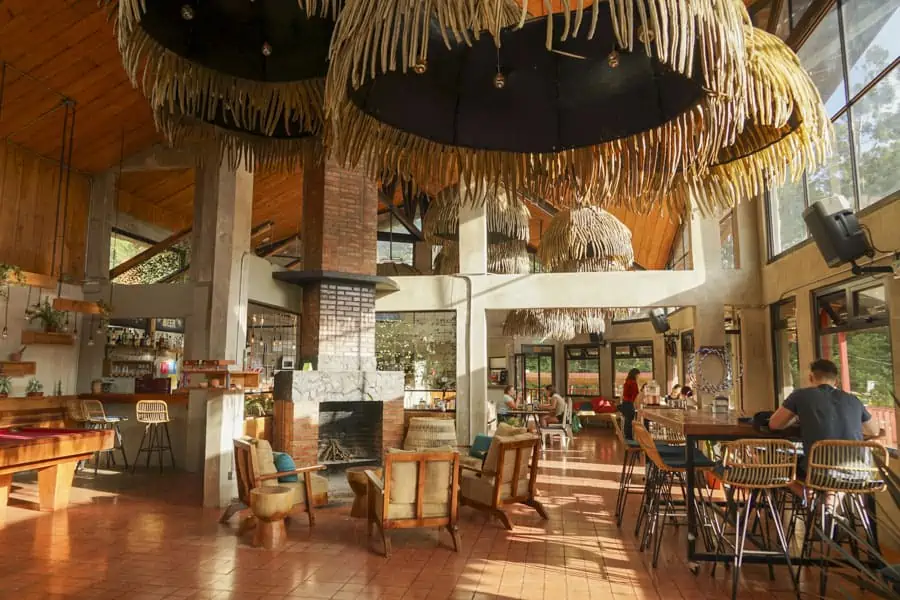 Selina is a popular accommodation option among digital nomads, offering coworking spaces, shared and private accommodations, and a vibrant social atmosphere.
Selina started in Central America but has grown to have locations worldwide – I've stayed in Selina's in Australia and Portugal! I have noticed some consistency problems in what you get. I've stayed in stunning locations with multiple infinity pools, and others that were just simple apartments.
It's also marketed as a hostel, so you will find some backpackers around Selina.
Selina also organizes events, workshops, and activities that foster personal growth and cultural immersion. From yoga classes to language exchanges, you can expand your horizons while connecting with like-minded people.
Nomadico is a newer chain with unique coliving homes in authentic destinations, thoughtfully created by nomads for nomads.
They have locations in Morocco, Peru, Bansko (Bulgaria), Medellin, Colombia, and Puerto Escondido, Mexico, with plans to soon open in Madeira (Portugal). You can get €15 off your booking by using coupon code LORAPOPE.
There are also many unique coliving spaces that aren't chains, which you may not discover until you are at the destination. If you want to find one beforehand, ask in Facebook groups, check out blogs, or search for colivings in Google Maps in the area.
5. Cohabs
Cohabs is a modern co-living platform designed with a focus on sustainability. They offer beautiful shares spaces in vibrant neighborhoods with locations in New York, Brussels, Paris, Madrid, and Luxembourg.
6. Nomadx
Nomadx works with local governments to build real, on-site communities, boosting local economies & creating meaningful experiences (they started the first digital nomad villages). They currently have locations in Pipa, Brazil, Cabo Verde, and Lisbon, Caparica, and Maderia in Portugal.
Apartment rental resources
Renting an apartment is a flexible and popular choice for digital nomads' accommodation. Whether you're looking for short-term stays or a longer-term rental, apartments offer the freedom and privacy of having your own space.
Look for apartments with amenities like high-speed internet, dedicated workspaces, and proximity to coworking spaces. Many also come with kitchens, so you can save money cooking at home!
Here are some resources for finding digital nomad apartments:
VRBO – If you're looking for a private apartment or house, VRBO (Vacation Rentals by Owner) provides a vast selection of digital nomad short-term rentals worldwide. I prefer VRBO over Airbnb!
You can also find some short-term apartments on Booking.com and Agoda.
You will typically pay more for an apartment if you rent through a third-party website, so it never hurts to message the host to see if you can get a discount for a monthly stay or longer stay.
Anyplace is a popular accommodation platform catering specifically to the needs of digital nomads, with move-in ready furnished apartments designed for productivity.
With a global network of fully furnished apartments and rooms, Anyplace offers flexible and hassle-free stays for remote workers. Their accommodations include essential amenities like high-speed internet, comfortable workspaces, and utilities included in the rent.
Flatio – Flatio is a rental housing platform for digital nomads, offering hand-picked, mostly deposit-free, and reasonably priced accommodations in over 300 destinations, mainly in Europe.
What sets Flatio apart from similar platforms is that it offers lawyer-verified, legally binding lease agreements that can be used as proof of address and for visa purposes.
10. Nomad Stays
Nomad Stays is a platform designed specifically for digital nomad accommodation, offering a curated selection of accommodations around the world that are remote worker ready, with fast WiFi, in-house workspaces, and transparent pricing.
They currently have apartments in over 60 countries, and that will likely grow as the digital nomad movement continues.
11. Spotahome
Spotahome is a trusted platform that offers a unique and convenient accommodation solution for digital nomads, with an extensive list of rooms, studios, apartments, and student residences available for periods of 30 days or longer.
With their extensive inventory of verified properties, Spotahome enables you to find and book long-term rentals without the need for in-person visits thanks to the high-quality images, HD videos, and floorplans of each property readily available.
12. Behere
Behere is a booking platform that connects digital nomads with thousands of beautiful accommodations in popular cities like Lisbon and Chiang Mai.
The apartments are designed for nomads and come fully furnished, near coworking spaces and fitness centers, and are vetted. They do require a 30-day minimum stay.
Mint House is a long-stay accommodation option for digital nomads that combines the convenience of a hotel with the comfort and space of an apartment.
Mint House offers fully furnished apartments in various cities that are purposefully designed for longer stays with thoughtful design, top-tier design, and centrally located
14. Remotebase
Remotebase is an e-mail newsletter that shares crazy deals on apartments listed on Airbnb. They e-mail you twice a month with savings worth thousands! They also offer a premium membership.
Alternatively, one of the best ways to get cheap accommodation is to show up in the destination and look for apartments for rent in person. This is especially true in Mexico, where I live – look for apartments that say 'se renta' and contact the landlord. It's more work, but you'll get a better price.
Facebook groups can also be a great resource – most cities have Facebook groups for apartment rentals where you can look.
Free accommodation for digital nomads
Worldpackers offers digital nomads the opportunity to exchange their skills and services for accommodation and cultural immersion.
Through the World Packers platform, you can find a variety of volunteering and work exchange opportunities around the world. These opportunities can range from working in hostels, eco-farms, or community projects in exchange for free accommodation.
At the coliving I stayed in Oaxaca City; the volunteers were from Workaway. If you're just starting your digital nomad journey on a budget, this can be a great resource. You can get $10 off your membership by using promo code EXPLOREWITHLORA.
I love being a housesitter. In exchange for watching someone's home and pets while they're away, you get to stay at their apartment/house for free.
It's a great thing to do if you're an animal lover, and often the accommodations are very nice. I've stayed in beautiful cabins and aspens and modern apartments in Brisbane with rooftop pools.
The downside is that you don't have a lot of flexibility with your travel dates, as you have to work around the homeowner's vacation plans. The desirable house sits can also be very competitive, so you may need to do a few in less desirable locations to build up your profile.
My favorite website for finding house sits that I use is TrustedHousesitters. It's not free, but your membership will be quickly paid off by one housesit. And you can get 25% off using this link!
Couchsurfing is a unique and budget-friendly accommodation option for adventurous digital nomads.
The Couchsurfing platform connects travelers with local hosts who are willing to offer their couch, spare room, or even an air mattress for free. It's not just about finding a place to stay; Couchsurfing provides an opportunity to connect with locals, immerse yourself in the local culture, and make new friends along the way.
While it may not provide the privacy of other accommodation options, Couchsurfing offers a truly authentic and immersive experience for digital nomads seeking cultural exchange and meaningful connections during their travels.
18. Home Exchange
Home exchange, also known as house swapping, is an exciting accommodation option for digital nomads looking for a unique and cost-effective great way to stay in different destinations.
With home exchange platforms like HomeExchange, you can connect with other homeowners around the world and arrange to stay in each other's homes during your travels. This arrangement allows you to enjoy the comforts of a home, have more space, and experience life as a local.
19. Hotels
Hotels are one of the more comfortable and convenient accommodation types that you can find worldwide, but not great for digital nomads. Mainly because they can be expensive and not that conducive to long-term stays.
That said, there are a lot of pros to staying in hotels. They are usually quite nice and can be a good place to stay, especially if you stay at a brand like Marriott with consistent quality control.
Another perk is that they tend to come with extra amenities such as pools, fitness centers, a 24-hour front desk, and attached restaurants. And the WiFi is usually good! There are even digital nomad hotels popping up now, which offer more amenities like coworking spaces.
If I am going to book a hotel room, these are the two main resources I use:
Booking.com is one of the most comprehensive accommodation search engines on the web – it searches everything from hotels to guesthouses and resorts. You can often find great deals here.
Agoda.com – When it comes to finding accommodation in Asia, Agoda.com is one of the best rental platforms, offering a wide selection of hotels and apartments at competitive prices.
20. Hostels for digital nomads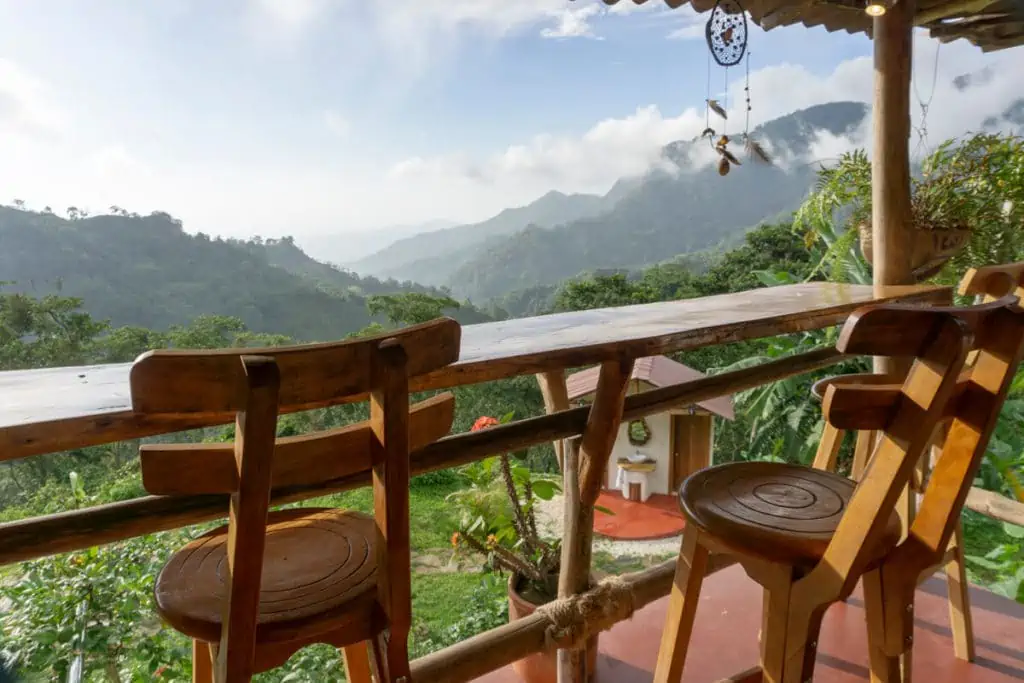 Oh, hostels, the place I spent most of my 20s. If you want to meet people, then staying at a hostel is one of the easiest ways. They have shared common spaces where everyone hangs out and often host events and group dinners.
Some of my best travel memories have been at hostels, but I don't stay at them much anymore as I don't find them conducive to my work-life balance since most backpackers want to party.
However, with the remote work movement, more hostel chains like Selina are positioning themselves as coworking hostels to attract digital nomads. It is one of the best hostels for digital nomads.
Digital nomad hostels are one of the best types of accommodations to stay in if you're traveling on a budget, as dorm rooms can be very affordable and often includes breakfast.
My go-to resource for finding the best hostel is HostelWorld.
It's easy to navigate and filter by hostels that only have positive reviews by real travelers (as a general rule, I don't go below an overall 8.0). I always read a few reviews to get a sense of the general atmosphere there!
21. Staying with friends and family
If you know someone in the place you're visiting, ask them if you can stay there. Of course, you want to be respectful and not overstay your welcome, but this can be a good way to land your feet in a new city.
In my experience, most people are excited to host me and show me around. Pay it back to them by doing the same when they come to visit!
The best part about this is that the more you travel, the more your network will expand. I've met so many friends around the world living as a digital nomad that I can pretty much show up anywhere and know someone, which is a great feeling.
Tips for saving money on accommodation
Factors to consider when choosing digital nomad stays
When choosing digital nomad accommodations, there are several factors to consider to ensure a comfortable and productive experience.
Internet Connectivity: Reliable and high-speed internet access is crucial for remote work. Ensure that the accommodation provides a stable internet connection or has easy access to reliable internet services. Ask the host to send you a screenshot of the internet speed!
Workspace: Look for accommodations that offer a dedicated workspace or a comfortable area where you can set up your laptop and work effectively.
Location: Consider the location's proximity to amenities such as grocery stores, cafes, coworking spaces, and public transportation. Additionally, think about the safety and security of the neighborhood.
If you don't have a car, then a centrally located accommodation may be best so you can walk to places.
Cost: Set a budget and consider the affordability of the accommodation in relation to your financial situation. Compare prices and weigh the value of the amenities and services offered.
Length of Stay: Determine the duration of your stay and whether the accommodation offers flexibility for both shorter and long-term stays.
Amenities: Assess the available amenities such as a fully equipped kitchen, laundry facilities, gym, communal spaces, and social activities. Prioritize the amenities that are most important to you.
Reviews and Ratings: Read reviews from previous guests to get insights into their experiences and the quality of the accommodation. Consider both positive and negative feedback to make an informed decision.
Community and Networking Opportunities: If you value social connections and networking, consider accommodations that offer a community atmosphere or opportunities to meet fellow digital nomads.
Safety and Security: Ensure that the accommodation provides a safe and secure environment. Look for features like secure entry systems, on-site staff, and reliable locks.
Flexibility: Check the cancellation policy and whether the accommodation allows flexibility in case your plans change unexpectedly. Many of the popular colivings do book up early, though, so you need to plan in advance, especially during high season.
How to save money on digital nomad accommodation
Research and Compare: Take the time to research and compare different accommodation options in your desired location. Look for deals, discounts, and promotional offers, and check different websites to ensure you're getting the best rate.
You can even contact the accommodation directly and ask if you can pay in person, as they will often give you a better price (especially if you pay in cash).
Earn and redeem points for free stays. Use travel credit cards to collect points for free stays at hotels.
Volunteer – Many hostels accept volunteers, where you can get a free room (and sometimes food) in exchange for helping out a few hours a day.
Off-Peak Travel: Consider traveling during off-peak seasons when accommodation prices are typically lower. This can help you secure better rates and potentially negotiate discounts.
Long-Term Digital Nomad Rentals: Look for accommodations that offer discounts for longer stays. Many hosts or rental agencies provide reduced rates for monthly or extended bookings.
Shared Accommodations: Explore shared accommodations such as coliving spaces, hostels, or shared apartments. Sharing the cost of rent with others can significantly reduce your accommodation expenses.
Free Accommodation Platforms: Utilize free accommodation platforms like TrustedHousesitters and HomeExchange for free accommodation.
Negotiate: If you're planning a long-term stay or booking directly with a host, don't be afraid to negotiate the price. Sometimes, hosts are willing to offer monthly discounts, especially for extended bookings.
Loyalty Programs: Join loyalty programs offered by accommodation providers or booking platforms to accumulate points or earn rewards that can be redeemed for discounts or free stays in the future. Selina and Booking.com offer these.
Stay Outside City Centers: Consider staying in suburbs or neighborhoods slightly outside the city center. Accommodation prices tend to be lower in these areas while still providing convenient access to transportation and amenities. However, always consider the safety of the area.
Utilize Local Platforms: Explore local accommodation platforms or Facebook groups that may offer lower rates – or walk around in person and look for rentals!
Flexible Dates: If your travel plans allow for flexibility, check different dates for your stay. Prices can vary significantly depending on the time of year and specific dates.
FAQ: Digital nomad housing
How do digital nomads find accommodation?
Digital nomads can find accommodation through various methods, including online platforms, rental agencies, co-working spaces, social networks, and word-of-mouth recommendations.
Do digital nomads stay in hotels?
While some digital nomads choose to stay in hotels, many prefer alternative options such as serviced apartments, coliving spaces, Airbnb rentals, or house-sitting arrangements for longer stays.
Where do digital nomads sleep?
Digital nomads sleep in a variety of accommodations, including hotels, hostels, apartments, coliving spaces, private homes through house-sitting, or even in their own campervans or RVs.
Is Airbnb good for digital nomads?
Airbnb can be a good option for digital nomads as it offers a wide range of accommodations and flexible booking options. However, there are many other alternative options that I prefer.
How do digital nomads find apartments?
Digital nomads can find apartments through online platforms such as Airbnb, Booking.com, local rental websites, Facebook groups, or by connecting with locals in the area.
What do digital nomads need in a hotel?
Digital nomads typically look for hotels that offer reliable and high-speed internet access, comfortable workspaces, quiet environments, convenient locations, and amenities such as a gym, laundry facilities, and a kitchenette or access to cooking facilities.
Can digital nomads negotiate lower rates for long-term stays?
Yes, many accommodation providers are open to negotiation, especially for extended stays. It's worth discussing with the host or landlord to see if they can offer a discounted rate.
What are the benefits of coliving spaces for digital nomads?
Coliving spaces provide digital nomads with the opportunity to live in a community of like-minded individuals, fostering networking, collaboration, and a supportive environment for remote work.
Are there any specific safety considerations for digital nomads when choosing accommodation?
Yes, digital nomads should consider factors such as the neighborhood's safety, secure access to the accommodation, and any additional security measures in place to ensure their well-being while staying in a new location.
Final thoughts: Digital nomad accommodation
Finding the right accommodation is a crucial aspect of the remote work lifestyle. It can greatly impact your comfort, productivity, and overall experience while working and traveling remotely. Thankfully, there is a wide range of accommodation options available that continues to grow.
From coworking and coliving spaces like Selina and Outsite to online curated accommodation platforms, the choices are abundant.
Additionally, platforms like HomeExchange, Couchsurfing, and HouseSitting offer cost-effective alternatives for those seeking budget-friendly options or a more immersive cultural experience.
When choosing digital nomad accommodations, consider factors such as internet connectivity, workspace availability, location, cost, amenities, and reviews.
Ultimately, the goal is to find accommodations that suit your individual preferences, support your work requirements, and align with your budget. Since I travel full-time, I use a mix of all these types of accommodations depending on where I am and how I'm feeling at that time.
Jumping into the nomadic lifestyle? Check out these posts!