This post may contain affiliate links. By clicking and making a purchase through the links, I earn a small commission at no extra cost to you. This and display ads allows me to keep the site up to date and give back. Thanks for reading!
Next to flights, accommodation is likely to be the biggest expense on your trip. And it can make or break a trip! Having a unique place to stay can add so much to the experience, while on the other hand staying somewhere awful can ruin it for you.
With so many different accommodation options out there, how do you choose the right one? In this post, I'll break down what factors you should consider when choosing where to stay and the various accommodation options available, including FREE ones!
Factors to consider when choosing your accommodation
Are you traveling solo or with friends or a group? If you are traveling as a group, renting an apartment or house is likely to be much cheaper than paying for individual hotel rooms.
Do you want to meet people? If you are keen to meet other travelers on your trip, then choosing a social accommodation like a hostel or guesthouse might be the best choice. Couchsurfing can be great for connecting with locals.
Are you working remotely? Do you need good Wi-Fi? If you're working online and dependent on having a good Wi-Fi connection, then you'll want to make sure your accommodation can provide this.
Hotels and apartments are usually the best for this, as hostels tend to have weak Wi-Fi due to it being shared by too many people and only available in the common spaces which can be distracting.
Do you want to be centrally based? Will you have a car? If you are visiting a city and don't have a car, then a centrally located accommodation may be best so you can walk to places on foot. Look at the list of things you want to do – will it be easy to get to them from your accommodation?
How long are you planning to stay? If you plan to be there for a while, pick a comfortable place with a kitchen and other amenities you'd want for a more extended stay. You will probably be able to get a preferential rate too!
What time are you arriving? If you arrive late, such as after 10 pm, then a hotel or hostel with 24-hour check-in may be best. Often Airbnb hosts don't like late check-ins and may charge an extra fee.
Your budget – determine what your budget is per night before looking at accommodation options so you can use the price filter to narrow down your choices.
Paid accommodation types
Hotels
Hotels are one of the more comfortable and convenient accommodation types that you can find worldwide, but the one that I use least. Mainly because they can be expensive and not that conducive to meeting other travelers.
That said, there are a lot of pros to staying in hotels. They are usually quite nice and can be a reliable place to stay, especially if you stay at a known brand like Marriott with consistent quality control.
Another perk is that they tend to come with extra amenities such as pools, fitness centers, a 24-hour front desk, and attached restaurants. And, the Wi-Fi is usually good!
Hotels are great if you're just spending a night in one place and want somewhere comfortable to sleep or have an overnight layover near an airport.
If I am going to book a hotel, these are the two main resources I use:
Hotels.com What I love about this website is that if you sign up to be a member (which is free), you get 1 night free for every 10 nights you book. This is a great way to save money if you're traveling for a long time. Sometimes you can also find hostels on here!
Booking.com is one of the most comprehensive accommodation search engines on the web – it searches everything from hotels to guesthouses and resorts. You can often find great deals here.
Airbnbs (Apartments, Houses & Villas)
If you're staying somewhere for a long time, looking for an apartment or house rental is a good choice. You can get great monthly rate discounts on Airbnb, and most will come with kitchens so you can save money cooking at home. Since I have become a digital nomad, Airbnbs have become one of my favorite accommodation choices.
They are also great if you're traveling as a group as the cost split between several people can be very affordable! Plus, most Airbnbs are hosted by locals, so you might get insider recommendations hidden.
If you want a really memorable vacation, you can even find villas on Airbnb which offer luxury and privacy. You don't have to worry about playing music too loud or if you want to go for a swim at 5am. You are not constrained to specific times which gives you more scope to explore the destination you are visiting.
Another cool thing about staying at Airbnbs is that you can often find really unique types of accommodations on there. You may find treehouses, converted Airstreams, log cabins, houseboats, and more!
Lastly, by staying at an Airbnb, you can choose the exact location you want to be. For example, in Portugal, you may want to look for an apartment close to these 4 favourite beaches in Portugal to ensure close proximity to the sea and sand.
Hostels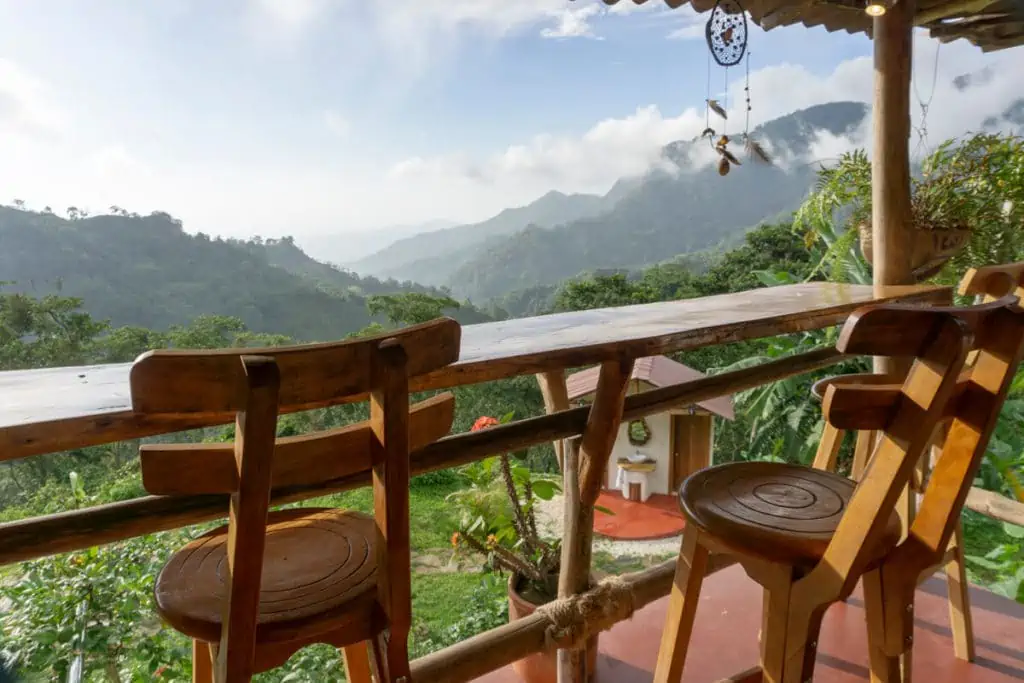 Oh hostels, the place I spent most of my 20s. If you want to meet people, then staying at a hostel is one of the easiest ways. They have shared common spaces where everyone hangs out and often host events and group dinners. Some of my best travel memories have been at hostels.
They are also one of the best types of accommodations to stay in if you're traveling on a budget, as dorm rooms can be very affordable and the rate often includes breakfast.
Some people conjure up images of dingy rooms when they picture hostels, and while some can be, most of them aren't. In fact, some of the most beautiful places I've ever stayed have been hostels like this castle in Panama.
Many hostels also offer private rooms at budget hotel prices, so this is a great way to have your own space while still getting the social atmosphere.
My go-to resource for finding the best hostel is HostelWorld. It's easy to navigate and filter by hostels that only have good reviews by real travelers (as a general rule, I don't go below an overall 8.0). I always read a few reviews to get a sense of the general atmosphere there!
Guesthouses/Bed & Breakfasts
Guesthouses and B&B's are generally cheaper than hotels but not as cheap as hostels. They can be an excellent option for budget travelers looking for more privacy or a quieter space then a hostel.
They come in all types of forms, from regular homes and apartments to historic buildings. Breakfast is usually provided as part of the room rate and served in a common dining area, giving you a chance to meet the other guests.
They offer more of a homey atmosphere than other accommodations and are great for cultural immersion as the owners are usually locals on-site.
You can find guesthouses and B&B's by searching on Booking.com or Agoda.
Homestays
Homestays involve living with a local family as a guest in their home. The accommodation types vary depending on where you are, but they are usually rustic and come with a private bedroom and home-cooked meals.
Most people choose to stay at a homestay to practice speaking the local language and be exposed to the local culture and aspects of daily life in that area. You can find homestays here.
Sleeper trains/busses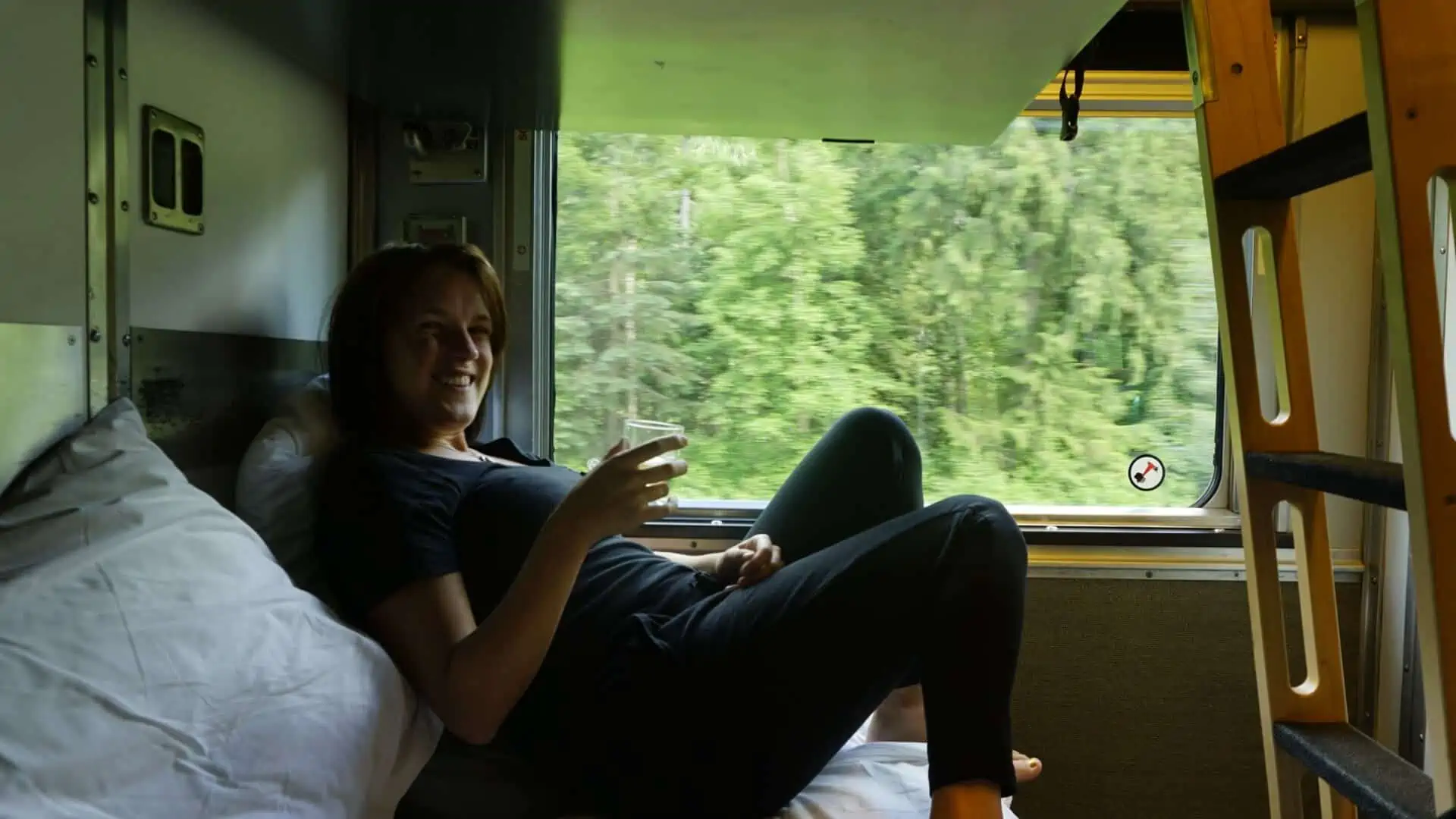 If you're traveling a long distance on a train/bus, a great way to save money is to travel overnight, so you're getting a nights accommodations for the same price as your transport. You are also saving some precious daytime hours by traveling during the night.
Sleeper trains offer different levels of accommodation, from private rooms to semi-privates and reclinable seats. When I took the train across Canada I had my own private room, which was actually very comfortable. I've also had many a night on long bus rides on reclined seats through Patagonia!
Free Types of Accommodation
Housesitting
Housesitting is one of my favorite types of accommodation. In exchange for watching someone's home and pets while they're away, you get to stay at their apartment/house for free. It's a great thing to do if you're an animal lover, and often the accommodations are usually very nice.
The downside is that you don't have a lot of flexibility with your travel dates as you have to work around the homeowner's vacation plans. Desirable house sits can also be very competitive, so you may need to do a few in less desirable locations to build up your profile.
One of the best websites for finding house sites is TrustedHousesitters. It's not free, but your membership will be quickly paid off by one housesit.
Couchsurfing
Couchsurfing, apart from being free, is a great way to meet locals and immerse yourself in the culture. It works by contacting someone in the city you are visiting and asking if they can host you . A great way to find and vet potential hosts is through the Couchsurfing website.
I haven't actually tried Couchsurfing myself yet, but I have met tons of travelers who have and rave about it.
Home Exchange
Another good cheap accommodation option is to do a home exchange. Like the name suggests, you switch places with another person or family in another country. You can find home exchanges here.
Camping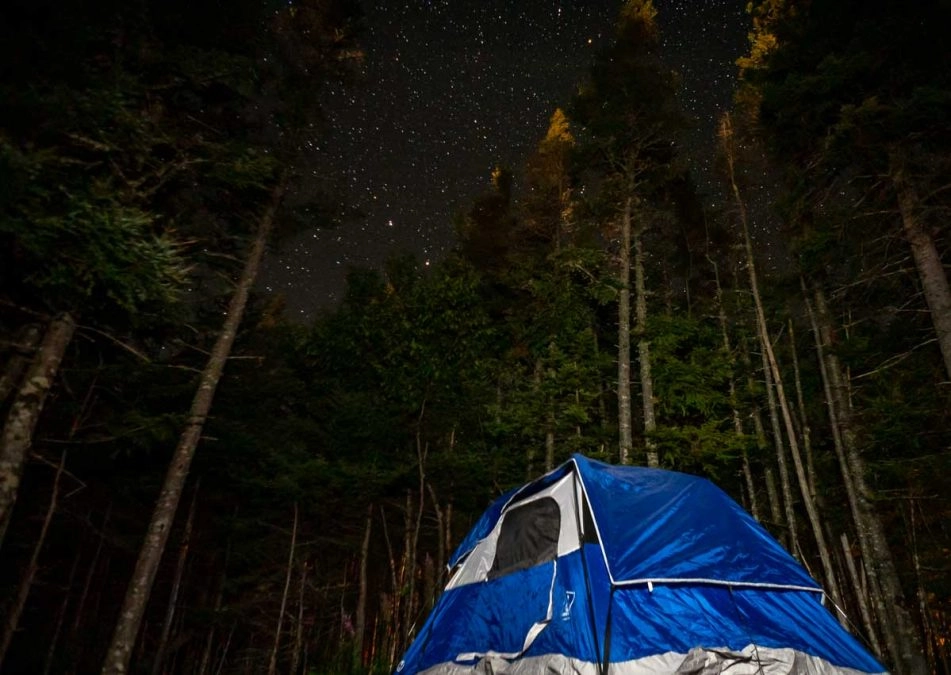 If you have your own equipment, camping can be a free source of accommodation depending on the rules of the country you are visiting. For example, in Canada anyone can camp on crown land. It's just a matter of finding it! The overlander app is great for doing so.
Even if you have to pay for a place to pitch your tent, it's typically much cheaper than any other paid accommodation option.
Staying with friends and family
If you know someone in the place you're visiting, ask them if you can stay there. Of course, you want to be respectful and not overstay your welcome but in my experience, most people are excited to host me and show me around where they live. Pay it back to them by doing the same when they come to visit!
The best part about this is that the more you travel, the more your network of friends around the world will expand. I've met so many awesome people backpacking that have offered me places to stay!
Tips for saving money on accommodation
Check for the best price. Once you've found the accommodation you want to stay in, check a few different websites to ensure you're getting the best rate. You can even contact the accommodation directly and ask if you can pay in person, as they will often give you a better deal. Don't be afraid to haggle!
Earn and redeem points for free stays. Use travel credit cards to collect points for free stays at hotels. I got a Marriott Bonvoy card earlier this year and now have enough points to stay for free for a week!
Volunteer – Many hostels accept volunteers, where you can get a free room (and sometimes food) in exchange for helping out a few hours a day.
Better yet, volunteer on a wildlife project where you will likely be staying right in the jungle like this conservation project in Malawi or wildlife sanctuary in Bolivia.
Should you book in advance or last-minute?
Depending on your comfort level and how long your the trip is, you may book all your accommodation in advance or just the first few nights. It is not usually necessary to book far in advance unless it is peak high season or a special event is going on in the destination you are traveling.
I take a balanced approach and book my first few nights than the rest as I go, as I found that my plans kept changing and having accommodation booked too far ahead became restrictive. If you do book ahead, get something with a flexible cancellation policy.
—
Accommodation can make a huge difference in the quality of your trip, so it pays to take the time to find the best one for you. Since I travel full-time, I use a mix of all these types of accommodations depending on where I am and how I'm feeling at the time. I hope this post could inspire you with some ideas on where to stay for your next trip!