This post may contain affiliate links. By clicking and making a purchase through the links, I earn a small commission at no extra cost to you. See my disclaimer for more information. This and display ads allow me to keep the site up to date and give back.
Looking for the best snorkeling in Mexico? I live in Mexico, and exploring the underwater world is one of my favorite things to do here! In this guide, I'm sharing my favorite places to go snorkeling in Mexico.
Mexico is full of exciting destinations for underwater exploration, and the best snorkeling in Mexico is generally found along the Pacific coast and Caribbean coast.
Mexico's tropical climate means that temperatures generally range between 50°F and 90°F all year round, which is very comfortable snorkeling weather.
And the crystal-clear waters, rich with colorful marine life, make Mexico an ideal snorkeling destination, whether you're a novice or an advanced snorkeler.
You can dive into freshwater cenotes in the lush jungle or explore the beautiful coral reefs of the Caribbean Sea.
A snorkel trip to Mexico lets you swim with sea turtles and whale sharks, see the second-largest barrier reef in the world, or explore life-sized statues in an underwater museum. There are endless opportunities in Mexico's underwater world!
Whether you plan to snorkel solo or book an excursion with one of Mexico's guided tour operators, here are the best places for snorkeling in Mexico.
Best Snorkeling in Puerto Vallarta
Puerto Vallarta is the city I call home, and it offers excellent locations for snorkeling in Mexico.
If you know the right snorkel spots, you can see a wide variety of marine life, including sea turtles, manta rays, dolphins, and octopuses.
In the winter, the Pacific Ocean around Puerto Vallarta is also a fantastic location for whale watching as migratory humpback whales pass through the area. When you go out on the boat to many of the popular snorkeling spots, it's a high probability you'll see whales too!
The best snorkeling locations in Puerto Vallarta are accessed by boat tours. It's a good idea to get your tours booked as soon as you have confirmed your vacation plans because the best tours soon tend to get fully booked during the high season from December to March.
A wide range of tours is available, like this Luxury Yacht & Snorkel tour which takes you around the Bay of Banderas to enjoy snorkeling and paddle boarding.
Los Arcos National Marine Park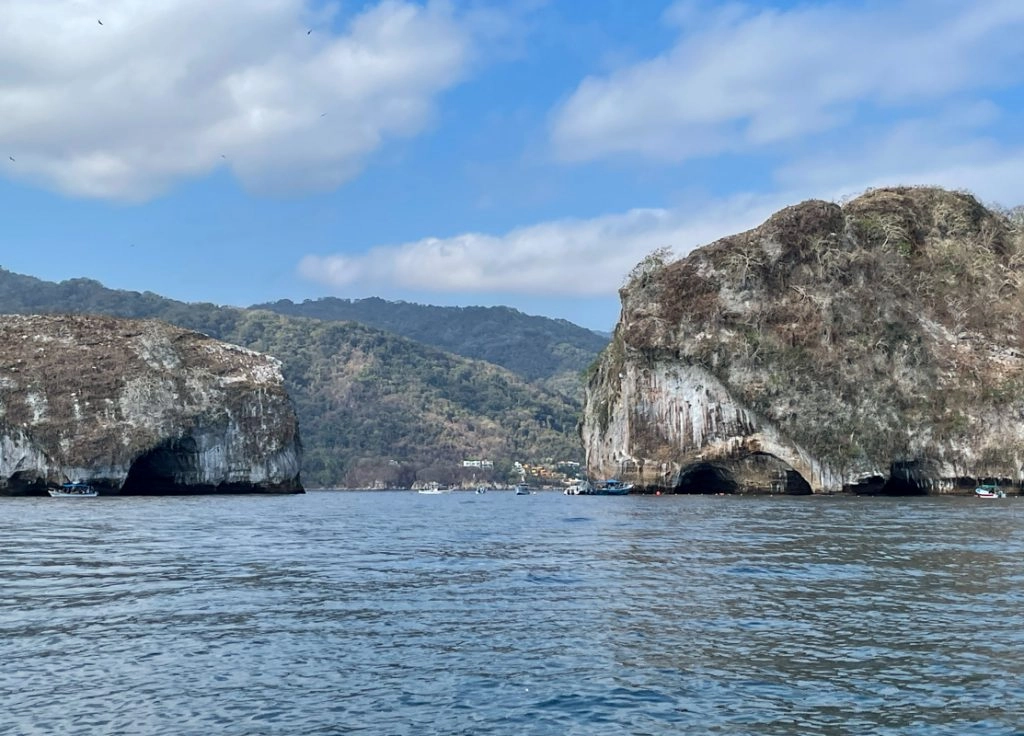 Los Arcos National Marine Park is a breathtaking protected habitat that's home to aquatic life, including giant manta rays, turtles, and octopuses. The water in this marine park has excellent visibility, and there are plenty of tunnels and underground caves to explore.
Los Arcos is on the bay's south side near Mismaloya, and a boat tour is the easiest way to visit the arches.
This Small Group Snorkeling Tour in Los Arcos is led by an experienced lifeguard and marine biologist and gives you around 4 hours to explore the area.
Marietas Islands
The Marietas Islands offer some of the best snorkeling spots in Puerto Vallarta. They're the home of the famous Hidden Beach, a hole in the island's surface that hides a secret beach with crystal clear water and pristine white sands.
The boat ride to the Marietas Islands takes around two hours, or maybe longer in the winter months if you stop to watch the humpback whales leaping out of the water. Once you arrive, you'll find ideal conditions for snorkeling, with fantastic visibility and masses of fish.
There's plenty of time to snorkel, kayak, and SUP on this full-day Snorkel Cruise from Puerto Vallarta. With some luck, you will spot local wildlife like bottlenose dolphins, manta rays, green turtles, and maybe even a blue-footed booby!
Other great spots for snorkeling in Puerto Vallarta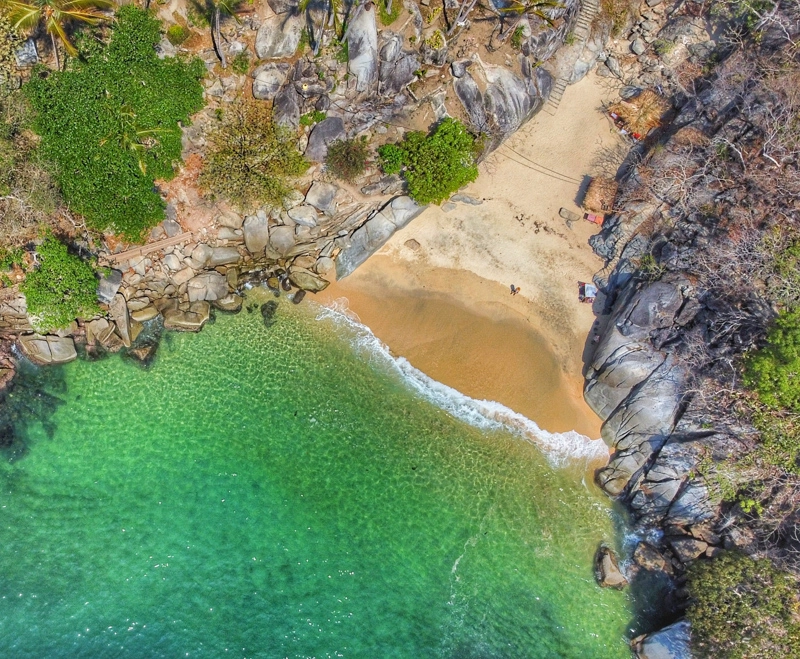 Playa Colomitos is a hidden gem that you can only reach by boat or hiking from Boca. Once you arrive at Colomitos, you'll find that the sea offers excellent visibility and lots of rocky spots where fish could hide.
Playa Conchas Chinas also offers great snorkeling opportunities in one of Vallarta's most exclusive neighborhoods.
It's just a short drive from the town center, and you'll find the sea is the calmest in the mornings. The rocks jutting out to sea have lots of hidden boulders and fish to spot.
Huatulco
The resort region of Huatulco has some of the best snorkeling on Mexico's Pacific coast.
The area lies in southeast Oaxaca and is famous for its stunning bays, lush vegetation, coral reefs, and a wide variety of marine life in Huatulco national park. It's also one of the cheapest places to live in Mexico on the beach!
Huatulco is a more upscale resort town. Unlike the popular surfing spots in Oaxaca, the beaches have calmer waters full of incredible marine life.
Snorkeling in Huatulco will allow you to spot a diverse range of marine species like starfish and seahorses, as well as octopus and whale sharks.
La Entrega
La Entrega is the top spot in Huatulco for first-time snorkelers and children, and it's very popular with both locals and visitors for its sheltered bay, calm waters, and handy beach facilities.
It's easy to reach La Entrega by car or taxi, and after you've enjoyed your snorkeling Mexico adventure, you can relax in one of the town's popular restaurants.
Cacaluta Bay
Cacaluta Bay lies south of Huatulco Bay, and the waters off its white sandy beach offer some of the best snorkeling in Mexico from the beach. The area is part of Huatulco Marine Park and has unspoiled beaches and crystal-clear waters that are ideal for diving.
You can either explore these bays by yourself or visit them on a guided tour of Huatulco's bays.
Cabo Pulmo National Marine Park
Baja California Sur lies at the southern tip of Mexico's Pacific coast. The Sea of Cortez, also known as the Gulf of California, is a paradise for snorkeling, with warm waters to explore and more than 6000 species of sea life to discover.
It takes about 90 minutes to drive to Cabo Pulmo from the popular surfing spot at Cabo San Lucas.
The best snorkeling in Cabo, Mexico is Cabo Pulmo National Marine Park, where you can explore the only hard coral reef in North America or swim along playful sea lions. Cabo Pulmo is also excellent for kayaking, hiking, and sport fishing.
The park has been declared a UNESCO World Heritage Site due to its incredible biodiversity, and a visit here is an amazing opportunity to see a protected coral reef's underwater world.
Transport can be tricky in the Baja California peninsula. So if you're planning a trip to Los Cabos, an organized snorkel tour to Cabo Pulmo National Park is generally the best way to visit.
La Paz
La Paz is the capital of Baja California and lies just a few hours to the North of Cabo Pulmo. It's known for its crystal-clear waters teeming with sea life, including tropical fish, flying rays, and even whale sharks.
Whale sharks aren't actually sharks but the largest fish in the world, and they often feed in the La Paz area. It's one of the top ecotourism experiences in Mexico!
This beach-lovers paradise has a popular seafront dotted with bars and restaurants, so it's a top spot to combine a beach vacation with some of the best Mexico snorkeling.
Playa Balandra
The white sands and turquoise waters of Playa Balandra make it one of the best beaches in La Paz, and some would even say it's one of the best beaches in Mexico.
The crystal clear waters are shallow near the shore, making it ideal for snorkeling and popular with families and weak swimmers.
There are plenty of great snorkeling spots that you can explore on your own, but you can't take a private boat out into the whale shark areas. So if you think snorkeling with whale sharks sounds like a great time, you'll need to travel as part of an organized tour.
A guided excursion like this Whale Shark Snorkeling tour in La Paz is accompanied by a qualified marine biologist, so you'll get the most out of your visit.
Isla Espiritu Santo
The uninhabited and UNESCO-protected islands of Isla Espiritu Santo and Isla Partida have some of Mexico's most beautiful beaches and snorkeling spots.
The calm, clear waters surrounding Espiritu Santo Island are ideal for snorkeling, and the coral reefs are home to over 400 species of coral and 500 species of fish.
The islands are a 2-hour boat ride from La Paz, and on a full-day boat tour to Isla Espiritu Santo, you may even get the chance to swim with sea lions up close!
Cozumel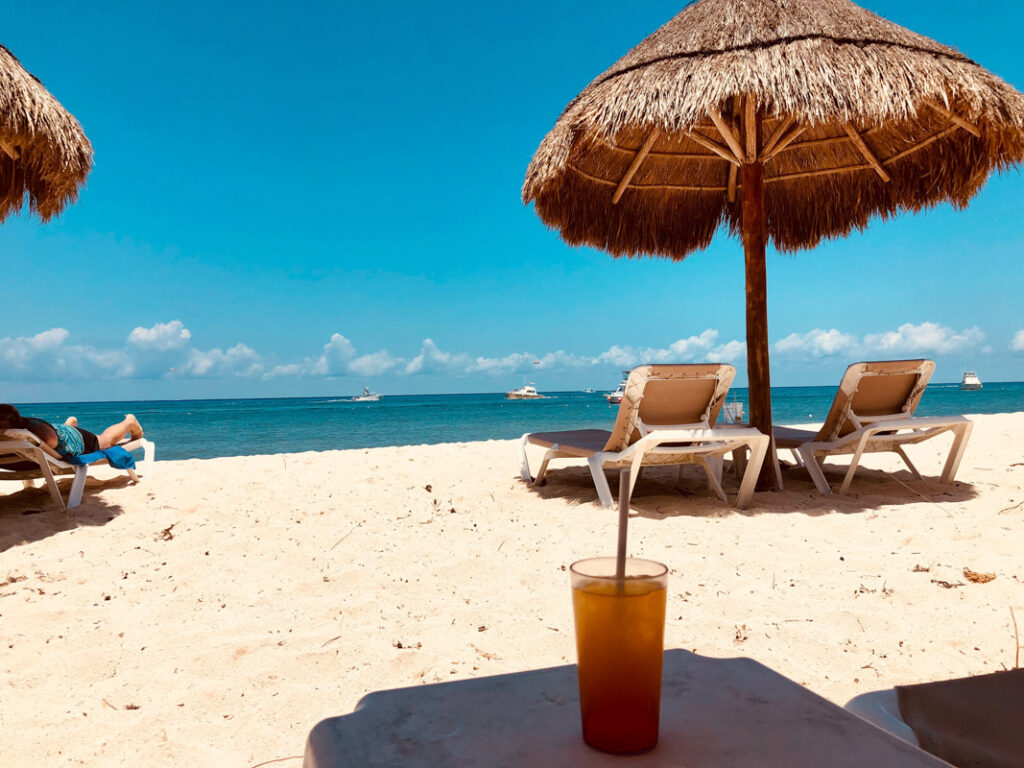 The idyllic island of Cozumel can be found across the water from Playa del Carmen, on the coast of the Yucatán Peninsula. It's one of the best Caribbean islands to visit!
Cozumel's location near the Mesoamerican Barrier Reef System, better known as the Great Mayan Reef, makes it not only one of the best places to snorkel in Mexico – but the best snorkeling in the Caribbean.
You might visit Cozumel as part of a cruise vacation, fly over to the island, or take a ferry from Playa del Carmen. It's got a relaxed island vibe, and you can take your own equipment or rent snorkel gear from a dive shop – you'll find plenty on the island.
The vibrant coral reef is home to many colorful species, including fire coral, green moray eels, butterflyfish, and seahorses.
If you're new to snorkeling, you will find many great locations for beginner snorkeling near the shoreline of western Cozumel, with waters full of aquatic life like barracuda, parrotfish, and angelfish.
More experienced snorkelers can hire a guide, tour the Mesoamerican Barrier Reef, or snorkel with sea turtles at the Cozumel Turtle Sanctuary for the best snorkeling in Cozumel.
Best Snorkeling in Cancún
Cancún is one of the most popular vacation spots in Mexico to party. But its white sandy beaches, clear blue waters, and warm climate make it great for snorkeling too.
If you want to go snorkeling from the shore, you will need to visit Punta Playa Delfines, one of the most beautiful beaches in Cancún.
If you aren't staying at a nearby hotel, you can walk along the beach to the snorkeling point from Playa Defines.
Isla Mujeres
Your other option is to take a snorkeling tour to Isla Mujeres, the island that lies about an hour from Cancún by boat.
There, you can visit the unique Cancun underwater museum/Museo Subacuático des Artes (MUSA) underwater museum, which is filled with over 500 life-sized sculptures. These are created from materials that encourage coral to grow on them, forming a reef that's somehow both natural and artificial.
There are two snorkeling options at MUSA. The Gallery of Punta Nizuc has over 35 sculptures and is suitable for adults and children, while the Paradise Adventure allows snorkelers to experience the marine life of the Nichupté Lagoon and the Mesoamerican Reef as well.
A day trip to Isla Mujeres is always very popular with visitors to Cancún, so booking your Isla Mujeres tour as soon as possible is a good idea.
Best Snorkeling near Tulum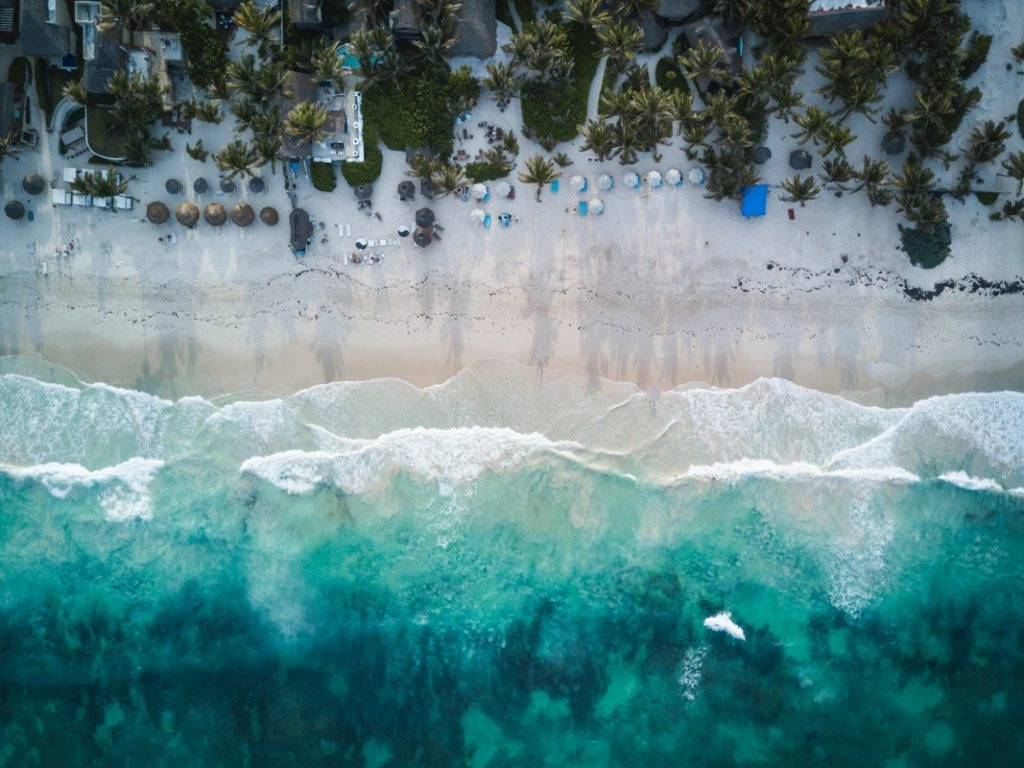 Over the last ten years, Tulum has grown from a quiet fishing town into one of Mexico's most popular tourist destinations and digital nomad hotspots. Tulum also has beautiful beaches and freshwater cenotes that make it a great spot for snorkeling!
You can snorkel from the shore in Tulum at Playa Paraiso or Playa Maya, sign up for a Sian Kaan biosphere tour, or visit one of the nearby cenotes. Many excursions combine a private tour of the Tulum Archaeological Site with snorkeling at Akumal Beach.
Casa Cenote
Casa Cenote offers some of the best snorkeling in the Riviera Maya. This crescent-shaped cenote lies between Tulum and Playa del Carmen on the Quintana Roo coast, and its shallow waters make it an ideal cenote for first-time snorkelers.
You could also combine a snorkeling trip to Casa Cenote with visits to other nearby cenotes. For example, this Cenote Triple Adventure Tour takes in Casa Cenote, Grand Cenote, and the Temple of Doom cenote, with its daring 10-foot drop down into the freshwater below. Of course, you could just climb down the ladder instead!
Cenote Dos Ojos
Cenote Dos Ojos is hidden away in the jungle, between Playa del Carmen and Tulum on the Mayan Riviera.
The name 'Dos Ojos' means' Two Eyes,' and these two interconnected cenotes are a fantastic destination for experienced snorkelers. If the tide is favorable when you visit, you can even swim through from one cenote to the other.
There aren't too many fish in the cave's clear waters, but you can see ancient limestone rock formations and wildlife like bats, iguanas, and tarantulas.
Cenote Dos Ojos is the perfect place to visit on a snorkel trip, especially if this is your first time snorkeling in Mexico. You can pay the entrance fee to visit on your own or book an excursion like this private tour of Cenote Dos Ojos.
A snorkeling tour will give you the advantage of early morning access and the guidance of a certified diving instructor.
Akumal Bay
Lying 40 minutes south of Playa del Carmen and 30 minutes from Tulum, the mile-long white sands and clear blue waters of Akumal Bay make it home to the best snorkeling in the Yucatan Peninsula.
Whether you're an experienced snorkeler or a complete beginner, you'll have a great time at Akumal Bay. Near the shoreline, shallow seagrass beds provide a food source for southern stingrays and green sea turtles, while the deeper waters are home to a coral reef and colorful fish.
If you want a guarantee of sea turtles, Akumal Bay is the best place for snorkeling in Mexico.
The Mexican government has put restrictions in place to protect local wildlife. So if you want to snorkel with sea turtles at Akumal Bay, you will need to follow certain regulations.
The easiest and safest way to ensure you stick to the rules is to book an organized tour with a reputable operator. This private Akumal Adventure experience combines a guided visit to the Tulum Archaeological Site and snorkeling with the sea turtles at Akumal Beach.
Akumal Bay gets pretty busy, so be sure to get there early or book outside of tourist season if you want to avoid crowds.
Mahahual
The fishing village of Mahahual is a popular tourist destination and is equally popular with cruise ship passengers. So it can get very crowded at times, but as long as you can cope with this, Mahahual is an excellent snorkeling spot.
Mahahual lies on the southern Caribbean Mexican Coast of Quintana Roo, close to Bacalar and a few hours away from Cancún.
It's part of the Mexican Caribbean Biosphere Reserve, and the impressive coral reef supports many fish and other aquatic species.
You can spot green, white, and Carey turtles here, together with corals, parrotfish, lobsters, and other tropical marine species.
The waters by the shoreline are fairly shallow, and most people will be comfortable snorkeling there.
If you want to venture further or aren't an experienced snorkeler, you can book a Mahahual Snorkelling Boat Tour and let your guide take you to the top snorkeling spots.
FAQ: Snorkeling in Mexico
When is the best time of year to snorkel in Mexico?
The best time of year to snorkel in Mexico is typically during the months of November to May when the weather is warm, and the water visibility is at its best.
What part of Mexico has the best snorkeling?
The Yucatan Peninsula, specifically the Riviera Maya region including Cozumel and Tulum, offers some of the best snorkeling in Mexico due to its crystal-clear waters and vibrant coral reefs.
Does Cancun have good snorkeling?
While Cancun is known for its beautiful beaches and tourist attractions, the snorkeling in the area is not as impressive as in other parts of Mexico. However, nearby destinations such as Cozumel and Isla Mujeres offer excellent snorkeling opportunities.
Is there good snorkeling in Puerto Vallarta?
Yes! At Los Arcos Marine Park, you can discover fascinating marine life like manta rays, and explore underwater rock formations.
Is snorkeling good in Cabo San Lucas?
While Cabo San Lucas may not be as renowned for snorkeling as other destinations in Mexico, there are a few hidden gems like Santa Maria Bay and Chileno Bay that offer pleasant snorkeling experiences, allowing you to soak in the beauty of the underwater world and encounter diverse marine species.
—
Whether you decide to book a snorkeling tour in Mexico or explore on your own, you'll be spoiled for choice when you visit for a Mexico snorkeling vacation.
All you have to do is decide which one of these amazing places to visit!
Planning a trip to Mexico? Don't miss these posts!