This post may contain affiliate links. By clicking and making a purchase through the links, I earn a small commission at no extra cost to you. See my disclaimer for more information. This and display ads allow me to keep the site up to date and give back.
Wondering what the best Tenerife boat trips are? Going on boats in Tenerife was my favorite activity while living there, and I'm sharing my favorites in this guide.
The island of Tenerife in the Canary Islands is a popular vacation spot due to its warm climate, beautiful beaches, and fun festivals.
It's no surprise that a boat trip is one of the most popular activities for people vacationing in Tenerife, thanks to the island's rugged volcanic coastline, towering cliffs, and crystal-clear waters.
The warm waters of the Atlantic Ocean around Tenerife are perfect for an exciting boat trip, whether you go snorkeling with turtles or spend the day dancing to live music.
But if you prefer a more relaxing vacation, there are plenty of options for sightseeing boat tours where you don't need to do anything more strenuous than sunbathe and choose your next drink.
You can spend a fun day out with a small group, join the crowd on one of many Tenerife party boats, or indulge in a private boat charter to relax in privacy.
There are many different boats to choose from, including luxury sailing boats, fast motorboats, and even a replica Viking ship.
Many tours include free drinks or a complementary tapas lunch, and the crew members will know the locations that give the best chances of seeing whales, dolphins, and other marine life.
Best Tenerife boat trips
There really is a Tenerife boat tour to suit everyone! here are some of the best boat excursions for you to choose from.
⭐️ 4.9/5 | 🕕 3 – 6 hours | Check availability here
Experience the freedom and luxury that private charters offer with this private motorboat tour. Will you spend your time sunbathing and relaxing on deck, snorkeling and paddleboarding, or swimming with turtles?
Whatever you choose, the highly experienced captain of the boat and the steward will ensure you have an unforgettable day perfectly tailored to suit your tastes. See the majestic cliffs of Los Gigantes or linger over a Canarian paella lunch in a secluded bay, all from the privacy of your chartered luxury motorboat.
We had a really memorable day and we felt privileged to see dolphins and pilot whales swimming freely next to the boat. Jose was a charming captain and host and we were very well looked after.

– Get your guide review (read more here)
Your cruise also includes a delicious range of snacks, fruit, and drinks as you journey through the warm waters of Tenerife's Costa Adeje on the south side of the island.
Renting a private boat can be affordable when split with a group of friends and family. It was one of the most memorable days I had living in Tenerife!
⭐️ 4.7/5 (2000+ reviews) | 🕕 3 or 5 hours | Check availability here
It's no surprise that this whale-watching excursion is one of the most popular boat trips in Tenerife. Going whale watching in Tenerife is one of the main highlights of a trip to Tenerife. I never got tired of watching pilot whales and bottle-nosed dolphins in their natural habitat! It's so much fun.
This catamaran trip lets you soak up the beautiful surroundings as you sail past beautiful beaches like Playa de las Américas and Playa de los Cristianos and spot Mount Teide in the distance. You can even take a dip in the Atlantic Ocean during your 3-hour trip.
It was a joyful time. First we watched dolphins and whales very closely. Next the crew took us to the beatiful area near the Los Gigantes where we had time for swimming. They took care od us in perfect way.

– GetYourGuide Review (read more reviews here)
Your relaxing boat trip will include all food and drinks on board. If you don't spot any whales or dolphins during your trip, you'll be offered the chance to reschedule (subject to availability).
The trip can also be extended to cover a full day with lunch on board your catamaran, or you can spend time exploring the coastline of Tenerife, including the cliffs at Los Gigantes.
⭐️ 4.6/5 (490+ reviews) | 🕕 3 hours | Check availability here
Discover the freedom of swimming underwater with this introductory scuba diving trip. During your sailing boat trip, you can get the chance to dive with amazing marine life, including turtles.
Your scuba diving experience will start with instruction from a PADI dive instructor at the Costa Adeje dive center before you board the boat and head out to open water.
It was my first experience of doing the diving. The instruction, the transport and every thing is very good. In one word, it was amazing.

– GetYourGuide review (read more here).
You'll go on a fascinating snorkeling safari to explore a site with waters that have been voted some of the best in the world. You'll encounter Tenerife's diverse marine life, including different fish, rays, and turtles, and you may even be able to spot whales and dolphins from your boat.
⭐️ 4.9/5 (200+ reviews) | 🕕 3 hours | Check availability here
Take in the dramatic views of the Costa Adeje coast as you tour Tenerife's south coast on board a luxurious sailboat. Your three-hour luxury sailing boat voyage will be led by an experienced crew who have in-depth knowledge of marine life and the crystal waters around Tenerife.
Very friendly crew on a perfect trip. The captain (Salvador) knows what he is doing and showed us the way to meet dolphins and pilot whales.

– Get your guide review (read more here)
You can spot whales, seabirds, and turtles from onboard the boat, take a dip in the sea, and go snorkeling to spot underwater life. Or, if that all sounds too energetic, lie back and relax on board with a range of delicious snacks, desserts, and drinks, all included in your tour price.
⭐️ 5/5 | 🕕 3 hours | Check availability here
Boat tours are a very popular thing to do in Tenerife, but unfortunately, they aren't always wheelchair accessible. This usually comes down to limitations in the boat's design, but this Los Cristianos boat tour is specially designed to be wheelchair-friendly.
The boat has an accessible bathroom and shower, plus a hydraulic platform that allows wheelchair users to enjoy the sea as well.
Super team, very friendly and with personal touch. Enjoyed the day with seeing whales, fishing and some swimming in sea. Really awesome experience.

– Rashid (read more reviews here)
You'll enjoy snacks and drinks on board the boat while you look out for whales and dolphins along Tenerife's coastline. You can snorkel in the clear open water filled with colorful fish, manta rays, and turtles or relax in the comfort of the shaded seating area.
⭐️ 5/5 (1000+ reviews) | 🕕 3 hours | Check availability here
Step on board this luxurious sailing excursion along the coast of Los Gigantes, Tenerife. This three-hour trip will take you through the seascape surrounding the Los Gigantes cliffs, giving you a unique view of Tenerife's highest cliffs on an unforgettable journey.
Very nice experience in a small group. The guides were super friendly and very skillful, also did they know a lot about the dolphins we spotted and explained us a lot.

– Get your guide review (read more here)
On board the comfortable sailboat, you'll find all the amenities needed for a relaxing day on the open sea. The boat's highly trained crew knows the best places for whale spotting, so they'll get you as close as possible to these awe-inspiring animals without disturbing their natural environment.
This tour is kept to a small group of a maximum of 9 people, so it won't be crowded watching the whales.
⭐️ 4.8/5 (200+ reviews) | 🕕 3 hours | Check availability here
Head out from Los Cristianos harbor for a thrilling adventure aboard the Viking ship Ragnarok.
This journey on board a Viking-era replica will take you through the waters that are home to bottlenose dolphins and whales. They often swim alongside the ship, so you'll have a good chance of a close encounter!
A really enjoyable novelty cruise. The staff in character were superb, very professional and attentive to all passengers needs.

– Get your guide review (read more here)
Your voyage will also take you along the beautiful coastline around Adeje and Playa de las Americas, with Mount Teide and Teide National Park visible in the distance before you drop anchor at La Caleta.
You'll be treated to Viking shows, enjoy delicious soft drinks, and there's even enough time for a refreshing swim or snorkeling dive where you may be lucky enough to see turtles.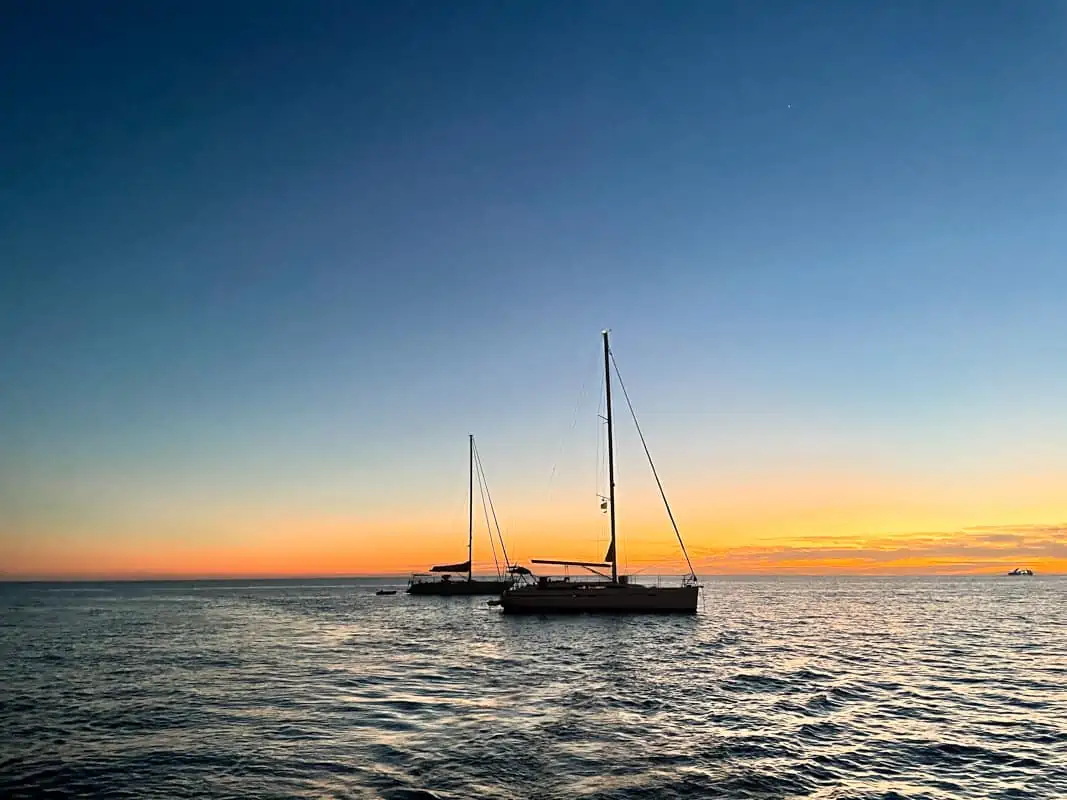 ⭐️ 4.8/5 (70+ reviews) | 🕕 3 hours | Check availability here
For a unique experience and a romantic way to explore the Tenerife coast, this sunset cruise is hard to beat. You'll sail on board a comfortable catamaran from Puerto Colón in Playa de las Américas.
The expert crew will take you on a three-hour voyage filled with stunning views as the sun sets over the Atlantic Ocean.
Wonderful experience. We saw lots of whales and dolphins. Plenty of drinks and food. The staff were excellent. Some of our party enjoyed the opportunity to swim in the sea. Highly recommend!

– Get your guide review (read more here)
You'll enjoy complimentary drinks and delicious local tapas throughout your relaxing boat trip. Your friendly crew will ensure you have the best experience and the greatest chance of seeing pilot whales and bottlenose dolphins. It's the perfect way to spend quality time with your loved one during your Tenerife vacation.
And as the sun sinks over the horizon, you'll return to the twinkling lights of Puerto Colón harbor with beautiful memories of your sunset cruise.
⭐️ 4.7/5 (50+ reviews) | 🕕 2 hours | Check availability here
Take a trip back in time on board this 'Peter Pan boat' as you explore the west coast of Tenerife on board an authentic Portuguese Goleta.
These wooden sailboat trips will take you on a cruise from the port of Los Cristianos, spotting majestic whales and dolphins as you enjoy the sun and sip cold drinks on deck.
This Tenerife boat trip gives you a taste of what it would have been like to sail in the glory days of exploration, but with modern standards of comfort. There's plenty of space on deck to relax and enjoy this two-hour cruise before returning to Los Cristianos harbor.
An unforgettable and clearly repeatable experience if we return to Tenerife! Both captain and sailors a charm of people !!

– Get your guide review (read more here).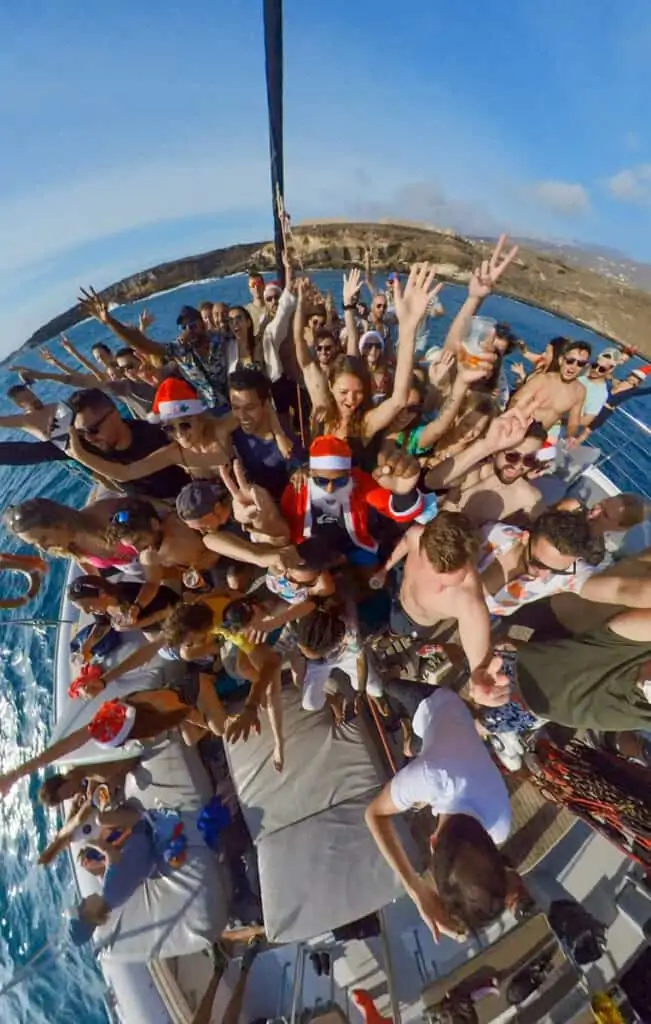 ⭐️ 4.4/5 (30+ reviews) | 🕕 3 hours | Check availability here
If you are looking for an unforgettable experience filled with the best music and an open bar, you're sure to have an amazing time at this three-hour boat party. This was one of my favorite things do on the weekends with other digital nomads in Tenerife!
Whether you sail aboard a galleon boat or a modern catamaran, you'll enjoy top tracks from professional DJs and an open bar throughout the voyage.
Your cruise begins with a welcome drink at Black Pearl Café while live DJs get you in the mood for the party ahead. Once you're on board your vessel, you'll hear tracks from every possible genre of party music, including dance, house, garage, and R&B.
Even though it was out of season, still one of the greatest experiences on the holiday. The people behind utopia boat parties are as genuine as they can get. They really care for you and want you to have the best time possible. Couldn't recommend more 10/10.

– Get your guide review (read more here)
And with unlimited drinks throughout the three-hour boat trip, you'll surely be in the mood to keep the party going when you return to shore.
—
Now you've seen the wide variety of amazing Tenerife boat trips on offer, your most difficult decision will be which awesome experience to book!
Planning a trip to Tenerife? Check out these posts!