This post may contain affiliate links. By clicking and making a purchase through the links, I earn a small commission at no extra cost to you. See my disclaimer for more information. This and display ads allow me to keep the site up to date and give back.
One of the coolest parts about visiting Cappadocia is the opportunity to stay in one of the regions unique hotels.
Caves that were once used as hiding posts for ancient civilizations have now been converted into modern-day hotels where you can stay. From budget to luxury cave hotels, this post will help you find the best hotel in Cappadocia!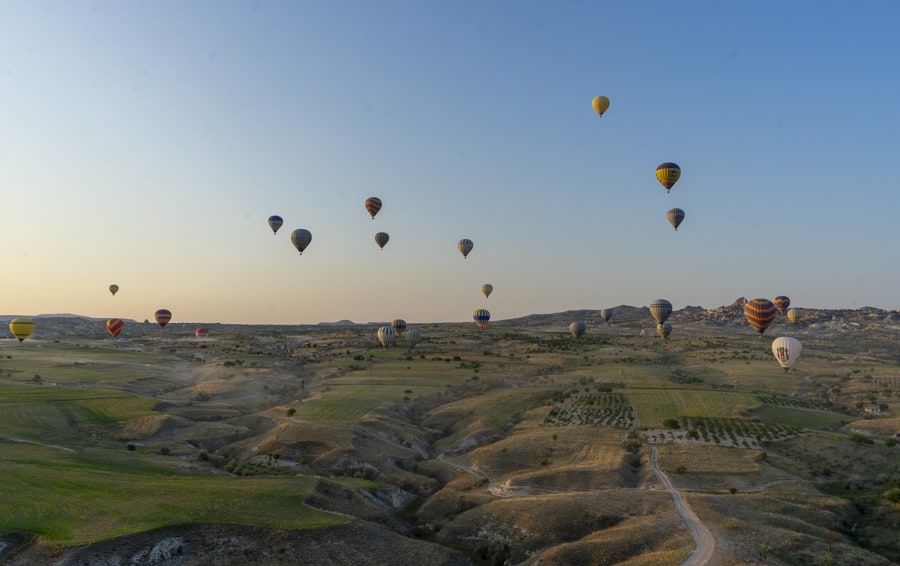 There are many luxurious places to stay in Cappadocia, but don't worry if your budget doesn't allow for that. There is also a wide range of budget and mid-range cave hotels that offer amazing amenities and value.
This guide has you covered in finding the perfect place to stay in Cappadocia for any budget. I've listed them in groups from the lowest to highest price. You can use the following guide to get a sense of how much a room will cost in each hotel.
$ = 5-50 USD
$$ = 50-200 USD
$$$ = 200-400 USD
$$$$ = 400+ USD
Jump to: Budget Hotels | Mid-range Hotels | Luxury Hotels
Can't read this right now? Pin it for later!
Choosing where to stay in Cappadocia
An important thing to understand before choosing your cave hotel is that Cappadocia is not one place – it is a region that encompasses many cities and towns. Here are the three most popular cities in Cappadocia to stay.
Goreme
Goreme is the most popular town to stay in, but also the most touristic. That being said, this is where I stayed and I loved it. The chimneys found throughout the town are charming, and it's an easy place to be based if you want to do a lot of the Cappadocia tours or hiking in the area. it's also where the hot air balloons depart from.
Uchisar
Uchisar is another town you can stay in just a 10-minute drive from Goreme. There are a number of budget and boutique hotels here, although you will find less dining and entertainment options. Uchisar's main attraction is Uchisar Castle. It's also near the starting point of Pigeon valley where you can go hiking.
Find accommodation in Uchisar.
Urgup
Urgup is a small, sophisticated town on top of a hill overlooking the region. There you can find many upscale dining options, boutique hotels, and nightlife. It's a good place to stay if you prefer a luxury cave hotel in Cappadocia and want to be away from the crowds.
Click here to find accommodation in Urgup.
Arriving in Cappadocia
If you take the bus into Cappadocia from other cities in Turkey it will drop you at the main bus terminal in Goreme. If your hotel is in Uchisar, there is a mini-bus that runs between the two towns every hour which takes 10 minutes.
If you are flying into Cappadocia you will land in Kayseri and Neysehir, which are cities 29/57 km away from Goreme, respectively. After booking your accommodation in Cappadocia, e-mail them and ask if they can send a shuttle to the airport. Some have complimentary shuttles, while others will charge a small fee. But this will be significantly less then what a taxi will cost you.
To find out more about getting to Cappadocia and planning your trip there, check out my complete guide to visiting Cappadocia!
Best Budget Hostels & Hotels in Cappadocia
I stayed at Hostel Terra Vista for a few nights and had a great time. This budget-friendly hostel has dorm rooms for as low as $8/night that come with a good traditional Turkish breakfast. Breakfast is served on the rooftop where you can watch the balloons take off in the morning and the sunset in the evening. They also have a cave lounge which is used as a common area!
The staff who run this hostel are very nice and will help you plan your trip in Cappadocia and onwards. From the hostel, they can arrange a ton of tours in Cappadocia and even have discounted prices. As soon as I booked the hostel they sent me an e-mail with information about the tours available, and to see if I wanted to book one of the hot air balloon rides in advance. It's recommended to do this as the flights can book up far in advance.
Hostel Terra Vista is located in the center of Goreme just a 5-minute walk from the bus station.
Another popular hostel for backpackers in Goreme is Kose Hostel. While this hostel doesn't offer the typical cave room experience, it does have an outdoor swimming pool. This will be much appreciated if you plan to visit Cappadocia during the summertime.
Kose Hostel offers private and dorm rooms for as low as $8/night with breakfast included. I know a few people who stayed here and only had good things to say. It has a good reputation for atmosphere and meeting fellow travelers!
Atak Hotel is recommended by Nabiha of Verses by a Voyager
Atak Hotel is a small, family-run hotel. It is a budget hotel with basic facilities. No lavish facility is being served but it makes you feel at home.
Situated right in the heart of Goreme, Atak Hotel is mainly run by a lady in her mid-50s who treats her guests as her family, and this is what makes this hotel very special.
A daily breakfast is included in the price of the room which is an amazing, continental, homemade breakfast. The breakfast also includes home-made jams which are authentic Cappadocia taste. This breakfast is served on the terrace and one can enjoy the delicious breakfast while watching the balloons early in the morning.
There is a simple dining setup on the terrace to enjoy the views around. As the hotel is in the middle of the city, you can watch the hot air balloons from the terrace of Atak House.
Best Mid-range Hotels in Cappadocia
MDC Gave Hotel Cappadocia is one of the best value cave hotels in Cappadocia. They have cave suites for as low as $80/night! The suites at MDC were carved out of the rock formations over 200 years ago and include all the traditional features such as wooden ceilings, stone fireplaces, carved alcoves, and winepress. Some of the rooms even have jacuzzis in them!
MDC Cave Hotel has a 360° panoramic bar where you can watch the sunset over the beautiful valley. They also offer a gourmet on-site restaurant that serves traditional Turkish cuisine.
Aydinili Cave Hotel is another popular cave hotel with rooms available for under $100. This small, family-run hotel is located in heart of old Goreme. They have several beautifully decorated cave rooms with fireplaces. Aydinili Cave Hotel also has a panoramic rooftop for viewing the hot air balloons in the morning, where they serve traditional Turkish breakfast. It's consistently rated as one of the best hotels in Cappadocia!
Artemis Cave Suites is located in the heart of Goreme, offering affordable cave rooms under $150. They have 26 cave rooms and two stone rooms at various prices. The cave suites come with a bathtub!
Artemis Cave Suites also has a gorgeous rooftop for viewing the ballons, and a friendly dog to complement your photo op. They can arrange tours for you from the hotel and maintain a high rating of 9.2 with over 1,000 reviews. That's a lot of satisfied guests!
Sultan Cave Suites is one of the most instagramable hotels in Cappadocia, and offers suites for as low as $200/night. This hotel is close to the center of Goreme but perched on top of Aydinili hill, which gives it a great vantage point for watching the balloons take off in the morning from their gorgeous rooftop, which is decorated with traditional Turkish carpets.
Most of the guest rooms are carved into the hill, offering cool temperatures to escape the Cappadocia heat. Many of them come with a private terrace or balcony and modern en-suite bathrooms. Sultan Cave Suites has an on-site restaurant and can arrange tours to the surrounding areas for you.
Other quality mid-range cave hotels in Cappadocia between 100-200$ are Kelebek Special Cave Hotel (Goreme), Kayakapi Premium Caves Cappadocia (Urgup), and Cappadocia Cave Suites (Goreme).
Best Luxury Cave Hotels in Cappadocia
Cappadocia Cave Resort and Spa is recommended by Rahma of The Sane Adventurer
Cappadocia is undoubtedly one of the most unique places in Turkey, which I was always very intrigued to visit. Apart from the rugged landscape of the small city, what is more fascinating is the unique accommodation options there.
I was sure about staying at a place that offers the best sunrise views of the hot air balloons going up in the year. I stayed at the lovely and luxurious Cappadocia Cave Resort and Spa in Nevsehir.
The resort is a five-star luxury property built in an actual cave, which makes the entire stay worthwhile! I demanded a room with clear views of the hot air balloons, however, to my surprise I was given a room in which you can see the sunrise and the balloons going up in the sky right from your bed!
I had the most beautiful morning of my life at Cappadocia Cave Resort, where the first thing I saw right from my bed was a million-dollar view of the entire valley with the sky filled with hot air balloons! It is a very surreal experience.
Mithra Cave Hotel is recommended by Lerato Bambo of Life From a Bag
The region of Cappadocia is home to some of Turkey's most historic and unique landmarks. Known for its cave hotels, there are many towns and villages carved underground and into the rock faces.
You cant go to Cappadocia and not stay in a hotel. There are hotels for ANY budget, like Mithra Cave Hotel in Göreme. The hotel has Ottoman and Greek-style themed rooms with handcrafted Turkish carpets and curtains. With every amenity, you can possibly need during your stay, the best feature of the hotel is the rooftop terrace which is also a popular hot air balloon viewing spot.
Argos in Cappadocia is recommended by Sue of Food Travelist
No trip to Cappadocia is complete without a stay in a cave hotel and there is plenty to choose from. The Argos In Cappadocia is one cave hotel that should be on the top of your consideration list.
From the moment you arrive, you will be engulfed by their five-star hospitality. The beautifully restored property is set atop a hillside in the old village of Uçhisar, on the site of an ancient monastery. This is a place where people lived in caves carved into the rocks. It is a part of this unique and otherworldly landscape that can only be found in Cappadocia.
Whether you choose a room or suite you will experience what it's like to live in a cave-dwelling. If you want to splurge, the Splendid Suites even include a private cave pool.
There's much to do at the Argos. You will spend hours exploring caves that lead to wine cellars and hidden tunnels. Dine in the sumptuous SEKI Restaurant with delicious local dishes and breathtaking views. Relax with a cup of Turkish tea and watch the early morning hot air balloons soar.
We are sure the Argos offers a unique stay that you won't soon forget.
Museum hotel is one of the most expensive places to stay in Cappadocia, but also one of the most photographed and well-reviewed luxury cave hotels. Heated outdoor pool overlooking the hot air balloons? Yes please.
This living-museum concept hotel has luxurious cave suites carved into the building. It features an outdoor pool that's heated in winter, a terrace with panoramic views over Cappadocia, and daily breakfast with fruit and veggies grown from their eco-garden. Museum Hotel also has an on-site restaurant and even offers cooking classes for those interested in learning Turkish cuisine.
Final Thoughts
Cappadocia is a very special place to visit and staying at one of the regions unique cave hotels can make your experience even better. I hope this guide helped you find your dream cave hotel!
If you're looking for the best cave hotel offers, consider visiting during the shoulder or winter season (peak season is from May-September). Room prices will be significantly cheaper, and there will be far fewer crowds. And yes, you can still ride a hot air balloon during the winter! Imagine that landscape covered in snow, it would be magical.
For more information on planning your dream trip to Cappadocia, don't forget to check out my Ultimate Cappadocia Travel Guide!
Like it? Pin it for later!