This post may contain affiliate links. By clicking and making a purchase through the links, I earn a small commission at no extra cost to you. See my disclaimer for more information. This and display ads allow me to keep the site up to date and give back.
Are you curious about what it's like to live in Morocco as a digital nomad? Since I haven't crossed it off the list yet, I've asked Rachel from White Collar Wanderer to share her recent experience as a solo female digital nomad in Morocco!
She spent two months in various parts of Morocco, including Marrakech, Chefchauen, Tangier, and Western Sahara, and says her experience was enriching, chaotic, challenging, and amazing all at the same time.
Morocco is a special country with amazing landscapes and an enchanting vibe. From the chaotic souks of Marrakech to the tranquil beaches of Essaouira, this North African country has endless opportunities for adventure and exploration.
As a digital nomad, Morocco is a fantastic destination for living life outside the cubicle.
Affordable living costs, decent internet connection, and a growing community of nomads have poised Morocco to become a hub for remote workers.
In this digital nomad guide to Morocco, I'll share my experiences living in Morocco, including tips on where to stay, where to work, and how to make the most out of your journey.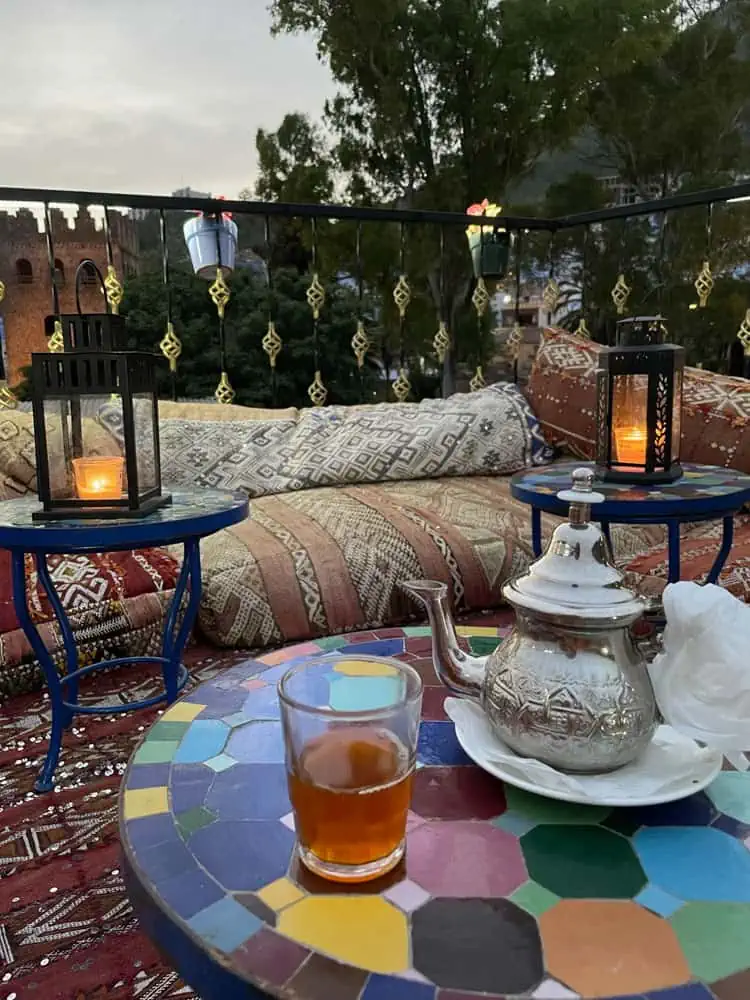 Living in Morocco pros and cons
There are so many great things about living and working remotely in Morocco, but there are also negatives. Here are the pros and cons of living in Morocco:
Benefits of living in Morocco
Affordability
Morocco is one of the cheapest destinations for digital nomads, making it an attractive destination for budget-conscious individuals.
You can live comfortably in Morocco for around 1500-2000 USD a month, especially if you stay out of the cities and in smaller towns like Fez and Essaouira, where you can find affordable long-term accommodations.
With lower living costs, your budget can stretch further, allowing you to enjoy more of the country's attractions, cuisine, and experiences without feeling stressed about breaking the bank.
Cultural experience
Morocco's unique blend of Berber, Arab, and European influences offers a fascinating cultural experience that can enrich your time as a digital nomad. From the beautiful architecture to historic sites and incredible cuisine – Morocco is a treat for your senses.
Landscapes and adventure
Morocco has stunning scenery, from the Sahara Desert to the Atlas Mountains, providing endless opportunities for exploration and adventure. And don't forget the iconic Erg Chebbi dunes and beautiful coastal towns where you can surf after work.
Central location for traveling
Morocco is located at the crossroads of Africa, Europe, and the Middle E. It is it a great location for digital nomads who want to explore other nearby digital nomad destinations in North Africa and European countries, such as Tenerife in Spain and Dahab in Egypt.
There are many direct flights from European cities, and it's only a 6-hour flight from New YSo ifk. If you work for an American Company, it is still possible to work US hours without staying up too late. It iss an ideal time zone if you're working European hours.
Cons of living in Morocco
Language barrier
Most Moroccans speak French, but Arabic is the dominant language, and it may be challenging for digital nomads who don't speak these languages to navigate daily life. Learning some basic Arabic phrases can be helpful for daily interactions.
English is spoken by people who work in tourism, but French is much more prominent in Marrakech, while Spanish is more prominent near Tangier. I tried to 'panic learn' French after we arrived because English was not as common as I was expecting.
Culture shock
The cultural differences between Morocco and the West can be significant, and you may experience culture shock when adapting to the local way of life. Even after traveling for years, I was shook.
This is one of the disadvantages of living abroad, but it also provides an opportunity to learn and immerse yourself in a different way of life. Just come with an open mind and willingness to adapt to a new culture!
Safety concerns
While Morocco is relatively safe compared to other countries in the region, there are still safety concerns, particularly for solo female travelers in Africa. However, it is one of the safest and most stable countries in North Africa.
The real 'danger' mainly stems from falling for tourist scams (don't trust anyone who offers to 'show you around') or getting catcalled by men on the street.
Islam is the dominant religion in Morocco, and you should be aware of and respect Islamic customs and traditions. You don't need to wear a hijab or cover every part of your body, but dressing slightly more conservatively will help with the catcalling.
Living as a digital nomad in Morocco can offer an enriching and affordable experience, but it's essential to be aware of the potential challenges and take necessary precautions. Find out more about how to dress, safety tips, and other myths about Morocco every digital nomad should know.
Best places to live in Morocco
Morocco has much to offer digital nomads looking to live and work in a new country. Some top places to live as a digital nomad in Morocco include Marrakech, Essaouira, and Tangier.
Each of these cities has a unique character and offers vastly different experiences for digital nomads.
Marrakech
Marrakech is known for its vibrant medina and beautiful architecture, and is my favorite city in Morocco. It is a pretty large city with many things to do but feels very authentic and unique at the same time.
When most people think of Morocco, they probably envision haggling in the markets souks of Marrakech. It is famous not only for tourists but also for digital nomads and expats.
Marrakesh has the biggest digital nomad community in Morocco, with plenty of coffee shops and chilled-out coworking spaces like L'BLASSA. It also has the best nightlife scene in the country, so if you're looking for a place to socialize and go out with other nomads, Marrakesh is a great choice.
Casablanca
As the largest city in Morocco, Casablanca is a bustling business hub with a modern infrastructure. It offers high-speed internet, a wide range of accommodation options, and coworking spaces like New Work Lab.
Casablanca has a dynamic atmosphere and provides access to various amenities, including cafes, restaurants, and entertainment venues. It's also home to Morocco's largest airport, which may be something to consider if you need to travel often.
Rabat
As the capital city, Rabat offers a blend of tradition and modernity. It provides a quieter and more relaxed environment compared to Marrakech and Casablanca, making it suitable for those seeking a calmer pace of life.
Fes
Fes offers a low cost of living compared to Marrakech or Casablanca, which makes it an appealing option for those on a budget looking for an authentic Moroccan experience.
The Medina of Fes is a UNESCO World Heritage site and provides a captivating blend of narrow alleys, traditional markets, and stunning architecture. Fes also has a growing digital nomad community, with coworking spaces and cafes that cater to those remote working from Morocco.
Essaouira digital nomad
Essaouira is a charming coastal town known for its beautiful beaches, rich culture, and watersports like kiteboarding and surfing.
It has a more laid-back vibe than many other parts of Morocco, and the sea views are breathtaking. Essaouira has several nice coworking spots to choose from, including Noqta Space.
Tangier digital nomad
Tangier is a melting pot of cultures and has a strong international community. Located on the Mediterranean coast of Morocco, Tangier has a different vibe than the rest of the country… in a good way.
It has a heavy French and Spanish influence and a charming mix of Arabic, Spanish, and Berber heritage to immerse yourself in.
The city is calm and also has good infrastructure, including modern coworking spaces and coffee shops with reliable internet connectivity, such as Friends Coffee Coworking.
All of these cities have good infrastructure, including good wifi and a range of accommodation options, making them great options for digital nomads looking to work and explore Morocco.
Taghazout
Situated on Morocco's Atlantic coast, Taghazout has become a popular destination for digital nomads, particularly those who enjoy surfing and a laid-back beach lifestyle.
Enjoy year-round sunny weather, beautiful beaches, world-class waves, and friendly locals.
The village offers a relaxed and welcoming atmosphere, with a growing number of accommodation options, cafes, and coworking spaces that cater to remote workers.
Nomadico has a coliving space in Taghazout, which is a great option for affordable short and long-term stays where you can connect with other digital nomads.
The space is in Tamraght, which is right next to Taghazout. They are working to create a digital nomad village, working with multiple different guesthouses that are connected as one community.
A stay with Nomadico includes community coworking sessions, dinners, workshops, surf sessions, and many other events.
Inside the homes, you'll find fiber optic internet, comfortable desks and workspaces, and fully equipped kitchens.
You can get €15 off your booking by using coupon code LORAPOPE.
Read more about the best cities for digital nomads in Morocco!
Finding accommodation in Morocco
In each of these cities, there are a variety of housing options and accommodations for your stay in Morocco.
My preferred accommodation is always to stay in an Airbnb, so I have my own space and a kitchen to cook my own meals. There are tons of options around Morocco on Airbnb, ranging from simple studios to grand riads.
Hostels are a great way to meet people if you don't mind sharing space. Many hostels are built in riads, which are a Moroccan house with rooms around a central courtyard.
One thing to know is that it is generally not socially acceptable for unmarried couples, regardless of their nationality, to share a room (whether it's a hotel, Airbnb, or apartment). This is because Moroccan law prohibits "sexual relations out of wedlock," and while enforcement can vary, it is important to respect local customs and cultural sensitivities.
One popular brand, Selina, combines hostels with coworking spaces designed for digital nomads and has a nomad camp in Agafay.
There are also many coliving spaces for digital nomads in Morocco, such as Noqta Space in Essaouira, Cowork Surf in Taghazout, and Dar Digital Nomad in Ouarzazate.
Coliving spaces are a great place to find a digital nomad community, as they typically have common areas where you can meet other digital nomads as well as community events.
Cost of Living in Morocco
The cost of living in Morocco does vary slightly depending on the city and region. But generally, Morocco is considered a relatively affordable country for digital nomads, with lower costs for accommodation, food, and transportation than many Western countries.
Most digital nomads can live in Morocco on an average monthly budget of 1500-2000 USD.
The larger cities lean toward the more expensive side, while smaller cities and rural areas are very budget-friendly. However, even Marrakech, arguably the most visited place in Morocco, is quite affordable.
For example, month-long stays in an Airbnb average 900 in Marrakech to 1500 USD in Taghazout. Food can range more drastically depending on the place, from a couple of dollars at a local spot serving Moroccan food to an expensive dinner at a Western upscale restaurant.
Transportation costs vary based on where you're going. For example, a train ticket from Marrakech to Casablanca is 30 USD but several times we took taxis between cities because it comes out to be lower after you split it with friends.
Morocco provides a great opportunity for digital nomads to experience a unique culture and way of life without breaking the bank.
Internet in Morocco
Morocco has decent internet infrastructure; it is the fastest in Africa. However, it is still not as fast and reliable as in North America. Coworking/coliving spaces will provide the fastest internet, and most hotels and coffee shops offer free WiFi.
If you're renting an Airbnb, get them to send you a screenshot of the internet speeds, as many are not equipped with high-speed internet.
SIM cards are also readily available with affordable data plans for backup. Maroc, Telecom, and Meditel are three providers, and you can get 10GB of data for around 10 USD, which is what many digital nomads use as a backup.
Morocco Digital Nomad Visa
American and Canadian citizens (and many other countries) do not need to apply for a visa before entering Morocco as you get a 90-day visa-free on entry.
It is very important you do not exceed 90 days, or else you'll need to appear before a Moroccan judge before you can leave the country again.
Unfortunately, there is no special digital nomad visa in Morocco.
Nomads who want to stay longer than 90 days often do a visa run (leaving the country to restart the 90 days). From Marrakech, Casablanca, Tangier, and Agidir, there are low-cost flights to many European cities.
Morocco digital nomad groups
Before you move to Morocco, join these Facebook Groups and make connections before you arrive to start connecting with other digital nomads in Morocco.
Travel medical insurance for Morocco
No matter where you are, it's important to protect yourself with travel medical insurance – no one likes to think about accidents, but they do happen! I use and love SafetyWing, which is insurance made for digital nomads by nomads.
Best Time to Live in Morocco
From mid-June to September, the weather is very hot and dry. This is a popular time to visit the beach destinations along the Mediterranean Sea and Atlantic Ocean. But be warned, summer in Marrakech can be over 40 degrees Celsius (over 104 F). Even during my time in Marrakech in May, a few days got up to 107 F, making me feel sick.
Spring (March to May) and autumn (September to November) are considered the best times to visit, as the weather is mild, making it a busy time for travelers. However, it's important to note prices for accommodation and activities may be higher during this time, and popular attractions can be crowded.
For those who aren't Muslim, you should also pay attention to when Ramadan occurs. Every year is slightly different, but it's usually around April. Most people in Morocco will be fasting during this time, and restaurants and shops may be closed during the day. It's not necessarily the wrong time to visit, but you may not get the whole Moroccan experience.
FAQ: Digital nomad Morocco


Is Morocco a good place for digital nomads?
Yes, Morocco is a great place for digital nomads. With its affordable cost of living, vibrant culture, diverse landscapes, and improving infrastructure, Morocco offers a unique and enriching experience for remote workers. The presence of coworking spaces, a growing digital nomad community, and convenient international connections make it an attractive destination for digital nomads.
Where can I work remotely in Morocco?
There are several great locations in Morocco where you can work remotely as a digital nomad. Marrakech, Casablanca, Rabat, Essaouira, and Tangier are some of the options worth considering. Each of these cities provides unique advantages and amenities for remote work, allowing you to choose the environment that best suits your preferences and work style.
Can I work remotely from Morocco?
Yes, you can work remotely from Morocco as a digital nomad. With the availability of reliable internet connections, a growing number of coworking spaces, and the infrastructure to support remote work, Morocco is a viable destination for remote workers.
–
Morocco is a fantastic destination for digital nomads looking for a unique and affordable place to work remotely. With its exotic culture, delicious cuisine, and diverse landscapes, Morocco offers many experiences that can inspire and enrich your work and life.
From the bustling cities of Marrakech and Casablanca to the serene coastal towns of Essaouira and Taghazout, Morocco has something for everyone. With a growing community of ex-pats and digital nomads, connecting with like-minded people is easy.
Despite some challenges, such as language barriers and tourist scams, the benefits of being a digital nomad in Morocco far outweigh the negatives. Whether you're looking for adventure, inspiration, or a change of pace, Morocco is an ideal destination for digital nomads seeking a fulfilling and adventurous lifestyle.
This post was written by Rachel of White Collar Wanderer
As an adventurous digital nomad, Rachel has honed her expertise in working remotely while traveling the world. Having already visited and worked in over 20 countries (and counting!), she is dedicated to sharing her wealth of knowledge with fellow digital nomads and slow travelers.
Her blog, White Collar Wanderer, provides invaluable travel tips and destination guides tailored specifically to this community, ensuring that everyone can make the most out of their journey.
Jumping into digital nomad life? Check out these other destinations!