This post may contain affiliate links. By clicking and making a purchase through the links, I earn a small commission at no extra cost to you. See my disclaimer for more information. This and display ads allow me to keep the site up to date and give back.
Jaipur is the capital and largest city in Rajasthan, India.
Famous for its pink architecture and royal roots, I expected to spend my days exploring spice markets, admiring the architecture, and walking through palaces.
While I did manage to do all that, what I didn't expect was to float over Jaipur in a hot air balloon.
Despite crash landing in a tree, riding a hot air balloon over Jaipur was one of my favorite experiences in India. Keep reading to find out why this experience should be on your India bucket list!
Booking a hot air balloon ride in Jaipur
I've never been in a hot air balloon before, so India felt just as good a place to do it as any. After all, isn't India known for its high safety standards? Joking aside, the company that runs the hot air balloon rides, Sky Waltz Balloon Safari, is reputable and safe. They are India's first fully licensed and Government approved commercial Hot Air Balloon operation. The team consists of highly experienced, internationally licensed pilots from Europe, the USA, Australia, Canada, India, and the UK.
Price of a hot air balloon ride in Jaipur
I booked our hot air balloon ride through our G Adventures tour guide which cost me $290 USD. If you are traveling independently, you can book the hot air balloon here for the same price.
If your hot air balloon flight gets canceled because of the weather they will reschedule your flight to another date, likely the next day. Therefore it's important to be flexible and have an extra couple of days in Jaipur in case of bad weather.
Don't forget travel insurance!
While most hot air balloon rides go off without a hitch, it is an adventure activity and therefore has some risk. If the unthinkable happens, you could end up with costly medical bills. Put your mind at peace and get travel insurance.
For India, I recommend buying Travel insurance from World Nomads. It's designed for adventurous travelers with cover for overseas medical, evacuation, baggage and a range of adventure sports and activities.
What to expect on a Hot Air Balloon Ride in Jaipur with SkyWalyz
Pre-flight
Sky Waltz will send a driver to pick you up at your Jaipur accommodation. Like every other activity I've done that involves a sunrise, we had to get up at 4 am for pick-up at the hotel. Ah, the things we do while traveling!
On top of the early rise, we celebrated Dusshera the night before as part of the celebrations leading up to Diwali so I had just a couple hours sleep. Thankfully, floating in a hot air balloon requires little effort on my part.
After about an hour of driving, we arrived at the hot air balloon launch site where they have coffee, chai, and cookies available. Thank goodness, masala chai makes everything okay. Even being awake at 4a m.
[irp posts="1887″ name="Everything you need to know about visiting India during Diwali"]
At the hot air balloon launch site, the staff was busy inflating three balloons; two 16-person and one 8-person. By a stroke of luck, we get put into the smaller 8-person balloon or as I know it "the VIP balloon".
In order to get ready for take-off, everyone first has to get inside the basket horizontally, and then the staff will tip the basket up vertically. This is a strange sensation but once the balloon is put vertical, the basket is actually pretty comfortable.
Up up and away
After the balloon was put vertically, the pilot lit the fire, and up away we went into the air! What I found surprising about the entire experience was how calm it felt. I expected to feel scared. You know, being thousands of feet off the ground, only held in the air by some science that I still don't understand. But alas, I felt incredibly relaxed during the whole ride.
All three balloons took off around the same time so we were able to see them floating next to us, which added to the experience. As the sun began to peek over the hills and light up the land below, the views became even more beautiful.
Continuing the journey, we floated over rural villages. As we passed by, the locals stood on their roofs waving us big hellos. This was my favorite part of the whole experience, it was so much fun to wave back at everyone from above. I can't say that the local animals felt the same, the goats looked indifferent and the cows appeared horrified.
Landing the hot air balloon
The entire hot air balloon ride in Jaipur should have lasted about 45 minutes but we ended up floating for about double that time due to some complications landing.
The pilot told us that because they can't predict the wind paths well, there is no designated landing spot and that they just land in any clear area they can find.
The wind was very difficult that day, so each time our pilot tried to land the breeze would change and we'd float up again into the sky. I had no problem with this, but there was definitely some low-key anxiety in the air that we would run out of gas. After several attempts at landing, the pilot finally brought us down to the land. Right into a tree.
Don't worry, no one was hurt and we all had a good laugh about it.
At this point, the pilot tells us to stay put in the basket (which is now horizontal to the ground) and wait for the rest of the team to come get us safely out. It took a while for the team to find us because we had floated so far away from where the balloon usually ends up.
Of course, because this is India, the entire surrounding village comes to greet us. It was so funny, I almost felt famous. Everyone in the village stood around the balloon, taking pictures of us and asking for selfies. They even offered us Chai tea! Moments like this are what make me love India so much. Like neighboring Pakistan, the hospitality here is world-class.
Despite the crash landing, I absolutely loved my experience riding a hot air balloon over Jaipur and would recommend it to anyone looking for a bit of adventure in this wonderful city.
What else to do in Jaipur, India
There are a number of activities to do in Jaipur. Wander around the local spice markets, where you can buy vacuum-sealed bags of spices to bring home with you. In the evening, check out a Bollywood film at the famous Art Deco Raj Mandir cinema. For more ideas and inspiration, check out this Jaipur Guide.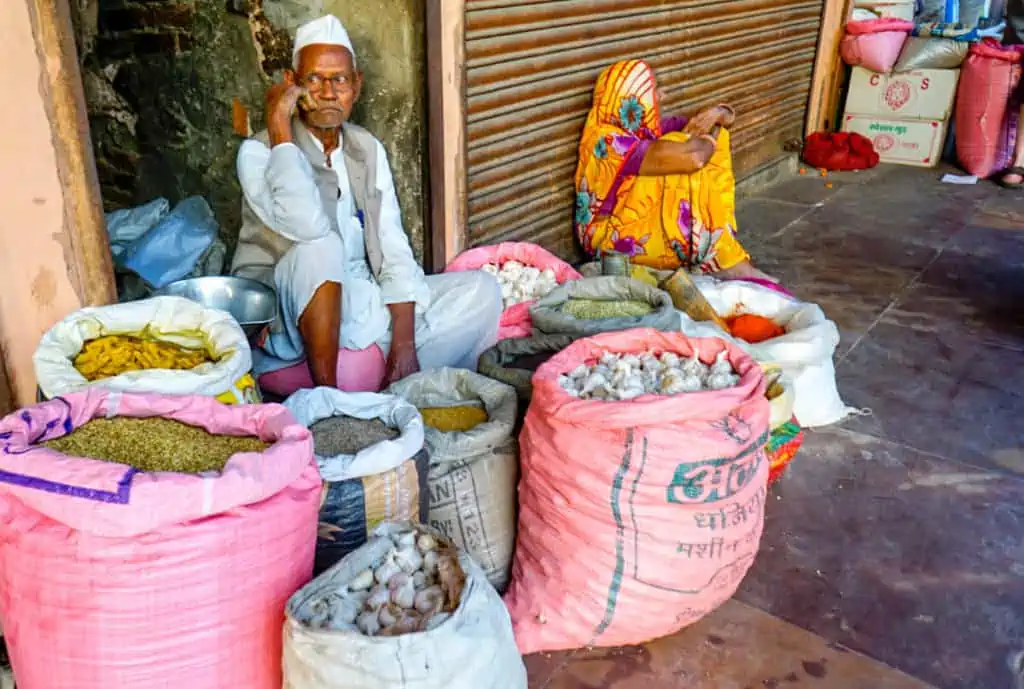 Where to stay in Jaipur, India
Jaipur has a number of accommodation options ranging from budget-friendly hostels to luxury hotels. I stayed at Utsav Niwas which was clean, lovely, and centrally located!
What to do after Jaipur, India
India is just one of the colorful cities of Rajasthan. Head to Jaisalmer for an epic overnight camel safari, or visit nearby Pushkar for lovely markets and food.
Final Thoughts
Since this experience, I've ridden a hot air balloon in Cappadocia Turkey. While I loved that experience, it wasn't quite as memorable as this one. There's just something about Indian hospitality. Where else in the world can you crash a hot air balloon in someone's backyard, only to have them come out and offer you a cup of tea? It is reasons like this that make me love India.
Like it? Pin it for later!