This post may contain affiliate links. By clicking and making a purchase through the links, I earn a small commission at no extra cost to you. See my disclaimer for more information. This and display ads allow me to keep the site up to date and give back.
Curious about Islas Marias in Mexico? Let me help! I live in Mexico and recently had the chance to visit the islands on a press trip with Visit Nayarit, and am sharing everything you need to know about visiting these newly opened islands.
Visiting Islas Marias is an experience full of unexpected contrasts. Historically a former penal colony until 2019, the main island recently opened to tourism. Now, they are an enthralling destination for off-the-beaten-path travelers in Mexico.
Located off the coast of Nayarit, these islands offer a blend of natural beauty, historical significance, and dark pasts.
Islas Marias is a tourist destination that invites you to explore its many facets, from breathtaking hikes and serene beaches to haunting prison sites and museums. It's truly one of the most unique places I've been in Mexico!
How to Visit Islas Marias Mexico
The Islas Marías archipelago consists of four islands, lying 100 kilometers from the coast of Nayarit state and 370 kilometers from the tip of the Baja California peninsula.
Given its remote ocean location, getting to the islands is a bit of an adventure. The islands aren't exactly a day trip, but they are accessible thanks to a new passenger ferry to Maria Madre Island, the largest island.
Ferries depart once a week on Fridays at 8 a.m., alternating between the beach towns of San Blas and Mazatlán. Return ferries leave from Puerto Balleto on the island every Sunday at 11 a.m.
Prices start at just over $5500 Mexican Pesos (315 USD) for the most basic package, with the option to upgrade your accommodation and ferry service to a private cabin.
All packages include sightseeing tours on the island, food, domestic travel insurance, and access to the protected natural areas.
We took the ferry from San Blas, one of nine pueblos magicos in Nayarit. After having our bags inspected by dogs, we were given assigned seats and got on board. There were plenty of extra seats and room to move around during the trip.
The ferry ride took about four hours there and three and a half coming back.
The journey is comfortable, with Spanish movies played, including a 1950s film that depicts what life was like on the islands (it was a mystery to most people in Mexico at the time).
There's no WiFi and cell service drops about an hour into the trip. So, if you aren't up for Spanish movies, download some of your own beforehand, or bring a good book. There are outlets onboard.
I was prepared for a rocky boat trip, but the ride was generally smooth, and no one in my group got seasick.
Other amenities include clean bathrooms and a snack bar. A basic lunch with a sandwich was also provided. Food and drinks cannot be brought onto the island except for one bottle of natural water, so don't bring any with you.
Don't forget to bring a sweater; the AC can make it chilly on the boat.
Best things to do in Islas Marias Mexico
Tourism on the islands is run by the Mexican Navy, and upon arrival, the marine-run islands impart a definite military vibe.
The rules are laid out explicitly, and free wandering is limited. But don't let this put you off! You have the opportunity to pick and choose guided tours that suit your interests. Here are some of the activities you can do on Isla Marias.
1. Visit the Former Maximum Security Prison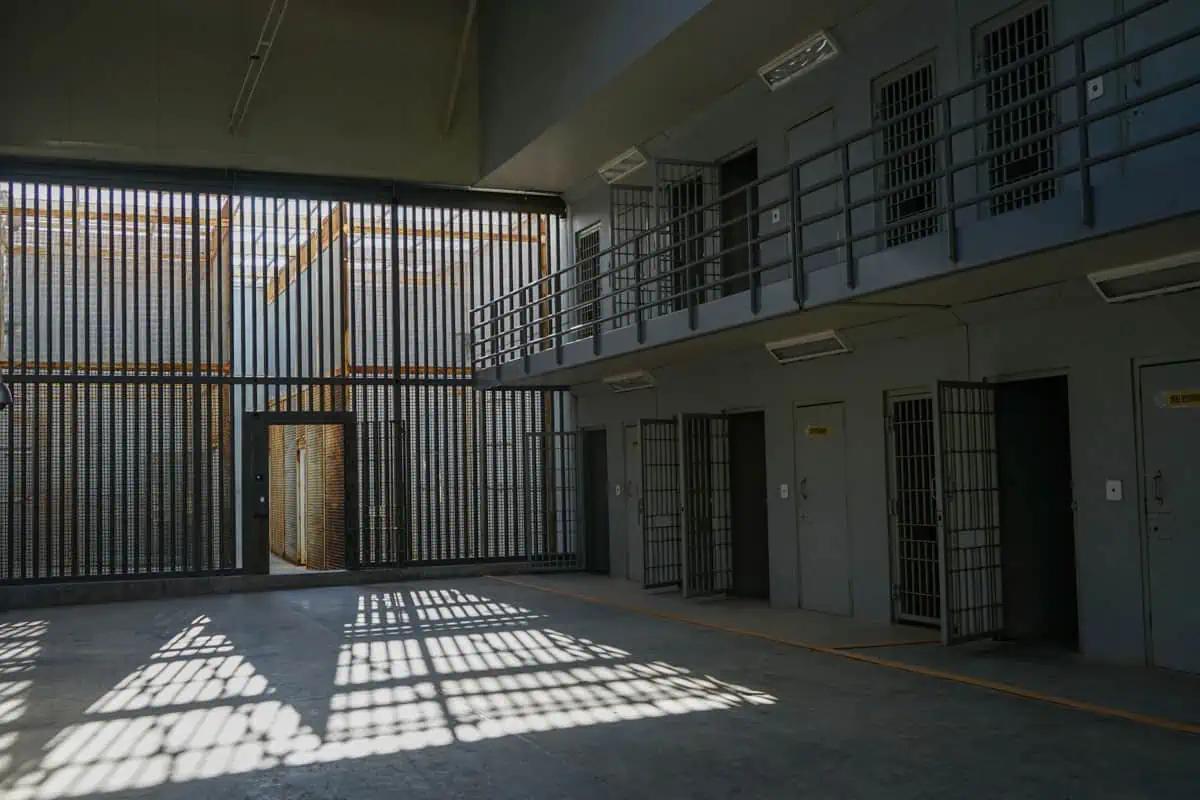 While it might not be your typical vacation activity, visiting the former maximum security prison, Laguna del Toro, offers a unique and eye-opening experience. This prison was home to some of Mexico's most dangerous criminals in the early 2000s.
Walking through the tiny stalls where prisoners lived and the confined outdoor spaces where they were allowed just 15 minutes of sun a day is chilling. Our guides were well-versed in the prison's dark history, sharing stories that are both horrific and captivating.
This is dark tourism at its finest, providing a deeper understanding of the islands' complex past.
2. Sunrise Hike to Cristo Rey
Waking up at 5 a.m. isn't my favorite thing, but I'll always do it for a good sunrise, and the sunrise hike to Cristo Rey is well worth it.
Starting from the town, this two-mile round trip hike takes you through steep terrain, culminating at a towering 60-foot Christ the Redeemer statue.
The statue has an intriguing backstory; it was the idea of a Jesuit priest stationed on the island in the 1990s. Prisoners, many of whom found solace in faith, contributed to its construction over five years, believing it would cleanse them of past sins.
The reward for your early morning effort is a breathtaking sunrise view.
From the statue's vantage point, you can see the town stretching towards the ocean, framed by rolling green hills that catch the first light of day in a mesmerizing sunrise glow.
2. Hike to El Faro Lighthouse
Although the sunrise hikes were optional, I went on both and had no regrets.
On the second day, we hiked to El Faro lighthouse, which is just a quick ten-minute hike from the trailhead.
Located on a steep incline on the island's southern side, this red and white lighthouse is a beautiful spot for a moment of serenity before the day begins.
It evoked memories of lighthouse hikes in Newfoundland, as it's perched majestically overlooking the ocean.
While the El Faro Lighthouse offers stunning views and a quick morning adventure, it's important to note that the area has a dark history, much like the rest of the island.
Our tour guide pointed out a small metal box near the lighthouse where very disobedient prisoners were locked and left to burn to death under the scorching sun.
Even at 8 a.m., the heat was palpable, giving us a glimpse into the brutal conditions that prisoners endured here.
3. Stargazing from the Airplane Runway
Stargazing might not be the first thing that comes to mind when you think of an airplane runway, but Islas Marias provides the opportunity to do just that.
The island's low light pollution offers a great opportunity for observing the night sky. While an airplane runway is not the coziest spot to lay back, the view makes up for it.
If you're fluent in Spanish—a tour guide will provide a brief talk about the celestial wonders you're witnessing. Our group had a great time sharing stories as we stared up at the night sky.
4. Explore Markets in Puerto Balleto
If you're looking to take home a piece of the island, don't miss the local markets in Puerto Balleto, located near the ferry port. Here, you'll find handmade crafts perfect for souvenirs.
But remember, it's cash-only, and there's no ATM on the island, so come prepared. It's a great way to support local artisans and keep a tangible memory of your trip.
5. Beach Time at Chapingo
While on Islas Marias, a trip to Chapingo Beach is a must. This stunning spot boasts white sand and crystal-clear, turquoise water that's much calmer than the beaches in Puerto Vallarta.
Our group had an amazing time soaking up the sun and cooling off in the ocean. Mexico is incredibly hot and humid during July, so we spent most of our time in the water, sharing laughs and drinking beers (remember to bring pesos to buy them)!
You can also rent snorkels to explore the island's healthy coral reefs, and there are plenty of umbrellas for shade.
While snorkeling and diving aren't official options yet, the waters are home to several species of marine life.
They claim no sharks are in the Chapingo beach area, but one of our group members spotted a small reef shark while snorkeling. They are harmless, so don't worry!
Chapingo Beach isn't just a stunning spot—it's also the only beach on the island where swimming is permitted. With lifeguards on duty, you can feel secure as you venture into the water.
6. Mirador Punta Halcones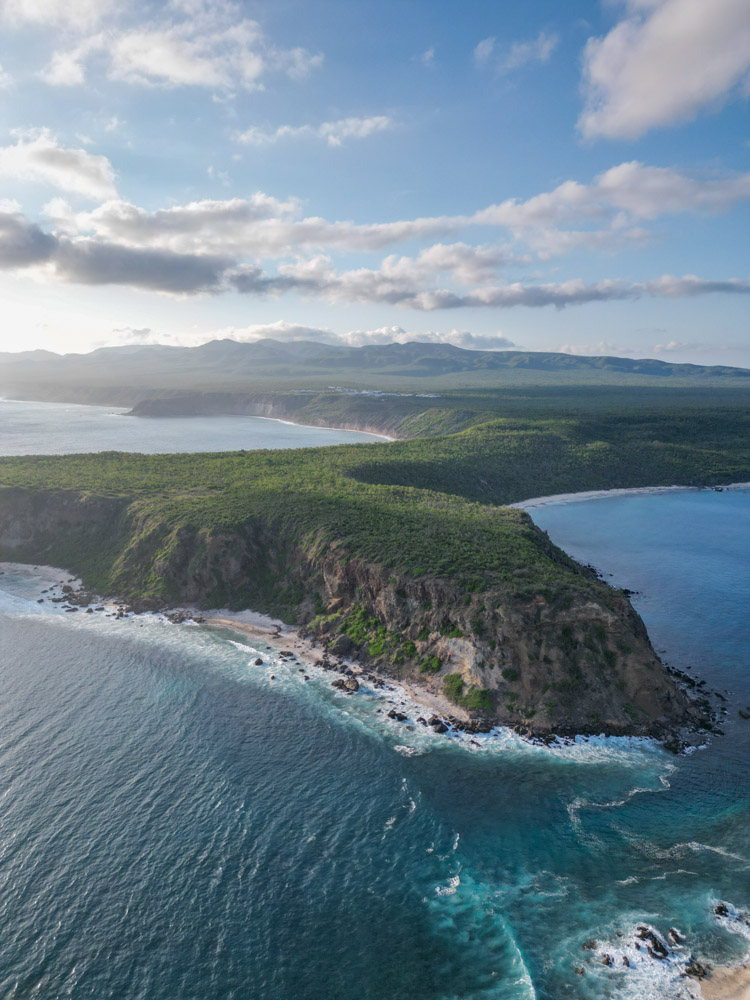 For one of the best viewpoints on the island, head to Mirador Punta Halcones on the island's south side.
This lookout offers dramatic cliffs and panoramic views of the Pacific Ocean, dotted with vibrant green islets and the distant silhouette of Isla Marias Magdalena. It's a prime location for whale-watching, especially from December through March.
We visited during golden hour, and the sun's glow over the hills made for some incredibly photogenic moments. If you're into drone photography like I am, this is an ideal spot to capture some breathtaking aerial shots.
7. Explore the Salera Salt Mines
Salera is another area we visited with a rich yet somber history. It was once a site where prisoners were forced into labor for salt production. You can still see the ground artwork of Jesus that the prisoners made.
The salt was produced in an old brick building from the early 1900s. Though hurricanes have torn off its roof, the structure retains a haunting beauty. It's now a brick skeleton with wooden rafters hanging overhead and massive open doors offering glimpses of the ocean.
We had a great time capturing this derelict elegance in photos, especially in the doorways overlooking the sea.
8. Visit Museums and Historical Sites
For history enthusiasts, the island offers a museum that delves into its past. While the signs are in Spanish, our tour guide provided detailed explanations in English for each exhibit.
Throughout the island, there are also several art murals painted by prisoners, capturing the island's ups and downs over time.
In addition to the museums, you can explore other historical sites and tourist attractions like the cemetery, cultural centers, and the governor's house.
While I lean towards enjoying the island's natural beauty, these sites offer invaluable context to the island's layered history.
9. Rent Bikes and Cycle Puerto Balleto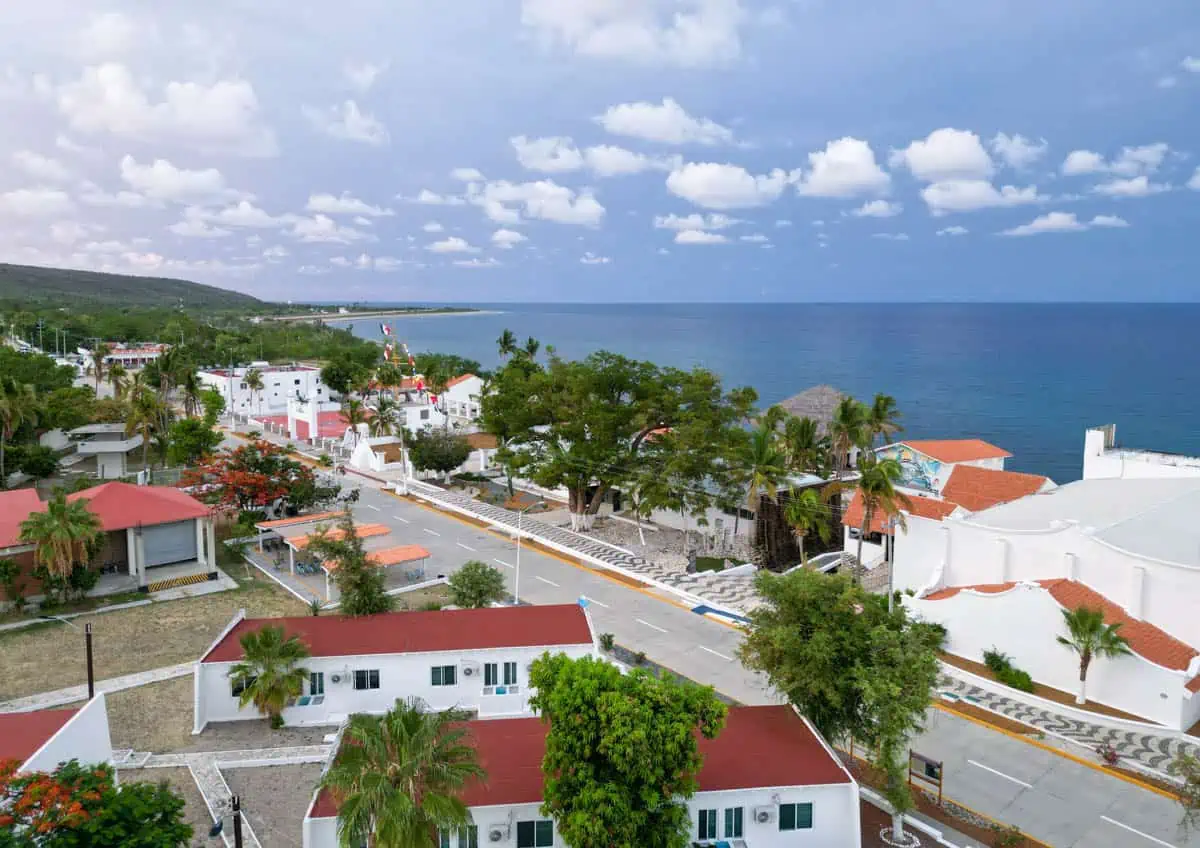 For just 100 pesos, you can rent a bike and explore the streets of downtown Balleto.
The route takes you from the southern end to the northern tip of Balleto Bay, offering stunning ocean views along the way.
While we didn't get to do this due to a packed schedule and the July heat, it could be a fantastic way to see more of the island at your own pace.
Islas Marias Hotels
Mexico is famous for its stunning all-inclusive luxury resorts, but you won't find any of that on Islas Marias.
In fact, there's only one place to stay, and that's in the homes formerly used by the prisoner's families (don't worry, they have been refurbished).
The inside is basic but clean and has everything you need for a comfortable stay, including AC.
We stayed in the 'hostel' rooms, which are basic cabins with one double bed and a bunk bed. There's also the option to upgrade to a house.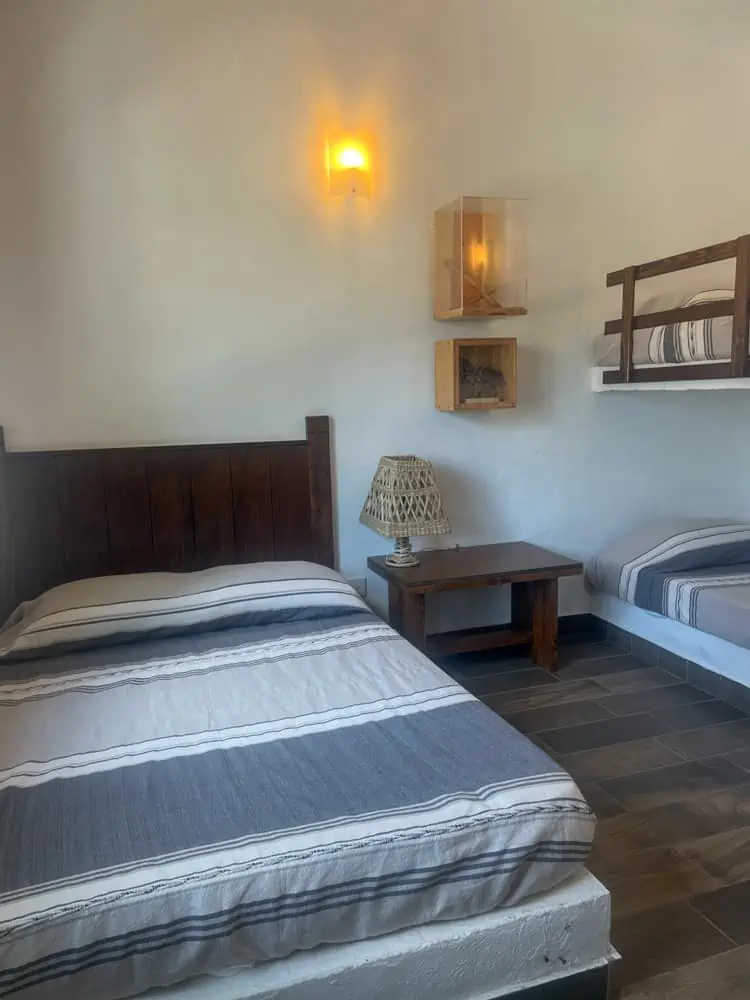 There's internet in the rooms and the main dining area, but it doesn't work well. You can send a few messages but don't expect to watch any Netflix here.
Remember, you'll be far from the mainland; the no cell service zone and limited internet add to the sense of adventure.
Islas Marias Restaurants and Bars
As for dining, there's only one place to eat, and that's the cafeteria. All your meals are included in the package and served three times a day.
The food is cafeteria food, which is pretty much what you would expect. Although the chilaquiles for breakfast were definitely a crowd-pleaser.
They can accommodate vegans, so make sure to tell the staff, and they'll make you something special.
Inside the cafeteria is a small bar where you can get alcoholic drinks – we found ourselves here most nights, sharing beers after a day of exploring.
Islas Marias Biosphere Reserve
In 2010, UNESCO named Islas Marias a Biosphere Reserve for its ecosystems with a "great wealth of species of biological, economic, scientific and cultural relevance."
This designation has helped protect more than 1,590 registered species of flora and fauna, many of them endemic or in danger of extinction.
This includes the Tres Marías Raccoon and the endemic Tres Marías Cottontail Rabbit. There are also large colonies of sea birds and an important nesting site for various species of sea turtles.
This was one of my main draws for visiting the islands, but unfortunately, many of the island's natural areas are closed off due to the biologists still gathering information from them. That said, we did see raccoons, reptiles, and many species of birds during our walking tours.
There are also 21 species of sharks that live around the island. Snorkeling and diving in the islands isn't an option yet, but one of the girls on my trip saw a small reef shark while swimming by the beach.
History of Islas Marias Mexico
Islas Marias has a complex history, from a penal colony with brutal conditions to a more rehabilitative approach. So, how did this prison island become an eco-tourist hub?
The islands were first discovered by Diego Hurtado de Mendoza, and initially named them Islas Magdalenas. In 1905, under dictator Porfirio Diaz, the islands became a prison. It was mainly used for political prisoners, socialists, and striking workers.
The Islas Marias prison was notorious for its brutal conditions. Inmates endured hard physical labor, often with insufficient food and water. During our tour, we got to see some of the ways in which they tortured prisoners, which was harrowing.
In the later years, the prison's population diversified to include low-risk prisoners and even alcoholics. Some inmates were allowed to live with their families, and the prison shifted towards a "prison without walls" model. These were the better days on the island for the prisoners.
Over time, the government realized the importance of its diverse array of flora and fauna, creating a marine reserve around the island in 2000. In 2010, it became a UNESCO biosphere reserve, adding to its protection.
However, In 2010, the island took another dark turn when the maximum security prison was opened, and over 8,000 prisoners were brought to the island. With workers, this totaled the island's population to over 70,000 people.
This led to huge problems of prisoners being treated inhumanely, leading to riots on the island.
Below, you can see the small area in the maximum security prison where prisoners could work out and get sunlight for 15 minutes daily. Otherwise, they were confined to small cells, sometimes with four people in one cell.
In addition to these human rights violations, there were also issues of mismanagement and fraud. It was costing the Mexican government over 100 million pesos a month to run the prison!
After being elected in 2019, President Andrés Manuel López Obrador shut down the prison as one of his first acts.
In 2023, it was opened to tourism. Despite its dark past, the islands are now on a path towards cultural and environmental preservation.
Best time to Visit Islas Marias
Weather-wise, the island enjoys a tropical climate, but it can get sweltering and humid in the summer months, particularly July and August.
We were there in July, and most of our group found it unpleasant walking around in the middle of the day. However, the ocean is quite lovely to swim in.
For whale-watching, aim for December through March when these majestic creatures frequent the waters. This also coincides with the high season in Mexico, when the weather is most pleasant and dry.
Keep in mind that the ferries to the island operate once a week, departing on Fridays and returning on Sundays. This means you'll need to plan for a three-day, two-night stay, regardless of when you choose to go.
FAQ: Islas Marias Mexico
Can you visit Islas Marias?
Yes, you can visit Islas Marias as part of a three-day, two-night package. The island is accessible by a weekly ferry operated by the Mexican Ministry of the Navy.
How do I get to Isla María Madre?
You can reach Isla María Madre by taking a ferry from either San Blas or Mazatlán. The ferry departs once a week on Fridays and takes about 3-4 hours.
What is the penal colony in Santa Maria?
The penal colony in Santa Maria, also known as Islas Marias Federal Prison, was established in 1905 and operated until its closure in 2019. It was notorious for its harsh conditions and diverse inmate population.
What is there to do in Isla Maria Madre?
Isla María Madre offers a range of activities, including hiking to viewpoints like El Christo and Punta Halcones, beach time at Chapingo, and visiting historical sites and museums.
What is Islas Marias in English?
Islas Marias translates to u0022Maria Islandsu0022 in English. It's an archipelago located off the coast of Nayarit, Mexico.
Final thoughts: Is it Worth it to Visit Islas Marias?
Islas Marías isn't your typical tourist spot in Mexico. It's a place biologists are still exploring, and many sites remain closed off. The balance between military rigidity and nature's serenity creates a unique experience that's both haunting and beautiful.
If you're looking for an all-inclusive beach vacation, then no, Islas Marias is not the place to visit. But if you're looking to get off the beaten path, explore an area of Mexico few have seen, and uncover a century of history with a side of adventure, then Islas Marias is calling for you.
Planning a trip to Mexico? Check out these guides!
Enjoyed this post? Pin it to share!