This post may contain affiliate links. By clicking and making a purchase through the links, I earn a small commission at no extra cost to you. See my disclaimer for more information. This and display ads allow me to keep the site up to date and give back.
Bangkok is a city famous all around the world and the heart of Thailand and the Banana Pancake Trail. There are endless activities in this vibrant city, including plenty of non-touristy things to do in Bangkok!
Curating a solid mix of unique things to do in Bangkok with the must-dos can be challenging, so we created one for you.
This post was written by Josh Band from A Backpacker's World. Josh loves to write about backpacking all around the world. From Southeast Asia to Europe, and everything in between, Josh loves to explore and spend as little as possible while doing so. Who doesn't love budget traveling, right?
Non-touristy things to do in Bangkok
#1. Take a bicycle tour
Taking a bicycle tour is a unique and fun way to explore the vibrant city that is Bangkok. Bike tours are a great idea in any city, and Bangkok is no different, in fact, it's one of the best cities in the world for bike tours!
Taking a bike tour is a great way to see the main sights and get around quickly, as it's much quicker than walking. It offers a unique perspective on the city, too, as you cycle down the streets alongside the Bangkok locals.
For a truly unique experience in Bangkok, check out this Bamboo bicycle tour at Twilight, where you'll get to look out for fireflies on a river cruise down the Chao Phraya river after a relaxed bike ride along the backstreets of Bangkok.
#2. Try street food
Eating street food in Bangkok allows for the most authentic food experience in Thailand. Throughout the city, there are hundreds, if not thousands, of food stalls where you are able to buy street food.
It's a great way to save money while backpacking Thailand as the food is so cheap, not to mention how tasty it is. And no, you aren't guaranteed to get food poisoning as some people claim.
Navigating local markets in Bangkok can be overwhelming at first, so one of the best things to do is to join a street food tour so you can experience authentic street foods with a knowledgeable food guide.
This is the perfect thing to do in Bangkok for foodies, as you get a true reflection of the best food in Bangkok. Plus, one of the best parts of taking a food tour is that you know where to find the best food for the rest of your trip!
For a truly unique experience, this Michelin guide street food tour by TukTuk will take you to Chinatown to experience street food stalls that have been recommended by the Michelin Guide! This is guaranteed to be a tasty adventure.
#3. Take a Thai cooking class
Speaking of Thai food, you may wish to learn how to make these delicious meals. Taking a Thai cooking class is an incredible thing to do in Bangkok. It's educational and one of the most immersive experiences you can have to explore Thai culture and eat authentic Thai food.
The classes typically take place in a kitchen setting, where a local chef will guide you through each step of the cooking process. From preparing the ingredients to cooking and plating the dish, you will gain hands-on experience with Thai cooking techniques and leave with a very happy belly.
Every time I've taken a cooking class in Thailand, it's been in the top meals of my trip!
This highly-rated Thai cooking class includes a guided market visit at Klong Toei market followed by a cooking class with a professional chef where you will earn to make traditional Thai dishes like spicy coconut soup.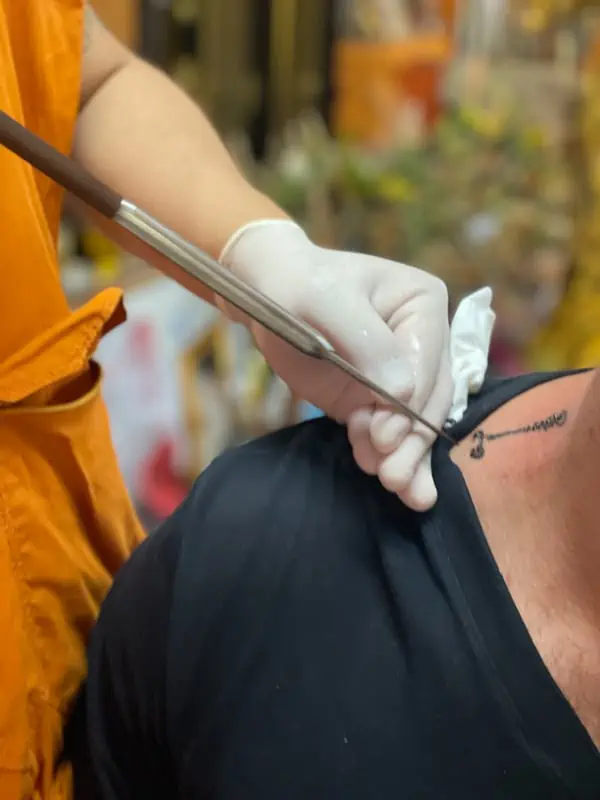 One of the most authentic and life-changing experiences you can have in Thailand is getting a Sak Yant tattoo from an Ajarn (tattoo master).
This ancient form of bamboo tattooing is a profoundly spiritual experience. If you want to get one, I highly recommend going with a reputable tour company so that you have a guide who can translate between you and the Ajarn. Otherwise, your yant may not give you the protection you need.
I used Where Sidewalks End when I got my Sak Yant in Chiang Mai, but they also have a highly sought-after Ajarn in Bangkok.
If you want a sak yant tattoo in Bangkok, you can book an ink experience with Ajarn Too, who is a skilled Ajarn involved in sak yants since 2011.
#5. Attend local meetups
If you want to get off the beaten path in Bangkok, one great way to do this is by attending meetups for digital nomads in Thailand, where you can connect with people who are living in the city!
It takes time to discover the hidden gems of any city, so by hanging out with those already living in Bangkok, you'll get a fast track to finding out the top nontouristy things to do in Bangkok.
To find events, search on Meetup.com or join the Bangkok Digital Nomad Facebook group.
#6. Cuddle with huskies
If you're looking to add some serotonin into your day while visiting Bangkok, a great place to check out is the TrueLove at Neverland Cafe.
Every day, visitors can visit the cafe and cuddle with dozens of huskies at a dedicated time. The dogs are kept in great condition and have scheduled human interaction time, so they aren't overwhelmed. If you've never seen a husky before, this is a great thing to do in Bangkok!
#7. Visit the Artist's House
Another peaceful place to visit in Bangkok is the Artist's house, set on the river by the Khlong Bang Luang Floating Market.
This centuries-old house has turned into a gallery, and you can see local artists painting on the dock by the studios. It's a fantastic place to walk around with a coffee, and buy gifts to bring home, which is a great way to support the local artists.
You can also take a boat ride down the river, or visit a couple of small temples in the same area.
#8. Visit a Japanese Onsen
Getting a traditional Thai massage is another must-do activity for anyone visiting Thailand, and where better than in the capital itself?
While are plenty of places to get a Thai massage, one non-touristy thing to do in Bangkok is spend the day at Yunomori Onsen & Spa, a perfect place to retreat from the hustle and bustle of the city.
This is one of the nicest spas I've ever been in. They have a spa circuit you can spend hours rotating between hot tubs, cold tubs, steam rooms, and saunas. After you've relaxed your muscles, there's no matter way to end your day than with a Thai massage which are top quality here.
This infamous unique massage style involves stretching, pressing, and manipulating the muscles, promoting relaxation and wellness. A Thai massage is an excellent way to unwind and rejuvenate and is a truly authentic Thai experience.
#9. Take a ride on the Skytrain
Taking a ride on the Skytrain, also known as the BTS, no not the band, is a memorable experience. A must-do when visiting Bangkok!
The elevated train offers a convenient and efficient way to navigate the city, with breathtaking views of the bustling cityscape, but aside from the transport aspect, it's also just pretty fun.
It's also sometimes faster than taking Ubers or taxis, as traffic in Bangkok can be notoriously terrible!
#10. Head to the Floating Market
One of the most famous and quirky things to do in Bangkok is to head to the Floating Market. The vibrant and bustling markets are set on the waterways, with vendors selling everything from fresh produce to handmade crafts from their boats.
While it may be considered "touristy" in Bangkok, It's one of the most unique things you can do anywhere in the world and something that should not be overlooked on your Bangkok itinerary.
There are floating markets all over the city, and many are only open on weekends, so be sure to check ahead.
Damnoen is one of the most popular floating markets, so if you're looking for something a little less tourist, head to one of the more local markets like Khlong Lat Mayom. You may find you're the only foreigner around!
#11. Take a Thai language class
Taking a Thai language class is one of the most authentic experiences in all of Thailand. There is no better way to immerse yourself in Thai life than by learning the language.
Bangkok is the easiest place to learn the language, with many different palaces offering classes. Quick heads up, the Thai language is pretty challenging to learn. But it's worth it!
#12. Get a cocktail at night on a rooftop bar
Whether you're a tourist or not, there's no denying that taking photos with a drink overlooking the Bangkok skyline at sunset is one of the top things to do here.
As the sky fades from day to night, watching the city streets come alive with lights is magical.
Some of the best places to get a rooftop drink in Bangkok are Vertigo and the Sky Bar.
#13. Visit the airplane graveyard
If you're fascinated by airplane crashes or just looking for a unique place to photograph, then you don't want to miss the airplane graveyard.
Located in eastern Bangkok, at the graveyard, you'll find wings, fuselages, and debris from plane wrecks which you can get inside of. This guide has great info about how to visit and what to expect there.
If this is a little too much for you, one of the most unique museums to visit in Bangkok is the Erawan museum which holds a three-headed elephant based on the mythological Airavata.
It was believed the items in the museum would bring blessing and prosperity to the land, so Viriyapant built a museum to keep them.
#14. Learn Muay Thai
Muay Thai is a unique and exciting form of martial arts that originated in Thailand and is now practiced worldwide. Learning Muay Thai in Bangkok is an experience unlike any other. The city is home to some of the best Muay Thai gyms in the world, where experienced trainers will teach you the fundamentals of the sport.
Not only will you learn the traditional techniques of Muay Thai, but you will also learn the culture and etiquette that comes with it. You will learn how to show respect to your opponents and trainers and a proper form of etiquette while in the ring.
#15. Visit the Siriraj Medical Museum "Death museum"
Another non-tourist thing to do in Bangkok is visit the Sirriraj museum, Thailand's first modern medical hospital. But if you get queasy easily, you may want to stay clear of this museum as you can see some disturbing, yet intriguing, medical artifacts such as diseased babies preserved in formaldehyde.

The Siriraj Museum is actually six separate museums, which you can visit all for the same entrance price (200 baht). This isn't the most light-hearted activity, but it's undoubtedly one of the most unique things to do in Bangkok.
Classic things to do in Bangkok
While it is a great idea to get off the beaten path and take part in some of these non-touristy things to do in Bangkok, there are a few sights and attractions that you may want to take part in anyways, despite being touristy.
#16. Visit the Grand Palace
A first must-do activity when visiting Bangkok is to visit the Grand Palace. The palace is a stunning complex of buildings and temples located in the heart of the It's nearly 250 years old and served as the official residence of the Thai King for over 150 years.
You can tour the palace grounds and admire the intricate details of the architecture, gold-plated roofs, and beautiful decorative arts. It's such a special place to visit in Bangkok.
#17. Visit Wat Arun (The Temple of Dawn)
Visiting Wat Arun, also known as the Temple of Dawn, is another fantastic thing to do in the Big Mango. This stunning temple is located on the west bank of the Chao Phraya River and is one of the most recognizable landmarks in the city, famous around the world.
You can climb the central walkway to enjoy panoramic views of the city and river. A trip to Wat Arun allows a glimpse of the Thai and Buddhist culture and beliefs. It's amazing.
#18. Explore Wat Pho
Wat Pho, also known as the Temple of the Reclining Buddha, is famous around the world for, you guessed it, the reclining Buddha. The largest reclining Buddha statue in the country, in fact, stretching 46 meters in length and towering 15 meters high.
The grounds and gardens surrounding the temple are also very beautiful, making for a nice walk. The temple itself is also stunning, with stunning architecture.
#19. Take a riverboat along the Chao Phraya River
A riverboat ride along the Chao Phraya River in Bangkok, Thailand, is a unique and enjoyable experience. The river serves as the city's lifeblood and offers a unique yet picturesque view of the bustling metropolis.
On a riverboat tour, you can see the iconic Wat Arun temple, also known as the Temple of Dawn, and the Grand Palace from the water. Whether you're seeking a cultural experience or just a break from the hustle and bustle mayhem of the city, a riverboat ride along the Chao Phraya River is a must-try activity in Bangkok.
#20. Explore Wat Phra Kaew Temple
Wat Phra Kaew Temple is located on the grounds of the Grand Palace. This temple is considered the most sacred in all of Thailand and is home to the Emerald Buddha, a highly revered statue carved from a single block of jade.
The temple's stunning architecture and intricate designs are a testament to Thai craftsmanship and artistry, and visiting the temple is a memorable day.
#21. Walk down Khao San Road
Arguably the most popular street in all of Bangkok, Khao San Road is a must-visit destination for travelers, particularly backpackers. It's known as the backpacker's hub of the city, and while touristy, it's something you should see at least once while in Bangkok.
Khao San Road is a lively and bustling with street vendors, shops, bars, and restaurants. There's nothing you won't find here. It's also one of the best parts of Bangkok for nightlife, which the city has no shortage of. There are endless things to do in this part of the Thai capital!
#22. Visit Wat Saket
And last but by no means least is Wat Saket. Also known as the Temple of the Golden Mountain, it is a historical Buddhist temple in the heart of Bangkok.
The temple features a large chedi that rises high above the surrounding city and offers stunning views of the cityscape. It's a great cultural experience and one of the best things to do in Bangkok.
DISCOVER MORE NON-TOURISTY THINGS TO DO IN BANGKOK
Unique places to stay in Bangkok
To complement your time doing non-touristy things in Bangkok, you'll want an equally unique place to stay! Here are some of the best places to stay in Bangkok.
A treehouse isn't a place I'd expect to find in Bangkok – but you can stay in one at the Bangkok treehouse! This unique hotel is a great way to immerse yourself in nature while still being close to the cities amenities. It's just a 15-minute drive to Central Bangna Shopping Complex and Bangna BTS Skytrain Station.
If you prefer to stay in the heart of the action, the W Bangkok hotel is a perfect choice. This hotel is uniquely designed with sleek decor with touches of traditional design. All the rooms have stunning city views, and the location can't be beaten – minutes away from the city's best nightlife.
—
There you have it, a round-up of the best nontouristy things to do in Bangkok, plus some classics you can't miss!
Bangkok and the rest of Thailand are filled with endless incredible things to do. You could explore the country forever and never run out of sights to see, it truly is one of my favorite countries.
Planning a trip to Thailand? Don't miss these posts!