This post may contain affiliate links. By clicking and making a purchase through the links, I earn a small commission at no extra cost to you. This and display ads allows me to keep the site up to date and give back. Thanks for reading!
Eating good food is one of my favorite parts of traveling, and although I mainly write about adventure travel – behind every good adventure is good food fueling it. Through the years, I've discovered some amazing destinations for food lovers.
With the world on the verge of opening up again, you may be dreaming of indulging your taste buds by traveling overseas again. If you need some inspiration for a destination, here are six delicious destinations to put on your list.
Best destinations for foodies
India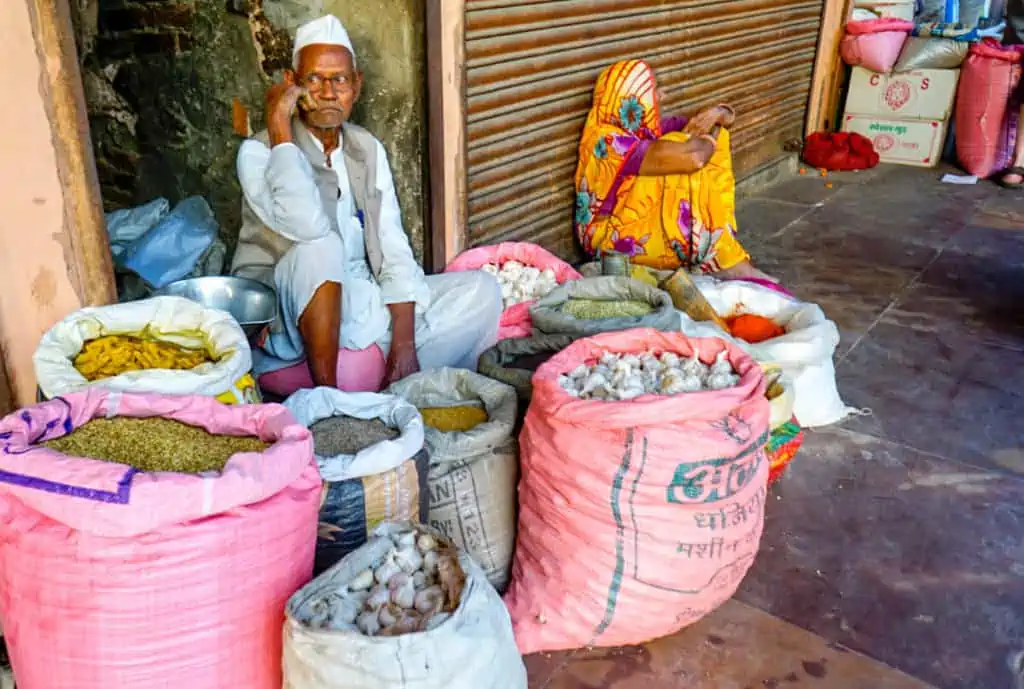 India will overwhelm all of your senses and taste is no exception. The food scene reflects its cultural diversity, with unique flavors and culinary styles in each region. It's also one of the best foodie destinations for vegetarians as cows are sacred in Hindu culture, so most restaurants serve primarily vegetarian cuisine.
Delhi is often referred to as the 'food capital of India'. It's home to some of the best street food in the country, so don't miss out while you're there. And don't be afraid to try street food in India – I ate plenty without getting sick.
Head to Chandni Chowk, Delhi's oldest and busiest market. Try the parathas, which are stuffed with delicious fillings like potato, cauliflower, and peas. Wash it down with a Gulab Jamun, a sweet made of powdered milk, flour, and butter, deep-fried, and then dipped in a sweet syrup. They are especially popular during Diwali when sweets are given as gifts to loved ones.
But like most of my favorite foodie destinations, the best meal I ate in India was one I made during a cooking class. I took a class at a local women's home in Orchha, in the northern state of Madhya Pradesh. She taught us how to make several Indian specialties including masala tea, three flavourful curries, and two different types of Indian bread.
While you're in India, be sure take advantage of buying spices to bring home. They are so cheap and the best quality you will get in the world. They also make excellent gifts, my family was so excited about all the saffron! Jaipur has excellent spice markets and they will even package it up so it's easy to mail back home.
Bangkok, Thailand
I've always loved Thai food and getting to try authentic Thai dishes the way they were meant to be eaten is one of my favorite culinary experiences to-date.  Amazing Thai food can be found all over the country, but Bangkok has some of the best, along with endless opportunities for cooking classes, food tours, street food, and Michelin star restaurants. You can even learn about pad Thai food at the Siam Museum which has a great interactive food exhibition.
When visiting Bangkok, be sure to stop on some of the night markets and street vendors to try some of the local cuisines. The most famous dish is pad thai, which is noodles cooked up with peanuts, fish sauce, vegetables, spices, egg, and tofu or prawns.
I could eat pad thai for the rest of my life and not get sick of it! But the best one I ate in Bangkok was actually the one I made myself in a cooking class. Don't miss the opportunity to take a class while traveling through Thailand – you'll see how simple it is to make incredible curries when you're back at home.
The best part about food experiences in Bangkok is that they are very affordable. Street food dishes don't usually cost more than a few dollars! But if you feel like something fancier, Bangkok has that too. Head to Chef's Table or Sorn, both two-star Michelin star restaurants offering sweeping views of the city alongside exquisite cuisine.
Oaxaca, Mexico
Mexico is famous for its cuisine around the world, and rightly so. There's nothing like arriving in Mexico and stuffing your face with tacos, which is why so many people choose to backpack around Central America. It's also quite affordable to eat here!
It's tempting to throw the cuisine of the country into a single melting pot, which isn't the case. Tacos and quesadillas are staples you'll find from the north to the east, west, and south. However, certain regions are well-known for their different approach, such as Oaxaca.
As soon as you walk through the streets and marketplaces, you'll be immersed in different flavors. Oaxaca is famous for its cheese – standing next to buckets of crunchy insects.
While staying in Oaxaca, you don't want to miss the Mercado 20 de Noviembre. This smokey hall is full of the freshest cuts of meat that they'll cook right in front of you on red hot grills.
Italy
Is there any other destination that conjures up such vivid images of food as Italy? While it often gets lumped together as the land of pizza and pasta, did you know that Italian cuisine is actually quite regional?
Milan is famous for Risotto, while Naples is home to pizza. Sicily is known for cannolis, and Tuscany is famous for its wines. Given the diversity of food you can find around this small country, be sure to try one of these famous dishes in each of the places you visit in Italy.
Be warned that Italy also has some terrible restaurants, especially in touristy areas. One time while exploring Venice me and my friends went to eat at a restaurant nearby the main canal. Big mistake – the lasagna was one of the worst I've ever had.
The next day we ended up wandering through the streets of Venice, getting lost until we found a little pasta shop on the corner with a line outside its doors full of Italian. It was the most delicious meal we ate! It pays to wander off the main tourist streets. 
Another great way to experience Italian cuisine is in the local markets. If you're in Venice, be sure to check out the historic Rialto Market. It's the most extensive food market in Venice, home to the famous Venice fish market as well as fresh produce.
Then of course, there's the fabulous Italian wine to enjoy with your food. Tuscany is the best region for this; you can sip on a glass of Chianti while eating antipasto and olives overlooking the vineyards.
Kuala Lumpur, Malaysia
As Malaysia's capital city, it's no surprise that Kuala Lumpur is one of the top foodie destinations in the country. It has a unique mix of Indian, Chinese, and Malaysian influences that creates this incredible fusion of flavors known as Malaysian cuisine. Plus, Kuala Lumpur has a good mix of high-end dining with humble eateries, so you can eat well here no matter what your budget is.
Night markets are a great way to experience the culture and food scene in Kuala Lumpur. Each day of the week, a small section of neighborhoods gets closed off from traffic from 6 PM onwards to make room for stalls. Locals go to buy a variety of goods, and visitors can enjoy authentic local dishes.
Jalan Alor Food Street is among the most famous streets of Kuala Lumpur, located near the popular Bukit Bintang area. There you can find some of the best and cheapest food in the city. For less than 10 USD, I got grilled satay skewers, an oyster omelet, a drink, and a scoop of coconut ice cream. Eating your way through the night food markets of Kuala Lumpur is a great way to spend an evening and satisfy your taste buds even while traveling on a budget.
Buenos Aires, Argentina
Argentina is famous for its steaks and Malbec wine making it a great destination for foodies, and the capital city Buenos Aires is no exception.
Be sure to try Asado while in Buenos Aires. Similar to a BBQ, Asado is a social event where locals get together to cook up a ton of meat. The best way to experience this is to get invited by a local, but if not, many hostels also put them on regularly for guests. I was in Argentina before becoming a pescatarian, and I have to admit the meat I ate here was the best I've ever had.
What would Asado be without a glass of red wine to go with it? Argentina is home to some of the best wines in the world and they are relatively cheap, so make sure to try some while you're here. While Buenos Aires is not the region where the wine is produced (you'll want to head to Mendoza or Salta for that), the local restaurants and shops do carry them.
And then there are the sweets. It's a mystery to me how the local people still manage to look so attractive with so many delicious sweets around! I became obsessed with dulce de leche, a spread similar to caramel.
Alfajores are another treat you need to try – two cookies with dulce de leche in the middle. You can also find ice cream shops on every corner – and yes, there's even dulce de leche flavored ice cream.