This post may contain affiliate links. By clicking and making a purchase through the links, I earn a small commission at no extra cost to you. See my disclaimer for more information. This and display ads allow me to keep the site up to date and give back.
Cork is one of Ireland's oldest cities and full of charm. With a wide selection of coffee shops, art galleries, unusual museums, and pubs, there are plenty of things to do in Cork to keep you busy. But if you want to get out of the city, there are many things to do nearby within a few hours' drive.
This post will go over the best things to do in and around Cork, as well as accessible day trips you can take out of the city to some of Ireland's best attractions.
Things to do in Cork City, Ireland
Cork has become well known as the food capital of Ireland, offering some of the countries best dishes. Visit the 18th-century English market where you'll find artisan cheeses, smoked fish, and hand-crafted chocolate among the buzzing food stalls. Cork is also home to some world-class restaurants including one of the best known vegetarian restaurants in Europe, Cafe Paradiso. All the produce is sourced on the chef's farm just outside the city!
Cork city also has a vibrant craft beer scene if you need a break from Guinness. The scene was started by Murphy's and Beamish which have been brewing for over 150 years! And there's no shortage of pubs around to try and find your new favorite beer. Cork has an amazing nightlife. You can always find live music playing in the bars and friendly locals to chat away the night with.
Blarney Stone & Castle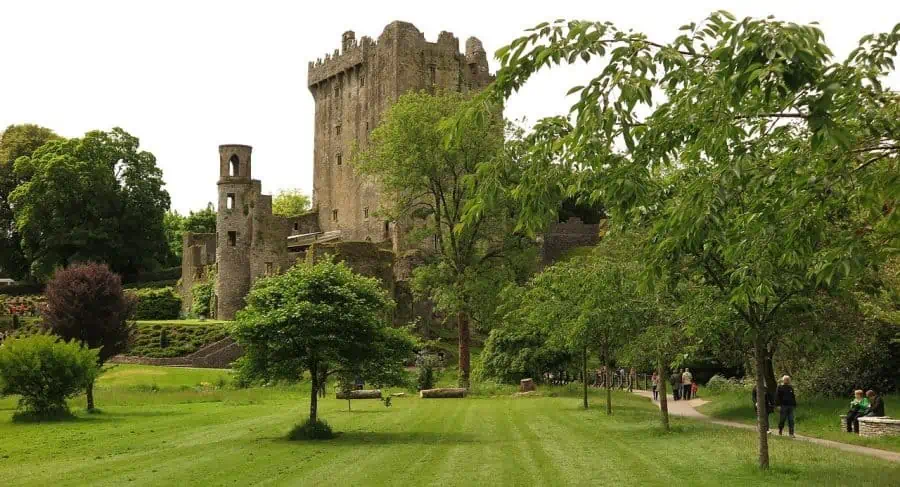 You've likely heard of the famous Blarney Stone, the stone inside Blarney Castle that when kissed gives you the gift eloquence. A trip to this nearly six-century old site makes for a great thing to do in Cork. Blarney Castle is a beautiful place to explore. With well-kept grounds and nearby walking trails, it's one of Ireland's best castles.
Blarney Castle is just a 15-minute drive from Cork, or you can take a local bus. You could also take the Cork Hop-on-Hop-off Sightseeing Tour which visits the Blarney Castle and other nearby attractions.
Visit Cobh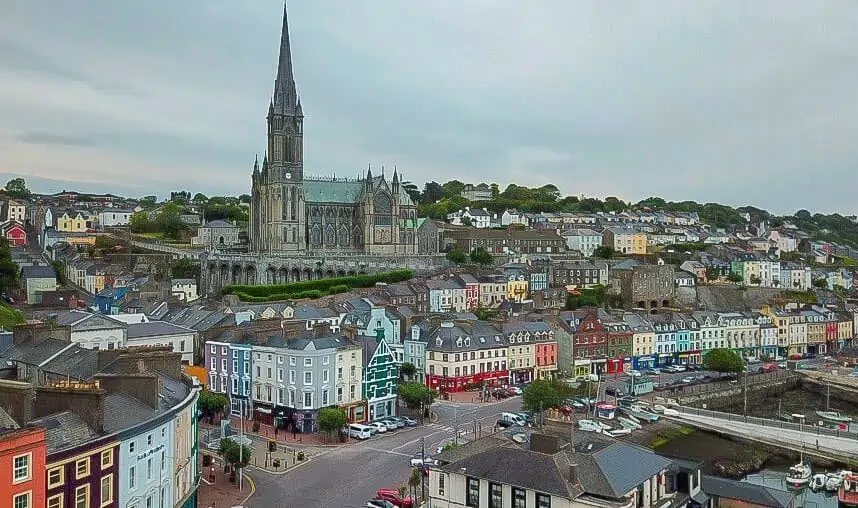 Cobh is an adorable seaside town just half-hour from Cork that is well worth a visit. The town was the departure point of millions of Irish emigrants over the centuries, as well as Titanic's last port of call. If you're a titanic fan, they have a Titanic Experience museum there you van visit. Another attraction is Saint Coleman's Cathedral overlooking Cork Harbour. The colorful houses surrounding the main church make for a perfect picture!
Cobh is just a 25-minute drive from Cork City, or you can take a train from Kent Station. I did this and it's super easy! You could also take this tour which visits Cobh and the Blarney Castle.
Jameson Experience Midleton
If you're a fan of Jameson then you need to try the Jameson Experience in Midleton, just 20 minutes outside of Cork. There you can take a tour of the Distillery which features the largest pot still in the world. Learn how the whiskey is crafted to perfection, with tastings throughout the tour!
The Jameson Experience is just a 20-minute drive from Cork, or you can take a local bus. There are also day tours from Cork which visit the Jameson Experience in Midleton.
Best Things to do Outside of Cork City – Day Trips
Cliffs of Moher – 2 1/2 hours from Cork
The Cliffs of Moher are one of the most popular attractions to visit from Cork City, and with good reason. At 700ft tall and 10km long, these majestic cliffs are one of the most stunning landscapes you can find in the country. Due to the popularity of the cliffs, one of the best ways you can experience them away from the crowds is to get off the main viewing points nearby the visitors centre and explore the Cliffs of Moher hiking trails.
Another thing to keep in mind when visiting the Cliffs of Moher is the weather. While it can be difficult to predict and plan for the weather in Ireland, if you have some flexibility in your schedule it's worth saving the cliffs for a clear day, or at least one with no fog. As on a foggy day there will be no visibility on the cliffs, which makes for a poor experience.
The Cliffs of Moher are a 2 1/2 hour drive from Cork, via the M20. There are also a number of Cliffs of Moher Day Tours you can join from Cork.
Dingle Peninsula – 2 hours from Cork
The Dingle Peninsula is one of the most scenic places to visit in Ireland, and the perfect spot if you love outdoor adventure. Whether you're hiking, on a boat trip, or kayaking by the cliffs, it's easy to connect with nature on the Dingle Peninsula. Driving along the coastline you will find many beaches with wonderful views of the Atlantic Coast. If you need a break, stop into the town of Dingle for world-class cuisine and a pint at one of the restaurants or pubs, then head out for more adventure. There are many things to do in Dingle!
The Dingle peninsula is about 2 hours from Cork via the N20. You can either do a self-guided Dingle Peninsula Roadtrip, or you can Join a Dingle Peninsula Day Tour from Cork.
Kennedy Homestead – 2 hours from Cork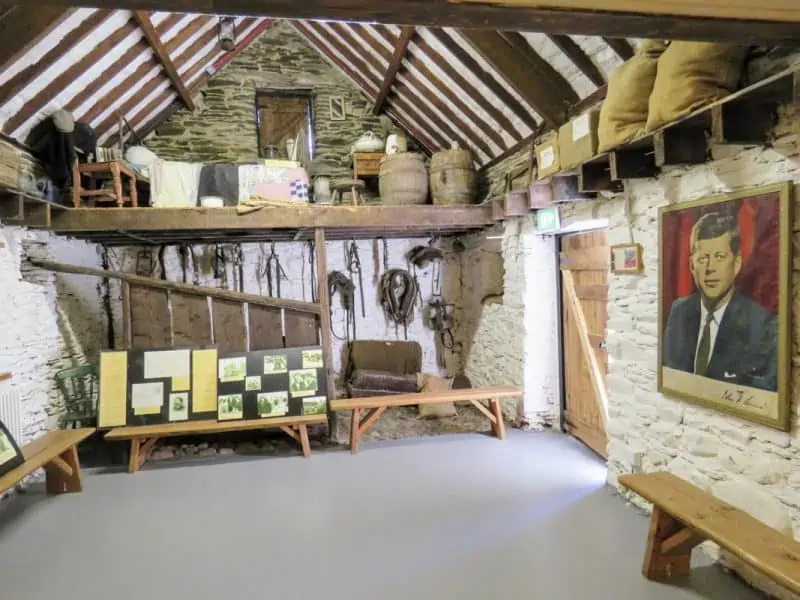 Recommended by Jennifer of Sidewalk Safari
Most Americans know that President John F. Kennedy had Irish roots but did you know that JFK's ancestral home is located in County Wexford? Visiting the Kennedy Homestead can be done as an ambitious day trip from Cork. Located about two hours by car from Cork City, a trip to Kennedy Homestead is a great way to explore the American president's ties to Ireland.
President Kennedy actually visited his Irish relatives in Wexford twice: once while he was the sitting President of the United States and once in his youth. The family home has been transformed into a museum and you can learn all about President Kennedy's life and especially about his visits to Ireland. Kennedy's cousin reportedly served him a cup of tea as he sat on a dilapidated old chair in the corner of the small house. JFK was treated just like any other member of the family returning home. The Kennedy Homestead is a fascinating stop for Americans visiting Ireland.
Kilkenny – 1 3/4 hours from Cork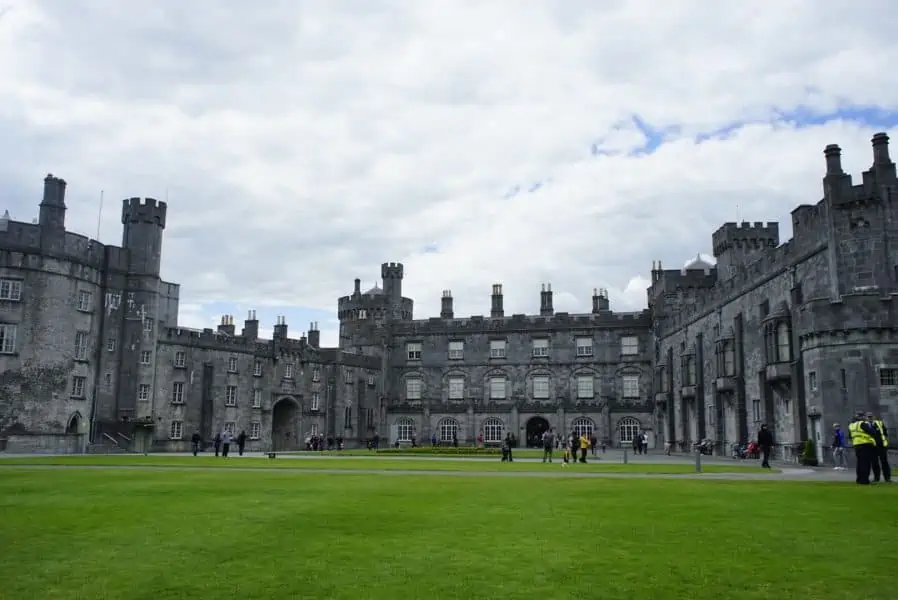 Kilkenny is an old medieval town North of Cork. I loved walking around this ancient city. it was easy to get lost in the small, cobblestone streets which added to the cities charm.
There are a number of historic sights to see in Kilkenny with the most famous being the Kilkenny Castle, right in the centre of town. You can walk the grounds around the castle for free or opt to do a paid tour inside. I just walked around the grounds and was happy with this, as the architecture of the castle is enough to enjoy just from the outside.
The city is small and easy to walk around. There's a stretch called the 'Medieval Mile' which goes from Kilkenny Castle to St. Canice's Cathedral. Along the way you will find shops, pubs, restaurants, and small alleyways to wander down. Once you reach St. Canice's Cathedral, there is a round tower you can climb up for great views of the city below. If you're not in the mood to walk there's also a road train you can catch that goes around the city to the main sites. It departs every half hour across from the Kilkenny Castle.
Like any good Irish town, Kilkenny is home to its own brewery, the Smithwicks Experience. Take a guided tour to learn about the brewing process or stop in for a fresh pint of beer after a day of exploring. Wandering around Kilkenny is a great way to spend an afternoon and makes for an excellent day tour from Cork.
Kilkenny is 1 hour and 45 minutes away from Cork via the M8, or you can go on a day tour to Kilkenny, which also stops at Rock of Cashel.
Kinsale – 30 minutes from Cork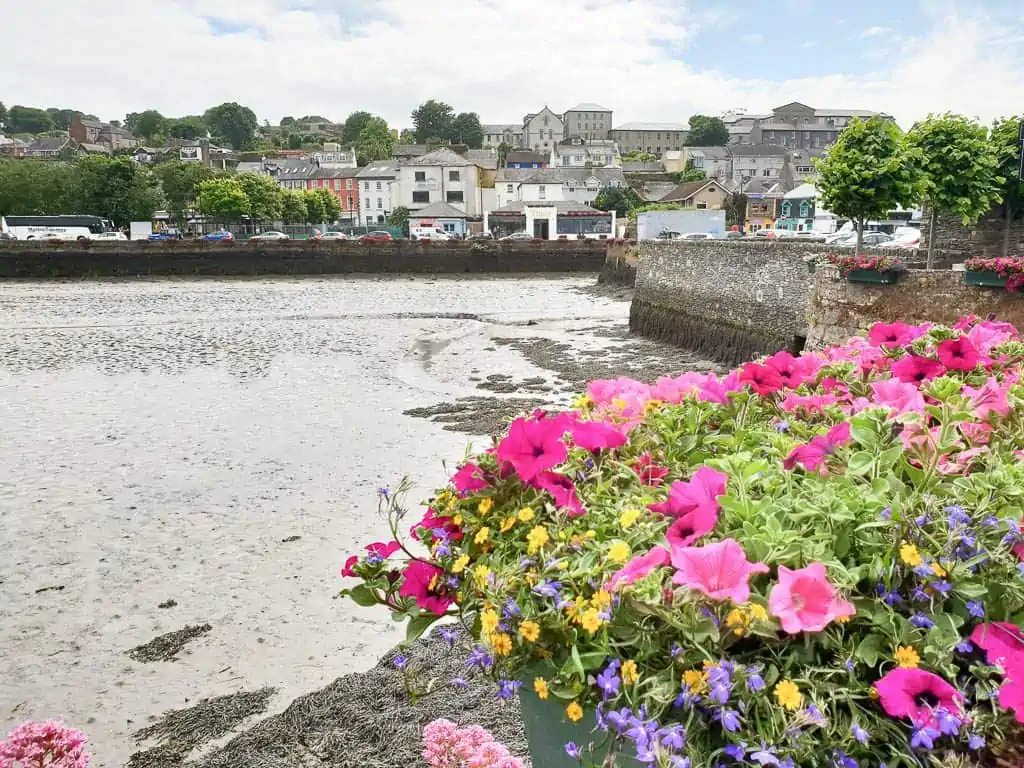 Amber from Food And Drink Destinations
For travelers to Ireland who love food, Kinsale is the perfect day trip from Cork. A stunningly beautiful coastal town, Kinsale is only a 30-minute drive south from Cork. The best way to visit is by car, but there are also busses that leave from Cork's Parnell bus station that make the journey in a little less than an hour.
For history lovers, visit Charles Fort, which dates to the 17th Century, or check out the Kinsale Museum. Kinsale is known to the Irish as the foodie city. It is home to loads of traditional Irish pubs and even has its own craft beer brewery just outside of town, Blacks Brewery. In addition to several top restaurants and gastropubs featuring both traditional and contemporary Irish cuisine, Kinsale is the perfect place to eat amazing Irish seafood. One of the best ways to spend the day, though, is to walk the Old Head, a walking trail with views of ancient Celctic ruins along the way. Finish off the day with a pint of Guinness at a pub with a stunning view over the city at The Spaniard Inn.
Ring of Kerr
y – 2 hrs from Cork
Recommend by Talek Nantes of Travels with Talek
About two hours west of Cork is the Ring of Kerry, a 180 km road surrounding the Iveragh Peninsula in Ireland's southwest region. It is a magical place to visit and one of the many things Ireland is famous for. Two hours may be a bit of a stretch from Cork, but it is doable, and it is worthwhile.
It takes about 3 and a half hours to make the trip around the Ring of Kerry if you are going at a rapid pace. However, you are likely to want to stop and admire the view of the soaring cliffs and lush green Irish countryside.
There is plenty to see on the route. The Killarney National Park is famous for great hikes. You can kayak the lakes of Killarney, cruise to Skellig islands and indulge your chocolate craving at the Skelligs chocolate factory. What I found to be the most enjoyable was strolling along the picturesque little towns that don't even seem real. They are more like little fantasy town. You almost expect a leprechaun to scamper across the road in front of you.
If you don't have a car, there are many Ring of Kerry Day Tours departing from Cork.
Rock of Cashel – 1 hr from Cork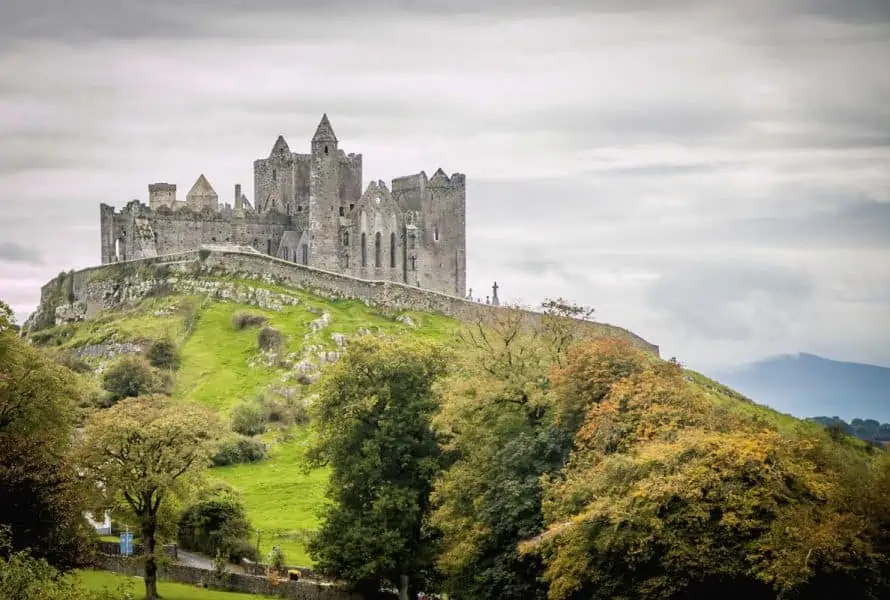 Recommended by Bret Love & Mary Gabbett of Green Global Travel
Located 94 kilometers from Cork in County Tipperary, the Rock of Cashel is one of the most popular National Monuments in Ireland's Ancient East. Its proximity to both Cork and Limerick makes it relatively easy to add to your Ireland road trip itinerary, whether you choose to travel by rental car, taxi, or bus.
Also known as Cashel of the Kings and St. Patrick's Rock, the attraction's oldest building dates back more than a millenium, meaning it is older than the nation of Ireland itself! The castle was the seat of the kings of Munster (as southern Ireland was known then) for centuries before the 12th century Norman Conquest of Britain led by William the Conquerer.
The 90-foot-tall round tower is the only original structure that still exists now, with the majority of the buildings you'll see there today built sometime in the 12th and 13 centuries. But the expansive ruins that remain rank among the most impressive examples of Medieval architecture in all of Europe. Cormac's Chapel (which was consecrated in 1134) and the cross-shaped Cathedral (which was built between 1235 and 1270) are still stunning, and there are great views of the nearby ruins of Hore Abbey. Cashel's graveyard also offers an exceptional collection of Celtic art headstones, including several elaborately decorated high crosses.
The Rock of Cashel is a one hour drive from Cork via the M8. Alternatively you could join a Rock of Cashel day tour that also visits Kilkenny.
How to get around Ireland
Renting a car is a great option to visit places outside of Cork as the roads are scenic and easy to drive on. However they do drive on the left side of the road, so if you aren't comfortable with that or want a more economical option, they exist.
Dublin has an excellent public transportation network of trains and buses to other parts of the country. Check the Bus Eireann website to see the bus timetables and book online. I took the bus throughout Ireland and it was super easy. They even have free wi-fi on board! Ireland also has an extensive railway system, which is a lovely, relaxing way to get around the country and take in the scenery.
Ireland also has a well-established tourism industry with multiple tour operators running excellent tours from Cork.
Conclusion
Cork is a lovely city that gives you access to much of Ireland's top attractions. It's a great city to visit if you're planning a trip to Ireland! Wondering where to go after Cork? Get inspired for more adventures with my top day tours from Dublin post.
Traveling solo in Ireland? Perfect! Get inspired for your trip with this post on why Ireland is perfect for solo travel.
Like it? Pin it for later!