This post may contain affiliate links. By clicking and making a purchase through the links, I earn a small commission at no extra cost to you. See my disclaimer for more information. This and display ads allow me to keep the site up to date and give back.
While there are plenty of great things to do in Dublin, it's easy to get stuck in the pubs drinking Guinness and forget to get out and see the rest of the country. Luckily, you don't have to go very far to see Ireland's top attractions – many can be visited as day trips from Dublin.
Ireland is a relatively small country with decent public transportation and good tourist infrastructure, making it easy to see other parts of the country from Dublin in just one day. If you're looking to get out of the city, here are the top 10 Dublin day trips to go on.
How to get around Ireland
Renting a car from Dublin and going on an Ireland road trip is a great option, as the roads are scenic and easy to drive on. Even better, rent a campervan so you don't have to worry about finding accommodation!
One thing to know about driving in Ireland is that they drive on the left side of the road, so if you aren't comfortable with that or want a more economical option, check these out.
Dublin has an excellent public transportation network of trains and buses to other parts of the country. Check the Bus Eireann website to see the bus timetables and book online. I took the bus throughout Ireland and it was super easy. They even have free wi-fi on board! Ireland also has an extensive railway system, which is a lovely, relaxing way to get around the country and take in the scenery.
Ireland also has a well-established tourism industry with multiple tour operators running excellent tours from Dublin. Below each recommendation, I've provided links where you can book the tours.
Where to Stay In Dublin
After coming back from a Dublin day trip, you'll want somewhere comfortable to lay your head! Dublin has some amazing accommodation options to choose from, including unique castle hotels.
Best Day Trips from Dublin
1. Belfast – 2 hours from Dublin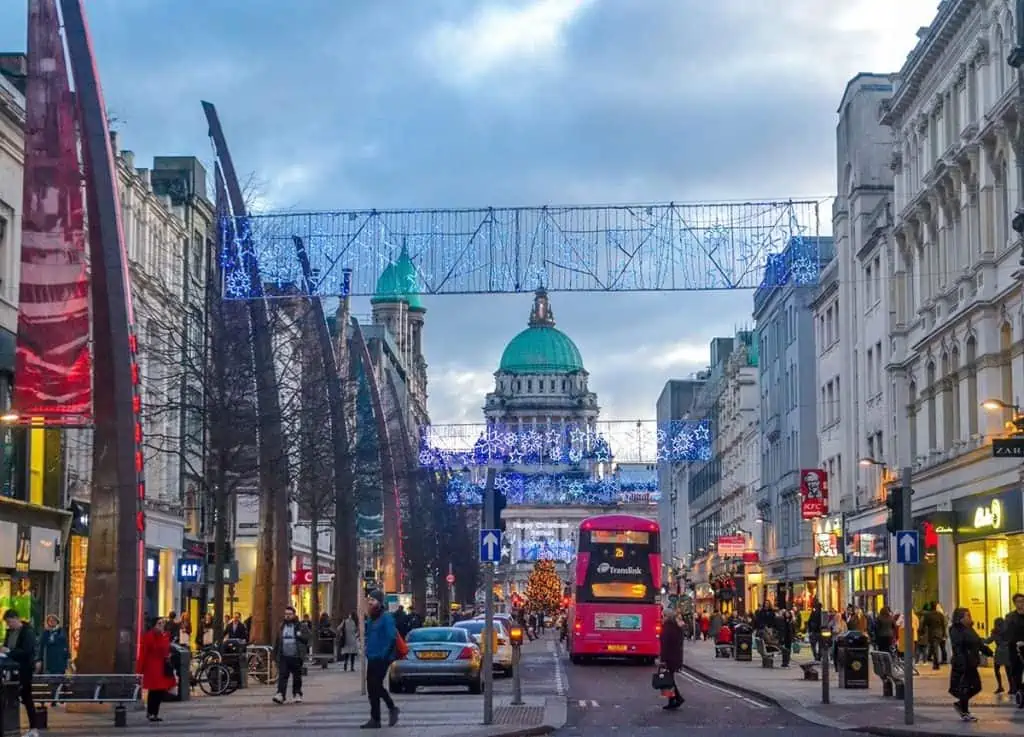 Recommended by Allan Wilson of It's Sometimes Sunny in Bangor
Dublin and Belfast are the two capital cities of the Island of Ireland, and they are both easily connected by train or bus, with little more than 2 hours apart. And I feel it is wrong to travel to Ireland without experiencing both.
Because Belfast has recently become an exciting and rejuvenated city compared to its somewhat sketchy past, exciting and contemporary tourist initiatives in various parts of the city have opened. And there are a lot of things to do in Belfast these days.
I would otherwise start from Belfast City Hall, the central city attraction, where free tours are offered to tourists if interested. I would then follow the shopping streets of Donegal Place towards Victoria Square where there is a free viewpoint at the Dome which shares panoramic views over the city of Belfast.
Then continue towards the Lagan Riverside, with a romantic walk connecting to the docks and the historical Titanic Quarter of Belfast.
Then continue towards the Lagan Riverside, with a romantic walk connecting to the docks from which ships sail on a regular basis to the equally beautiful shores of Scotland, before heading back to check out Harland and Wolff's famous cranes and the historical Titanic Quarter of Belfast. I would then finish the day with the cobbled paths of Belfast's Cathedral Quarter with highly recommended pints (e.g. Harp) in the city's historic pubs like the Duke of York
How to get there: You can drive from Dublin to Belfast via the M1/A1 in about two hours. Alternatively, you can take a public bus or train which takes about three hours. There are also a number of day tours that run from Dublin to Belfast to suit anyone's interests. You can take an all-day Belfast Tour with the Titanic Experience or a Game of Thrones & Titanic Tour.
2. Cliffs of Moher – 3 hours from Dublin
The Cliffs of Moher are one of the most popular day trips to take from Dublin city, and with good reason. At 700ft tall and 10km long, these majestic cliffs are one of the most stunning landscapes you can find in the country. Due to the popularity of the cliffs, one of the best ways you can experience them away from the crowds is to get off the main viewing points nearby the visitors centre and explore the Cliffs of Moher hiking trails.
Another thing to keep in mind when visiting the Cliffs of Moher is the weather. While it can be difficult to predict and plan for the weather in Ireland, if you have some flexibility in your schedule it's worth saving the cliffs for a clear day, or at least one with no fog. As on a foggy day there will be no visibility on the cliffs, which makes for a poor experience.
How to get there: Situated on the wild Atlantic way, driving to the Cliffs of Moher makes for a scenic drive. If you have your own car, it's advisable to go early in the morning or late in the afternoon to beat the tourist crowds. The busiest time is from 11am-4pm, so plan to arrive earlier or later then that. The drive takes about 3 1/2 hours via the M6 from Dublin.
There are also a number of day tours you can take from Dublin to the Cliffs of Moher.
3. Cork and the Blarney Castle – 3 hours from Dublin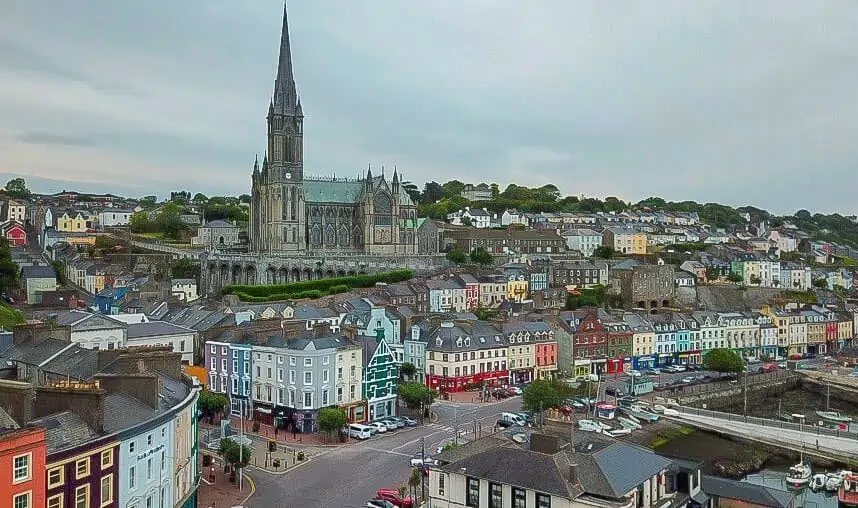 You've likely heard of the famous Blarney Stone, the stone inside Blarney Castle that when kissed gives you the gift eloquence. A trip to this popular site makes for a great Dublin day trip, especially when combined with a stop at the city of Cork. The Blarney Castle itself is a beautiful sight to explore, with well-kept grounds around the castle and nearby walking trails.
After a trip to the castle head over to the city of Cork for some lunch, which has become known as the food capital of Ireland. Visit the 18th-century English market where you'll find artisan cheeses, smoked fish, and hand-crafted chocolate among the buzzing food stalls. Cork is home to some world-class restaurants including one of the best known vegetarian restaurants in Europe, Cafe Paradiso. All the produce is sourced on the chef's farm just outside the city!
The city also has a vibrant craft beer scene if you need a break from Guinness, started by Murphy's and Beamish which have been brewing for over 150 years. And there's no shortage of pubs around to try your new favourite beer. If you end up having to spend the night in Cork, you're definitely not going to have a bad time as the nightlife is some of the best in Ireland.
Cobh is another adorable seaside town just half hour by train from Cork that is well worth a visit. The colourful houses surrounding the main church make for a perfect picture!
How to get there: Cork is a three-hour drive from Dublin via the M7/M8, and the Blarney Castle is just a 15-minute drive from the city. There are also daily buses that go from Dublin to Cork and back. Day tours run from Dublin which will take you to the Blarney Castle and Cork.
4. Galway/Connemara National Park – 2 hours from Dublin

When I asked people where to go in Ireland, Galway was the most popular answer. It's not hard to see why, Galway is one of the most beautiful urban areas to explore in Ireland. You can visit 16th century castles, learn the history at the Galway museum, or simply walk around town town. The charming streets will take you through some of the cities highlights including the Spanish Arch, St. Nicholas Cathedral, and the colourful shop street.
Galway is also the gateway to Connemara National Park. The drive to the park is beautiful, and you can spend an entire day getting lost in the parks beautiful hiking trails. If you are going to visit Galway and Connemara it's better to do it over two days (or more) instead of rushing through it in one. Galway is a great place to spend a night in Ireland, with excellent seafood dining options and some of the countries best musicians. Grab a pint and enjoy some traditional music.
How to get there: By car Galway is a two hour drive via the M6, or you could take one of the busses that connects the two cities. Alternatively you could take a full-day tour from Dublin to Galway. Most tours will take you to both Galway and the Cliffs of Moher, due to the close proximity.
5. Giant's Causeway – 3 hours from Dublin
Recommended by Roshni of The Wanderlust Within
It's possible to reach this beautiful stretch of coastline in Northern Ireland in just a few hours from Dublin. I joined a day trip from Dublin with Paddy Wagon tours for 65 EUR that stopped at several other scenic spots along the way but the highlight was definitely the legendary, Giants Causeway.
The unique landscape is made up of 37,000 basalt columns whose tops form "stepping stones" leading from the cliff foot and disappearing under the sea.
They were formed as the result of an ancient volcanic eruption, however according to legend, an Irish giant, Finn McCool built the causeway all the way to Scotland to fight a Scottish giant. But when Finn saw how much bigger the Scottish giant was, he fled back to Ireland where his wife disguised him as a baby. The Scottish giant saw the size of the "baby" and feared the size of the baby's father, and so fled back to Scotland, destroying the causeway behind him so that Finn could not follow him. Clever wife.
Getting there: By car, the Giant's causeway is about 3 hours from Dublin via the M1. It's past the city of Belfast, so the two combined make for a great day trip. There are several Giant Causeway Tours you can take from Dublin, including ones that stop at the Game of Thrones Filming locations.
6. Glendalough – 1 hour from Dublin
Recommended by Chris at Explore Now or Never
The medieval monastic settlement Glendalough (pronounced "Glenda-LOCK", which means "Glen of Two Lakes") makes a perfect day trip from Dublin, with a short journey through the super scenic Wicklow Mountains. It was one of our favorite sights on our 10 day Ireland itinerary. The settlement dates all the way from the sixth century!
And it's beautiful. You'll meander past a scenic river across a cemetery littered with lichen covered grave stones that are crowned with Celtic crosses, and emerge into the beautiful crumbling ruins of the many monuments that comprise the settlement. Founded by St. Kevin, Glendalough was also the place where one of the longest Viking ships on record was built.
See the Round Tower—30 meters high—here as well as the cathedral and several other churches. Glendalough is a particularly wonderful spot for a guided tour as there are so many monuments here to learn about…a cluster at the Lower Loch as well as the Miner's Village at the Upper Loch. There are also any number of beautiful trails here as well if you fancy a short hike.
How to get there: If you have a rental car, Glendalough is just a one-hour drive from the city of Dublin. The drive is scenic, as you pass through the Wicklow Mountain area. Alternatively, you can take the 181 bus from Dublin to Glendalough.
There is also the option to take a Glendalough and Wicklow Half-Day Tour from Dublin, or a Wickow Mountains, Glendalough, and Kilkenny Full-Day Tour. I did the full-day tour including Kilkenny on my last trip to Dublin and loved it. The scenery is beautiful along the drive and there's enough time at each stop to get out and enjoy it.
7. Howth – 1/2 hour from Dublin
If you're looking for a day trip from Dublin that's not too far away, Howth is a great option. This charming fishing village is just 1/2 hour away from Dublin. There, you can walk around the town and enjoy the great surrounding ocean views. Howth is known for its great seafood, so make sure to stop in for a meal while you're there. If you go on Sunday, you'll have the chance to explore the local food market.
How to get there: Howth is 1/2 drive on the M50, or you can take public transit via the 38 bus and then transfer on to the 31.
8. Hill of Tara – 1/2 hour from Dublin
Recommended by Carol of Wandering Carol
Imagine standing on a hill where High Kings of Ireland ruled over the land more than 2,000 years ago, where strange rituals were engaged in and sacred ceremonies held. A great day trip from Dublin – it's less than an hour away – the Hill of Tara is an evocative site that covers 100-acres of rolling ground in County Meath, which is located in the province of Leinster.
There are remnants of more than 20 monuments and things to see at the Hill of Tara include a Neolithic Passage Tomb that dates as far back as 3200 BC – far predating the Celtic kings.
Another sight not to be missed is the Lia Fáil, considered by many to be the original Stone of Destiny. This huge standing stone was a key part of a king's coronation ceremony and rises up from a stone platform on a hill called the Inauguration Mound. It's believed that 142 kings were crowned at Tara altogether, including the legendary Cormac mac Airt.
How to get there: Driving is the easiest way to get there as it just half-hour from Dublin city via the M3. There are a number of tours you can do to see the Hill of Tara and other important nearby sites, such as the full-day tour to Newgrange, Monasterboice & Hill of Tara, or a full day adventure from Dublin to the Celtic Boyne Valley, including the Hill of tara.
9. Kilkenny – 1 1/2 hours from Dublin
Kilkenny is an old medieval town south of Dublin city. I loved walking around this ancient city. it was easy to get lost in the small, cobblestone streets which added to the cities charm.
There are a number of historic sights to see in Kilkenny with the most famous being the Kilkenny Castle, right in the centre of town. You can walk the grounds around the castle for free or opt to do a paid tour inside. I just walked around the grounds and was happy with this, as the architecture of the castle is enough to enjoy just from the outside.
The city is small and easy to walk around. There's a stretch called the 'Medieval Mile' which goes from Kilkenny Castle to St. Canice's Cathedral. Along the way you will find shops, pubs, restaurants, and small alleyways to wander down. Once you reach St. Canice's Cathedral, there is a round tower you can climb up for great views of the city below. If you're not in the mood to walk there's also a road train you can catch that goes around the city to the main sites. It departs every half hour across from the Kilkenny Castle.
Like any good Irish town, Kilkenny is home to its own brewery, the Smithwicks Experience. Take a guided tour to learn about the brewing process or stop in for a fresh pint of beer after a day of exploring. Wandering around Kilkenny is a great way to spend an afternoon and makes for an excellent day tour from Dublin.
Getting there: You can drive from Dublin to Kilkenny via the M9 in about an 1 1/2-2 hours if you have your own car, or take a public bus/train. Kilkenny is an excellent addition to a Gledalough trip, as the two are both South of Dublin. There are also a number of tours that visit Kilkenny from Dublin, including a Wickow Mountains, Glendalough, and Kilkenny Full-Day Tour. I did this one, and it made for a fantastic day of exploring Ireland.
10. Wexford Wildfowl Reserve – 2 hours from Dublin
Recommended by Jennifer of Side Walker Safari
Each year in the winter, thousands of Greenland white-fronted geese overwinter at the Wexford Wildfowl Reserve and are simply mesmerizing to watch. The Wexford Wildfowl Reserve is an ambitious day-trip from Dublin for bird lovers visiting Ireland (about 2 hours by car each way).
The Wexford Wildfowl Reserve has a tower that you can climb with viewing portals at the top that open onto the wetlands and Irish Sea beyond. Step through the reserve without getting mucky or wet thanks to a helpful boardwalk and an enclosed birdwatching hide. If you time your day trip from Dublin to Wexford just right, you can watch the sunset over the Irish Sea (between 4 – 5 pm in January).
In addition to the Greenland white-fronted geese, brent geese and whooper swans are also plentiful. In January, it's typically cold at the Wexford Wildfowl Reserve with temperatures hovering around freezing but it can feel much colder because of the winter wind blowing in off of the Irish Sea. Make sure to wear a warm jacket plus a hat, gloves, and scarf.
How to get there: The fastest route to the Wexford Wildfowl Reserve from Dublin is to take the M11 motorway to the R741. The turn-off from R741 to the nature park is a little tricky to find. The final kilometer or two runs on essentially an unpaved track next to the beach.
—
If you have a few days in Dublin, make sure to add some of these day trips to your itinerary. Ireland is a beautiful country to explore and with so many day trips from Dublin readily available, there's no reason not to go!
Wondering where to go after Ireland? Check out Cork City, another vibrant city in the South of Ireland.
Solo travel? Perfect! Ireland is a great country for solo travelers, find out why in this post!
Like it? Pin it for later!