This post may contain affiliate links. By clicking and making a purchase through the links, I earn a small commission at no extra cost to you. See my disclaimer for more information. This and display ads allow me to keep the site up to date and give back.
Are you dreaming of life as a digital nomad in Sri Lanka?
Sri Lanka is one of Asia's newest digital nomad hotspots, and it is easy to see why.
The island has beautiful weather all year long, amenities to support digital work around the island, and extremely affordable living.
This post was written by Caleb and Sarah Pasiuk of The Pazook Travel Journal, an adventure travel blog for couples who want to make travel a lifestyle. They started writing about their travels three years ago while living and teaching in South Korea but have since quit their jobs and travel full-time.
Caleb and Sarah love slow travel. They focus on creating destination guides and travel tips on the best tropical islands in Asia.
They recently traveled to Sri Lanka and spent two months exploring every corner of the island and eating all the coconut sambal they could get their hands on.
Our Experience as Digital Nomads in Sri Lanka
We had the opportunity to live and work in Sri Lanka in 2022. It took a little adjustment from working in Bali, Korea, or the U.S., but after a couple of weeks, we fell in love with the island.
Why Live in Sri Lanka?
Sri Lanka is one of our favorite places we've ever lived for several different reasons.
We found beautiful places to stay right on the beach, but if you are more interested in being in the mountains, there are also insane mountain towns to escape.
The local culture and people in Sri Lanka are absolutely lovely. Despite the recent political unrest around the country, we felt very safe in Sri Lanka and found the locals to be some of the most selfless and hospitable people we have ever met.
Beautiful Landscapes & Diverse Nature
Sri Lanka has some of the most diverse landscapes and scenery of any island in the world. You can be surfing at a tropical beach, hiking to a 2200 meter (7000 foot) temple, watching an elephant from your jeep safari, or bar-hopping through a metropolitan city.
There are various things to do and destinations to see in Sri Lanka. You will certainly never get bored! Above all, Sri Lanka is one of the most interesting places to live for digital nomads.
Fantastic (and Cheap) Food
HOLY COW! The food in Sri Lanka blew us away. We expected to find a similar cuisine to India, but Sri Lanka has many delicious local dishes unique to the island.
Our favorite Sri Lankan dish was the breakfast staple; Coconut Sambol with Roti and Daal Curry. We had this every morning for months and never got tired of it!
In addition to our favorite breakfast, you will find other delicious foods like samosas, Kottu Roti (stir fry), pumpkin curries, and egg hoppers.
Not only is the food delicious, but a local meal will set you back only about $3. If you are craving something western, it's still just $6-7 for a dinner entree.
Slow Way of Life
Sri Lanka seems to operate at a different pace than the western world. People take the day as it comes, drop their plans to help out a friend, and being "late" is more expected than inconvenient.
At first, this was difficult to get used to, but coming from the US, it can be a pleasant reminder to be present in a world of deadlines and chaos.
We really appreciated the way of life in Sri Lanka, and it is worth it if you choose to embrace it.
Pros and Cons of Living in Sri Lanka
As with any country or city, there are both pros and cons to living in Sri Lanka.
Pros of Living in Sri Lanka
There are no local taxes on foreign-derived income for digital nomads. That means you will never be double-taxed on income.
Transportation is easy. Sri Lanka has a train system, easy bus lines, or you can easily rent a scooter or tuk-tuk to drive yourself around.
The cost of living in Sri Lanka is low.
Locals widely speak English, so it is easy to communicate.
Sri Lanka has diverse landscapes, stunning natural wonders, and incredible surfing.
Cons of living in Sri Lanka
Sri Lanka has two different monsoon seasons, so one-half of the country experiences monsoon season in any given month.
The island is new to the ex-pat scene, so there are not as many digital nomads around like you'll find in Bali or Tenerife.
Sri Lanka is still a bit underdeveloped. Sometimes there may be power outages, fuel shortages, etc.
Cost of living in Sri Lanka
On average, you will spend about $900-1000 per month living in Sri Lanka.
Groceries and toiletries are highly affordable, as are other necessities like mobile Data and medicine.
The largest expense in Sri Lanka will be rent and any subscriptions/bills you have in your home country. Here are the average monthly expenses for a digital nomad in Sri Lanka
| | |
| --- | --- |
| Accommodation | $200 – 400 / month |
| Food / Groceries/ Toiletries | $250 – 400 / month |
| Transportation | $150 – 250 / month |
| Toiletries | $20 – 40 / month |
| Cell Phone Data | $10 / month |
| Fitness / Sports Club | $10 – 20 / month |
| Clothing / Souvenirs | $10 – 40 / month |
| Insurance / Subscriptions | $50 – 200 |
| Total Monthy Expenses | $700 – 1350 / month |
Top Destinations in Sri Lanka for Digital Nomads
There are co-working spaces in every major area of Sri Lanka, including Colombo, Trincomalee, Kandy, Arugam Bay, Galle, Hikkaduwa, Mirissa, Ella, and Hiriketiya.
Colombo and Kandy have the most co-working spaces available in Sri Lanka. However, we highly recommend finding somewhere near the ocean! Sri Lanka's coastline is absolutely gorgeous.
Here are a few coastal towns that we highly recommend for digital nomads:
Hiriketiya
Hiriketiya Beach is one of the best beach towns for digital nomads to live in Sri Lanka.
It is significantly less busy than some other beach towns in Sri Lanka, but that's part of the appeal.
In addition to delicious restaurants and great waves for surfing, there are a lot of co-working & co-living spaces for digital nomads in Hiriketiya.
One of the most well-established spaces for digital nomads in Hiriketiya is Verse Collective. This collective is a guesthouse, music studio, cafe, and co-working space all in one.
Another excellent co-working space is DOTS Bay House. This cafe/restaurant is right on the beach and is starting to cater to digital nomads with guesthouses, yoga classes, and live music!
For nomads looking for rejuvenation, check out The Salty Pelican for yoga/surf retreats!
Weligama / Mirissa
Mirissa and Weligama are two beach towns less than 10 minutes from one another, so they are often lumped in together. Mirissa has a few cafes that are great for working, but Weligama is the best place for digital nomads.
Weligama is a great destination for digital nomads because of the numerous cafes, co-working spaces, great restaurants, and easy access to the beach. It is one of the top places to surf from December to April and is central to other popular towns in Sri Lanka, like Galle, Unawatuna, and Ella.
Plus, you can catch the train and be in Colombo in just a few hours.
The best co-working spaces in Weligama are Outpost and Surfing Wombats. There are also great lifestyle hostels geared toward ex-pats, like Hangtime Hostel and Shady Lane.
Arugam Bay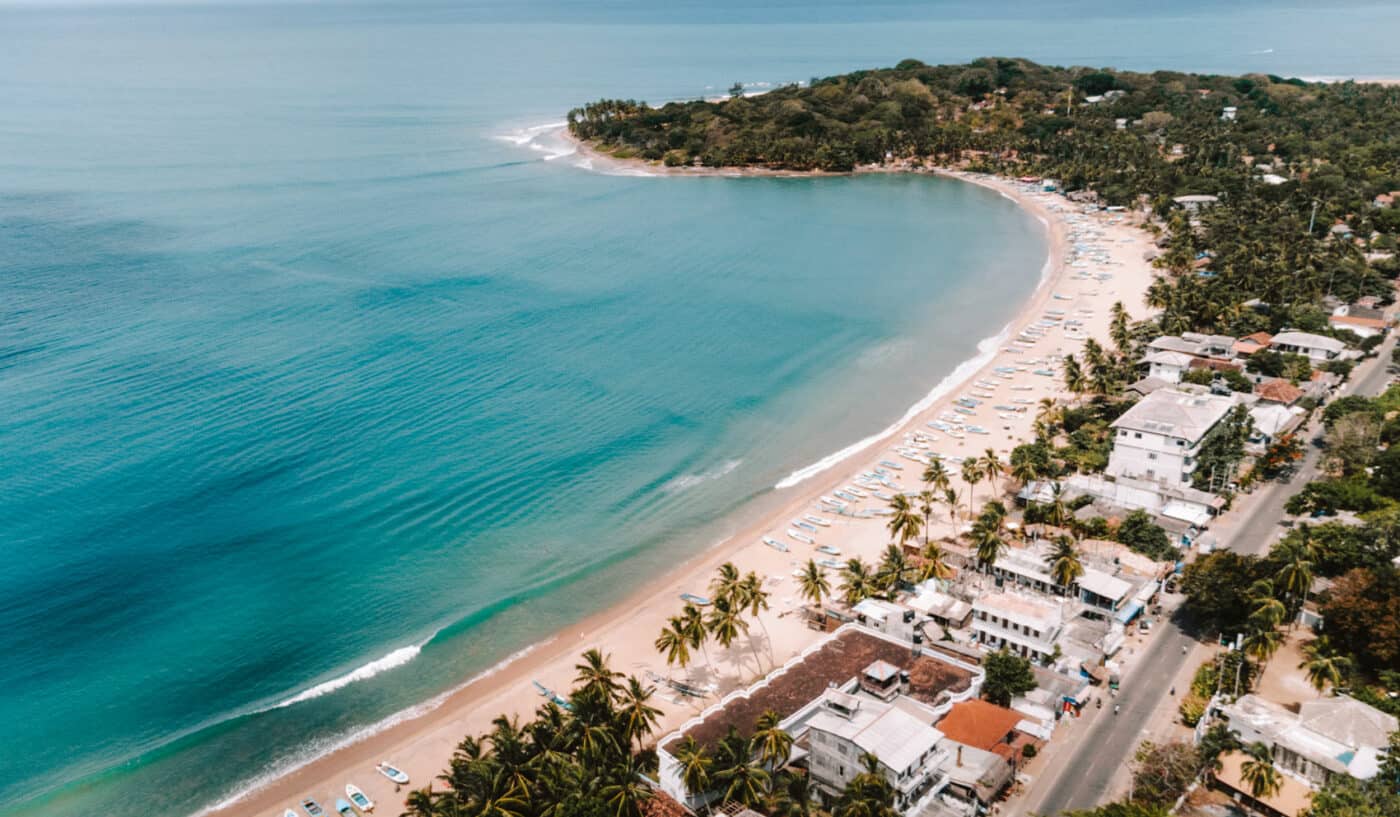 Arugam Bay was our favorite place on the coast of Sri Lanka. It's the best place to be during the summer months (May – October). While the rest of the country is getting blasted with monsoon rains, Arugam Bay has perfect weather.
The surf town may be small, but it's full of life and fun things to do! You will find many guest houses and hotels on the coast, bonfire parties on the beach, delicious cafes/restaurants, and some of the best waves in Sri Lanka.
There is only one co-working space in Arugam Bay called (Nomads Co-Working). It is a great place to work for the day, with an awesome workspace and air conditioning!
Tips on Finding Long-term Accommodation
If you only plan to stay in Sri Lanka for a few months, it is best to find a monthly rate on an Airbnb or guesthouse.
If you hope to move to Sri Lanka long-term, this Facebook Group will help.
You can find a nice one-bedroom apartment in Sri Lanka for about 200-300/per month.
Internet in Sri Lanka
Cafes and co-working spaces have decent wifi, but we often used our personal hotspots during our time on the island.
Mobitel is a very reliable cell service, and we were able to use our hotspot anytime wifi was not optimal.
The absolute best Data coverage is with Mobitel. You can get a SIM card at the arrivals terminal, then buy top-up data for just a couple of dollars at any convenience store.
Is there a Digital Nomad Visa in Sri Lanka?
There is currently no digital nomad visa for Sri Lanka. However, the traditional tourist visa can be extended up to 270 days, so you do not have to worry about constant visa runs or any legal issues as an ex-pat in Sri Lanka.
Visa for Americans and Canadians
Americans have access to a Visa on Arrival for 30 days (but it can be extended for up to 90, 180, or 270 days depending on the hoops you can jump through).
The traditional tourist visa for U.S. travelers is 30 days and costs $35-40 ($5 extra if purchased on arrival).
If you want to extend your visa, you must apply on this website. You can extend your stay up to 270 days in three separate extensions.
Extension #1 – 60 days – $100 (90 total days)
Extension #2 – 90 Days – $150 (180 total days)
Extension #3 – 90 Days – $200 (270 total days)
Canadians have the same visa requirements as U.S. Citizens
Digital Nomad Visa
A Sri Lanka Digital Nomad Visa was announced in 2021 but has yet to be completely implemented by the government, so we will need to wait and see when this will be available in Sri Lanka.
Community in Sri Lanka
How to Meet Locals in Sri Lanka
Locals are extremely friendly and hospitable, and you will probably make friends with a few locals without even trying. Talk to the local cafe owner or join a surf group to make some new friends!
How to Meet other Digital Nomads in Sri Lanka
You will mingle and meet many other digital nomads by frequenting surf breaks and coffee shops around Sri Lanka.
However, there are certainly other ways to intentionally meet fellow digital nomads. One easy way to get connected would be to join one of the CoCo Digital Nomad Telegram Groups.
Facebook Groups for Digital Nomads in Sri Lanka
Sri Lanka Foreigners | Expats | Digital Nomads – A community of people living long-term in Sri Lanka. Here you can find updates on current events, bikes/rooms for rent, social gatherings, and the occasional puppy in need of a home.
South Sri Lanka Surf Community – One of the most helpful Facebook Groups we used during our time in Sri Lanka. They have surfboards for sale, taxi sharing, advice for living in Sri Lanka, and occasionally post listings for long-term housing (specifically for people living in Hikkaduwa, Galle, Unawatuna, Weligama, Mirissa, Hiriketiya, and Tangalle).
East Sri Lanka Surf Community – Another community of ex-pats and travelers looking for taxi-sharing, rooms for rent, buy/sell surfboards, and general info on the island (Trincomalee, Batticaloa, Arugam Bay).
Best time to live in Sri Lanka
Sri Lanka has a tropical climate all year long. So unless you venture up to Nuwara Eliya, you will never be cold.
There are two monsoon seasons that affect Sri Lanka each year. Some areas are best during summer, while others are best during winter.
May – October is the Southwest monsoon season. This means that the best weather is on the east coast beaches and the northern cities of Anuradhapura and Jaffna.
November – April is the northeast monsoon season, which brings heavy rains to the east coast and sunny days to the southwest beaches and hill country. The most popular destinations in Sri Lanka are in this region, so it is the optimal time to visit Sri Lanka.
—
If you are trying to find a new country to live in and work as a digital nomad, Sri Lanka is a fantastic choice. Thousands of digital nomads move here every year, sometimes for just a month or two, and sometimes for years.
If you aren't sure about living there, you should take a holiday to this up-and-coming island a see what you think!
Looking for more digital nomad destinations?