This post may contain affiliate links. By clicking and making a purchase through the links, I earn a small commission at no extra cost to you. See my disclaimer for more information. This and display ads allow me to keep the site up to date and give back.
Jordan is a beautiful country in the Middle East, famous for its ancient historical sites and unique desert landscapes. Hiking in Jordan is one of the best ways to experience the country's beauty!
There are hiking trails in Jordan for all levels, from short coastal walks to multi-day hikes if you want to see a variety of landscapes in the country while camping under the stars at night.
Here are the best hikes in Jordan to inspire your travels, plus tips for staying safe while hiking.
Dead Sea Hiking Trails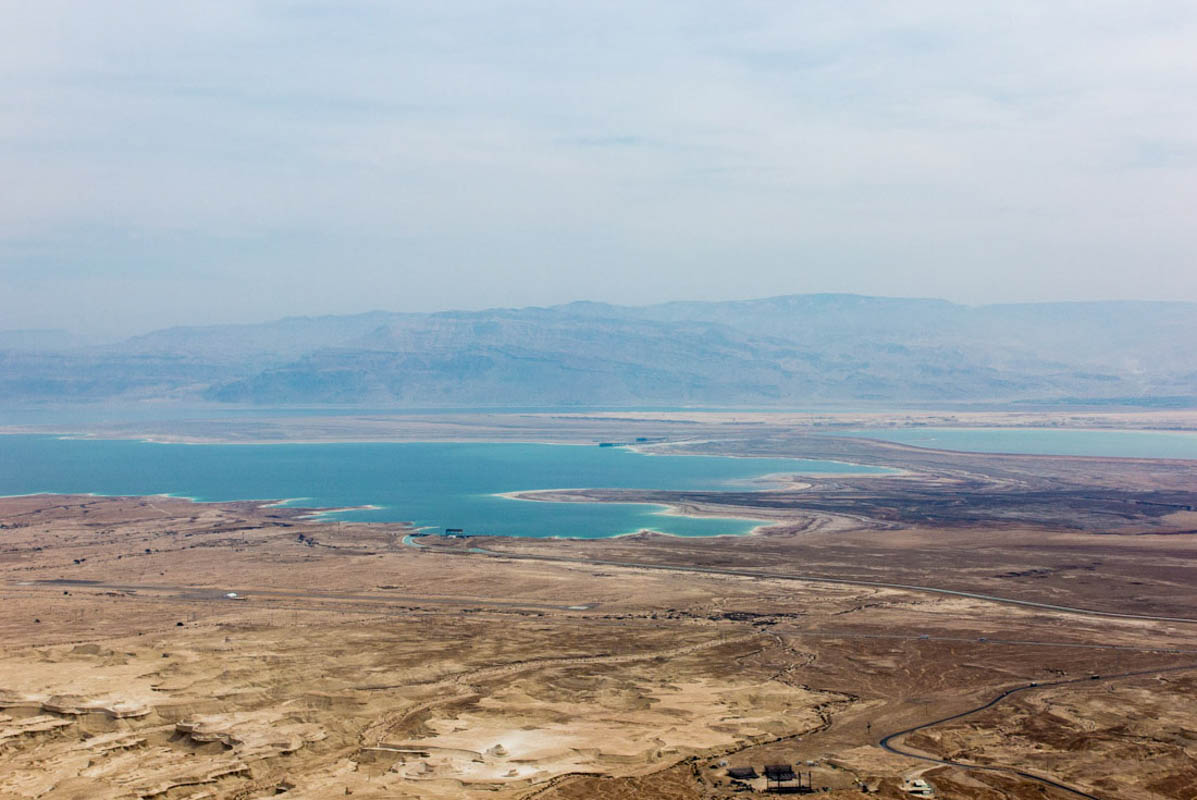 Wadi Mujib SIk Trek – Dead Sea
Length: 0.62 miles
Difficulty: Intermediate
The Dead Sea is one of the best places to relax in Jordan, but if you're looking for more adventure, there are also some beautiful hiking trails around the Dead Sea.
Wadi Mujib is a beautiful river near the Dead Sea. On the hike, you'll see amazing views of the gorge and some waterfalls.
If you aren't an avid hiker, it's best to get a guide for this hike. And, you might want to do some training before you go, as you need a lot of upper body strength to grab ropes to help walk through the water.
If you want even more adventure with your hike, you can add more activities like canyoning and abseiling to your day in Wadi Mujib. Or, you can stay overnight near the Mujib Biosphere Reserve, where the gorge is.
Mukawir Shepard Trail
Length: 4 hours
Difficulty: Intermediate
Mukawir is an ancient area full of hillsides and ruins. This Jordan hike is a must if you want some of the best views of the Dead Sea.
Along the hike, you will see the West Bank and great views of Jordan's landscape. And, if the sky is clear, you might be able to see Jericho or Jerusalem.
The Mukawir Trail is an excellent hike in Jordan during your visit to the Dead Sea. And it's one of the lesser-known hikes in Jordan, so you'll have a lot of the trail to yourself to enjoy.
Petra Trails
Petra, one of the seven wonders of the world and a UNESCO World Heritage Site, is undoubtedly one of Jordan's most famous landmarks. But the complex is massive and full of hiking trails to explore.
Little Petra to Petra Hike
Length: 12 miles
Difficulty: Challenging
While most people come into Petra through the main gate, there's actually a back entrance to Petra from Little Petra, which is what we did on my trip to Jordan with Traverse Journeys.
The name of the trail is The Wadi Muthlim Trail. It's a 12-mile hike that takes you through the gorgeous sandstone mountains of Wadi Ghurab.
The hike starts through an open valley where you can see the remains of some of the earliest human settlements, then follows a Nabataean route out of the valley around a mountain.
After hiking along the mountain, you'll reach the Monastery of Petra, one of the top sights to see in the complex.
From there, you'll walk into the central area of Petra, where you can grab a well-deserved bite at one of the many restaurants! This was one of my favorite days in Jordan and the top Petra hikes you can do.
Petra Hiking: Main Trail
Length: 5 miles roundtrip – 2 to 4 hours
Difficulty: Easy
The Main Trail is the hike most people do in Petra. First, you'll need to go through the main gate and walk through a stunning canyon.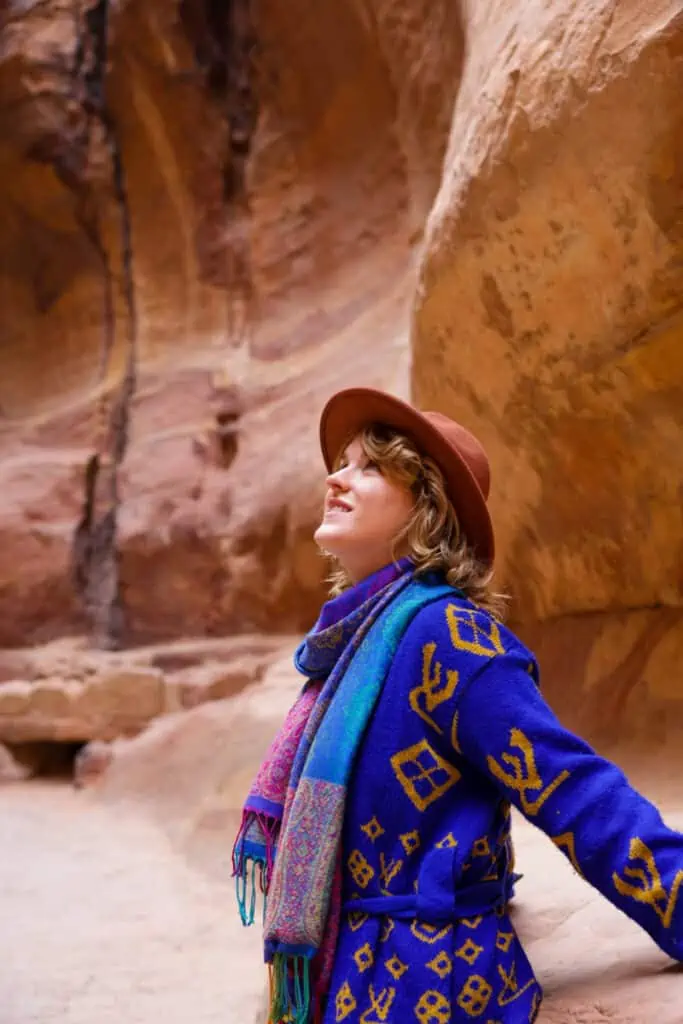 As you exit the canyon, you'll be in front of the famous Treasury. This is where some of the best photo spots in Petra are, but it's worth continuing on to see more of this impressive complex.
You enter this Petra hike at the Siq before passing the Treasury, the Royal Tombs, temples, and more. It ends at Ad Deir (the Monastery) before you turn around and see it all again.
If you only have one day, this is the best Petra trail to do as you will see the most popular sites.
Al Khubtha Trail
Length: 2.1 miles – 3 hours roundtrip
Difficulty: Intermediate
If you want a more challenging hike or a better view of the Treasury, veer off the Main Trail and hike the Al Khubtha Trail.
The trail involves going some uneven steps, and you need to follow the directions so you don't get lost. You can also hire a local guide in Petra to take you on this hike.
To get to this trailhead, start on the Main Trail and make your way to the Royal Tombs, about 15 minutes from the Treasury. Head right from the Tombs, and you'll run into some stairs.
You need to climb the stairs to get to the top, but it's worth it! There are about 600 steps, which can take anywhere from 15 minutes to an hour, depending on how fast you climb. From here, head left and walk slightly downhill until you see the Treasury below.
You should take your time on this hike, as some of the steps on the way up are hard to climb, but most people with standard fitness levels can do this hike with no issues.
If you don't want to hike that far up, there are also some shorter hikes you can do near the Treasury to get a view from above (10-15 minutes). Just ask any of the Bedouins there to take you; they will charge you a few dollars and take great photos.
Wadi Rum Hiking
Wadi Rum is one of the most beautiful deserts in the world, and it's also home to some of the best Jordan hiking trails.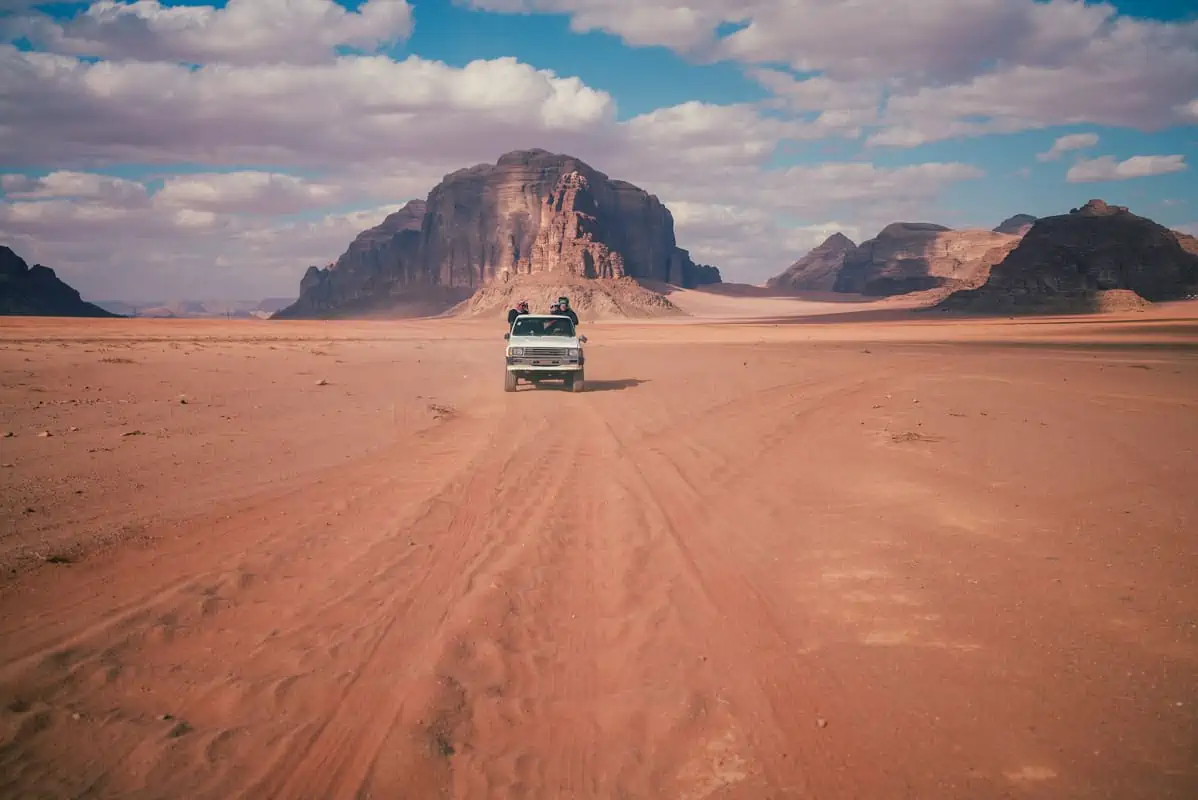 Jabal Umm ad Dami (Jordan's highest peak)
Surprisingly, you can find Jordan's highest mountain in Wadi Rum. It's 1,854 meters (6,083 feet) hight, and can be climbed in less than 2 hours.
At the top, you can see views of Wadi Rum's landscape, the Red Sea, and even as far as Saudi Arabia. For more information about this hike, check out this guide.
Wadi Rum Sand Dunes
Length: 8.1 miles roundtrip
Difficulty: Easy
A more leisurely hike in Wadi Rum is to the Wadi Rum Sand Dunes trail. This hike is perfect if you want to see and experience the beauty of Wadi Rum without taking a tour or want to see more of the desert.
You'll hike from the Rum village, where many people first arrive in the desert, through Wadi Rum to a beautiful viewpoint of the south of the desert.
Besides the distance, the hike is on easy terrain, so if you have good stamina and come prepared with water and snacks, the hike is not challenging.
Jebel Burdah Rock Bridge – Wadi Rum
Length: 4 to 5 hours total
Difficulty: Intermediate
Another great hike in Wadi Rum is to the Jebel Rock Bridge. The hike to the rock bridge is up a mountain, which offers gorgeous views of the landscapes of Wadi Rum.
You will be pretty high up and close to many edges, so you might want to skip this hike if you're scared of heights.
The hike is mild until the last section, before the rock bridge. After that, you will have to climb some steep rocks without any equipment. It's a short climb, but it can be scary and requires a lot of focus.
Once you reach the rock bridge, there is more climbing to get to the top. So, you must be very careful at the top to stay steady on the bridge, which is 985 feet high.
You can hike down the same route or take a faster but more challenging route. The quicker way requires a lot of strength as you descend a rock wall.
In the end, if you are confident in your ability to climb mountains and scale a small rock wall, Jebel Burdah Rock Bridge is one of the best Jordan hikes.
—
If you don't want to hike to the Rock Bridge, there's another one you can see called Um Frouth Rock Arch if you're taking a 4×4 tour.
It's a short climb up to the top, where you can get some great photos below and on top of it. Although I don't recommend going up if you're afraid of heights!
Dana Biosphere Reserve
Another popular place for trekking in Jordan is the Dana Biosphere Reserve, Jordan's largest natural reserve.
There you'll find stunning mountains and Wadis along the face of the Great Rift Valley, as well as a variety of wildlife.
Ajloun Forest Reserve
Did you know Jordan is also home to a small forest reserve? While it makes up a small percentage of the country, it provides a vitally important ecosystem for local wildlife there.
There you can find beautiful lush green forests to hike, and you may even spot some animals. Unfortunately, it was pouring rain while we were there so our hike got canceled, but you can find more information about the reserve on the Wild Jordan website.
Multi-day Hikes in Jordan
Hike between Petra and Wadi Rum
Length: 56 miles (90.6km) over five days
Difficulty: Intermediate
If you're up for a multi-day hiking adventure, check out the hike from Petra to Wadi Rum or vice versa.
Not only do you get to see two of Jordan's most iconic places at the beginning and end of the hike, but many other incredible sights along the way. You will see ancient ruins, the sandstone mountains which look like islands, and if you go slightly off the route, you can see a mountaintop burial site.
While there will be campsites in Wadi Rum and hotels in Petra, most of this hike is wild camping. The lack of water is the most significant challenge in this hike as sometimes there are long distances between refills.
If you are not an extremely experienced hiker, I would definitely get a guide for this hike as they will know how to pace it, where to refill your water, etc.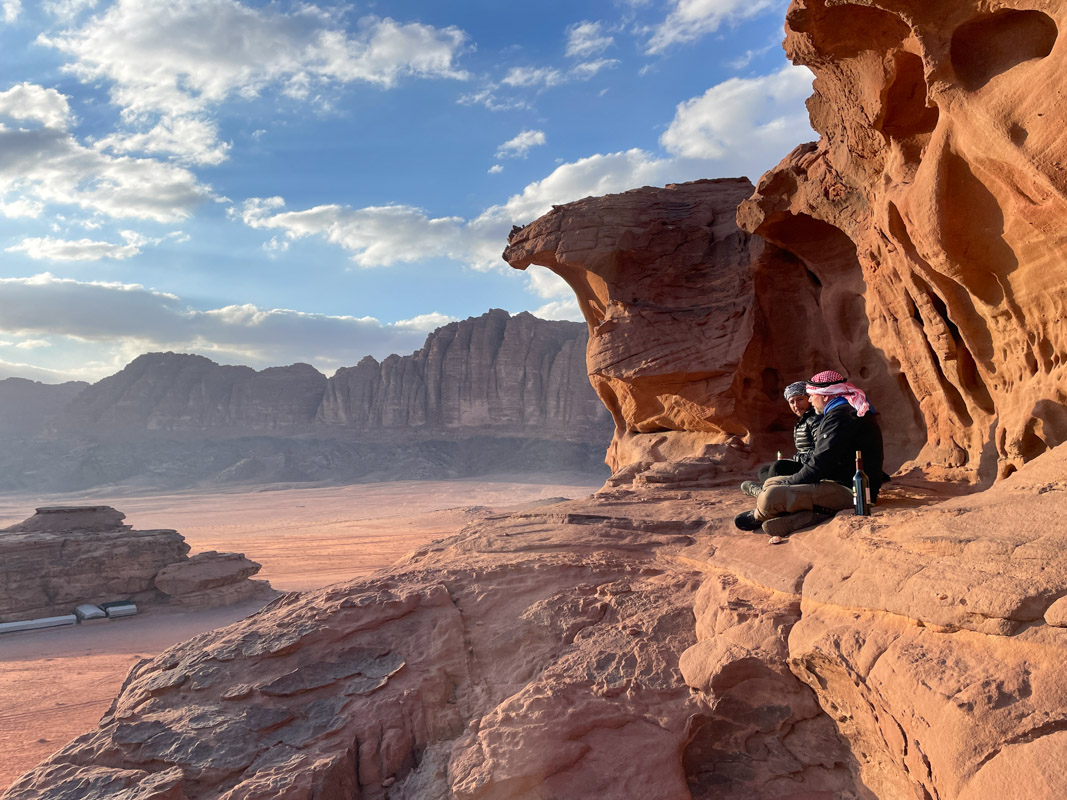 The Jordan Trail Hike
Length: 420 miles over 40 days
Difficulty: Expert
And finally, the best hike in Jordan for serious hikers is the Jordan Trail. But, hiking the Jordan trail takes a lot of physical effort and stamina.
Still, if you are prepared, you'll conquer one of the best hikes in the world and see some beautiful desert vistas along the way. It's one of the best ways to experience Jordan!
The trail goes from Um Qais to the Red Sea through 75 small towns and villages where you will meet locals and other hikers. And, you can't beat camping under the brightest desert stars in the world.
If you want to experience the Jordan trail without completing the entire hike, it can be broken into sections. You can choose from eight sections, including the Wadi Rum to Petra hike above.
How to Stay Safe when Hiking in Jordan
Before going trekking in Jordan, you must be prepared with the right hiking essentials.
First, you need to bring water and sun protection, including sunscreen, sun hat, and sunglasses. The desert gets very hot during the day, especially in the summer. Without plenty of water, you will get dehydrated quickly! On some trails, you can find Bedouin selling water, but this isn't guaranteed, so always bring enough water for your hike.
When the sun is bright and the UV rays are high, you can burn quickly without sunscreen. This can really damper your trip, so make sure to put it on before you start hiking.
If you're camping overnight, you need to bring layers of clothing to stay warm, and a sleeping bag as the desert can get very cold, especially in winter. While we were camping in Little Petra, it was 0 degrees! Luckily, the campsite provided us with several warm blankets to keep warm. I always bring merino wool with me while I'm hiking, as it's light and keeps you very warm.
It's always a good idea to go hiking with someone else in case anything happens and you need help.
If you are traveling solo, or are a more inexperienced hiker, find a group to join or a tour guide to accompany you on the hike you want to take. Unfortunately, accidents happen to even the most experienced hikers.
If you want to do any intermediate or difficult hikes, take time to train before your trip to be in the best shape possible. Without any physical preparation, you will not enjoy the hikes as much. Accessories like hiking poles can also be handy.
Are you planning a trip to Jordan? Check out these posts!