This post may contain affiliate links. By clicking and making a purchase through the links, I earn a small commission at no extra cost to you. This and display ads allows me to keep the site up to date and give back. Thanks for reading!
As the second-largest province in Canada (and the most visited), it's pretty apparent that Ontario has a lot of exciting things to see. One of the best ways to experience this great province is to hop in the car and take one of these Ontario road trips.
Not only does Ontario boast iconic big cities and picturesque small towns, but also a surprisingly diverse topography and natural landscape. Depending on the journey you choose, you might find yourself trekking across the Canadian shield, climbing an escarpment, floating in a great lake, sunbathing on a sandy beach, or hiking through an evergreen forest.
Whether you're flying in from afar and want to do a little exploring, or you're a born and raised Ontarian seeking a weekend adventure, this list of scenic road trips in Ontario is the perfect place to start.
Best Road Trips In Ontario
1. Prince Edward County
Distance: 143 km
Driving Time: 2 hours, 10 minutes Start: Trenton
End: Belleville
Great For: The Trendsetter
Prince Edward County is Ontario's most up-and-coming tourist region with unique attractions around every corner, making it the perfect setting for a single day, weekend, or week-long Ontario road trip itinerary.
While many of these attractions are family-friendly, PEC is particularly well-loved by couples celebrating a special milestone and friend groups planning a sophisticated girls' getaway. To extend your stay, book a room at one (or more) of the highly-photogenic retrofitted "luxury" motels and spend some time enjoying the gorgeous vineyards and wine.
Beach bums will adore the plethora of white sand beaches, including the protected shores of the ever-popular Sandbanks provincial park, while shopaholics will appreciate the selection of trendy, independent boutiques.
You can easily pack your itinerary with trips to award-winning vineyards, hiring a curated picnic experience, or picking your own flowers at the Dahlia May flower farm. For some nighttime entertainment, be sure to visit one of the few remaining drive-in movie theatres (The Mustang) and catch a show on the big screen.
2. The Muskokas
Distance: 176 km
Driving Time: 2 hours, 50 minutes
Start: Port Sever
End: Hunstville
Great For: The Professional Cottager
A road trip through the Muskoka's is Ontario's version of a choose-your-own-adventure. You'll adore its offering of classic summer watersports such as canoeing, kayaking, boating, fishing, and swimming, and indulge your inner foodie at waterside grills, micro-breweries, and greasy-spoon diners.
As you pass through these charming Muskoka towns, you can choose from a wide array of accommodation styles to suit your needs. Just to give you a brief snapshot, you could easily enhance your trip with a stay in a rustic cabin, a monstrous lakehouse, a chalet-style lodge, or a fancy couple's resort.
Though at first glance, Ontario's cottage country might seem like one massive adult summer camp (and it certainly can be), massive tourism dollars have gone into making it a top luxury destination. Those who choose to splurge on their Muskoka adventure will enjoy fine dining, exclusive spas, and a remote hideaway from the hustle and bustle of daily life.
While this route is a much more popular choice during the summer months, winter road-trippers will be equally rewarded with snow-capped pines, frozen lakes, and quintessential Canadian winter activities like snowshoeing, cross-country skiing, and ice skating.
3. Algonquin Park
Distance: 1 hour, 33 minutes
Driving Time: 132 km
Start: Dwight, ON
End: Whitney, ON
Great For: The Amateur Photographer
Algonquin Provincial Park is arguably Ontario's most impressive park. At the very least, it is both the oldest and largest, spanning nearly 19,000 square kilometers of untouched wilderness.
It is popular amongst backpackers with a penchant for outdoor adventure, but it also has a major appeal for artists and photographers, thanks to its stunning landscapes and unique wildlife spotting. Along this route, be sure to keep your eyes peeled for moose, deer, beavers, bears, wolves, and great blue herons, which are all commonly seen in the park.
Highway 60 corridor is the only road that travels directly through the park, so that's the route you'll be taking if you want to experience Algonquin by car. It's one of the best scenic drives in Ontario! Once you've entered, you may want to spend a night or two at an outfitters lodge, or backcountry camping Algonquin's trails to make the most out of your trip.
4. The Bruce Penninsula: Sauble Beach to Tobermory
Distance: 88.5 km
Driving Time: 1 hour, 4 minutes
Start: Sauble Beach
End: Tobermory
Great For: The Water Bug
This quick road trip will take you from one of Ontario's most popular tourist beach towns to the most iconic secret swimming spot. Sauble beach is best known for its beach shops, dunes, and summery restaurants, but it's also home to several family-friendly attractions, including arcades, mini-golf, speedways, and laser tag.
If you want to take a more adult approach to your first stop, you may want to consider hiring a luxury beach picnic service for a fun date or an overnight stay in one of Sauble's trendy motels.
Further down the road, you'll end up in Tobermory- which is best known for its "Secret grotto." You'll want to make the hike in early in the day to avoid big crowds. The Caribbean blue waters and stunning cliff face make this one of the best Ontario weekend road trips.
5. Chasing Waterfalls: Hamilton
Distance: 55.6 km
Driving Time: 1 hour, 25 minutes
Start: Dundas
End: Locke Street Hamilton
Great For: The Outdoors Enthusiast
Did you know that the city of Hamilton (and its surrounding area) is home to well over 100 waterfalls? Not only is this the highest concentration of waterfalls in Canada, but it also earns hamilton the title of "Waterfall Capital of the World."
Though the driving route on this road trip is short, you'll want to plan time to move through the region slowly and hike to as many of these waterfalls as you can.
You'll start by making a large loop around the outskirts of the city- through areas such as Dundas, Ancaster, and Stoney Creek- where you'll find the most waterfall trails. Be sure to stop at the top five waterfalls (at least), including the Devil's Punchbowl, Tews Falls, Webster's Falls, Chedoke Falls, Rock Chapel Falls.
After a long day of hiking and driving, we recommend ending your journey on Locke Street, where you can grab a microbrew, a donut at the local hotspot Donut Monster or treat yourselves to a lovely dinner.
This trip can also be made as a day trip from Toronto.
6. The Niagara Escarpment
Great For: The Wine Connoisseur
Distance: 43 km/ 65 km
Driving Time: 50 Minutes/ 1 hour, 17 minutes
Start: Beamsville
End: Niagara on the Lake/ Niagara Falls
Great For: The Wine Connoisseur
This scenic road trip in Ontario will take you wine tasting from Jordan station to Niagara Falls.
As you pass through the gateway to Niagara's wine region- Jordan station, Beamsville, Vineland, and NOTL- You will begin your self-driven wine-tasting tour. And good wine isn't the only thing this area has to offer! You'll find a few fun extras like art galleries and the occasional cheese shop and some easy hiking trails along the Niagra Escarpment.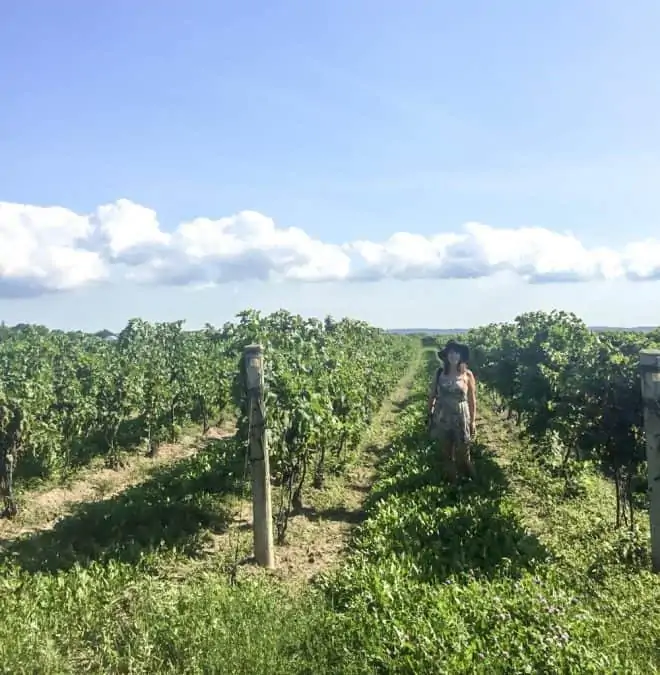 After winding through historic Niagara-on-the-lake (and visiting the famous "Laura Secord" house), be sure to check out their historic downtown and stroll through the parks filled with Canadian war monuments.
If you'd like to extend your road trip and add a little bit of fast-paced excitement, continue along the water's edge until you arrive at the world-renowned Niagara Falls. This Tourist's playground is not just a major natural attraction, it's also chalked full of entertainment on Clifton Hill, from arcades and funhouses to casinos and restaurants.
7. Ontario's Quaintest Historic Towns: Huron, Perth, Waterloo, and Wellington County
Distance: 83.7 km
Driving Time: 1 hour, 18 minutes
Start: Stratford
End: Fergus
Great For: The Old Soul
This quick loop is home to several of Ontario's cutest villages, including St. Jacobs, Stratford, Elmira, Elora, and Fergus. You certainly could take on this trek all in one day and simply marvel at the countryside fields, rolling hills, and historic architecture out your window, but we would recommend breaking it up with a stay in a charming bed and breakfast.
Ready to tug on the heartstrings of every romantic is your staring village of Stratford. Here you'll be entertained in a Shakespearean theatre and take a leisurely stroll along a river that's home to hundreds of swans. Along the way, you'll find a never-ending supply of sweet vintage shops, antiques/farmer's markets, art galleries, Mennonite furniture sales, used bookstores, and cozy restaurants.
Just next door to Fergus at the end of your journey is beautiful Elora. Though Elora is equally as old-timy as its counterparts, it's really its natural features like the Elora Gorge and the Elora Quarry that keep tourists coming back time and time again.
Fergus is basically Ontario's "little Scotland," so we recommend ending your visit with a trip to a traditional brewpub.
8. The Kawarthas (Purple and Orange Scenic Drive Routes)
Distance: 218 km
Driving Time: 2 hours, 40 minutes
Start: Lindsay
End: Rosedale
Great For: The Traditional Road-Tripper
The Kawartha lakes region lies adjacent to the Muskokas, closer to the city of Toronto, and offers tourists a waterfront experience that's a little tamer. On your first loop, you'll pass through Lindsay, Kirkfield, Sebright, followed by a drive through the towns of Bobcaygeon, Kinmount, and Rosedale.
Along this route, you'll experience the second highest hydraulic lift lock in the world, endless roads of farmland, a train museum, and you guessed it, lots of lakes. It's the perfect place to go kayaking!
Be sure to stop at the infamous Kawartha dairy- the original location. To commemorate the experience, strike a pose with your towering ice cream cone. Moose Tracks, Bear Claw, and Death by Chocolate are some of the most popular flavors with the locals, in case you were wondering.
9. Thousand Islands
Distance: 101 km + ferry
Driving Time: 2 hours, 17 minutes
Start: Kingston
End: Mallorytown
Great For: The Island-Hopper
The Thousand Islands archipelago might be one of Ontario's best-kept secrets. Nestled along the Saint Lawrence river is this stunning collection of 1,864 islands, to be exact.
This scenic route will take you from Kingston, up the shores, and onto some of the larger islands. We, of course, recommend taking a boat trip to experience the archipelago to the fullest, but even if you decide to stay on the mainland, you will find plenty of stops and things to do. Through several historic small towns, you'll find lighthouses, boat museums, quiet boardwalks, lookout trails, and even a castle.
10. From the Province's Capital to the Nation's Capital: Toronto to Ottawa
Distance: 451 km
Driving Time: 4 hours, 40 minutes
Start: Toronto, ON
End: Ottawa, ON
Great For: The City Slicker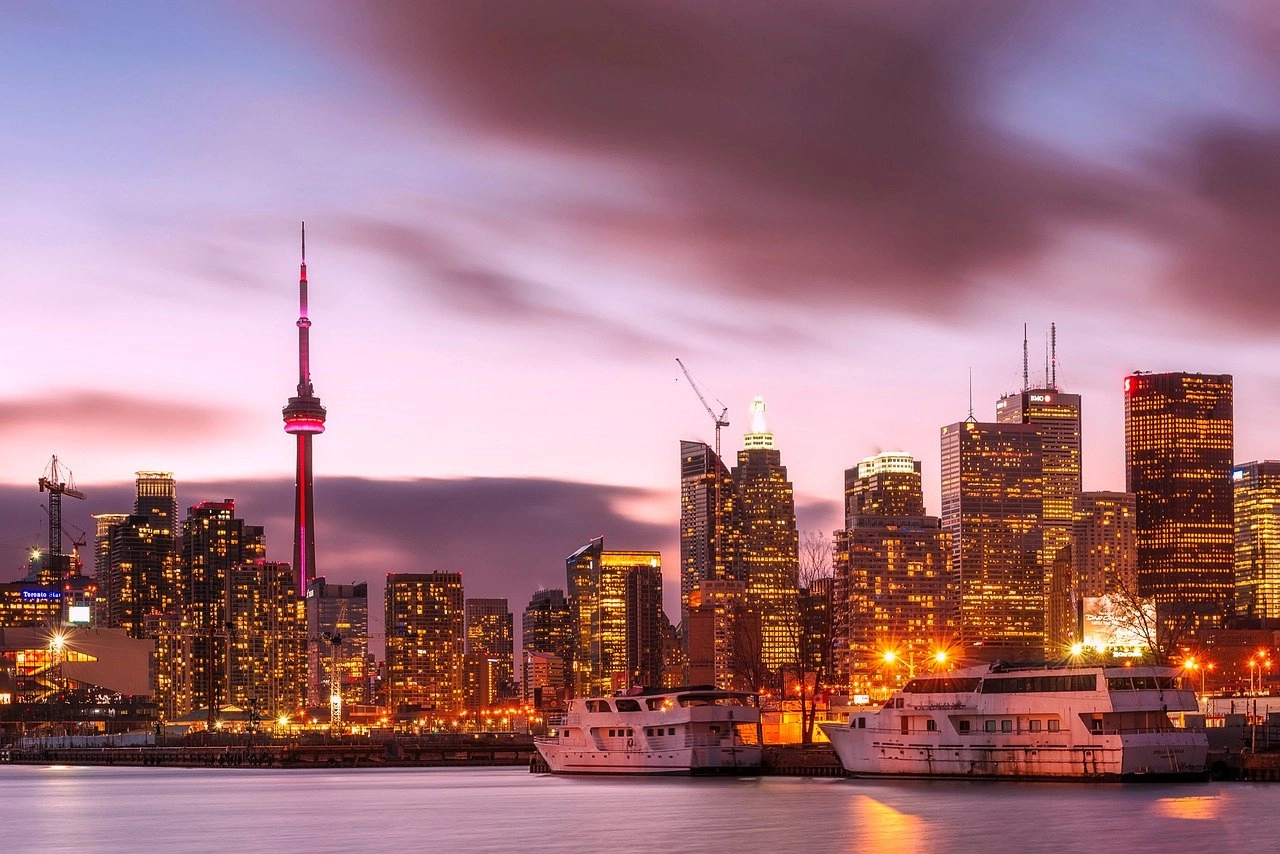 Two great cities in one easy road trip. Toronto is known for its vibrant nightlife, multicultural dining options, and of course, big attractions like the CN tower, Center Island, and the Royal Ontario Museum. After a day or two in Ontario's capital city, you'll embark on your journey towards Ottawa, the nation's capital.
While the bulk of this journey is on a highway, it's quite a nice one with plenty of towns to pull into if you want to extend your travels or ONRoute rest stops for quick breaks. Once you arrive, be sure to check out Parliament Hill, the infamous Byward market, and the National Art Gallery. If you're traveling Ontario in the winter, be sure to bring your skates and lace up for a trip down the Rideau Canal.
—
I hope these Ontario road trip ideas could inspire your next adventure! With so many beautiful places to see in the province, you'll never get tired of exploring.
Planning a trip to Canada?