This post may contain affiliate links. By clicking and making a purchase through the links, I earn a small commission at no extra cost to you. See my disclaimer for more information. This and display ads allow me to keep the site up to date and give back.
Looking for the best Chiang Mai glamping sites? You're in the right place! While living in Chiang Mai as a digital nomad, going glamping with friends on the weekends was one of my favorite ways to take a break from work.
This list of glamping sites in Chiang Mai will give you plenty of fabulous glamping places, including bubble domes, fancy tents, and luxurious lodges.
Chiang Mai, in northern Thailand, is a popular place for digital nomads in Thailand, known for its lush forests and deep mountain valleys. The clear, fresh air makes Chiang Mai the perfect destination to get away from it all and truly relax, whether you need a workcation or a unique place to stay on your holiday.
With so much breathtaking natural beauty and warm weather, glamping in Thailand is a great way to immerse yourself in nature and unwind without it feeling as basic as a camping holiday.
It's cozier, more luxurious, and you'll have access to extra facilities like outdoor bathrooms, flat-screen TVs, or outdoor jacuzzis. You may be able to have dinner brought to your deck for dinner under the stars or have a projector set up for a moonlit movie night.
So here are ten of the best glamping places in Chiang Mai to help you choose where to stay on your next Thailand vacation.
My Top 3 Picks: Glamping in Chiang Mai
✅ Close to Doi Inthanon National Park
✅ Large hut-style tents and modern mountain-view villas
✅ Super comfortable beds inside the tents
✅ Luxury air-conditioned villa designed in hunter's lodge style
✅ Hot tub and fireplace
✅ Projector TV for movie nights
Best glamping sites in Chiang Mai
⭐️ Rating: 8.4/10 |📍 Location: Chom Thong | 🏩 View on Agoda
Wildbeat is where I spent my last weekend in Chiang Mai with friends, and it was such a magical experience.
Wildbeat Chiang Mai makes glamping easy for even the most reluctant camper. You can choose from a selection of large hut-style tents and modern mountain view villas, which are cleverly-converted shipping containers.
This Chiang Mai glamping site offers hotel-style amenities like tea-making facilities, toiletries, and a hair dryer. Some rooms have air conditioning or even a flat-screen TV.
There's a coffee shop on-site and free WiFi in public areas, and breakfast is included. It's nothing special but enough to keep you fueled up for the day. They also can make you a BBQ dinner on request, although we brought our own food, which they kept in the fridge.
We stayed in the glamping tents, which had super comfortable beds to get a good night's rest after a day of adventuring.
"If you like a cozy atmosphere, beautiful wide mountain views, and privacy to sit and chat while grilling, I highly recommend this place." – Siyaporn (read more reviews)
Wildbeat Chiang Mai is nearby Doi Inthanon National Park, which is one of the best attractions near Chiang Mai. It was fun to stay overnight in the park and then spend the day exploring the park before heading back to the city. It was the perfect weekend getaway!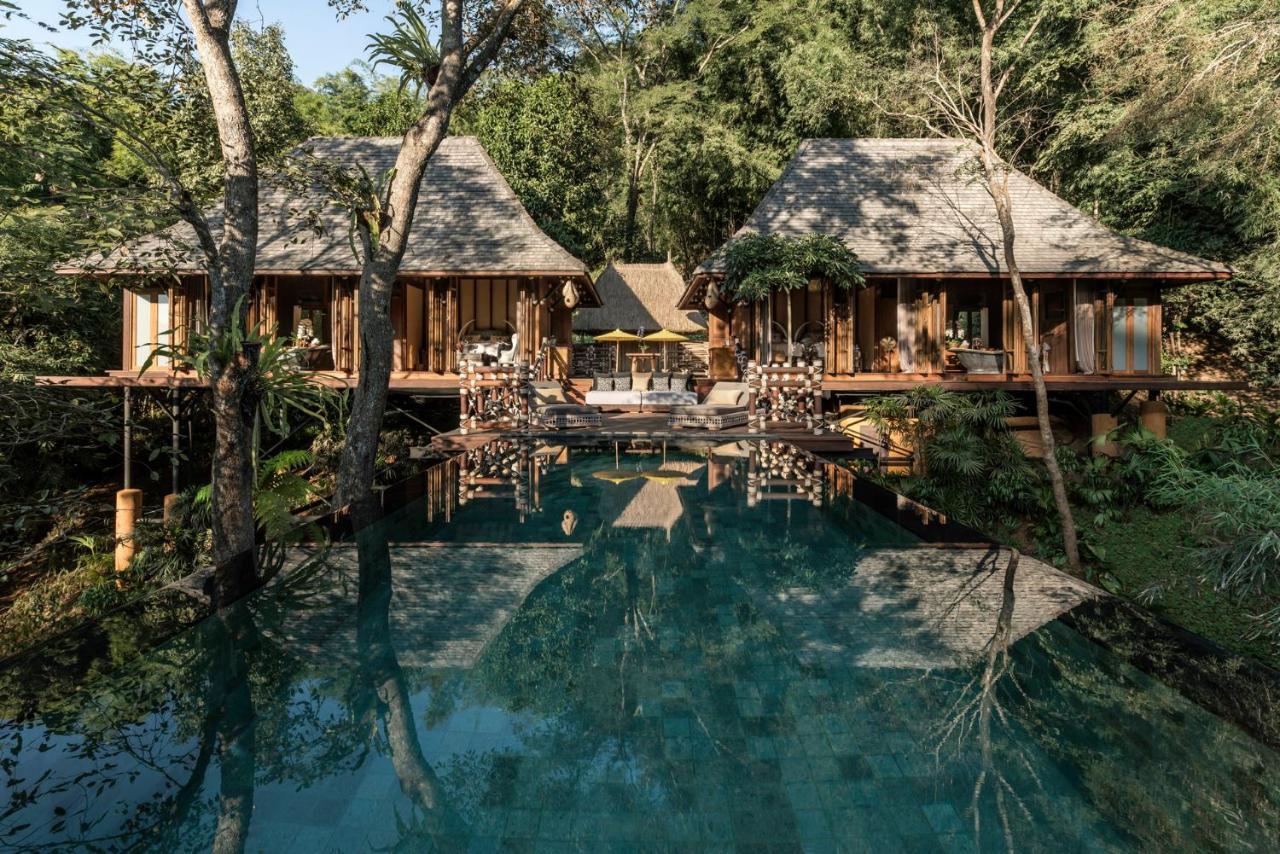 ⭐️ Rating: 9.8/10 |📍 Location: Golden Triangle | 🏩 View on Agoda
This is one of the most luxurious glamping sites near Chiang Mai, located in the heart of the Golden Triangle.
It's actually in Chiang Rai, but well worth the journey, especially since Chiang Rai is one of the best overnight trips from Chiang Mai. It's a 3-hour drive or bus ride from Chiang Mai, with buses that leave almost every hour.
The Four Seasons Tented Camp is surrounded by dense trees and bamboo, so you will arrive by boat on the Ruak River.
You'll stay in an air-conditioned luxury tent with decor that brings to mind the golden era of exploration featuring hardwood floors, hand-hammered copper tubs, or a wooden hot tub outside on the deck.
The open-air Nong Yao Restaurant serves exquisite dishes from both South-East Asian and Western cuisine, and you can enjoy a cocktail at the Burma Bar while taking in panoramic views over the Ruak River and Burma.
Beyond the hotel, the whole experience is worth it. Definitely the interaction with the elephants is unequalled, but the care of detail in their facilities, the harmony with nature and surrounding landscape, the quality of food and personalized attention makes this a 100% recommended place.

– Irvin (see more reviews here)
⭐️ Rating: 10/10 |📍 Location: Doi Saket | 🏩 View on Agoda
Cliffver Chiang Mai takes glamping to another level with the ultimate luxurious forest vacations. This luxury air-conditioned villa is designed in a hunter's lodge style, with a cozy fireplace and sumptuous velvet furnishings.
As you'd expect, the facilities here are excellent. There's a fully equipped kitchenette, a hot tub, and even a projector and beanbags for your own movie night.
Cliffver's on-site restaurant offers a choice of Thai and Western cuisine, and you can enjoy dinner on the villa's private deck or take a picnic by the stream that flows past the villa.
The secluded forest setting makes a stay at Cliffver very relaxing, and the villa sleeps up to six, so it's perfect for a glamping experience with friends.
📍 Location: Doi Saket | 🏩 View on Agoda
Get away from the hustle and bustle of Chiang Mai with a stay at Taloh Cabin, a gorgeous glamping cabin in a serene forest setting. Take a dip in the jacuzzi on the deck or just sit back and breathe in the fresh air and peaceful surroundings.
Although Taloh Cabin looks rustic, the facilities are definitely contemporary. The air-conditioned bedroom has a king-sized bed and large doors that open onto the deck with views of the forest surroundings.
There's also a fully equipped kitchen and dining area, a bathroom with complimentary toiletries, and free high-speed WiFi.
There's only one cabin at Taloh Homestay, so if this is your dream glamping site in Chiang Mai, you need to book early to avoid disappointment.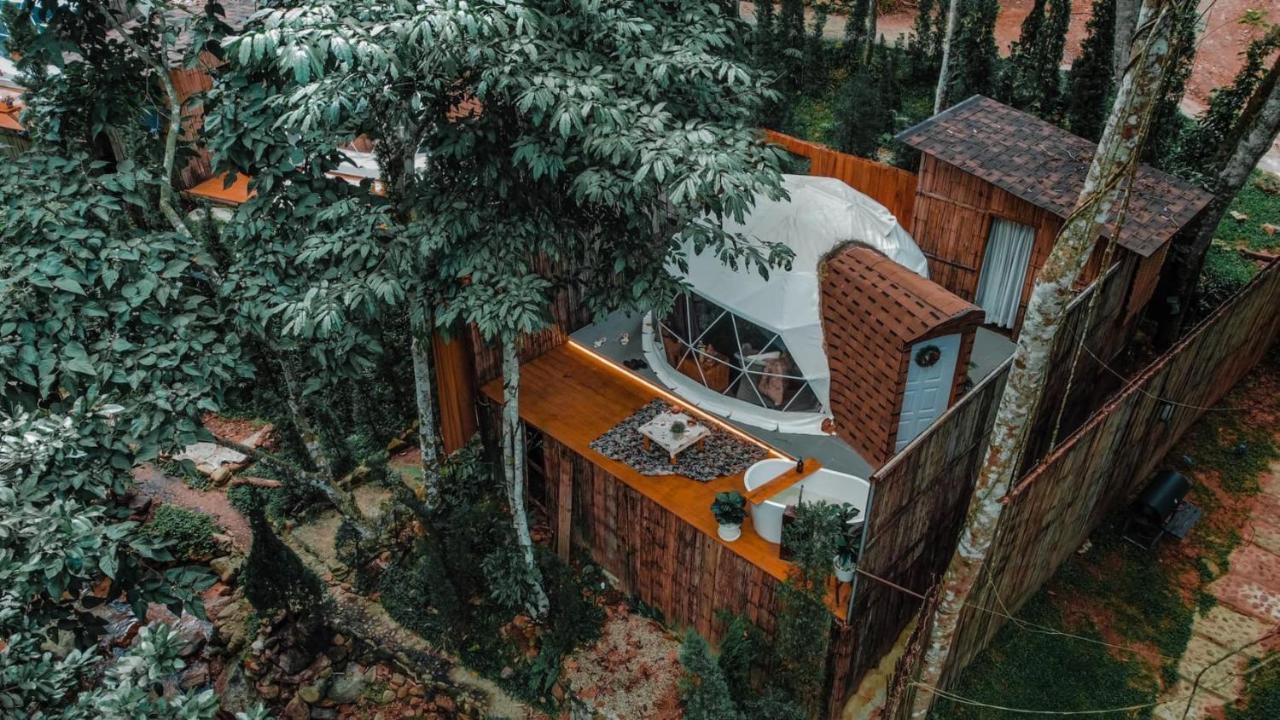 ⭐️ Rating: 8.3/10 |📍 Location: Doi Saket | 🏩 View on Agoda
The glamping domes at Nelamit are surrounded by trees and face the river that flows past the site. Each dome is well-equipped with a private bathroom and shower, a hairdryer, slippers, and complimentary toiletries.
Tea and coffee-making facilities are provided, so you can sip your coffee on the deck first thing in the morning as you look out over the surrounding forest.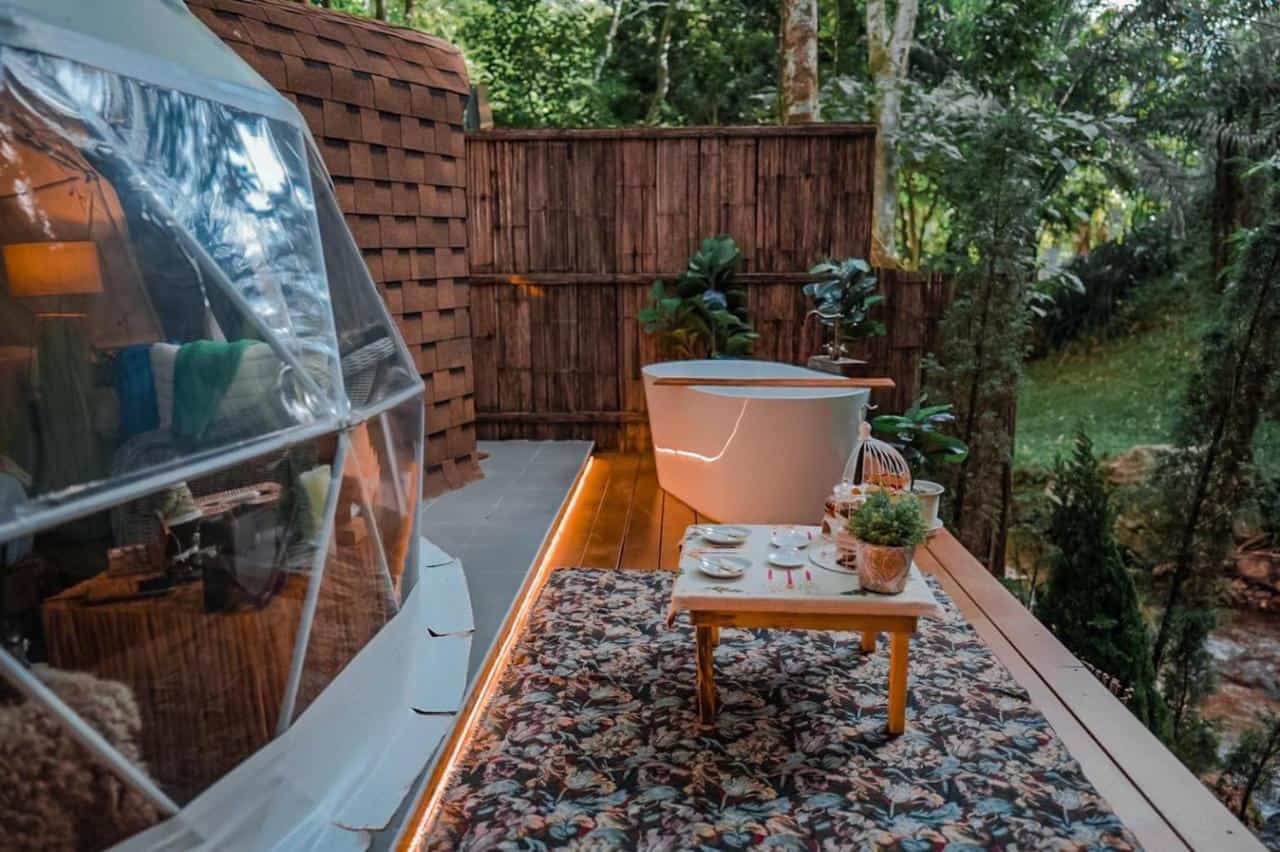 Nelamit is a five-star glamping spot in Chiang Mai that offers an on-site bar and a choice of American-style or a la carte breakfast. In addition, there are cafes and restaurants within a mile or so of the glamping site, and Chiang Mai is just a 30-mile drive away.
Easy to locate on the mountains, will strongly recommend guest to drive if visiting, ample parking available at the entrance.

– Matt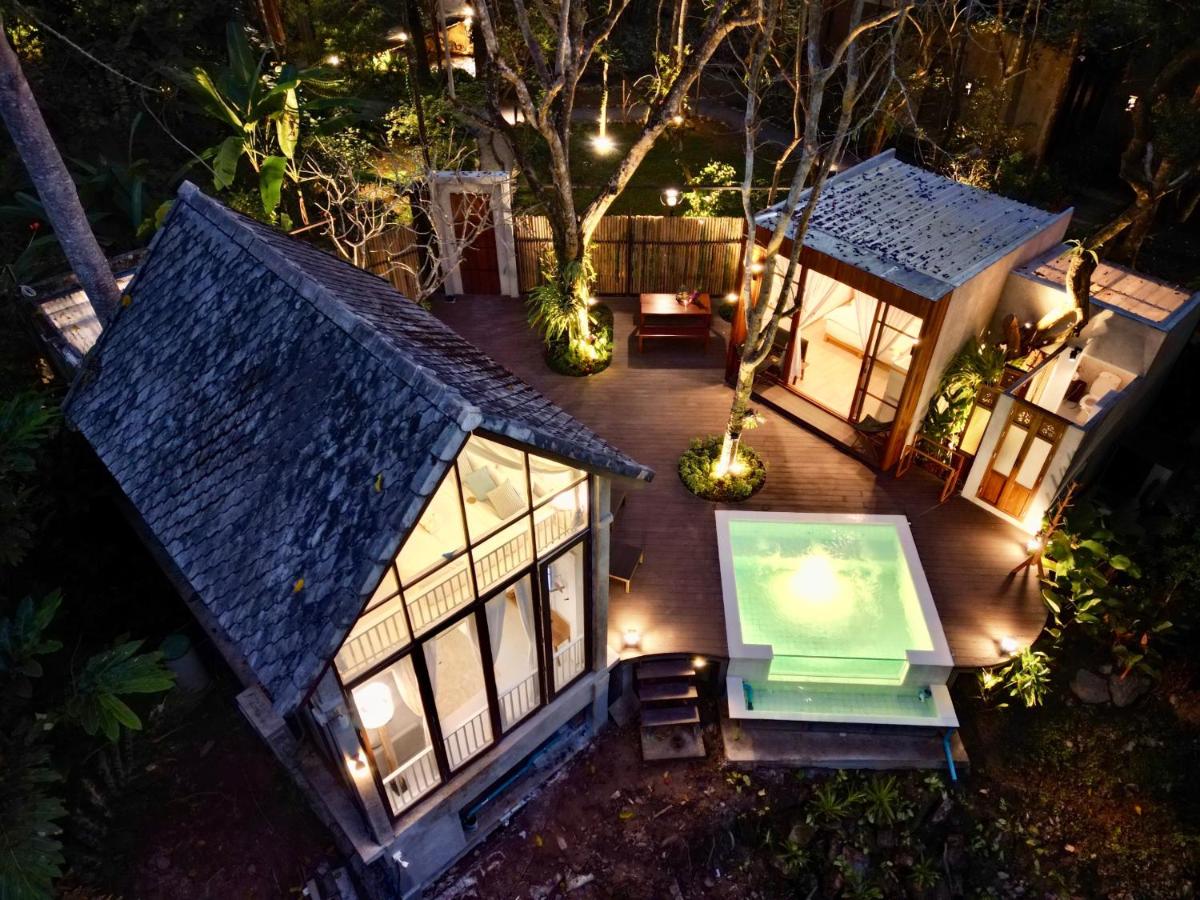 ⭐️ Rating: 8.8/10 |📍 Location: Mae Rim | 🏩 View on Agoda
Proud Phu Fah offers a choice of villas for a truly relaxing break. Each villa has a private bathroom, balcony, minibar, tea/coffee maker, satellite TV, DVD player, and free WiFi.
The modern villas are set in the heart of dense forests, so they feel very private. You can relax on your deck and listen to the rushing water of the nearby creek, take a dip in the resort's outdoor pool, or relax with a Thai massage or Thai cooking course. The resort's restaurant serves authentic Thai cuisine, or you can request a barbecue dinner at your villa.
Proud Phu Fah is within just a few km of Queen Sirikit Botanic Garden and Chiang Mai itself. The front desk staff will gladly help you organize car rental or excursions.
Nice clean room next to the stream. I recommend it to anyone who likes nature.

– Thatchakorn (see more reviews here)
📍 Location: San Kamphaeng | 🏩 View on Instagram
Morning Star offers luxurious glamping in Chiang Mai with minimalist white huts that allow the morning light to flood in and let you stargaze at night.
The A-frame huts have both indoor tubs and outdoor tubs. With the glamping site close to a stream, you can lay back and let the soothing sound of flowing water lull you to sleep.
The remote setting makes Morning Star an ideal option for a romantic getaway, but the cabins comfortably sleep four people, so it's also great for a group vacation. Whoever you choose to visit with, Morning Star is a fantastic Chiang Mai glamping experience.
📍 Location: Amphoe Mae Rim | 🏩 View on Instagram
North Star Valley is surely one of the most romantic glamping sites in Chiang Mai, and it's perfect if you're looking for somewhere unique to stay. The site is set on a hillside overlooking a valley, and each of the individual bubbles is in a private setting, surrounded by trees and plenty of space.
The whole North Star Valley site is perfect for Instagram photos, from afternoon tea by the pool to the picturesque swing overlooking the valley below.
Wake to a sea of mist that gradually clears to breathtaking mountain views, relax in your private outdoor bathtub, and enjoy delicious meals prepared by the North Star Valley chefs. And as night falls over North Star Valley, you can watch the twinkling lights of the towns and villages below and the stars in the sky above.
📍 Location: Mae Lai | 🏩 View on Instagram
Reverie Camp offers glamping with a more modern aesthetic. The clear bubble domes at this Chiang Mai glamping site have a geometric style, and they are even fitted out with a Marshall speaker to allow you to play music during your stay.
Alternatively, you could stay in one of Reverie Camp's campervans, adorned with fairy lights inside and with a clear roof for stargazing. It's all very dreamy!
Either way, you'll have your own private deck, where you can watch the morning mist clear or enjoy a delicious afternoon tea. And if you book the most luxurious Reverie Camp options, you even get your own jacuzzi and butler.
📍 Location: Mae Lai | 🏩 View on Instagram
The luxury glamping site at Norden Glamping is in the Amphoe Mae On district of Chiang Mai. It has a contemporary style that takes glamping to a new level.
The glass-fronted wood cabins have a water-front setting in dense woodland that makes them feel very private. As well as luxurious outdoor bathtubs, each cabin has a mini-fridge, air conditioning, and WiFi. There's even a Marshall speaker to let you listen to your favorite tunes on your glamping break.
The combination of modern convenience and a picturesque forest setting makes Norden Glamping the perfect location for nature lovers who want to escape and unwind.
Final thoughts: Chiang Mai glamping sites
Whether you'd prefer to stay in a glass-fronted cabin or a safari-style tent, this list contains some of the best Chiang Mai glamping spots. So next time you're planning a Chiang Mai vacation, you're sure to find your perfect hideaway here!
Still can't decide? The Four Seasons Tented Camp is the most luxurious glamping experience near Chiang Mai, where you can watch elephants from the comfort of a luxury tent.
Planning a trip to Thailand? Don't miss these posts!