This post may contain affiliate links. By clicking and making a purchase through the links, I earn a small commission at no extra cost to you. See my disclaimer for more information. This and display ads allow me to keep the site up to date and give back.
Whether you're a diving enthusiast or just an adventurous traveler, you need to go scuba diving in the Philippines and see the abundant marine life.
From swimming with whale sharks to exploring World War II shipwrecks, the dive sites in the Philippines are spectacular.
There is a massive range of scuba diving spots in the Philippines. However, two of the best destinations are the Batangas region and Subic Bay.
Both locations have many excellent resorts for you to base yourself in so that you can dive all day and then return to luxurious accommodations at night. That said, all diving destinations in this article provide fantastic resort and accommodation options close by.
This post was written by Catalin Geangos, the Founder and Editor of TravelTrained. He's a travel blogger who mainly focuses on hostel life, beach resorts, and day trips and tours.
Best Diving Spots In The Philippines
Subic Bay Scuba Diving in the Philippines
Subic Bay is most well known for the enormous number of wrecks that you can explore. The wrecks are mainly from the Japanese occupation during World War II, so they have a lot of history behind them.
You'll also find many coral reefs to explore, but this is THE wreck diving destination in the Philippines.
While diving in the area, you will likely see a vast range of marine life, including sharks, rays, whales, turtles, and even dolphins as, well as all the fish and other sea creatures you'd expect in the Philippines.
The diving sites in Subic Bay provide an opportunity for all divers to explore, ranging from novice divers up to technical divers who want to go deep and penetrate the wrecks.
You'll find three different kinds of wrecks in Subic Bay, including ships, planes, and then smaller military equipment to explore. Each wreck will require different levels of experience and certification.
The most known beachfront resort in Subic Bay for diving is Johan's Beach and Dive Resort. They offer rooms, food, daily activities, courses, training and are a 5 star PADI Accredited resort.
Batangas Scuba Diving
If this is your first visit to the Batangas region, then Anilao is where you want to go. It has a vast range of different diving options to suit whatever you feel like exploring.
The scuba diving options in the area include coral dives, muck dives, shipwrecks, walls, caves and tunnels, and almost anything you can imagine.
Anilao was previously a fishing village, but most locals now cater to diving enthusiasts, so everything is set up perfectly for you.
Anilao Pier
Anilao Pier is another fantastic muck diving site. It has an enormous range of sea life for you to interact with and photograph.
The dive is very shallow at 5 m and is terrific for night dives with diverse sea creatures that come out then, and there are no boats during the night.
You'll find stargazers, octopus, eels, flounders, crabs, shrimps, mollusks, Bobbit worms, sea snails, and a host of other critters to make your evenings a bit more enjoyable.
If you decide to go for a dip in this area, you should check the Saltitude Dive & Beach Resort. It's considered one of the best resorts in Batangas for diving.
Cathedral Rock
Cathedral Rock is one of the most popular diving spots in the Batangas region. It is a giant rock cavern with no roof, so it is easily accessible and safe for all divers.
The marine life is diverse and colorful, and the fish love to be fed and interacted with. They will be pestering you for any food you have.
You'll often see octopus, sea turtles, giant black frogfish, and stingrays swimming in the area.
Secret Bay
Secret Bay or the Mainit Muck dive site comprises around four dive sites. It is an excellent novice diving area, especially you're interested in muck diving.
The area provides access to explore and take photos of all the tiny and strange creatures that make the walls or ocean floor their home.
Most areas have a minimum depth and low current, which allows you to spend a lot of time enjoying yourself.
You may even find volcanic bubbles if you venture to Bubble's Point in Secret Bay.
Sombrero Island
Sombrero Island is named so because it looks like a sombrero and is home to a massive reef wall that extends all the way around the island.
The reef has a multitude of valleys, pillars, walls, and flat areas for you to explore. You will need multiple visits to see everything.
As well as the coral reef, you'll find a diverse number of animals living in the area, including eagle rays, manta rays, sea turtles, and all your expected coral-loving animals.
The area can be as shallow as 10 m but goes all the way down to 100 m.
Daryl Laut
The best wreck diving in the region can be found at Daryl Laut. Previously a casino, it now serves as home to all kinds of coral and sea creatures.
The frame is intact, but most of the ship has been removed, making it very easy for you to swim in and out of the wreck.
The depth goes from 10 m down to 40 m.
Twin Rocks
If you're looking for easy access on a day when you just want to relax, you can make a beach entry at Mabini and visit the Twin Rocks area for scuba diving.
You will find two giant rocks about a meter apart, which are home to a fantastic assortment of coral and fish, but also juvenile turtles make this their home.
Tubbataha Reefs, Palawan
Tubbataha Reefs Natural Park is a UNESCO World Heritage Site found in the Sulu Sea near Palawan. It's considered the most biodiverse diving location in the country, making it one of the best diving spots in the Philippines.
It has fantastic and varied terrain to explore, and It's filled with a variety of larger sea life, including reef sharks, mantas, turtles, and even hammerhead sharks.
The location is for experienced divers as the currents can be strong; however, it's well worth visiting to see the beautiful reefs and fantastic collection of sea life.
Coron, Palawan
Coron is a fantastic diving site if you're looking for underwater shipwrecks to explore, and Subic Bay wasn't enough for your historical diving needs. The wrecks are also from World War II and provide various options for different diving skill levels.
Coron is also a beautiful topside for when you need a break from diving, with high cliffs to explore and bright white sandy beaches to relax on.
Read more: Exploring the islands of Palawan with TAO Expeditions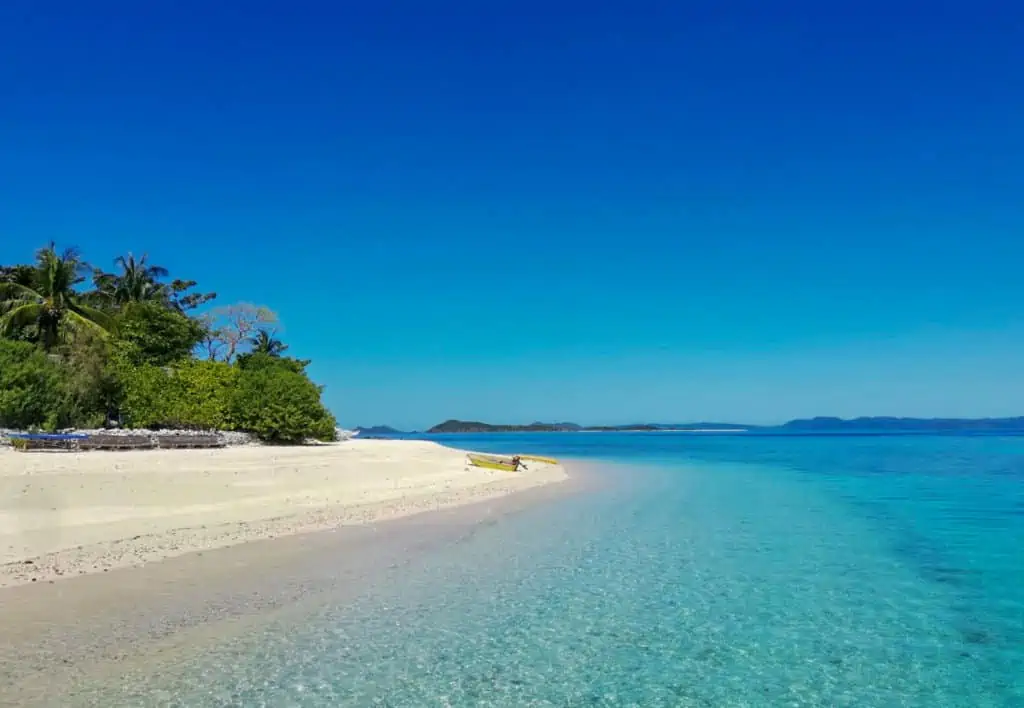 Apo Reef, Mindoro
Apo Reef is the second-largest contiguous coral reef in the world. You'll be able to explore and see a wide variety of sea life, including sharks, turtles, parrotfish, mantas, and huge schools of other fish.
The only way to dive the Apo Reef is to join one of the liveaboard safaris and go for multiple days. Unfortunately, it's not possible to reach it, dive, and return in a single day.
Dauin, Dumaguete
Dauin is best known for muck diving and the coral reefs nearby and having luxurious but affordable resorts compared to other diving destinations in the Philippines. You can access dive sites from a boat or even from the shore.
Expect to see many sea turtles, coral gardens, and blue-ringed octopuses.
Apo Island, Dumaguete
Apo Island is a short boat ride from Dauin. It offers a diving spot called Coconut Point, best known for drift diving and locally known as the washing machine.
The currents can be strong and require some experience as a diver but offer beautiful viewings of the coral reef walls and marine life living around the island, as well as the fun of drifting.
Expect to see sea turtles, sea snakes, and a massive variety of reef fish.
Moalboal, Cebu
The Moalboal diving sites in the Philippines are most famous for their huge schools of sardines that will swim around you as you dive. However, there are some islands a short boat ride away and even a plane wreck you can explore.
Moalboal is easily accessible, and diving is easy, making it a perfect place for backpackers or novice divers to visit.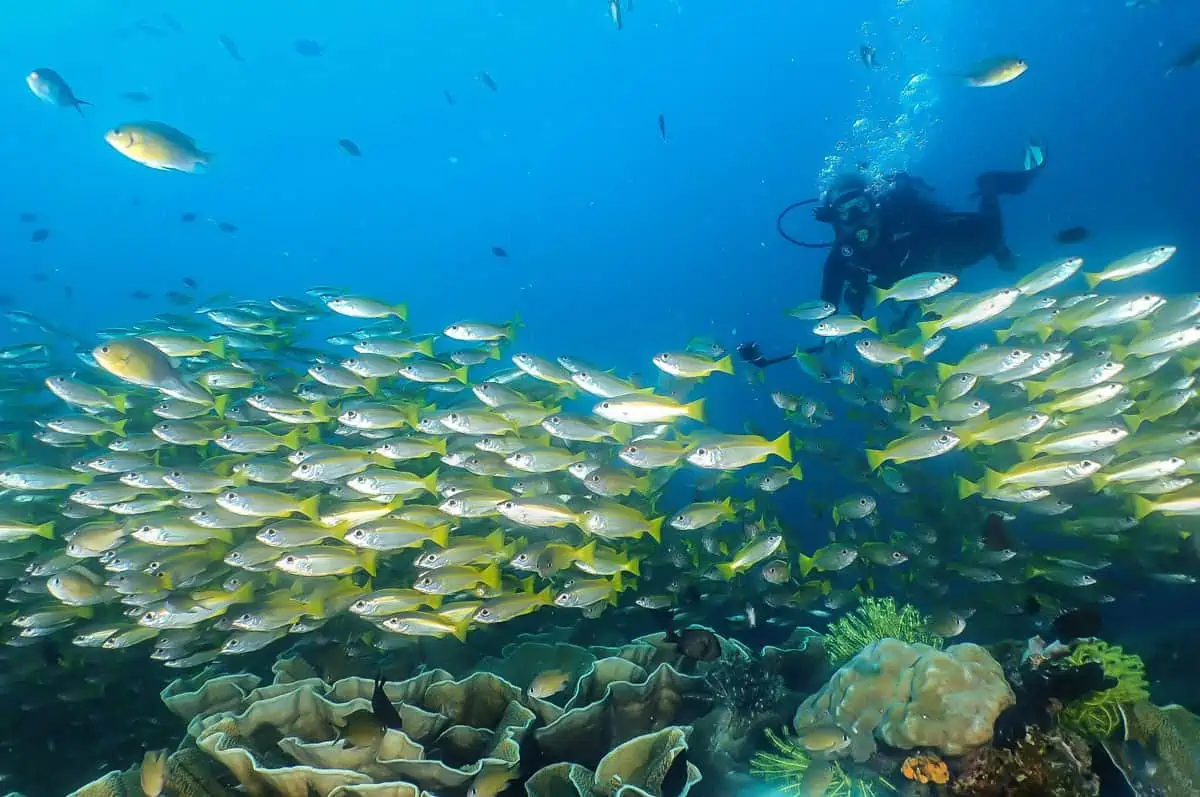 Malapascua, Cebu
Another fantastic scuba diving destination in Cebu is Malapascua. Malapascua is best known as the only place you can see pelagic thresher sharks.
Typically thresher sharks are only found in deep water, but they venture close enough to Malapascua for recreational divers to see them.
You'll also find a sunken plateau called Monad Shoal, where cleaner fish will clean the thresher sharks and remove parasites and dead tissue from them.
This cleaning is likely the only reason the sharks come to such shallow water, giving you an excellent opportunity to see them.
Donsol, Sorsogon
Donsol scuba diving is most famous for your ability to dive with whale sharks as well as all the manta rays living there. You'll find various options in the area, including sandy floors, coral, and rock formations to explore.
Donsol is also home to a vast range of marine life that you will see. It also has shipwrecks in the area if you are an advanced scuba diver, making this diverse site one of the places for scuba diving in the Philippines.
Puerto Galera, Oriental Mindoro
Puerto Galera is a short distance from Manilla, so it can often be a day trip or a short side trip while visiting the Philippines.
It hosts many excellent scuba diving sites, but the best is Canyons. You will drop into the hole in the wall, which will take you for a ride on the currents through the spectacular underwater canyons.
While in the Canyons, you'll see barracudas, batfish, snappers, emperors, and a host of other interesting marine life.
Balicasag Island, Bohol
Balicasag Island is a marine sanctuary that is a must-visit location when in Bohol. It's around 600 meters in circumference, with five different dive sites around it. However, the most significant part of the area is a 200 meters drop-off.
One of the dive sites called the Black Forest gets its name from the distinctive black coral there.
The entire area is filled with barracudas, jacks, sea turtles, dolphins, and a spectacular assortment of other marine life.
Tips for Diving in the Philippines
Never dive alone
Bring buoys for safety so boats can see you're diving. Some areas can get busy.
Keep the reefs safe and healthy, and wear reef-friendly sunscreen.
Don't touch or break off coral as a souvenir.
November to May is the best time of year to dive, with morning till 3 pm being the best time.
Everything you bring in, make sure you take out.
Love diving? Check out these other fantastic dive spots!