This post may contain affiliate links. By clicking and making a purchase through the links, I earn a small commission at no extra cost to you. See my disclaimer for more information. This and display ads allow me to keep the site up to date and give back.
Austria has been on my list of places to visit for as long as I can remember, so I was ecstatic when the opportunity came up to go to the Propel conference in September. The event was in Mellau, Austria, which I hadn't heard of before going. And neither had anyone else I told that I was going! My curiosity peaked.
Most people have heard of Vienna and Salzburg, but what was going on in the westernmost part of Austria? It turns out, there's a lot!
If you're looking for a unique place to visit in Austria where you can immerse yourself in the breathtaking nature without any crowds, see dramatic mountain landscapes and architecture, indulge in wellness spas, and taste fantastic Austrian cuisine and wine, then head over to the state of Vorarlberg. A trip here is something that will stay with you for time to come.
My time here was sponsored as part of the Propel conference in partnership with the Mellau, Bregenzerwald, and Vorarlberg tourism boards. Big thanks to all of them for sharing this amazing place with me!
Where is Mellau, Austria?
Mellau is a town in Bregenzerwald ("Bregenz Forest") in the westernmost Austrian state of Vorarlberg, comprised of six regions.
Two of those are Bregenzerwald (where Mellau is) and Montafon, where I went for the second part of my trip.
Getting to Mellau
Getting here is a little more work than in other parts of the country, but that makes it all the more special.
Vorarlberg sits on the border with Germany, Switzerland, and Liechtenstein.
If you're flying internationally, the easiest way to get here is to fly into Munich International Airport in Germany or Zurich in Switzerland and take a short bus or train over.
There are very good train connections from both the Zurich and Munich airport. The train from Zurich airport to Bregenz train station or Feldkirch train station lasts about 1.5-2 hours, and there are several direct trains. In contrast, a train ride here from Vienna would take you 7 hours!
I flew into Zurich and took a two-hour bus from there to Mellau, one of the 23 villages that make up the region of Bergenzwald.
The drive over was gorgeous, passing by rolling green hills dotted with cows and alpine homes. My mind instantly went calm.
Getting Around Mellau
Mellau is a small town with less than 1,500 people, so you won't have any trouble getting around by foot once you're here.
While Bregenzerwald is a great place to take a road trip, they also have an excellent public transportation system you can use to get between the villages, so it's easy enough to visit without a car.
I really admire how well Austria's public transportation works, they even recently launched a 3 euro travel pass that will take you anywhere in the country!
If you plan to spend more than three nights here, you can take advantage of the Bregenzerwald Guest Card. This card gives you access to all public buses and cable cars (which you'll definitely want to go on). It also provides some discounts on partner attractions and access to swimming pools.
Where to stay in Mellau
Mellau is an excellent base to explore the Bregenzerwald region, especially if you're looking for a quiet place to stay where you can get in touch with nature.
This tiny village has a population of less than 1,500 yet beautifully showcases the best of Vorarlberg's architecture, cuisine, and natural scenery. And they are well equipped to handle tourists, with over 5000 beds throughout its wellness-focused hotels.
I stayed at Hotel Baren, which features the best amenities to compliment your time, including a sauna with an outdoor terrace, a relaxation room, an in-house cafe-restaurant, yoga classes, and a library of books to choose from. After a day of hiking or skiing in the mountains, this is the perfect place to come home too.
After checking into my room, I headed straight for the sauna, which was an ideal cure to get rid of that gross feeling coming off a plane. I stepped outside onto the outdoor deck overlooking the Kanisfluh massif and took a deep breath. It's hard not to relax here!
Their on-site restaurant has a delicious breakfast buffet every morning, focusing on local organic products from Vorarlberg.
You can choose from a variety of bread made from the local village bakery and a selection of cheese, spreads, jams, and honey. It was here that I first discovered Austria's love of cheese which would go on to define my trip. They also serve riebel, which is the Vorarlberg version of oatmeal.
Another place to stay in Mellau is Temple 74. They have ten apartments that showcase the stunning architecture of Bregenzerwald with raw materials and warm, inviting interiors.
While I didn't get to stay here, we did have the chance to stop in for a cocktail at the bar and see inside two of the apartments, which are beautifully built. They also have sauna facilities and sun terraces.
Top Things to do in Mellau
Enjoy the cuisine of the region.
I had no idea that Austria was such a foodie paradise. If you're a cheese lover like me, you will be in heaven here.
They have this local dish called Käsespätzle, Austria-style mac and cheese. After a day of hiking or coming in from the cold, there is nothing so comforting!
While the dish is commonly served throughout Austria and Germany, the version served in Vorarlberg uses the local Alpine cheese served with roasted brown onions on top, giving it a unique taste and texture! I could have eaten the entire bowl they served us.
We tried it at Nazes Hus, one of the many tasty restaurants in Mellau. Housed in an original Bregenzerald home, the restaurant has been restored into a cozy restaurant that combines old tradition and modern comfort.
As soon as you walk inside the wooden interior, you'll be warmly welcomed here with a big smile by the friendly staff. Great wine, food, and company made for a wonderful evening in Mellau.
If you want to try making this delicious dish at home, you can use this recipe.
We also enjoyed a fabulous four-course meal by local chef Jodok Dietrick at the opening ceremony. Glazed beetroot, fresh fish from lake Constance, smoked carrot, and a farmer's cheese dumpling to finish it off. Austrians know how to eat!
Take a hike or walk.
This is Austria, after all! You're surrounded by mountains, with 1,500 sign-posted trails that range from challenging to leisurely.
Austria uses a simple trail marking system to identify its difficulty. Yellow-white is easy, white-red-white is intermediate, and white-blue-white is expert. For the last two, you'll want sturdy hiking shoes.
If you aren't up for a big hike, the town of Mellau also makes a great place to walk around and experience 'Umgang Bregenzerwald.'
The way people in this region deal with their environment is the subject of specially marked paths through the villages, and by taking the paths and observing the objects in the surroundings you can experience how people here have shaped and continue to shape their lives.
You can hike to the neighboring villages of Bezau, Reuthe, and Bizau from Mellau, but one of the most popular trails is to the top of the Kanisfluh. On a clear day, you'll get stunning views of the entire region all the way to the Swiss Alps!
Several houses are built in the style of modern Vorarlberg timber architecture, along with more modern builds like the community center that hosted our travel blogging conference.
You can't miss the town's church while walking around. It dates back to the 13th century but has since undergone several major reconstructions to service the growing community while still retaining its historic features.
While walking around Mellau, look out for Umgang, which are tall, steel columns that tell you information. You look down through a small hole in the column and can read text that provides insights into the design culture of Bregenzerwald.
A perfect place to finish your walk or day in Mellau is Temple 74, a chic bar where we enjoyed a delicious glass of prosecco with elderberries.
Take the cable car.
One activity to not miss in Mellau is taking the Mellaubahn cable car up the mountain, at any time of year!
It connects Damüls and Mellau, and skiers use it in the winter season. We went in September and still loved it even without being able to ski.
The views from the top are gorgeous, and it makes for a lovely place to walk around or simply soak in the views.
In winter, it becomes a skies paradise as Damüls-Mellau is located in the heart of the Bregenz Forest and gets covered in a fresh blanket of snow every year.
Unwind at the spa.
If you're staying at Hotel Baren, you'll have access to the spa facilities I mentioned above, but across the road is another great one to check out – the Sonne Lifestyle Resort.
This adults-only spa features massage beds, saunas, steam baths, and an indoor and outdoor swimming pool.
Take a day trip to Feldkirch
We spent a day in Feldkirch, which is about an hour's drive from Mellau. It is a city in Bodensee-Vorarlberg, another one of the six regions in Vorarlberg with a rich history dating back over 800 years. Today, it offers visitors much to see and do.
One of the best things to do in Feldkirch is simply walking around the stunning Old Town quarter.
You'll see local vendors selling flowers and produce, and the colorful buildings make for a perfect Instagram photo op.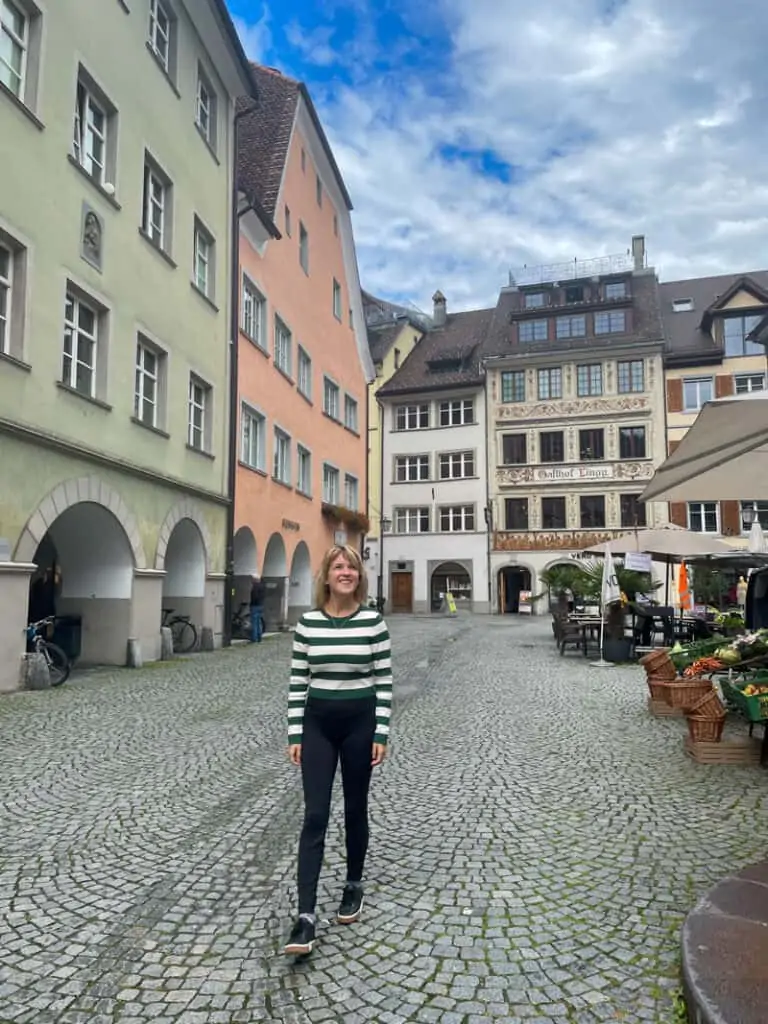 There's also a lovely river that flows through the town, which is a cute place to walk along.
One of the best ways to see Feldkirch is with a local guide on a themed walking tour.
Our guide, Ilse, was dressed up in a medieval costume and took us around town, sharing many interesting facts and information about what life in Feldkirch was like in the past.
We had our conference sessions at the Montforthaus Feldkirch, a great example of the modern architecture you can see there. It won the Austrian state prize for architecture and sustainability in 2016!
At the end of the day, we enjoyed a glass of champagne on the rooftop terrace while the sun set over the town – pure perfection.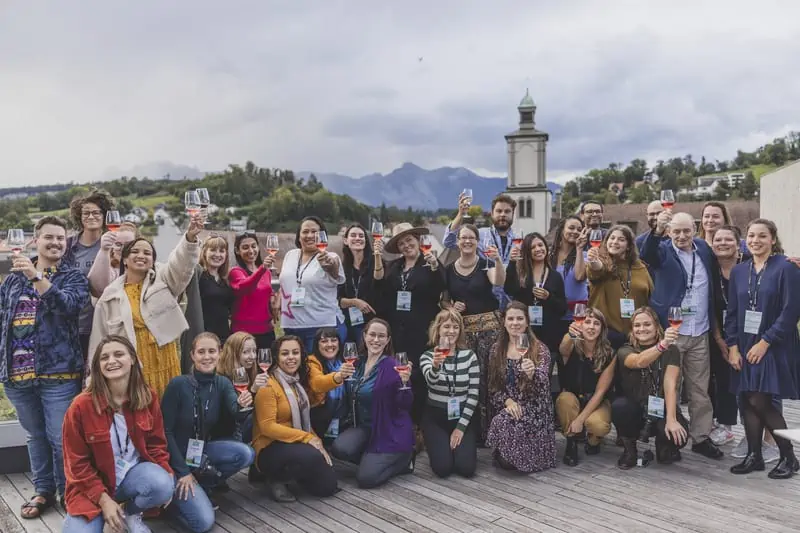 If you're looking for somewhere to eat out in Feldkirch, head to Rio Restaurant. This Italian restaurant serves delicious pizza and pasta, and they also have a small movie theatre on the top floor. It's perfect for a date night out!
I loved our day in Feldkirch and wished I had more time to see the other attractions like exploring inside the medieval castles. It's a place I would love to return to in the future!
—
Mellau Austria is a place where you can truly relax and appreciate the natural world around us.
I don't know why more people don't know about this part of Austria, but I'd get there soon before the rest of the world find out!