This post may contain affiliate links. By clicking and making a purchase through the links, I earn a small commission at no extra cost to you. See my disclaimer for more information. This and display ads allow me to keep the site up to date and give back.
Looking for the best things to do in Rangeley, Maine? Let me help! I had the pleasure of exploring this pristine area of the Eastern United States with Visit Maine and the Adventure Travel Trade Association, canoeing and hiking our way through the rugged landscapes.
Nestled amidst the majestic beauty of Maine's western mountains, the charming town of Rangeley offers an abundance of outdoor activities, nature, and breathtaking scenery. At points, it felt like I was back home in Canada (the locals are definitely just as friendly).
From paddling through the lake along the Northern Forest Canoe Trail to the community conservation organizations working to save one of the largest intact temperate forests in the world, Rangeley left a special place in my heart. If you're planning a trip, here are the best things to do in Rangeley, Maine!
Top things to do in Rangeley Maine
1. Paddle the Northern Forest Canoe Trail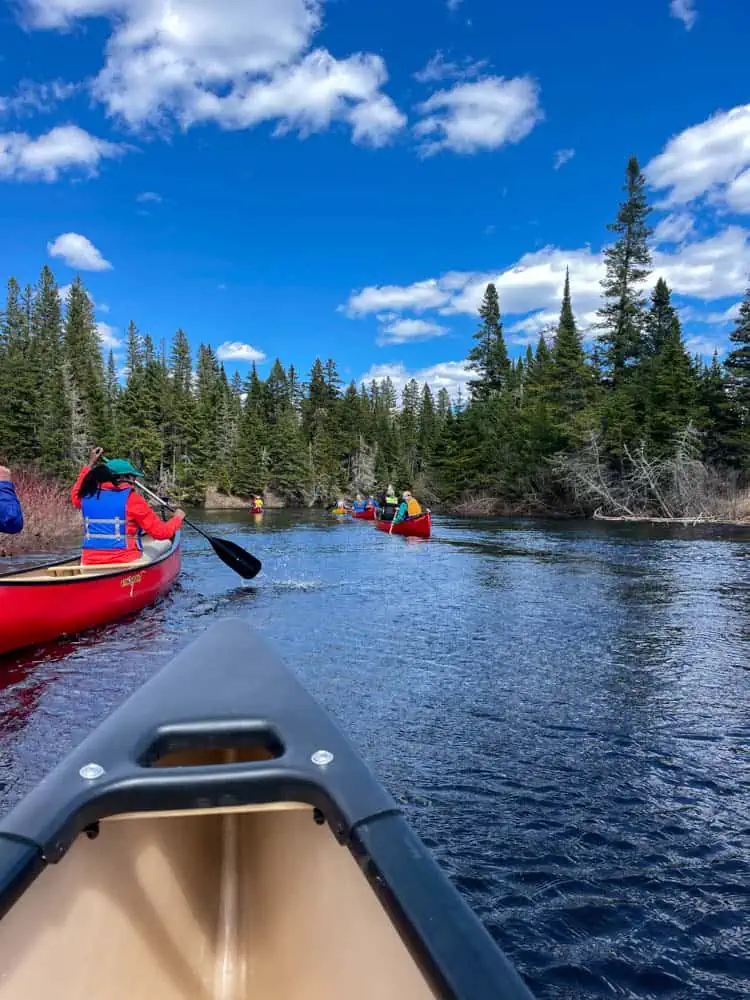 Our trip to Rangeley was focused on experiencing the Northern Forest Canoe Trail (NFCT), a 740-mile canoe trail across the Northern Forest. The trail connects four states into Eastern Canada, taking you through stunning pristine lakes, winding rivers, and beautiful forests.
We were accompanied by the founders of the trail, Rob and Kay, and met several other key partners throughout our trip.
The NFCT's core mission is to responsibly manage this 740-mile waterway, collaborating with landowners, land managers, and volunteers to ensure the trail is safe and accessible for everyone.
I was touched by their efforts to steward the water trail and support communities that make up the Northern Forest. It's an incredible labor of love, showcasing how local communities can have a significant impact on the environment.
While it is possible to paddle the trail in its entirety, it requires considerable preparation beforehand and perseverance.
However, there are sections of the trail that you can experience as half-day or full-day trips, and Rangeley is the perfect base to do this with several access points to the trail.
If you're in the Rangeley area and want to experience a portion of the trail, head to Rangeley Adventure Company on the main street.
This outdoor store is owned by a lovely local couple who rent canoes and kayaks and organize guided trips.
We did a few paddle trips around the area with Rangeley Adventure, but my favorite was Haley Pond. We had a nice current going downstream, so we had to do minimal paddling while enjoying gorgeous views.
If you're new to paddling, you can also take a gentle ride out on Rangeley Lake straight from the shop, a leisurely paddle offering great bird-watching and wildlife-viewing opportunities. We even saw a beaver dam!
2. Take a seaplane ride
For a unique way to experience Rangeley's beauty from a different perspective, take a seaplane flight with Acadian Seaplanes. This was my first time in a seaplane and the highlight of my time in Rangeley!
It was such a unique way to appreciate the beauty of the Northern Forest, which I learned is one of the last intact temperate forests in the world (one of the reasons the NCFT is working so hard to protect it).
Taking off from Rangeley Lake, we took a scenic twenty-minute flight above the rugged landscapes. It was incredible to see how the glistening lakes, dense forests, and Kennebago River intertwine, creating the magic that is the Northern Forest.
The best time to take a seaplane ride over Rangely is autumn when you can see the incredible fall foliage that covers the region.
Like most of the locals, our pilot was so nice and provided us with lots of helpful information over the headphones. It was fun to talk to each other through them!
Seaplane tours are one of the best things to do in Rangeley, providing the perfect way to appreciate the vastness and serenity of this stunning area.
3. Hike Bald Eagle mountain
After paddling on the lake, head up to the top of Bald Mountain to appreciate its vastness.
We hiked the trail during the morning, and our good fortune with the weather continued as we got a beautiful clear day.
The trail took about an hour to get up, with the last portion being very steep.
At the top, this moderate trail rewards you with breathtaking views of Rangeley Lake and the surrounding mountains, including views of Saddleback Mountain. There's a tower you can climb for even higher views, but it's super windy at the top. Keep an eye out for bald eagles here!
There are also picnic tables here, so I recommend getting some sandwiches from Classic Provisions beforehand and making an afternoon out of it.
4. Watch the sunrise at Rangeley Lake
No visit to Rangeley would be complete without experiencing Rangeley Lake. With its crystal-clear waters and picturesque surroundings, this lake beckons you to immerse yourself in its beauty – and the best time to do this is at sunrise.
I'm not one for getting up early, but it was easy since we stayed at Rangeley Inn, which is located right on the lake. I loved watching the reflection of the town in the lake during sunrise and sunset and listening to the loons calling across open waters.
5. Visit the Height of Land
When it comes to viewpoints in Rangeley, don't miss the Height of Land viewpoint. Located on Route 17, this scenic overlook provides a stunning panoramic view of Mooselookmeguntic Lake and the surrounding mountains.
6. Look for Moose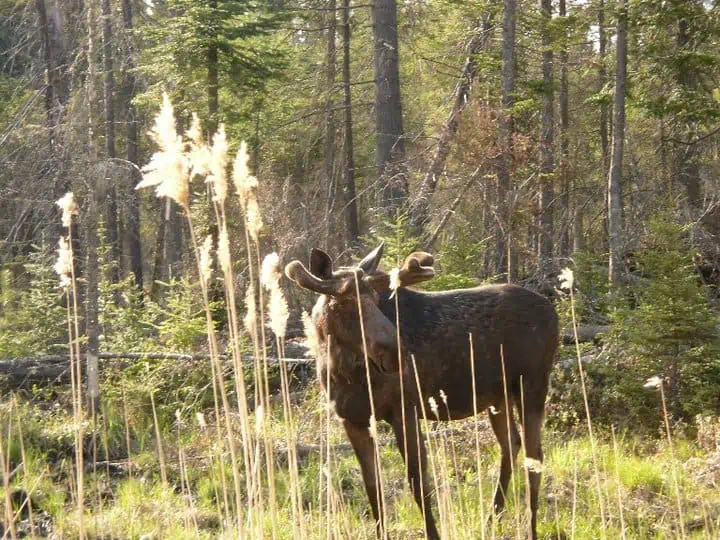 Rangeley is the perfect place to try your luck if you've never seen a moose before. Moose spotting is a favorite pastime in Rangeley, especially during dusk when they're most active.
One evening after dinner, we decided to go moose-watching. Being from Newfoundland, I'm no stranger to moose – but I'm always up for a wildlife-watching adventure.
Armed with cameras and anticipation, we set out from the van only to return without spotting a single moose. The staff at the hotel were shocked, assuring us that moose sightings were almost guaranteed. The irony wasn't lost on me.
Even without a sighting, the excitement and the beautiful sunset drive made the adventure worth it. Hopefully, you have better luck than we did!
7. Go Stargazing
Rangeley has clear skies and minimal light pollution, making it a fantastic spot for stargazing. The clear skies and minimal light pollution provide a great. They are even working towards being designated a Dark Sky Preserve!
I was lucky to have a balcony overlooking the lake during my stay at the Rangeley Inn. Every night before bed, I'd gaze at the stars, which was a great way to unwind at the end of the day.
I just picked up a GoPro 11 before the trip, so I tried the stair trails feature, which captures the sparkling night sky using the earth's natural rotation. It's pretty incredible; check it out in the video below.
If you're into camping, summer nights in Rangeley offer the perfect backdrop for a starlit retreat.
8. Go Fly fishing
Known as a paradise for anglers, the Rangeley Lakes Region is home to some of the best fly fishing in the country. Cast your line into the fast-flowing rivers and pristine lakes in pursuit of trout, salmon, and bass.
Fly Fishing is another sport that was new to me, but our local guide made me appreciate the peacefulness of the sport.
She does catch and release and sees it more as a way to meditate and connect with nature, which was a way I've never considered before. I didn't catch anything, but I did learn some tips!
9. Photograph loons
Rangeley is renowned for its abundant loon population and is considered one of the best places in the world to capture these graceful birds.
Loons can often be spotted gliding across the calm waters of the lakes. If you visit popular loon habitats such as Rangeley Lake and Mooselookmeguntic Lake during the early morning or evening hours, you can observe and photograph these incredible birds in their natural habitat.
If you want to improve your chances, contact local photographer Nick Leadley to take you out. We ended our last day in Rangeley with a guided hike by Nick, who gave us some great photography tips – he's incredibly talented!
Either way, be sure to check out his gallery in town to take home some stunning photographs of the Rangeley area.
10. Grab a Pint at Portage Tap House
After a day in the great outdoors, there's no better way to unwind than at the Portage Tap House. This great local brewery is decorated with canoes on the ceiling and maps of the trails, adding to its authentic charm.
Positioned right along the Portage Trail, it's a popular spot for paddlers, so you'll likely meet fellow adventurers.
We ended our day here, enjoying a delicious pint and food – I was so excited because they had poutine on the menu! The combination of good company, local brews, and mouthwatering food makes this one of the best things to do in Rangeley Maine.
11. Drive the Rangeley Lakes National Scenic Byway
For a driving experience that's as beautiful as it is tranquil, take a journey along the Rangeley Lakes National Scenic Byway. This picturesque route spans approximately 35 miles and is one of the most scenic drives in the region.
This winding road offers breathtaking views of lakes, mountains, and forests, showcasing Maine's natural beauty at its best. Whether you're on a road trip through the East Coast or simply want to enjoy a peaceful drive, this byway is a must-do.
12. Chase waterfalls
Rangeley is home to some beautiful waterfalls that are well worth a visit. Just a 15-minute drive from town, you'll find Smalls Falls, a stunning 50-foot waterfall that cascades gracefully into a pool below. It's a perfect spot for a quick dip or a serene picnic.
While the weather wasn't quite warm enough for us to swim in the falls, this is a must in the summer if you're a waterfall lover.
13. Explore downtown Rangeley by foot
Take the time to wander through downtown Rangeley on foot, and you'll find artistic expressions, handmade crafts, and delightful local products that reflect the spirit and creativity of the community. It's a great way to meet locals – everyone in Rangeley is always up for a chat!
If you're on a family vacation and traveling with kids and need entertainment, head to Moose Alley to go bowling.
14. Explore local museums
Dive into Rangeley's rich culture and history by visiting its fascinating museums. The Rangeley Outdoor Heritage Museum offers insights into the region's sporting traditions, while the Maine Forestry Museum showcases the area's lumbering history and the industry's impact on Maine's development.
There's also the Wilhelm Reich Museum, which preserves the legacy of Wilhelm Reich. Each of these museums offers a way to connect with the local heritage and understand the history of Rangeley.
15. Cross-Country Skiing, Snowboarding, and Snowmobiling
While we visited Rangeley during spring, it's worth noting that this charming destination doesn't hibernate in the winter months. In fact, there are many things to do in Rangeley during the winter season, with an average of 200 inches of snow each year!
Whether you're into cross-country skiing, snowboarding, or snowmobiling, there's no shortage of trails and terrains to explore.
Saddleback Mountain is a highlight of Rangeley's winter offerings. With 68 runs to ski and snowboard, it caters to enthusiasts of all levels.
Where to Stay in Rangeley: The Rangeley Inn
When it comes to accommodations in Rangeley, The Rangeley Inn stands out as a charming and historic option that captures the essence of the town. This is where we stayed; it was the perfect base to explore Rangeley.
Conveniently located in the heart of downtown Rangeley, this restored inn offers a comfortable and welcoming atmosphere as soon as you walk in.
One of the highlights of staying at The Rangeley Inn is its proximity to Rangeley Lake. I had a cabin facing the lake, perfect for enjoying a morning coffee and unwinding with a book at the end of the day.
The inn is also conveniently located near the town's shops, restaurants, and attractions, making exploring Rangeley easy.
The inn's on-site restaurant offers delicious dining options, including locally inspired dishes that showcase the flavors of Maine. The breakfast here is fantastic, and they had real Maple Syrup, which my little Canadian heart was so excited about coming from Mexico.
FAQ: Things to do in Rangeley, Maine
When is the best time of year to visit Rangeley?
Rangeley is a year-round destination. Summer is perfect for hiking and water activities, while winter is great for snowboarding and skiing.
What is Rangeley Maine known for?
Rangeley is renowned for its stunning natural landscapes, offering many outdoor activities like hiking, skiing, and water sports.
Is Rangeley Maine worth visiting?
Absolutely! With its diverse activities and breathtaking scenery, Rangeley offers something for every kind of traveler, making it a must-visit destination.
Can you swim in Rangeley Lake?
Yes, you can! Rangeley Lake has great spots for swimming, making it a great way to cool off during the summer.
How big is Rangeley Lake, Maine?
Rangeley Lake spans approximately 6,000 acres, providing ample space for various water activities and relaxation.
How deep is Rangeley Lake, Maine?
Rangeley Lake has a maximum depth of about 150 feet, making it a popular spot for boat launches and fishing.
Final thoughts: Is Rangeley Maine worth visiting?
If you're asking whether Rangeley, Maine is worth a visit, my answer is yes. Rangeley wasn't on my travel radar, but I am grateful my career took me here.
After experiencing the northern forest canoe trail, gorgeous vistas, and meeting the wonderful people dedicated to preserving this vital forest, I was won over.
The natural beauty here is not just seen but deeply felt. It's a pocket of preserved nature that speaks to the soul, making it an unexpected but rewarding travel destination. Plus, its location makes it an excellent stop if you're planning a road trip around the Eastern U.S. into Canada.