This post may contain affiliate links. By clicking and making a purchase through the links, I earn a small commission at no extra cost to you. See my disclaimer for more information. This and display ads allow me to keep the site up to date and give back.
Ushuaia is an absolute dream for hikers and nature enthusiasts. I came to walk with the penguins but stayed for the trekking when I saw how much beauty there was around to explore.
Ushuaia is an ideal base for day hikes in Patagonia, taking you through breathtaking mountains, lakes, and glaciers. This post will cover the best day hikes in Ushuaia, plus tips on getting around and where to stay in Ushuaia.
Jump ahead: Best Hikes in Ushuaia | Other things to do in Ushuaia | Where to stay in Ushuaia | Getting around Ushuaia
Best Day Hikes in Ushuaia
Tierra Del Fuego National Park
Tierra Del Fuego is a national park about a half-hour drive away. It's home to some of the best hikes in Ushuaia.
If you don't have your own car to get to Tierra Del Fuego National Park, there is a bus that runs from the main bus terminal in Ushuaia to the park entrance. It costs 500 ARS Return (approx. $13 USD).
There is a park entrance fee of 350 ARS to get inside which is valid for two days, so you can come back for more trekking the next day if you want. It is free to camp inside if you want to stay overnight.
Inside the park, there are many beautiful hiking trails.
Hiking in Tierra Del Fuego National Park
Sendero Costera Trail (7.5 km | 2-3 Hours)
The Sendero Costera trail is one of the easier day hikes within Tierra Del Fuego National park. The hike follows the coastline of the Bahia Ensenada to the Bahia Lapataia. It is an easy trek that is relatively flat, with beautiful views around every corner.
This Ushuaia trek begins at a beach overlooking the lake and follows the shoreline along the way. The trail offers stunning views of the mountain ranges and lake which reflect perfectly against each other.
The hike is 7.5 KM in total and estimated at 2 hours, but it took me about 4. That being said I stopped for many photos and took lengthy breaks to admire the surroundings, so it could easily be done in 2-3 hours.
While walking through the woods I heard the loudest sound and then spotted a woodpecker right in front of me! I've never actually seen a woodpecker pecking wood in the wild, so this greatly amused me. Maybe that's why the hike took me so long..
The hike conveniently ends near the restaurant where the buses pick you up to go back to town at 3, 5, & 7 PM. The restaurant sells decent (but overpriced) food and offers gorgeous views of the surrounding area.
Cerro Guanaco Trail (15 KM | 5-6 hours)
Another popular, but more challenging hike in Ushuaia is Cerro Cuananco in Tierra Del Fuego National Park. The hike starts at the parks visitor center and is about 15 KM in total.
There is a sign shortly after the start of the trail which says it takes four hours to the summit, but most people I spoke with were able to do this in 2-3. The hike is a steep climb to the top but you will be rewarded with gorgeous panoramic views with the snow-capped Chilean Andes on one side, and the bay of Ushuaia on the other.
Ushuaia Day Hikes outside of Tierra Del Fuego National Park
Martial Glacier (7 KM)
Just behind the town of Ushuaia is a glacier that you can trek up to see. This is one of the most popular day hikes in Ushuaia due to its ease of access. To get to Martial glacier you can either walk directly from town (7km) or get a ride to the ski lift at the base of the mountain.
The hike is steep, but at the top, you will be rewarded with beautiful views of the beagle channel and Chile on one side and snow-covered cliffs on the other. On the way down there is a cafe near the chairlift where you can warm yourself up before heading back into town.
Glacier Vinciguerra (15 KM | 5 hours)
Vinciguerra is one of the largest glaciers in Tierra del Fuego and this day hike in Ushuaia offers the chance to walk on it. The trek starts in Barrio Andorra, in the northeast of Ushuaia.
The trail goes through abandoned peat fields, and then you will climb up the forest until you reach the Vinciguerra Glacier. You can book tours in town that will provide you with the proper equipment to walk on the glacier.
Laguna Esmeralda Hike (9.5 KM – 4 hours)
Laguna Esmeralda is a gorgeous, green light alpine lake about 15km outside of Ushuaia. It's one of the most popular hikes in Ushuaia as it's accessible, not overly strenuous, and has beautiful scenery all along the way.
Minibusses leave to the trailhead from the main bus station in Ushuaia (one block from the tourist office). The busses are supposed to leave on the hour, but in typical South American fashion they will wait until there are at least three people to go. The charge for the minibus is 350 ARS.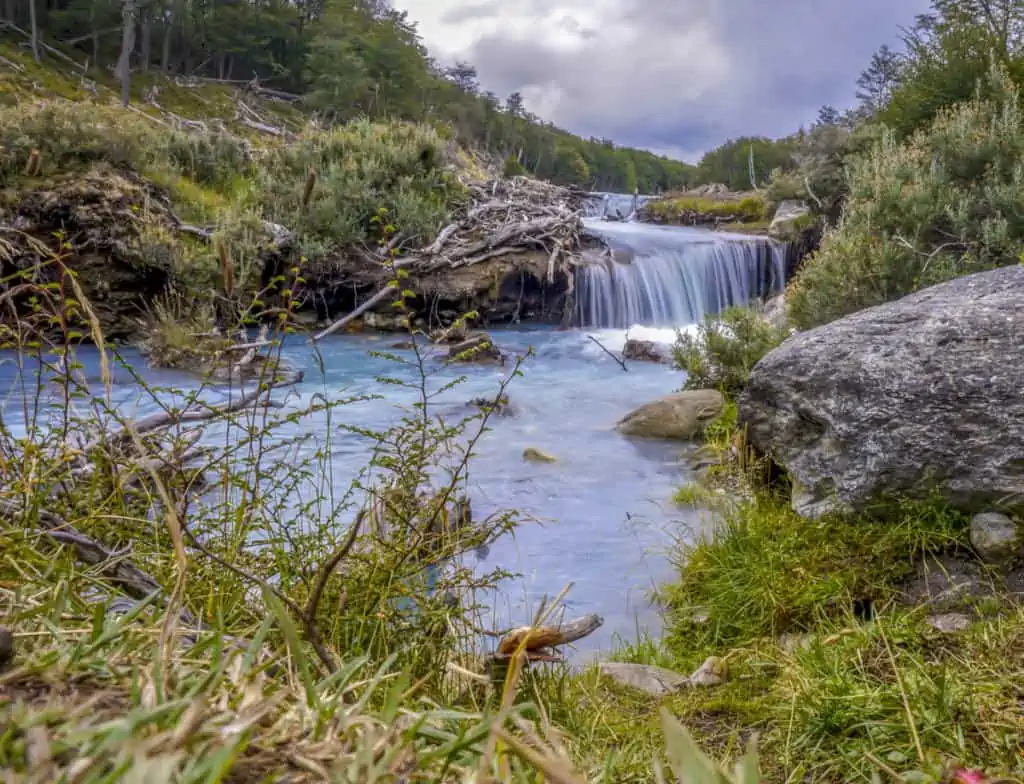 The trail takes you through many different vegetation zones. It starts off through young woods and then begins to open up, taking you past beaver damns. After about an hour you will begin to see the incredible mountains of the Sierra Alvear and the glacier above the Laguna.
You walk adjacent to the river where you can see the vibrant blue water flow down from the lagoon. As the sun kept appearing in and out of the clouds over the mountains, the colors of the surrounding nature were just popping at every turn. It was magical to walk through.
I reached the lagoon as the sun came out from the clouds and got to enjoy a clear panoramic view. This lasted about as long as it took me to find a place to sit down and eat my lunch. The weather in Patagonia is completely unpredictable so always be prepared for rain or snow!
From the trailhead, it took me exactly two hours to the lake, but I stopped for many pictures on the way. Coming back it took me about an hour and a half.
I'm a slow hiker, so if you are fast you could probably do this in an hour each way, but I would leave two hours each way in your schedule to be flexible and enjoy the views. Coming back the other way is just as gorgeous as you could see the blue water leading towards the never-ending mountains.
There is also the option to extend the hike to the glacier behind Laguna Esmeralda. Alternatively, you could hike into the Laguna and spend the night camping there.
Laguna Turquesa Hikes (6 KM | 2.5 hours)
This is the less famous hike to Laguna Esmeralda. It starts in the same location, opposite to the start of the Laguna Esmeralda trailhead. After a steep climb through the forest, the trail continues up in the valley until you reach Laguna Turquesa.
Other Things to do in Ushuaia
Aside from all the day hikes, there are many other things to do in Ushuaia.
Last-minute cruise to Antarctica
Ushuaia is the gateway to Antarctica, so if you have a flexible schedule you might be able to score a last-minute discounted cruise price to the last frontier.
Walk with penguins
If you can't make it all the way to Antarctica, you can still see two (maybe three) types of penguins in Ushuaia on a penguin walking tour. This was one of my favorite tours that I did in all of Patagonia. Martillo Island is known for its large colonies of Magellanic penguins, but we also saw a small group of gentoo penguins and one king penguin.
Cruise through the Beagle Channel
Don't miss the opportunity to go on a boat cruise down the Beagle Channel while in Ushuaia. It's SO beautiful, and full of marine wildlife. Along the way, we saw multiple humpback whales, penguins swimming, tons of birds, and a huge sea lion colony.
And don't forget to get your photo at the end of the world sign!
Where to stay in Ushuaia
Budget: Staying in hostels will help reduce your overall costs in Ushuaia. I stayed at Antarctica Hostel and La Posta Hostel which are both lovely, clean places. La Posta Hostel is a 25-minute walk into town.
Mid-range: Tierra de Leyendas has amazing reviews and looks like the coziest spot to spend a night. Ushuaia can be chilly, and it looks like a perfect place to warm up.
Luxury: If you want to pamper yourself after some trekking, Arakur Ushuaia Resort & Spa looks stunning. Outdoor swimming pool with views of the beagle channel? Yes, please!
Getting around Ushuaia
Although there are buses that connect travelers with the various Ushuaia day hikes they aren't the cheapest or most convenient.
The most convenient but expensive way to get between hiking trails in Ushuaia would be to rent a car. If you stay in hostels you will likely be able to find people to share a car to reduce the costs.
Another option for getting around Ushuaia hikes is to hitchhike. I never did this myself but met so many other travelers, including solo female travelers, who hitchhiked to get around Ushuaia and Patagonia in general. Knowing a bit of Spanish will help if you decide to hitchhike, as many locals do not speak English.
Conclusion
Ushuaia was one of my top 10 destinations of 2018. Maybe it's the penguins, maybe it's the wild rugged beauty, but something about this small town captured my heart. The hiking in Ushuaia is wonderful and should be on anyone's Patagonia trekking list.
Want more Patagonia travel inspo?
Like it? Pin it for later!