This post may contain affiliate links. By clicking and making a purchase through the links, I earn a small commission at no extra cost to you. This and display ads allows me to keep the site up to date and give back. Thanks for reading!
Colorado has been long on my list of states to explore, so when I had the chance to housesit in Denver for a month this summer, I jumped on the opportunity. After exploring all areas of the city, I wanted to share how you can plan a perfect weekend trip in Denver.
I'll be honest, I didn't immediately fall in love with Denver. I wanted to be steps away from the mountains, and the city is actually pretty flat. But every weekend, I'd discover another cool part of the city, and over time it grew on me.
After all, there's a reason why Denver continuously makes the list of best places to live in the U.S! As remote work continues to grow, many people are flocking to Denver to enjoy its 300+ days of sunshine a year, ease of access to nature, and marijuana-friendly culture.
If you're planning a weekend in Denver, this guide will help you make the most of your time in the mile-high city.
Where To Stay in Denver
I actually didn't pay for accommodation the entire month I was in Denver. Through TrustedHousesitters, I stayed in two beautiful homes in exchange for watching their pets. If you're flexible and want to save some cash, housesitting is a great option. There were always a few housesits in Denver listed every time I looked.
But housesitting is a responsibility, so if you only have a weekend in Denver and want to make the most of your time, then here are some other accommodation options:
Luxury: The location of The Oxford Hotel Downtown Denver can't be beat, just two minutes away from Union Station in the heart of Lower Downtown (LoDo). Originally opened in 1891, a stay here will take you back in time with classic artwork on the walls. My friend stayed here so I had a chance to see inside the rooms and it is swank.
Mid-range: The Ramble Hotel is located in the River North Art District (RiNo), a neighborhood full of gorgeous street art, hip restaurants, and cocktail bars. Taking inspiration from 17th-century French saloons, the Ramble Hotel is designed to foster meaningful conversation, engagement, and interaction among guests.
Budget: If you've been wary about staying in hostels, the Ember Hostel may just change your mind. It's the swankiest hostel experience of a lifetime, set in a 9,000 sq ft historic mansion with boutique amenities. It's located in Cap Hill, just a short walk from the state capitol, trendy bars, museums, and live music venues.
If you're visiting during the summer, why not go for a Denver hotel with a rooftop pool!
Arriving and Getting Around in Denver
Denver is a great base to start or end a Colorado road trip, with plenty of places to rent a car. I rented from Avis and Enterprise at the Denver airport, and each was a smooth experience. There's also a car-sharing app called Turo that was recommended to me a few times.
I recommend renting a car if you want to explore the surrounding areas of Denver, as getting around will not be that easy without one. However, if you plan to stick around the city, you can get by without a car.
The Denver International Airport is not close to the city center, but they have a train that goes downtown to Union Station for $10.50. Alternatively, you can get an Uber, but this will probably be around $40+ depending on demand.
Once you're in Denver, you can easily get around by bike or scooters using the Lime app (Uber) or Lyft. It's just a few dollars for each ride, and they are fun to use. Denver is relatively flat, so it's a great city to bike in!
Ubers aren't particularly cheap, but neither are car rentals, so take some time to think about how much you will actually be using a car while visiting. If you plan to indulge in lots of drinking activities (which Denver has plenty of it), then it may just be better to get Ubers and use Turo if you need a car for a day.
Weekend Trip in Denver Itinerary
Day 1 3 Day Denver Itinerary: Street Art and Music
Start your time off in Denver exploring The River Arts North District (RiNo) neighborhood; it's my favorite one in the city. RiNo is a former manufacturing district turned hipster full of street art, breweries, art galleries, and live music venues. It's the perfect place to take some cute photos!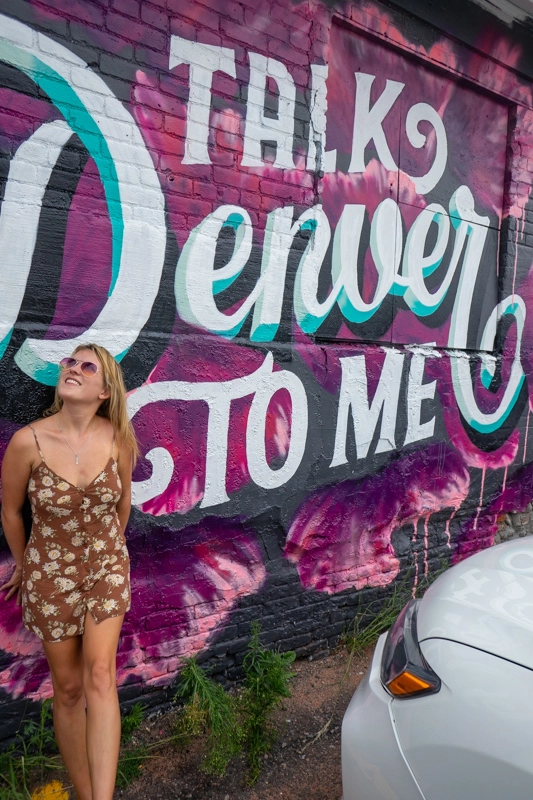 I loved Improper City. They have a huge 8,000-square-foot indoor space and 12,000 square foot patio, each beautifully decorated with Instagrammable wall art.
They serve 36 rotating craft beers, wine, and cocktails, so it's the perfect place to go day drinking in the sunshine! Plus, there are food trucks on the patio if you get hungry.
Another popular spot for eating in RiNo is the Source Market, an 1880s market hall with 25 food and retail vendors.
While RiNo does have some music venues to check out at night, I highly recommend seeing if you can coincide a show at Red Rocks with your weekend trip in Denver.
Even if you don't know who's playing, just go. Red Rocks is the only naturally occurring acoustic amphitheater in the world and the coolest venue I've ever attended a show at. I was lucky enough to see Zed's Dead and Rufus Du Sol there, and both shows blew my mind.
Check out the event listings here to see if there's a show you can attend while in Denver! Even if there's not a show you want to see, it's worth visiting Red Rocks regardless to see it. They also host yoga classes there.
Day Two: Brunch, Day Drinking, and Shopping
Start day two off with a boozy brunch! Like any good city in the U.S., Denver has an awesome brunch scene. I loved Root Down, which offers bottomless mimosas and a delicious fresh-from-the-earth menu. It's located on 1600 W 33rd Ave in the Highlands neighborhood, another great place to eat and drink.
The Highlands is home to Happy Camper and Avanti, two great bars with outdoor patios and food. Happy Camper serves great pizza, while Avanti offers a modern-day food hall inspired by European markets. The patio has a great view of the city skyline!
Denver has a pretty big work-hard-play-hard culture, which you've probably picked up on by the number of bars I've recommended so far, But, of course, there are other fun things to do in Denver.
Ps. If you're interested in the drinking atmosphere without the alcohol, Denver is home to Colorado's first sober bar called Awake on 2240 Clay St Unit 100, which I thought was pretty cool.
Denver is home to some beautiful city parks where locals are always hanging out. They are free to visit, so this is a great place to go bike riding or just chill out under the sun. If you're in Denver on a Sunday night, City Parks hosts Sunday night jazz during the summer from 6-8 pm.
If you're interested in shopping, head to the 16th street mall downtown. This one-mile pedestrian mall is lined with shops, outdoor restaurants, food trucks, and street performers! You can walk or bike along it, or grab the free shuttle busses that go every couple of minutes.
Just a few blocks away from the 16th street mall is a wonderful thrift shop called Garage Sale Denver (1460 Larimer St.), where you can find some unique clothing pieces and records (and a bar inside..).
After exploring the 16th street mall, you'll be close to Larimar Square, which is the perfect place to go for dinner. This historic block is pedestrian-only, with plenty of outdoor seating options underneath magical fairy lights that make the whole street come alive.
Lastly, if you're into sports, you can see if there's a game going on. Denver has a home team across every major league sport, so there will likely be something happening no matter time of year you're visiting.
Day Three: Off To The Mountains!
Denver is the gateway to the Rocky Mountains, so take advantage of this and explore some of the surrounding areas on a day trip from Denver. Here are four options:
Rocky Mountain National Park is by far one of the most popular Denver day trips. It isn't easy to get a permit for the park right now as they are sold out well in advance, but they release 25% each night at 5 pm for the next day here. They literally sell out within two minutes, so you have to be on the ball.
If you can't secure a permit, another option is to go with a tour company. I joined this tour which was a fantastic experience. We visited several scenic viewpoints in the park, and saw a massive herd of elk grazing! I find tours annoying sometimes, but our guide made this one fun and engaging, and gave us a lot of flexibility in choosing what we wanted to see in the park.
Gardens Of The God is another great place to check out near Denver, and it's completely free to visit! It's near Colorado Springs, about an hour south of the city. The rock formations are very impressive, and there are wheelchair-accessible hiking trails all along the park. You can even go climbing there!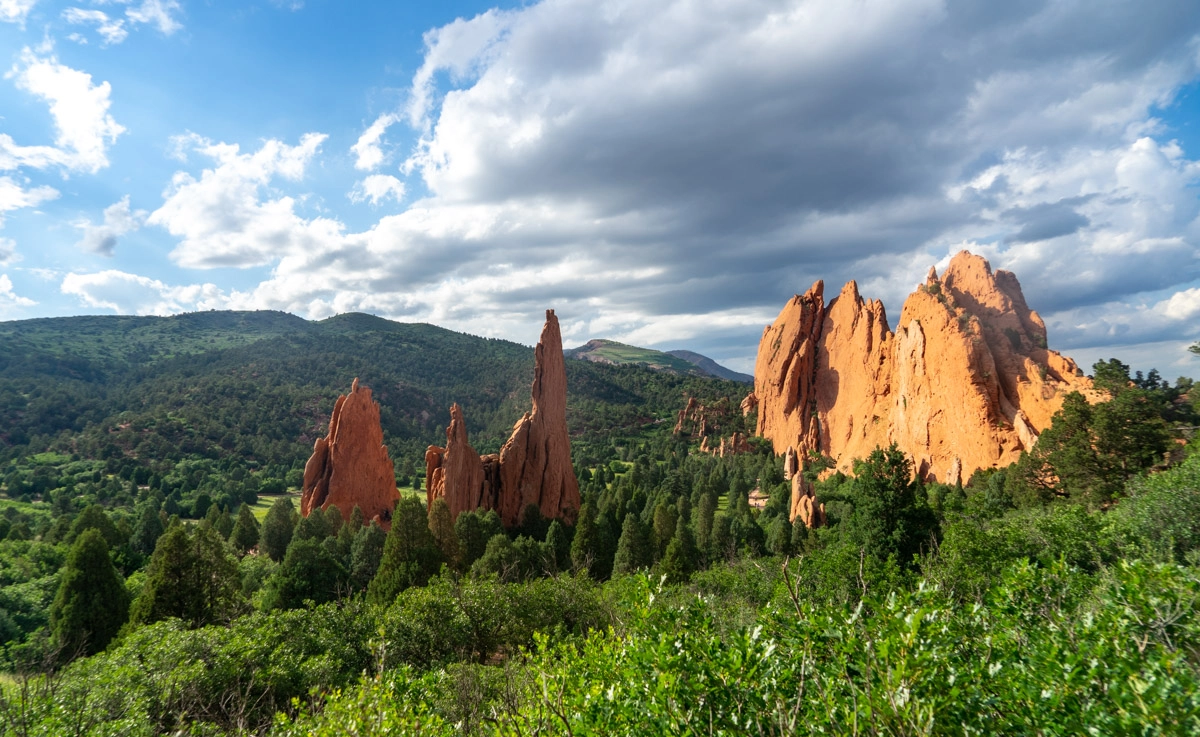 Another great option for a Denver day trip is to go on a scenic drive. Pikes Peak in the south of Colorado is a 14,000+ foot mountain you can drive up to the top of, or take a scenic train. Just learn from my mistakes and bring a sweater with you to the top – it was actually snowing there! The entrance fee for the drive is 10 USD.
Golden is a cute town to explore just outside of Denver. They have a nice viewpoint called Lookout Mountain, and the historic old town is worth walking around. You can go rafting down the river there during the summer, which is so much fun (you need to bring your own tubes). Make sure to get there before 11 am if you're visiting on the weekends or parking will be near impossible.
After tubing, check out the Golden Mill in town. It's got food stalls, self-pour taps, and gorgeous views. Golden is also home to the Coors headquarters, but I've heard you have to book a tour well in advance.
I hope this post could help inspire you with ideas for fun things to do in Denver! Even if you're just visiting for the weekend, you can fit a lot into your Denver itinerary with a little planning.
Enjoyed this post? Pin it for later!
Love weekend getaways? Check out these cities!
Love exploring cities? Check out these guides for other amazing cities in North America!