This post may contain affiliate links. By clicking and making a purchase through the links, I earn a small commission at no extra cost to you. See my disclaimer for more information. This and display ads allow me to keep the site up to date and give back.
I hadn't planned to stay in Colombia long, but after falling in love with Cartagena, I knew I had to make time to see more of the country. I wanted to travel to the North of the country, which has some of the best dives and hikes in Colombia, as well as world-class beaches.
Northern Colombia a paradise for adventure seekers and outdoor enthusiasts. If you're looking for the best things to see and do in Santa Marta and beyond, keep reading.
Santa Marta, Colombia
Santa Marta was the first Spanish settlement in Colombia. It's an OK place, but like many other backpackers, I didn't love Santa Marta. But it is the gateway to some of the other best attractions in Northern Colombia. Spend a day or two getting settled and then head out to the nearby attractions.
Getting to Santa Marta, Colombia
Santa Marta is the capital city of Northern Colombia. Most travelers come here after visiting Cartagena since it's just a four house bus ride North. It is also possible to travel by bus from Medellin or Bogota but these are much longer journeys (13+ hours). The roads in Colombia aren't the best and it's common for busses to get delayed.
Flights in Colombia are affordable. If you come from Medellin or Bogota and are short on time, a flight might be a better option. Avianca is a great airline to fly around Colombia with. I never had any issues flying with them, and the flight price includes one free checked bag which is great for saving money. I do NOT recommend flying Viva Air Colombia, a low-cost airline in South America. They will try and gauge you for everything they can, and it was just an overall terrible flying experience.
Where to stay in Santa Marta, Colombia
One of the best parts about Santa Marta is the number of amazing hostels popping up because of the surrounding attractions. There's a wide variety of hostels for everyone from budget backpackers to flashpackers. There's also a pretty lively nightlife scene in Santa Marta thanks to all the backpackers flocking to the region.
If you're looking for a nice hostel to party, check out La Brisa Loca. This hostel is set in a 100-year-old mansion in the historic old city center, near many restaurants and pubs. Downstairs they have a lovely pool to relax in amid a lush setting of plants.
Our time at La Brisa Loca happened to be at the beginning of the week, and as it turns out the party is mostly on the weekends. That said, we still managed to have a good time. La Brisa Loca is also famous for the bar wheel which you can spin for a chance to win a prize, or punishment, depending on how you see it.
La Brisa Local also has an incredible rooftop that overlooks the city. On the weekends they throw rooftop parties that get packed. We ended up coming back here from Taganga on the weekend to party. You can come to La Brisa Loca rooftop even if you're not staying there, but you have to pay an entrance fee.
Things to do in Santa Marta Town, Colombia
Eat amazing seafood. Due to the proximity to the ocean, Santa Marta has delicious fresh seafood and some excellent restaurant options to eat at. Check out Lulo Cafe for delicious and healthy cuisine. Try the ceviche!
The restaurant is on a lively pedestrian street where street performers will come and entertain the crowds as you eat dinner. This is actually pretty entertaining as some of the performers are quite talented, while others not so much. Tip them afterward if you enjoy the show.
Walk around the Historic Old Town. Santa Marta is South America's oldest European-founded town. Walking around the city center of Santa Marta you will come across a number of old Spanish Colonial Architecture.
Hit the beach. While the beaches in Santa Marta town aren't nearly as nice as nearby Tayrona Park, it's still a Caribbean beach. Don't go to the beaches in the old town, as the water isn't clean there because of the port. However, they do make a good place to watch the sunset.
If you want to visit a beach in Santa Marta head to Rodadero beach. The beach is crowded and full of vendors, but you can pay to secure your own shaded spot. Just be prepared that this isn't a good beach to relax, you will literally get asked to buy something every two minutes. By the end of the day, I had boughten multiple drinks, snacks, a massage, and a hat. I was even offered a wooden stool at one point.
After a day or two in the town of Santa Marta, head out to explore the Sierra Nevada mountain range in Minca, Colombia.
Minca, Santa Marta Colombia
Minca is a small village set in the foothills of the mountains of Northern Colombia, just 45 minutes away from Santa Marta. With cooler temperatures, waterfall hikes, and some fantastic hostels, Minca is one of the best places to visit in Northern Colombia.
Where to stay in Minca
While you can stay below in the town of Minca, what makes a trip there special is to stay in one of the incredible accommodations in the mountains. Even though we had our own vehicle, we still had to hire a 4×4 to take us up the mountain as the road conditions were so bad.
I recommend la Cases Viejas Hostel Lodge. Getting there requires an additional 20-minute drive in a jeep up the mountain from the main town of Minca, but it's worth it. The hostel overlooks the surrounding landscape and offers several lounging areas to relax and take it all in.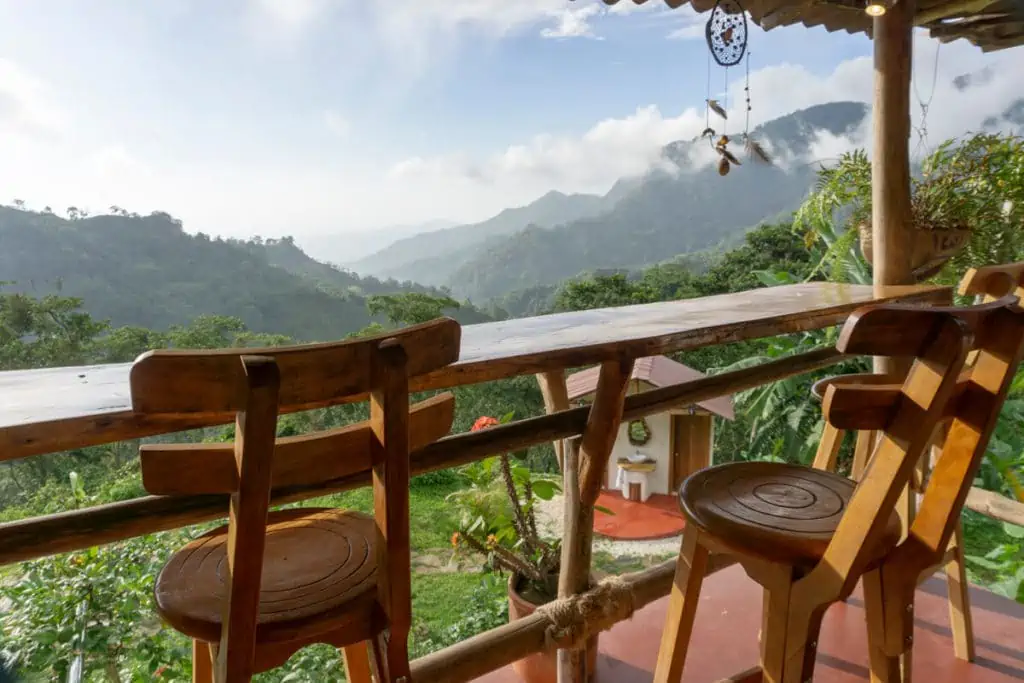 Casas Viejas Hostel Lodge offers daily yoga classes, hikes to nearby waterfalls, and horseback riding. They source their food from a nearby local farm, so it's fresh, healthy, and delicious.
Family style dinners, on-site bar, daily yoga, and incredible views give this place a relaxed but social atmosphere. It is possible to visit Minca for just one night, but I'd recommend two for a more relaxing experience, or more if you have the time. After all, can you even get sick of taking in that view?
Best things to do in Minca
Take a hike. One of the best things to do in Minca is to hike in the surrounding nature. Try Los Pinos, a three-hour challenging hike from Minca that rewards you with panoramic views of the Caribbean sea and green mountains below. If you stay at Casas Viejas they offer daily shorter guided hikes from the hostel.
Chase waterfalls. Hiking in the jungle can get hot, so cool off afterward in one of Minca's incredible waterfalls. Marinka Waterfalls is a gorgeous waterfall just a short hike from the forest of Minca.
Visit La Victoria coffee farm. Don't miss the chance to visit La Victoria, one of the oldest coffee farms in Colombia where you can see the coffee harvesting process. This incredible coffee farm is completely sustainable, using water streams that flow down the mountain slopes to run its entire production process. After a tour stay of the facilities for a meal at their delicious restaurant on-site restaurant. They sell delicious, massive sandwiches.
La Victoria is located in the same area as Cases Viajas, so if you stay there you can walk down to the coffee plantation. If you stay in the town of Minca, you can rent motorbikes to come up for the day.
After a relaxing visit in the mountains, head back down to explore more of the best beaches in Colombia.
We arrived back at our car in the town of Minca only to find ourselves with a dead battery. It then started pouring rain on us (when it rains, it pours) so it felt that everything was against us. But it turns out luck was on our side because the car was actually parked next to a mechanics. A local man saw our disgruntled faces and quickly helped us jump-start the car. Yay for nice people. Off we went to Taganga!
Taganga, Colombia
Taganga, Colombia is a small fishing village about 15 minutes drive from Santa Marta. We specifically came here for the weekend because we heard it was a beach town with a great nightlife on the weekends, but that just wasn't true. At least not while we were there. The bars were dead, and we ended up driving back to Santa Marta to party at La Brisa local. It's just a 15-minute drive away, but kind of silly.
Where to stay in Taganga, Colombia
For a small town, there are a lot of accommodation options in Taganga to suit anyone's needs. I recommend Tortuga hostel. It's clean, comfortable, and offers AC rooms, a swimming pool, and rooftop bar to take in the views of gorgeous Taganga bay.
I found the streets of Taganga to be dirty, which was a shame given the beautiful location on the Caribbean coast. I'm curious now what the situation in Taganga is like. Let me know in the comments below if you've been to Taganga recently!
Pro tip: There is only one ATM in Taganga which doesn't work with many international cards and is often empty of cash. It's a good idea to get cash out in Santa Marta before heading to Taganga!
Scuba Diving in Taganga, Colombia
If you want to go scuba diving in Santa Marta, Taganga is the best place to do it. Taganga offers some of the best value scuba diving courses in the world without compromising on quality or safety. Ever since learning to dive in Utila I was eager to continue growing my dive skills and get my advanced open water diving certification. When I found out about the diving opportunities in Taganga, it felt like the perfect place to do it.
After some research, I decided to do my advanced open water with Under Pressure Dive Taganga, which was a great experience. The PADI advanced open water diving course takes two days, and you do five dives in total. As soon as I jumped in the water, I fell in love with diving all over again.
The advanced open water course is all about getting more experience understanding, gain new underwater skills, and get certified to dive up to 30m. It's pretty good value too. I paid $770, 000 COP/245 USD for the course, which included all my equipment, five dives, and PADI advanced open water certification.
One of my five dives ended up being a deep dive to a shipwreck in the port in Santa Marta. This was such a cool dive site to explore, but I experienced dive narcosis while diving there. Dive Narcosis is an alteration in consciousness that occurs while diving at deep depths. In this case, we were about 100ft (30m) underwater.
It basically makes you feel drunk underwater and can be dangerous because you aren't thinking clearly. Luckily, my instructor was awesome about it and brought me up to level again with no problems. Coming back up to a lower depth is the only way to cure dive narcosis.
Most of the dive sites are actually in Tayrona National Park, so you will take a boat ride for about 45 minutes or so each morning from Taganga port. This is great because between dives the boat will dock at the beautiful beaches of Tayrona which you can relax on and enjoy a snack provided by the dive company.
You won't see many big animals in the waters here, but the ocean is abundant with beautiful colorful corals and marine life. During my dives, we saw lionfish, angelfish, lobsters, moray eels, sponges, anemones, and more.
Travel Insurance
I can't stress enough the importance of having personal travel insurance, especially if you plan to engage in adventure activities. The likelihood of something going wrong is small, but do you want to be stuck with that medical bill in a foreign country? Put your mind at ease and get travel insurance before your trip. I recommend buying Travel insurance from WorldNomads.com. It's designed for adventurous travelers with cover for overseas medical, evacuation, baggage and a range of adventure sports and activities including scuba diving.
After exploring the underwater world of Tayrona National Park, head to the top side of the park to explore the incredible hiking trails and beaches.
Tayrona National Park
Tayrona National Park is one of the most popular attractions in Northern Colombia. The park stretches from the bay of Taganga to the mouth of the Rio Piedras. With stunning stretches of picture-perfect beaches and the lush Sierra Nevada mountains as the backdrop, it's hard to not fall in love with this place.
Tayrona national park accommodation
You can stay right inside the park on campsites. Cabo San Juan is a popular beachside campsite, offering accommodation in both hammocks and tents. You can also camp inland from Arrecifes beach which offers quieter campsites in the forest. Just outside of the park is a number of accommodation options, including high-end resorts.
We spent a night at Viajero Tayrona Hostel and Ecohabs which offers beautiful and affordable accommodations right on a beach. This place felt like a resort but has hostel dorm rooms so it's priced affordably. There wasn't much of a social vibe going on while we were there, but it was a perfect place to relax for a night.
If you want a social and fun place to stay, go to El Rio hostel. This unique hostel is nestled in the Colombian jungle alongside the Buritaca river. This hostel is wildly popular with backpackers and was voted the best hostel in Colombia. There's no wifi here so prepare to disconnect and make a ton of new friends.
One of the best things about El Rio Hostel is that every day guests can tube down the Buritaca river. You spend the day floating down the river in tubes with all your new friends from the hostel. The awesome staff will take coolers full of beer and deliver them to you as you float down the river. Along the way, there are places to stop and swim, rope swing, and relax.
What to do in Tayrona National Park
Even if you stay outside of the park in El Rio hostel you can still visit Tayrona National Park for the day. Inside the park, there are a number of activities to do including snorkeling, swimming, hiking, or just relaxing on the incredible beaches.
One of the best hikes in Tayrona National Park is 2.4km (1-2 hours) hike to the town of El Pueblito. The town is an archeological site where you can learn about how indigenous communities lived in that area in the past.
The Lost City Trek
The Lost City Trek, or Cirudad Perdida trek, is a four-day trek through dense jungle terrain in search of historic ruins in Northern Colombia. In fact, the ruins are 650 years older than Machu Picchu. They have only become publicly accessible in the last few decades, and have become increasingly popular in that time.
Unfortunately, it didn't work out for me to do the lost city trek while I was in Colombia, but it's on the list to go back and do. If you want to know more about what this hike entails, check out this great YouTube video Drink Tea and Travel put together on their experience on the lost city trek.
There are a number of tour operators in Santa Marta who can help you organize a trek to the lost city. If you want to book in advance, G Adventures runs a lost city trek tour. While I haven't done this hike with them, I have done other tours and can vouch that this company is top-notch. They do a great job of organizing everything for you and putting an emphasis on sustainable and responsible tourism practices, so you can just sit back and enjoy the adventure.
How long to spend in Northern Colombia
I was able to complete this itinerary in one week (with the exception of the lost city trek). More time is always better, but one week is definitely sufficient to see Santa Marta, Minca, Taganga & Tayrona National Park. If you plan to do the lost city trek, add at least another 4 days into your Colombia itinerary.
Getting around Northern Colombia
I was with two friends from Canada and we decided to rent a car which was a nice luxury from taking busses, but pretty unnecessary. If you are going to stay in the mountains of Minca (which you should), then you will need to hire a 4×4 anyway. Santa Marta and Minca are just an hour away from each other, with a regular bus. Similarly, the distances between Santa Marta and Tayrona aren't that big, and you can easily get busses between the two.
Final Thoughts
As a nature lover and adventure seeker, Northern Colombia was an absolute paradise for me. I hope this article gave you some inspiration on where to go in Northern Colombia. Let me know in the comments below if you've been to Colombia, and what your favorite places where! I'm already planning my next trip back.
Like it? Pin it for later!