This post may contain affiliate links. By clicking and making a purchase through the links, I earn a small commission at no extra cost to you. This and display ads allows me to keep the site up to date and give back. Thanks for reading!
This post was written by Neha of DubaiWikia. Big thanks to Neha for sharing her knowledge of adventure activities in Dubai – I can't wait to try some of these adventure activities during my visit!
Dubai is a fun destination known for its paradoxes. From vast deserts to pristine beaches, the tallest skyscrapers in the world to the sleepy town of old Dubai, it is a city of contrasts and adventures.
Home to some of the world's best theme parks, attractions, and adventure activities, there's no shortage of fun to add to your Dubai itinerary. This post will go over 10 top adventure activities you can do in Dubai.
1. Sky Diving
If you are looking for adventure, how can you miss skydiving? The thrill of falling from 4000 meters at mind-blowing speed is unparalleled. In Dubai, you can skydive under expert guidance and soak in the beautiful scenery of the coastal landscape below.
Go for a solo jump if you are experienced or if it's your first time, jump in tandem with an expert that will guide you through the experience. After a minute of free-falling through the sky, you will gently glide down the sky for five minutes, to a final touchdown with the help of a parachute. On the way down catch the bird's eye view of Palm islands, the World's islands, Burj Khalifa, and the beautiful desert landscape.
2. Deep-Sea Fishing
Another adventure activity for water enthusiasts in Dubai is Deep Sea Fishing. Home to the Persian Gulf which is filled with massive schools of fish, it's the perfect place for new and experienced deep-sea fishing. You will be taken 20 to 30 km into the sea, accompanied by expert anglers to help you get the perfect catch.
In the Persian Gulf, you can catch some of the biggest fish including barracudas, grouper, kingfishes, and swordfishes. In most deep sea fishing experiences, the fish are let go again but in Dubai, you are allowed to bring up to 6 fish back, or a big fish weighing up to 15kgs.
3. Dubai Autodrome
Real-life Mario Kart, anyone? Dubai autodrome is a place where you can drive race cars on a professional race-track. Who doesn't want to drive a race car and experience the thrill of driving one? Some of the amazing beasts you can ride are McLaren, Lotus Evora, AudiTT and even a track-only Formula DXB.
The autodrome includes an expert session before you sit behind the wheel to drive to ensure you are ready. It also has indoor and outdoor circuits dedicated to karts, for expert racing experience.
4. Flyboarding
Flyboarding is one of the newest extreme sports in Dubai. The activity consists of a board with a jet-propelled engine under it to push you up into the air. The engine pumps water out of the hose with great force, which can move you up in the air up to heights of 10 meters.
The board can be maneuvered using hand controls or using your body weight. Explore the water of Dubai over and under Aquaman style!
5. Desert Safari
If you have not seen the desert after being in Dubai, then what have you really seen? An extremely popular among tourists – a desert safari allows you to enjoy the vast desert through various activities.
Ride camels, sand-board, go for dune bashing or enjoy a sumptuous meal under the stars. The sheer number of activities makes this a must-do adventure activity when in Dubai. Do not forget to have a Dubai desert safari experience.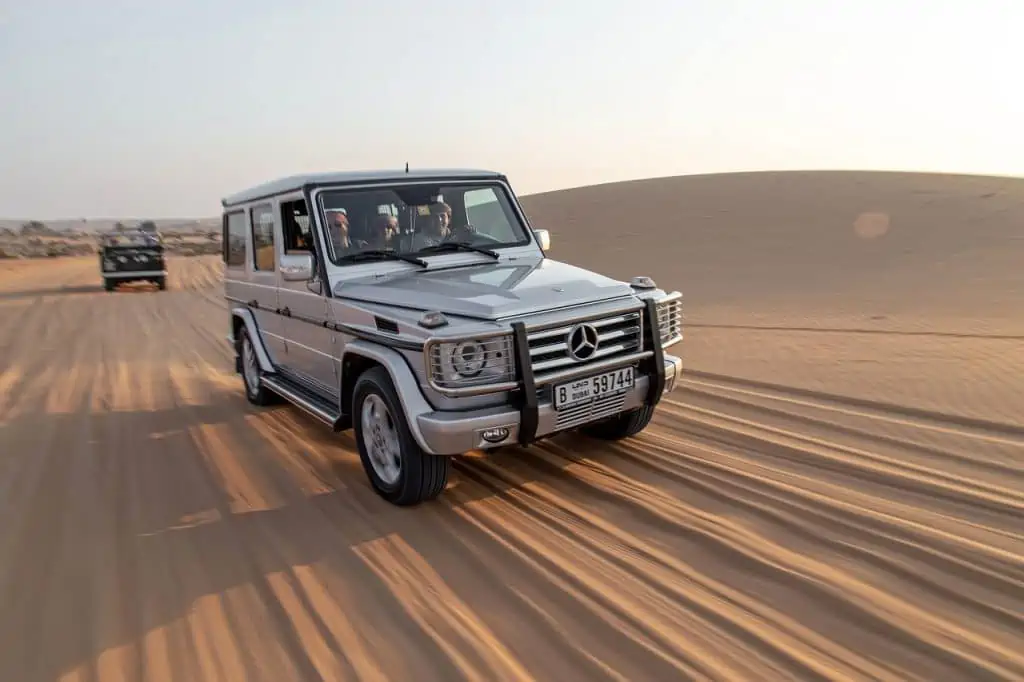 6. Seabreacher Ride
Riding a shark may not be possible, but riding a shark-shaped watercraft is possible in Dubai! The watercraft is designed like a shark while you safely sit inside it. You can get 5 to 6 ft underwater at a speed of 35 to 40 km/hr. While on the surface, you can shoot up to speeds of 80 km/hr.
7. Ziplining
Dubai has many world records. Adding to its records is this adventure activity of zip lining. 1800 ft above Dubai fountains, it takes 40 seconds to complete the zip line at a speed of 60 to 70 km/hr. You must be at least be 10 years of age and 130 cms long to take part in this activity.
8. Jet Skiing
With the restrictions on this adventure activity eased considerably, jet skiing is becoming one of the booming activity for adventure seekers. You can jet ski over the lovely waves of Dubai for over an hour with a rental.
With beautiful views of Burj Al Arab and Palm Jumeirah, the fun is non-stop. As the entire city unfolds before your eyes, experience the adrenaline rush pumping through your blood. Expert riders greet you and explain to you before you sit on a jet ski and zoom away.
9. Scuba Diving
If you love water sports and want to see the beautiful aquatic wildlife, then scuba diving is just for you. This underwater excursion offers you a thrilling escape from the hustle and bustle of busy Dubai life.
With ancient ships dating back to several decades, sea life has made the ships it's home. You can dive as deep as 12 meters and can explore the aquatic life for up to 2 hours. Expert instructors take utmost care to make it as safe an activity as thrilling.
10. Bungee Jumping
The usual adventure activity that you can see in Dubai is bungee jumping. Feel the thrill through your nerves when you free fall through the sky, closing in on to the ground. And just when you get close to the ground, you feel the safety chord jerking your leg and cutting your fall short.
If you are not comfortable to jump alone you can do it with a friend, known as tandem jumping. Gravity Zone is one of the popular centers in Dubai which allow you to bungee jump.
Conclusion
Dubai has become many things for different travelers over the past decade. While one of the best tourist destinations across the world is a tag that the city has long enjoyed, the tag of the adventure capital of the UAE is soon catching up it. Come and explore the adventure activities of the city yourself to find out how much of a thrill provider Dubai is!
About the author
Neha loves traveling and is an avid trekker and explorer. She has done her post-graduation in Mass Communication, loves meeting new people and strongly believes in the Gandhian principle – 'Simple living, high thinking'
Like it? Pin it for later!