This post may contain affiliate links. By clicking and making a purchase through the links, I earn a small commission at no extra cost to you. This allows me to keep the site up to date and expand on resources. Thanks for reading!
It's been over half a year since I left Canada, well-knowing that it might be a very long time until I come back. I've been living and working remotely in the Caribbean, and now call Mexico home. What is it really like traveling during the pandemic? Well, that greatly depends on where you are going. I've been to destinations that take Covid-19 extremely seriously and others that act like it doesn't exist.
I wanted to create this post to share my first-hand experience of what it's actually like traveling during the pandemic and what you can expect if you're thinking about taking your first trip since it started.
Flying during Covid-19
Flying is probably safer than you think, thanks to the HEPA filters airplanes use which are extremely effective at filtering out air particles. Numerous studies have been published in the months since the pandemic, many of which suggest that the risk of contracting coronavirus while flying is very low.
Most airlines aren't offering the no-middle seat policy anymore, so expect to be sitting next to someone. Also, no plane I've been on in the last few months has served food (just a water bottle when you get on), so be prepared and bring snacks.
Despite airports trying to enforce social distancing, most people seem to forget about in airport queues quickly.
Bring a good mask to wear in the airport, and leave plenty of time to get through your gate due to the additional checks. Lastly, many facilities may still be closed in airports – including lounges.
Entry requirements, tests, and quarantines
One of the biggest changes to travel is the need to be more prepared when planning your trip away. Gone are the days when you can simply book a flight to a country without worrying about entry requirements. With the exception of a few countries, most have some entry requirement related to Covid-19 – whether that's a quarantine, test, or mandatory insurance.
These vary GREATLY depending on where you are going. I've been traveling through the Caribbean islands the last few months, and most countries there have relatively strict entry requirements if allowing tourists at all.
For example, both Barbados and Dominica are open but require you to have a negative Covid-19 test before coming, and to quarantine for 5-7 days until you have a second negative PCR test.
On the other hand, some countries aren't so strict. I spent a month in Costa Rica, whose only entry requirement is mandatory insurance that covers Covid-19.
The good news is that many countries around the world are reopening to vaccinated tourists without tests and quarantines, which makes the travel process much simpler. So if you are lucky enough to live somewhere where vaccines are available, take advantage.
The other thing you'll need to consider is the entry requirements to get back into the country you are traveling from. Canada has only made it more difficult for people to return home, which is one of the many reasons I don't see myself going back there for a long time. On the other hand, the United States only requires a negative Covid-19 test taken within 72 hours of your flight.
What's important here is that you have to research the requirements of the country you are going and coming back to before your trip, which adds some work to your trip planning. Check the local government website or tourism board – they should have it clearly outlined what the requirements are.
You'll also want to be mindful that even if a country is open, check to see what their infection rates are and if their health care system is overwhelmed. You don't want to add any additional strain to it, which is why it's so important to get vaccinated or tested before visiting a destination. Private covid tests for travel are easily accessible now, and it's worth doing this before you go traveling even if it's not a requirement.
If your home country requires a Covid-19 test to get back, plan ahead for where you will get that in your destination. Fortunately, some popular destinations like Mexico have made it easy for tourists. In Puerto Vallarta, you can get a rapid test at the airport, and many resorts also offer them on-site for guests.
Anything can happen – be flexible
The biggest thing about traveling during Covid-19 is the need to be flexible. Countries can, and will, add more restrictions at any time or even go into lockdown.
This first happened to me in Italy at the start of the pandemic, and then again in Barbados after an outbreak on the island in the new year. I lived there for two months, and everything was great. Case numbers were extremely low, and mostly everything was open without restrictions. I couldn't believe it – it felt like I had truly found paradise after being stuck in Canada for so long. However, that all changed after some tourists broke quarantine during the busy Christmas season, and the country went into lockdown again in January.
While traveling in Antigua, I saw restaurants get shut down again followed by a new 8 pm curfew that then got moved to 6 pm quickly. Even if somewhere looks safe when you're planning a trip – that can quickly change. While the United States is quickly rolling out vaccines, this isn't the case in many other countries so don't expect things to be back to normal everywhere.
Restrictions – or not
What has surprised me most about traveling during Covid-19 is the lack of restrictions in some places, even where infection rates are high.
Take some time to think about what you're comfortable with when choosing your destinations. Going to a place where there are mass crowds of people might be overwhelming after the last year – or maybe it's exactly what you want.
I've heard people say that humans will take a long time to adjust back to gathering in masses, but from what I've experienced in the past few months, this isn't true at all. People are quick to go back to old habits, which I've seen first hand in Barbados, Costa Rica, and Mexico.
On the other hand, I've been to countries with very low case numbers that stake it very seriously. Dominica has had fewer than 100 cases since the pandemic started, but you still see social distancing in place. Locals will wear masks outside on the street despite the low numbers and ability to social distance easily wiith so much space.
If you're nervous about being around crowds of people, choose a destination like Dominica that takes it seriously and has ample nature to explore. Being out in the wilderness is one of the best ways to experience a country, and it's extremely safe. 
When it comes to your trip, try to relax. The process might be a little more stressful and intense than usual, but it's important that you use the time off to enjoy life and treat yourself after this crazy year. Try to find ways of relaxing and making the most of the time you have away!
Start local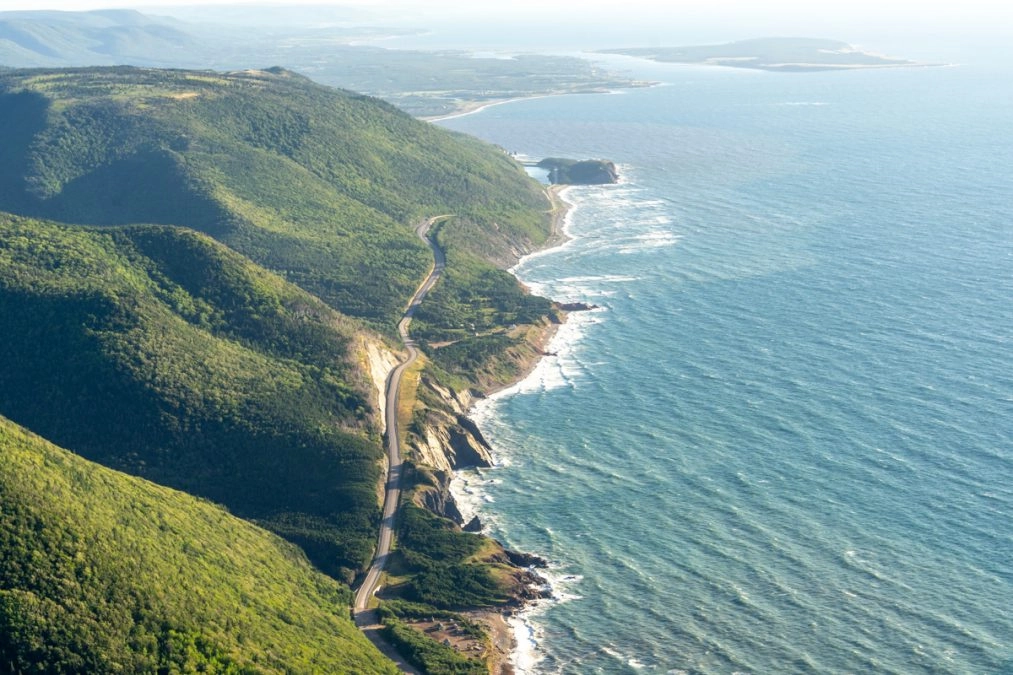 If you are anxious about traveling again after so long, it can be good to go somewhere familiar because it can put you more at ease than traveling to someplace that's completely new.
For your first trip away since the pandemic started, try going somewhere local first. Whether that's a city break in a country nearby or staying within your own country and just going on a road trip somewhere.
My first trip last year was in my home province, Newfoundland, and then I traveled around the east coast of Canada. Having a familiar setting was a great way to adjust to travel again after being at home for months and barely seeing anyone, plus I got to discover some amazing destinations in my backyard like Cape Breton.
—
One of the most important things about traveling during Covid-19 is to be respectful of the destination you are visiting and following the rules. Get vaccinated if you can before going, but still follow local guidelines and those outlined by the Centers for Disease and Control on international travel.
The global tourism industry needs to be rebuilt, but we can do it responsibly and keep all of these wonderful communities safe!