This post may contain affiliate links. By clicking and making a purchase through the links, I earn a small commission at no extra cost to you. This allows me to keep the site up to date and expand on resources. Thanks for reading!
Salta is the largest city in the North of Argentina. With the nickname Salta la Linda (Salta the beautiful) and a reputation for a growing wine scene in Cafayate, I decided to make it my last stop before leaving Argentina.
[bctt tweet="Read on for everything you need to know about visiting the stunning region of Salta, Argentina" username="explorewithlora"]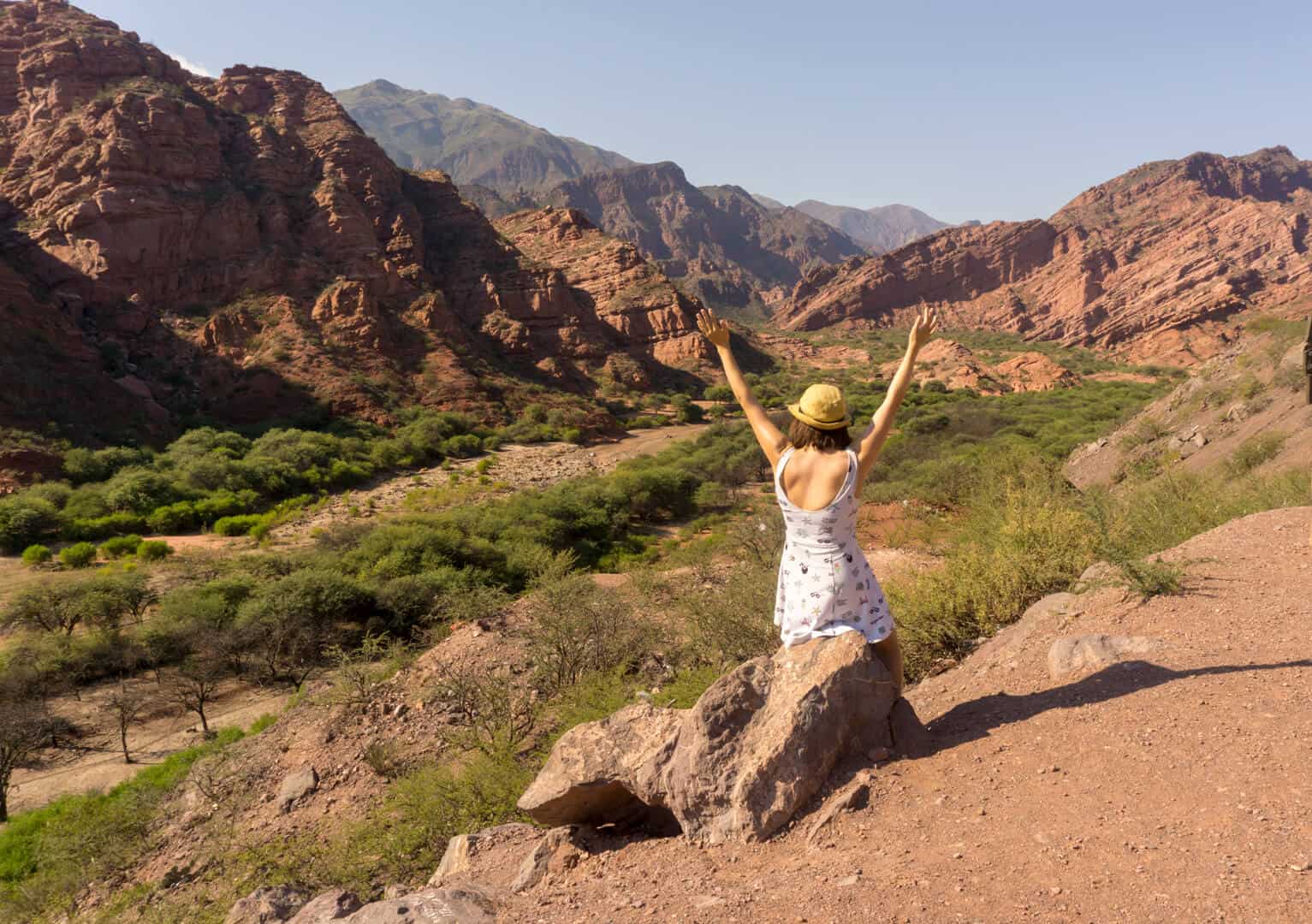 Salta the City
If you fly into the province of Salta you will landing the city of Salta, which was a disappoint for me. While I fell in love with the province of Salta, my feelings towards the city were not as strong. The streets were noisy, dirty, and the drivers are crazy. Within an hour I witnessed a dog get hit by a car (it was okay), a car accident, and almost got hit myself a few times. This surprised me because by South American standards Argentineans are pretty good drivers, but for some reason in Salta this was not the case.
That being said, you don't need to skip the city entirely. Spend a day exploring the charming squares and eating empanadas, and the rest of your time exploring other parts of the province.
Salta the Province
If you're in Salta, you should definitely check out Cafayate, the wine region of Salta. The best way to get there is by car, as the roads are an absolute dream to drive through.
You can also visit Cafayate by bus or book a day-tour. This is what I did, and I loved the tour as we stopped many times on the way to  take in the the beautiful sights. It was an incredible journey as we drove through the changing landscapes from city to desert.
I never knew that Argentina had a desert side to it before driving through the province of Salta. It was incredible to see all the red rocks, cacti, and giant canyons. This is why Argentina is one of my favorite countries, it has everything you could want. From the glaciers of Patagonia to the waterfalls of Iguazu, the vibrant city of Buenos Aires and a desert to top it all of. If you are thinking about heading to Argentina, just go. You won't regret it.
Tip: Prepare for your trip by knowing the best time to visit Argentina, as the vastness of the country means that the weather can vary dramatically between parts.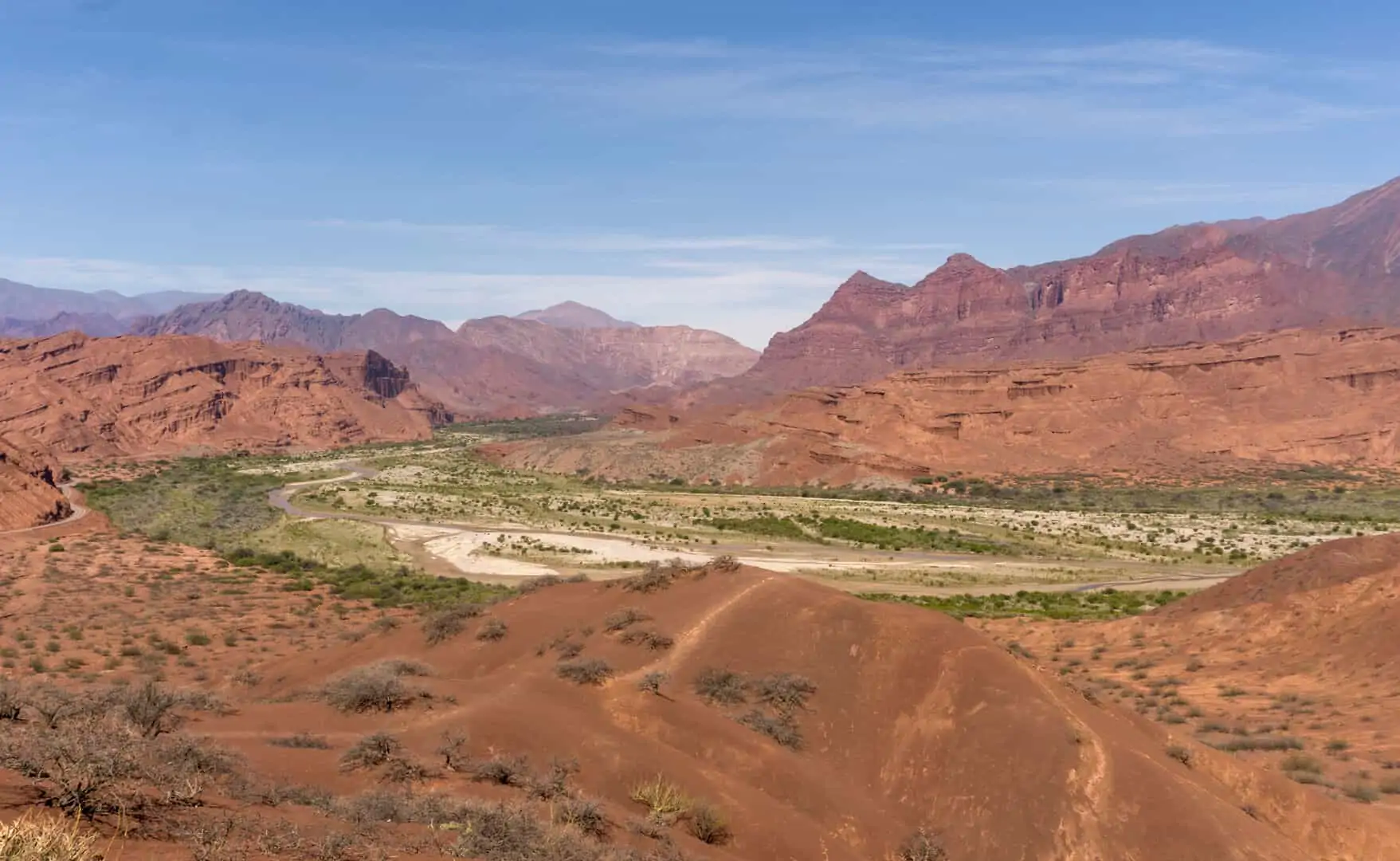 We took several stops along the way to take in the gorgeous scenery from various viewpoints. There are several rock formations we passed that look like other objects, such as the titanic rock below.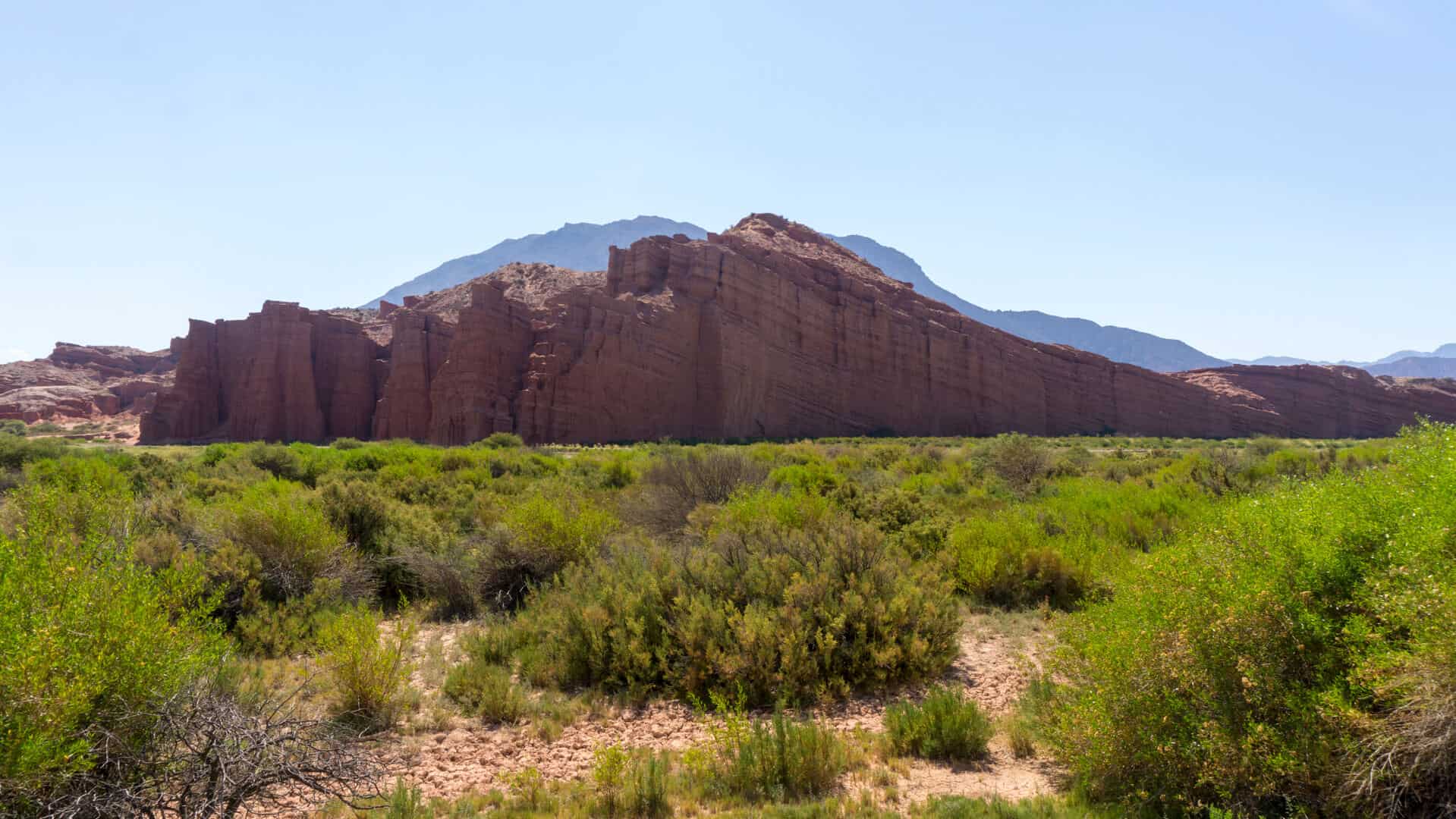 El Anfiteatro / Natural Amphitheatre
Another worthwhile stop on a Salta road trip is at this incredible natural amphitheater. Formed over millions of years ago, this canyon creates amazing, natural acoustics.  What makes it even better is that talented musicians hang out here and play music for tourists to enjoy. Tip them if you enjoy the performance! Apparently twice a month they organize concerts in the canyon. That would be so cool to see live!
El Garganta del Diablo / Devil's Throat
Another impressive Canyon to stop at is Garganta del Diablo, a natural canyon carved into the mountains.
During our stops we also saw a number of Llamas which made me super happy to know I was entering back in Llama land!
The Wineries of Cafayate
After a few hours of driving from Salta you will arrive at the stunning wineries of Cafayate. This area is the heart of the second-largest wine producing region in the country, and is Argentina's premier white wine growing region.
Take a tour at one of the local wineries where you can tour the facilities and see the process of how the wine is made from fruit to bottle. And of course, taste the wine. This area is famous for Torrontes, a dry but fruity white wine unique to Argentina. I can confirm that it's delicious.
The outside area of the winery is beautiful with the rows of vineyards and giant cacti. It's such an interesting landscape to see a winery in and unique to anything I've visited before.
Town of Cafayate
Cafayate is a small but charming town. There is a lovely main square, a small market where you can buy local Andean influenced crafts, and some excellent restaurant and ice cream shops to enjoy there. Try the wine ice cream!
Eat Empanadas
If you are in Salta you must try the empanadas there. The region produces a special kind of Empanada unique from the rest of the country. They are mostly baked in a wood-fired over, and much smaller then other empanadas on the market. Which makes it perfectly fine to eat as many as you want. They are delicious!
Conclusion
I'm so glad that I got to see Northern Argentina because it is such a unique and beautiful part of the country. Aside from the canyons and vineyards, Salta has a number of other interesting sights to see including salt pools and rainbow mountains. I didn't get a chance to visit these areas due to time limitations, and I was headed to the Atacama desert which has similar features. Have you been to other parts of Salta? Let me know in the comments below, I'd love to hear your experience!
Wondering where to go after Salta? You can get an overnight bus from Salta to San Pedro De Atacama, Chile, one of my favorite regions in South America. Check out my post to see why!