This post may contain affiliate links. By clicking and making a purchase through the links, I earn a small commission at no extra cost to you. See my disclaimer for more information. This and display ads allow me to keep the site up to date and give back.
Iceland is one of those countries where you're never guaranteed with the weather, but visiting Iceland in June is a pretty good bet for sunny skies. Not to mention the midnight sun, incredible wildlife, and unique music festivals.
If you're thinking about visiting Iceland in June, keep reading for ideas on the best things to do. I've also included packing tips at the end for visiting Iceland during the summer because it's not what you'd expect for a normal summer vacation.
Things to do in Iceland in June
Explore during 24 hours of daylight
Iceland is the land of the midnight sun. On June 21, the summer solstice, the sun is visible for the full 24 hours in the Westfjords and North Iceland. In the capital city, Reykjavík, the sun does set below the horizon, but only for a couple of hours.
The sun "sets" a few minutes past midnight and rises again at 3 am. The sky won't actually get dark – it just creates this beautiful sun-setting light for hours. It's magical.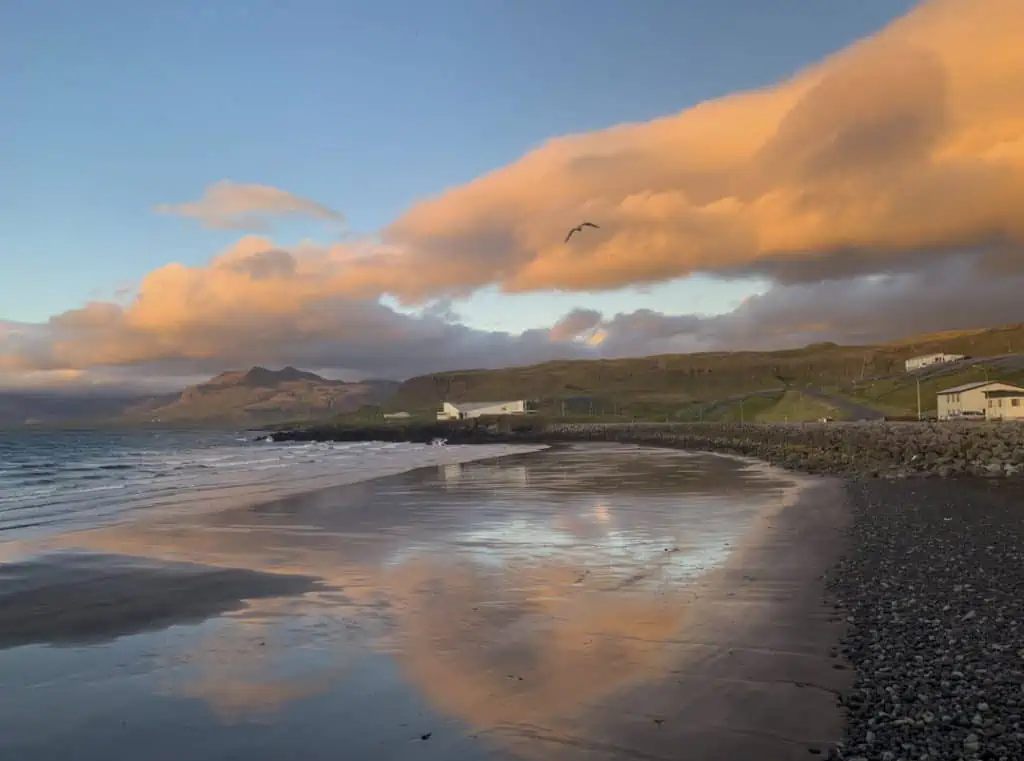 Not only is this super cool to witness, but it means you have so much time to explore outside! You don't have to worry about running out of light because it doesn't happen. Wanna go see a waterfall at 2 am? No problem, go for it!
Most of the attractions in Iceland are natural, so you won't have to worry about closing times. Calling all midnight explorers! I loved being able to go for midnight walks and visit the local horses. You could even visit natural hot springs or join a midnight sun ATV tour – how fun!
The constant daylight is perfect for those who want to explore Iceland. Unfortunately, as a trade-off of this, you won't be able to see the northern lights while in Iceland in June, but I promise you the midnight sun experience makes up for it.
The best way to experience Iceland during the summer is by campervan, as you explore wherever you want without having to worry about driving back to your hotel. Cozy Campers offers some great campervan rental options in Iceland, including a free WiFi hotspot and unlimited mileage.
Although it felt strange having constant daylight, I loved experiencing this. Just remember to bring a sleeping mask with you. Not all accommodations have black-out curtains, so it can be difficult to sleep with the sun coming through the windows.
Great Weather (by Iceland standards)
You should never go to Iceland expecting perfect weather, but June is about as good as it gets. I was pleasantly surprised during my visit in June, especially compared to when I was there in September. It was sunny almost every day, with hardly any rain, and not that cold.
In Reykjavik, it was an average temperature of 59f/15c degrees each day. In the North, where it gets much cooler, it dipped down to 39f/4c some days.
This weather makes planning a road trip in Iceland much easier because you don't have to worry about snowy/icy roads – for the most part. I say this because it is still possible to see snow in the summertime, especially in the North of Iceland. On popular routes such as the Golden Circle in the South, the weather should be pleasant.
We got a warning sign from our car to watch out for slippery roads as the temperature was dropping, but it never went below freezing. If you plan to rent a car in Iceland around the main highway 1 (the ring road), you'll be fine in a regular economy car during the summertime.
This warm temperature is perfect for visiting the many swimming pools in Iceland as well as the hot springs.
Secret Solstice Music Festival
Celebrating the Summer Solstice (June 21st) in a place where they have 24 hours of daylight is an amazing experience anywhere, but Iceland has an entire music festival to celebrate it. The Secret Solstice Music Festival is a 3-day festival that takes place in the capital city of Reykjavik. It features artists from all over the world, including many Icelandic musicians.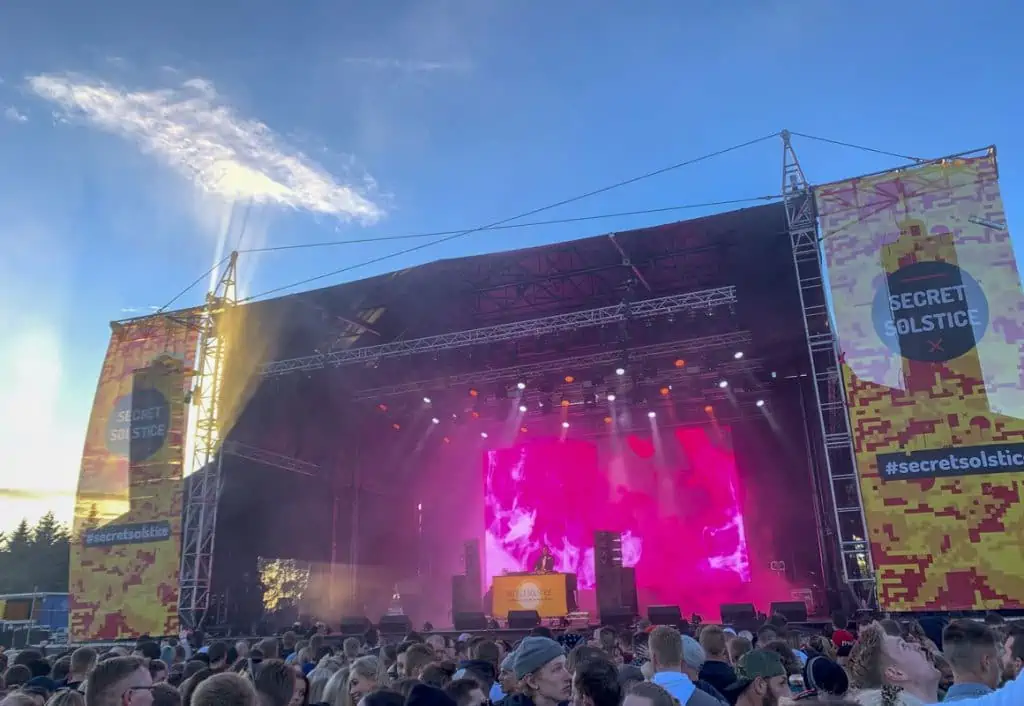 The Secret Solstice music festival has such an eclectic variety of music. In 2019, the Black Eyed Peas, Jonas Blue, and Robert Plant were the headliners, which just goes to show the diversity of artists that play.
The festival is not as crowded as you would expect from a summer festival in Europe, which was so nice. You can pretty much leave the front stage, go to the washroom, and get back to your same spot with ease. Many locals attend the festival, as well as travelers from all over the world.
I'm used to summer festivals where it's sweltering hot, so it was a nice change of pace to be able to dance and not have to worry about getting sweaty. It's also fun to switch up your festival attire from crop tops and shorts to sweaters. I saw people wearing all kinds of outfits, from NorthFace jackets to bright green fleeces.
Secret Solstice is one of the most unique music festivals I've ever been to. It was so much fun to be dancing in the daylight all night.
The festival goes until 11 pm, but then everyone goes out afterward in Reykjavik. If you are a lover of music festivals, I recommend checking this one out. A full-weekend pass cost me 120 Euros in 2019.
Lupines, everywhere!
June is the prime lupine blooming season in Iceland. These beautiful purple flowers add another gorgeous element to Iceland's stunning scenery. The amount of lupin fields you will pass while road-tripping through in Iceland is surreal; they seemed to go on forever.
I never got sick of driving past them and had to pull over the car to get out and take photos a few times. The purple flower against the backdrop of Iceland's already gorgeous landscape is just perfection.
Fresh Food
I love fresh fish and chips, and Iceland knocks it out of the park with this dish during the summertime. There's no shortage of places to try fish and chips. One good restaurant downtown is aptly named 'Reykjavik Fish and Chips'.
We ate at another nice restaurant named Grillmarkadurinn. They had a special during June to try an Icelandic trio of specialties, including whale, puffin, and lamb.
I don't eat meat, so I wasn't interested in this, but my friends loved it. If you're interested in trying the local Icelandic cuisine, you can join a guided food tour in Reykjavik.
Another great restaurant I loved in Reykjavik is Cafe Loki. Try the smoked trout on Rye Bread with creamy eggs – it's heavenly. This restaurant is right across from Hallgrímskirkja, a famous church in Reykjavik. Cafe Loki has a lovely outdoor seating area in front of the restaurant where you can enjoy the church views. It's so beautiful with the flowers blooming in the summertime.
Wildlife watching opportunities
Whale Watching
Iceland is one of the world's best places to go whale watching, as the ocean surrounding it is a bountiful feeding ground that attracts twenty-three species of whales.
While Minke whales can be seen all year round, Humpbacks, Orcas, and Sperm only come during the summer months from April – October. If you want to maximize your chances of seeing a variety of whales, June is an excellent time to go whale watching in Iceland.
There are many day tours you can join to see whales. The best places to go whale watching in Iceland are from the capital city of Reykjavik, Olafsvik on the Snaefellsnes Peninsula, as well as Akureyri and Husavik in the North of Iceland.
During the summertime, you can even take a midnight sun whale-watching tour! How incredible is that?
Read more: Best Whale Watching Destinations in the World
Spot Puffins
Iceland is home to sixty percent of the world's Atlantic Puffin population, but you can't see them all year. Puffins hang out on the surface of the ocean and only come on land in order to breed, lay their eggs, incubate them, and raise their new puffin babies.
This process occurs throughout summer, which in Iceland lasts from June to September.
The best places to spot puffins in Iceland are the Látrabjarg birdwatching cliffs in the west, Dyrholaey in the South, the Tjornes Peninsula in the North, and the Westman Islands, which are all accessible in the summer.
We visited the Dryholaey cliffs on the South coast last June while in Iceland, and the views were just breathtaking.
There are also a number of puffin watching boat tours you can take in Iceland to help you spot these adorable birds.
Seals
Okay, so you can actually see seals throughout the year in Iceland, but who wants to stand by the ocean in the freezing cold? Summer is a much more enjoyable time to come see these furry guys. I found them driving through the Snaefellsnes Peninsula.
If you love seals, you can actually apply to take part in the annual Seal Census, which happens during the summer! This rallies a large group of volunteers to search 80km of coast in the local area to determine how the seal population is changing.
Baby Animals
You'll find sheep and goats all around Iceland throughout the year, but during June, you'll see whole families. Spring is when the animals breed, and as a result, there are a lot of baby animals hanging around in June. Is there anything cuter than a baby goat learning from its mom? Awww!
Iceland Summer Packing List
If you plan to travel to Iceland in June, you'll still need to pack warm clothes. When packing for a trip, I always pack about a week worth of clothes +/- a day or two. I try to travel light/carry-on size as you can always do laundry.
The intent of this Iceland summer packing list is for someone who plans to be outside exploring Iceland's beauty. If you only plan to stay in Reykjavik, then you need less outdoor gear and will want more outfits for going out. There are a lot of restaurants and bars in Reykjavik, and the Icelandic are fashionable.
I found the temperatures much milder in Reykjavik and needed fewer layers, especially compared to the North. That being said, If you visit Iceland in June, then I highly recommend leaving Reykjavik to visit some of the amazing attractions Iceland has to offer.
Clothing
7 x T-shirts and long-sleeved Shirts. You want to have a mix of layers of short and long-sleeved shirts to wear in Iceland, as it can go from warm to cold quickly. Ideally, a few of these shirts will be quick dry and thermal layeres if you plan to do a lot of hiking and outdoor activities.
3-4 Pairs of Pants (at least 1 waterproof). Forget shorts – it won't be warm enough!
1 'nice' outfit for Reykjavik (or more if you plan to go out a lot there)
Warm Pajamas
8 pairs of underwear (weeks worth + 1 extra)
7 pairs of socks (a few pairs of waterproof hiking socks)
Sweater/Light Fleece
Light fashionable jacket for going out

Waterproof/Windbreaker Jacket

Gloves, buff and warm hat – yes really!
Waterproof Hiking Shoes
Regular shoes for walking around Reykjavik
Other Packing Essentials
Swimsuit, towel, and flip-flops – for the hot springs.
Reusable water bottle. Save money and the environment – the water in Iceland is so fresh and tasty! Plus, you can fill up your bottle with spring water when you're hiking.
Day Backpack with rain cover
Sun Protection – It may be chilly, but that doesn't mean you can't get sun burnt!
Camera Gear – I love my GoPro, Sony A7ii, and Mavic Pro Drone (RIP). Iceland is one of the few countries where it's completely legal to use a drone and you don't need permits. There are a few spots it's banned, but generally it's an amazing place for drone shots.
If you plan to visit Iceland, June is a great time to do it! Between the weather, scenery, and things to do, you can't beat visiting Iceland in June. Have you been to Iceland before? What time of year did you visit? Let me know in the comments below!
Need more help planning your Iceland trip? Check out these posts!
Like it? Pin it for later!