This post may contain affiliate links. By clicking and making a purchase through the links, I earn a small commission at no extra cost to you. This and display ads allows me to keep the site up to date and give back. Thanks for reading!
It's an exciting time for travel as the industry finally starts to bounce back, and many travelers begin to plan their first trip since the pandemic started. But for some, it's a shock to see how much travel prices have gone up as inflation continues to soar. To save money on your next trip, use these hotel hacks.
How Have Hotel Prices Been Impacted?
According to The Points Guy, hotels are one of the most impacted by inflation, with prices up 29% from a year ago.
This rise in prices isn't just in the U.S. either. For the first time in history this year, hotel prices in Mexico were more than in the U.S.
But don't worry, there are still deals to be found. I'm sharing my favorite hotel travel hacks in this post, so you can get a great price and take that dream trip! Because we ALL deserve a vacation after the last two years.
Hotel Hacks To Save Money
Get Steep Hotel Discounts By Using Tripscout's New Booking Platform
Tripscout just launched a new hotel booking platform that can get you exclusively negotiated discounted rates with thousands of hotels worldwide.
To access the hotel booking app, all you have to do is send a direct message (D.M.) with the word "hotel" to the @Hotel Insta account.
Respond "show me the deals," and they'll instantly send you a link to a page where you can search for hotels across the globe.
On that page, you can find private rates in the range of 25-75% below the best publicly available rates on other hotel websites.
I've played around with their booking platform and have found hotel deals significantly lower than what I've seen on other booking platforms.
For example, I just searched the price for the Sheraton in Puerto Rico and found it $44 cheaper than if I booked directly through the hotel (or on Booking.com).
Pro tip: Once you put in your destination and dates, you can click the 'highest savings' or 'highest discount' button to find the best deal quickly.
There's no commitment, so try it out next time you're searching for a hotel and see what deals you can find!
Join Hotel Loyalty Programs
There are so many benefits to being a hotel loyalty program member. First, you're going to earn points every time you stay, which you can use in the future for free nights.
But beyond that, hotels prioritize their members over other guests and reward them with benefits.
I have Marriott Gold Elite status, which means every time I stay at a Marriott (even if I book the cheapest room), I get an upgrade if a room is available – which it often is.
Other perks include early check-in, 2 pm late check-out, bonus point opportunities, and free WiFi.
Travel hacking through credit cards is one of the quickest ways to get hotel status and free nights.
I got my status with Marriott initially through my AMEX Business Platinum credit card and maintain it by staying at Marriott properties a certain number of times a year.
In addition to my AMEX platinum, I also have a Marriott Bonvoy credit card which gave me 50,000 Bonvoy points upon signup. It has an annual fee, but you get a free anniversary night which more than offsets the cost of the card.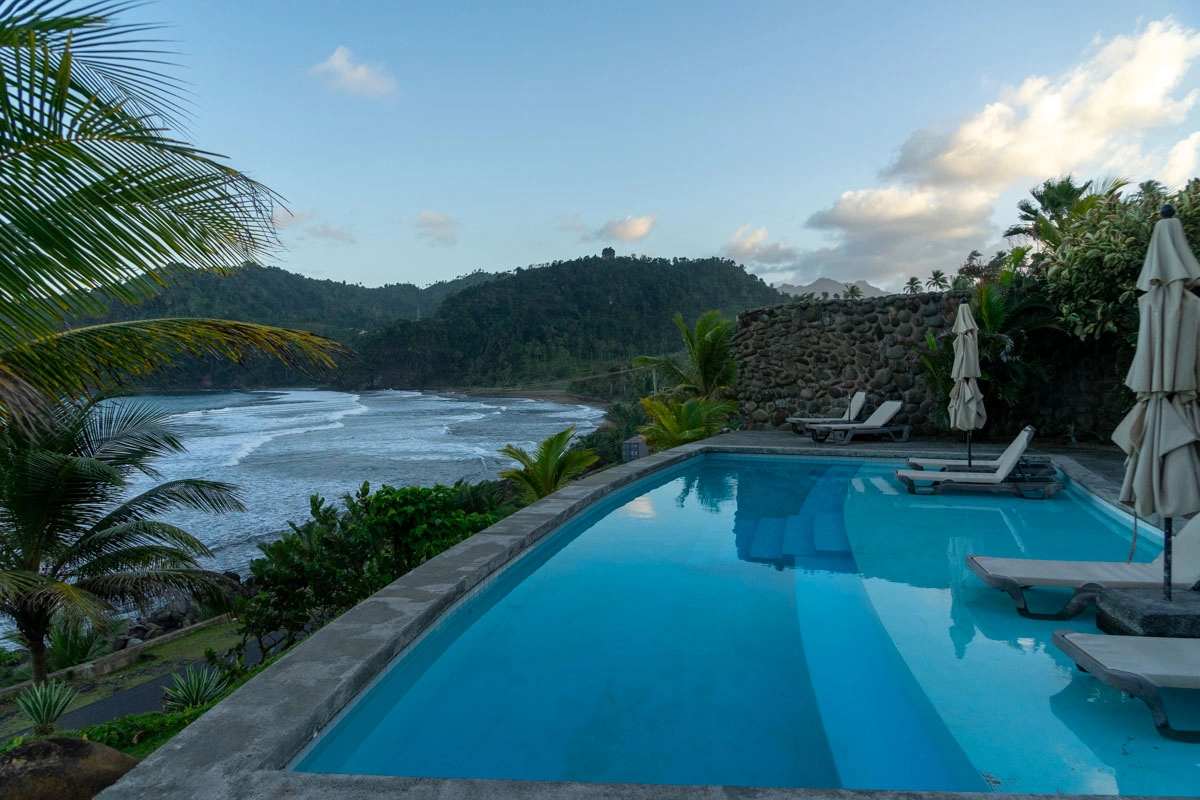 Be Flexible With Your dates
Hotel rates vary a lot depending on the day of the week, time of year, or any events going on during the time frame you're searching in.
If you have some flexibility with your itinerary, you can save a lot of money by avoiding specific dates.
While weekends do tend to be pricier, there may be some deals on hotels that draw lots of business travelers who typically stay on weekdays.
On the other hand, cute B&Bs aimed at those on a romantic weekend getaway will likely have better deals on the weekdays. If you can play around with your dates, you'll save yourself a lot of money.
The easiest way to see the cheapest date to fly is to open the calendar view in Google Hotels.
In the example above, looking at the Sheraton Downtown in Denver, you can see that prices vary next month from $189 to $510! You can potentially save hundreds of dollars by choosing a date a day or two different.
Avoid Extra Hotel Amenities
Do not go for a drink in the hotel mini-bar. It's just not worth it. They have exorbitant prices, so instead, just pick up a few drinks at the local store and get a bucket of ice.
Likewise, avoid drinking in the hotel bar or dining at the on-site restaurant. Prices tend to be marked up, and you can get better prices by eating/drinking outside the hotel. And also likely a much more authentic and memorable experience.
Hotel laundry service is another one you want to avoid. Hotels charge insane prices to do your laundry. I once paid $100 in Pakistan (probably the most expensive thing I bought there) because I didn't look at the price before (they usually charge per item).
Instead, look for a local laundry mat nearby the hotel or travel with a Scrubba wash bag and do your own laundry. It's also a more sustainable way to travel.
Check On Mobile Before Booking
If you're searching for hotels, check the mobile version of your booking platform before booking, as you can often find better prices.
For example, on Booking.com, I almost always find better pricing on the mobile app as they offer mobile-only discounts. So even if I use my laptop to do the research, I always book through mobile.
In this example, I'm searching for hotels in Austin, Texas, and see that the price on desktop for the East Austin Hotel is $181. But when I search on my phone, it's only $163!
It's also a good idea to make an account on the booking platform you're using, as most will reward loyalty.
In the case of Booking.com, they offer genius-level discounts. Because I have made so many hotel bookings over the years, I am now a genius-level 3 member.
This means that I see discounts of up to 20%! In the example above, it would have been an extra $19 without being a genius member.
Similarly, Hotels.com rewards customers by giving them a night free for every ten booked.
Don't forget to check the Tripscout booking link before making your final booking, as the price may be lower there.
Book A Budget Hotel
If you're only planning to use your hotel as a base to sleep and plan to be out most of the time, don't bother splurging on a fancy hotel.
Sure, it's nice to treat yourself once in a while but save those for a trip where you have the time to spend in the hotel and make the most of the amenities (I'm looking at you, Maldive bungalows).
So many times, I've paid for a nice hotel and then barely spent any time there because I'm out exploring. If your itinerary is jam-packed, save yourself the money and book the cheapest hotel that still meets your standards.
Book Early If Traveling During Peak Season
If you know the dates of your trip, book early to save as hotels may increase the price as supply goes down.
This is especially true if you're booking a hotel for a popular city during peak season or a special event like a music festival.
Plus, if you're planning ahead, you can continue to check prices until a certain time before your trip to compare and ensure you're getting the best deal.
Travel Off-Season
Traveling to popular destinations like Italy or France can be really expensive during the peak summer season, but hotel rates are sure to be cheaper if you travel off-season. Probably tours as well!
Not only that, but it's a more responsible way to travel as this helps combat the issues of overtourism.
Local businesses will appreciate the support during the slow season, and you'll get the benefits of fewer crowds and lower prices.
Shoulder season, typically fall and spring, is a great time to travel. I went to Iceland in early September and benefited from much cheaper hotel and tour prices than in summer, but still had good weather (or at least as nice as it gets in Iceland).
—
I hope these hotel booking hacks could help you save some money on your next trip.
Do you know of any other genius hotel hacks? Let me know in the comments below so I can add them to the list!
Disclaimer: I work part-time for Tripscout. As always, all opinions are my own.