This post may contain affiliate links. By clicking and making a purchase through the links, I earn a small commission at no extra cost to you. This and display ads allows me to keep the site up to date and give back. Thanks for reading!
I love visiting national parks while travelling. It's a great opportunity to see wildlife in their natural habitat, and learn about the countries natural history. Chitwan National Park in Nepal is known to be one of the best parks in Asia for viewing wildlife; famous for rhinoceros, elephants, and royal bengal tigers. I was fresh off the plane in Nepal and excited for the chance to spot new wildlife, so I headed straight to Chitwan National Park. Unfortunately,  I left with mixed feelings about the park.
Visiting Chitwan National Park
To visit Chitwan National Park you can either book a tour online, book through a tour operator in Kathmandu/Pokhara, or just go to the park on your own and book a safari there. I looked at tours online, but all of them were well over $300 USD which was out of my price range. Many of the tours also included elephant riding which I did not want to participate in. In the end, I ended up booking a package through my hostel in Kathmandu (Zostel). They sold me a 3D/2N tour for $100. This included transport, activities, accommodation and food. I told the guy who sold me the tour that I didn't want to participate in elephant riding and they said no problem, you can do the Jeep Safari instead. He neglected to tell him the other elephant tourist activities that were part of the tour.
If I had my time back, I would have done more research and gone to the park on my own accord.
What can you see at Chitwan National Park?
The best part about visiting Chitwan National Park is the opportunity to see the greater one-horned rhinoceros in the wild. The park also has bengal tigers, but you have to be super lucky to see them. I was told that you need to stay at least 5 days in the park as the tigers hide deep in the jungle. The park claims to have wild elephants, but I only saw ones kept in captivity. I also saw crocodiles, deer, monkeys, and many different kinds of birds.
Stay in Sauraha Village
All of the hotels/lodges are in Sauraha, a small village close by the Rapti River and the Chitwan National Park. On the first evening we took a walk around the village and went down to the nearby river, where we were lucky enough to see a wild rhino.
Canoe ride down the Rapti River
The next morning our guide took us on a canoe ride down the Rapti river to go bird-watching and crocodile spotting. We saw many crocodiles close by as well as many beautiful birds.
Although the canoe ride was beautiful, I was distracted by the elephants I saw carrying loads of tourists. If you love elephants, please do not ride them.
The Elephant Breeding Program at Chitwan National Park
After the canoe ride, we took a walk through the park. Eventually we came to an area where I saw a baby elephant in the distance. I'm excited, until I realize the baby elephant is trapped in the enclosure. It actually looked like it was trying to escape.
The area looked like an elephant prison, it was just an entire row of elephants chained up to posts. Our guide tells me it's the parks breeding centre for elephants.
I'm not against breeding centres, they can be effective for conserving at risk populations of wildlife. But generally speaking, I believe that all wildlife should be left wild unless there is a valid reason for intervention. I tried to ask my guide questions about it but he didn't have any answers to give me. He then took us to a darkened room with information signs about the breeding/training program.
This sign actually puts it lightly. The truth is wild elephants don't let humans ride on top of them. In order to tame a wild elephant, it has to be tied own and beaten until their spirits are broken and they're willing to obey their "trainers" to avoid pain. The process is called Phajaan, or "the crush". The baby elephants are beaten into submission with clubs, pierced with sharp bull-hooks, while being starved and deprived of sleep for many days.
Research has found that elephants who go through this process often suffer post-traumatic stress disorder. Not to mention captive elephants often die decades before their life-span because of health issues associated with carrying excess weight and being confined to a small space on a daily basis.
Another sign at the centre reads "Elephants in Captivity do not reproduce well. The scientific reason behind this is unknown. Unavailability of proper male in oestrus, lack of certain nutrient to bring the physiological heat, constant stress due to human due to human control may be contributing factors" Gee, you think?
I kept asking my tour guide questions and telling him how awful I thought it all was. He just became more annoyed the more I brought it up.  Afterwards he brought us down to the river to watch the elephants get bathed. I really didn't enjoy this, they were hitting the elephants as they bathed them.
Safari in Chitwan National Park
Later in the afternoon there is the option to either go elephant riding or on a jeep safari. I took the jeep safari which lasted about 4 hours. It took a while of driving but we were lucky enough to see three different rhinos, including a mama and her baby. You can read about that experience here!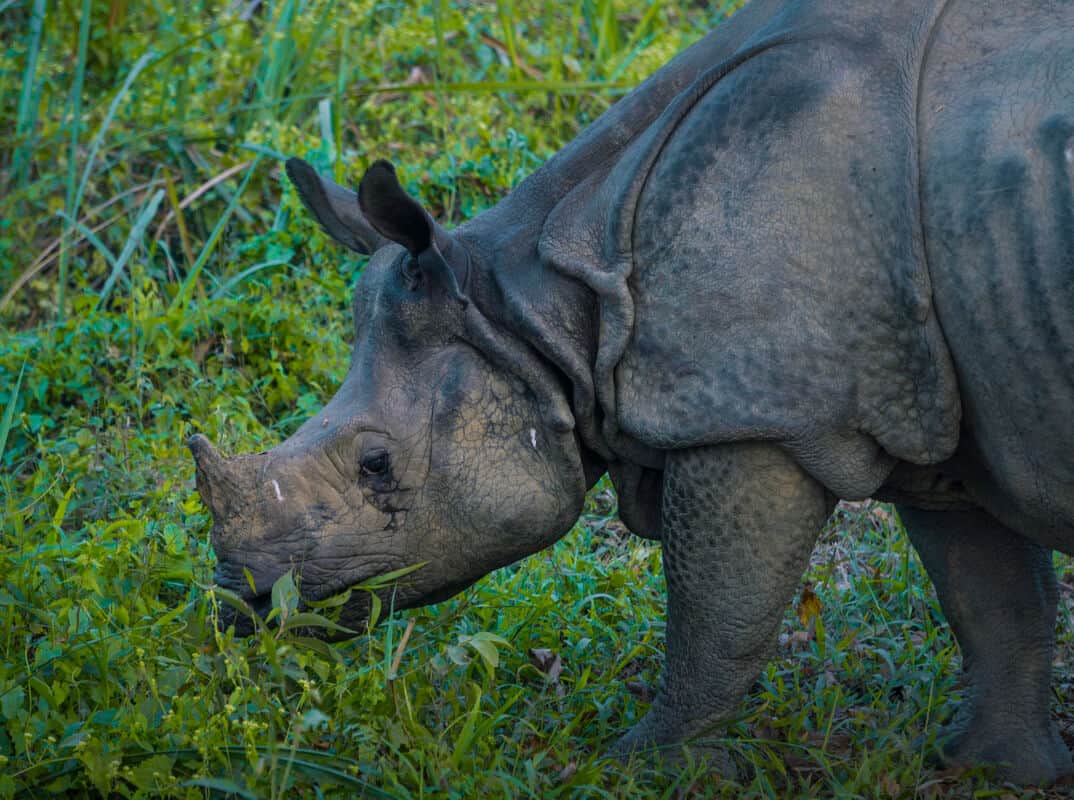 Thoughts after visiting Chitwan National Park
I left Chitwan National Park feeling so confused. How could they have such a good conservation program in place for the rhinos, yet keep elephants in captivity? I did some research afterwards and it turns out that the success of the rhino conservation program is actually largely credited to the use of elephants to search for poachers. A large area of the park is unaccessible by car so the staff use elephants to patrol the park for poachers.
I was glad to have found some logical reasoning for the use of the captive elephants, above keeping them for tourism. However,  I do wonder if there is another way to stop poachers without the use of elephants. At the least, I wonder about the quality of the elephants lives. Why do they need to be chained up during the day? And why are they still being used for tourism? I understand that they are a resource for patrolling areas of the park otherwise unaccessible, but I can't wrap my head around how this extends to it being okay for tourists to ride them.
I wish that I had done more research before going to Chitwan. If I were to go again I would just go there on my own by bus. I would have preferred to stay in an eco-friendly lodging option, as I felt my accommodation and guides were not concerned for the well-being on the wildlife. Going to Chitwan on your own will not only save you money, but then you can pick what you want to do and opt to support eco-friendly companies. Chitwan National Park is easy to access, direct tourists busses run daily from Kathmandu and Pokhara everyday.
Have you ever seen captive elephants in a national park before? This is something that is new to me, so I'm really interested to know more about this and help my understanding/frustration. Let me know in the comments below!